Bonjour, Hello, Ciao, Dober dan, Dobar dan, Mirëdita, Geai sou!
Here we go, we arrived in Greece after 7 months on the road! We made our first stop in Zitsa, where the baker's family hosted us along the week-end. We were very lucky: from breakfast to dinner we had fresh bread and pastries on the table, and the greek family shared their traditional meals with us! As they also host volonteers for babysitting or house-keeping tasks, we proposed them to maybe come later.
Our next host waited for us in Kastoria, his hometown: a nice city located in North Greece, between lake and mountains. As a generous greek guy, he made us a tour of his city, led us to the city center, traditional greek restaurants, even offered us to spend a dinner with his family members where we discovered greek folk music and had a lot of fun together! We also had the pleasure to meet one of his friend, a greek girl who studied in France (Le Mans) and was able to speak french and teach us a little bit of greek  🙂 
 
But it was already time to hit the road again: 2 of our french close friends had planned to land in Thessaloniki at the end of May, so we decided to meet them and hitchhiked on highway, direction Thessaloniki. Bad luck! Highway's security staff put us away, but one thing they didn't know is that we are very persistent… back to the highway (on another spot), we finally found a car to Thessaloniki!
There, we were hosted by an English girl we met while hitchhiking in Serbia. She is working for an organization helping refugees in Thessaloniki and proposed us to host us when we would reach Greece! At 10pm this day, our french friends arrived in the city center and it was with joy that we hugged them, 7 months after leaving our family, friends, and Paris of course…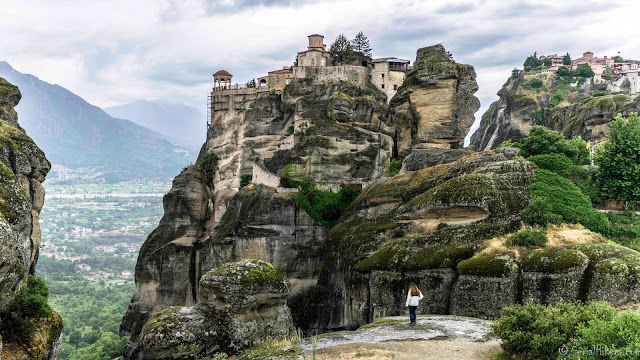 With them we visited Thessaloniki the day after, and they took us with their rented car for a 2-days roadtrip between Thessaloniki and Athens. We visited the amazing monastries of Meteora, the magnificent archaelogical site of Delphi and Athens, where we were hosted by a french expat' – she even wrote a post about us on her blog!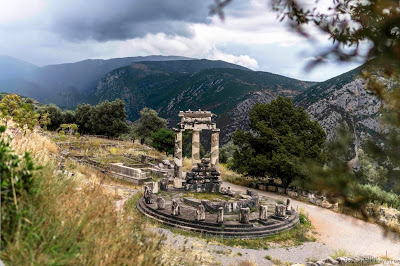 We have explored
Athens
following the tips of our host, even joined by a former classmate of Margaux (unexpected meeting thanks to facebook!) After a goodbye to all our french friends, we took the train to go to
Corinth
(it is always difficult to leave big cities by hitchhiking, and the train tickets were not so expensive for this small journey). Hosted by another social worker, we enjoyed a nice evening in her town where we met a nigerian friend of her. As she moved out from Corinth the next day, we took the road again to hitchhike to
Nafplio
, where a worker for EDF (« Électricité de France ») in Greece – who also make very nice wooden watches – accepted our request to stay. During our stay we had the chance to visit the well known ancient greek theater Epidavros, thanks to hitchhiking drivers, including one who took us at the back of his pick-up car!
(video here!)
We stayed 1 week in a 5 stars hotel with swiming pool for free…
Without any plan for the last night before leading again to Athens, we contacted the nigerian friend of our former host in Corinth, to ask for help… and even if he planned to be out of town, he naturally offered us to stay at his place, shared with his turkish flatmate! Here we were like king and queen, even had a prepared breakfast when we woke up!…
Time flew, and we packed our stuff again to go back in Athens… Why? Because one of a former co-worker and friend of Margaux, who now lives in Boston, attended a 1-week workshops in a 5* hotel and offered us to stay with her in her double-bedroom 😀
But before enjoying this luxurious stay, let us tell you how we reached the greek capital: stuck close to Corinth canal, we waited 3 hours before a chinese couple gave us a ride and invited us to eat with them in the Athens chinatown at their friend's restaurant!
It will be pointless to describe our full-week of swiming pool, greek restaurants and first class leisures with Margaux's former co-worker… But you can imagine our sadness to leave our friend and 5* hotel! Well, we also wanted to go back on the road, and at this point no need to complain too much: we left for a volunteering mission on Agistri island, 1-hour boat ride from Athens! In exchange of painting some fence and giving water to plants – which lasted maximum 2h a day – we had an hotel room and food for free, and plenty of time to enjoy greek sun and beaches!
An asiatic tourist wanted to pay us the bus ride! We refused politely of course 🙂
Do you remember the baker's family in Zitsa, that we met when entering Greece? Well they contacted us to be volunteers (babysitting). We accepted and faced to a big challenge: traveling from Agistri island to Zitsa (~500 km) in only 3 days, by hitchhiking… CHALLENGE ACCEPTED!
It took us almost 10 hours to reach Patras – a city in the middle of our journey – thanks to 9 different cars including an albanian touristic bus by night! We were also surprized as a tourist offered us money to pay for transport – thing we declined because we like to make our journey a wonderful adventure! A student girl and her brother offered us a place to stay in Patras, and they took care of us until the day after when a girl from Arta picked us in the center of Patras (where she enjoyed a music concert) to her family home. She is the sister-in-law of the girl we contacted on couchsurfing that couldn't host us! If you are still unsure that amazing people exist, then be ready to read that this girl made us a tour of Arta's area, brought us to a delicious greek restaurant and nice caffe bars, and even dropped us at the end of the day in Ioannina – only 15 km of Zitsa!!
From there, our hosts came in our help, as the last kilometers by hitchhiking were more difficult than planned… at the end, CHALLENGE SUCCEED! 😀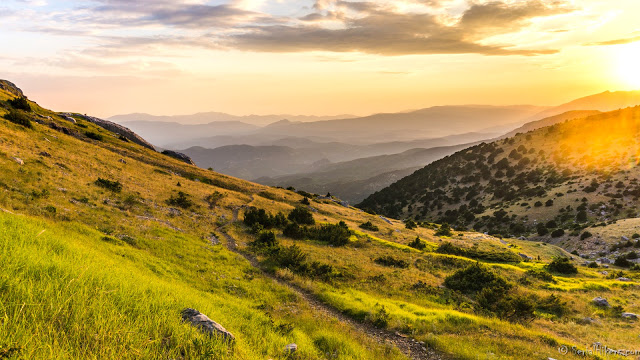 We spent almost 1 month in Zitsa – not planned but between 2 rounds of babysitting, we rested so much and had some quality time to enjoy greek beach again (Drepanos beach, near Igoumetnisa) and hike in the mountains of Mikro Papigo.
At the end of this month of volunteering, we led to Kozani – a not so beautiful city where a girl working as a carer for disabled children accepted to host us. Instead of 2 nights, we stayed 5 days there, helping her co-workers and boss of the center during the week-end to build a wooden table fitted for the children! 
And guess what is our next stop? Thessaloniki, yes, again! Still hosted by our amazing English host and her flatmates 🙂 This time, as we promissed, we gave an hand in the organization's warehouse to sort out clothes and shoes from donation boxes. Once sorted, these items are given to migrants and refugees living in Thessaloniki camps. It was a wonderful teamwork, based on solidarity and we would like to thank every single person who gives time or whatever to help each others – continue, humanity needs this kindness! We also have enjoyed for free the pool of the next hotel (they aggreed! 😀 )
Our 4 memorable last days in Greece: 1 night under the stars and 3 invitations to be hosted by people met like that…
And now here we are: end of our tour of Greece after 2,5 months, ready to go for our next destination, Bulgaria! But before, no way to leave this country without visiting Halkidiki and its beaches! Without hosting promisses, we hit the road again, hitchhiking as usual: 5 cars and we ended in Vourvourou beach where we met a wonderful turkish-chilian-dutch family. They offered us to sleep at their rented holidays house, and dropped us the day after in Orange beach where we slept under the stars. From there, we hitchhiked direction the abandonned hot springs of Loutra Eleftheron… As adventure's life is full of unexpectings, a camper's driver offered us meals, drinks and hospitality in Polygyros before we arrived to the hot springs thanks to random drivers and especially turkish truck-drivers!
The guy told us « I know you »…
Our story could stop on a picture of us enjoying these hot baths, located outside an abandonned thermal complex… but instead, after this relaxing sulfer natural hot bath and without any plan for the night, we had one of the most unexpected surprise since the begining of our journey…
3 young greek people stopped to give us a lift, and brought us in a « taverna » to have dinner. Then after explaining our story, the guy told us « I know you ». Imagine our reaction, what??? It appears that this greek guy from Serres first declined our request on couchsurfing- because he was holidaying on the coast with his girlfriend during this specific week-end! Was it karma or chance or whatever? We will never know, the only fact is that we slept at his seaside house before he drove to Serres, where we found a car to drop us in Bulgaria… To be continued!!
Subscribe to receive our next posts in your mailbox!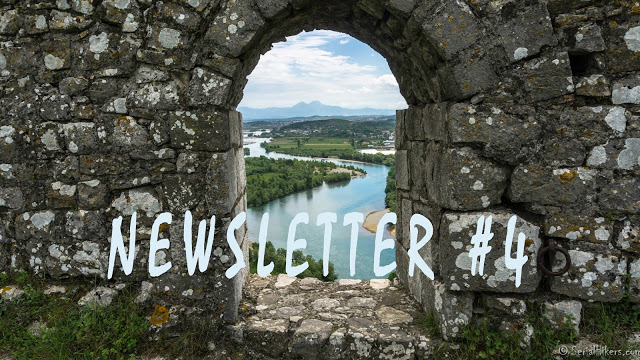 Vous avez aimé? Commentez, partagez, ou bien suivez nos aventures :)