Bonjour, Hello, Ciao, Dober dan, Dobar dan, Mirëdita, Geai sou, Dobeur dén, Merhaba!
We ended our last Newsletter by telling that we (finally!) left Greece for Bulgaria, a choice made at the last minute – our first plan was to go directly to Turkey, but at this time it was so hot in the area (30°C to 40°C) that we couldn't imagine to travel hitchhiking during the hot summer in Turkey.
First stop in Bulgaria: Bansko
, a ski resort full of hotels and restaurants completly empty during the high season! So, why did we choose Bansko? We knew nothing ab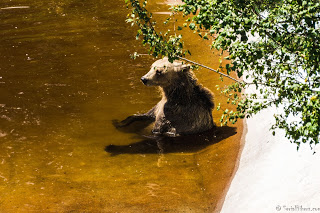 out what to see in Bulgaria, but Bansko was not so far from the main road from Greece to Sofia and an exceptional british former traveler accepted to host us for a bunch of time here. After our last days without fixed plans in Halkidiki, it was a real resting time for us! From Bansko we enjoyed a lot discovering the surrondings: we made a beautiful hike in Pirin mountains, we visited the Dancing Bears park, have been invited by one of our drivers to try his last honey production and above all, we relaxed ourselves in free hot water springs! 😎 So much good time, but trip must go on…
After Bansko, we came back to the main road to Sofia and even made a quick tour in Rila monastry (a big UNESCO orthodox monastry) thanks to ease of hitchhiking in Bulgaria. We arrived in Sofia late afternoon, under rainfalls, but fortunately for us we had an host for one night there who waited for us and cooked a delicious bulgarian tomatoes soup. We didn't loose time in Sofia because our volunteering request in an hostel in Burgas was accepted under a condition – coming as soon as possible! So the next morning we joined the 2-hour Free Tour of Sofia, packed our bags and left the bulgarian capital by metro to stand at the entrance of a highway, direction Plovdiv/Burgas. We found very easily a car to drop us more than 200km further, in Plovdiv, where another guy accepted to host for 1 night (we promissed ourselves to visit Plovdiv later, as everyone recommand us to do so!).
a restaurateur family offered us delicious bulgarian traditional dishes every day
No need to tell you how it was easy to reach Burgas where we stayed approximatly 3 weeks in an hostel! Welcoming new guests, cleaning, preparing the breakfast: here
were our daily tasks (very new for us, but so much worth it because we had such a great time and made a lot of new contacts among the clients!). We also took the opportunity during our
days off to visit the Black Sea coast
, starting by
Nesebar and Varna
where we were hosted by a local fruitarian at his parent's villa with pool and where we met a friend of Julien, holidaying in the area! But
Sozopol
is definitely more beautiful and quiet than Nessebar. We had also the great chance to be hosted in
Lozenets
by a restaurateur family who offered us delicious bulgarian traditional dishes every day 😋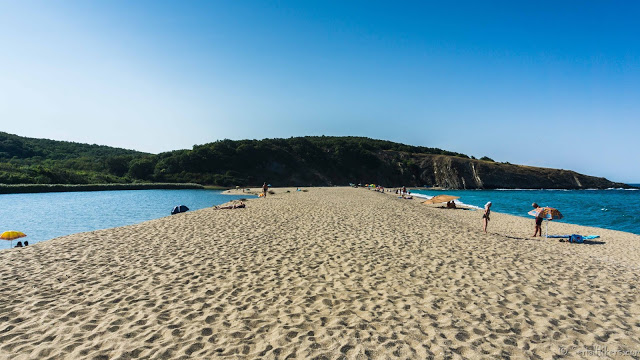 More than free meals, our time in Lozenets allowed us to visit the South Bulgaria and small villages where tourists never come… We hiked 3 hours this day, lost in the middle of nowhere, to join the
Veleka river's mouth
: an incredible place where a small stripe of sand separates the salted and tumultuous water of the Black Sea and the quiet, fresh water of Veleka. Our last days in Burgas can be summarized as half busy, half relaxing – we personnally had a preference for the last one, especially when it comes to enjoy the
free salted and muddy baths of Burgas
😉
We didn't expect to have our first deltaplane flight for free thanks to a host…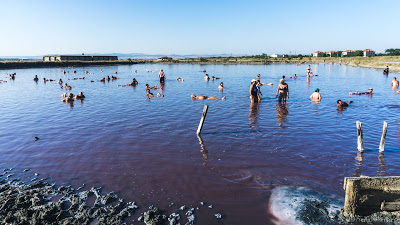 We already knew that our adventure is full of surprises, but we didn't guess that it will take such a sudden turn in Bulgaria: Julien succeeded to connect with a
travel girl from Kazanlak
, whose family has ownership of an old countryside house. What do we mean by old? : without proper bathroom, toilets in the backyard… In exchange of sitting their house and tending the big garden, they gave us the keys and allowed us to keep the garden's vegetables for our meals! So far, it was more than enough for us – as we visited all the landmarks we wanted to see around:
Buzludhza
(a former communist HQ, abandonned since 25 years),
Devetachka caves 
(where Expandables 2 was shooted),
Krush
una waterfalls
,
Veliko Tarnovo
,
Dryanovo monastry
,
Shipka
(the valley of thracian tombs)… for a total of 700km travelled, only by hitchhiking! But the most unexpected moment is to come: the father is a
deltaplane pilot
who has to take his plane out for a big local festival. Guess what? He took Gaux with him to take off from the local airport at dusk, and Jul the day after while the festival was going non-stop! It was one of our most memorable experiences since the beginning of our trip!😄
Down on Earth, we left this adorable family to hitchhike to Plovdiv – remember, the nice town we promissed to visit again… There we were hosted in an empty hostel/art center under renovations four days – time for us to rest, visit and prepare ournext big step: Turkey!
We have been welcomed like Sultans!
And what a big step: new continent, new culture, and 1 day to reach Istanbul from Plovdiv by hitchhiking – approximatly 400km distance to make, and a border to pass through! Even if hitchhiking was pretty easy in Bulgaria, and also in Turkey where truck drivers don't hesitate to stop for you, the border took us a considerable time by foot… But we finally arrived at the end of afternoon in the west part of Istanbul, where our first host met us. For the record, we put few days before a public trip for Istanbul on the website Couchsurfing and it's the first time that so many potential hosts contacted us that we had to choose! 😲
Our first days in Istanbul were indescribable: we were welcomed like king and queen (or sultans should we say? 😀), very well treated in a way we never felt before… All we can say is that our stay in Turkey takes a very good start! From the west part we visited old Istanbul (Agia Sophia, Blue Mosque, Suleyman Mosque, Grand Bazaar…) before moving to Besiktas, a very young and animated district. Here we were hosted by a spanish girl that we met while working in the Burgas' hostel – did I say that we made some contacts there? After that, we finally took a ferry to cross the Bosphorus and end in Asian side, in Uskudar first where we were hosted for 2 nights and then Pendik, our last step at the extreme east part of Istanbul before hitchhiking to the next cities of our route. One week in Istanbul was surely too short to enjoy everything and see all people who wanted to meet us… But we had so much excellent experiences about our first days in Turkey that made us determined to visit and know more about this country!…
Vous avez aimé? Commentez, partagez, ou bien suivez nos aventures :)