Bonjour, Hello, Ciao, Dober dan, Dobar dan, Mirëdita, Geai sou, Merhaba!
This is our last Newsletter of the year 2017: indeed, if you don't already know, we plan to flight back to France at the end of November to spend Christmas time with our families, rest and prepare the next steps of our travel! But don't worry, our goal to reach Australia without plane is still on… As we will flight back in January 31st at the same airport we left, Yerevan International Airport (in Armenia)!
Last time, we told you how amazing was our first week in Turkey, in Istanbul. We finally left this big city and our new turkish friends, by hitchhiking on the road to Eskihisar, where we will be able to cross the sea to reach Bursa then after. This day, 2 drivers offered us a meal in street restaurants (Chi Kofte, turkish food of course!) … No need to tell you that once arrived in Bursa, we were not hungry any more! 
He was not happy and try to run after us…
The day after, we took the road to Canakkale, where we were hosted by a young married couple. We had great discussions about turkish culture together, especially about turkish baths and hair removal! We also had the chance to meet, in the city center, a french traveler and two young students, one of which having lived in France. After Canakkale, a tunnel engineer welcomed us in his shared flat, in Ayvacık: we took advantage of the localisation to visit ancient site Assos, 15 km further. To go there, we hitchhiked on the main road… and stopped a car driven by an old man: although he spoke no English, he dropped us in Assos but then asked for money, by rubbing his thumb and index finger together. We told him « hayır » (no in turkish) and try to explain that hitchhiking is free. He was not happy and try to run after us, but at his age it was a vain attempt… We walked to the sea, and found an opened gate at the site's bottom: that's how we entered Assos for free without knowing visiting this site was chargeable and that the official entrance was actually at the opposite side! 
At this time, end of September, the weather was very nice. Sunny and warm days, perfect for hitchhiking. We made our way to Izmir, where we have been hosted by 2 people: first a PhD student, who lives in Bornova, a student area. He took us in the old Izmir, where you can find a lot of nice bars! After few drinks, he gave us Boyoz, a typical little bread of Izmir, usually served with a cooked egg. It was very delicious! The day after, we rang to our second host's house.
Friends of a friend of our first host in Istanbul… 🙂 A married couple welcomed us with smiles, turkish dinner and as usual in Turkey, with a great sense of hospitality. They guided us in Izmir's highlights the day after: clock tower, bazar, even in an attraction called « Asensör » (in french: « ascenseur ») which was designed by a french architect! We really enjoyed our time in this modern city, but we didn't stay longer as we were contacted to volunteer in an olives' farm…
Our 4 videos VLOG in Turkey
So we took the road again – just after saying hello to Sefik, a kurdish-turkish friend of Julien's parents, who usually lives in France but was visiting his family in Izmir – direction: Urla! But actually not in Urla… Rather in Urla countryside! We stayed there one week, taking care of animals (especially of chicken who are use to sleep on olives branchs at night!), learning how to make Bulgur with a stone mill and above all, how to appreciate and differentiate all types of olive oil (cold pressed, virgin, extra-virgin,…). Such an incredible experience! But time flies, and we wanted to move more south to complete a whole tour of Turkey  😉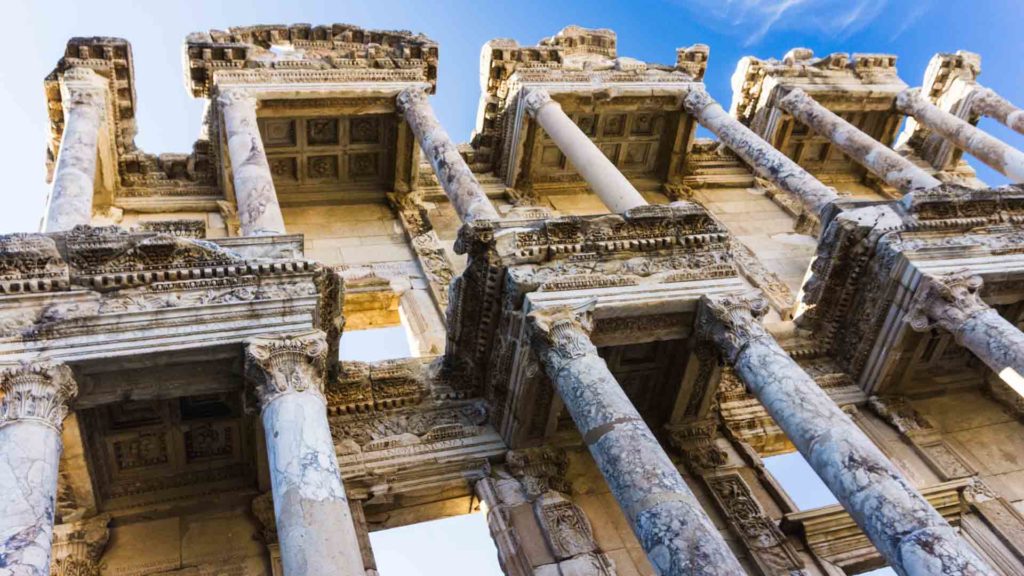 We took the direction of Kusadasi, a very nice town located in the west seaside, and near the great site of Ephesus and the small village Sirince. We spent one day to discover these 2 wonders, and took a million photos like most of tourists there  😎 The day after, it was with a little sadness that we left our host in Kusadasi, but we knew that great people waited for us in Denizli! We ended in the city center at the end of afternoon, after being taken by some particular drivers: one of them drove us around 80km explaining in half turkish – half german, that there is no way to be atheist when God created rocks and mountains!…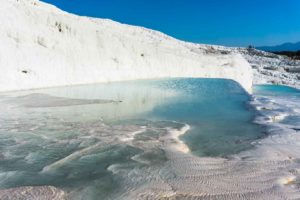 Fortunately for us, our next hosts were atheists too and God was not anymore a discussion topic.
I can bring you wherever you want, for sex!
Staying in Denizli allowed us to visit Laodikia (archeological site) and the famous Pamukkale white terraces with our first host, a very active mother. We then had the chance to meet a couple (who gave us homemade necklaces as a goodbye present!) and an IT engineer, and learn with them how to prepare turkish Menemen and Köfte dishes. Full bellies after that, we hitchhiked to Muğla by making a small detour to Salda gölü (nicknamed the turkish Maldives). On our way, a driver stopped and yelled at us: we asked him if he could speak English, but he shook his head and kept on with turkish, staring at Margaux… We took our phone, loaded the application « Google translate » (turkish/french) and explained him to write what he was desesperate to tell us. Bad idea! What he wrote – Goturum ama seks – could be translated by: I can bring you wherever you want, for sex! Of course, we let him drive away without getting in his car… Besides we were driven in a cement truck and another driver gave us a turkish flag!

Muğla, Ula… we didn't stay there so much, just the time needed to rest and have a great time with our hosts. We took the road then to Fethiye, where a sailorwoman hosted us in her family's house. Despite arriving late (we made a stop in Dalyan on our way!), they had prepared a full turkish dinner and took care of us like we were their own children! After hiking from Kayaköy to Ölüdeniz bay, we continued our roadtrip to Kaş – where a teacher accepted to host us at last minute. He spoke little English but thanks to him, we stayed there enough time to swim in the sea the 24th of October 2017… But this is not the only funny fact about our stay: we met on the streets Kıvanç Tatlıtuğ, a very famous turkish actor who was shooting for a TV series. We even spoke to him, without knowing how famous he is! 
After Kaş, we hitchhiked to Kemer where an hotel employee gave us the keys of one room of the hotel: he told us that the hotel he worked for (an all inclusive hotel) was ready to close! Indeed, we spent 2 days in an almost empty resort, with a few russian tourists that used to come on the Turkish coast. We did visit Olympos and the Caretta turtles' beach, despite Caretta turtles were no longer in sight at this time  🙁 After that, we went to Antalya where 2 people hosted us: a woman working in pharmacy's field (like us, before!) and a newly grand-father who was so happy to host travelers that he even put us on the main road to Konya the day after, more than 70km further! And thanks to his nice gesture, we got a ride very easily to Konya  🙂
hosted in an hotel cave for free
In Konya we have been hosted by two guys: one insurance businessman and a biologist student, who also owns a tarantula and a snake. Konya is maybe a very conservative city, but it has been a really nice step on our travel: we enjoyed Mevlana dance in the City cultural Center, Pide and turkish tea in a small fast-food restaurant… As our unexpected meeting with 2 student girls, very curious about our travel. After Konya, we went to Tuz gölü, a very big lake of salted water, comparable to « Salar de Uyuni » in Bolivia. Unfortunately, the weather was terrible – but at least, 5 trucks drivers stopped their heavy goods vehicles to bring us in… Cappadocia! 

Now it will be very hard to describe how magical it was by words… We had the incredible opportunity to being hosted in an hotel cave for free, thanks to its boss who was raised in France during his teen year. Thanks to him, we visited Cappadocia during 3 days; made a guided tour of underground cities and Ihlara's valley, watched the hot balloons flight at dawn, and hiked around. And as all good things come to an end, we hitchhiked again direction Malatya this time. After an epic journey with 2 turkish truck drivers, we ended in Malatya's city center where the local athleticism sport trainer offered us a full dinner in restaurant and booked 1 room for us in the hotel usually used by his players' team. The day after, we left Malatya to reach Siverek, always by hitchhiking: we took the way passing through the mountains between, and we had to wait 2 hours in the middle of nowhere to see and stop a car… But at the end it was really worth it. The landscape was wonderful, and we ended in a traditional turkish-kurdish family, through the oldest son who is a serious businessman. We spent one day at Nemrut, and then hitchhiked to Diyarbakır, a huge and modern city in the kurdish area of Turkey. There, a dentist and his moroccan wife hosted us and we can tell how people were happy to see tourists like us, smiling in our way and offering hot turkish tea cups! 
After our amazing time in Sout-East Turkey, we led to the Black Sea coast: first stop in Erzurum, in a student shared flat (hosted at the same time that german/russian hitchhiking partners). Then, we managed to stop 2 cars, 1 empty tourist van and 2 trucks to Trabzon, by passing through mountains and beautiful valleys… Once arrived, university students welcomed us like a part of their group – and even offered Julien to computer game all the day with them! That's part of travelling: sharing cultures and good time together! But we didn't forget to visit Trabzon: that's we did with a sweet couple, fond of theater play and magic tricks! In exchange, we helped the girl to repeat her french lessons before we went to Hopa. A young doctor welcomed us and during our stay, we even convinced him to hitchhike with us to Mençuna waterfalls! We ended this day by taking an amazing diner together on the Black Sea coast, before leaving the day after for Göle, our last turkish step. Hosted by 2 teachers (who barely speak english), we took the opportunity to visit Kars and Ani, a former armenian town located near the turkish-armenian border. Time to take our flight back to France approaching, we left Turkey for good by htchhiking through mountains and passed Georgia very quickly to end up to Gyumri, where an armenian student hosted us at her parents' house. After 4 days in Armenia, we took off on 23rd November at 8.30am, after a last look at the snowcapped mount Ararat.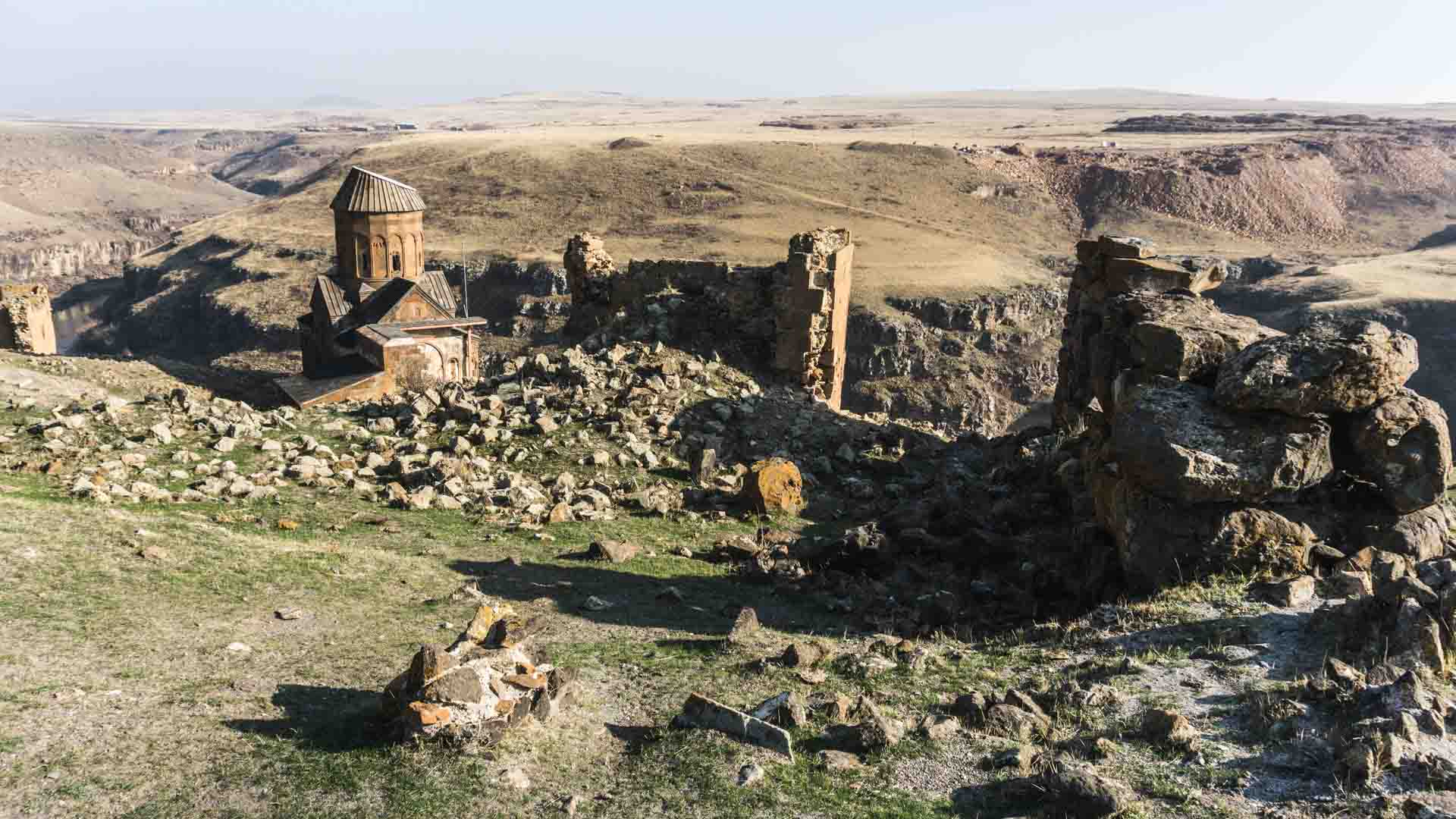 Stay tuned for our next adventures!  😉 
Subscribe to receive our next posts in your mailbox!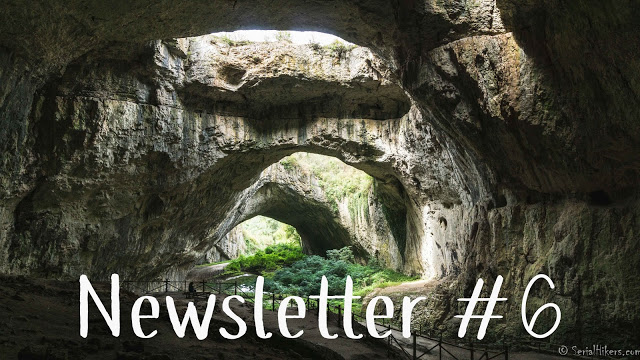 Vous avez aimé? Commentez, partagez, ou bien suivez nos aventures :)