"What am I going to put in my backpack?" is the question that has replaced our daily "What am I going to wear today?"… And yes, moving from a city life to a nomadic one is not at all easy, and above all not obvious! So we decided to share our experience, thoughts and advice on how to prepare an optimized backpak – tested and approved in all seasons and circumstances!
First of all, it's necessary to figure out the total weight of a full backpack that you'll always carry on your back: we usually hike with backpacks that don't exceed 25% of our body weight – in order to not feel inconvenienced. It was with this weight limit goal that we have sorted our things that we will take with us for our World Tour (goodbye my heels!)
We each bought a good hiking backpack (second hand for Julien, in sales for me), 40L to 50L maximum  in addition to our small backpacks (20L) that will contain our valuable material. Think that the more little backpack capacity you take, the less you will carry stuff !
We have opted for backpacks with a rain cloth and side pockets for stuff that we would like to be available quickly. Our backpacks also feature a zipper on the full length, so we don't need to empty your bag entirely each time to access the bottom!
But the most important point is that our backpacks perfectly fit on our hips to support 80-90% of the total weight, in order to relieve our backs and shoulders. Feel free to try several brands and backpacks types in a store, and ask a seller for weights to fill and test them full.
Another tip: Buy some packing cubes in order to compartmentalize your backpack and protect your clean and dry clothes from the dirty ones!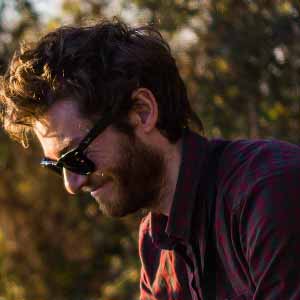 Julien's backpack
My long sleeve shirt in a casual style can be wore to protect me from cold, sun and mosquitoes, but also for an event. As for jeans, I use it as everyday pants, but it can also be wore for a night out!
I invested money in a good convertible hiking pants with pockets on the sides: it's very important for me to have my wallet and Swiss army knife at hand! Small practical detail: one of the pockets is equipped with an anti-theft fabric sewed on the zip.
My sneakers are very light and suit me very well in town and for an event
I use my flip flops for outdoor showers, at the beach and as indoor slippers
I use my hood folded on my neck as a simple scarf
Finding good clothes that combine warmth, lightness and small volume is a real challenge. I prefer to invest in a good and warm jacket, light and waterproof (few are waterproof). As for the raincoat, I can wear it in case of heavy rain in combination with my down jacket, or simply over my clothes when it's hot.
As Margaux, my warm sleeping bag (0 ° C) allows me to sleep in extreme situations
Our tips to have a less heavy backpack!

We had to find out some tricks to deal with all situations, all seasons and all climates. So we favored lightweight dual-purpose clothing such as convertible trousers, down jackets and long-sleeved t-shirts as it reduces unnecessary amounts of clothing!
We also have preferred some fabric types:
Synthetic for tops, because it's a very breathable material that dries quickly: ideal for daily hand washes!
Cotton for underwears: comfortable to wear and very breathable, it's recommended for women who are sensitive to urinary infections;
Thermal underwears with high thermic protection which are an indispensable underlay against cold and be used as pajamas;
Micro fiber towel for its lightness, fast-drying property and high absorption capacity;
Silk liner for sleeping bags: a light liner that does not dirty our sleeping bags (silk liner is more easy to wash) and make you feel warmer.
Before leaving, sort out all your clothes and if necessary buy your equipment second-hand (an economical and ecological solution). However, for dual-purpose clothing such as convertible hiking pants or down jackets, do not hesitate to invest in quality and fitted products.
Another option to avoid unnecessary clothes to carry: buy clothes directly in the coutry you visit. It's often more economical and adapted to the local weather. And when your clothes are no longer used, you can give them or send them back home through postal packages.
It's not essential to take a whole arsenal of multimedia material when traveling; but we wanted to immortalize the highlights of our trip, keep some memories and especially share with you our discoveries… And what could be better than a world tour to perfect a passion for photography / video?
Julien has taken an extra 8 kg of multimedia equipment
with him!
How to protect your valuable material?

All our valuable equipment, money and papers are stored in our small 20L backpacks worn in front of us. These small backpacks can be kept folded in our big backpacks or be used for a day outing.
Our tip for a better walk comfort: take small backpacks with a lap belt for a better weight distribution. When traveling, first hang your small backpack in front of you, then put on your big backpack and tie the lap belt below your small backpack's one, so your small backpack's weight will lay on your big backpack's belt. This method of hanging also allows you to drop your big backpack very easily (for a bus ride, or in a car trunk of car) and to keep your small backpack with all the valuables items always with you!
Obviously, in addition to our clothes we carry a toilet bag and a First Aid kit for two. By sharing all products and useful accessories for both woman and man (such as toothpaste, soap, scissors, comb) we also reduced the total weight to carry!
Our tip: do not take on unnecessary products! Soaps and drugs can in most cases be easily bought in local pharmacies or drugstores.
During the first year of travel, we choose to not take a tent. Why? First because of its weight (+ 1.6kg for a good quality tent which is not negligible!) and because we wanted to meet one of our travel goals, which is to meet people. And we can say that this strategy has paid off: on the dozen times in 13 months where we hadn't have a place to spend the night, we had in most cases meet fabulous people to host us!
Then we bought a tent from our second year of travel
, because we crossed countries with low population density, where it was very difficult to find hosts (as during
our time crossing Kazakh steppes
).
Our essential equipment for every season (tested and approved from -20°C to +40°C)
12kg sleeping bags & clothes (5.8kg for Margaux / 6.2kg for Julien)
2kg Toilet bag / First Aid kit
i.e. about 9 kg per person
An extra equipment we took lately without suffering a great loss of comfort (+2.6 kg)
1.6kg ultra-light & self-standing tent
Non essential equipment that allows us to enjoy our second passion: photography!
7kg photography equipment
The weight of our backpacks may also vary slightly depending on the weather (in warm weather, sweater and winter coats remain in our backpacks) and the food / water that we carry (for us or for our hosts).
At the end, we travel with a total weight ranging from 26 to 30 kg distributed in our two backpacks like this:
Of course, we are far from minimalist travel backpacks… But it's a good compromise, in our eyes, to combine our two passions: travel and photography!