It was on a sunny Thursday right after reaching Belgrade (Serbia) by hitchhiking and eating a homemade sandwich. We were ready to leave this busy park in front of the train station. And when we got up from the bench, two young people approched us: "Can we take a picture of you?" they asked, pointing at our Eiffel tower. "Of course! Are you from Serbia?" Silence. "No… we are from Afghanistan". We then realized…
"Are you refugees?"
"Yes".
New silence. 4 people staring at each other, eager to know more…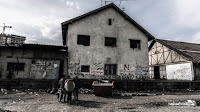 But it took us less than a second to write a new chapter in our travel: "Could you show us where you live and tell us your stories?" This time, the answer "yes" was more enthusiastic!Direction the train station, where old abandonned barracks still stand behind a car park. We sat with one of our two new friends, in a quiet corner of this open squat area to hear about his story:
"Sweet" (his nickname) was an economics student in second year living in Pakistan – because it is better in Pakistan than in Afghanistan he confessed. One of his married sisters hosted him while most members of his family (parents and 5 brothers) still live in Afghanistan. His daily was punctuated by morning classes in college, cricket trainings on afternoons and homeworks the nights. He was enjoying a joyful life listening music and watching Bollywood movies!

And one day, a group of Talibans entered the school. They wanted to take boys to fight against western troops. 

"Sweet" didn't conceive joining Talibans and started to feel very unsafe… We heard from other refugees that a few friends of them who refused to join have been killed. So he took the decision to quit Pakistan and Afghanistan to reach Ireland, where one of his cousins is living. His parents were fully supportive of his decision and still continue to send some money to help their son in his journey. They are not aware of what he went through: gone at 18 years-old with a few clothes, water and food but no ID, "Sweet" walked through Iran, Turkey, Bulgaria (using trains sometimes) to end up in Serbia. He tried several times to pass borders, once through Romania where he was detained for 3 months in a closed refugees camp. He remembered a similar experience in Bulgaria, but even worse: strict policemen came to fight with some refugees and they were not able to quit the closed camp for "security reason". For him, he hadn't imagine Europe as jails for people who want to escape from horror and war. After all as he said, we are also human beings who aspire to a simple life – a roof, a job and a safe life. He was finally able to quit the camp after giving his finger prints – meaning that if a policeman catches him anywhere in Europe, he might be brought back to the Bulgarian refugees camp.

Queue for bananas

Now back in Serbia (Belgrade) he feels more free in this squat, walking when he wants outside this refugees area to visit Belgrade without any repression. Tomorrow maybe he will try again to pass in Europe by crossing Croatian border – for the 11th time. Maybe one day he will reach Ireland to join his cousin and be able to finish his studies in Economics, his greatest dream! And when asked about adapting himself to European culture, "Sweet" answered that "it's not a problem for him" – in fact, he is very open-minded!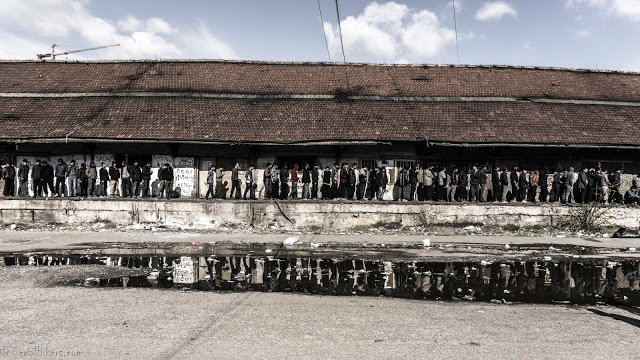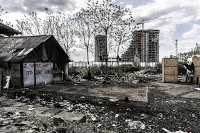 As we learnt, refugees are blocked at the entrance of European Union. Hungary has even built a wall all around its border with Serbia (Trump didn't invent anything). You can search on Internet "refugees Belgrade" or "Hungary wall" to find more information about this situation. In the squat of Belgrade, they are approximately 1000 male refugees that prefer to stay here instead of being held in an official camp. They are mostly young and middle-age men from Afghanistan and Pakistan. According to our sources, Syrian refugees are mostly retained in official camps. We had the opportunity to take pictures with the approval of people – for ethic and security reasons, as open-squat is not an human zoo and photos shouldn't show faces and be used for commercial purposes. Unfortunately, a big construction site (called "Water Front") is ongoing and threatening the future of this squat.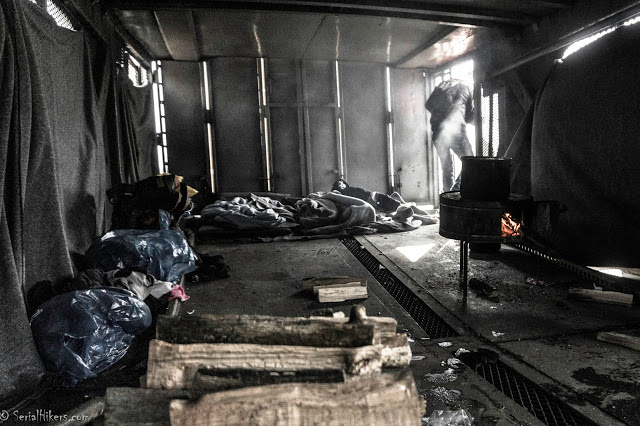 Our first impressions by entering this huge squat in the center of the town (where it is impossible to not see it for any bystander): people are smiling at us and have benevolent looks! Some of them come to talk to us in good english. In 3 days, we never felt unsecure for us or our equipment. We discovered people resting inside abandonned barracks from the former train station, some of them stay in abandonned cars or wagons (walls no more insulated) where we saw the water from the last rain coming inside. The life is continuing as they can: playing cricket (national sport in their countries), cooking with fire, chatting, hang laundry, shaving, making hot water with wooden fire… Only one water point has become available for them, and we saw another one in the middle of the rails where people were washing themselves. We were also surprized to realize that some of them have the money to pay the closest hostel for a shower, or to buy their own food instead of making the queue for the food provided by organisations – those who have their families suporting them through "Western Union" to live. The place is still very dirty, full of rubbish, with a very poor hygiene and comfort (most of them sleep on the floor).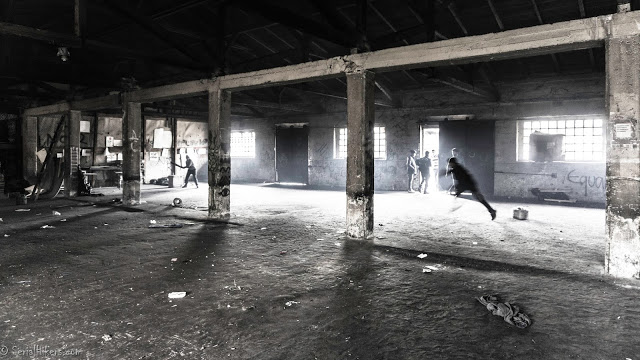 Last winter has been very hard, with temperatures decreased to-20°C. Even for people inside barracks, there is no insulation and windows
are broken… Fortunately, some organisations came to help and provide
blankets, tents, bare necessities. We have seen some organisations giving hot teas, bananas,
health cares and even sport classes! We also met 2 french people with 1 portuguese girl, independant volonteers, to help to clean the camp (lovehope association).
We helped them, it was our first experience in humanitarian volonteering. In this type of help, we always should make people participate in the tasks instead of letting organisation make the cleaning itself. Even if some are depressed for what they live and the distance with their families, at the end some of them came to help us with a lot of fun!
We can deplore the lack of coordination in general, where all small organisations work by themself, without any management by official organisations. If you want to help, don't hesitate to contact organisations or do like us, make some friends 🙂
Our final impression after 3 days here? We really felt that people doesn't want our pity, they just want open borders for a better future.
"Solidarity not charity"
This is the best message we have learnt and wanted to share! They need help to have a normal life, every young people we met have only one dream: finish their education safely and to get a job, not our money! We will never forget the courage that these people have.
[EDIT] On the 5th of June 2017, we heard from volunteers that the squat was totally destroyed: migrants were sent to official camps by authorities and buildings were put down in only 2 hours! This operation took everyone by surprize, including NGOs.
About Sweet, he succeeded to escape from Belgrad and at this time, he should be somewhere… in France! 🙂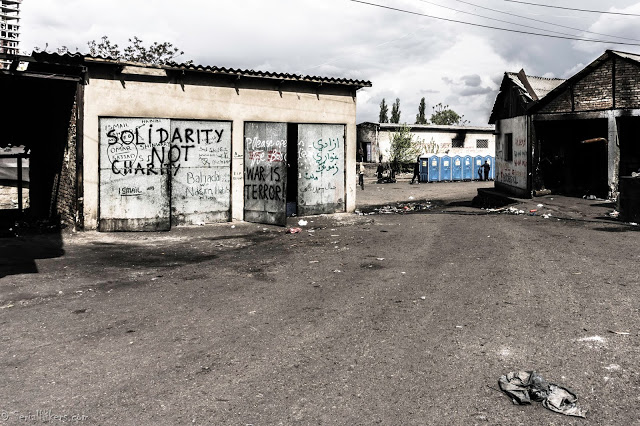 | | | |
| --- | --- | --- |
| Tea time | Sport session | The cleaning team |
Vous avez aimé? Commentez, partagez, ou bien suivez nos aventures :)