Bonjour, Hello, Ciao, Dober dan, Dobar dan, Mirëdita, Geai sou, Merhaba, Barev, Gamarjoba, Salam, Salom, Nihao! Welcome to our series of newletters which retraces, chapter by chapter, our great hitchhiking jouney. Here is the chapter 15 of our travel stories: "It's an other culture" – Roadtrip in China.
---
Finally free!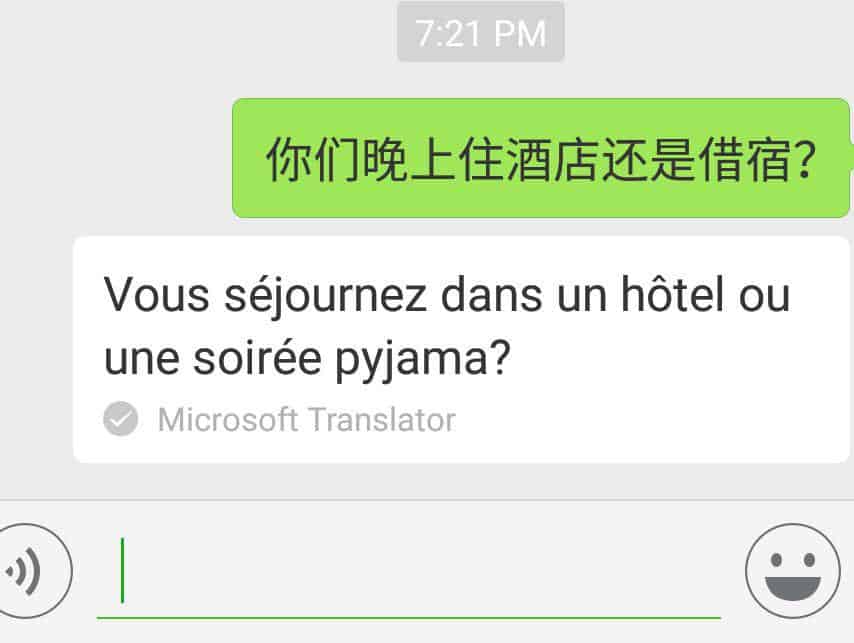 Exhausted, overwhelmed, but finally free, free, FREE! Now it's possible for us to walk anywhere we want, scamping along the deserted streets of Jiuquan, passing by proudly in front of a police car without risking an unexpected check, taking pictures of everything and anything, and keep these bad photos as a souvenir. It's past midnight, and with our unburdened hearts, we are walking at a good pace towards the city center, a little bit tired, totally confident – but not totally sure that our hosts door will still be open. Nevermind! Our good mood quickly erases our fears, our doubts and fears; guiding us through the shadow and and on the road side of a highway ramp where our last driver, a Chinese trucker, dropped us off.
It's undoubtedly this same good mood that makes us stop a car to lift us to the downtown; and find somebody speaking good English (a rare thing, in China) to help us locate and contact our hosts, Paula and Luise – two german volunteering students and members of Couchsurfing network. Paula, woken up by a phone call, will not hesitate to come to us without dwelling on the late time or our tired faces. Luise, who already fell asleep in Paula's apartment, let us the keys of her own space – a spacious apartment, furnished, with a double bed, a private bathroom with a tube and a washing machine, a small living room with a WiFi dangle and a big screen. Our sunken eyes, almost closed by fatigue, open wide again and our minds, confused, struggle to find words to express our gratitude… "Good night! And above all, sleep well. You really need it."
The day was already well advanced in time when we met our two hosts the next day, around an improvised brunch. We listened to them telling their experience as volunteers in China, they listened to us telling our experience in Xinjiang. We (almost) forgot how good it was to discuss without filters, without a translator… The second day, we finally went out to eat our very first Hot Pot (Chinese fondue) with our hosts and their friends, before visiting the Jiayuguan fortress; the most western part of the Great Wall of China. It has to be said that in China, its heritage is the opposite to its gastronomy: expensive, modernized, without any taste.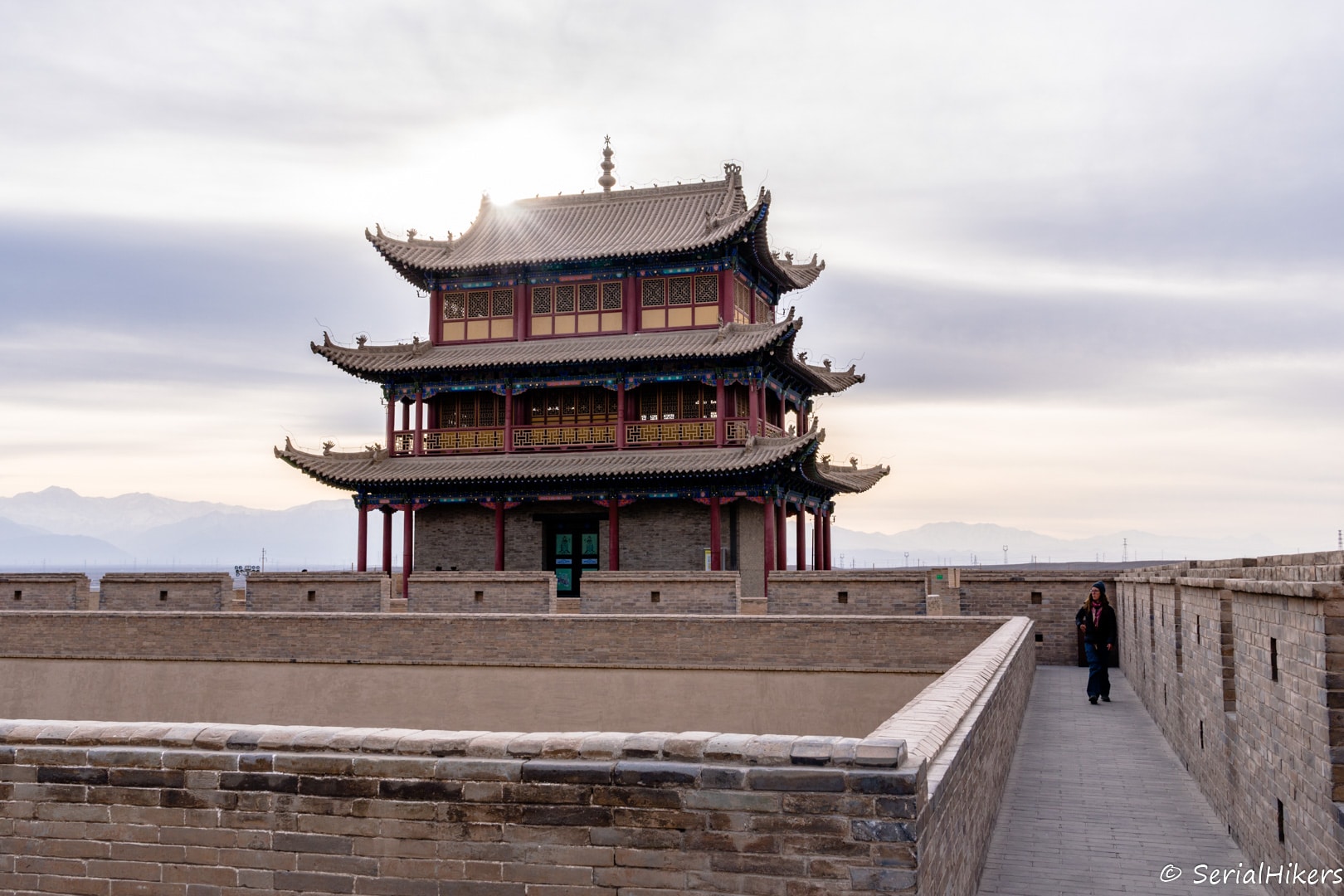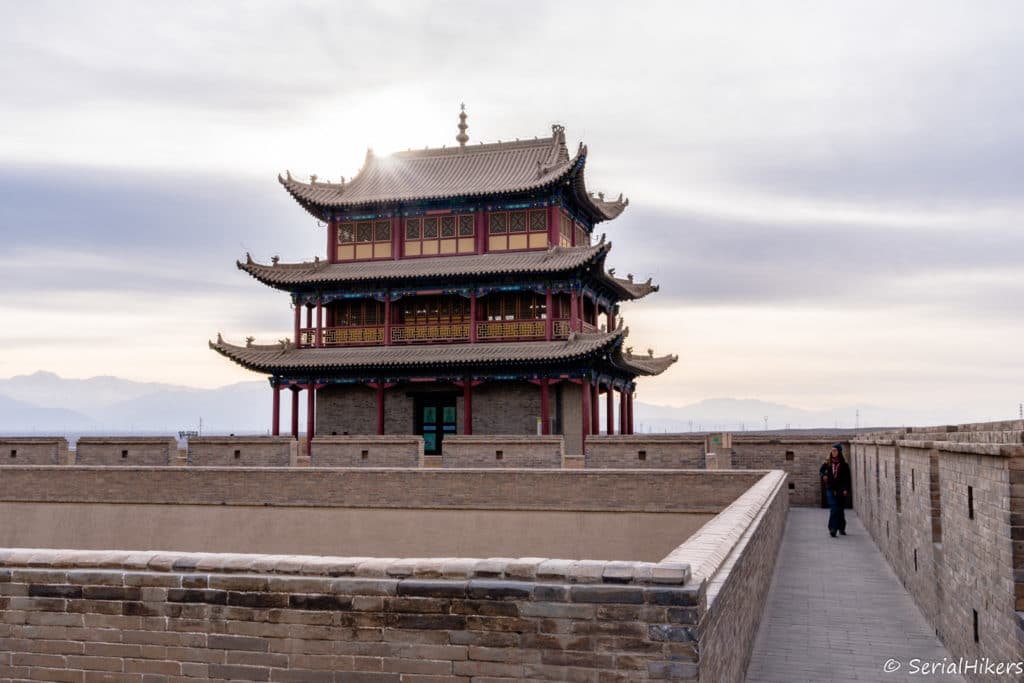 "Thank you again for all". We took the road, boosted, motivated, rested. On the discovery of the unknown and its mysteries, we still had one unknown to solve: even far from Xinjiang province and its police, we were unable to find Chinese hosts, including in the big cities of Gansu. Is hospitality something unusual in China? Are people afraid to open their door to foreigners? Is it cultural, politics? Lost in our thoughts, we did not even notice Zhangye's first buildings. On the main square where we were dropped, a festive atmosphere and new scenes of life ripped us of our reflections: while toddlers were having fun pulling imposing traditional dragon-shaped kites, elderly people were having fun dancing in rows to pop songs. So many incongruous discoveries, so many unanswered questions… We will only keep one, as an old joke: "It's another culture".
Leaving this fun-filled atmosphere, we walked on quieter, less crowded paths. This is how our footsteps took us to the big temple of Zhangye – a temple that we decided to visit, with the will to see a huge reclined Buddha. We finally saw it inside the main temple: this carved Buddha, 35m length, reclined, seemed to be waiting for us with its big drawn smile. And it was not the only one: the temple door threshold barely crossed, a couple of Uighur tourists joined us; taking advantage of this opportune moment, out of sight, to introduce themselves. On their faces were also drawn a big smile: a warm, friendly, knowing smile; addressed to strangers like them, non Han and curious people. Conversation quickly engaged, supported by a few English words, helped by translator. It did not take long before they invite us to have dinner. And say that in one week in Xinjiang, it was not possible for us to exchange, interact, or simply communicate with native Uighurs! We gladly accepted their offer: gathering around a good meal, we know, is the perfect opportunity to discuss freely, while feasting. Unfortunately, the awaited exchange around garnished dishes failed to deliver its benefits; the discussion running short because of a limited English, badly translated words, and our spied gestures. Spied, what…? Our first week in China, in Xinjiang, would have made us… paranoid? Not really. While the custom is to pass hands on the face at the end of a meal (a traditional and religious gesture of thanks), I was to my surprise the only one to initiate this move… What an idea to reproduce a cursed, forbidden gesture! Thinking of doing well, I'm now rewarded with several cautious looks. With a discreet sign, our interlocutors showed us several CCTV cameras, strategically installed inside the restaurant. I already had forgotten. In China, Big Brother is never far away!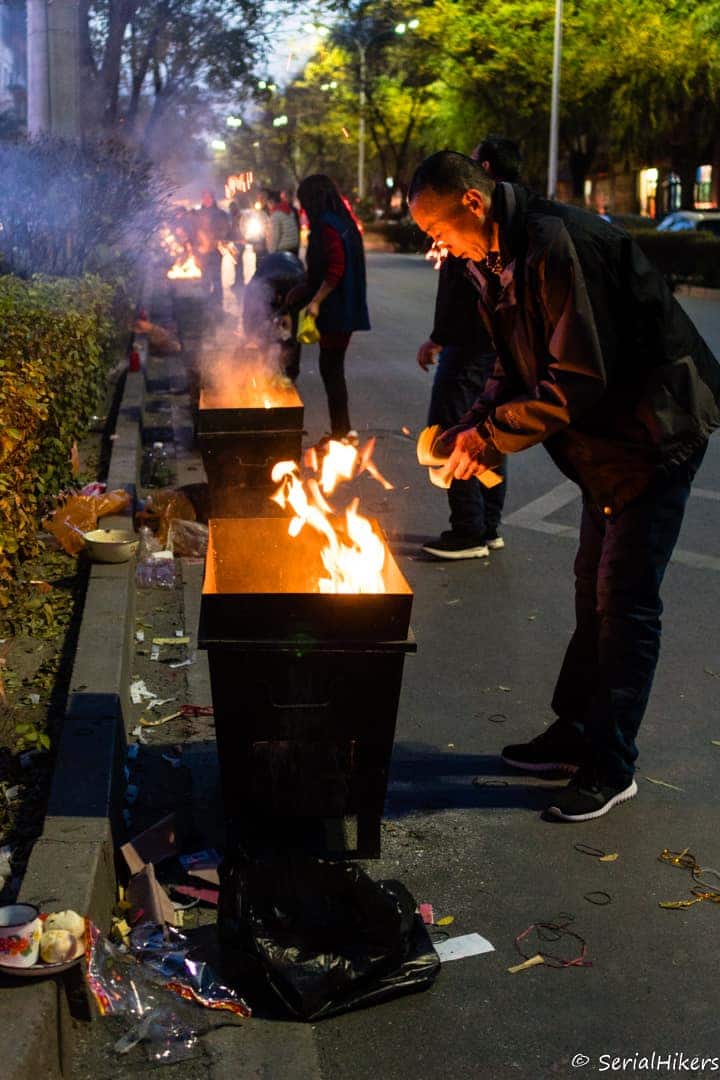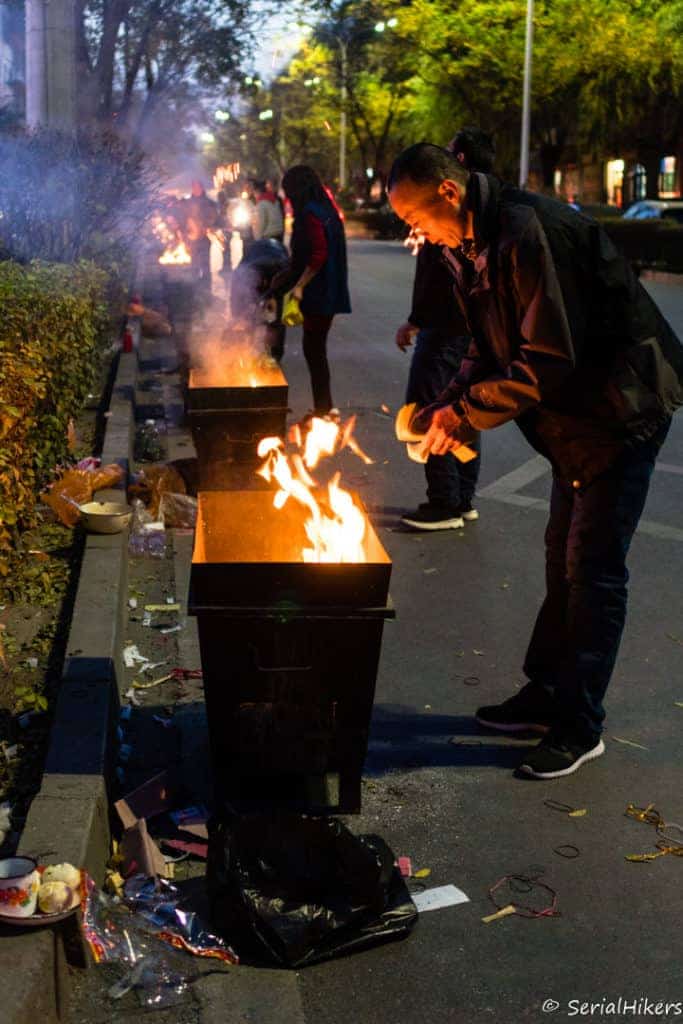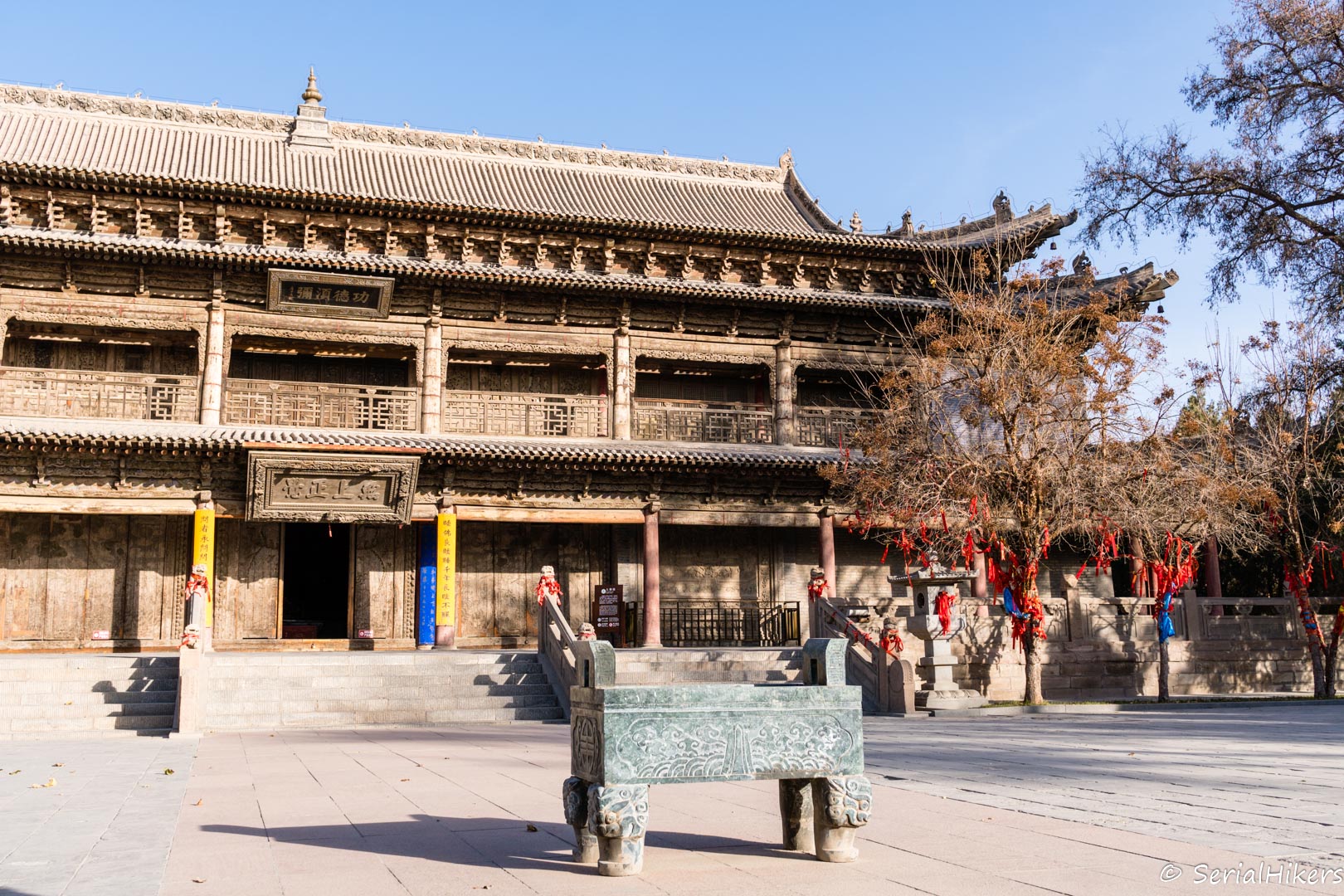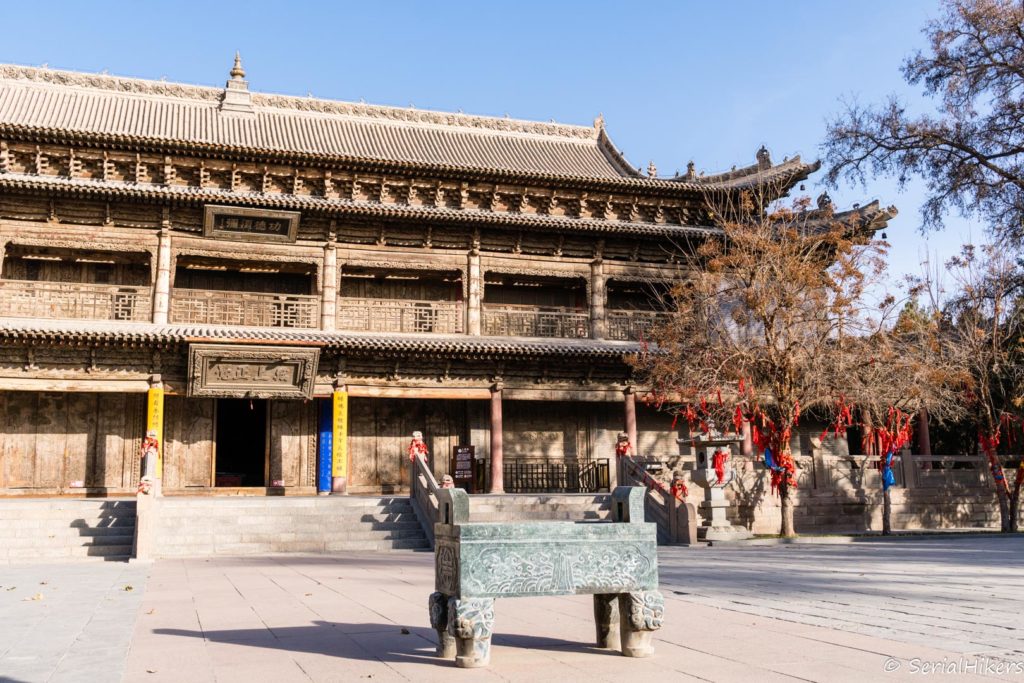 Leaving each other, we question ourselves heavy-hearted, full stomachs: Will they have any problem? Will they be questioned? Disappear? The night begins to fall, without giving us answers to our questions, nor to the one that is now concerning us: Where are we going to sleep? While we were wandering through the streets of Zhangye, without a clear purpose nor a detailed plan, another show began just in front of our eyes: couples, children, entire families came to gather in the street, around small improvised campfires, lit in barrels or garbage cans, in the most complete silence. We looked at them burning all kinds of objects: clothes, shoes, letters, wads of paper money… Caught in the crossfire, we realized, fascinated, that a celebration was happening in honor of their ancestors. While paper money ashes evaporated in the night and all hope of finding a host seems to go up in smoke, a horn resonated and a woman beckoned to us. Speaking in a perfect English, our benefactress offered her help: although she was not inclined to welcome us at home, she did her best to find us a hotel room at a well negotiated rate. Alone in our room, the same questions came back – about hospitality, traditions, relationships… With always the same answer: it's another culture.
I can host you
"I can host you". While my phone was vibrating, I opened my eyes, my hand trying to grab the object of the offense. Reading the message will finish to wake me up completely: jumping out of bed, like a frenzy, I woke up Julien with an excited voice to announce the good news! Thanks to Alain, a young Chinese student living in Sichuan and a member of Trustroots hospitality network, we had just been put in touch with Shehrzad, a Pakistani student living in Lanzhu, Gansu. And by listening to our story, Shehrzad did not hesitate one second to invite us to sleep in his dorm room, located on a university campus. We take out the map, calculate the distances: Lanzhu is a bit far, and we want to visit first the geological park of Danxia, with its rainbow mountains. "Thank you very much Shehrzad, we will probably arrive tomorrow afternoon."
Fast breakfast on the run, then running after cars at the edge of Zhangye. Tonight we will try to pitch our tent in the rainbow mountains surroundings, and tomorrow we will try to reach Lanzhu. We are rather confident, probably a bit too much… As usual when we draw a plan, something happens and shreds it into small pieces. Danxia's rainbow mountains, though exceptional, find themselves closed and exploited in a large, ultra-touristy geological park – a place that reminds us without hesitation an amusement park, with its mandatory shuttles buses, fake "stones" concrete walkways and loudspeakers spouting epic music at the most photogenic points. Unfortunately Danxia will not be the first of the Chinese sites, nor the last, to have been a little too Disneylandized for our taste… In the meantime, we must face the facts: we can not stay here, less sleep in our tent. In Danxia's Rainbow Mountains there is plenty of room to park a car, but none to pitch a tent.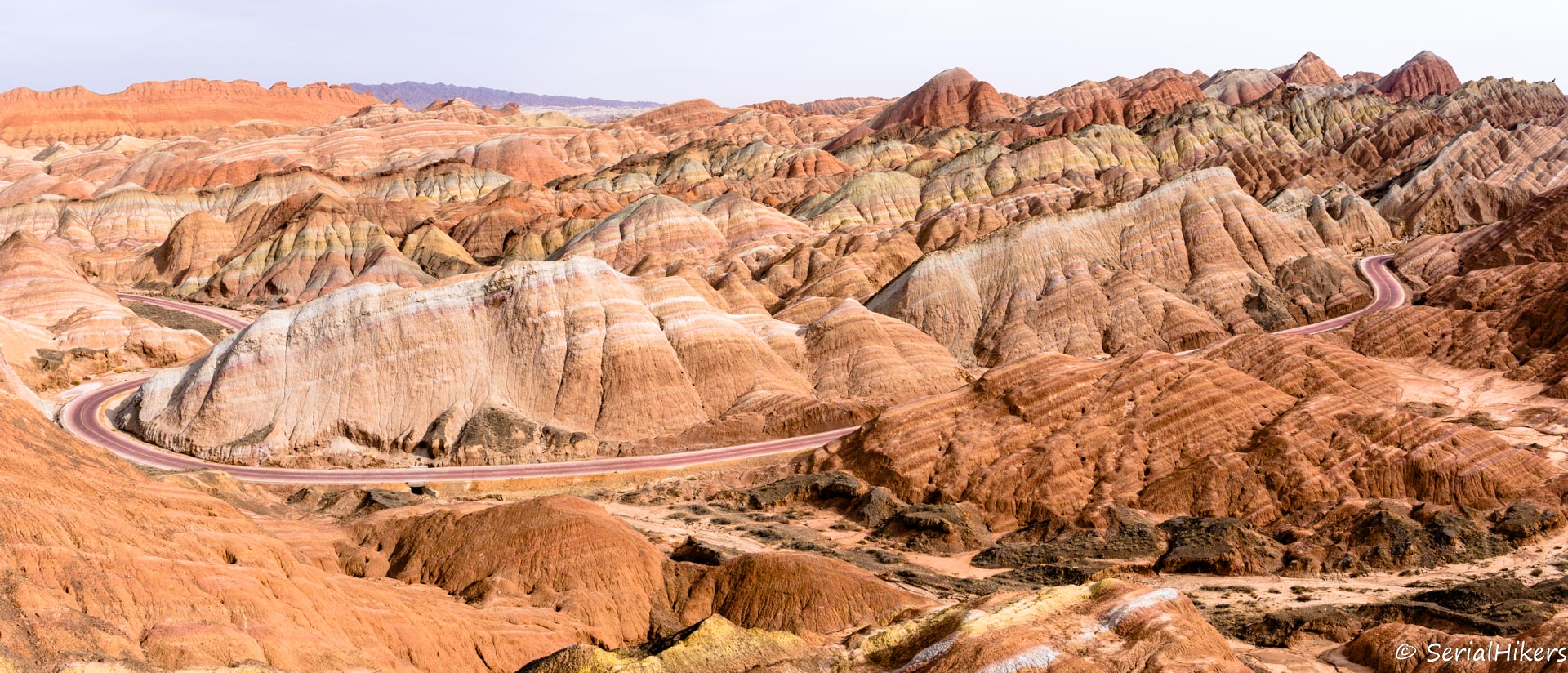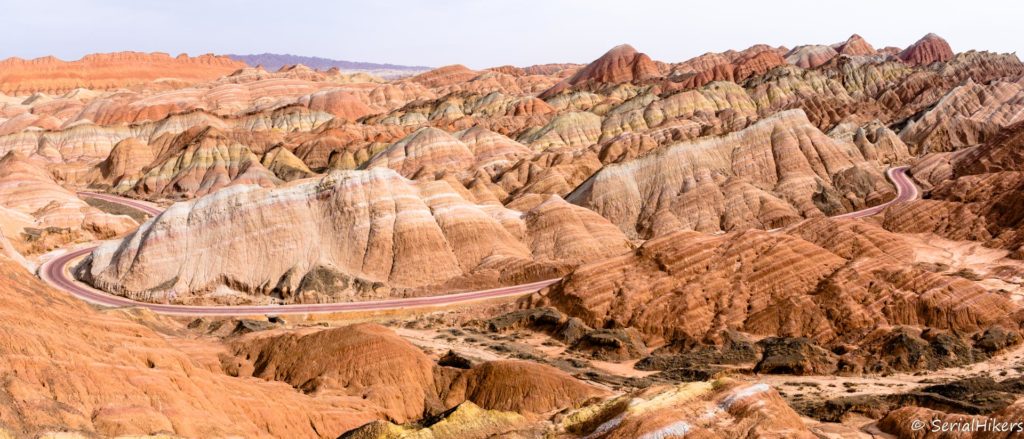 The ones who try nothing have nothing. Since we can not stay here for the night, we decided to leave and do what we do the best: stop cars to bring us to the unknown. Dropped at the entrance of the main highway, we will not wait very long before another car stops for us. "Where are you going?" "We don't know. We are looking for a place to spend the night, before reaching Lanzhu…" Our driver's wife seems to think. They don't drive very far, only 60 kilometres away, in their family home. "I have a solution for you". Have we well understood? Are we invited at home? While the car turns and sinks into an industrial area, we doubt. In front of the gate of a small and well-guarded company, our driver stops his car and our doubts are confirmed: instead of the warm family home we imagined, we were in front of a long, empty and abandoned building. "This is my father's business. For the moment, it's closed. You can sleep tonight, indoors. There is electricity but no heating or running water." So that was the famous solution!… We barely had time to thank them, their car had already left. We made the old meeting room our new headquarters: after a snack and two movies, we fall asleep on our mattresses, wrapped in our sleeping bags. Huddled together, our dreams took us far from the industrialized landscape, where a compact snow began to cover with a beautiful white thick coat…
And we were supposed to camp!… Hitchhiking luck has, once again, saved us: like masked heroes, our drivers sheltered us – without waiting to hear a proper thank you from us! We were therefore confident to put once again our destiny between meetings and thumb up on the roadside, hoping to get to Lanzhu before night falls. And once again, our hitchhiking luck worked: dropped at Lanzhu's entrance in the middle of afternoon, Shehrzad came against all odds to pick us by taxi to his shared student apartment, and introduced us to his group of Pakistani friends. We immediately felt good with them, welcomed with open arms, warm smiles and oily Puri. They were not anymore the only ones to attract attention: we too, with our white skin and our backpacker looks, we stand apart in this studious landscape filled with diligent Chinese students. We were part of their group, their world, their bubble – a light bubble, free, impervious to Chinese patriotic songs broadcast morning, noon and night on campus. A colorful, sparkling bubble, like the ones dancing in our pints of beers and hookahs prepared each evening.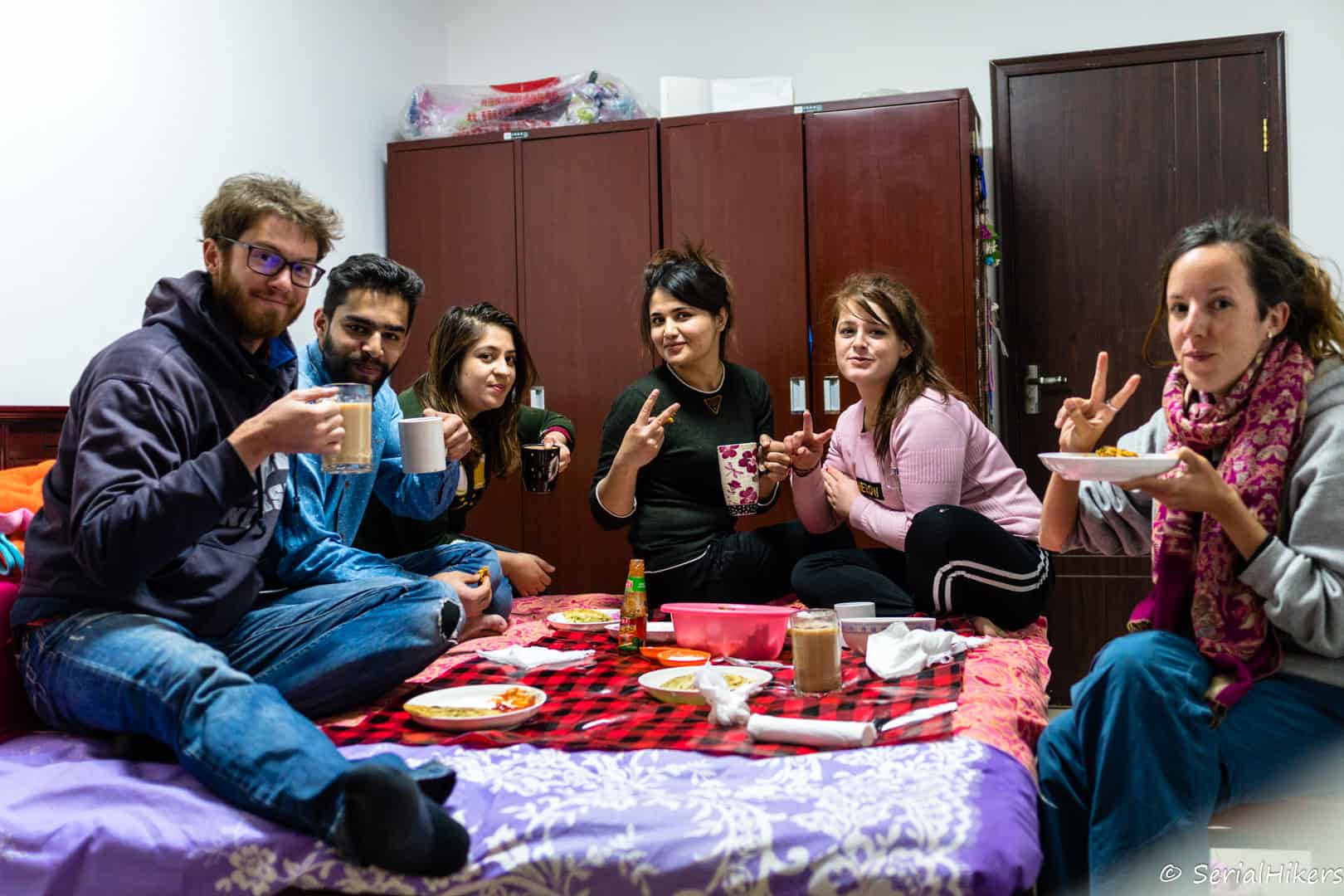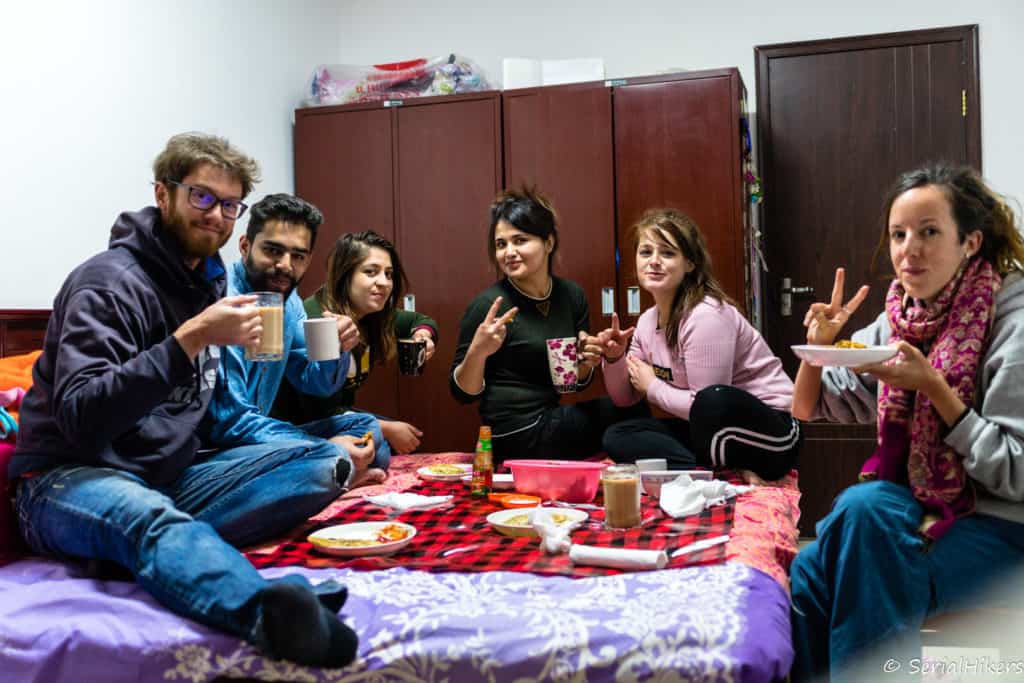 In immersion
Our bubble finally burst. After 3 wonderful days spent with them, it was time for us to move forward – first on the roads of China, then in the many small invisible paths leading us through the vast Chinese culture and its secrets. Determined, we walked straight to the entrance of the highway leading further south, despite the difficult conditions, cold and snow. The wait has been long before we stopped our first car. It has also been long before a toll-girl helped us to find another vehicle to give us a lift. The wait has been even endless after our third driver dropped us off in the middle of nowhere, not without spoiling us with a 100 yuan note despite our strong protests – a gift in exchange of a 2 cent euro coin, our last symbolic souvenir of Motherland, a forgotten piece of metal found in our wallet's bottom. And then magically, the wait disappeared in the last light of the day, when our last car stopped (after less than 5 minutes of waiting) to take us to our destination Longnan. Life is like a hitchhiking day: we meet people, we take different paths, we never know if we will find at the next turn good or bad surprises… But we keep moving slowly, curious and confident, towards the unknown.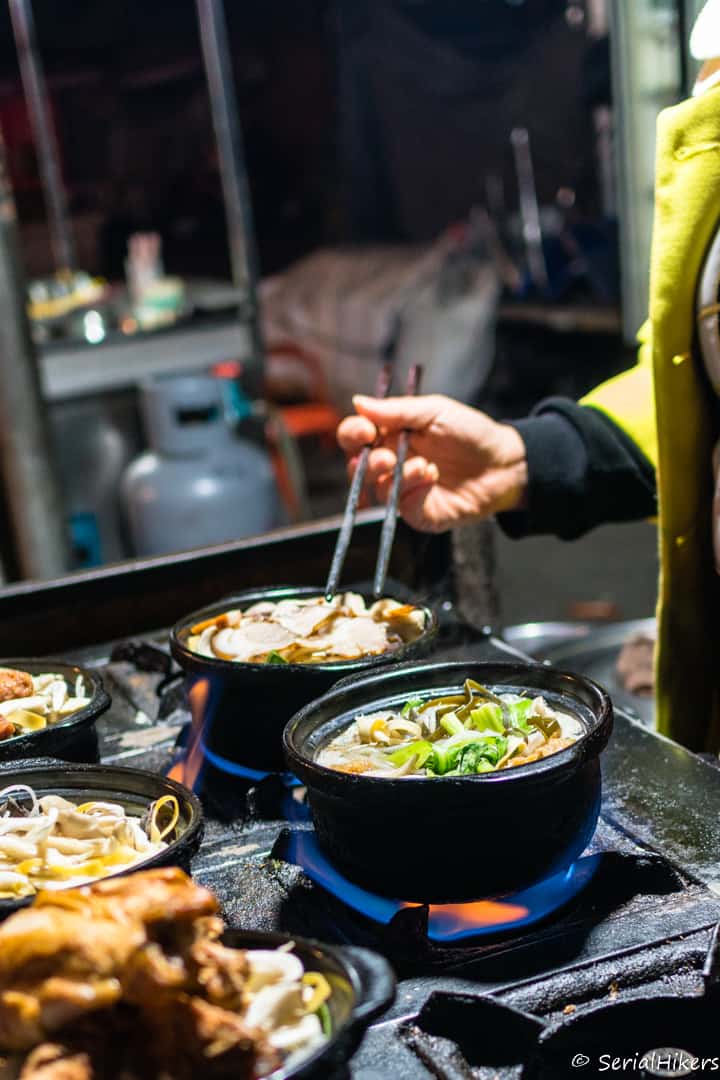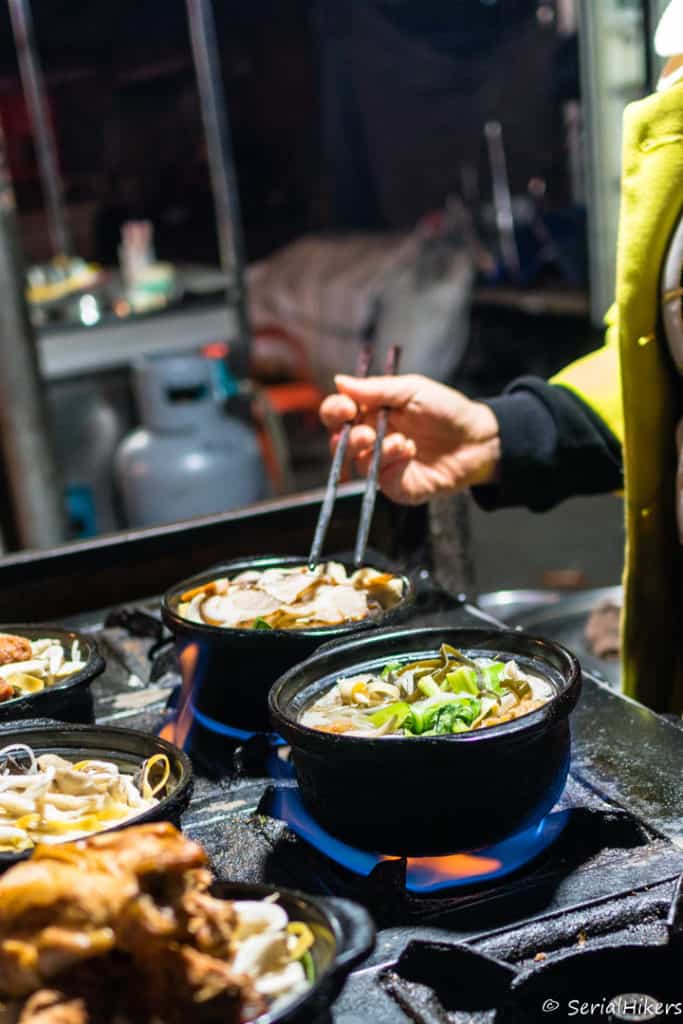 The late hour of our arrival in Longnan did not seem to bother Dr. Wang, who received us in her modest home – also a traditional Chinese medicine center where Wang practices acupuncture, cupping and other poultices. This 30-year-old single mother agreed, against all odds, to host us for two days on the recommendation of Hong, our future Couchsurfing host. Wang speaks only Mandarin, but took great care of us as her patients and 3 little girls, very excited kids happy to show us their English homework. When the last patient left, the family took us downtown to enjoy a local noodles soup prepared in front of our eyes. In this market that never sleeps, true temple of flavors, all eyes were turned towards us, strange and pale travelers.
Early morning, after a good night of sleep comfortably laid on the massage tables, two bowls of soup were awaiting us. On the breakfast menu a cold and spicy soup called Liangfen, served with sticky noodles made from potato starch and mung bean flour, frozen herbs and other condiments that were hard to identify. The soup is good but a bit too exotic for our French taste buds, used to a solid and sweet breakfast… Wang, tacitly understanding this taste shock, offered to cook for lunch simple rice noodles fried in a wok with a mixture of herbs (which she keeps the secret), served with fried Enoki mushrooms. What we will remember of Longnan does not appear on any of our pictures. It's not these modern concrete towers rising from a valley between two mountains, nor this great aerial highway that crosses the city and spoils the landscape. What we will remember of Longnan is all about taste!
Leaving Longnan was not easy: when we were dropped at the highway entrance to travel back to Tianshui and meet Hong, this was an horrendous move! Two toll employees, speaking a little English, came to us to make us understand that we can not stay there. We didn't try to negotiate; we took our bags and moved about fifty meters to find ourselves out of the field of toll CCTV. After a few hours waiting for a car, a bus stopped in front of us: we seized our chance, translating our story to the driver and his colleague. They look at each other in amazement, and talked. Against all odds, and without a word, the driver beckoned us to come aboard! Being driven comfortably to Tianshui, we celebrated this victory with a hearty meal in small street restaurant, before heading out of Tianshui to stop a car for Qin'an, where Hong and her family live. When we finally met Hong, we let our gratitude express for ourselves: thank you Hong for introducing us to Wang, thank you Hong for welcoming us to your home, thank you Hong for sharing your culture with patience and kindness.
Hong works for the local government and is a member of the Party. Before giving an hand to the local government, she had to show clean hands: all her family members were questioned about her loyalty and she had to hide from the authorities a lot of things (her Buddhism beliefs, her accounts on censored websites like Instagram, her host activities on Couchsurfing…). One more proof that Chinese people are being watched, spied on, controlled by their own government in all conscience – but with a great resilience.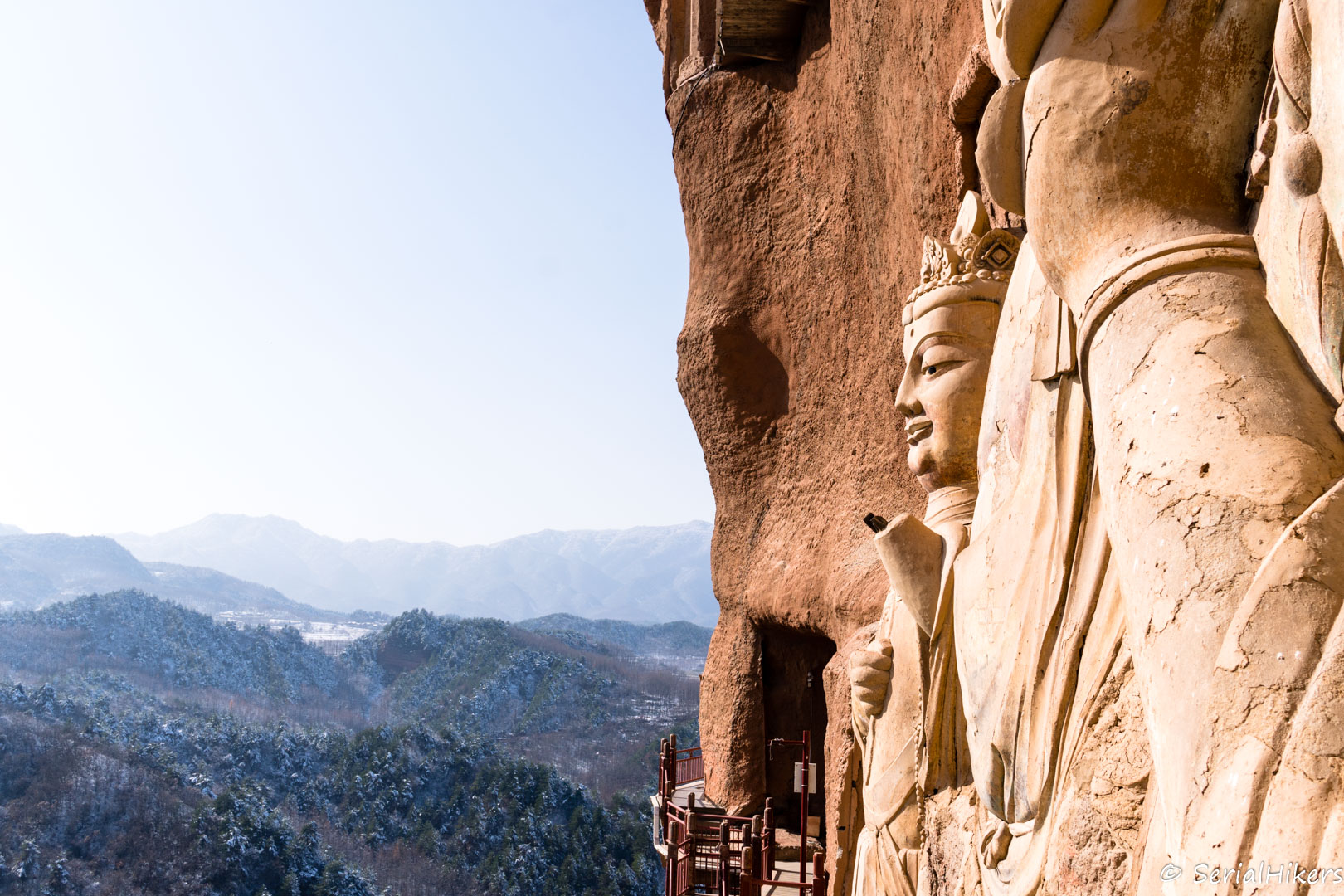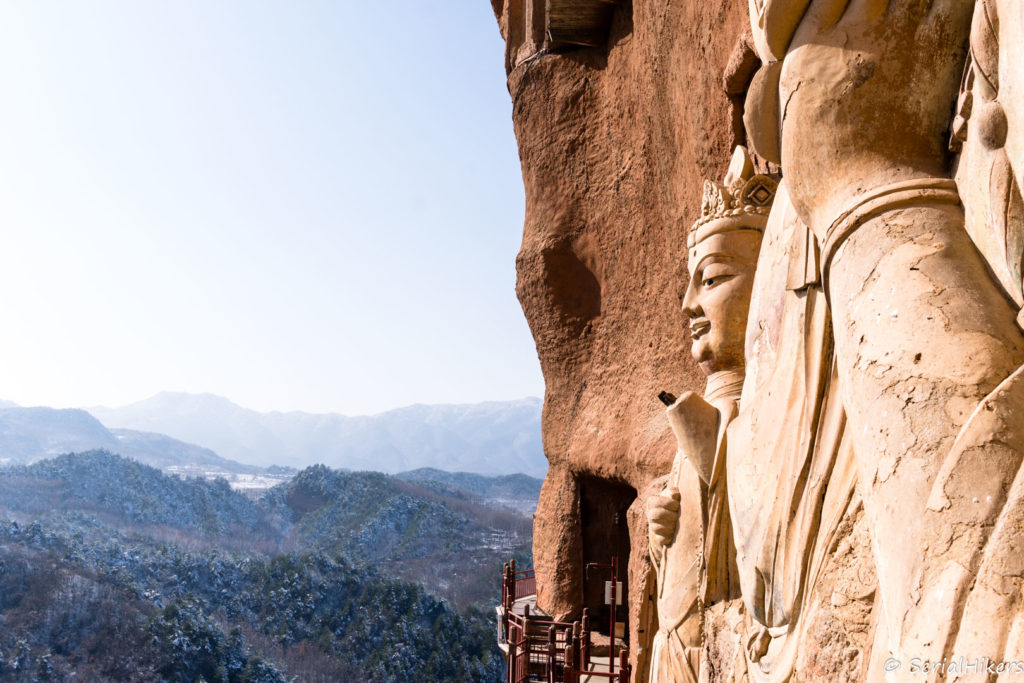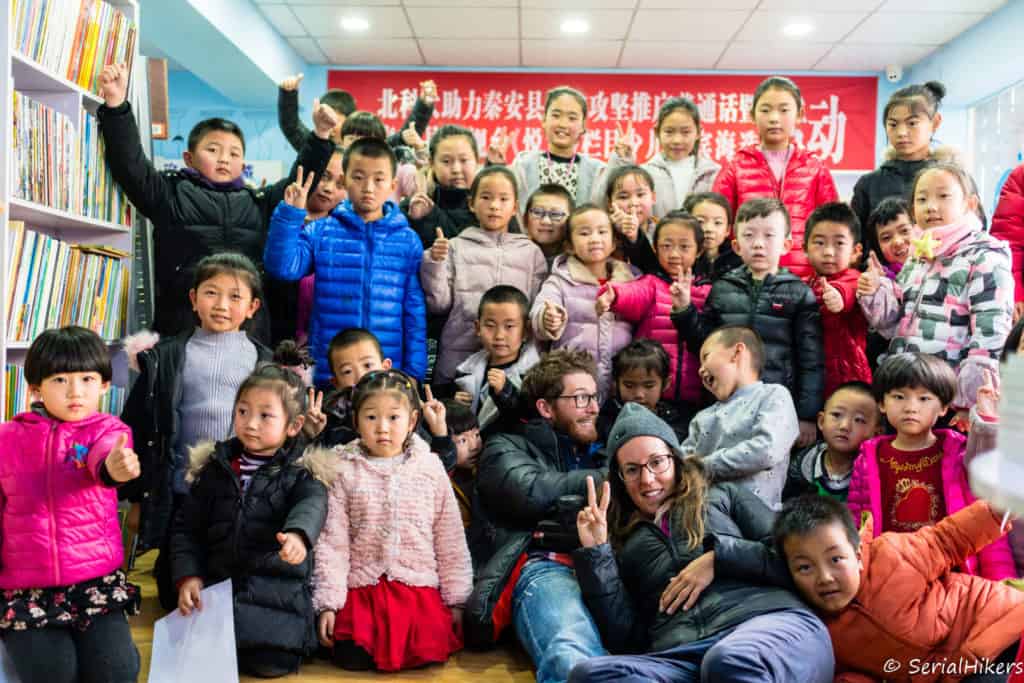 Our first day was intense: English classes for Hong's children and their friends in the morning, lunch with Hong and her friends in a Hot Pot restaurant for lunch, presentation of Paris and French gastronomy in front of thirty children in Qin'an library in the afternoon (followed by a long photo shoot and signings time), dinner with Hong and her husband in a Hot Pot restaurant at night. The next day, a colleague of Hong took us to Mount Maiji caves: a set of 4th century Buddhist caves dug into the wall of a holly mountain, and made popular thanks to gigantic Buddhist sculptures, suspended in mid air, facing Gansu forests and peaks. We came back to Qin'an by hitchhiking at dusk, spending a last evening at Hong's place. Wishing to live in total immersion in Chinese culture, we were absolutely delighted! But this immersion came at a price: these past few days have not offered us a single moment of respite.
Reunification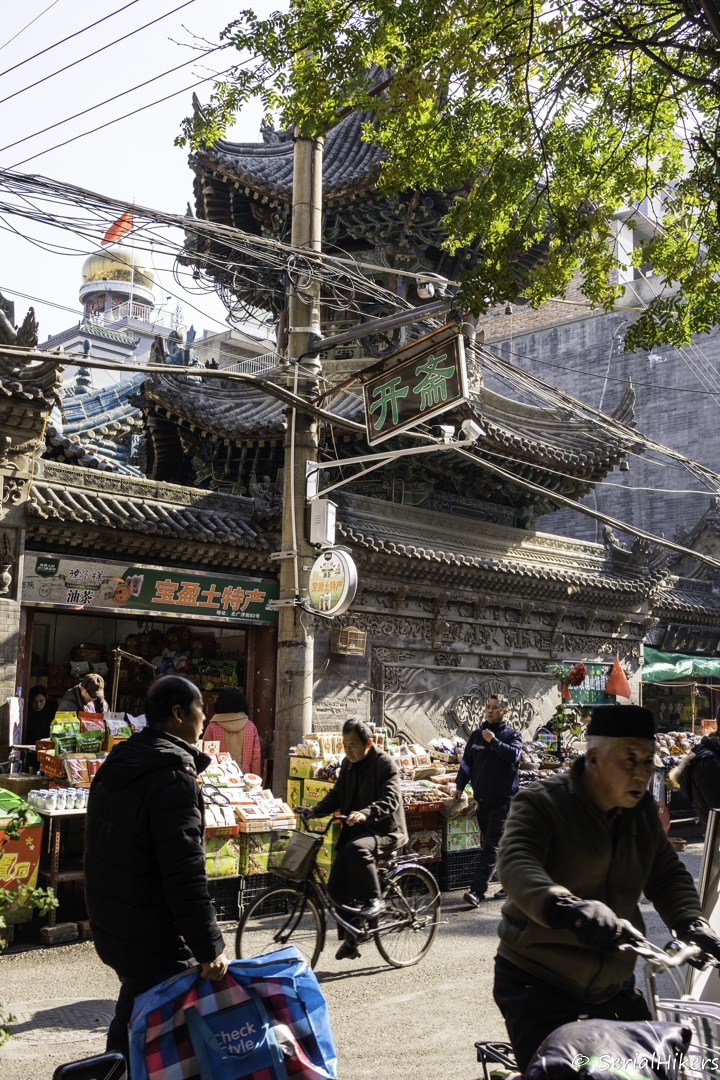 We departed at dawn for a day under the sign of reunification. From Qin'an to Xi'an, we travelled two provinces and more than 580 kilometers before being reunited with our friend (and host for the second time of our trip) Milos. Back in March 2017, Milos had hosted us for several days in his hometown of Kraljevo, Serbia. Fate has made us meet again 18 months after leaving his home: while Milos had just moved to Xi'an to find a job as an English teacher, our entry into the People's Republic of China territory was official. But before we could hug Milos again, we had to find an hostel willing to give us a temporary residence paper (and registering us officially to the police database) to complete our visa extension file. This step, which was basically a formality, quickly turns into a real obstacle course in the heart of the city known for its Terracotta Army… Of the ten hostels visited, half did not accept strangers – while the other half simply did not know anything about this famous paper. Resigned, we abandoned our search for the day; preferring instead to get lost in the old city center busy streets.
"Guys, I'm here!". Milos. Despite the darkness we recognized him right away, his shadow popping up between two high buildings with a big smile on his face and a bunch of beers on his hand to welcome us: we met him again, as we have left him. Only, the family home and green hills of Serbia that we explored yesterday gave way to ugly skyscrapers and a polluted atmosphere. But it doesn't matter, because tonight we savor this reunification together with the company of Ilena, his childhood friend.
Days come and go. The day after our arrival, we went back to the city center and quickly find an hostel willing to deliver the paper we were looking for – that we gave right away to the PSB with our complete file. On the other hand, party is over with our Serbian friends: police checks have just taken place in the neighborhood, and with the exception of Ilena who has a Chinese work visa, Milos and us can not be hosted at an individual's home without being registered to the police. We stayed two days locked inside to avoid Ilena any problem. On the third day, we all discreetly went out to visit the city center, eating Uighur delicacies in the old district, before strolling in a park and finally recovering our passports at the PSB, with a valid extension until December 28th. This small victory gave Milos a little hope for the rest of his stay, and an opportunity to drink before leaving our Serbian hosts the next day.
Kai, a dynamic thirty man, welcomed us in his uncle's company apartment. As employees are not working on weekends, we were allowed to stay until Monday. Unlike his fellows, Kai speaks English very well and shares fearless with us his political views. Between two passionate debates on communism (or capitalism?) and the Chinese-Japanese war, we took a time apart to admire the thousands Terracotta Army soldiers. A great moment of history, engraved in our memories, silent in front of this thousand-year-old army of men on the ground – men with stoic expressions and unique faces.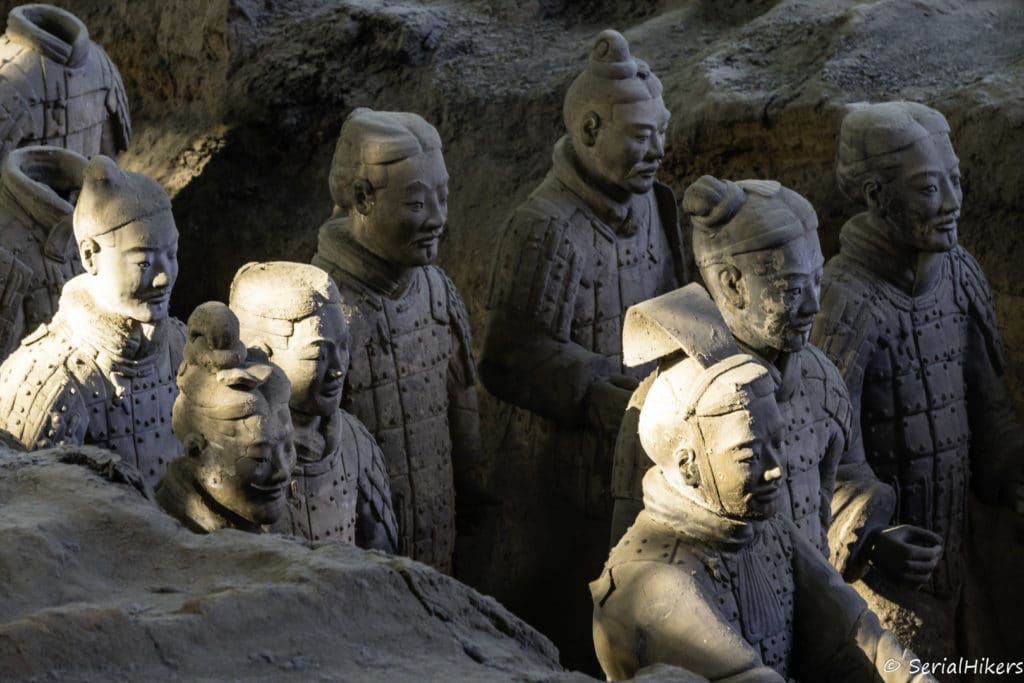 "Hello, nice to meet you!". This soft voice tinged with a slight British accent belongs to Hana, a cheerful and discreet Chinese girl, assigned as an English teacher at Shiyan University. From her university years in England, Hana has not only kept a British elocution, but also some rather singular traits in China: an unrestrained curiosity, a keen interest in the news shared by western media, a desire to open herself to the Unknown. We too are delighted to meet her: Hana taught us a lot about Chinese culture – from Confucius teachings to symbols displayed around house doors (ideograms that meant to bring good luck or qualifying the home as a "model family", different from those displayed around the house door of Uyghur homes), and the discovery of new vegetarian dishes and other fascinating details.
We left Hana and Shiyan campus to face the road to Hunan and its mountains. Being dropped at the exit of the city, we were rather hopeful to move quickly. Despite a great start, we will be stuck for several hours at the Jingzhu toll – obliging us, at sunset, to put away our sign and hide our thumbs. By chance, a new residential neighborhood was built nearby: after a few minutes of walking we found ourselves seated around a plate of noodles in a local street food joint (a meal ordered thanks to the unexpected help of a client, an English teacher). Full, we came back to the highway where, a little earlier, we were able to spot a small wooded park. There, hidden behind thick bushes, we pitched our tent while thinking about these first weeks spent in China; from the difficulties endured in Xinjiang province, to the small miracles of encounters, luck and hitchhiking. About ups and downs. About lonely nights spent in the cold, and friendly nights spent in a warm place…
More about China
* Post written according to our personal experience *