Bonjour, Hello, Ciao, Dober dan, Dobar dan, Mirëdita, Geai sou, Merhaba, Barev, Gamarjoba, Salam, Salom, Nihao! Welcome to our series of newletters which retraces, chapter by chapter, our great hitchhiking jouney. Here is the chapter 16 of our travel stories: "The mystical mountains of Han's land" – Roadtrip in China, third part.
---
"China is not good"
Thousands of static and bright stars have given way to hundreds of noisy cars. As traffic resumes on the highway, we hit the road again with our thumbs up. This time, we won't wait long to reach Hunan province, then outskirts of Changde, and finally our destination; Zhangjiajie. Sitting with a cup of hot tea, a block away from the Li River, we patiently waited for our host Anthony – a young Irish expatriate, an English teacher with a passion for international news, politics and philosophy. Between two beer evenings with his Pakistani friend, and lively conversations about world and its complexities, we slipped away for two days to wander in the middle of karst peaks that belong to Avatar park.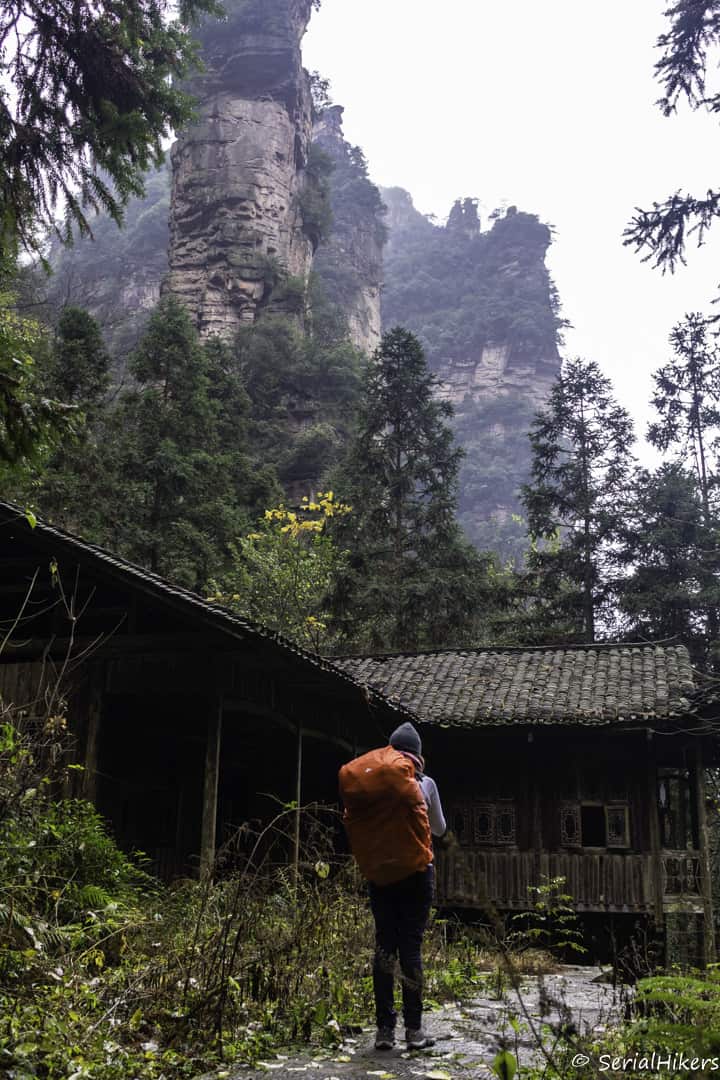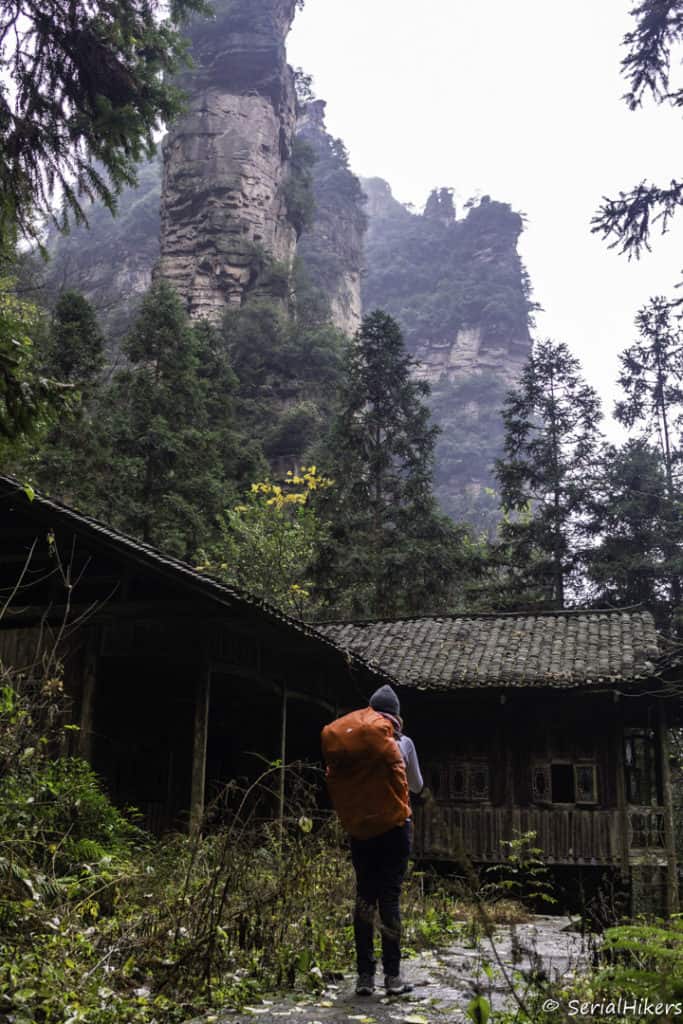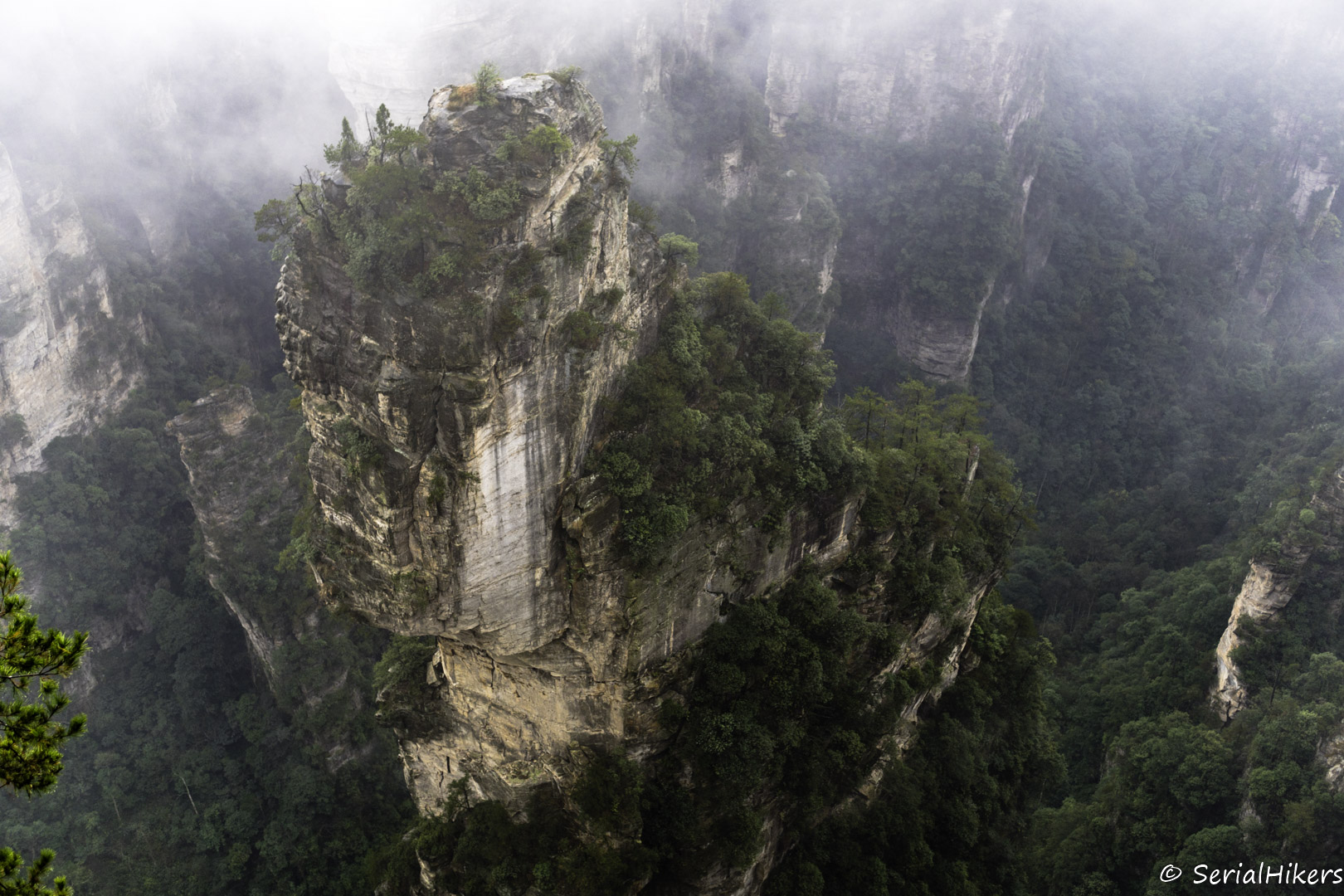 More about our hiking and camping experience
in the heart of Avatar park
After having said goodbye to Avatar landscapes and Anthony, we left in the direction of Chongqing, almost 600km away. Tian, our next host, was ready to welcome us at any time. The road is long, and the departure done at early morning: we quickly stopped the first car, but it led us to a highway exit with so little traffic that all hope of arriving at our destination the same day disappeared. Facing an empty horizon, gradually numbed by the cold, we looked out for the slightest spark, the slightest glimmer that will revive our lost hope, and warm our bodies… From the fog in which our morale has been plunged, after a while a few wisps of smoke appeared. These comforting vapours actually came from two hot water cups, held out by a tollbooth staff member…. We accepted them wholeheartedly, as well as his invitation to come and warm us up inside a toll cabin. Our guardian angel, speaking good English, asked us where we wanted to go, and why we chose to visit his country, China. "… Because we like traveling, and thanks to you and people we met, we have a good time in China". "But China is not good". He added that he didn't approve of the Party's policy nor the repression under way in Xinjiang (of which he seems to be well informed, despite the censorship). He didn't go any further in his explanations: a bus has just stopped at the tollbooth, and he finally convinced the driver to take us free of charge to the next city. China is maybe not good, but this country is full of good people.
17 o'clock, Chongqing is still 2 hours away. On the highway area where we were dropped off, we were enjoying our double ration of fried potatoes (the restaurant owner has generously served us the whole pot, in order to save herself from an unnecessary waste). Our snack eaten, we started canvassing among the cars parked around: "Chongqing?" A young couple driving an Audi beckoned us. "Chongqing?" "Yes!" The back seat was quickly cleaned up to let us sit down. The few words of English mingled with the awkwardly translated sentences showed by WeChat application, this conversation was somewhat complicated but so authentic, so true. After understanding our story, Li Yu and her husband invited us to their house, both for dinner and for the night. We hardly dared to believe it, so we asked them to rephrase their invitation: "We didn't understand, are you inviting us to your house?" And when they answered positively, we agreed to follow them with pleasure. The evening spent in their company was one of those beautiful examples of spontaneous invitations where cultural exchange, benevolent sharing and human connections go without superficial dialogue, awkward silences and false worldly politeness…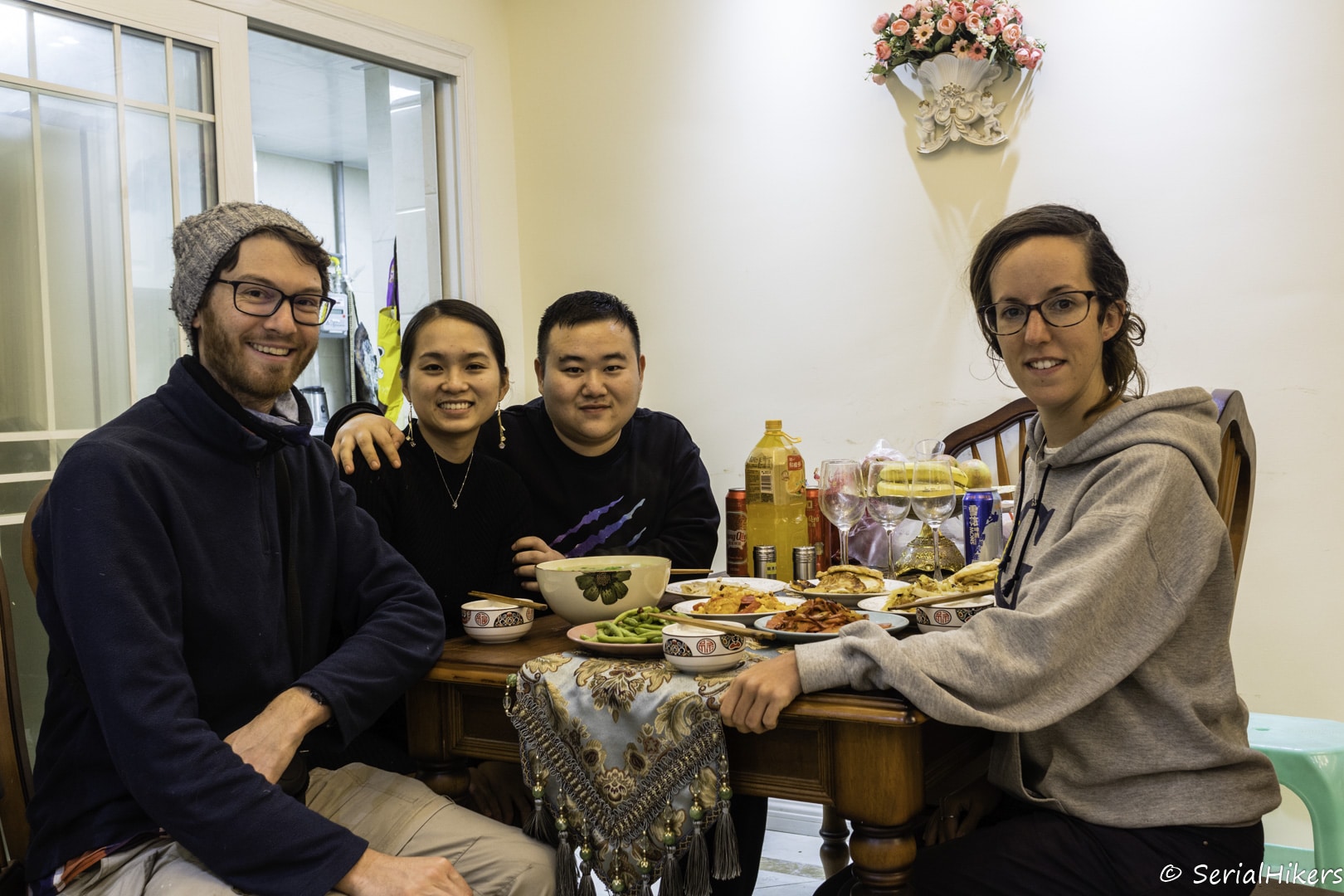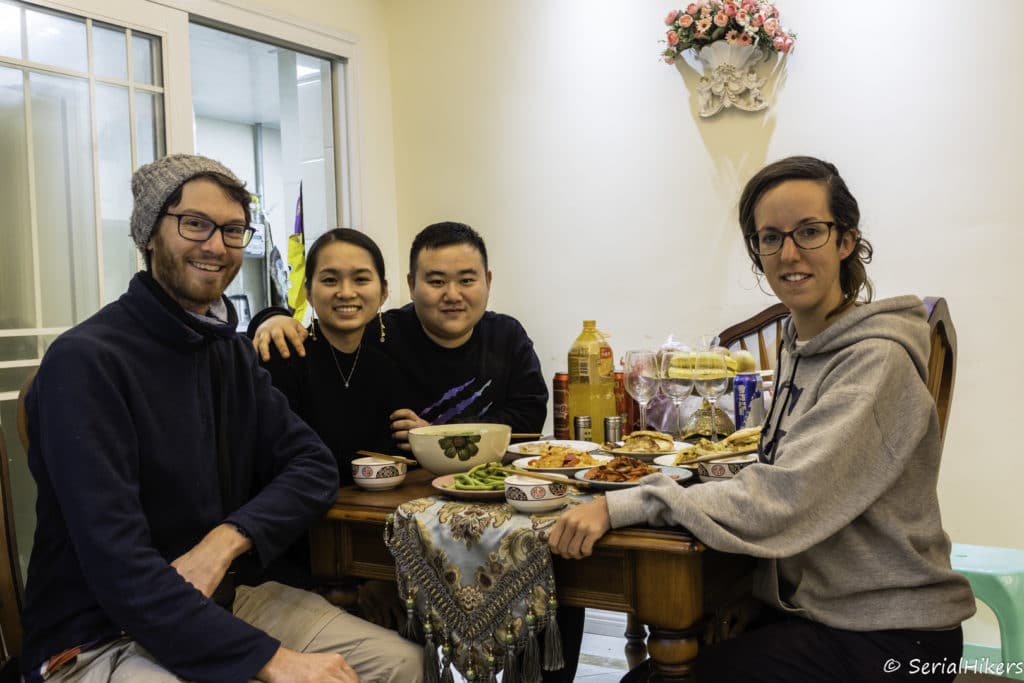 A connected hospitality network
Li Yu accompanied us to the subway that dropped us off not far from Tian's home. At the foot of huge skyscrapers, we finally got to know our host, before dropping off our bags in her large apartment. First surprise: our room, filled with children's toys, actually belongs to one of Tian's twins, whom she has preferred to leave in the care of her own parents. Second surprise: the second room was occupied by Felix, another couchsurfer, whom Tian seems to like… very much. We quickly understood that our new host, a young married woman suddenly confronted with a double motherhood, has other aspirations such as traveling alone in Europe, learning English, enjoying life pleasures. It was only much later that we met Tian's husband, a busy man and hard worker, speaking excellent English – a meeting which, by Chinese standards, took place over a very (very) spicy homemade Hot Pot. Between two strolls in Chongqing old town, a shopping trip to replace our old technical clothes, we had a good time in the company of Felix, Tian and, when he is present, her husband…
We left almost reluctantly, loaded with new memories offered by Tian and a new colorful sign that she designed. Our first driver, quickly realizing that we don't understand anything despite our cardboard sign written in Mandarin, stopped at a restaurant to offer us a big feast. Sitting in front of us, he watched us eating, quietly, satisfied looking. In reality, he wasn't alone… Standing behind us, the restaurant employees also watched us eat, curious, bemused.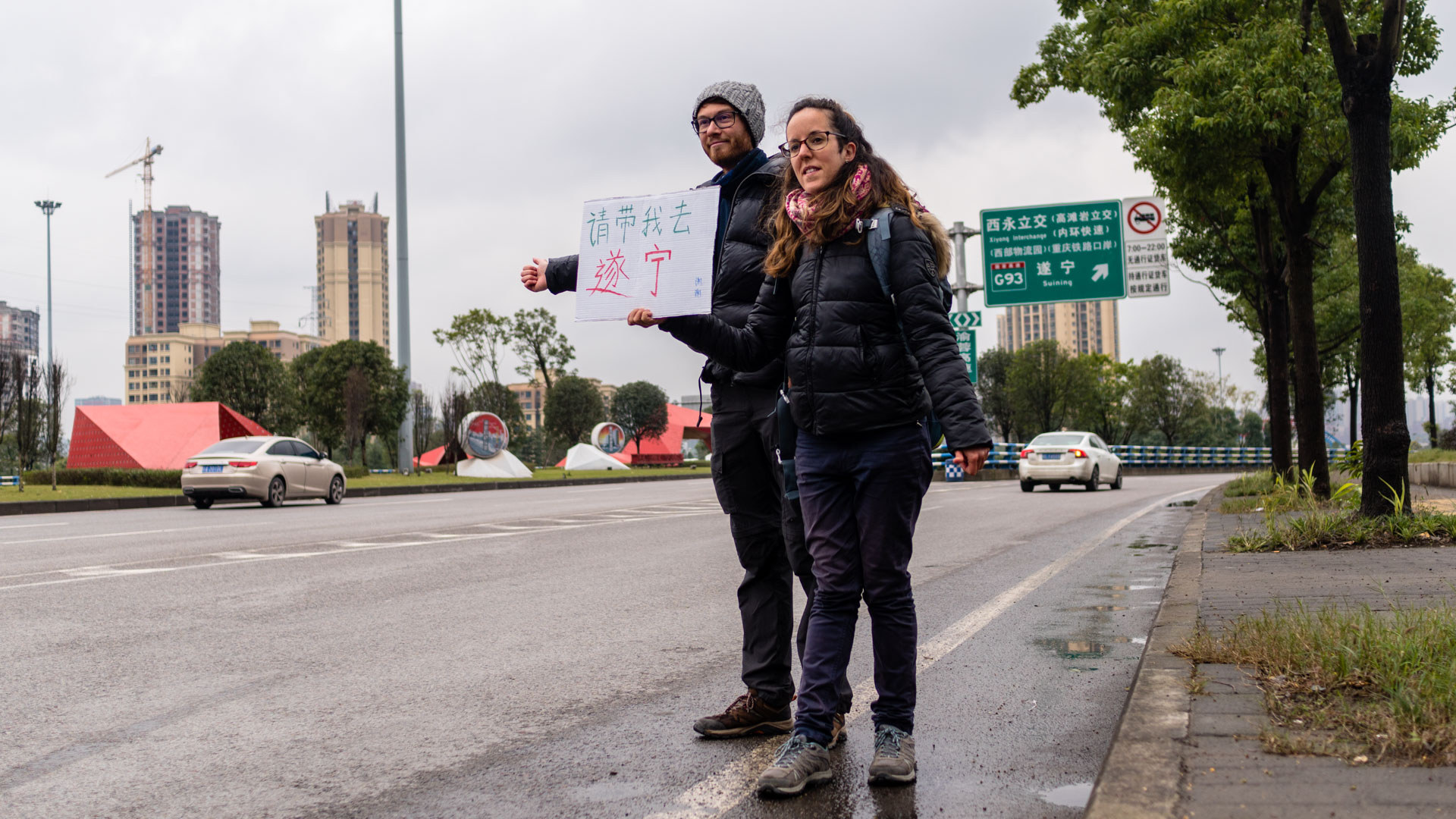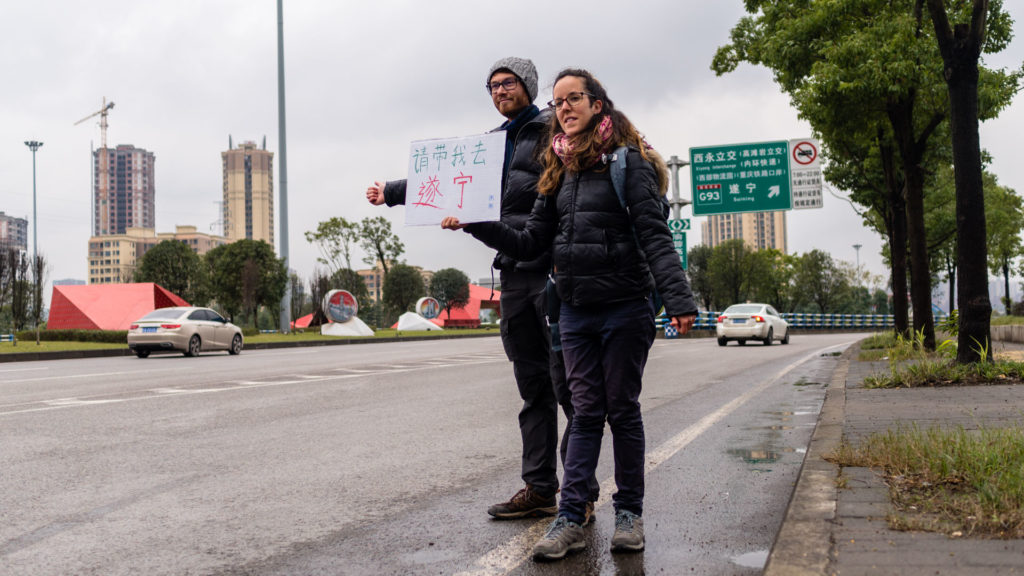 Another driver then stopped us on a small highway rest area. The traffic was light, but Julien managed to speak to a couple – whose wife speaks English. They agreed to take us to our destination, in Mianyang, only a few blocks from the address given by Alain, our host found on Trustroots network. Alain is a young Chinese woman interested in all forms of alternative travel – hitchhiking, cycling, and of course staying with locals. Alain is also an English teacher, who occasionally gives private lessons to young students who come to fill the benches of the association's big roo; where we were accommodated. Alain is also a real guardian angel; having put us in contact with Shehrzad, our pakistanese host in Lanzhou. But above all "Alain" is, in our culture, a first name given to boys…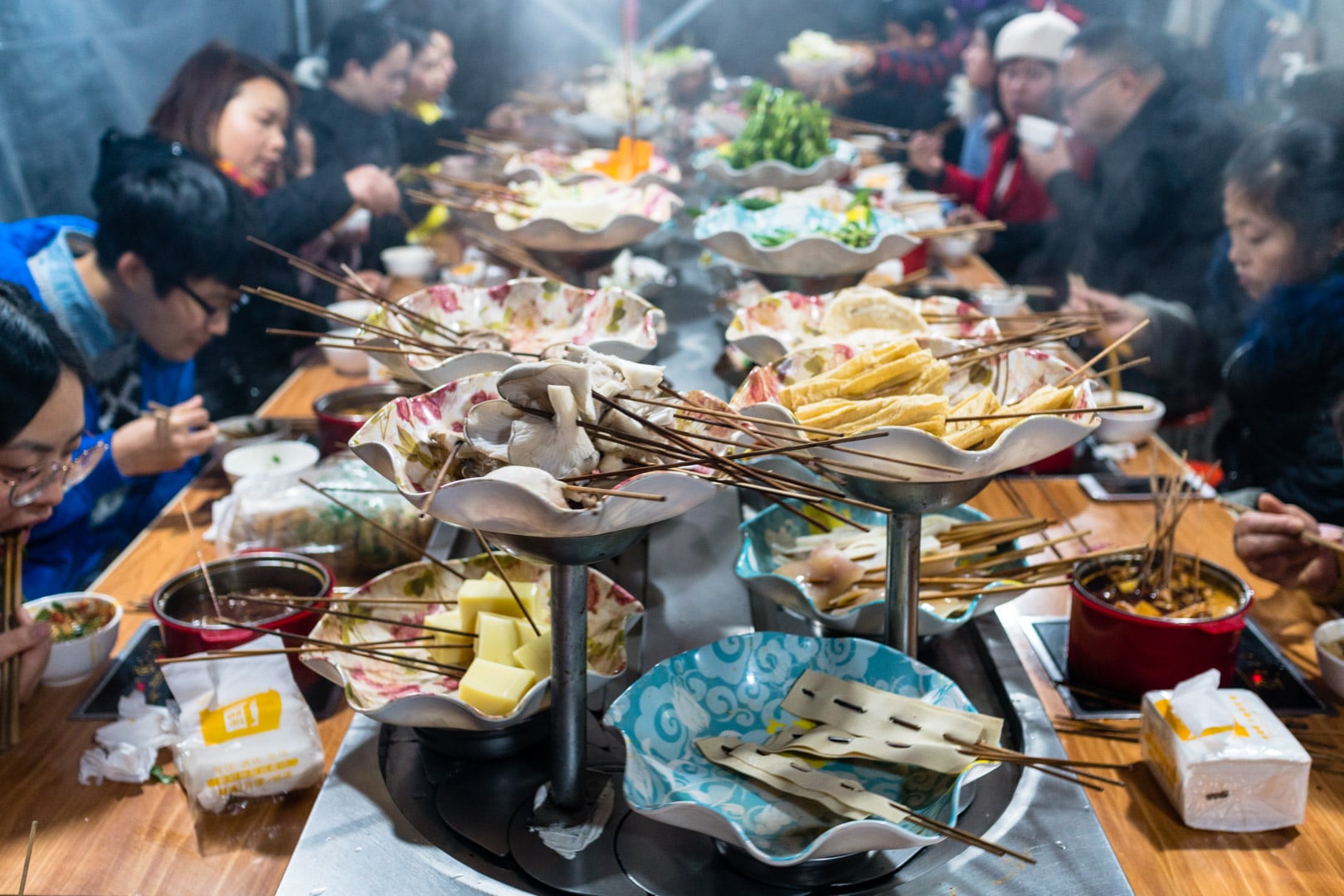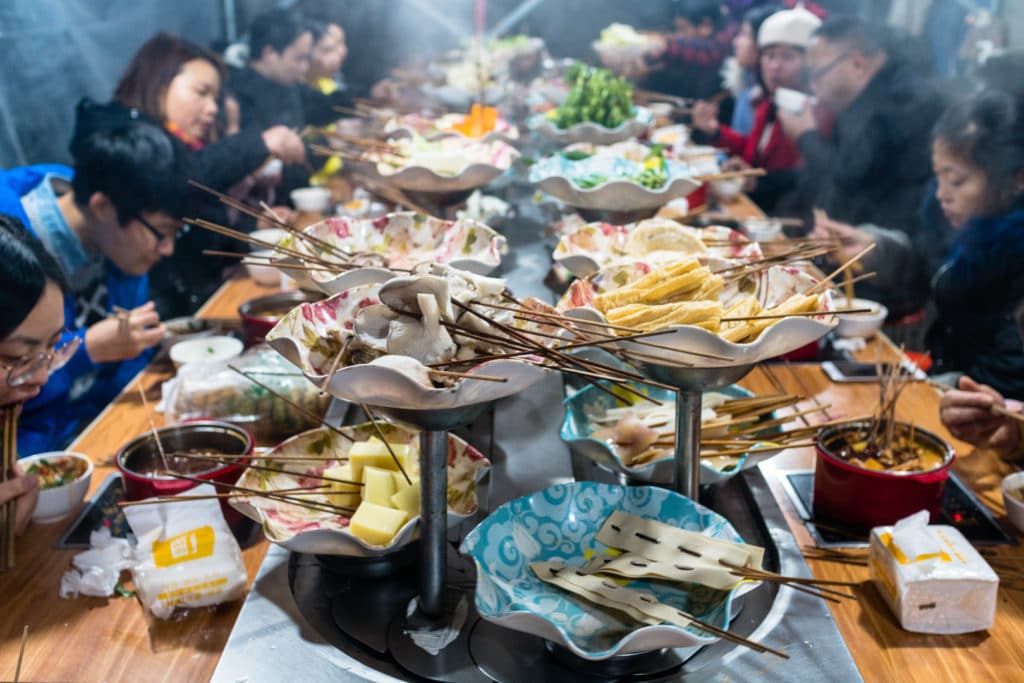 Before starting our journey through the Tibetan region, we decided to take a break in Leshan where Yan Long, a Chinese fireman as meticulous as passionate about karaoke nights and PC games, hosted us for two days. Rarely in our adventure, on the road that led us to Leshan and its great Buddha, three of the five cars we stopped were driven by women… alone at the wheel. Generally speaking, women in China have a better command of English, are more curious and more enterprising. Surreptitiously, these women are emancipating themselves from a thousand-year-old, ultra-codified, patriarchal society.
Traveling around Tibetan land
Kangding. The sun warmed the fresh air of this highland town in southern Sichuan. We were still far from Tibet, and at the same time right in the middle of it: silhouettes are massive, stocky; skins are tanned, outfits are padded. We wandered, incredulous, among imposing houses with thick white brick walls, eyes staring at the thousands of colourful flags floating in the wind. Eventually night fell and cold intensified. In the absence of hospitality, we went, resignedly, to book a cheap hotel room.
The road to Litang was long and windy. The two Chinese men who took us there, employees of a power station, knew it well. Despite them alternating at the wheel and having a copious lunch, nothing helped: their eyes closed for a few moments, regularly. Julien coughed discreetly to wake them up, while my gaze was lingering on the grazing yaks herds. We arrived at Litang, 4000m above the sea level, under a radiant sun. We decided, despite our bag weights and our short breaths, to visit Litang on foot, in total immersion in the heart of this isolated Tibetan city. As worshippers opened the doors of the 7th Dalai Lama house to us, Buddhist incantations resonated next door, amidst prayer wheels being pushed frantically. Untiringly, the same pattern repeated itself. Incantations. Prayer wheels. Cold night. Decrepit room.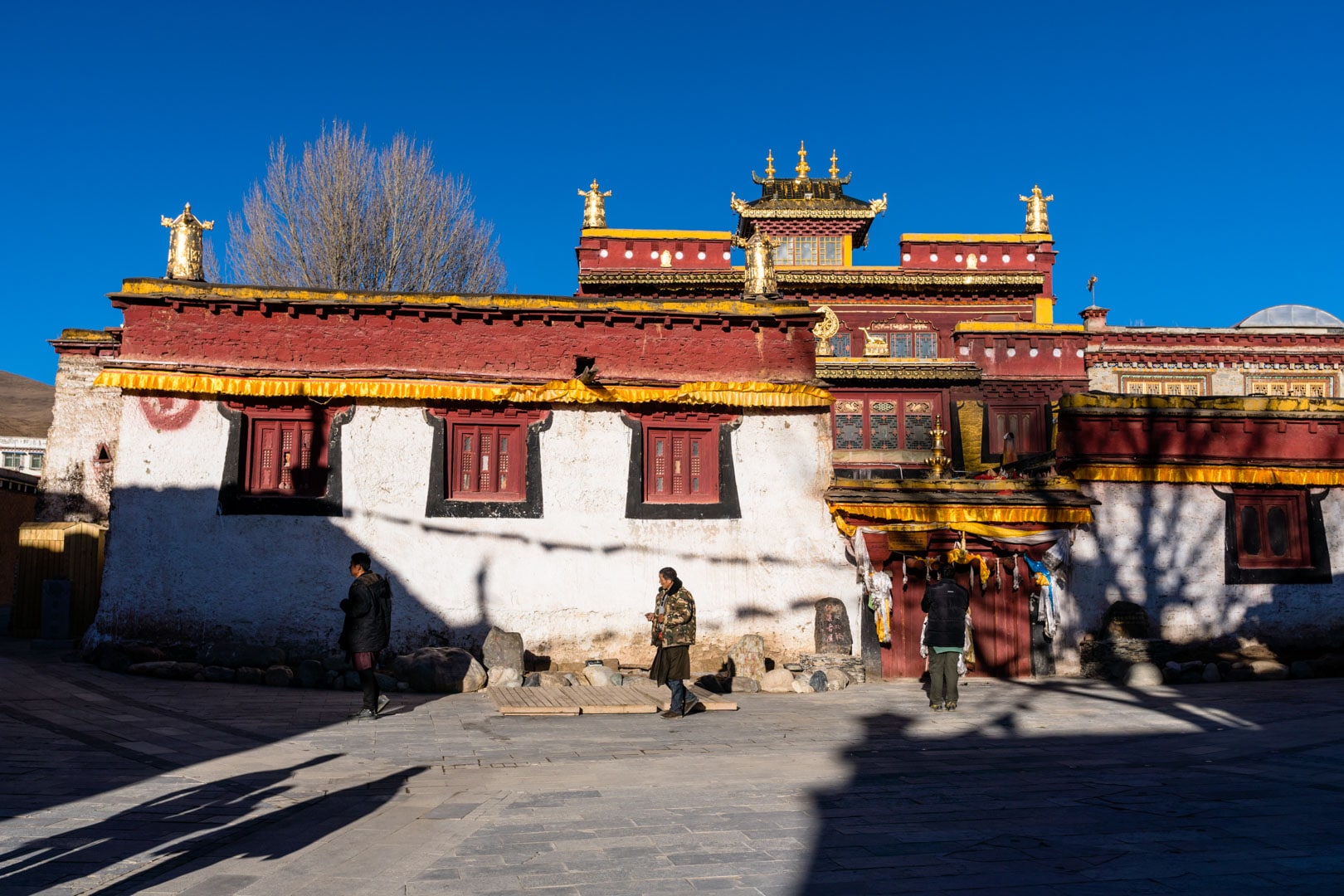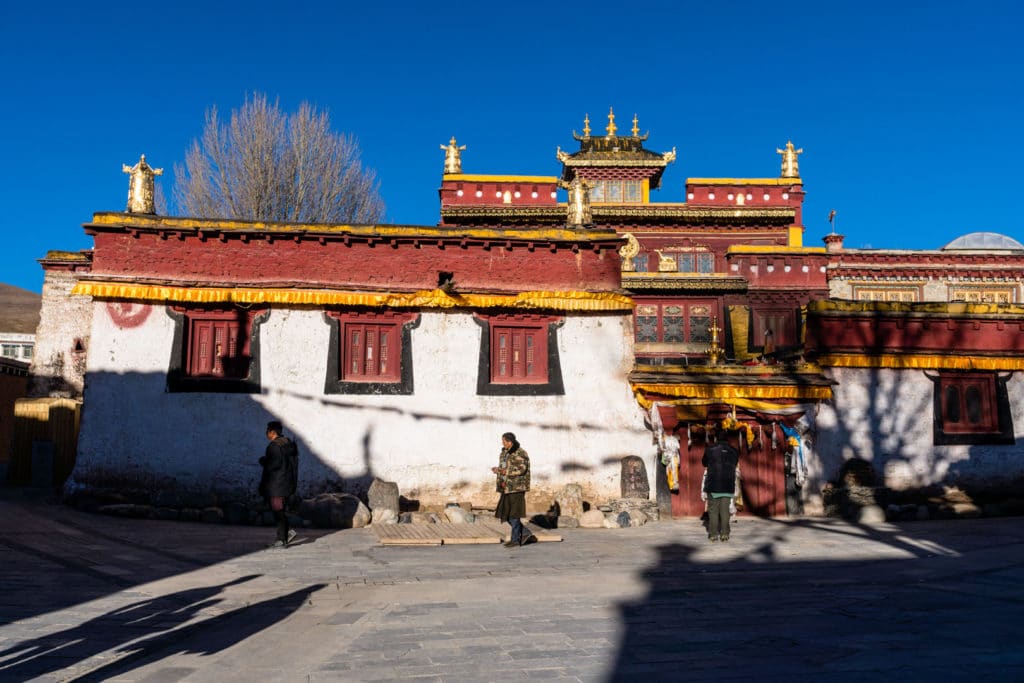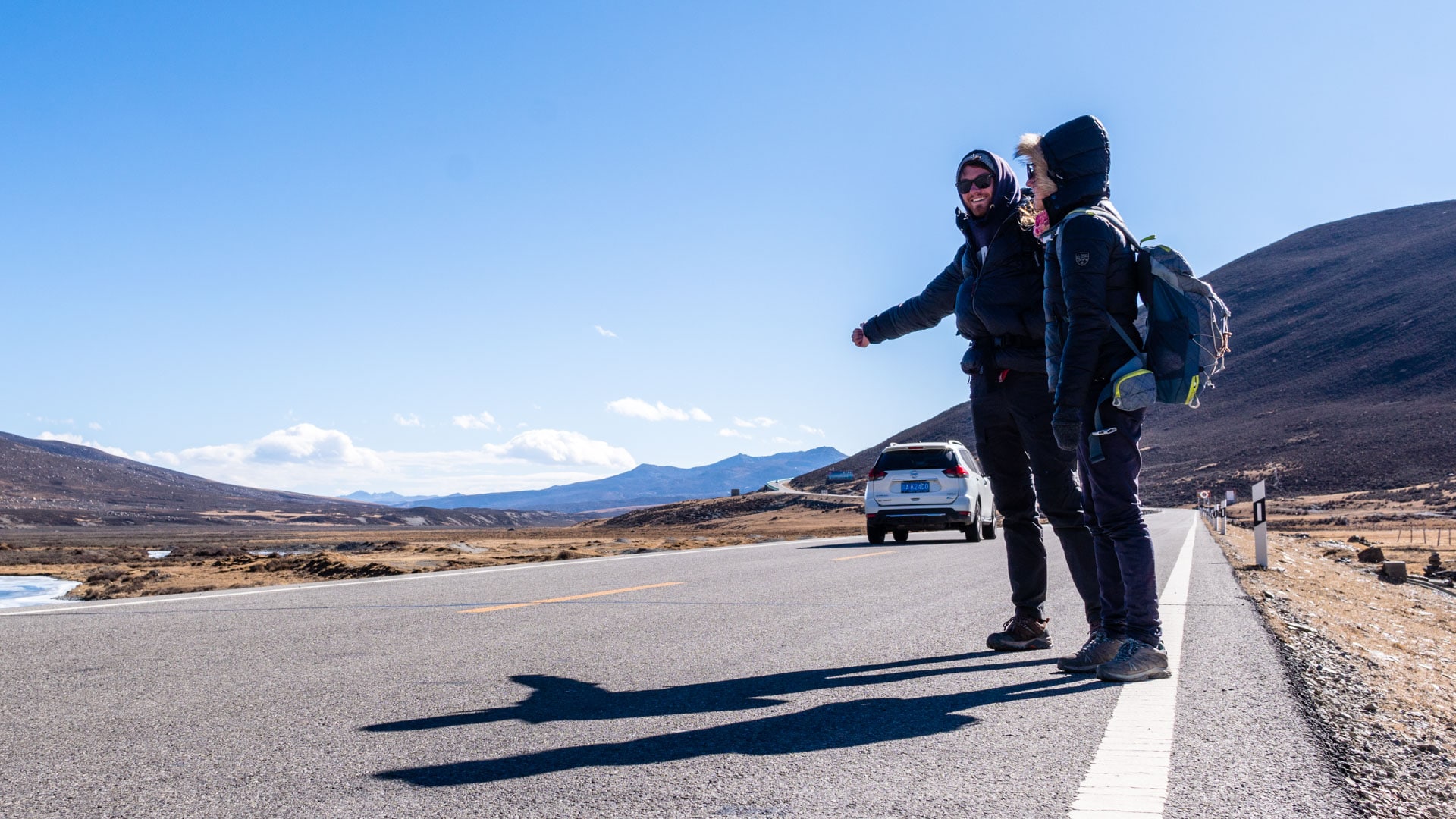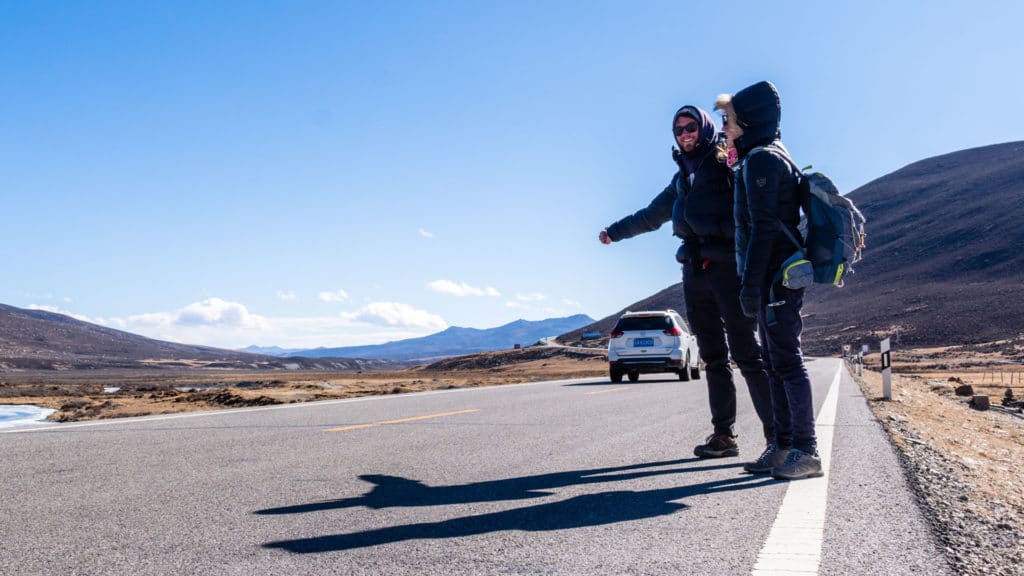 The joy of discovering Tibetan culture through visiting Sichuan remote villages didn't take away from our haste to reach Shangri-La, a city in Yunnan, where our future guests live. The road from Litang may be beautiful, winding through the Himalayas high plains and between two passes at 4700m altitude, but the freezing cold and interminable wait between two cars were hard. Beyond these difficult conditions, it was especially the lack of interaction with the Tibetans (who have their own language, unknown to our translator) that demoralized us…
A car finally pulled up. The driver, a young Tibetan, prompted us to follow him after turning off the engine, in the middle of a small village about 50 kilometres from Litang. We didn't hide our joy to discover a traditional Tibetan house interior: wood everywhere, a tiled stove, a warm atmosphere and a long modern table in which is inlaid an induction plate. Our driver brought us a steaming dish of Yak meat, browned with leeks and some spices: for once, we forgot about our vegetarian diet to appreciate this traditional dish that was generously offered to us, cooked with locally grown ingredients.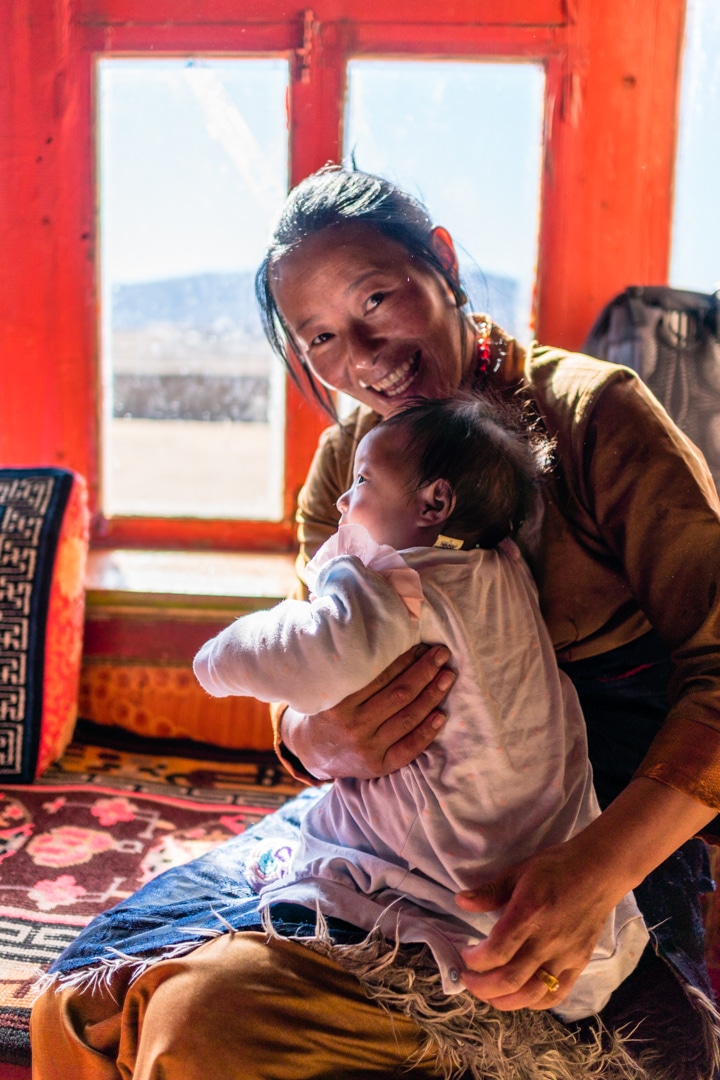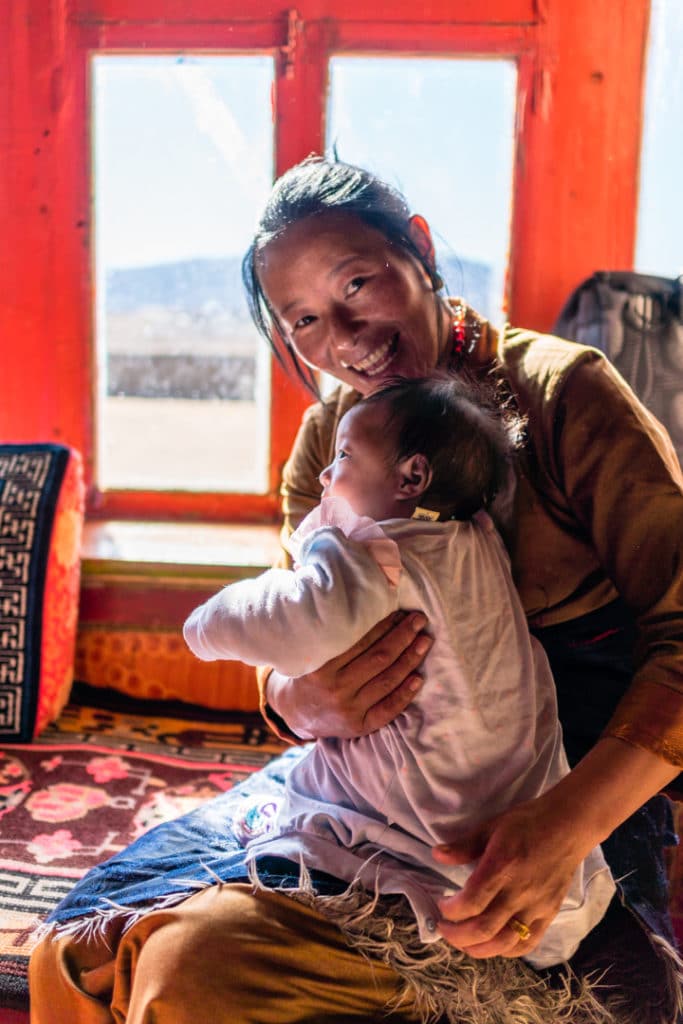 Despite a difficult communication (made possible thanks to the intervention of his friend, called to translate into Tibetan our sentences automatically translated into Mandarin), we managed to express our gratitude for this meal, for this unexpected moment, for the hospitality shown by him and his cousin, the owner of the house and young mother. The journey had to continue for us, on a full stomach… However, if we did hitchhiking hops, we didn't get very far: we obviously couldn't reach Shangri-La that evening. On the heights of the small village where we were dropped off, we found refuge within the local temple walls. Braving the cold of December, we set up our tent behind a low wall to protect us from the wind. Crazy, unconscious? No, we are not insane. At the gates of Yunnan, nights in the Himalayas are more bearable. Wrapped up, wedged in our sleeping bags, we fell asleep as we could, almost forgetting the 3000m altitude where our tent was located…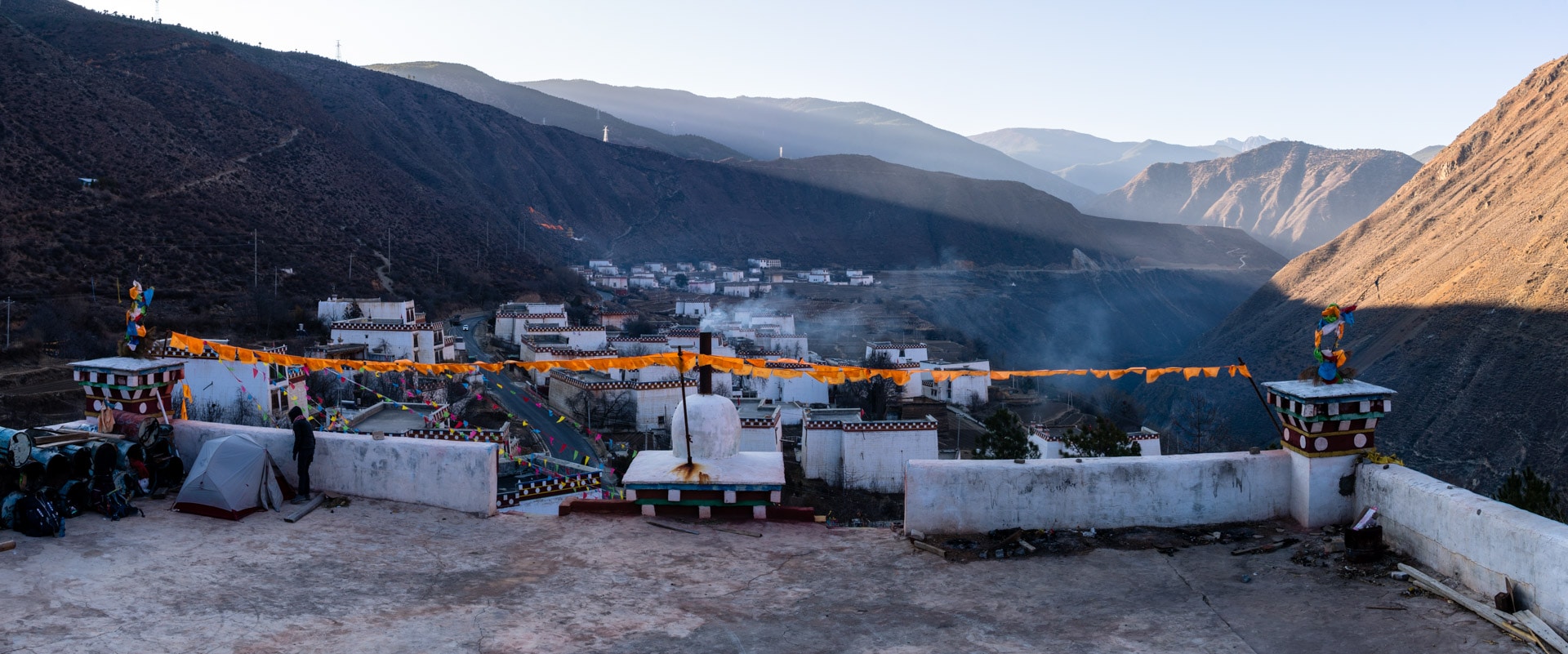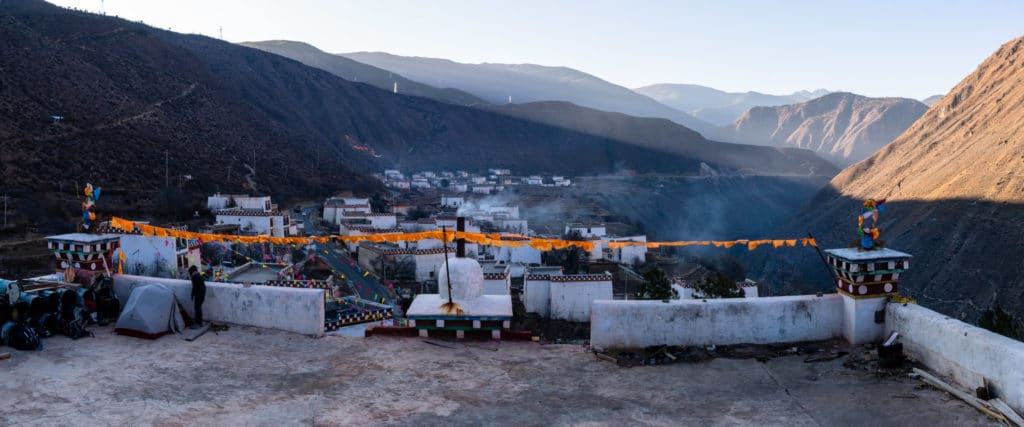 The characteristic tinkling of prayer wheels rang in our ears. Incantations rose: the day has just dawned, occasion for the pious villagers to come and pray. As soon as we got out of our shelter, a man beckoned to us: we understood that he wanted to drive us as a taxi…. No, no thanks. The man insisted, despite our protests – no, no money, we walk. He finally understood, thought for a while, then rephrased his invitation: after all, we had nothing to lose by following him… Warmed up inside his beautiful traditional house, the man handed us two cups of yak milk tea, some bread, and a bowl of melted yak cheese. He has just offered the most beautiful gift that two Frenchmen, in search of their gastronomy, hardly dare to hope for: a GOOD cheese!
The extraordinary landscapes made us forget the long wait on the roadside. We ended up stopping a car that dropped us off at Shangri-La, our destination. Welcomed by Mei, we finally met this unusual family: Mei was from Hong Kong, her husband from Tibet. The couple chose to settle in Shangri-La to enjoy a better quality of life, despite a less efficient school system for the education of Amanda, their 9 year old daughter. Living in a mixed family taught us a lot of things; the cultural exchange has been intense (with very varied meals, served with french desserts that we baked). On Mei's husband advice, also a regional tourist guide, we took an unknown hiking trail to visit the famous Ganden Sumtseling Monastery (also called the Little Potala, in reference to the Potala Palace in Lhasa, Tibet capital).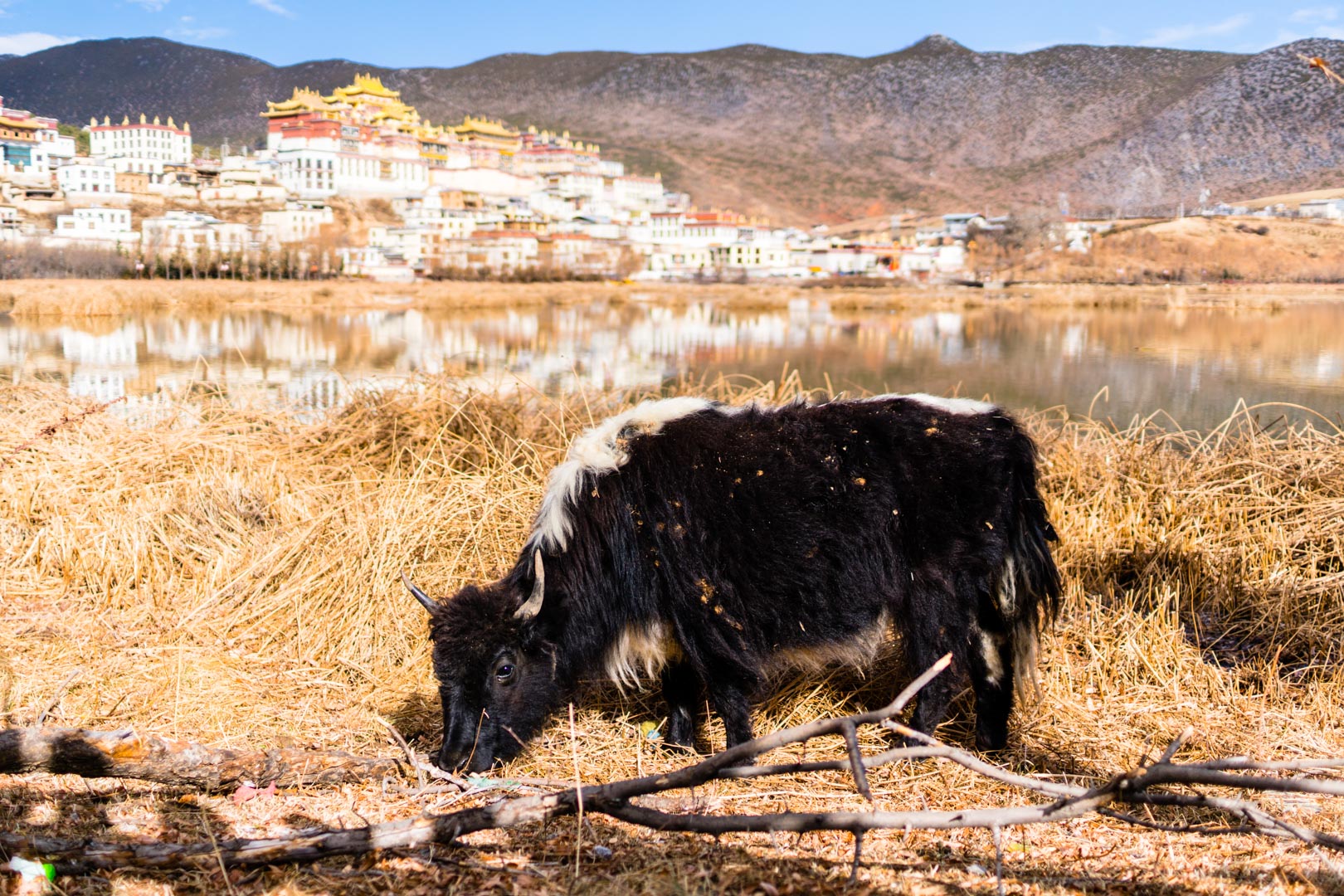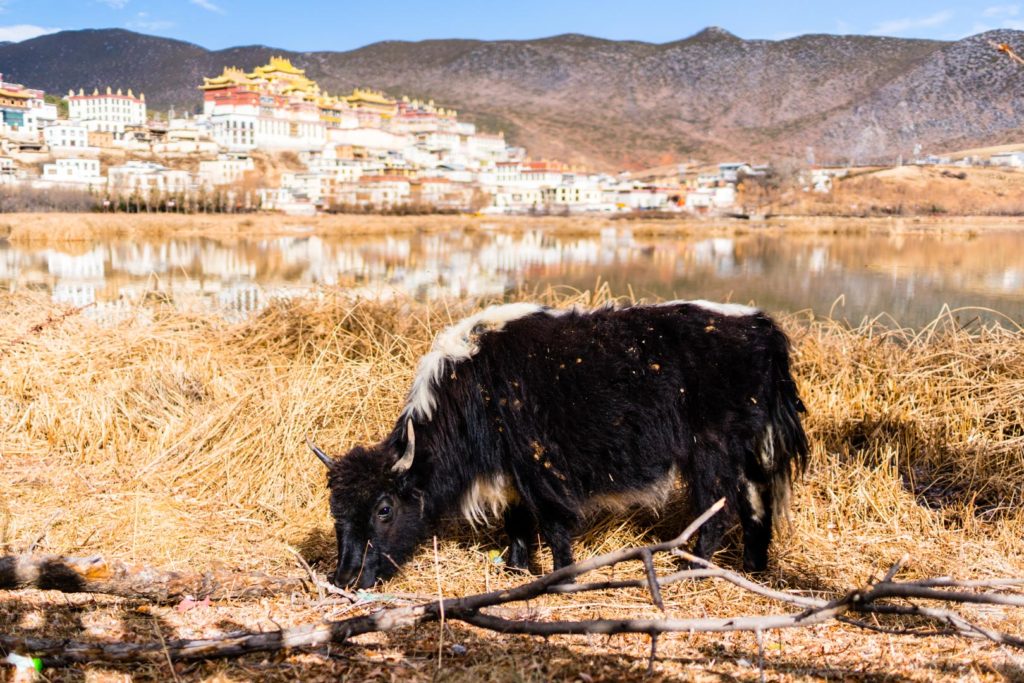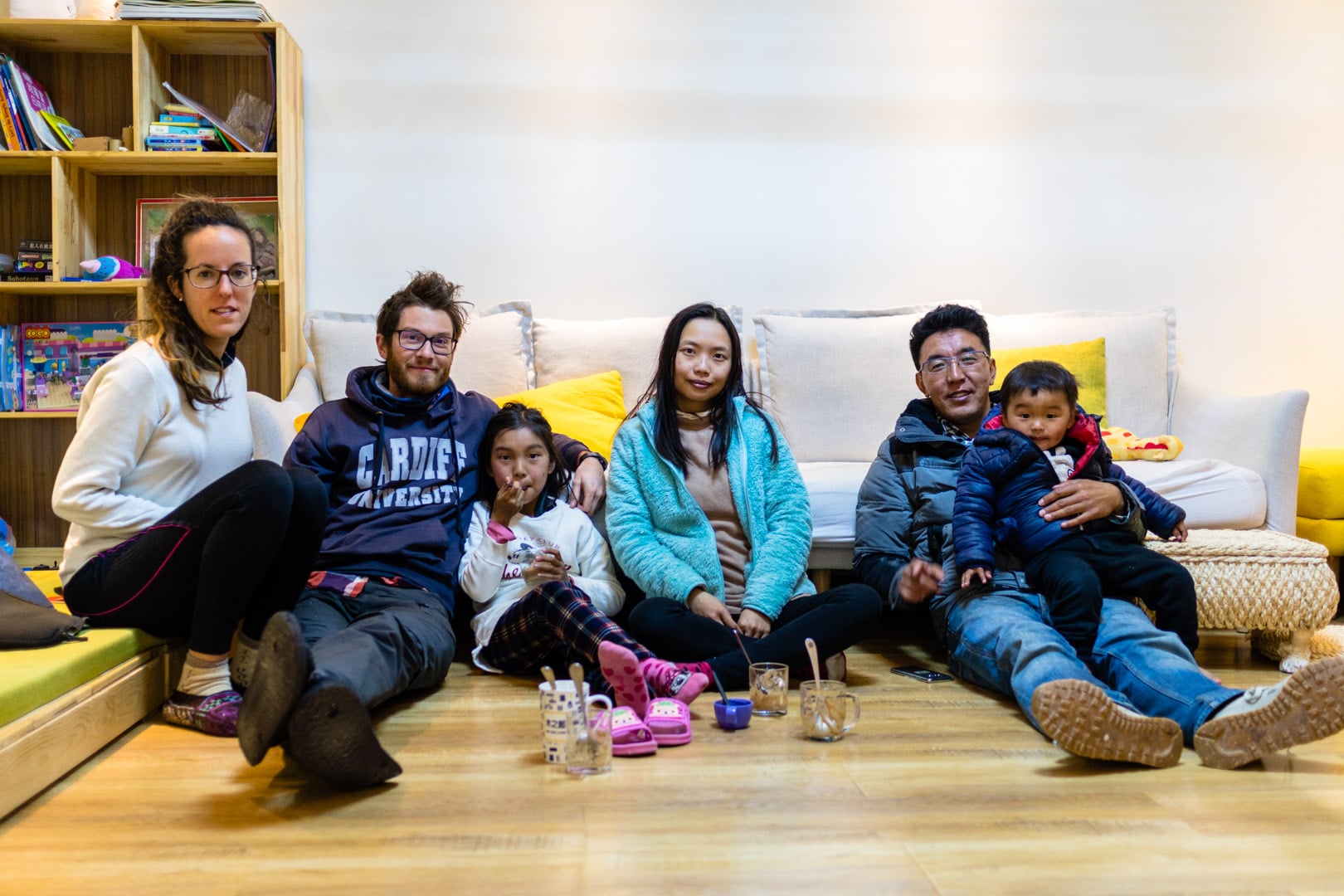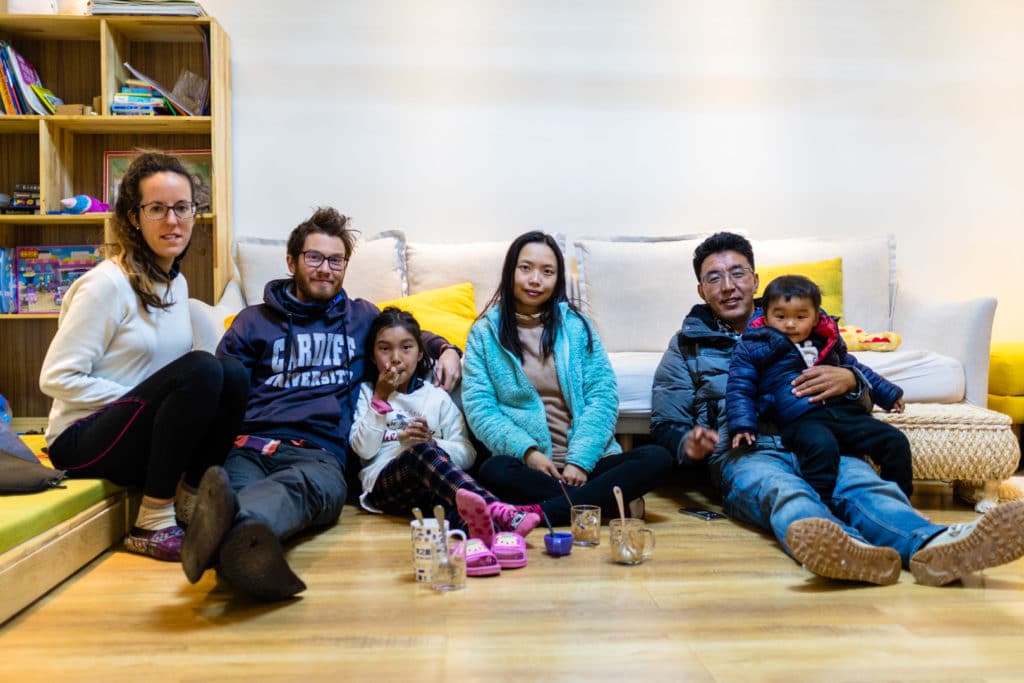 Exceptional province, exceptional encounters
As we were saying goodbye to Mei's family, the sky grew darker. A heavy snow finally fell, covering the entire landscape. Surprised, drivers didn't hesitate to stop and pick up two frozen strangers on the side of the road. Our last driver, a young Tibetan guy with his father, treated us to a meal in a restaurant before dropping us off in Lijiang. A gesture of hospitality but above all of friendship, very common in China, which we couldn't refuse!
On the old Lijiang square, we met Seven Li and his wife Molly, our new hosts. We followed them through the small busy streets to the entrance of an old house – transformed into hotel rooms. Seven Li gave us a key: he and his wife, hotel managers, have booked a room for us in one of their establishments which was not full. The surprise was total, soon completed by another one: we learn that Florence, our hitchhiker friend, had also stayed with them a few months earlier – and by the time we took our quarters in our beautiful hotel room, Florence had already settled down in one of the hotel's beautiful rooms of Kadir, our turkish host in Cappadocia… Back at the reception, we took advantage of the traditional tea break to chat with our hosts, while enjoying fragrant notes of the tea meticulously served by Seven Li, in a soothing atmosphere. A perfect contrast with the general cacophony of the old city centre; an attraction that will not be, let's face it, our cup of tea…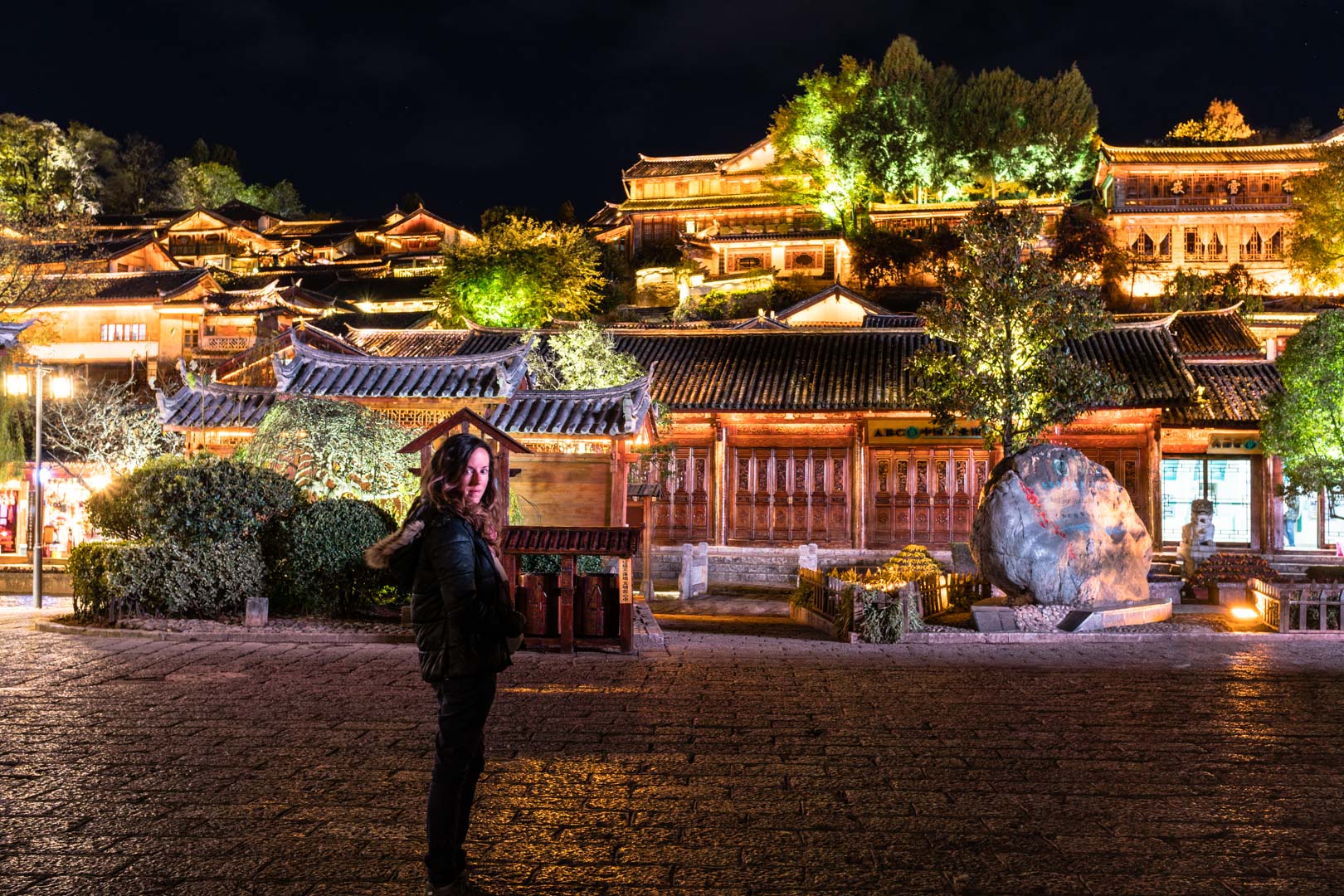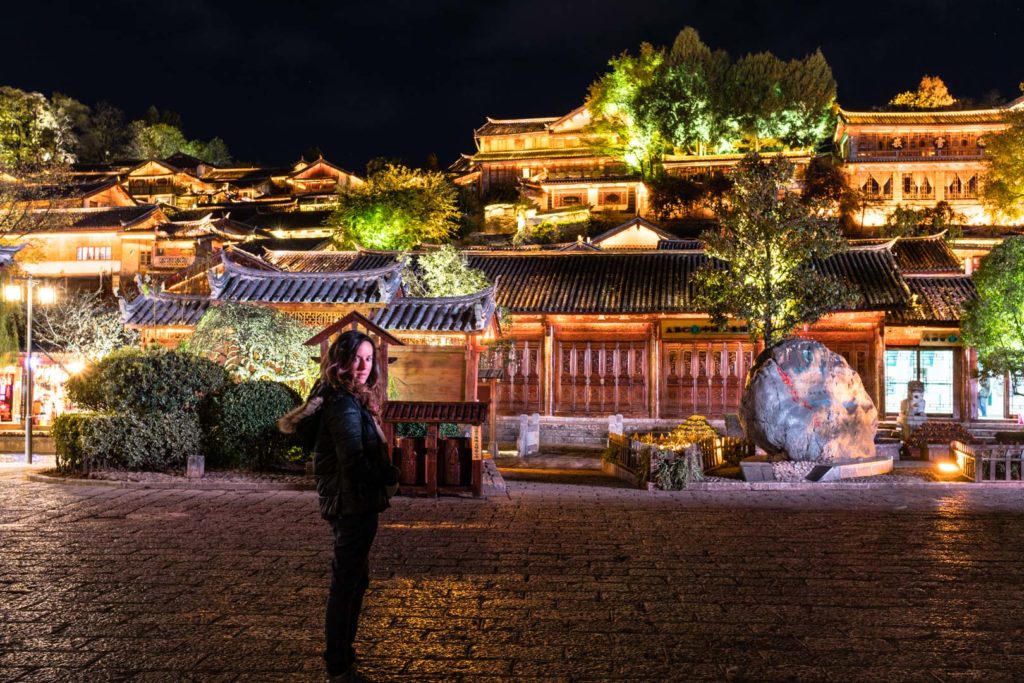 Despite the comfort of our room and the incredible kindness of Seven Li and Molly, we decided to shorten our stay in Lijiang to meet Mia in Baisha. Mia, who was busy restoring an old coffee shop, let us stay in a huge house owned by one of her friends – where we met our temporary roommates; a Brazilian couple, a Serbian student and Yu Yang, a Chinese adventurer-writer who made the headlines of Quebec newspapers (not to report on his impressive World Tour, but to find witnesses following his bike theft).
We were now counting days; our Chinese visa soon to be expired. We had to travel to Vietnam, passing by mythical and recommended places: Dali, traditional villages around, Yunnan rice fields… The list was long, remaining time short: before giving up, we raised our thumb. A few kilometers from Baisha, a large car stopped: inside, Chen and Ray, two women in couple accompanied by their twins with mixed features (we will learn later that the children are born from a fertilization carried out in England, with the sperm of an American donor) invited us to join them. "Where do you want to go?" asked Chen, in a perfect english. Good question. "Dali? Maybe not. Maybe the small villages around are more worth the detour?" Good question. Chen and Ray confessed they've never visited this area. Ray suggested to visit the villages all together before leading back home, in a small eco-village close to Kunming. Eco-village? The word echoed in us. "Is it possible to also visit the eco-village?" "Of course, you can even sleep over". Obviously, what a question!…
The night was already set when we arrived in the village. Chen and Ray put us in the tea room, transformed on occasion into a guest room. Comfortably accomodated, we opened our eyes late in the morning, welcomed by a dish of dumplings cooked by the parents of our hosts, who also live in the house. We enjoyed our lunch, before heading to the village common room to give a talk about our trip in front of curious and friendly locals. As Christmas approached, a sweet nostalgia won us over. We decided to send our letter to Santa Claus; a sort of 2.0 letter posted on a reputable hospitality network. And our wish came true: this year, we celebrated Christmas at the Claire's home, a Welsh expatriate, in Kunming. Together with our host, her friends Jamie, Carlos and Teo, we worked our magic to recreate the Christmas spirit – with a vegetarian lunch prepared by us. The little gifts with our names on under Claire's tree completed another surprise, just as unexpected: Chen and Ray have decided to take us to the rice fields of Yunnan – a dream they shared with us, a dream that was coming true thanks to our meeting…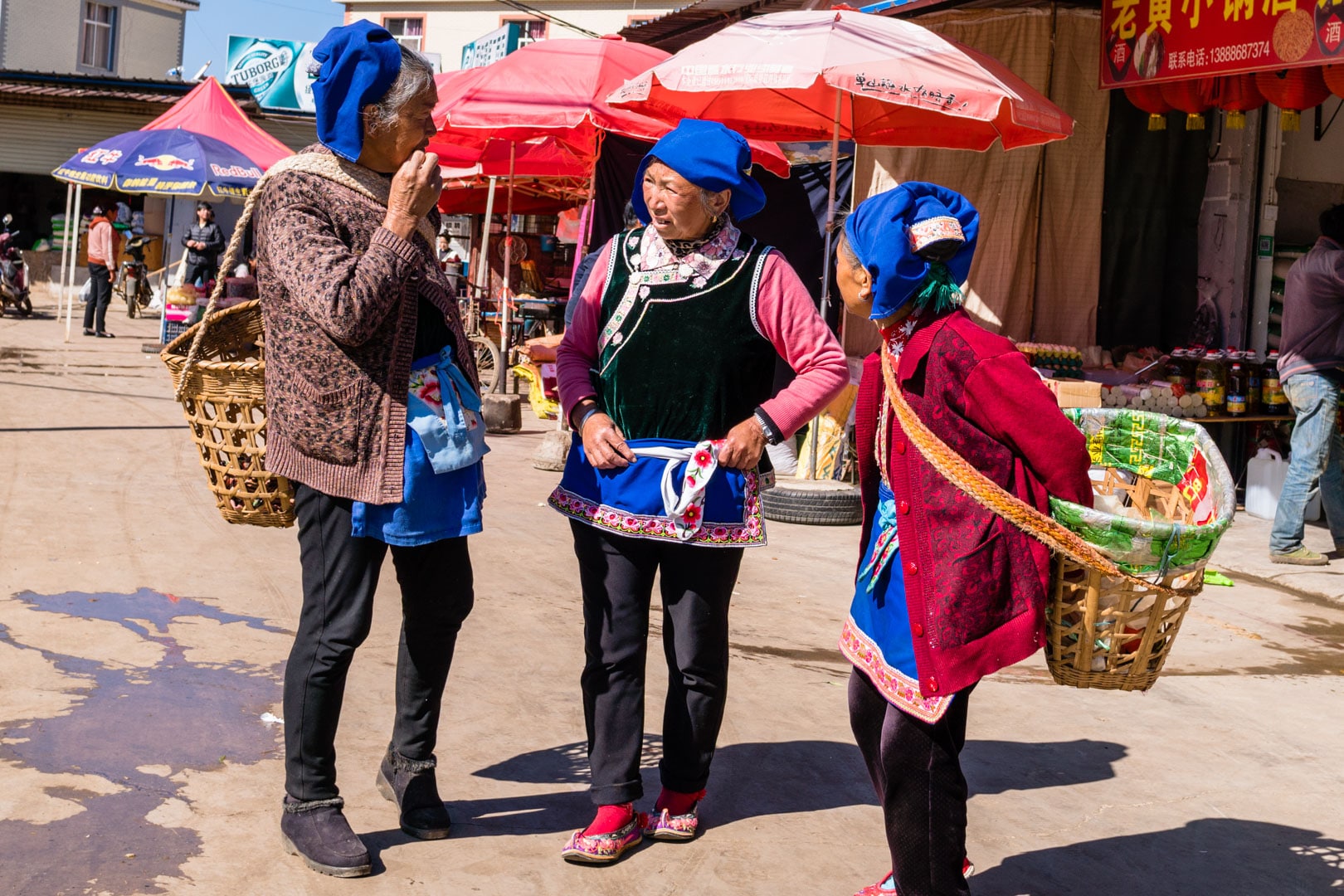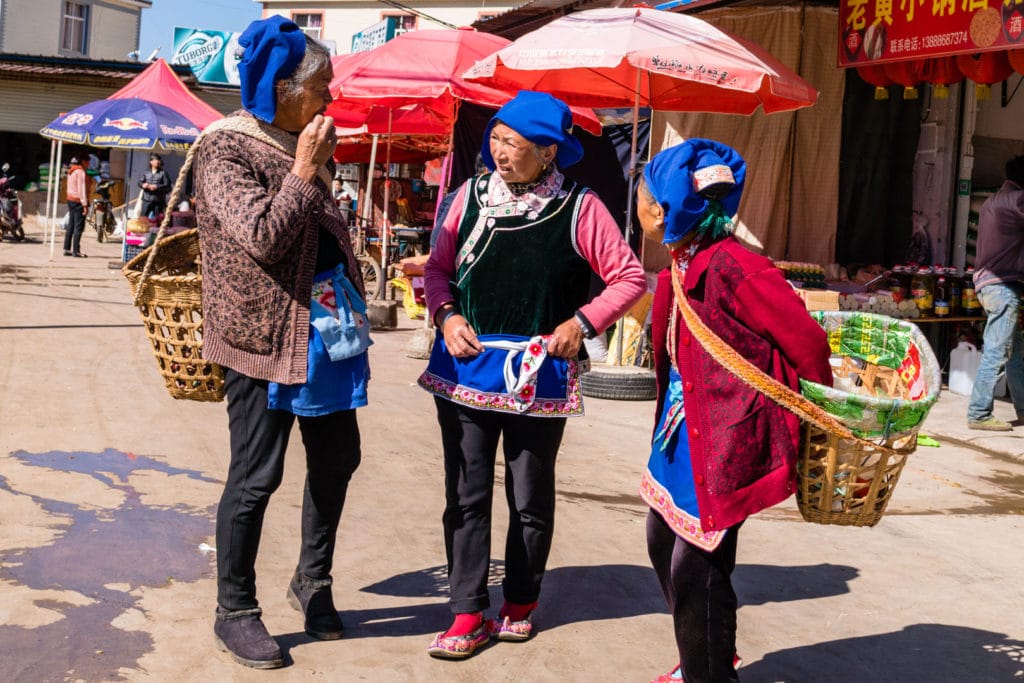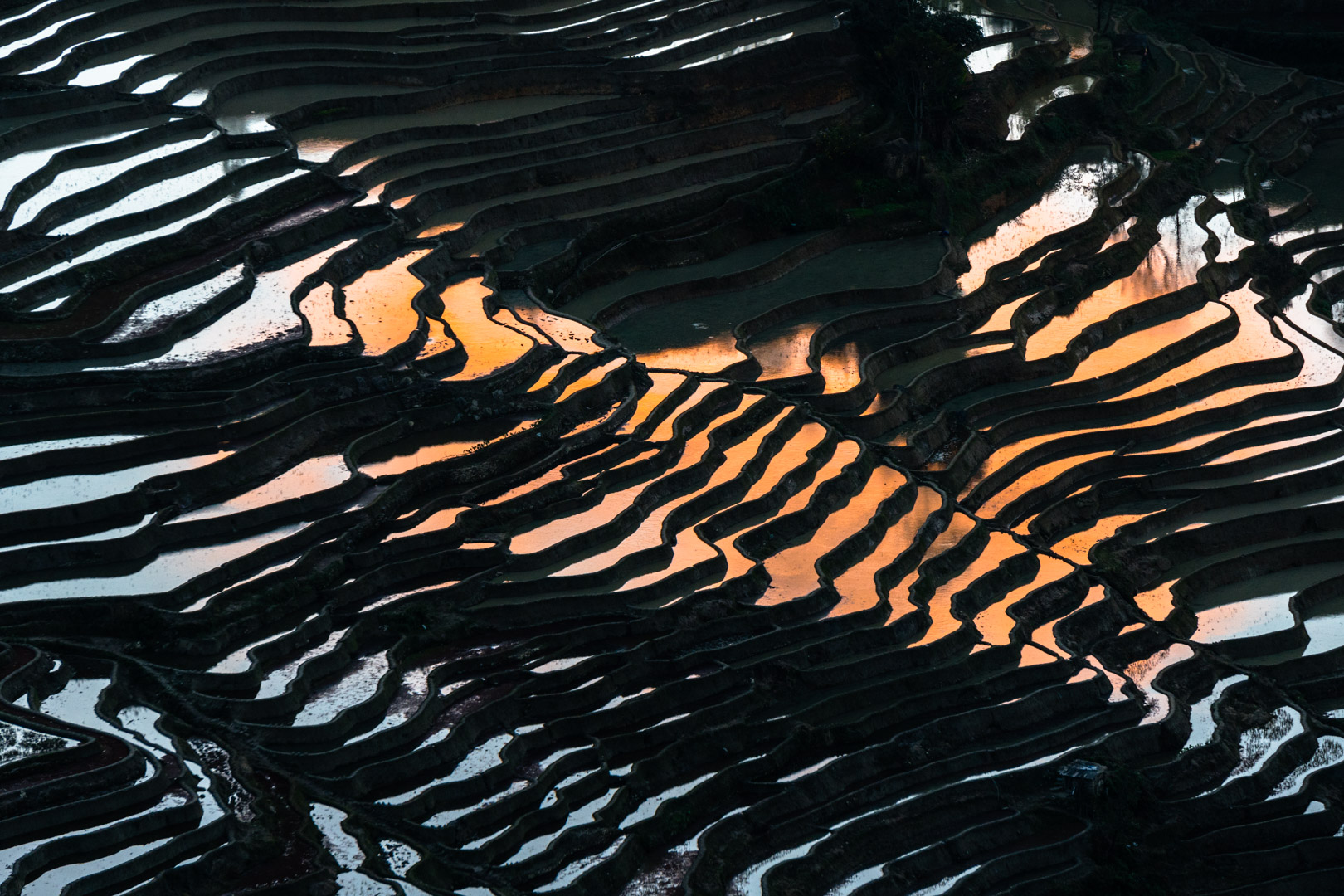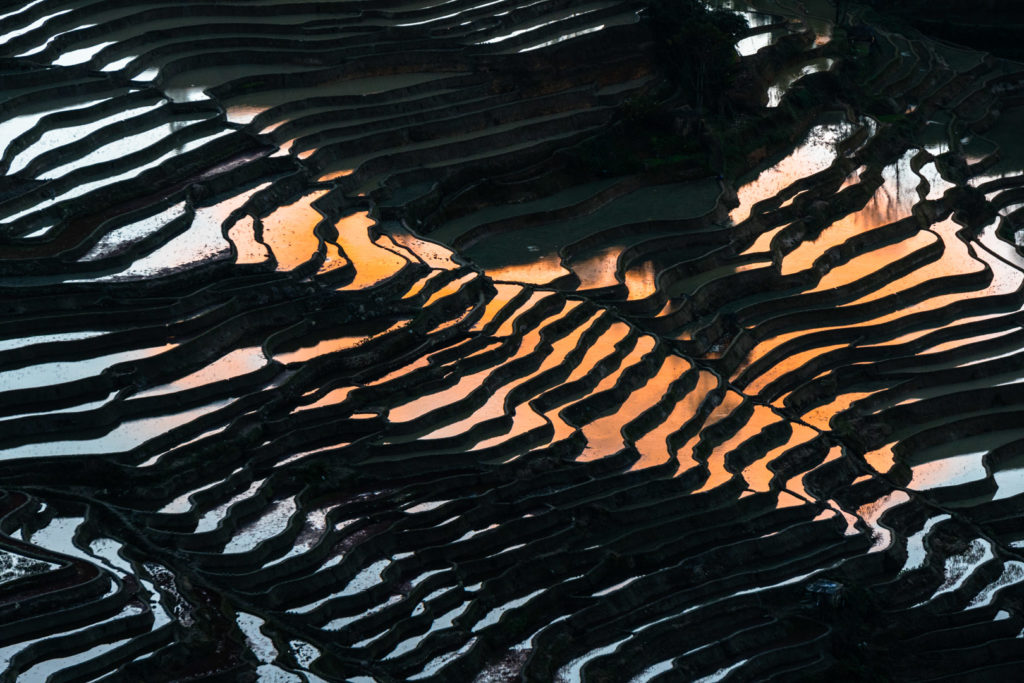 12 people, two cars: after a morning spent of organizing themselves for some, reaching the eco-village for others (us); our convoy set off. First stop in Jianshui, where our group of friends (composed of our two mothers, four grandparents and twins, and a couple of neighbors) convinced us to visit Zhu family's historical house. A nice discovery, which allowed us to spend a good time all together before the night; before our group broke up, each one in his own room, we in our tent – discreetly put at the back of the hotel's courtyard, a hotel where our friends are staying. Second stop the next day at the rice fields of Yuanyang, where we were welcomed by Skylar, Chen's friend and local guide. While everyone benefited from a slashed entrance fee, Skylar, touched by our story, offered us the night in the same lodging as our friends. Until the end, luck seemed to smile on us; like with this grey sky that finally cleared up to let us admire these incredible rice fields. Until the end, we enjoyed our time in China, at the end of a journey that was not always easy. Until the end our friends accompanied us, curious to see the red river, the Vietnamese bank, their country border… Until the third and last stop, at the border, where we have to say goodbye.
More about China
* Post written according to our personal experience *