Bonjour, Hello, Ciao, Dober dan, Dobar dan, Mirëdita, Geai sou, Merhaba, Barev, Gamarjoba, Salam, Salom, Nihao! Welcome to our series of newletters which retraces, chapter by chapter, our great hitchhiking jouney. Here is the chapter 14 of our travel stories: "A special experience" – Roadtrip in Xinjiang, China.
---
Note: This following travel story traces our roadtrip in Xinjiang, a province located west of China, where there is currently a great crackdown by Chinese authorities on Turkish-speaking ethnic minorities and Muslims living in this region, including the people of Uighurs. This article is not a journalistic article but our simple story of hitchhikers visiting this region. If you want to know more about the repression, here are some links:
Summary about tensions in Xinjiang (BBC) – Disappearance of academics – Silence on the crackdowm – Mosques in Xinjiang being destroyed – Chinese border guards putting spyware on tourists' phones – women sterilized in camps
A zombification process
It's 7 o'clock when our alarm rings – a loud, resonant alarm in the empty dorms of a truck drivers motel. The day before, the owner of the place offered us to spend a warm night, free of charge. As we woke up slowly in our room, aware of the difficulties that awaited us, we heard outside the rumbling engines of 33 tons, these giants of the road: the border had just opened. Already? It was supposed to open from 9 am according to our Internet sources… Now fully awake, we hurry, packing our bags promptly after a final check (our Swiss army knives hidden in the bottom of a toilet bag), a burning tea cup swallowed up in the local metal sheets restaurant house. Favored treatment of white faces obliges, the Kyrgyz customs officers made us pass in front of everybody. Control was fast and easy. In a last benevolent gesture, a truck was stopped to lift us to the first Chinese official post, 3 kilometres away. We can clearly see the border: a red flag with its yellow stars floating proudly in the wind, road suddenly tarred, barbed wire everywhere… A good taste of what we would discover later, in the Xinjiang province.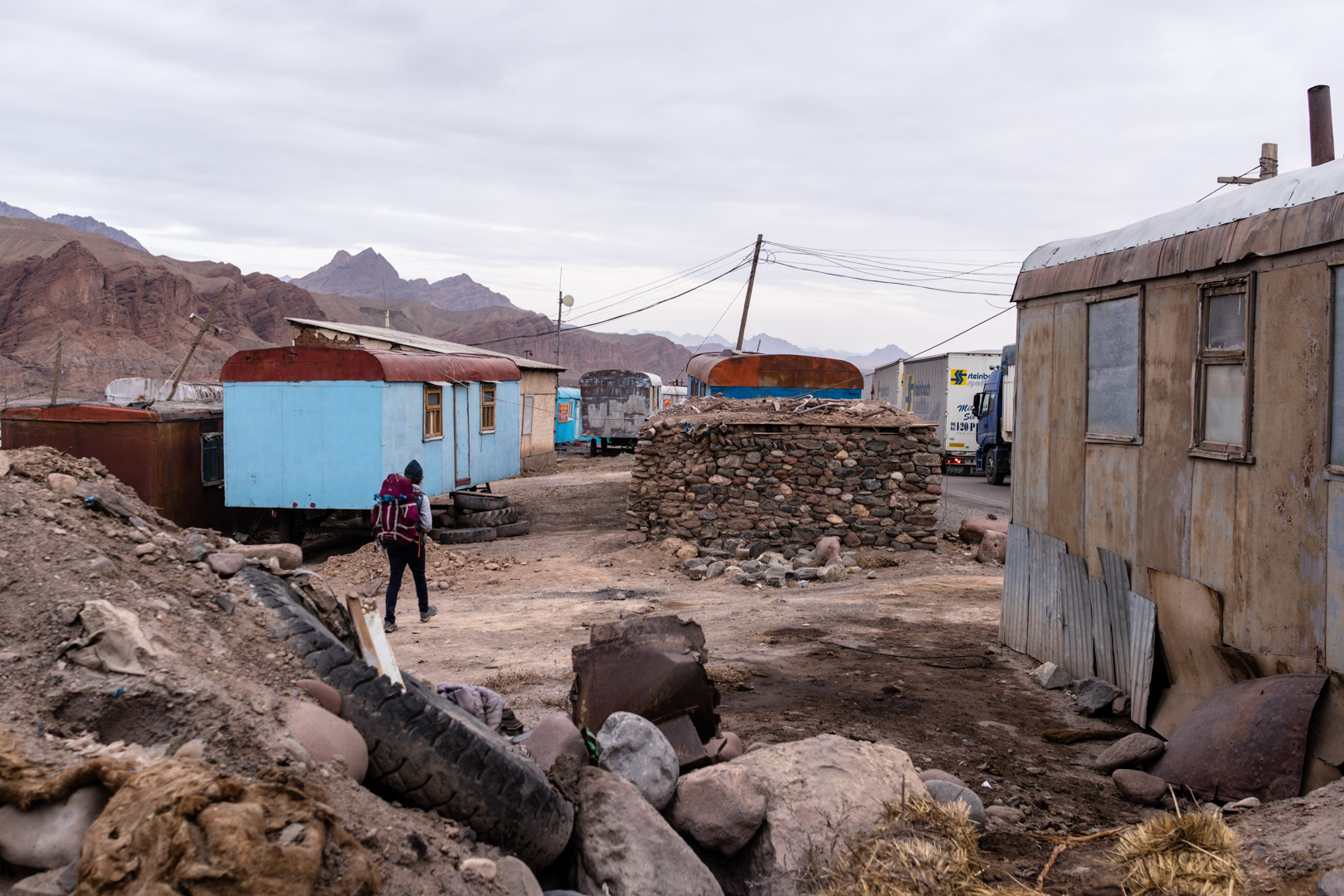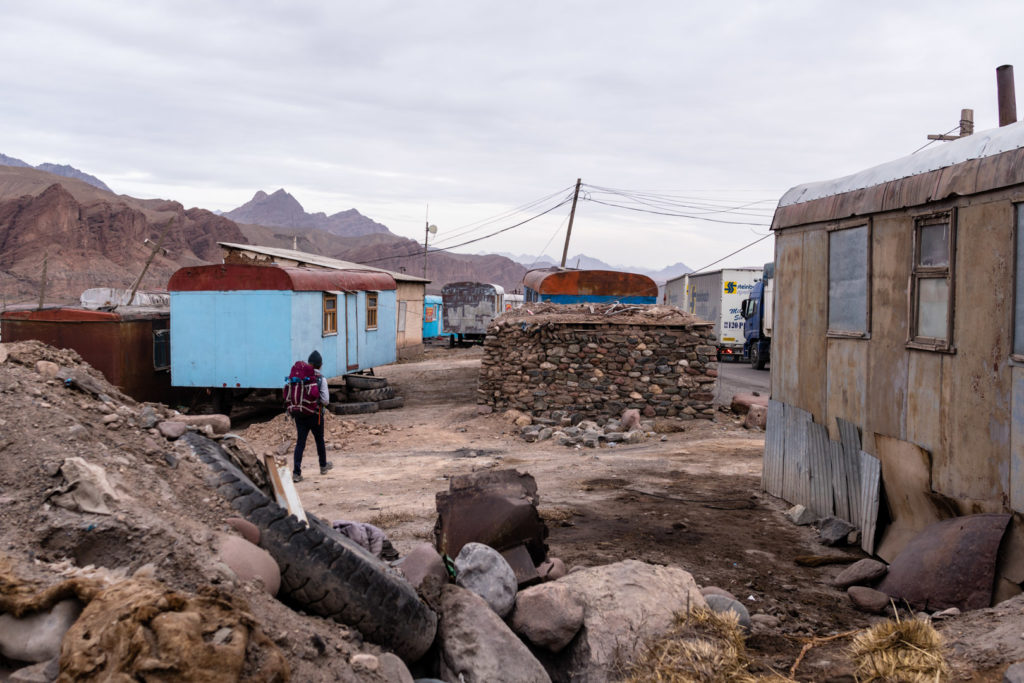 It's 18.00 local time when we left the customs zone, when we finally retrieved our freedom. Only after having withdrawn our first yuans at downtown Bank of China, we were again stopped in our visit of this strange prison-city, a ghost town populated with zombies-like people – people with no facial expression, no personality, indifferent to our smiles, to their neighbors, to their world filled with policemen, gates, CCTV cameras and loudspeakers constantly broadcasting instructions in Mandarin. The young policeman who has just stopped us smiled at us, with a big trustful and friendly smile: he wanted to make sure that we were welcome in his country. We believed it; it was the first time of the day that someone smiled at us! He gave us two chairs, two glasses of hot water, shared wifi. We didn't know how to thank him other than by repeating the only word of mandarin we know: Xiexie (thank you). Visibly delighted, he showed us how to communicate on WeChat (popular messaging application in China) through the automatic translation: "Where are you going to sleep?" "We have a tent" "It's cold here in winter, wait a minute, I'll find a place for you" "Okay" "I'll send you home" "Are you inviting us to your house?" "Yes" And indeed, a car came to pick us up 5 minutes later, to drive us discreetly in a new and ultra-guarded neighborhood: police function apartments. Escorted on the run and accommodated in a basic apartment, hidden from outside, we were invited to have a shower, to eat an instant noodles bowl, to drink some TsingTao (Chinese beer) with him and two of his friends with Kyrgyz origin – but also to laugh, to dance, to enjoy some Internet connection to reassure our families, and finally to sleep on a hard bottom single bed ( the kind of bed made with a wooden board). Our gratitude this night was as serious as the risks taken by our new friend – his boss flatly refused to let him host us. As he will write later to us on WeChat, "it will remain our secret".
Kashgar is not anymore. Kashgar has been remodeled, transformed, humiliated…

The next morning, the same car that dropped us to the policeman's flat, gave us a lift to the exit of the city, in the direction of Kashgar, a former Uyghur city located a hundred kilometers away. We made some gestures with our hands, wondering about hitchhiking would work in China, in Xinjiang province. Obviously, it worked pretty well: drivers stopped, out of curiosity or willing to help. In this region inhabited by Turkish-speaking and Muslim ethnic groups, we were astonished to be taken solely by Chinese people – or rather Hans, as they define themselves. We understood that they came to live in the desert region of Xinjiang recently, attracted by a higher salary than in the rest of China. The recently paved highways lead us through some small, charmless villages made of new houses, all identical, whose exterior walls are adorned with painted bright red lanterns and Chinese symbols. Probably a new measure taken by Chinese government to subject ethnic minorities to the lifestyle and sacred culture of the Middle Kingdom. That day, we would eventually be controlled 3 times by the police: fingerprints, photo, passport control… Each time, a complete check. For us too, the process of zombification has already begun.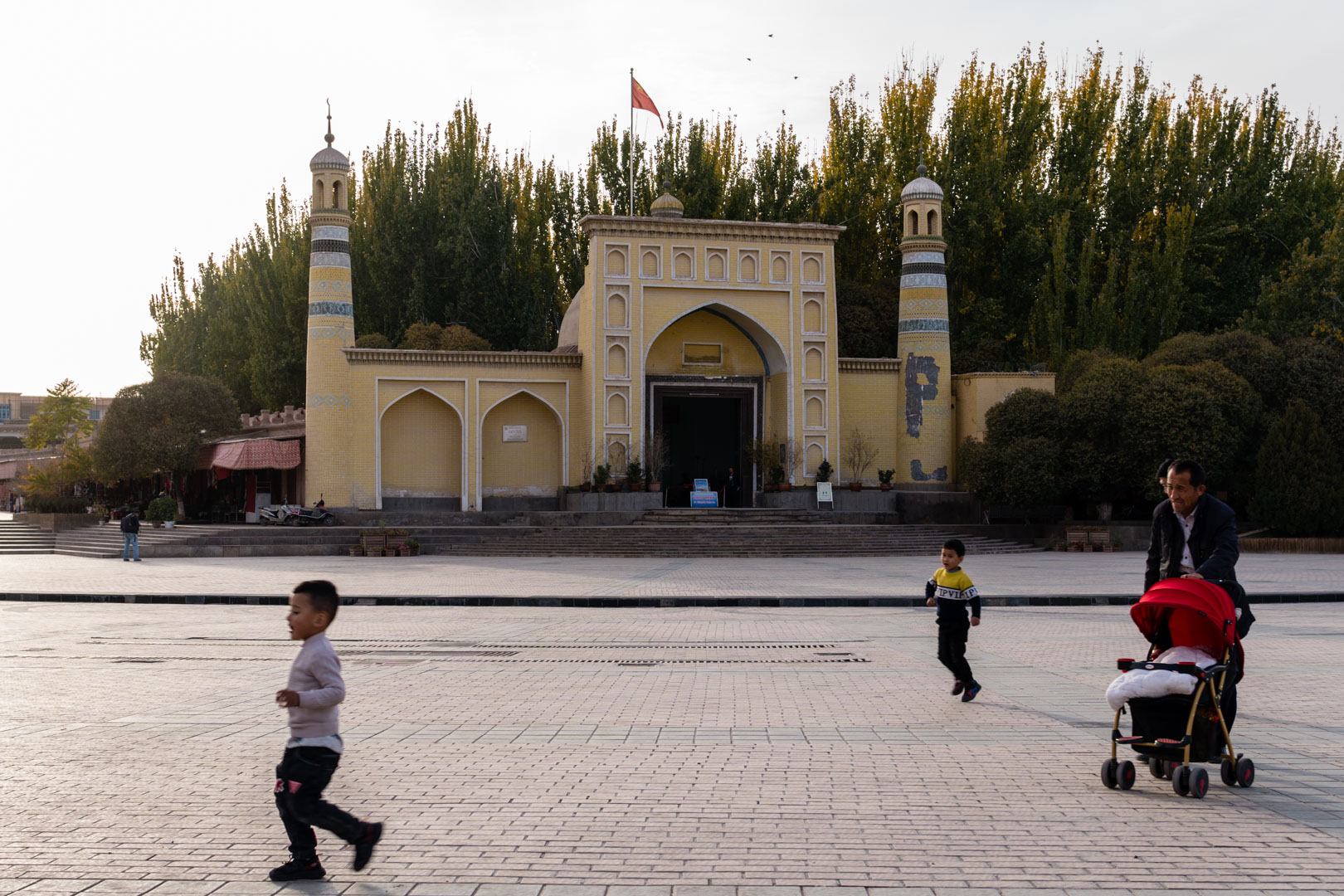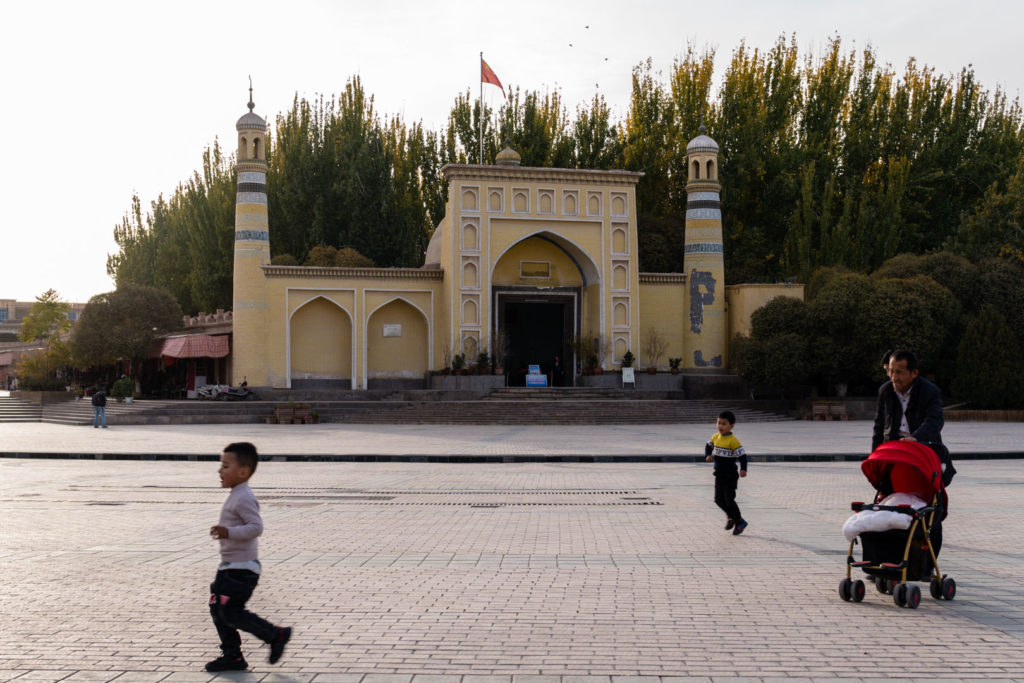 Dropped at the gates of Kashgar in the early afternoon, we decided to walk the 5 kilometers distance to the historic city center on foot, despite our heavy bags carrying on our backs. This walk will also be an opportunity for us to observe, to investigate, to take note of everything that our eyes (but not our camera) can record. Kashgar, of what we know, shelters a great mosque of the 15th century, old traditional adobe houses with 2-3 floors, a bazaar, a cattle market and other charms which recall the beauty of these great Silk Road historical cities. Yet, at first glance, Kashgar is neither more nor less than a modern city of extreme banality, with its wide streets crisscrossing blocks of buildings and skyscrapers without interest. We interrupted our long walk to rest in the city park, at the gates of the old city backed by the hill. How long we sat there, silent, facing these half-destroyed houses, facing this gigantic carnage razing the remains of a glorious past? A few minutes, an hour? Coming to tear us away from our sad contemplation, a young Chinese tourist came to speak to us, with his little English. He was very serious when he told us that important restoration work was underway. Did he really believe in this official version? If the government really wanted to preserve the old city, how could they explain the presence of bulldozers? Before heading back to the new center, we asked him to write some sentences in Mandarin, which will be useful for the future ("We are hitchhiking, can you take us?", "Are you going to …?").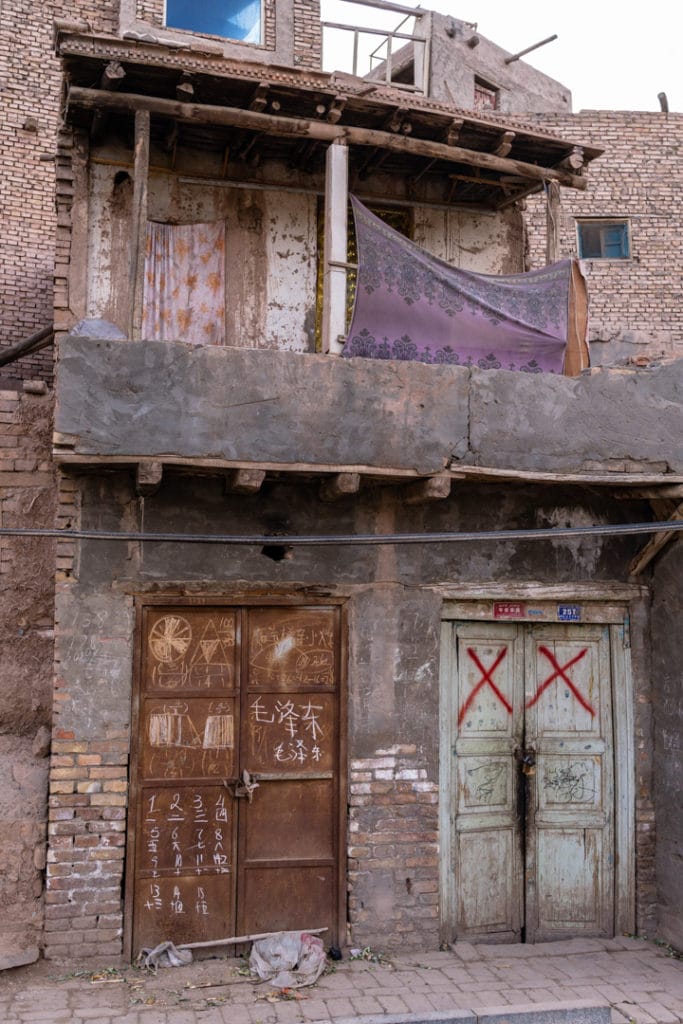 Without a doubt we still have hoped to find in Kashgar an authentic atmosphere, the essence of Uighur culture, the beauty of an old city… But we must face the obvious: Kashgar is not anymore. Kashgar has been remodeled, transformed, humiliated. The new downtown in Kashgar has become an open-air amusement park, well guarded by numerous police blocks, roughly decorated like One Thousand and One Nights tale. From now on, the paved alleys are all marked in the form of a funny trail, the old stalls turned into souvenir shops; and the inhabitants forced to perform in front of amused Chinese tourists. The forecourt of the historic mosque is no more than a playground for children, with its food stalls and huge billboards. This day left us with a very bitter taste. In this ultra-checked city-show, impossible to find hospitality. Resigned, we booked a night in a basic hostel located in the center – where we met Emeline and Olivier, a French couple travelling by bicycles. If we didn't experience a real cultural exchange, at least we experienced a bit of exchange by sharing travel stories and advice.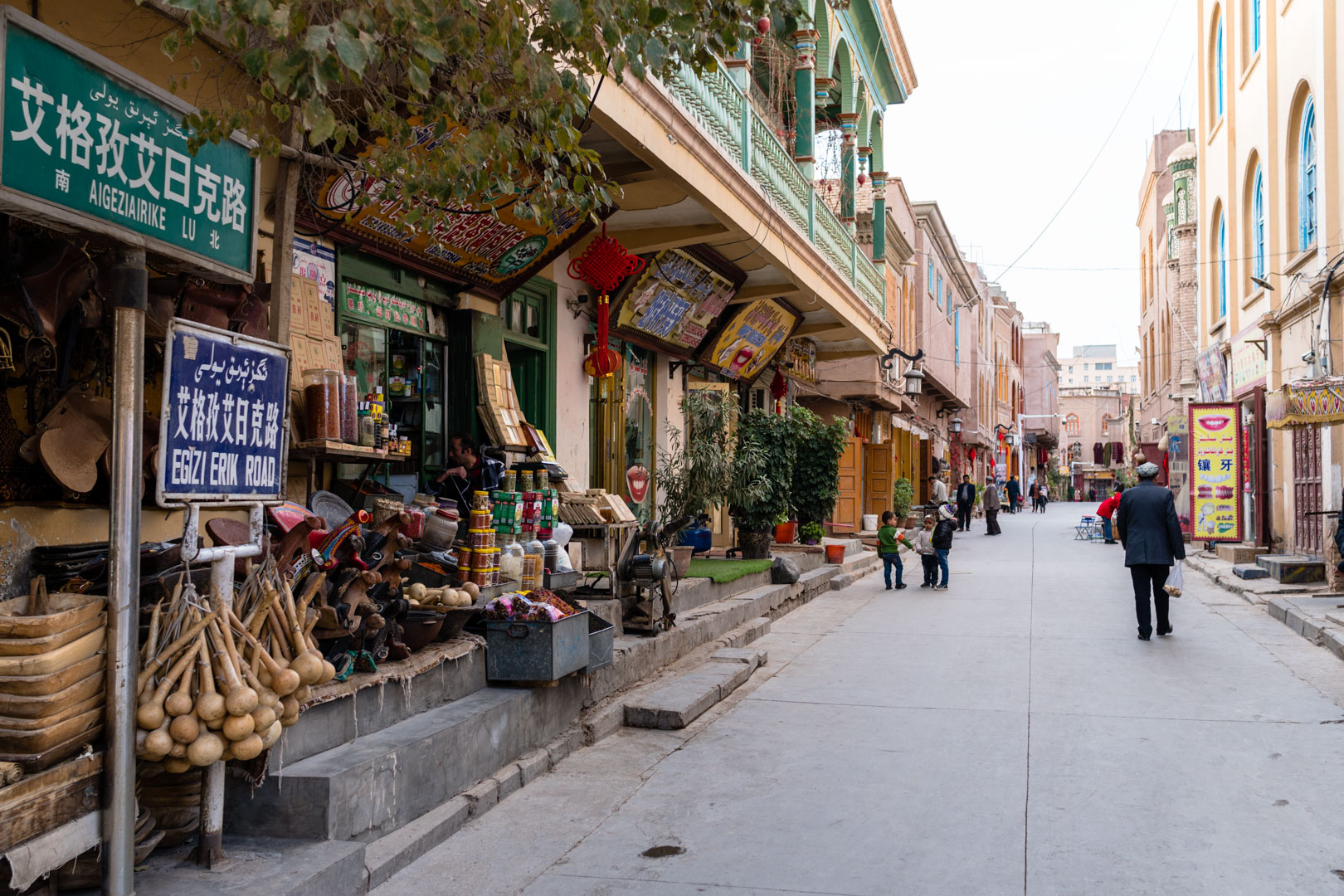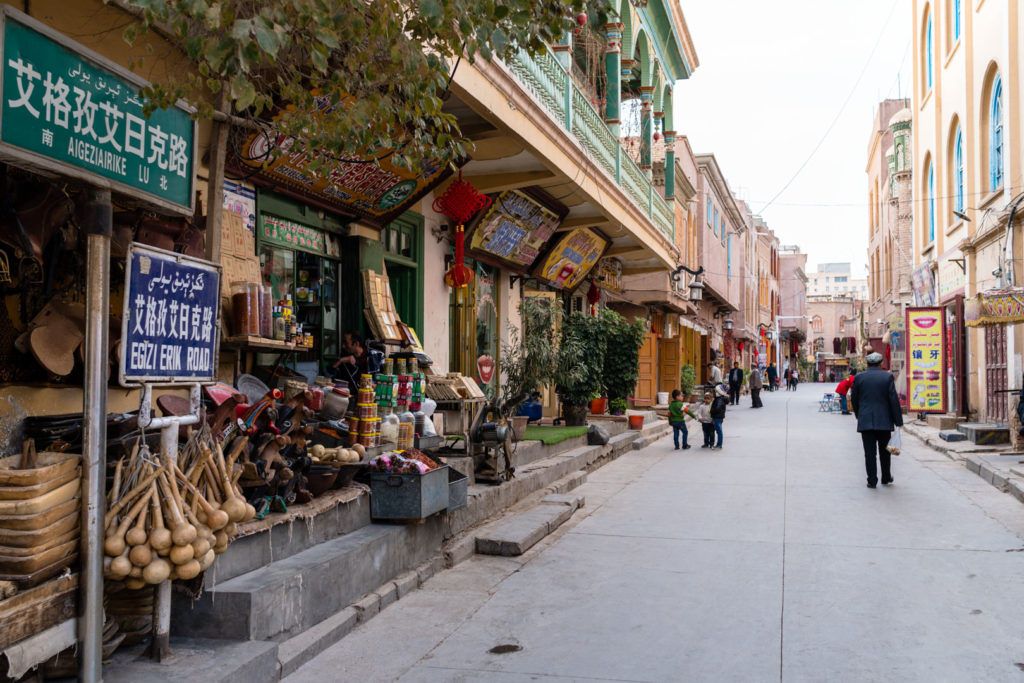 Return to the square one
There we go again for 5 kilometers of walking, to leave the city this time. Despite our early departure, we in fact didn't leave Kashgar before the end of the morning – the fault of two police checks, that have slowed down our journey and made us miss a car that just had stopped to drop us further. When finally we reached the entrance of the highway and stopped a car without much difficulty, we thought our ordeal ended. In fact, it had just started …
Our driver, a Chinese named Mr. Wang, is a surgeon and chief of clinic in Artux, a city about sixty kilometers from Kashgar. Sticking to the Chinese tradition, Mr. Wang invited us to have a lunch in one of the best restaurants in the city – invitation that we accepted humbly. In China, friendship, business and any other form of relationships are formed around a table: a full and satisfied guest is a guarantee of loyalty. Only arrived at the entry of Artux, some policemen stopped our car, obliging us to get out manu militari, confiscating our passports, our bags. Our driver was surprised, and tried to explain the story. Nothing to do! The city is strictly forbidden to tourists, foreigners. Our friend remained silent, embarrassed: in the Middle Kingdom, no one can dispute the Authority. We sat down, we waited – for a little, long time, biding our time… An hour later, policemen came back to us: we were finally allowed to enter Artux, on the sole condition of being escorted. Very well! Mr. Wang got behind the wheels, taking everyone (policeman included) to a rather modest restaurant at the crossroads of large concrete towers. The feast could begin – in the most complete silence and under the watchful eye of the policeman, waiters and chief; all dressed in a bulletproof vest.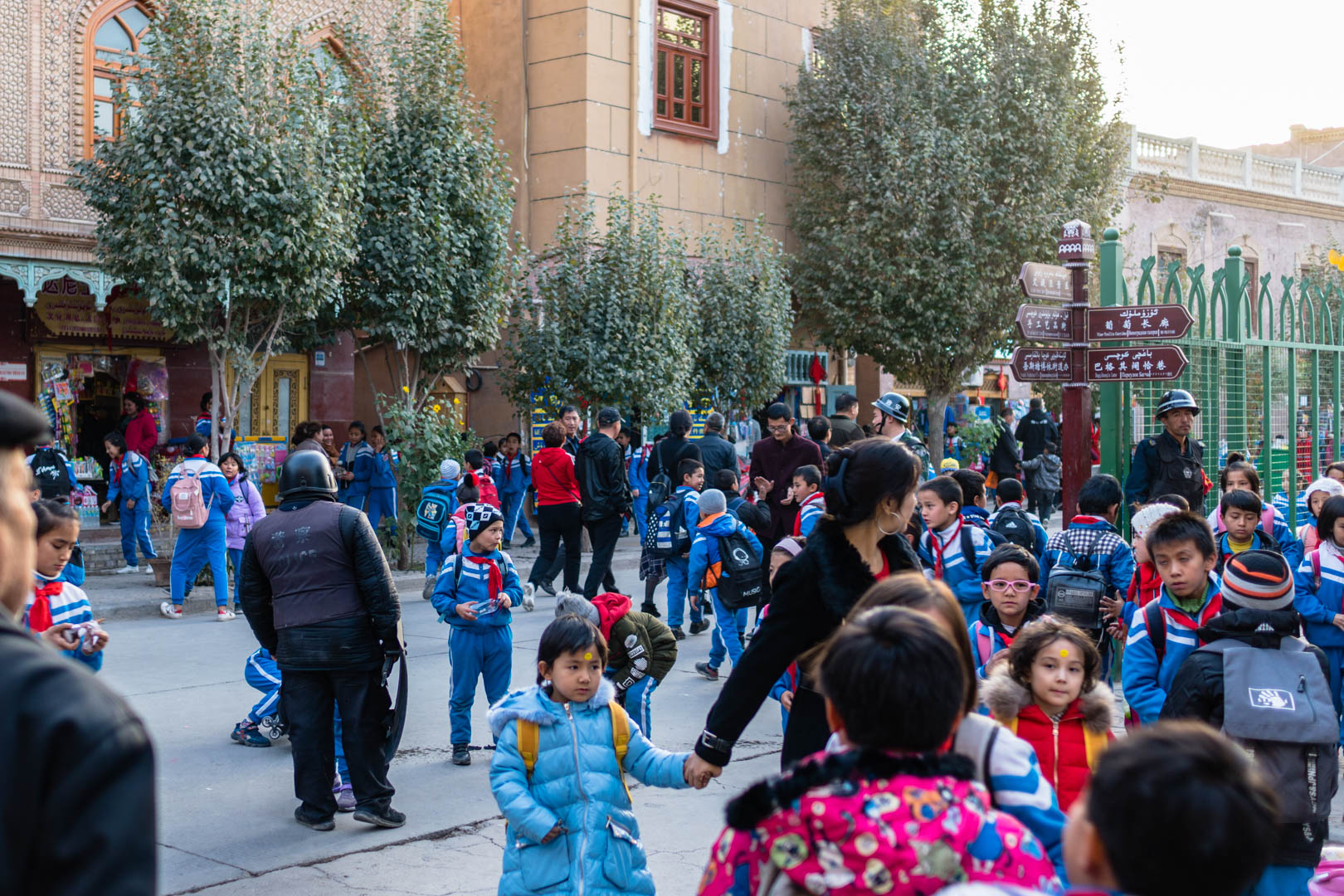 As soon as plates have been emptied, we were immediately brought back to the police station. New check: this time, it was our phone to be confiscated. The photo gallery was scanned from (very) close; our privacy completely flouted. We protested, we stamped, we raged, but it didn't seem to affect anyone. After a moment that seemed interminable, an clear order ended up falling: these intruders must be taken to the exit of the city, as far as possible from Artux. Mr. Wang obeyed, driving us 10 kilometres away, to another police station. Only the policeman in charge of escorting us forgot our passports at the previous station… We waited, again, annoyed, exhausted. And when everything seemed to be in order (passports back, bags recovered, Mr. Wang released from his obligations), we were again arrested by police officers from the nearby station. "Passports, bags". Wait, what? No, it's a joke! Three hours: this is the time we had lost in the previous station. Three hours of excavations, checks, waiting… Why recheck everything? "You can not call your colleagues, talk to them?" "You must agree to police checks". Oh yes, it's true: no one can challenge the Authority here. We went again for a complete check, an official search, in the presence of the chief, all filmed. "Everything is ok, you can leave" said a Uighur policeman, speaking a little English. Thank you. Finally no, not thank you: the night began to fall, and we had not really advanced. We tried to hitchhike all the same, with the help of the Uighur policeman who ended up stopping a car for us. The driver, an elderly Uighur man, did not seem to understand our explanations in English, nor our few sentences written in Mandarin… We let him drove us to the borders of Xinjiang, to an unknown destination, his destination, far from Artux, far from police and complications.
The difficulties were not long to catch us again: at another police station, we were stopped and checked again. The policemen reprimand our driver badly before ordering him, unceremoniously, to take us back to Kashgar. We begged the policemen to let our driver leave, in vain. The Authority spoke. The old man obeyed without a word. We were so sorry for him, but we didn't have the words to express it. Fortunately, during a new police check, the policemen let this poor innocent man to leave, and drove us back to Artux with their police car. It was almost 1 am when we arrived at the Artux Police Headquarters, a highly secure building next to the train station. A return as hilarious, improbable, frustrating, useless to the starting point, in a city supposedly forbidden to foreigners. Except that this time, the anger has changed sides: the Authority will have to repair its errors, find a solution to allow us to sleep. While the leaders were discussing, a caring policeman offered us water, food, and engaged a discussion with us with the aid of a translator. At 2 o'clock, the leaders decided: although free camping is forbidden in this region, we, the intruders, were allowed to pitch our tent in the parking lot of the train station, close to the headquarters. That day, we spent no less than 6 hours in the hands of the police for routine checks…
Hospitality denied
A train has just entered the station. The sun was not up yet, but we must get out of the way quickly. While waiting for one of the police chiefs to pick us up, we were invited to warm up inside the station. Controls were going well: identity checks, bag checks… To avoid failing to play a move, it's better to be ahead of the game. The English-speaking Uighur policeman, met the day before, was there – and Julien took the opportunity to ask him a few questions: "Are you Uighur?" What studies did you do? Why did you join the police? Is the wearing of bullet-proof vests and automatic rifles linked to terrorism issues in this region? " We learnt from this young graduate of a master's degree in physics who has seized the opportunity to have a stable, well paid job of policeman that Xinjiang would have problems of security, but no terrorism… We understood that among the people of ethnic minorities in Xinjiang, nobody is housed in the same boat. Is it because of their social position, their integration into Chinese society (Mandarin mastery), their usefulness to maintain a kind of stability in Xinjiang? Police chief finally came, tearing us away from this intriguing discussion: before driving us away from Artux, he made us sign a pile of papers. In Xinjiang, tourists must register daily to the police – a procedure usually carried out by hoteliers, avoiding tourists administrative problems. Everything was written in Mandarin. What could they have written? "Registration made by: Artux police", "Place of residence: tent, parking lot of the station"? And as if to make sure that there will be no error this time; the chef dropped us on the main road 60 kilometres away. As we walked towards an ideal spot to start hitchhiking, police chief took out his phone, shooting us leaving. And when a car finally stopped, two of Artux's policemen, following us discreetly, came out of their cars dressed in plain clothes to check our driver and wrote down his license plate… One more proof that we will not come back!
Fortunately, hitchhiking worked perfectly. At the end of the day, we arrived in Aksu. Change of scenery, change of atmosphere: everything was written in Mandarin (and not in both languages), the city center is modern and dynamic, the facial features more Chinese-like. At the bend of a maze between several skyscrapers, we encountered smiles, with some "nihao" greetings. An English speaking Chinese girl even tried to help us find a cheap hotel for us – which was at the end a complicated task because of our foreigners status… We ended up finding a clean room in a hotel a little out of the town, but accepting foreigners. And while I took advantage of our new private bathroom to wash our dirty clothes by hand, Julien was helped by the manager to buy two bowls of noodles to take away. We went to bed full, our thoughts wandering in our heads, thinking that this day and for the first time since our arrival in China, we have not been controlled.
After a hearty breakfast, we started to hitchhike again quickly: a Chinese couchsurfing host from Korla has agreed to host us, on the only condition that we arrive before 18.00 to register at the city police station. We have to travel 550 kilometres from Aksu: the mission seemed risky, but not impossible. We hurried to get to the exit of the city, paying a vague attention to the little boy who has just opened the sides of his pants slit to shit in the street. A first Chinese driver dropped us 5 kilometres away, then a family who has come as tourists to the area lifted us several kilometres; cars following each other at a good pace to keep us moving, until we finally stopped a businessman car – a guy ready to drop us at our destination. Everything went perfectly, we were confident; probably a little too much. During another police check, we made the mistake of saying that a Chinese friend will host us for the night. The police called our host, gave him a sermon, so much that our host finally felt compelled to decline his offer of accommodation for fear of reprisals… We were stunned, in shock! Assisted by our driver, we asked the police officers of another station to clarify the situation: according to the law in force, nothing prevents an individual to host tourists if they are registered with the police. Unfortunately, our host has already became scared and still refuses to receive us. Anger but especially disappointment are drawn on our faces, leaving behind a very bitter taste. Since we were denied hospitality in Korla, we had no reason to stop there… So we asked our driver to take us as far as possible from this hell, from all these police controls and draconian restrictions, from this open sky jail. Our destination will be Turfan, another historic Xinjiang city. Our hitchhiking day finally took us to 1000 kilometres from Aksu…
The bitterness didn't leave us the next morning. Arrived the day before in Turfan at 1.00 am, we tried to convince the city policemen to let us camp somewhere near the city, without success. At best, one of the policemen managed to negotiate the price of a double room in a rather kitsch hotel in the city center. Leaving our bags at the reception, we left our room to visit Turfan, its free museum, its vineyards and old neighborhood in which pile up Uighur families who smiled at us. Failing to communicate and exchange with them, we bought bread to a young baker in the neighborhood – a guy happy to sell his products to two foreigners! This ballad was not totally a failure: spotting a square of flat land in the heart of the vineyards, and away from the road, we decided to pitch our tent discreetly for the night once our bags recovered. The sweetness of this night, hidden by wide feet and huge vine leaves, will definitely dissipate all traces of bitterness.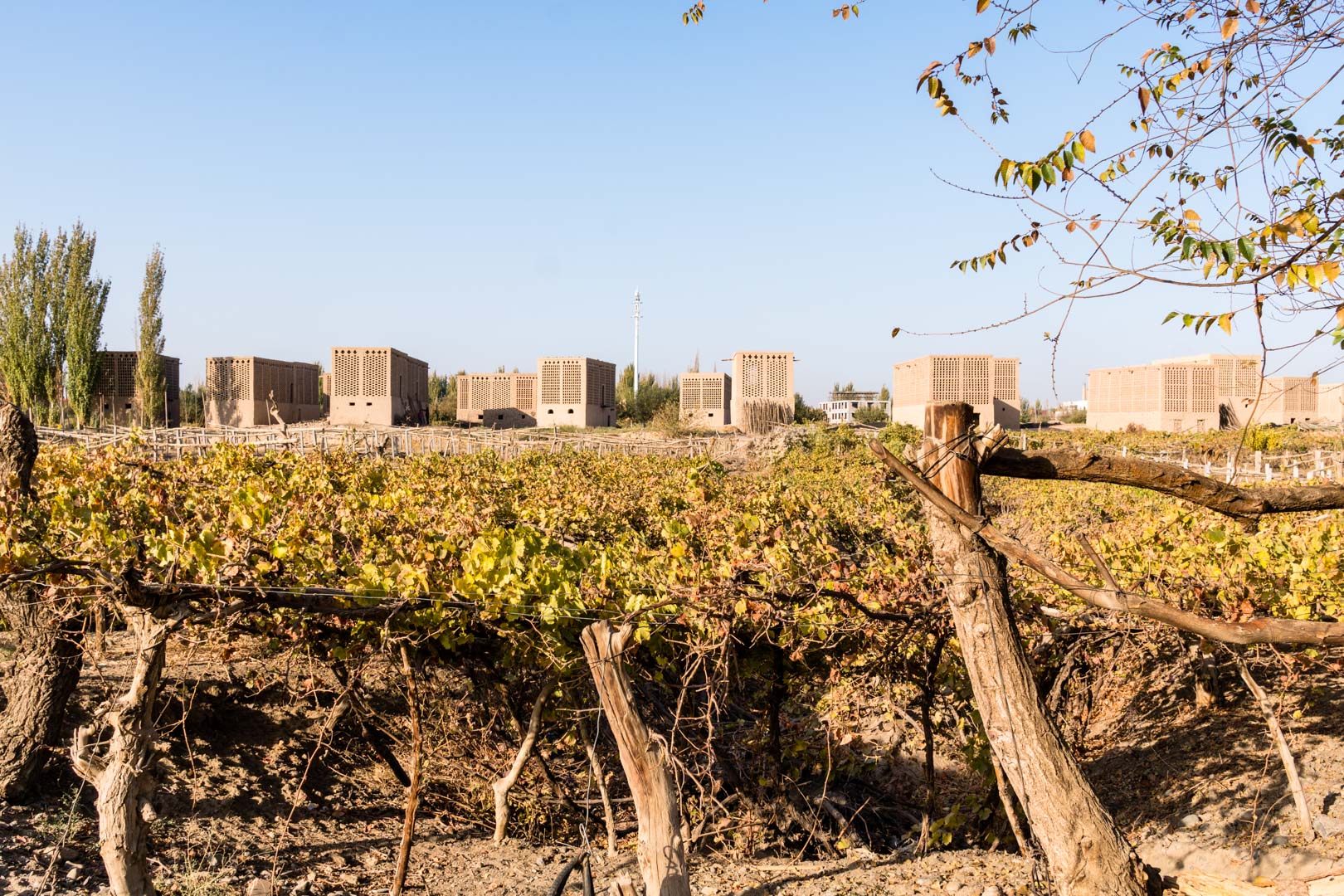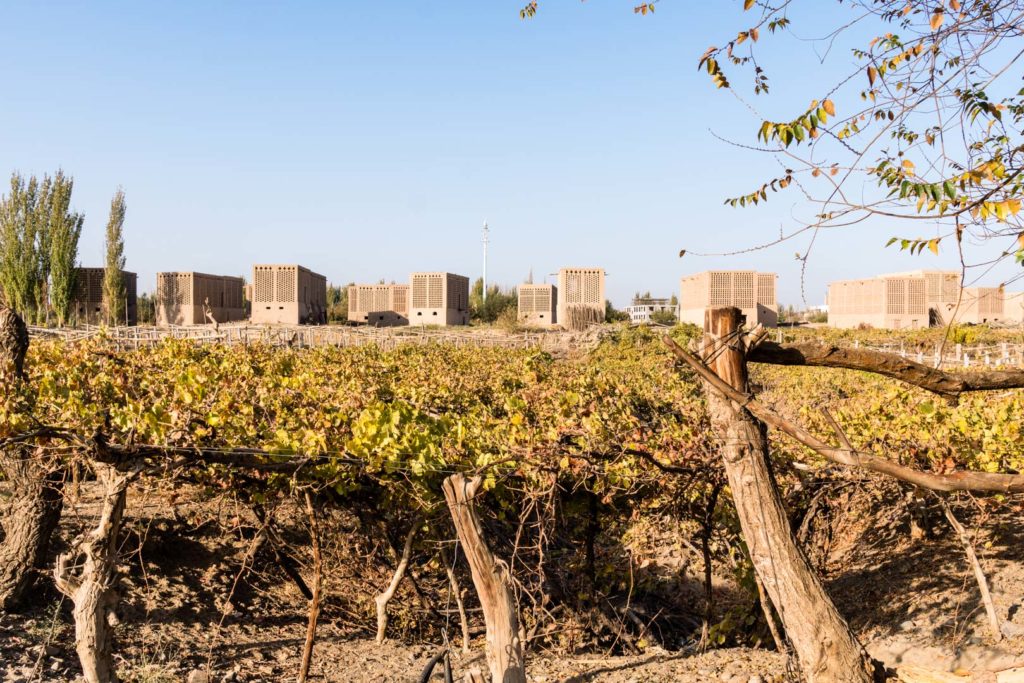 The end is approaching, as the Gansu province. We took the road, our only playground and freedoms space, hoping that it would lead us a little closer to the exit. But the distance is still too huge (about 1000 kilometres) and we ended the day in Hami, the last big city of Xinjiang located on our way. And as we might have expected, some policemen stopped us at the entrance of the city. "What is your hotel?" "We do not know". The only English speaking policeman looked bored, obviously foreigners were not welcome here too… Finally, a compromise was found: he stopped a car for us, ordered the driver to leave us in the city center where all the hotels are concentrated. "No photos". Got it! Dropped on a wide avenue surrounded by high buildings, we were looking for a cheap hotel to spend the night. Out of ten hotels, only agreed to accommodate us – at a price far too high. Desperate times call for desperate measures: we went to the nearest police station, so that they could help us to find a solution (after all, a policeman had managed to negotiate the price of a room for us in Turfan). And it worked! After 30 minutes of waiting, we were escorted to a hotel that had refused us earlier in the evening (not allowed for foreign tourists) and accommodated in a comfortable room for a fair price. After a good night's rest, we were finally ready to join Jiayuguan where two German students have agreed to host us…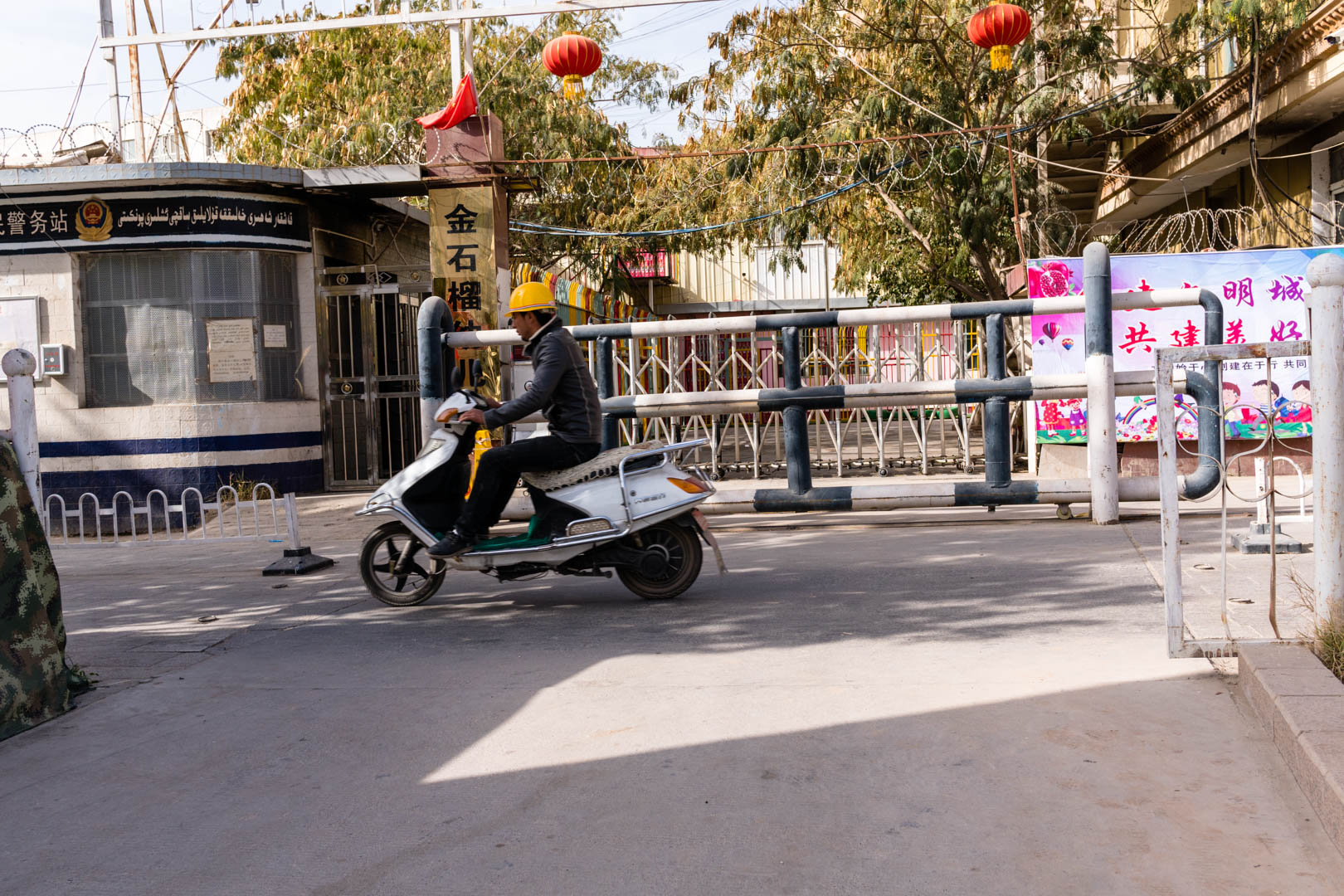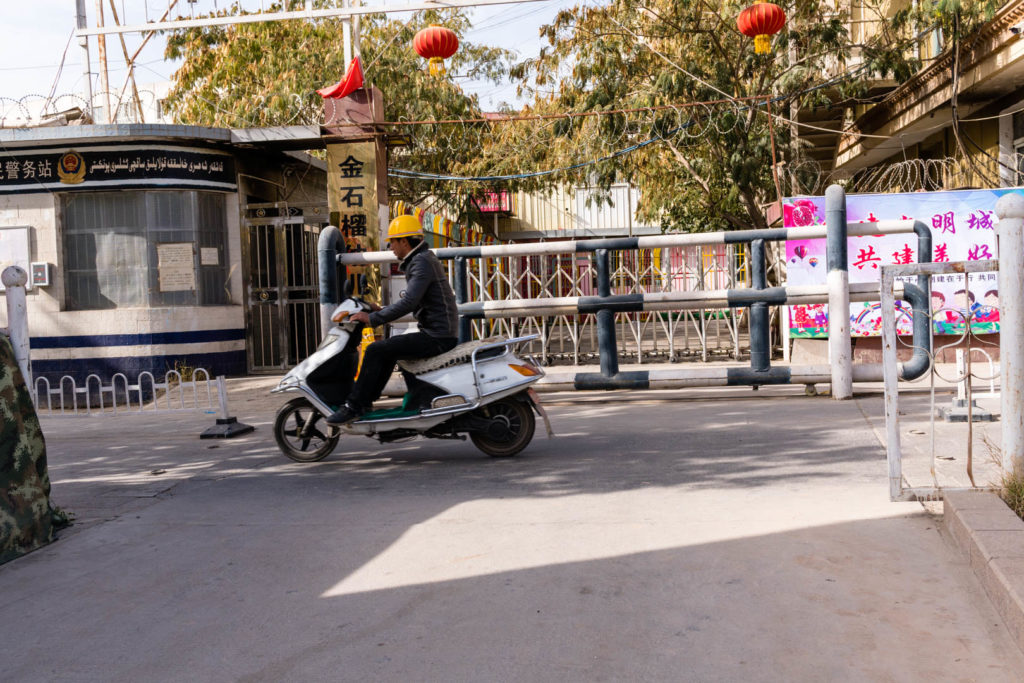 Summary of a week in Xinjiang
After a trying week, we finally left this region. It was a real ordeal; a failed, exhausting, demoralizing experience. It was impossible for us to live our adventure fully, to travel freely, to have real exchanges with locals – whether native Uighur or Chinese. We took very few pictures. The police are omnipresent, oppressive: the controls are done several times a day; police checkpoints on the road, in the middle of the city, at the entrance of shops and hotels where every piece of luggage is checked by X-ray, service stations fenced by barbed barriers, near Chinatowns, in restaurants where most of the waiters wear bullet-proof vests in the most sensitive areas… And to say that for the native Uighur, that we saw to be controlled systematically (search of luggage and phones, bombs detector passage under the cars), this represents their daily life!… A life deprived of liberties, entirely subject to the Authority, for which people owe him a total and blind obedience (see our Uighur driver at the exit of Artux who had to make a huge U-turn imposed by the police).
Let's be honest: with such a level of security, we did not feel like visiting a beautiful Chinese province but rather a country at war… Yet travelers are still allowed to enter, travel and visit this region without being escorted or wearing a bulletproof vest. In the worst case, the police prevent tourists from accessing certain places (as it was the case for us at Artux) or taking compromising photos (one was removed, during a check, of a police station facing the old Kashgar mosque). Doubt is allowed: can we really talk about security measures for a possible terrorist threat, or measures to hide what is really happening in Xinjiang? We will not know more. What our eyes have seen are these burgeoning cities, completely rebuilt by bulldozers and gray skyscrapers, empty and hideous. It's also these controlled ethnic minorities, submissive, these Chinese (or Hans) who come to settle in mass in this desert region, often far from their relatives, attracted by mirobolant wages.
Before closing this chapter, we want to relativize our words and tell you the experience of another slightly different traveler. We are aware that the educational and cultural dimensions come into play in this story, involving very subjective remarks about the balance of freedom and security. With our French and European backgrounds, some things shocked us while they are quite commonplace and accepted from a Chinese point of view: several people told us, for example, to be happy to live in a country so secure. Finally, we end this story with a last anecdote: the little brother of Julien, Clément, also crossed the Xinjiang province by hitchhiking with one friend in late May / early June 2019. And their experience was slightly different of ours! Although checked almost daily, Clément and his friend did not undergo extensive checks exceeding 10 minutes, did not have spyware installed on their phones, and could have some interaction with locals – including with a family of Kazakh origin who wanted to invite them (offers that Clément refused, so as the family could not be at risk). How to explain this difference in treatment? First, the travel route taken was different from ours in Xinjiang: they passed through the capital Ürümqi and not Kashgar, and crossed another border. Then, although we travel in the same way, we do not have the same profile (Clément is younger, still old enough to be a student, and does not travel with a computer and photographic equipment like us). Finally, we are seriously wondering if it is possible that the Chinese authorities have targeted us; after all, we are active on social networks, have a blog and have not hesitated to transcribe, share everything that has happened in Xinjiang!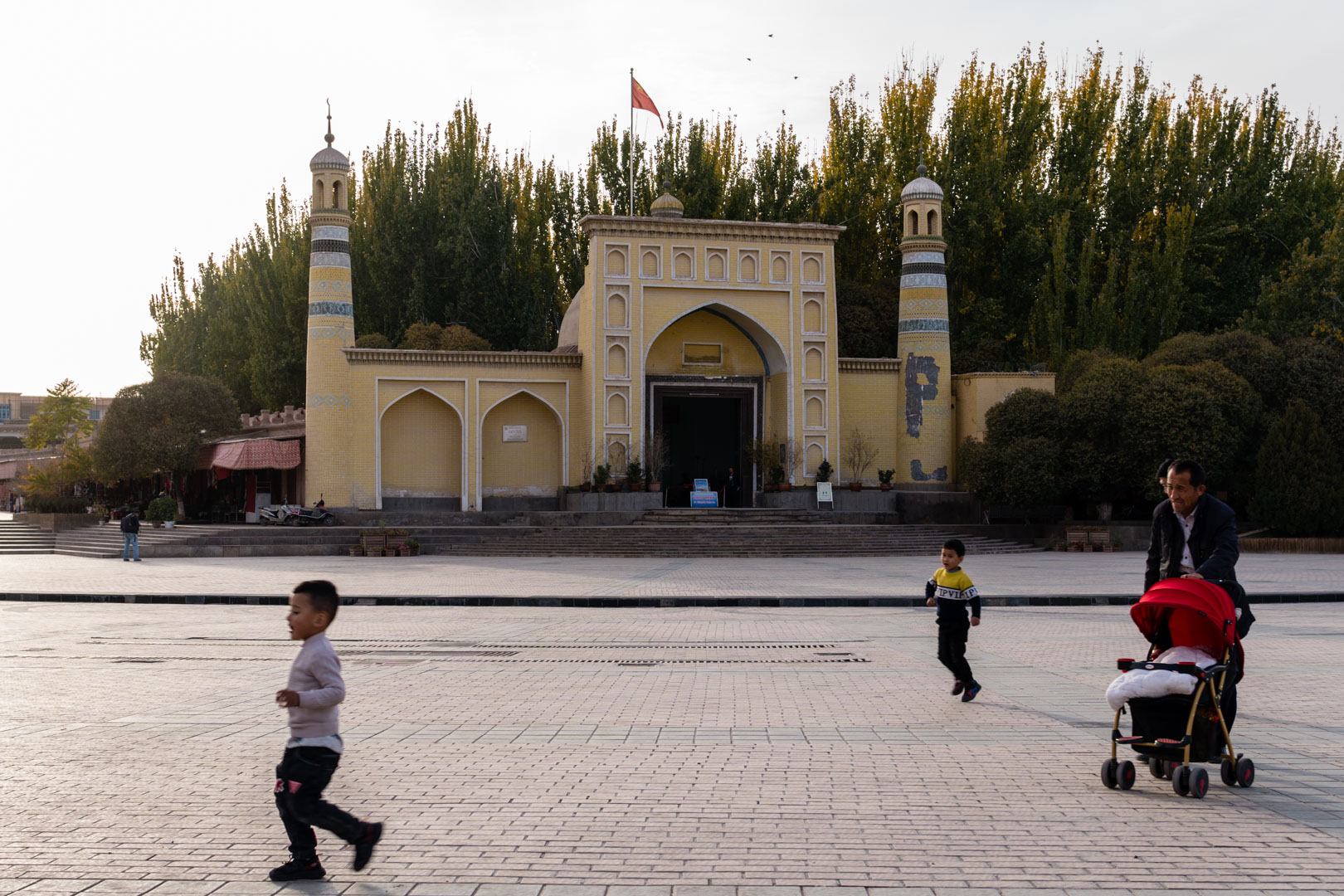 More about Xinjiang
* Post written according to our personal experience *