When we were advised to visit Kastkhi Peak (a monastery built on the top of a narrow rocky outcrop, 45m above the ground), the name Chiatura was also mentioned. "It's a very old mining town, partially abandoned, located at the bottom of a valley… There are about 17 cable car lines in the town to take you up to the heights. Take them; you will have a nice view of the town and the nearby mountains!" We quickly realized, once we got there, that the (really nice) lookouts would be nothing if there wasn't something even nicer: a ride on rusted cable cars.
---
Going up or giving up?
At first we thought it was a joke when we saw the cable cars working, as everything seemed to be on the verge of collapsing! Just imagine the scenery: a dozen of cable cars lines built in the 1950s, at the height of the Soviet era, and completely untouched since then… All that remains today are stations with crumbling walls and ceilings, bent and rusted metal posts, worn ropes and pulleys; not to mention the famous cabins – giant "cans" that have been completely recovered by the rust, with yellowed windows that look as if they are about to burst. Yet, there were people at the main station near Kvirila River – locals who didn't hesitate for a second to board on a "coffin-like" cable car… We got an adrenaline rush: after all, if they're going to take the risk of boarding it, why can't we?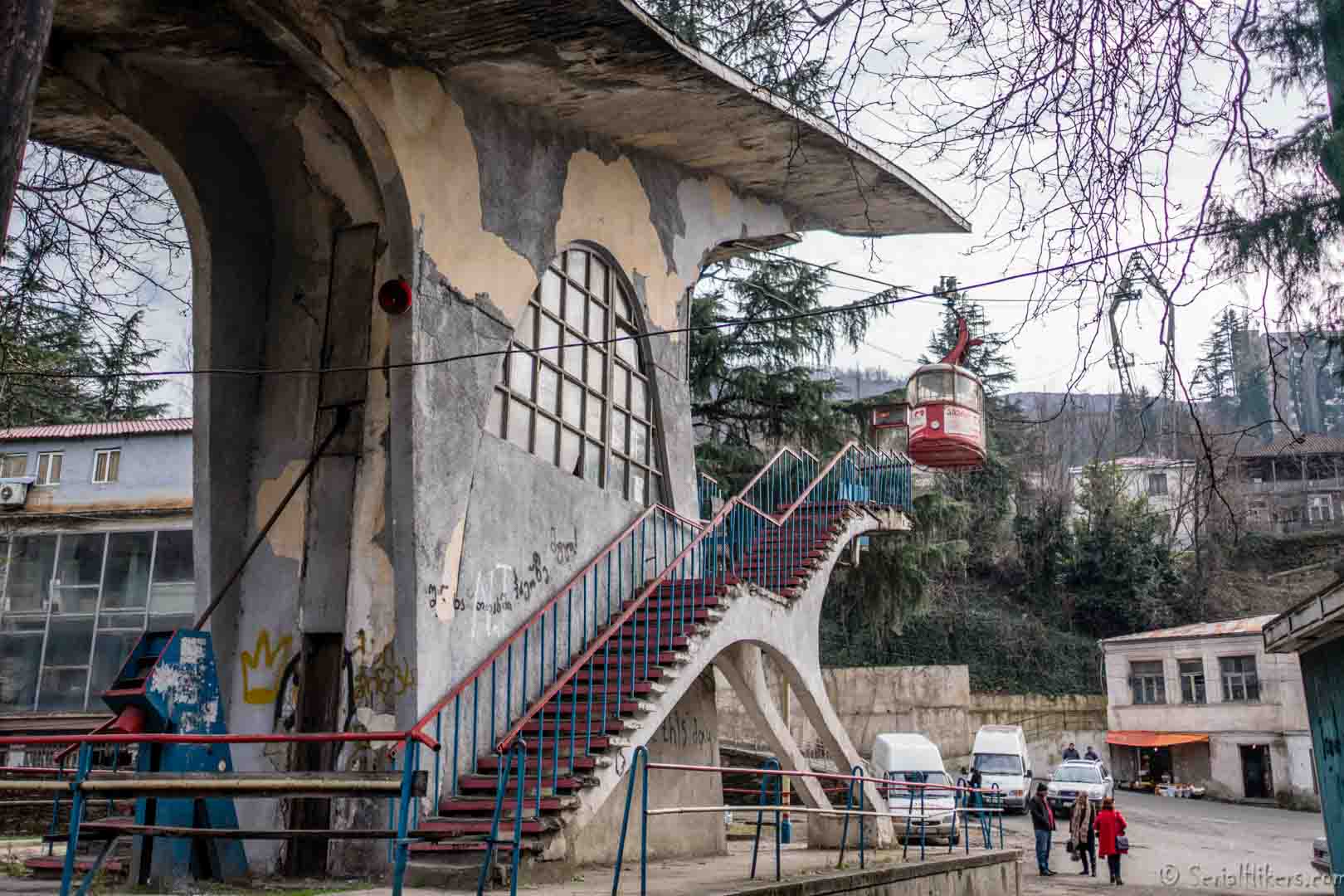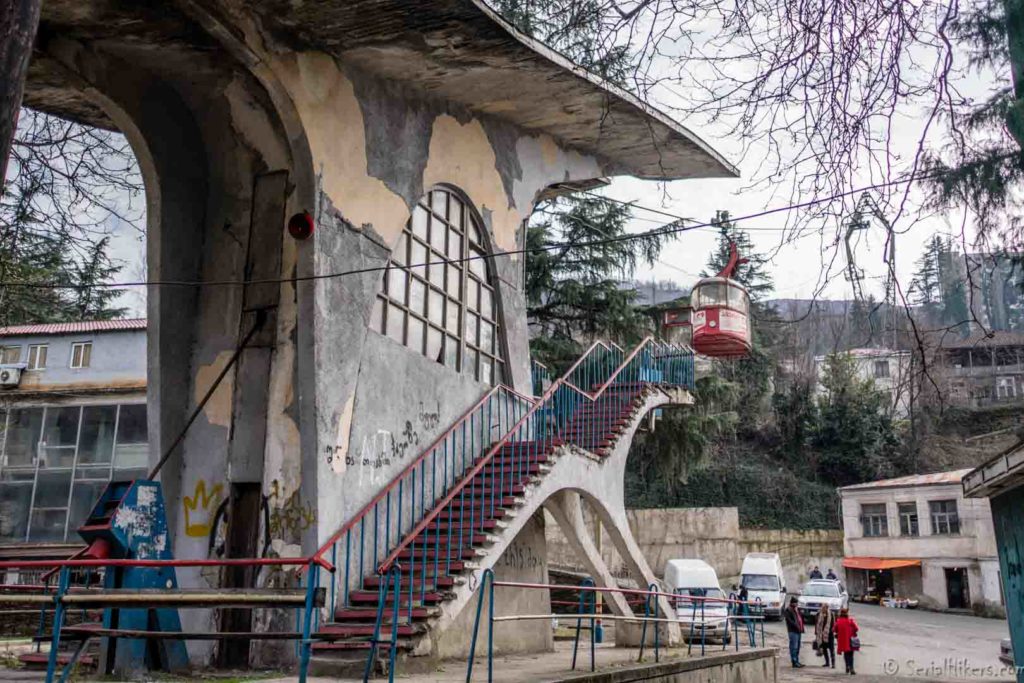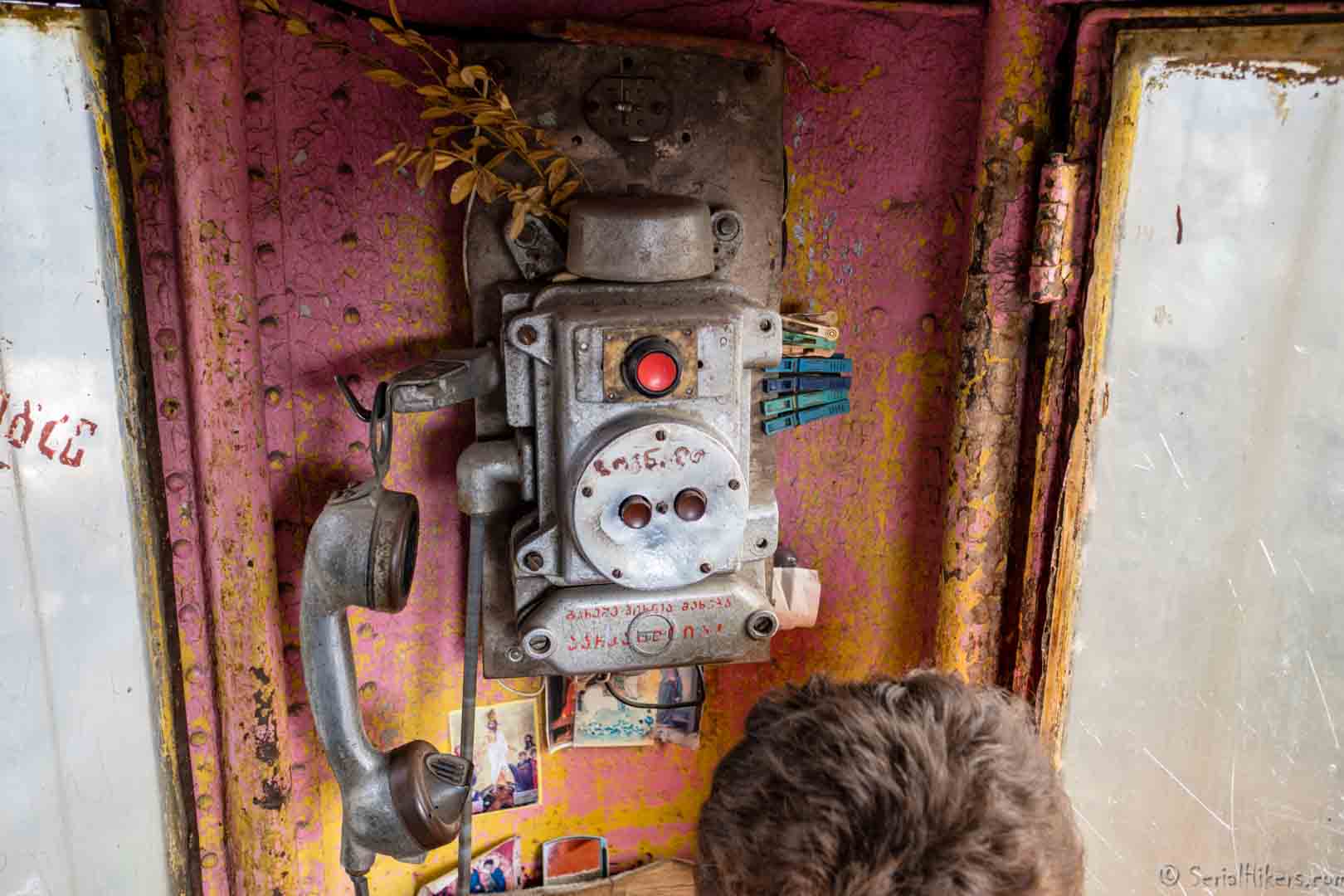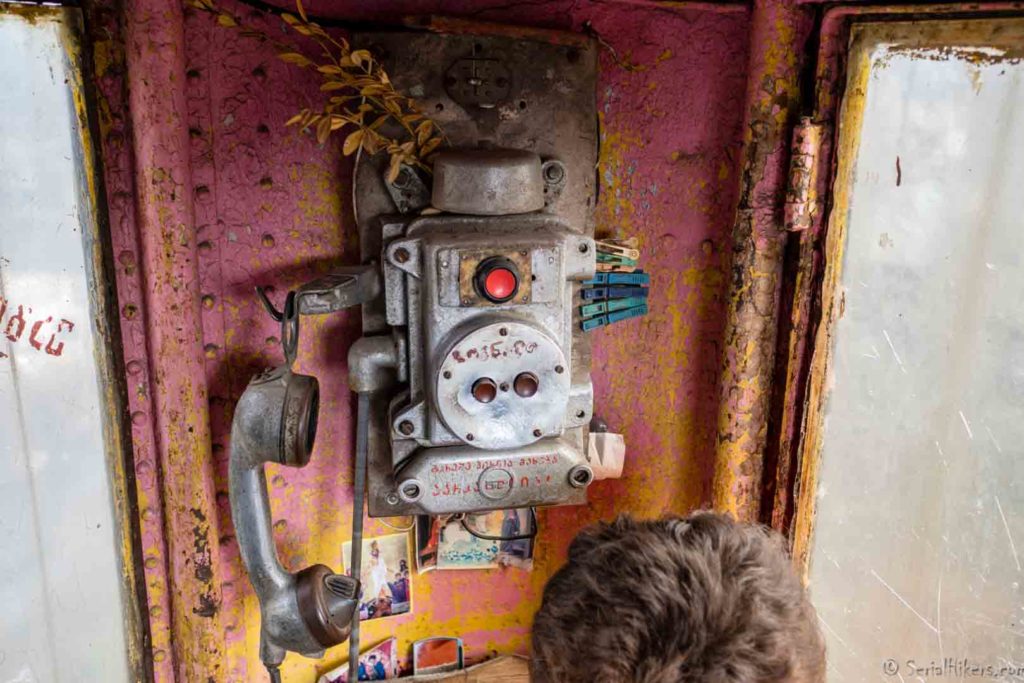 Scared to death, we went aboard this rusty cabin for an ascent of about 200 metres that would make the most sensational modern amusement park looking like a playground for kids. The fear did not leave us when we noticed holes in the ground, undisputed work of rust after 60 years of service: please tell us, it will hold well above the void and the river, right? We won't have time to think about turning back that doors were locked, by the operator with her old tube key. We looked at her, fascinated, picking up the old dial phone and stuttering a few words, before sitting down, facing us, looking serious… A strident sound signal sounded in the station, the cabin started to move: here we are, we're taking off!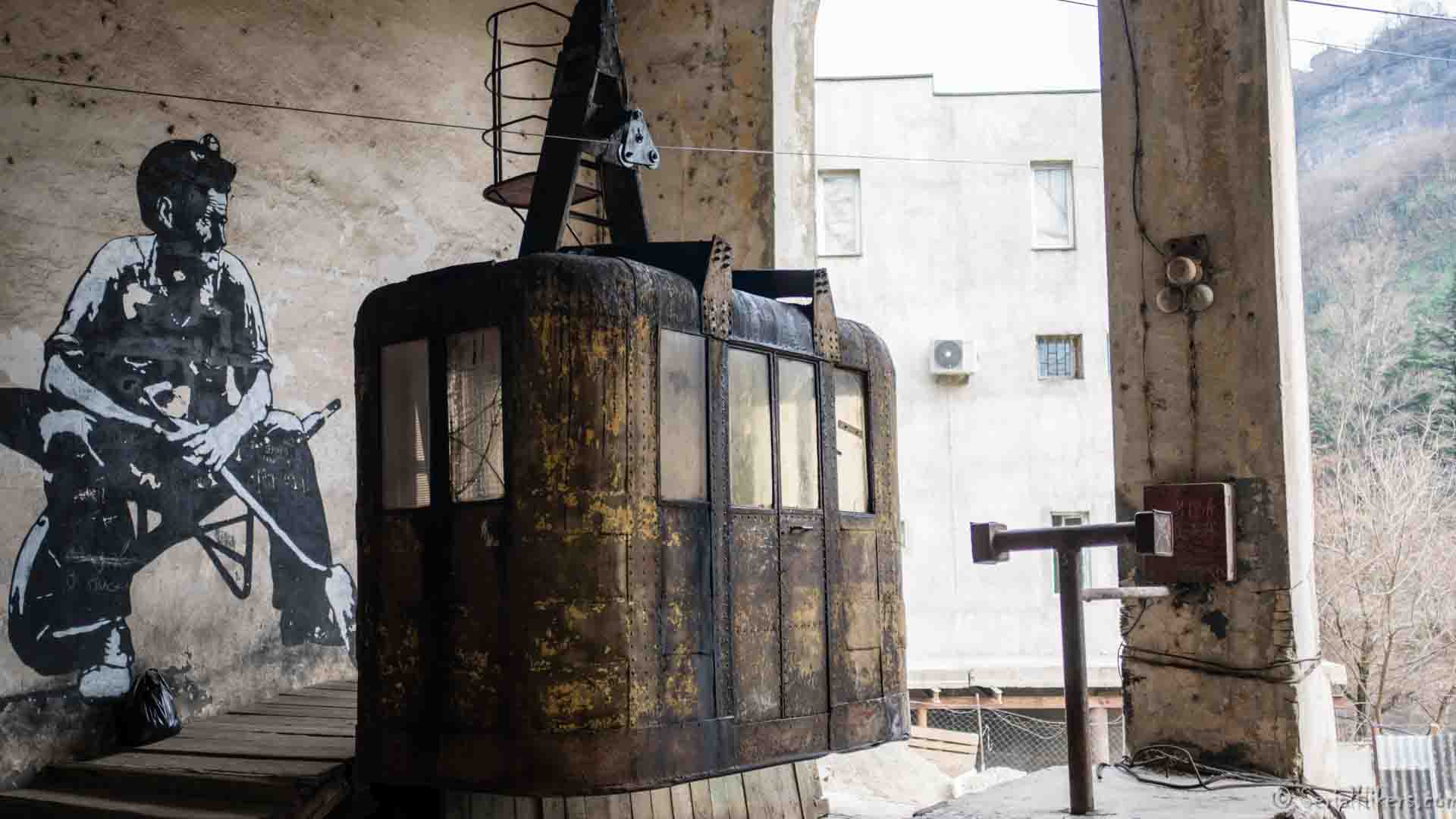 An unforgettable experience
Despite some wear and tear, our cabin rose smoothly. Halfway up, a strong slowdown occured, leaving our cabin rocking dangerously: we were about to cross the other cabin, the one going downhill… We hold our breath, but finally everything went well and we ended up putting our feet on the ground of the high station, 5 interminable minutes after our departure, shaken but alive! We went ahead of our immersion in the Soviet Era by visiting the surroundings, in an area of almost abandoned concrete buildings – except for the presence of a few families, and barnyard animals. At the end of our tour, we had to make up our mind to return to the city centre of Chiatura… by cable car. This time, we went aboard more serenely, even daring to stand by the window! After this crazy day, we are sure of one thing: rusty cable cars of Chiatura will remain in our memories for a long time. Yes, but how much longer will they remain in operation?
Informations utiles:
Rusty Cable cars of Chiatura
Entrance
: Free entrance. Working lines (February 2018): 2 lines from the main station, Ninoshvili street. More informations on the
website georgiantour.com
!
Access
: by marshutka, car, or
hitchhiking
from Kutaissi or Tbilissi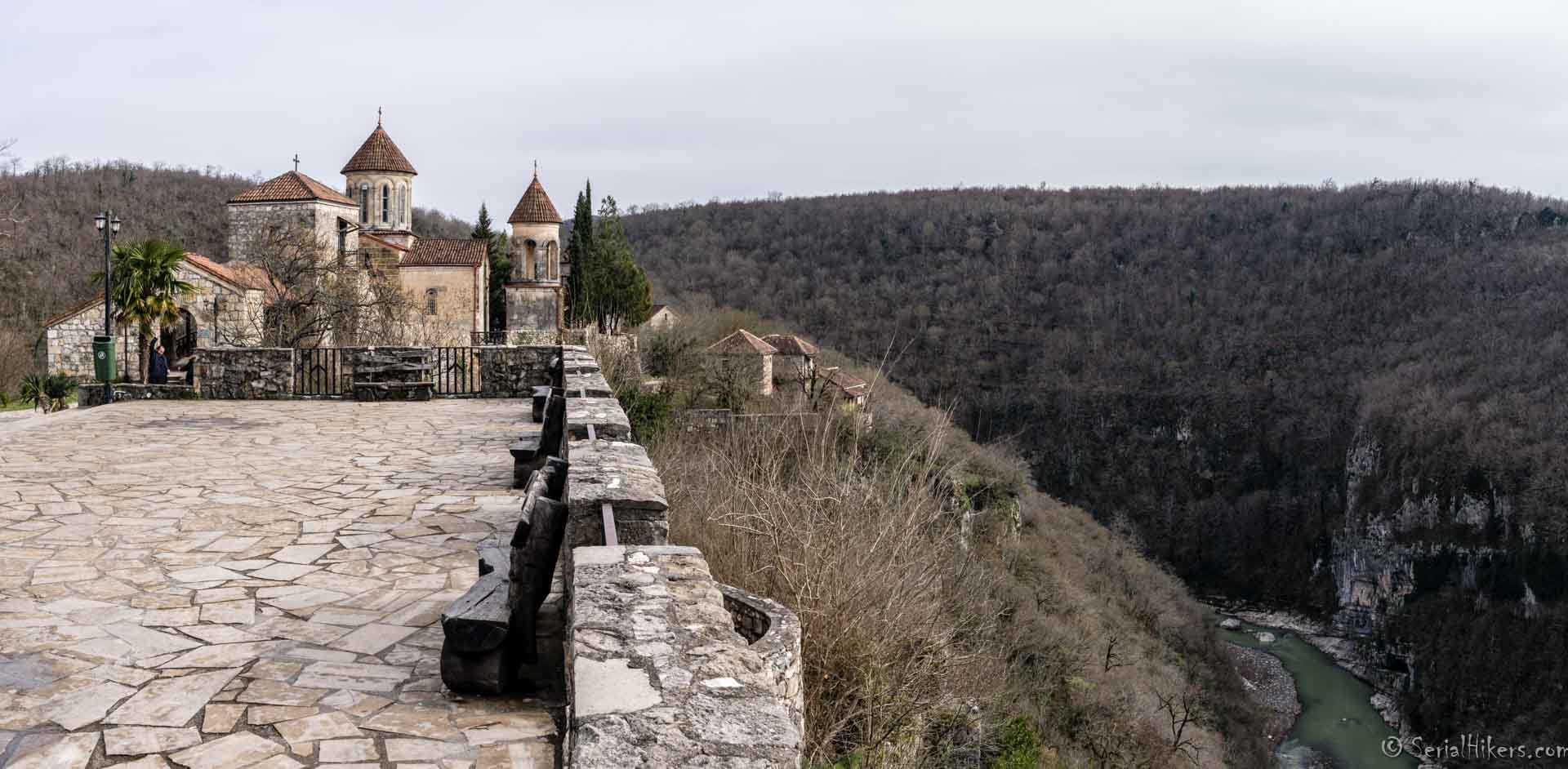 More about Georgia
* Post written according to our personal experience *