Are you in love with good vegetarian dishes? That's a good thing, because during our stay in northern Italy, we learned traditional Italian recipes from our hosts… Recipes handed down from generation to generation, thanks to the know-how of the Mamma, which we have enjoyed to the point of sharing them, with pleasure and greediness. Buon appetito!
---
The PASTA
It's the main course served in Italian cuisine, with pizza of course! Italians eat it as a single dish, often as a "primi piatti" or first course in a restaurant: considering pasta as a side dish and serving it with meat or fish is insulting!
There are actually about 128 different types of pasta. So there are certain rules to follow when cooking them, and although they are rooted in Italian culture and handed down from generation to generation, these rules often depend on the regions where pasta comes from, the pasta quality and the way it's made.
Here are a few of them:
Spaghetti or any other long pasta goes best with fluid, liquid, tomato or fish-based sauces;
Short pasta such as penne is better suited to denser sauces, such as sauces with meat or vegetables;
Rigata pasta (pasta with stripes) is perfect with a liquid sauce, as the stripes will make the sauce adhering better to the dough;
Of course, you can also add some grated cheese to the pasta dish, such as parmesan or pecorino (sheep's milk). Mozzarella or scarmozza (dried cheese, usually smoked) can be added to pasta dishes au gratin. Be careful not to add cheese to pasta dishes containing mushrooms or fish, so as not to mask the taste too much…
Pasta can only be eaten with a fork, even spaghetti! Technique for eating spaghetti is to prick the fork and wrap the pasta around it. The use of a knife is forbidden: pasta can't be cut, it's sacred!
Let's now move on to the way of cooking pasta: in Italy, pasta are cooked al dente, i.e. cooked to perfection. To make sure you don't miss this key step, we encourage you to follow these valuable steps:
Use the right amount of water: best pasta has less foam!
Add a pinch of salt (1 teaspoon per 100gr of pasta) once the water boils
Plunge pasta into the boiling water, and increase the cooking temperature, as the pasta causes the temperature to drop
Dispose the long pasta in a fan shape, or if you are cooking short pasta sprinkle them to prevent them from sticking to the bottom of the pan
Stir the pasta at the start of cooking and then occasionally during the rest of the cooking process.
Respect the al dente cooking time indicated on the package and don't hesitate to taste your pasta to make sure it's cooked to perfection!
Drain the pasta, always keeping a little of the cooking water: if the pasta is too dry, use this broth to better bind the sauce. Don't put the pasta under cold water: this will cause it to lose its starch, which is necessary to hold the sauce together.
Pour the pasta quickly into a suitable container or, better, add it to the sauce previously prepared in a hot pan (in this case, drain the pasta 1 minute before the end of the cooking time indicated and finish cooking with the sauce, over high heat). If you leave your hot pasta in the colander for too long, it may stick together…
Pasta al sugo di pepperoni (4 people)
– 500gr Rigate pasta
– 300gr tomato with pulp
– 1 big onion
– 1 pepper
– some fresh basil leaves
— In a frying pan, heat a drizzle of olive oil. Add the chopped onion and fry it. Using a blender, mix the peeled pepper with 1 tablespoon of olive oil. Pour this mixture into the pan, mix with the onion. Add the 300gr of tomato pulp, salt and pepper to the preparation. At the same time, cook the Rigate pasta. Once cooked, add them to the sauce pan. Serve hot with a few fresh basil leaves placed on the dish.
Pasta e broccoli (4 people) – Sicilian recipe
– 500gr of Orecchiette pasta
– 3 garlic cloves
– 500gr of broccoli
— Chop the garlic cloves finely and cut the washed broccoli very coarsely. In a frying pan with a base of olive oil, fry the chopped garlic and broccoli. Fry the broccoli to your liking, so that the broccoli will be crunchy or melt-in-your-mouth, depending on your taste. At the same time, cook the Orecchiette pasta. Once cooked, add them to the sauce pan. Serve hot.
Pasta con Radicchio e gorgonzola (4 people)
– 2 onions
– 1 radicchio (or endive/small escarole/chicory salad if you can't find radicchio)
variation: this ingredient can also be replaced by 4 pears
– 500gr short pasta
– 200gr of gorgonzola cheese
– 50gr of parmigiano cheese
– a few pieces of walnuts (optional)
— In a frying pan, heat a drizzle of olive oil. Add the chopped onions and fry them. Add the washed and coarsely chopped radicchio, mix with the scallions. Once the radicchio is slightly reduced, add 200gr of gorgonzola cheese. Lower the heat to a low flame. At the same time, cook the short pasta. Once cooked, add them to the sauce pan. Serve hot, with a few pieces of walnut and the grated parmesan.
Vegetarian Carbonara pasta (4 people)
– 500gr of spaghettis
– 200gr of smoked tofu (to replace bacon)
– 3 eggs
variation: You can also replace the eggs with 300gr of tomato sauce, to be added when the tofu becomes crispy during cooking. This variation is called Pasta Amatriciana.
Pasta alla grecia is also based on the same recipe as pasta carbonara, to which you add pieces of pecorino!
— In a frying pan, brown the tofu with a little olive oil. At the same time, cook your spaghetti al dente, drain it. Mix the spaghetti cooked with the tofu in the hot pan. Lower the heat, and break 3 eggs: this step requires your full attention because the eggs must not cook at all, but form a sauce to bind pasta and tofu. Salt, pepper. Do not add fresh cream, the original recipe does not contain any! Serve hot, with a little grated Parmesan cheese.
Pasta di Piedmonte (4 people)
– 500gr of pizzoccheri pasta
– 2 onions
– 2 carrots
– 300gr of fresh spinach
– 4 tablespoons grated Parmesan cheese
— Cook onions, carrots and fresh spinach in water. Once cooked, mix the vegetables with 4 tablespoons of grated Parmesan cheese in a blender. The resulting sauce should be creamy. Cook the pasta, drain it and serve the hot dish with the sauce obtained previously.
The famous pizza!
Talking about Italian recipes without talking about pizza is like talking about French meals without talking about our famous baguette! Like pasta, there are a few rules to follow, such as adding oregano for pizza made in winter, or fresh basil for pizza baked in summer.
In Northern Italy, you'll find pizzas with a thin and crunchy dough, unlike pizzas from the South, which are a little thicker and softer. In Rome, in some fast food pizzerias, you can also find two more specific types of pizza:
– pizza bianca, which usually means pizza without sauce…
– pizza rossa, which is a pizza made only of tomato sauce, sometimes with spices (no cheese on it!)
Finally, there is a variation to the pizza: Focaccia, a speciality of Genoa which, originally, looks a lot like a thick virgin pizza dough with a pinch of salt and rosemary.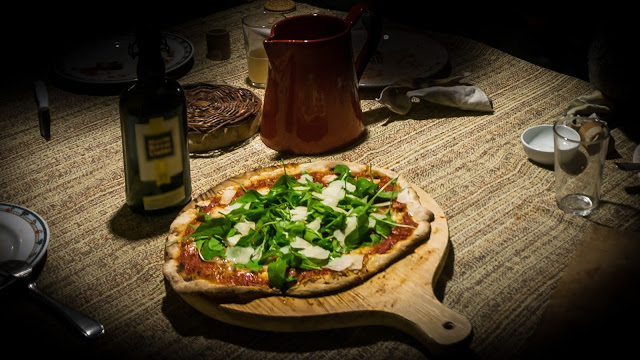 Pizza dough recipe (for 10 medium size pizzas)
– 1,7kg of T55 flour (W280 or 300)
– 1L water
– 45gr of salt
– 2 – 3gr of yeast
– fine semolina flour
— Dissolve the yeast in water. Add half of the flour to this water, knead the dough by hand for 2 to 3 minutes. Add the salt, then the other half of the flour. Work the dough for 7 to 8 minutes, kneading continuously; dough must not be sticky. Leave the dough to rest in a bowl covered with a cloth for 7 to 8 hours. Knead the dough by folding it over itself several times. Shape the dough into balls of about 250gr. Spread the fine semolina flour on a flat surface. Place a ball of dough, and spread it out by hand (do not use a rolling pin to avoid spreading air bubbles!) by positioning your hand in the middle of the dough and pushing the dough outwards with your fingers. Another technique for spreading is to hold the dough and turn it vertically (the dough weight spreads it out). You can also position the dough on the edge of the counter, with half of the dough out and turn it to spread by its weight. Air bubbles in your dough should be on the periphery of the dough: only the edge swells when baking.
— Baking the pizza: in two stages, in a very hot oven at 200-220°C. Pour a ladle of tomato sauce over your dough and bake it for 2-3 minutes to raise the dough. Add the desired ingredients and re-bake for 10 minutes.
Our favourite toppings
Pizza rucola: tomato base, cherry tomatoes, arugula leaves and parmesan chips
Pizza quattro formaggi: tomato base, parmesan cheese, pecorino cheese, gorgonzola, provolone cheese and some basil leaves
Pizza funghi: tomato base, chopped mushrooms, drizzle of olive oil, dried basil, a few slices of buffalo mozzarella cheese
Italian risotto, another way to eat rice!
Risotto is a typical Italian way of cooking rice: it's cooked in broth to obtain a creamy consistency and parmesan cheese is usually added.
Radicchio risotto
– 80gr of rice/person
– 1 radicchio
– 1 small leek
– 50gr of smoked tofu/person
– 1 half-glass of red wine
– 50gr of grated parmesan cheese
— Scorch the finely chopped leek, tofu and a washed and coarsely chopped radicchio over high heat. Add all the rice. At the same time, cook a vegetable stock (by adding a stock cube or by reusing an old vegetable stock). Add a ladle of hot broth as you go along, to cook the rice slowly with the amount of broth needed for cooking. At the end of cooking, add half a glass of red wine to flavor the dish. Serve the dish hot, sprinkling the dish with grated Parmesan cheese.
Risotto alla zucca (squash risotto)
– 1 medium size squash
– 1 onion
– 80gr of rice/person
– 50gr of grated parmesan cheese
— Sauté the chopped onion over high heat in a frying pan with olive oil. Grate half of the peeled squash and cut the other half into small cubes. At the same time, cook a vegetable stock (by adding a stock cube or by reusing an old vegetable stock). Once the onion seems scorched, add the grated squash preparation to the pan and a few ladles of broth: always stir over high heat. When the mixture is pureed, add the diced squash and then the rice in its entirety. Gradually add a ladle of hot broth to cook the rice slowly with the necessary amount of broth. Serve the dish hot, sprinkle the dish with grated parmesan and herbs according to your taste.
Italian appetizers
When it comes to appetizers, Italians like to enjoy a glass of spritz accompanied by a few bites. The evening begins with the appetizer and a toast (Tchin Tchin or Salute)!
Bruschetta
On a slice of toasted bread, add olive oil (of quality), a pinch of salt and a little dried oregano. Variation: you can also place dried tomatoes on your bruschetta!
Fried Radicchio Sticks
– 2 Treviso radicchio (or 2 chicories if you can't find this ingredient)
– 75gr of flour
– 10 to 15cl of sparkling water
– salt
— Wash and quarter the radicchio lengthwise. In a salad bowl, mix the flour and soda water. Dip the radicchio in the mixture and fry them soaked in a very hot frying pan with a base of olive oil. Once fried, add a pinch of salt to the fried radicchio sticks.
Italy at dessert time
Less recognized than pizza or pasta, Italian desserts are still molto bueno. Here is a homemade recipe for a typical Italian dessert!
Panna cotta (5/6 people)
– 600ml of panna
– 200ml of milk
-12gr of gelatine / preferably agar-agar
-1 vanilla bean
– 60gr of sugar
– fruit coulis (e.g. red fruit or peach/apricot)
— Heat the milk and add the gelatine (agar-agar). In parallel, heat the panna with the sugar and vanilla in another container. Do not boil the two preparations: they must remain hot, without large bubbles popping up. Once hot, mix the two preparations in a small bowl. Leave to cool to room temperature on the work surface, then leave to cool in the fridge for at least 3 hours. Before serving the panna cotta to your guests, prepare a fruit coulis by mixing fresh fruit. For a better result, warm the coulis slightly and serve it warm on the panna cotta when removed from the mold.
And the Italian specialties according to the regions?
Each region has its own specialty! Here is a list of some of the specialties we saw during our visit of Italy:
Napoli: Pizza and spaghetti
Milano: Risotto allo zafferano
Firenze: Lampredotto, small sandwich based on bovine tripe
Mantova: Ravioli (tortellini) stuffed with squash
Modena: Balsamic Vinegar and parmiggiano cheese
Venezia: Cicchetti, kind of small bites to be enjoyed with a small glass of wine (Ombra)
Genova: Focaccia
Treviso: tiramisu and radicchio of Treviso
Veneto region: Spritz, citrus-flavored alcoholic beverage
Abruzzes region: Timballo alla crespelle,dish assembled into a flan in successive layers of pancakes and pieces of meat or vegetables
Friuli region: Frico, polenta
… and at the national level, at Christmas: Pandoro ou Panettone (with dried fruits)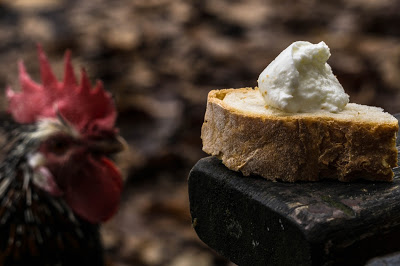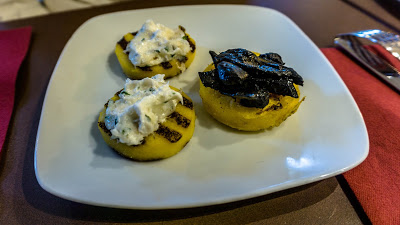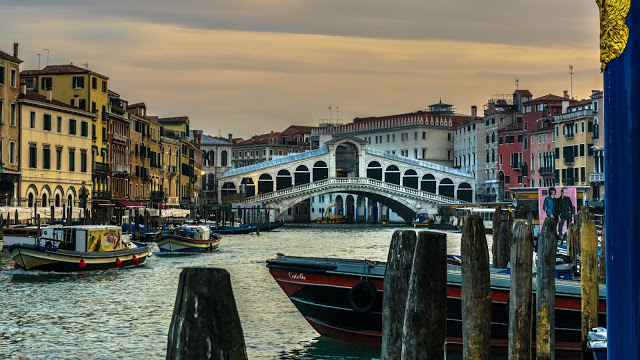 More about North Italy
* Post written according to our personal experience *