On the menu of traditional Balkan recipes, you will find a lot of meat – cooked, marinated in sauce, barbecued… It took a lot of effort to adapt traditional recipes with vegetarian alternatives – but most of all, to allow us to enjoy the Balkan food, where cooking skills are perfectly combined with good, locally grown products!
---
Cooked meals
Gulaš (SRB/CRO) or Golaž (SLO) – Hungarian influence (Goulash)
Description: Traditional stewed dish, usually consisting of meat cooked for a while in a vegetable and spice broth. There are many different types of goulash: we have tasted the vegetarian version, cooked with a vegetable broth and… cabbage!
Recipe:

– 60cl of a pre-cooked lentils and wheat mixture
– 4 average onions
– 1 garlic clove
– 1 carot
– 1 tablespoon of tomato paste
– 1/2 glass of red wine (12cl)
– 1 tablespoon of oregano
– sugar, salt, pepper
— In a pot of boiling water, cook lentils and pre-cooked wheat (3 glasses of water for a glass of lentils + pre-cooked wheat mixture) for about 30 minutes. At the same time, fry the onions and a clove of garlic with hot oil in a pot. Add lentils and pre-cooked wheat with the water broth in the pot. Lower the heat to minimum and let simmer. Add 1 diced carrot, 1 tablespoon of tomato paste, 1/2 glass of red wine, 1 teaspoon of oregano, 1 teaspoon of sugar, salt and pepper. Simmer until all ingredients are cooked through. Serve hot in soup plates!
Sarma (SRB) – turkish influence
Description: Sarma originally consisted of a cabbage leaf wrapped around ground meat mixed with rice and fried onions. There is also a variation called Punjene Paprike, where the cabbage leaf is replaced by a bell pepper with the same ingredients as traditional Sarma. Fortunately, it can be prepared without meat!
Recette:
– 5 onions
– 5 big potatoes
– 8 big fresh bell peppers
– 1 garlic clove
– salt, pepper
— Fry the chopped onions in a pan with oil until they are brown. Grate (using a mandolin) or cut the potatoes into small fries and add them to the onions in the pan. Mix and cook for a few minutes. Add a clove of garlic, salt and pepper. Once the mixture is cooked, stuff the fresh peppers (previously emptied) with the preparation. Put the stuffed peppers on a baking tray and let them bake in the oven for 1 hour at 200°C.
Pasulj (SRB) or Grah (CRO/ BiH)
Description: this traditional dish is very similar to the French cassoulet, with the difference that Balkan cuisine doesn't use duck meat – rather veal, bacon or pork sausages (stabbed with a fork) are cooked in a frying pan with vegetables and spices before being added to the beans. The dish, cooked without meat, is nevertheless very tasty!
Recette (4 personnes):
– 4 glasses of white beans
– 2 big onions
– 4 garlic cloves
– 2 carots (during hiver)
– 1 bell pepper (during summer)
– 4 bay leaves (optional)
– rosemary, parsley, salt, pepper
— In a basin of water, soak 4 glasses of white beans overnight (this step is optional but makes cooking faster). The next day, boil the beans for 10 minutes in a pot with a water level twice as high as the level of the beans. Empty the cooking water, refill with water and boil the beans again for about 2 hours. Taste the beans to make sure they are cooked, otherwise boil a little more. Fry 2 large onions cut into pieces, 4 cloves of garlic, 2 carrots, 1 bell pepper, 4 bay leaves in oil. Add salt, pepper, 1 teaspoon of rosemary and parsley. Once cooked, add this mixture to the beans without draining the cooking water. Serve hot in soup plates!
Variants:
– Pasulj (soup-like version): in the pan, add (in addition to the above-mentioned ingredients) 1 tablespoon of flour, 1 teaspoon of paprika (or curry), and mix until creamy. Add this mixture to the pan with the beans at the end of cooking.
– Pasulj Prebranac (creamier version): pour the cooked beans into a large baking dish, add cooking water up to the level of the preparation. Add the pan preparation and mix it all together. Bake for 15 minutes in the oven at 200°C, until the mixture is lightly browned.
– Grašak: replace the beans in the traditional recipe with peas!
Mich-Mach (BG) – bell peppers omelette – hungarian influence
Recipe (4 people):
– 6 big or 8 small bell peppers
– 1 onion
– 6 eggs
– 4 tomatoes
– 200gr of Bulgarian 'sirenje' fresh cheese (fresh sheep's milk cheese, feta type)
– spices: paprika, savory, salt and pepper
— In a saucepan or frying pan with a bit of oil, sauté the onion and the bell peppers cut into small pieces. Once tender and soft, add the diced tomatoes. At the same time, whisk eggs with the crushed cheese. Pour in the egg mixture and season with salt, pepper, paprika and savory. Continue to cook for 3 to 5 minutes. It's ready!
Other cooked dishes
Žganci (SLO/ CRO): kind of polenta, cooked with different kinds of flour.
Zelje (SLO/ CRO): a dish consisting of pan-fried sausages, cooked cabbage and potatoes (boiled or mashed). In Croatia, this dish is also served with cooked chard.
Segedin (SLO): cooked cabbage dish
Svaljki: a dish made up of balls, made with a leftover of mashed potatoes, mixed with flour and eggs and pan-fried in hot oil.
Pasta with prawns (CRO, italian influence): tagliatelle pasta cooked in cream, local white wine, sprinkled with prawns.
Cevapi (SRB/ BIH): barbecued minced meat roll

Matevž: bean puree

Mež(e)rli: chopped red offal cooked with onions fried in lard and stale bread soaked in milk, all mixed and baked in the oven.
Tarator (BG): cold soup, made with Ayran (Bulgarian stirred yoghurt), cucumber and dill
Pitas
Cheese Burek (Sirnica or sir burek)
Description: Burek is a fried pita, typical of Bosnia-Herzegovina, found all over the Balkans. Originally made from meat (beef), the Burek is made with cheese, potato, mushrooms or spinach by another name. They can be full-length or in a spiral shape.
Recipe (4 people):
– 200gr wheat flour type T400
– 2 teaspoons of oil
– pinch of salt
– warm water
– 500gr of cottage cheese
– 200gr of thick cream
– aromatics (garlic, parsley,…)
NOTE: we will make the dough ourselves, but if you don't have time you can buy filo dough directly at the local grocery!
— Pour flour, salt and oil into a bowl. Add slowly warm (not boiling) water, and work the dough for 5 to 10 minutes to make it more resistant to spreading (spread the dough roughly with the palm of your hand, fold and repeat the operation several times). Separate the dough into several small pieces, like balls (<10cm) and coat the top with oil. Leave to rest for 30-45min. Mix the cheese and cream in a bowl. Salt, pepper and add some herbs (garlic, parsley,…).
Spread each ball by hand to obtain a very thin dough (1 mm): like pizza, let the dough spread by gravity, holding it with your fingertips, then put it on a flat surface and continue to spread it, pulling gently on the edges. On the bottom edge of the rolled out dough, place the cheese/thick cream mixture all the way along. Form a roll and stop the roll when ingredients are no longer visible. Cut along the length, and fold into the shape of a snail your sirnica on an oil-coated baking tray. Repeat the operation until all the ingredients are used up. You can form a large sirnica snail by sticking the rolls together one after the other. Bake the sirnica snail at 200°C for 45min-1h.
Variants:
– Krampiruša: instead of cottage cheese, add 2 large potatoes cut into small cubes and 2 chopped onions. Mix these cubes in a bowl with salt, pepper and herbs before incorporating them into the dough.
– Champinica: instead of cottage cheese, add 500gr of mushrooms and 2 chopped onions, also prepared with salt, pepper and herbs.
– Banitsa (BG): Banitsa is the Bulgarian pita par excellence, served for breakfast! To recreate the Banitsa at home, replace the cottage cheese with Bulgarian "sirejne" cheese and fresh cream with sugar-free stirred yoghurt. Replace herbs with savory, widely used in Bulgarian cuisine!
Soparnik (CRO), chard pie – Turkish influence
Recipe (4 people):
– 400gr of chard
– 1 onion
– 3 garlic cloves
– 400gr of wheat flour
– water
– olive oil
– salt, pepper
– 1 yeast packet
— The night before, wash and cut the chard into thin slices, let them dry overnight (so that the washing water does not dampen the dough). The next day, chop the diced onion and add it to the chard. Salt, pepper and add 3 tablespoons of olive oil. Mix it all together. On the side, make a simple dough by mixing in a bowl 400gr of flour, water, a little salt and yeast. Let the dough rise for at least 10 minutes and then work it again by hand. Let the dough rise again (40 min minimum). By hand, take the dough and separate it into two balls of the same size. Spread the two balls of dough. Put the chard and onion mixture on top of the spread dough, leaving 1 cm around the edge. Cover with the second dough, folding the edges by rolling both dough edges together. Bake at 180°C for 30-40 minutes (watch the dough). Finely chop 3 cloves of garlic and mix them with 3 tablespoons of olive oil. Brush this mixture over the soparnik pie when it comes out of the oven.
Variant: in Bosnia, where the Turkish occupation lasted almost 5 centuries, there is a variant of the soparnik called Zeljanica. This variant is cooked with spinach and feta cheese!
History secret: traditionally, the Dalmatians (Croats from the Dalmatian region) cook the lower dough of the Soparnik by covering it with hot embers from vine wood for 1 minute. The embers are removed with a brush.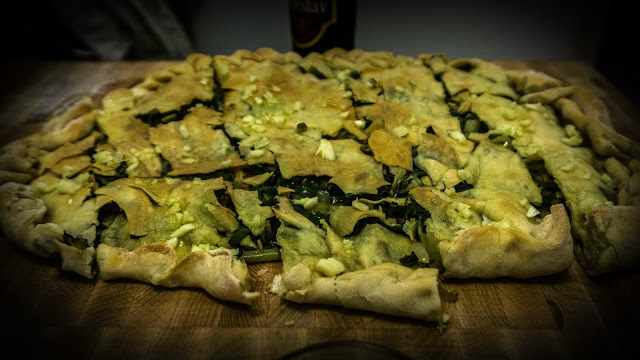 Sirovi štruklji – Cheese štruklji (SLO)
Recipe (4 people):
– 250gr fresh cream
– 500gr skuta (or cottage cheese)
– 2 egg whites
– 1 shortcrust pastry
— Whisk the two whites until stiff in a bowl. Add skuta and fresh cream, whisk everything to homogenize. Spread the dough on a cloth, and place the mixture previously obtained, leaving 1cm of the edge clear. Form a roll with the help of the cloth, as you would do with sushi. Close the cloth by tying the edges with kitchen strings. Plunge the tea towel into a pot of boiling water and leave it to cook for 20 minutes. You can eat the warm štruklji with honey or melted chocolate.
Others
Kifla (BIH): kind of mini moon crescent shaped bread baguette with cheese filling
Zeljanica (SRB): spinach and cheese pie
Flija (ALB): a dish made of stacked pancakes
Maketsa (BG): kind of Bulgarian pancake, fried, and eaten for breakfast with honey or jams
Preparations with vegetables
Ajvar (BIH/ CRO/ SRB)
Description: Ajvar is a delicious pepper purée very typical of the Balkans, to be spread on bread or as a side-dish!
Recipe for big quantity (lengthy preparation): 10 jars
– 20kg of bell peppers
– 150gr of salt
– 100gr of sugar
– sunflower oil
– one whole garlic
— Grill about 20kg of bell peppers on the maximum surface area without adding oil. Remove the skin and seeds. Put the flesh of the harvested peppers in a potato fillet (or a colander) and leave to drain for 1 night. Pass the bell pepper preparation through a grinder or blender. Put the preparation in a large container (such as a pressure cooker), add 150gr of salt, 100gr of sugar and cook the preparation for 5 hours on a low heat while stirring from time to time (cooking is complete when you can make "a line" with the wooden spatula). Finally, put 1/3L of sunflower oil in a frying pan and cook a whole garlic reduced to a purée. Add oil and the fried garlic to the bell peppers. Finish to cook by simmering for 30 minutes over low heat. Put the preparation in jars while it is still hot, and leave the jars to rest in the open air (covered with tea towels) for 24 hours.
Sataraš (SRB)
Description: an equivalent of French ratatouille, which is eaten cold, prepared with fresh cream!
Recipe (4 people):
– 2 onions
– 4 garlic cloves
– 4 red bell peppers and 4 yellow ones
– 3 to 4 tomatoes
– 25cl of fresh cream
– aromatics, salt, pepper
— In a frying pan with oil, fry the sliced onions and garlic cloves, then add the red and yellow bell peppers, previously washed and cut into small strips or cubes. At the end add 3 or 4 tomatoes according to their size, some herbs (at your convenience) and the fresh cream. Mix. Serve cold, with bread.
Tikvichki purzheni – Zucchini with stirred yogurt (BG)
Recipe (4 people):
– 4 small or 2 big zucchinis
– 800gr stirred yogurt
– 2 to 4 chopped garlic cloves
– salt
– flour
— Cut zucchinis into thin slices (about 2 or 3 mm thick). Dip them in a bowl filled with flour and fry them in a pan with boiling oil (renew the oil when it becomes too dark). Arrange the fried zucchini slices in a round dish so that they form a first layer. Salt, sprinkle with chopped raw garlic and yoghurt. Repeat these steps until all the ingredients are used up, finishing with a layer of yoghurt. Sprinkle with dill and serve the dish hot!
Others
Paprika kajmak (BIH/ SRB): preparation based on bell peppers stuffed with Kajmak, a fresh cheese popular in Bosnia-Herzegovina and Serbia.
Capola ljutica (CRO): onions marinated in vinegar, to be eaten as a snack on bread
Sogan dolma (BIH): onions stuffed with meat preparation (Turkish influence)
Lutenista (BG): Bulgarian variant of Ajvar containing a 50/50 mixture of tomatoes and bell peppers!
Delicatessen
As we told you in the introduction, delicatessen is a big part of the Balkans cuisine. For non-vegetarians, here is a short list of specialties to find:
Salama: dry sausage, but also mortadella, etc.
Klobasa ou Kobasica (SLO/ CRO/ SRB): typical round sausage, pan-fried
Pršut (CRO): smoked cured ham, widespread in Dalmatia (region of the Croatian coast). The name derives from the Italian prosciutto (ham).
Zaseka (SLO): rillettes
Pašteta: paté
Odojek (SRB): suckling pig
Ocvirki (SLO) or čvarci (CRO): fried pork fat in small pieces, for a crispy finish… The equivalent of grattons in France!
Krvavica: black blood sausage cooked with barley – ječmen (slo)/ječam (cro) – and white meat offal
Drinks
To our great surprise, ex-Yugoslavia countries produce a lot of good wines (French words!) and homemade beers. Not to mention the various homemade liqueurs, which you will inevitably be invited to taste if you are passing through the Balkans!…
Rakija / Rakia (CRO/ BIH/ SRB) or Schnapps (SLO): it's the most popular homemade liqueur or brandy in the Balkans! Some people drink it in the morning in a shot with their coffee!
Pelinkovac (pelinkovec/pelinovec): absinthe-based liqueur, popular in the Balkans. The percentage of alcohol is around 30%. In terms of taste, Pelinkovac is very close to the Jägermeister.!
Celevita (SLO/ CRO/ BIH): Vitamin drink reconstituted from a powder, orange flavor
Kefir (SLO/ CRO/ BIH): a drink of Caucasian origin, kefir (or Kiselo mleko) is a yoghurt drink made from milk and fermented Caucasian mushrooms. The recipe is simple: ferment a tablespoon of mushrooms in a litre of milk (6 hours of fermentation for a liquid aspect, 24 hours for a more compact aspect). Use a glass or plastic jar as a container (especially no metal).
Dingač (CRO): red wine from the Croatian peninsula, very strong in taste
Pošip garbinada (CRO): another popular wine, white this time. Originally from the island of Korčula
Gemišt (CRO/ SRB): glass of white wine mixed half with water. Blended wine is often a poor quality wine…
Bambus (SRB): glass of red wine half mixed with coke…
Boza (ALB): fermented drink, based on wheat and corn flour
Salep (ALB): hot drink, based on milk and herbs
Desserts
Jabolčni zavitek (štrudel) – Austrian influence
Recipe:
– 250gr of flour
– 12,5dl water (1/2 glass)
– 3 teaspoons of oil
– 1 teaspoons of vinegar
– 3 big apples
– 1 tablespoon of cinnamon
– 50gr of suger
– icing sugar
– nuts, raisins (optional)
— Prepare a dough by mixing flour, oil, vinegar and water. Work the dough by hand and let it rest for at least 30 minutes once the dough has formed. In the meantime, peel apples, cut them in half and grate them with a large grater. Put the grated apples in a salad bowl, add a tablespoon of cinnamon and 50gr of sugar. You can also add walnuts and raisins to this mixture, the štrudel recipe varies a lot from region to region. Roll out the dough with a rolling pin, making it as thin as possible. Put the thin dough on an unfolded cloth, coat the dough with oil (or melted butter) using a brush. Spread over the mixture of grated apples, cinnamon and sugar. Using a cloth, fold the edges inside and then form a roll by folding the dough several times over itself, as if to form a puff pastry. Coat the roll with oil (or an egg yolk). Prick the roll with a fork and bake for 30 minutes at 180°C. Sprinkle with icing sugar. It's ready to eat!
Variant: there is a variant called štrudel sa mako, made of poppies, hot milk and sugar.
Fritule – small Christmas doughnuts (CRO)
Recipe:
– 2 eggs
– 2,5 tablespoons of sugar (full)
– 13 tablespoons of flour (full)
– 1 yoghurt
– 1 vanilla-flavoured sugar sachet
– 1 yeast packet
– 1 pinch of salt
– lemon peel, raisins (optional)
– icing sugar
— Mix all the ingredients together in a bowl to obtain a compact dough. Then dip a large teaspoon of this mixture into heated oil (the oil does not have to boil). Turn the ball of Fritule over to brown both sides. Serve the hot Fritules, sprinkled with icing sugar!
Other desserts
Prekmurska gibanica (SLO): poppy seed, walnut, raisin and apple cake
Kremna rezina (SLO) / Kremšnita (CRO) / Krempita (SRB/ BIH): vanilla mille-feuille-like cake with cream and whipped cream, popular in Slovenia (Bled) and elsewhere in the Balkans
Potica (SLO) / Povitiva (CRO): a walnut wrap pastry
Krofi (SLO): typical donut from the town of Trujane
Hrapoćuša (CRO): Croatian walnut cake
Baklava (BIH/ SRB): dessert with honey and walnuts or cherries, of Turkish influence
Proja (BIH): corn flour based dessert
Cheese
Skuta (SLO): white cheese, equivalent to cottage cheese
Kajmak (BIH/ SRB): very fresh cow's milk cheese
Sirenje (BG): fresh cheese (usually ewe's milk), equivalent to Greek feta cheese
Kashkaval (BG): the other cheese widely known in Bulgaria, made from a cooked paste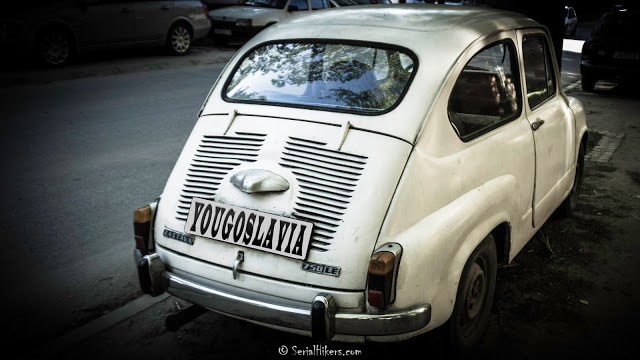 More about ex-Yugoslavian countries
* Post written according to our personal experience *