I don't know about you, but as for us we love exploring old abandoned buildings. That's why we really wanted, since our first day in Bulgaria, to explore Buzludzha: a building built on top of a mountain, with typical "hammer and sickle" architecture, completely abandoned since… thirty years. When we say "abandoned", it's not quite true: scavengers, squatters and exploratoration amateurs visit it one after the other… Interested in this communist UFO? We will tell you everything to know about this crazy exploration!
---
Foreword Note
Before starting, we wanted to make it clear that we are not going to lecture you on the Bulgarian Communist Party, nor on the history of this building: there is a lot of blog and press posts for that! You can find them easily by typing "Buzludzha" on Internet. What interests us the most is to share our feelings, the results of our exploration and above all, an updated feeback because about Buzludzha, we have read/hear… everything and its opposite!
State of the building, from outside
If you are travelling in the Kazanlak region, it's impossible for you to miss this communist UFO which is visible from far, far… far away! However, to get there, you'll need a bike or a car (it's very high, and no bus stops there as you can imagine!). If you don't have a bike, raise your thumb: hitchhiking works very well in Bulgaria!
As you approach Buzludzha, you'll have the choice to stop the car at the first parking lot in front of the Eternal Flame statue (which we did) or to continue until facing the stairs leading to the main entrance. From the Eternal Flame, it will take about 20 minutes to go up to the back of the building – which is not at all convenient when going downhill, especially if you stay until nightfall in Buzludzha for example. Once arrived at the gates of Buzludzha… you will probably feel very small! With its 70m high tower and 500m² auditorium in the shape of a flying saucer, the building imposes itself at first glance!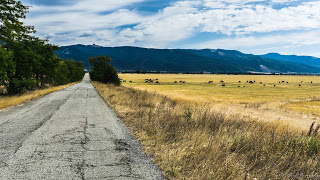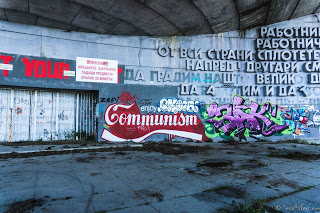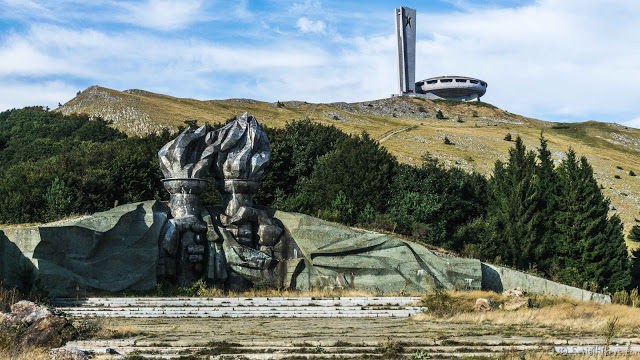 First look at the building state, from outside: after a complete tour of the building, the structure seems remarkably preserved, despite some deterioration (natural causes but also human) and rather funny graffiti! Of course, the main entrance is blocked by metal panels and padlocked gates, and we had to find another way to get in. No trace of a CCTV camera despite some alerts read on Internet: the building is not connected to electricity at all. Moreover, we needed a minimum of equipment (headlamps or a cellphone flash) to be able to enter and explore the building. As for the famous hidden entrance that took us inside the Holy Grail, we ended up finding a gap on the side of the building… That's it, we won't tell you more!
State of the building, from inside
Once the entrance located, you must be extremely careful: equipment left on site to facilitate access to the apprentice explorers is not reliable, and you can't obviously count on the derelicted foundations to help you. With an extra light, we slowly made our way to the main hall of the building. From there, all we had to do was climb the wide and rubble-covered stairs leading to the auditorium. We finally arrived in the heart of Buzludzha, in its huge conference room, with its majestic frescoes and mosaics still present, especially the one on the ceiling with its golden hammer and sickle.
If you are an expert explorer, a thorough exploration of the site's depths will allow you to find the (coveted!) access to the tower. As for us, we just watched the sunset from the Buzludzha's outdoor gallery: a fairy-tale moment in a surreal setting!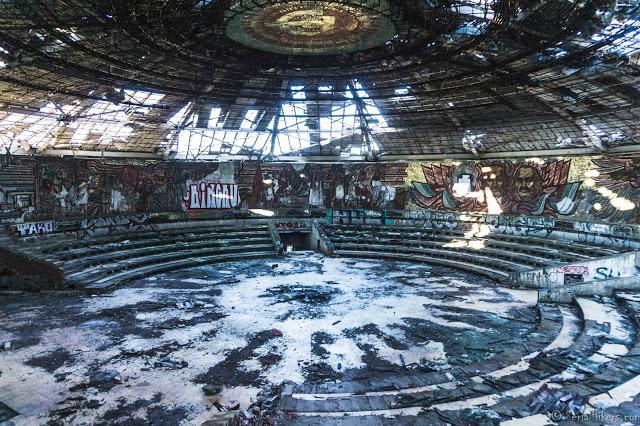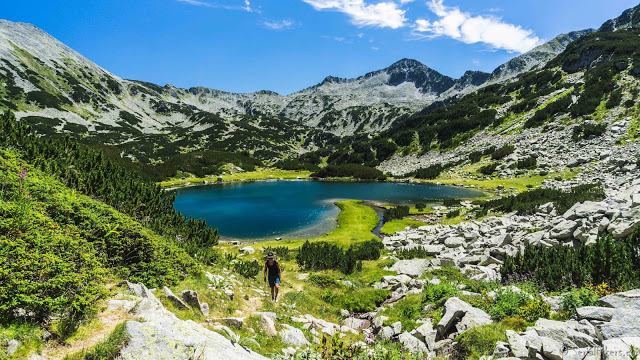 More about Bulgaria
* Post written according to our personal experience *