What to see, on the Bulgarian Black Sea shores? That is the question! Always helped by the locals and their good advice, we went to explore the whole Bulgarian Black Sea coast. Ancient cities, incredible beaches, mud and salt water baths… We tell you everything you need to know to enjoy the Bulgarian Black Sea coast and make your stay in Bulgaria a success!
---
Nessebar/Sozopol: the duel of ancient Black Sea cities
Two ancient cities compete on the shores of the Black Sea: on one side Nessebar, a UNESCO listed city, and on the other Sozopol, an ancient fortified city. Having visited both of them, we wanted to introduce them by comparing these two old cities in a funny clash!
So, Nessebar, Sozopol: who will win our clash?
Place configuration: in the shape of a peninsula, you can easily stroll in small paved streets (and only pedestrian!) inside these both cities. City centers of Nessebar and Sozopol are especially worthwhile the visit for the architecture of their wooden houses, very typical of the Bulgarian Renaissance (19th century). On the other hand, we could swim on the (very busy) beach of Sozopol in clear sea water, which was not the case in Nessebar where no beach is located near the center. +1 point for Sozopol!
Cultural visit: if Nessebar is classified by the UNESCO, it's not for nothing: ancient churches, remains of the Thracian era… Nessebar knows how to age while preserving a certain charm! +1 point for Nessebar!
Authenticity: for us, one of the most important criteria! End of the suspense: with "Sunny beach" a few hundred meters away (a beach known for its parties and alcohol, very popular among young tourists) and tourist stores that abound in its streets, Nessebar did not convince us at all! +1 point for Sozopol, much quieter and authentic!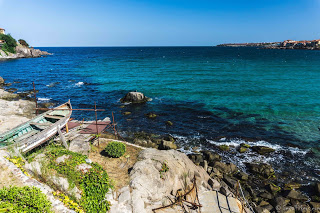 Sozopol is our big winner! Of course, this only reflects our own experience… We advise you to make up your own mind by visiting them both!
Useful information:
Duration: about 4h/city (half a day) or a full day on site.
The most beautiful beaches of the Black Sea
You got it, we are not really conventional tourists… Trendy bars, paying umbrellas and other fake palm trees are not at all part of our travel list! You'll soon understand why we won't talk about Varna or even worse, Sunny Beach. But don't worry: we have found some very nice places to swim where you will have a lot of choice to put your towel down!
Fichoza
This large beach, located 15km south of Varna, is well worth a little detour! Far away from the tourist city bustle and the incessant flow of cargo ships, it has everything we need: fine sand, tranquility, a natural landscape and trees to give us shade!
Lozenets
Lozenets, with its seaside, has everything of a tourist resort: bars, restaurants, casino, hotels… Everything! However, by walking a little north of the city, we were surprised to discover a large beach much wilder, separated from the rest by a rocky peninsula. And even if this beach is not our favorite one, its authenticity was worth to be underlined!
Sinemorets
It's by far the best Bulgarian Black Sea beach! Why? Well, because this long beach has the particularity of being located at the mouth of a river, Veleko. In other words: on one side you can swim in the fresh and salty waves of the Black Sea, and on the other side you can swim in the warm and calm waters of the river! No jealous, everyone can be satisfied! As a bonus, the scenery is really amazing and rather well preserved… And you can easily find a place, even in the middle of the summer afternoon, to plant your beach umbrella!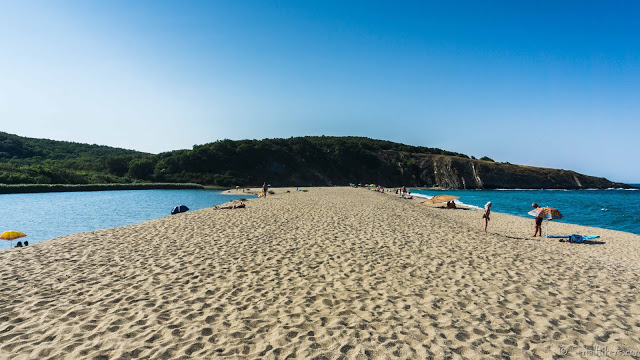 Bonus: Burgas mud baths
We had the opportunity to stay 3 weeks in Burgas, as volunteers in a hostel. And in order to advise the customers, it was better for us to know the city and have some good tips! If you had asked us the question: "What to see, what to do in Burgas", we would have answered that this port city is not very interesting except for its large beach, the view on the port at sunset and… its free mud and salt water baths!
Here is probably our best spot of the Black Sea: to get there, take a bus from downtown or walk north to the end of the main park (sea garden). You will need to walk another 30 minutes or take a small electric bus along the sea before arriving at the famous baths. You can't miss them: when you arrive, you will directly notice strange black people coming out of them and throwing themselves into the Black Sea… But before you rush in, you will have to respect a precise bathing order!
Location: after the wooden pontoon, 2 pools at the back.
You have to start by scrubing your skin thanks to the salt water. The bath is shallow, warm, and very… salty! For us who had never swum in hypersalted water, it was quite a discovery! To be able to lift hands and legs effortlessly while being on our back, as if our whole body was weightless… As far as we tried, we totally loved it! On the other hand, it's not recommended to stay more than 15 minutes (salt quickly dries out the skin). Salt magic must remain ephemeral!
Location: on the left, at the entrance.
After posing like a yogi in salt water, go to the mud bath to coat yourself with this famous clay soil, concentrated in minerals. Do not hesitate to take big handles to cover your body with a good layer, even if aspect and consistency of this mud is rather gross… Drying time recommended: 15 minutes under the sun, to improve minerals absorption by the skin.
The last and probably the most invigorating step! We ran to throw ourselves in the fresh and powerful waves of the Black Sea to quickly get rid of our mud coat. Hurry back to dry yourself and touch your skin… Isn't it soft, like a baby's skin?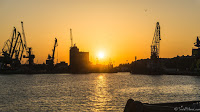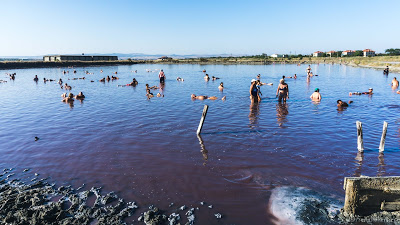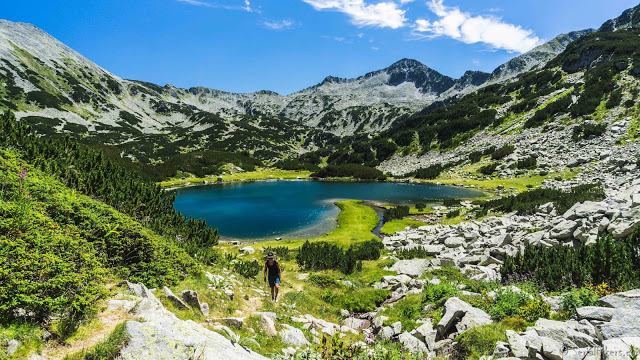 More about Bulgaria
* Post written according to our personal experience *