Imagine an azure blue water, a white sandy coast, snorkeling, flat rocks as a diving board, a secret thermal spring… No, you are not dreaming: we are not in the Caribbean but in Europe, in Halkidiki in Greece to be precise! Follow us, we will guide you right to the paradise!
---
Discovering the beautiful beaches of Halkidiki
Halkidiki (or Chalkidiki in English) is a peninsula in Northern Greece, located east of Thessaloniki and extending into the Aegean Sea. Impossible to miss this region so special that it's nicknamed the "three fingers" – because of the three peninsulas shape! We can well imagine you asking yourself: "That's nice, but where are the dream beaches?" We're getting there, don't worry!
Halkidiki's "three fingers"
According to the various information obtained during our Greek journey, here is what we were told:
the first finger, Kassandra, is very popular among tourists and locals living in Thessaloniki who come to spend evenings and weekends partying;
the second finger, Sithonia, remains fairly unspoiled and has many natural beaches;
The third finger is managed by the Monastic Republic of Mount Athos (a community of Orthodox monasteries) which exercises a rather strict right of border crossing… As women are totally forbidden there!
So we crossed off Kassandra and Mount Athos from our route plan list to focus on the discovery of Sithonia… And it worked very well!
Sithonia dream beaches
Dropped off at Sithonia border, one of our hitchhiking drivers lifted us to Karidi beach, a crescent-shaped white sand beach lined with pine trees and large flat rocks. And despite a late arrival in mid-afternoon, we found a shady spot to lay our towels! It's also on this beach that we met a Dutch family who offered us hospitality the same evening in their rental villa and drove us the next day to another dream beach: Orange beach (Portokali beach). Unlike Karidi, Orange beach attracts a more heterogeneous public thanks to the bars-clubs on the beach, its nudist part and a possibility to camp on the spot. Orange beach also has a lot more rocks, forming small isolated creeks in some places… Ideal for sunbathing in complete privacy! With an exceptional underwater fauna (don't leave without having done some snorkeling!), its crystal clear water and an unobstructed view of Mount Athos, Orange beach has been propelled to the top of our personal ranking of the most beautiful beaches we had visited!

Relaxing in a… abandoned thermal water pool!
After a day of swimming, what could be better than relaxing in a thermal pool… for free?
Following a local advice, we made our way to Loutra Eleftheron, an abandoned old thermal center – but whose water spring, still active, fills few external pools with its naturally warm (38°C) and sulphurous water! If at first glance, this place does not seem very welcoming (vandalized or squatted buildings, site strewn with waste…), our apprehension was quickly forgotten as soon as we swam, far from crowds, in one of the pools built near the water spring. It will nevertheless be necessary to hurry to take advantage of Loutra Eleftheron free thermal water: a rehabilitation project of the thermal center is currently under discussion!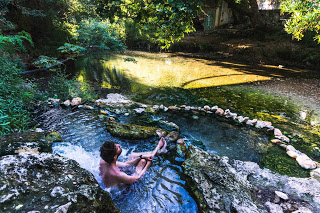 Useful information:
Karidi beach: located north of the village of Vurvuru, Chalkidiki
(~1h40 by car from Thessaloniki)
Portokali beach (Orange beach): located on the east coast road of Chalkidiki
(~2h by car from Thessaloniki)
Loutra Eleftheron: located 1km from the EO Thessaloniki-Kavala road. Pools found behind the old thermal care building (long building with several private bathrooms).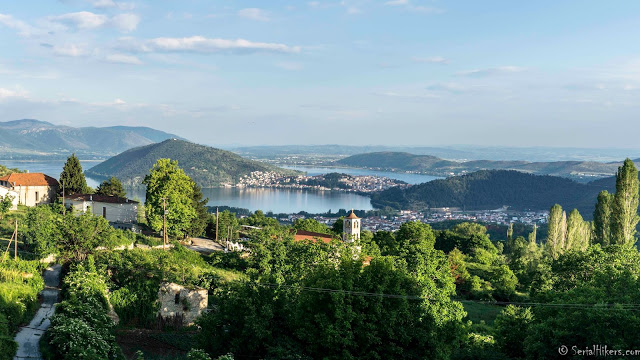 More about Greece
* Post written according to our personal experience *