While talking to Vincent, a French traveler in Iran, he advised us to visit absolutely Hormuz island. "What is so special about this island?" "You will see…". Done! Our decision was taken: we will camp on Hormuz and discover the island by ourselves! Landed on Hormuz, we found ourselves in a very simple village, inhabited by men with sun-kissed skin and veiled from head to toe women… Surrounded by tuk-tuk, lost under an overwhelming heat, we quickly left the village to explore this island and its secrets!
---
Getting lost in the "rainbow" mountains of Hormuz
After a 15-minute walk, a pick-up truck stopped next to us: a group of local workers decided to lift us up to the mountains – "rainbow" mountains, from which they will extract the multicolored rocks, reduce them to powder, and sell this Hormuz "gold" to the cosmetics and paint industries. They dropped us off at the entrance of a dirt road, leaving us alone, sweaty with our big bags. During 5 kilometers, we walked at our own pace along the rainbow mountains, making regularly breaks to refresh ourselves, marvel, photograph and pick up lots of small pebbles with polychrome facets. The scenery would almost make us forget the heat, our long walk and bumps on the path, revealing a crystal clear rock of a bright white color. Somewhere, in the hollow of the "rainbow" mountains, hides a crystal cave. We passed by it, obsessed by what our eyes are capturing: never before have we seen such an explosion of colors, such a painting palette turned real in one place… But at this moment, we were far from imagining what awaited us afterwards.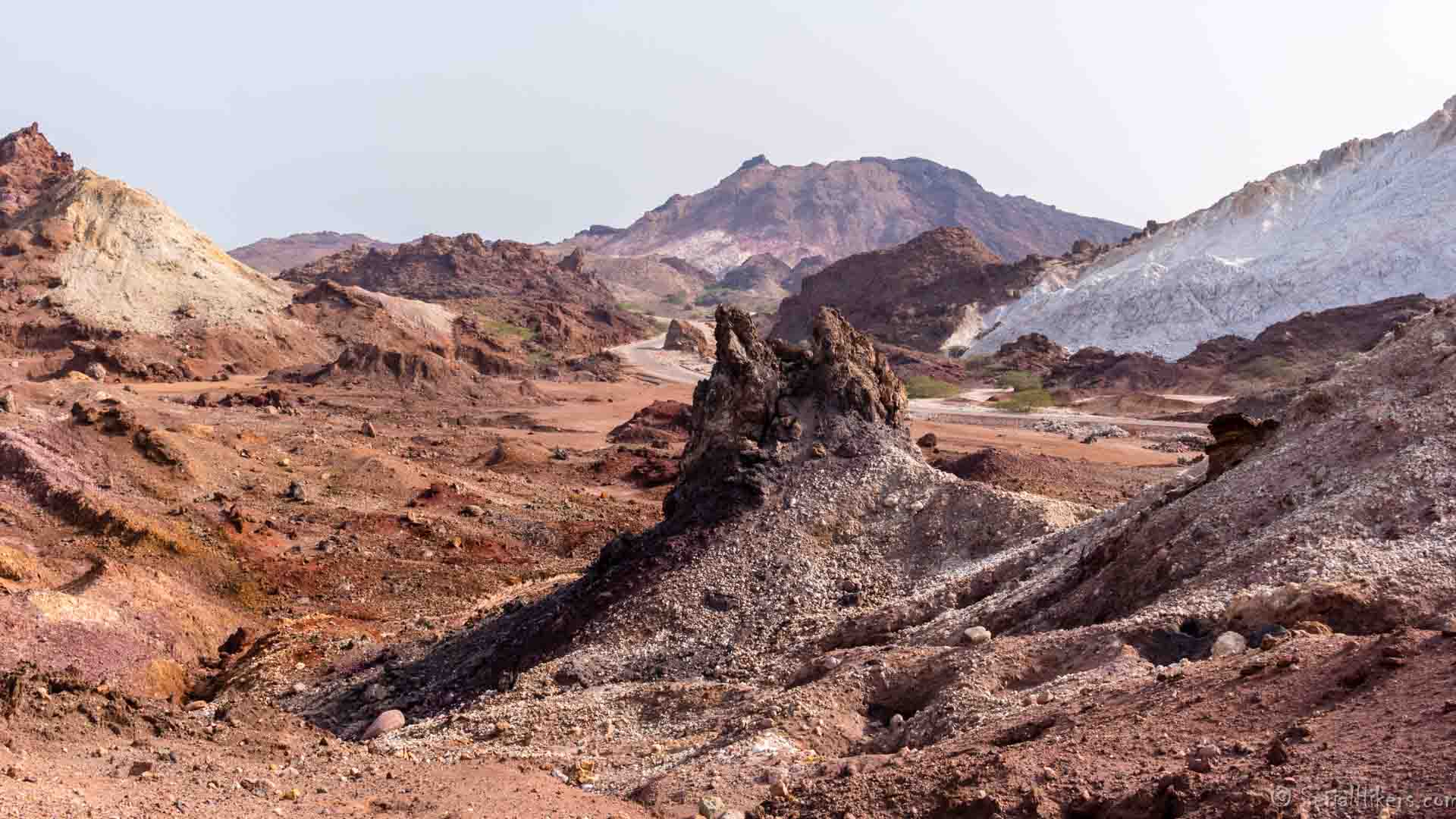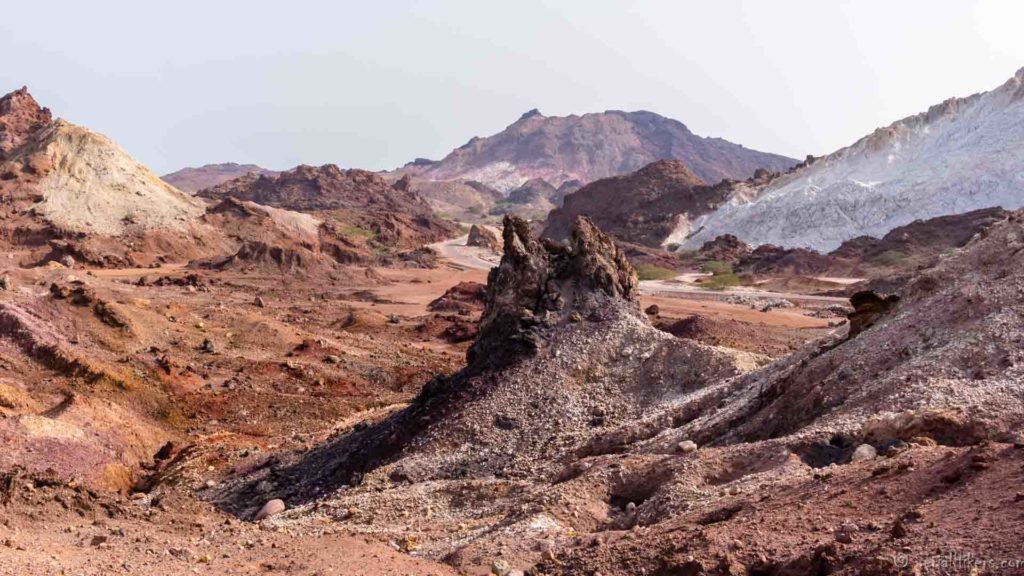 Swimming on a red sandy beach
After wandering through the "rainbow" mountains, we took the direction of "Sunset abyss" – a viewpoint over the sea, located at the edge of a steep cliff. Here again, the scenery was exceptional: the rock platform, naturally hollowed out between two peaks with jagged edges, allows us to quietly admire the sunset; alone, facing the sea, right above the waves swells… Unfortunately, it was impossible to camp there: this place was too cramped, and after a day like this one, we naturally wanted to swim! So we ended hitchhike back on the main road, to be dropped off on the popular red sandy beach: a beautiful beach at the foot of Hormuz mountains, with a bright red sand mixing in places with black and yellow pigments… At first glance, this place seems downright surreal – unless we landed on Mars, without knowing it? We smile, take a deep breath: no more long walks, time to switch for bathing suits, for a dip in the sea! We weren't the only ones to enjoy the warm waters of Hormuz Gulf and the fresh breeze at sunset: hippies, living in a secluded community inside small caves of the island's cliffs, invited us to join their campfire for the night. We enjoyed this rather new experience, among people of all horizons, of all nationalities, who have come to get lost far from society, but close to paradise…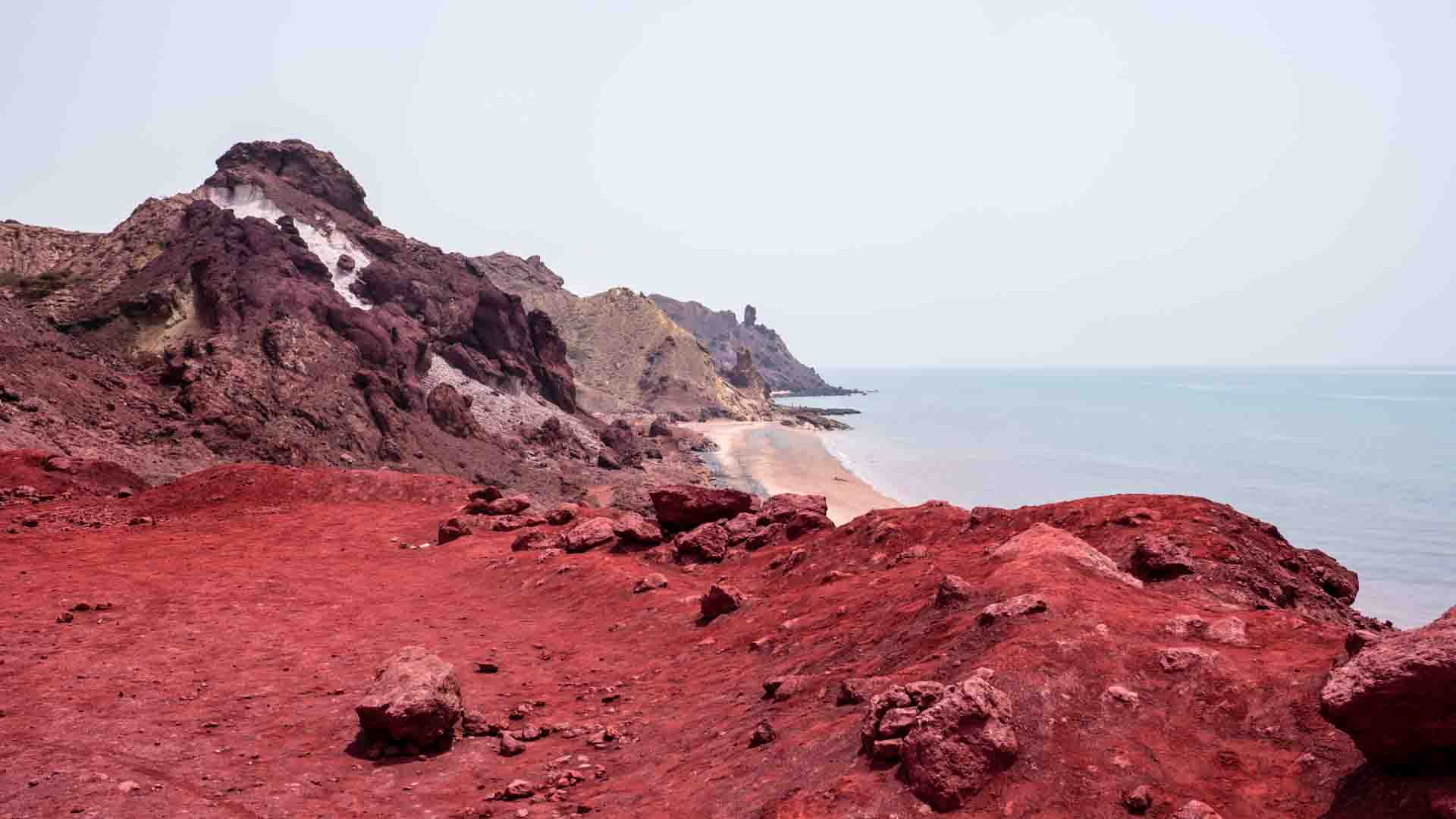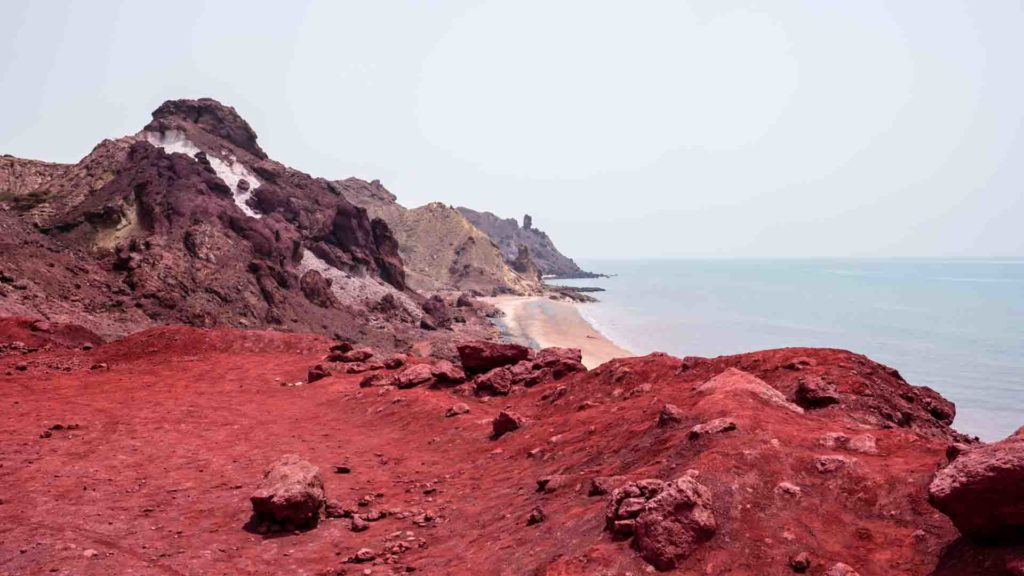 After a night of wild camping on the beach, lulled by the waves sound, we woke up gently, warmed by the first rays of the sun. Our morning swim and breakfast on the red sandy beach made our dream lasting longer. We took the opportunity to explore the surroundings, from the small coves hidden in the beach extension, to the nearby crystal cave (accessible from a dirt road starting from the parking area and running along the mountains, then by crawling for 5 minutes lit by a headlamp). But the clock was ticking and we already have to think about going back to the village port, to not miss the next ferry… Our dream was coming to an end. We ended up leaving the beach exactly as we came: our thumbs up on the road side, and a smile on our faces!
Useful information:
Access: ferry from Bandar-Abbas (70000 rials/person)
Timetable (departure Bandar-Abbas): 7.00, 9.00, 12.00, 14.00, 17.00, 20.30
Timetable for the return (departure Ormuz): 8.00, 10.00, 13.00, 15.00, 18.00
Good to know: Food, water only available in the village.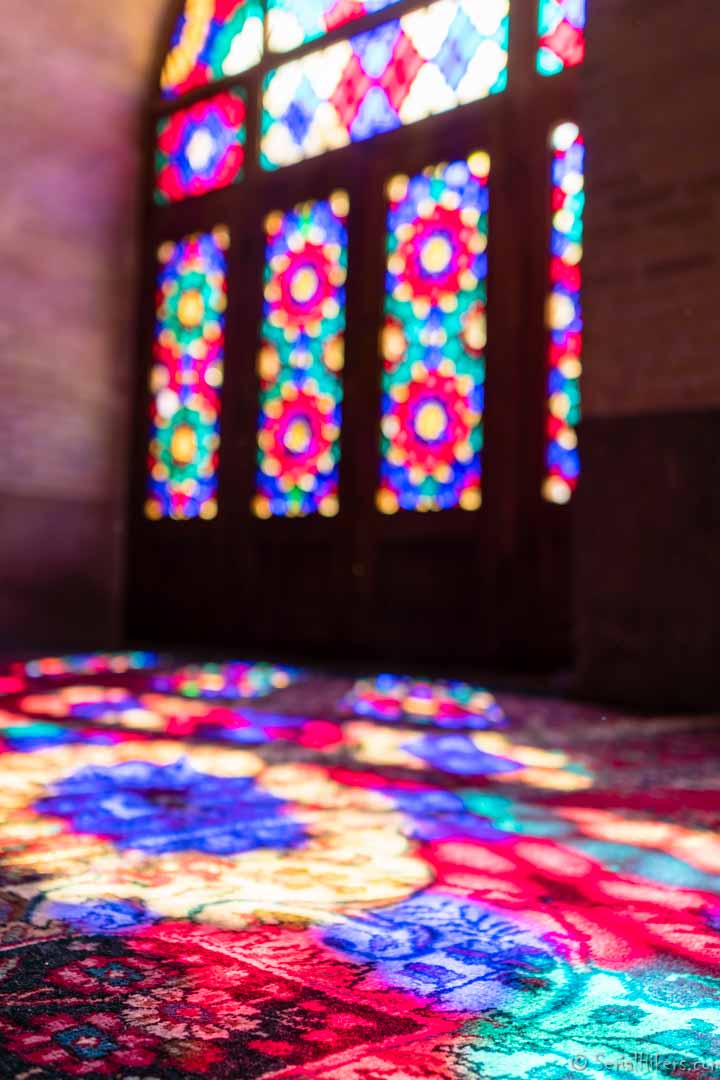 More about Iran
* Post written according to our personal experience *