As soon as we crossed the Greek border, we asked what else we could visit except ancient Greek sites and the famous Greek islands: we were then strongly recommended Meteora, those monasteries upstanding on top of very steep rocky cliffs… And even if we had already visited several Orthodox monasteries in Serbia and Kosovo, we let ourselves be tempted by those completely unusual Greek monasteries!
---
Preparing your visit to Meteora
Before running to visit Meteora monasteries , we took the time to visit the tourist office of Kalambaka which gave us precise information on the opening days of the monasteries; as well as on the best places to admire the sunset and sunrise from Meteora. You can also find out about the different possibilities to reach Meteora: buses, hiking trails or why not, by hitchhiking!
To visit these upstanding monasteries, we advise you to take adapted shoes (hint: there will be a lot of steps to climb) and for you girls, to dress with a long skirt or to take a pareo for the visit… We won't tell you more (surprise, surprise!).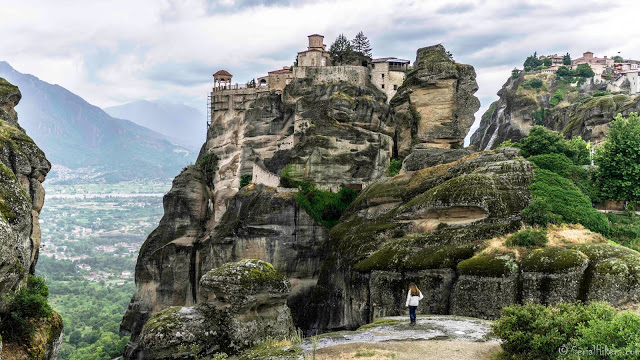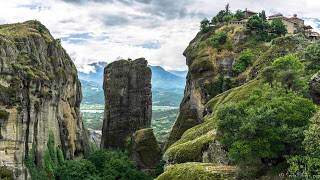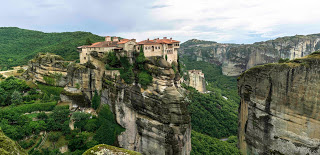 The Great Meteora Monastery
In Meteora, you can visit up to 7 monasteries (5 with monks, 2 with nuns). The entrance fee is the same for each monastery (€3/person in 2017) and one would be tempted to visit all of them… Nevertheless, after some research, we understood that Meteora monasteries were all more or less similar and that it was better to focus our visit on only one of them (especially with a limited time on site, and a small budget). We decided to visit the Great Meteora monastery, opened that day: it's the oldest and biggest of the Meteora monasteries, still occupied by monks! This monastery has several interesting exhibition rooms: the old kitchen, an exhibition about the evolution of the Orthodox religion under the Ottoman empire, a wine cellar, but also an ossuary and a series of rather… disconcerting frescoes (they can be found in the entrance hall of the church). Another surprise!…
By the way, about the ladies dress code for the visit: if we talked about it earlier, it's because I was asked to put on a long skirt/pareo at the entrance over my hiking pants, as a sign of respect (pareos are available on loan, don't worry). Julien, with his short pants, did not receive any feedbacks… Are the monks sexist?
Useful information:
Meteora monasteries
Visit duration: 1h – 2h for each monastery, 1 day on the spot
Access: by bus, car or by hitchhiking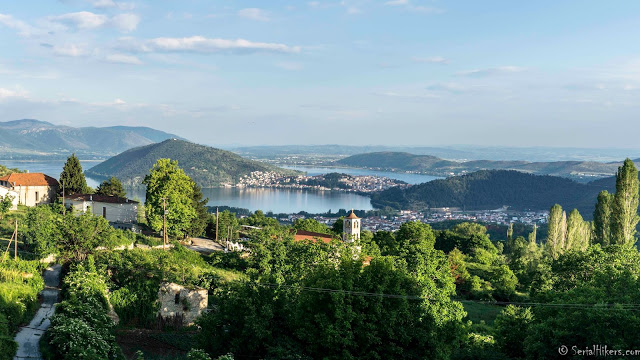 More about Greece
* Post written according to our personal experience *