Ancestral, varied and original cuisine, Persian recipes are distinguished by their complex mixtures of spices and herbs, dried fruits and nuts – for a very surprising result, both in terms of taste and flavors they give off. It must be said that the dish is only the culmination of a long culinary journey, which begins in the local bazaar: a place that intoxicates our senses, as if to better prepare us for this initiatory tasting. Today, we are proud to make you travel to Iran with these Persian recipes!
---
Introduction to the persian cuisine
Before tasting their delicious dishes, Iranians will undoubtedly invite you to share a tea, a glass of 'dough' or an ice cream… A kind of introduction to Persian cuisine!
Tea
In Iran, tea is imperatively prepared in a double teapot, and usually kept warm in a samovar all day for guests. To serve snacks with the tea, iranian host provides his guests with fruits (oranges, apples), small chocolates and nuts (pistachios, walnuts, almonds, hazelnuts, sunflower or pumpkin seeds). But be careful! Drinking tea in Iran is an art, just like coffee for Italians: to avoid burning your tongue, pour your tea in the saucer, blow on it to cool it down, drink it and start again!
Ice creams
In a hot, semi-desert country, ice cream and sorbets are the most popular desserts! The most surprising ice cream we have ever eaten? A scoop of vanilla ice cream, served in a fresh carrot juice!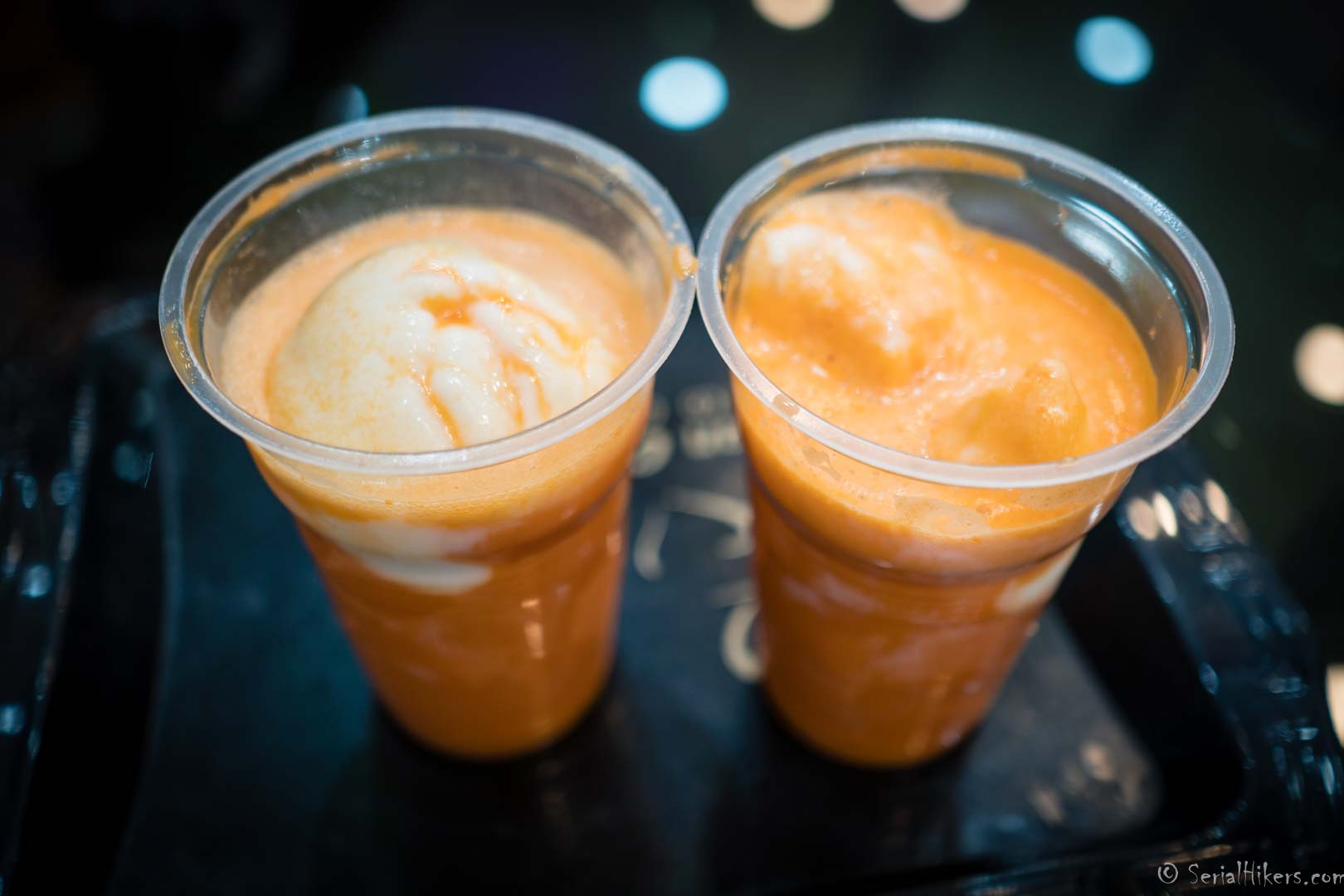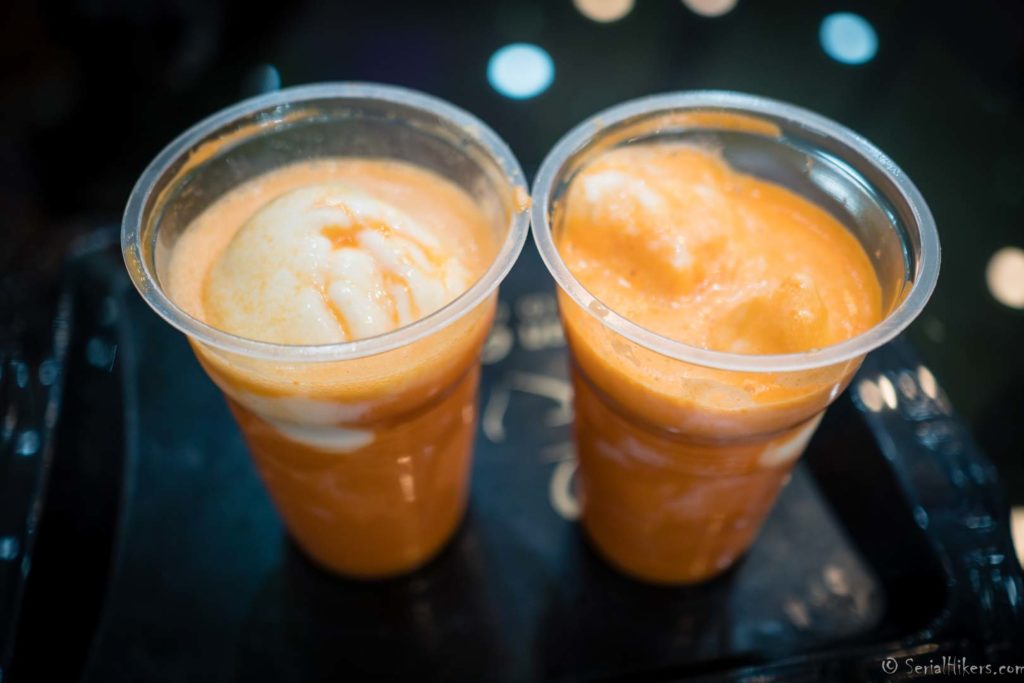 Drinks
If not a cup of tea, expect to be offered a glass of Dough – a diluted, rather acidic milk with minty notes. Another alternative to long sunny days is Sharbat, a sweet and refreshing drink made with concentrated fruit juice or flower petal concentrate.
Breads/pizzas
Barbari: flat, thick, elongated oval bread
Lavash: very fine pita bread, originally baked on a clay oven. This type of bread is also found in Armenian cuisine!
Keshta: fried bread, sweet
Kalana: Kurdish pizza, close to the Italian calzone, filled with spring onions and brushed with melted butter
Noon gerd: round bread filled with savoury ingredients, related to the Hamburger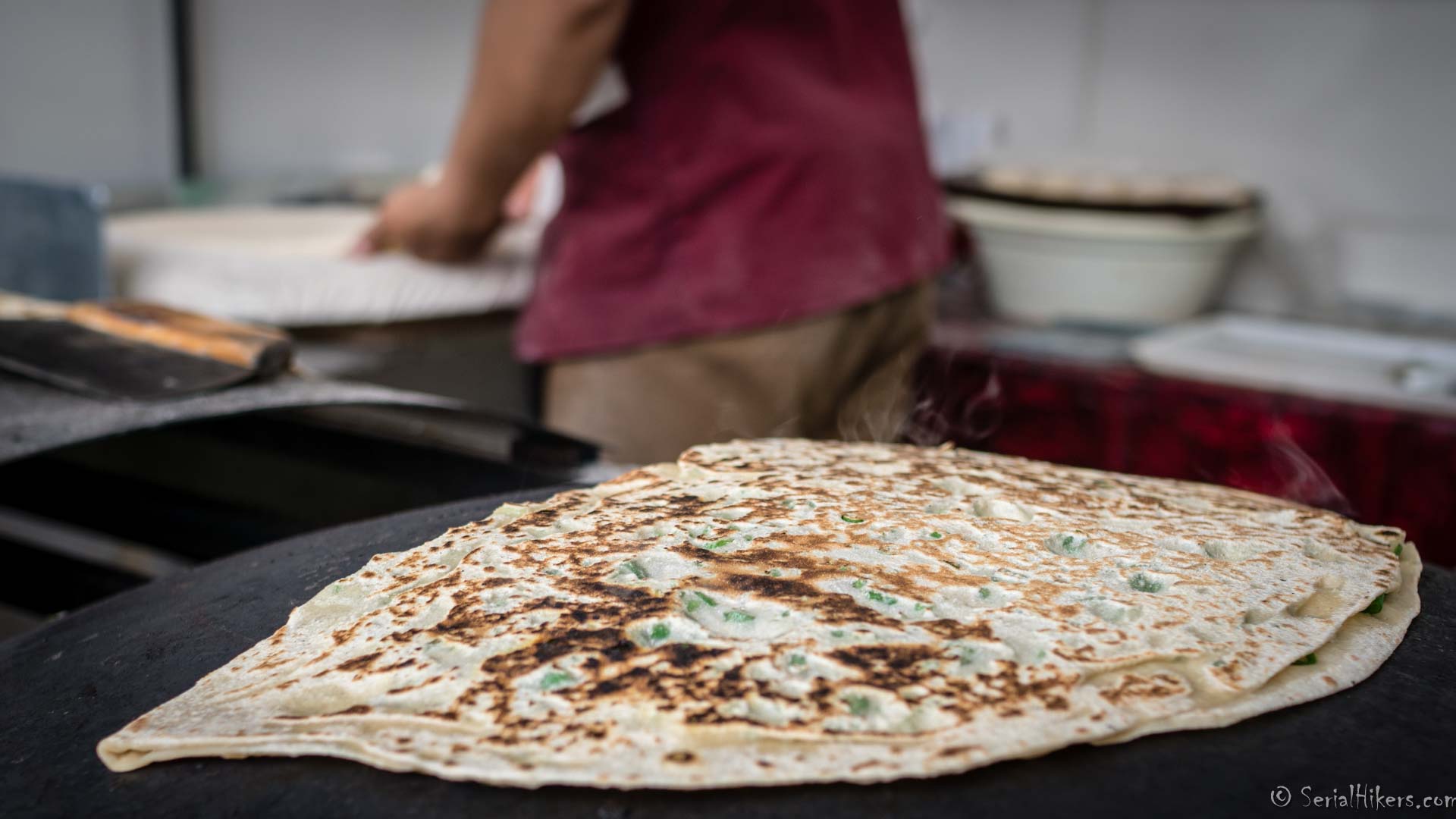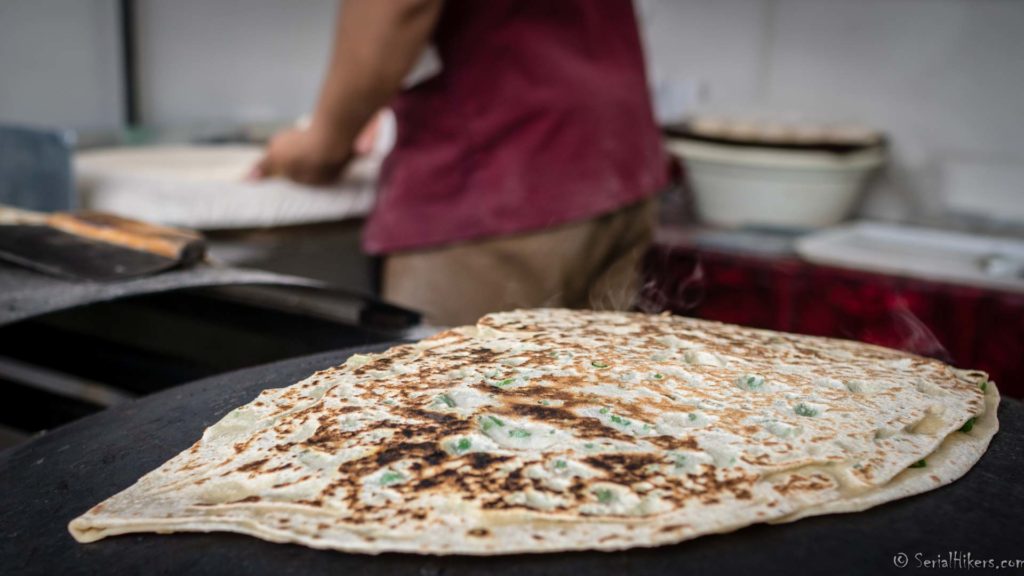 Hot meals
Usually seated on a Persian carpet, the guests are invited to help themselves from the large dishes brought by the women of the house. Meals are eaten by hand, with a large spoon or fork, in a very friendly atmosphere!
Iranian style Rice and Tadig – 4 people
– 400gr basmati rice
– salt
– oil
– for Tadig (crust): loaf of bread or potato slices
— After washing the rice several times in clear water, soak it in a large pot containing 2-3L of boiling water. Cook the rice for about 5 minutes, until it's al dente. Drain with a strainer. Put the empty pan back on high heat, and pour in a little oil. Arrange a loaf of bread or potato slices, add 8 cl of water and bring to a boil. Add the rice, drained with a skimmer, a drizzle of oil over the rice, and make sure to make several holes in the mass to allow the steam to escape. As soon as the rice begins to smoke, wrap the lid of the pan with a cloth so that all the steam can be absorbed, lower the heat to minimum (never lift the lid, otherwise it will prevent the formation of the Tadig). After about 1 hour, the rice is ready to be served: remove the lid and the cloth, put a plate on it and turn the pan over to unmold the rice. It's ready to be served!
Persian style omelette – 4 people
– 8 eggs
– 3 tablespoons of tomato paste
– paprika, salt, pepper
– olive oil
— In a wok, heat olive oil and add the tomato paste almost immediately. Mix. Add a little bit of paprika, salt and pepper to taste. Break the eggs and mix them into the hot mixture. Serve the mixture once it is cooked!
Kuku sabzi – thick herb omelette – 4 people
– 6 eggs
– Mixture of fresh herbs: coriander, chives, parsley, dill
– 50gr crushed walnuts
– yeast
– Salt, pepper
– Dried barberry berries (replace with dried gooseberries)
— Mince all fresh, washed herbs. In a salad bowl, break the eggs, add the yeast, salt and pepper. Add the fresh herbs, crushed walnuts and dried berries. Mix until all ingredients are incorporated. Pour into a wok (or wide rimmed frying pan), cover and cook for 15-20 minutes over medium heat. Turn the Kuku over to cook the other side, also 15-20 minutes over medium heat (to help you, you can cut the Kuku into 4 pieces and turn the pieces over one by one). Serve hot!
Kashk-e Badenjan – Eggplant purée – 4 people
– 6 eggplants
– 1 medium size onion
– 5 garlic cloves
– 80gr crushed walnuts
– fresh mint
– 1 teaspoon turmeric
– salt, oil
– 150ml of whey cream
— Peel eggplants and cut them into several slices. In a frying pan, fry the aubergines in a little oil until they are tender and golden brown. Once cooked, set them aside. In the same frying pan, add the chopped onions and brown them. Add the chopped garlic, salt, a little bit of mint, and a teaspoon of turmeric. Place the fried aubergines on top, add half a glass of water and cover. Cook for 10 to 15 minutes over medium heat. Add the crushed walnuts and mix off the heat to obtain a smooth and consistent purée. Serve the eggplant puree with whey cream (kashk), whole nuts and fried onions!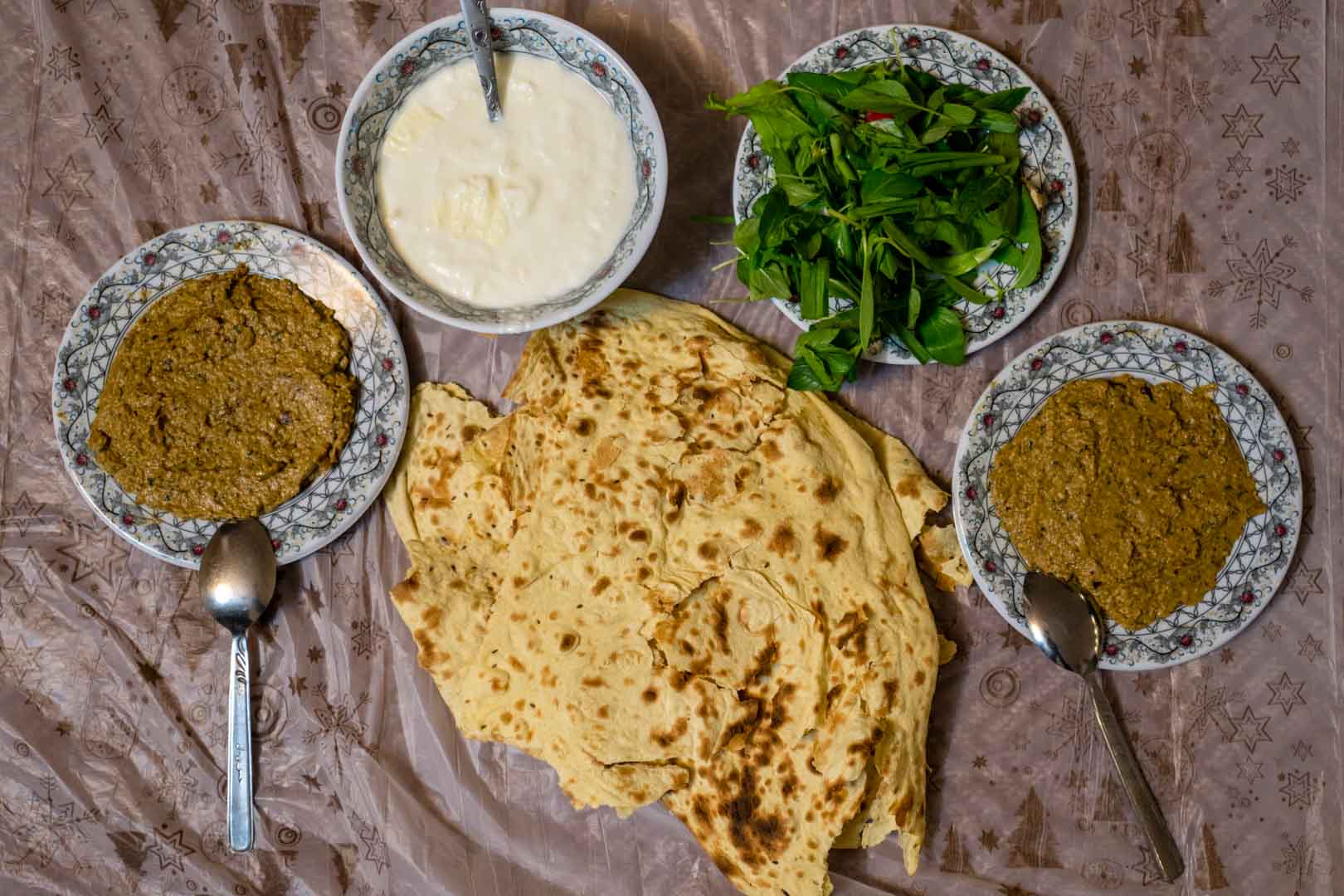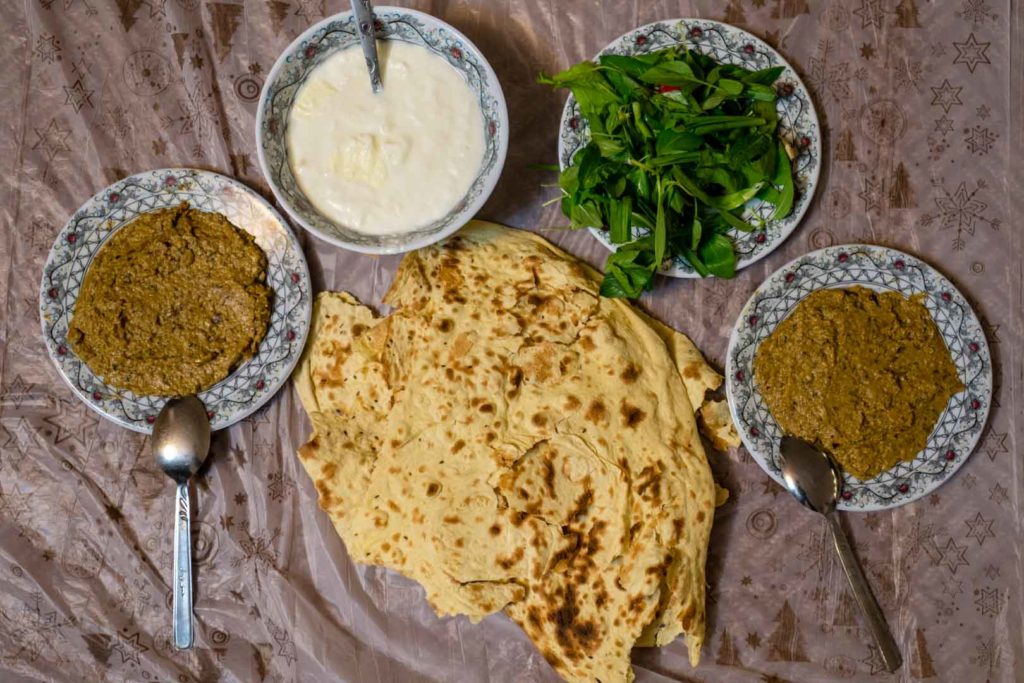 Other hot meals
Barali: cooked kidney bean casserole
Khoreshte morgh: rice and chicken, served with tomato sauce
Fesen Jan: dish with chicken, nuts, date juice (sweet), served with rice
Kalajoosh: lamb stew, with a yoghurt sauce!
Mirza rasemi: Iranian ratatouille
Kufteh (Tabriz specialty): meatballs, mainly lamb, filled with dried fruit and/or nuts/pistachios
Soups and stews
Ash reshteh – noodles and herbs soup – 4 people
– 2 medium size onions
– 6 garlic cloves
– 50gr kidney beans
– 50gr chick peas
– 2 teaspoons of turmeric
– Mixture of fresh herbs: coriander, parsley, mint, young onions
– 60gr spinach
– 60gr of noodles (or Fettuccine pasta)
– Flour
– Facultatif: fried onions, fresh cream topping
— Soak the kidney beans and chickpeas the night before or several hours for better cooking. In a pot, sauté the garlic and onions, then add kidney beans, chickpeas and turmeric. Sauté for 2-3 minutes over high heat. Add 8 glasses (200ml) of water, cover and simmer for 1 hour over low heat this time. Thinly slice all fresh herbs, washed and stalks removed. Add them to the broth, cover and cook for 30 minutes over low heat. Stir regularly. Add noodles/pasta and spinach, stir, and cook for another 45 minutes-1 hour. To make the soup more consistent, add a tablespoon of flour at the end of cooking, making sure it is well incorporated. Serve the soup hot, and add (optional) some fried onions and fresh cream to garnish your soup bowl!
Other soups
Abgusht: soup with meat and chickpeas
Haleem: turkey and wheat stew, which can be eaten sweetened by adding sugar and cinnamon
Ghorme sabzi: a stew of red beans and lamb meat, simmered with a blend of herbs (sabzi)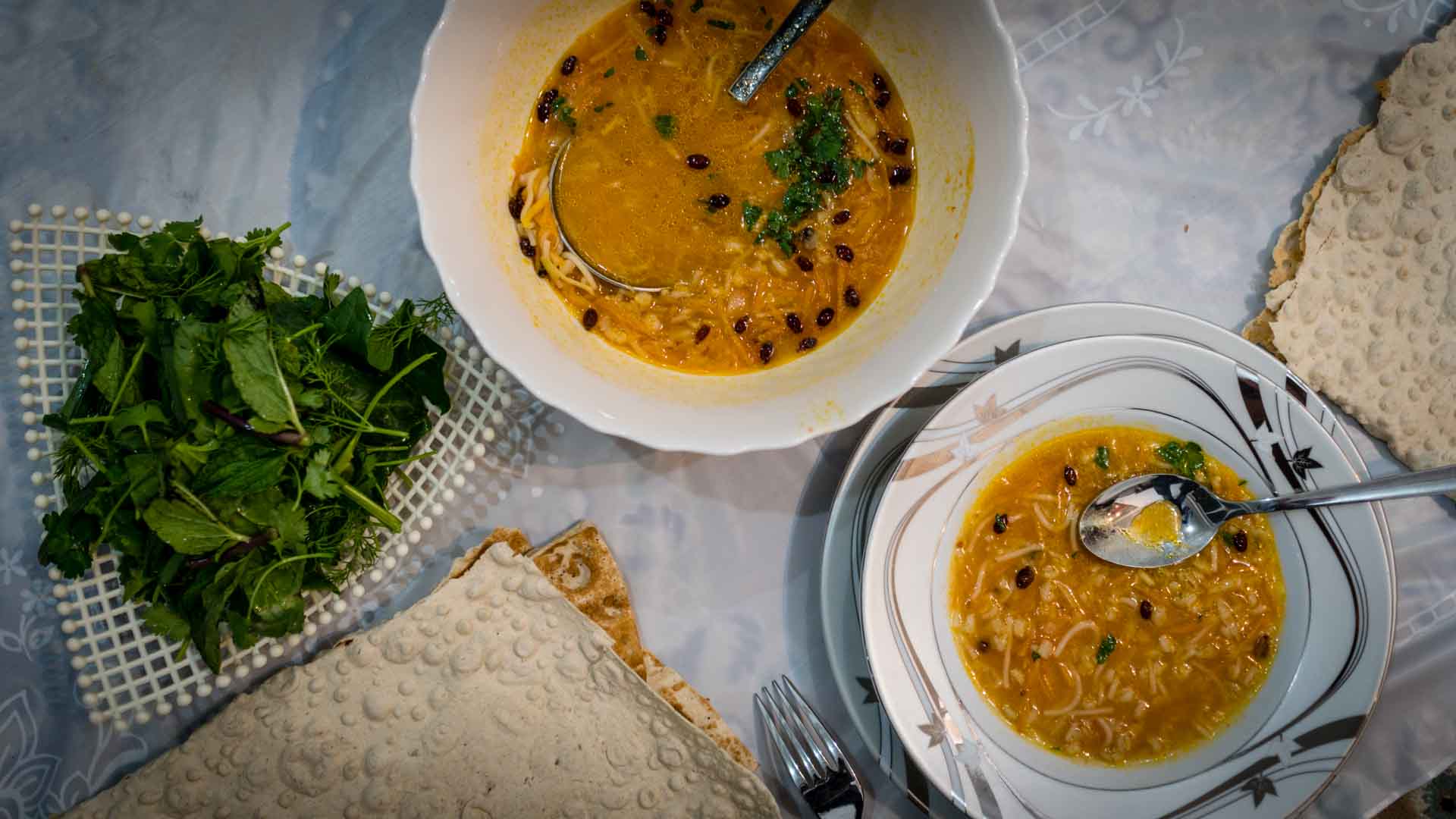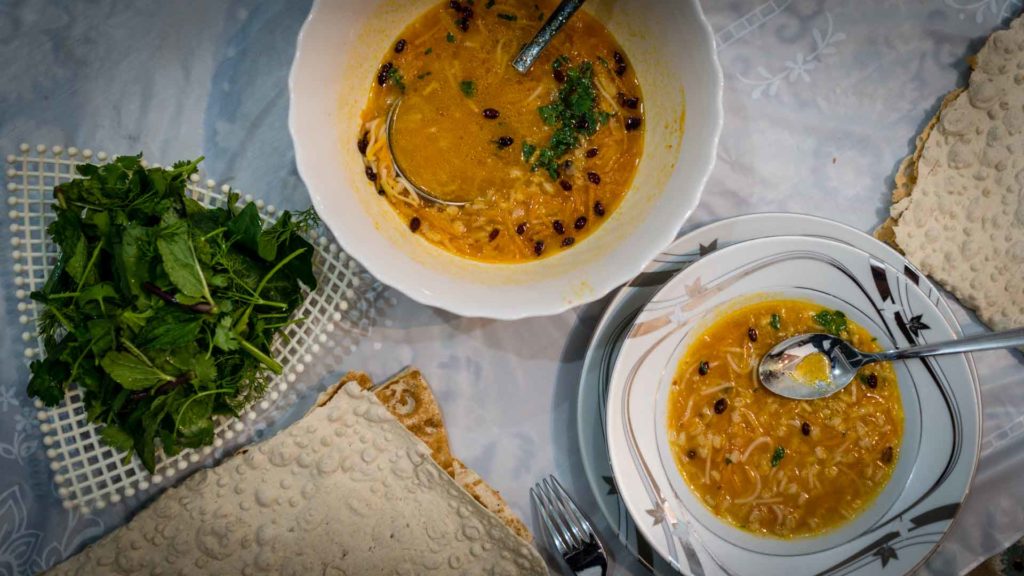 Desserts
Gorabieh: pistachio cookie, speciality of Tabriz
Koolocheh:soft cookie, filled with a sweet mixture containing cinnamon
Before eating your meal, don't forget to compliment the chef: he will thank you in return and wish you a good appetite… Nooshe jan!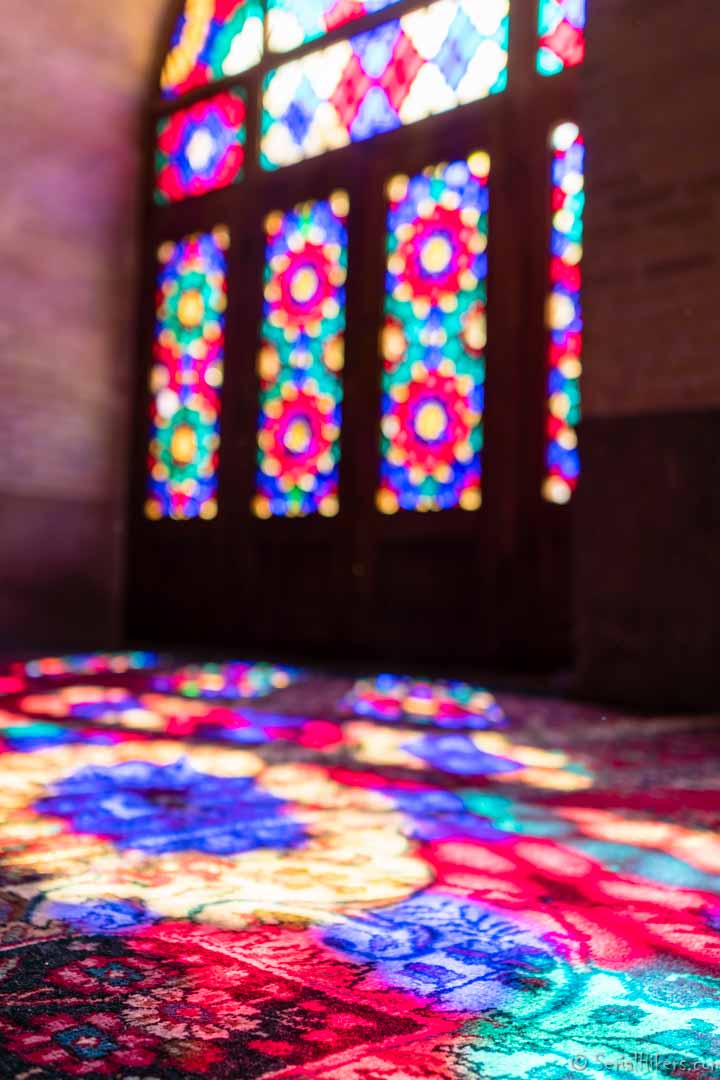 * Post written according to our personal experience *