When we traveled in southern Kazakhstan, one thing struck us: endless arid steppes have just given way to huge mountains with green slopes and snowy peaks. We were delighted to see this mountain range – hiking is our passion, and mountains are our favorite playground! We wasted no time in asking locals: "What to see in the surroundings?" "Do you know any good hiking trails?" They gave us several names, showed us pictures, pointed out places on a map. Among them was Kaindy – a spruce forest sunk in a high-altitude lake, whose specificity aroused our curiosity…
---
A lake not like the others: the story of Kaindy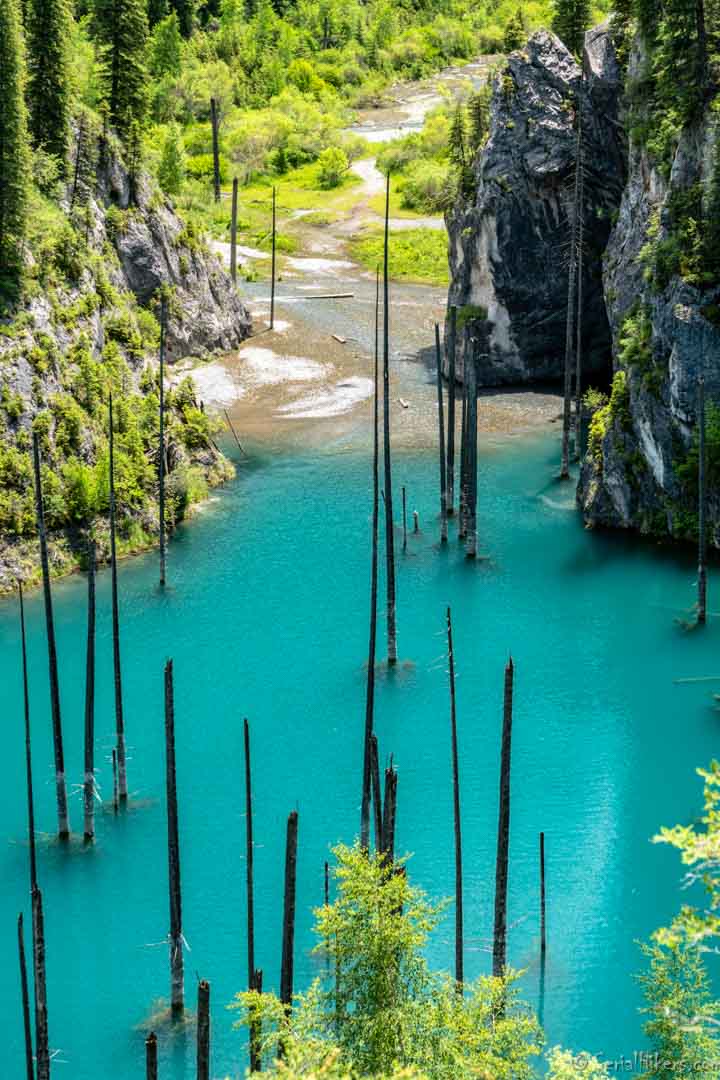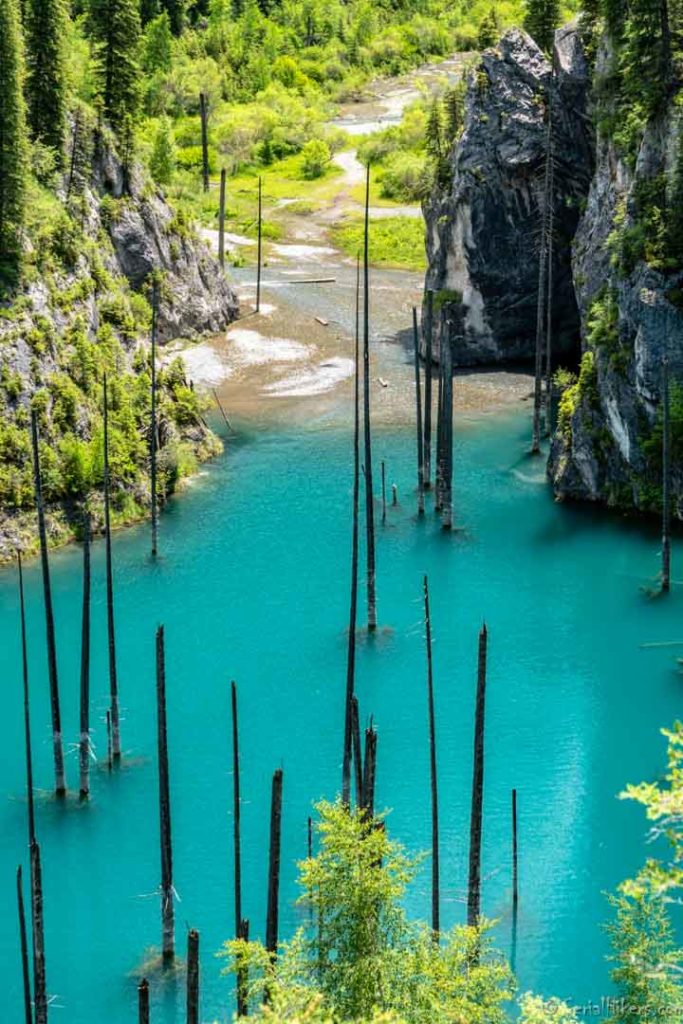 To understand how spruce trees could be soak underwater, you need to know Kaindy's story: in 1911, an earthquake of magnitude 7.7 shook the region, causing landslides. As a result, an artificial dam was formed, holding back the waters of Kaindy River and completely submerging the spruce trees trunks. If more than a century later, thorns and trunks of the trees are still visible and intact, it's because the cold water of the river (no more than +6°C!) preserves them!
On the day of our visit to Kaindy, we followed the path around the lake and discovered an awesome panorama of the lake – less than 10 minutes from the shore, uphill. From there, you can even see the thorny branches of the sunken spruce trees through the translucent water of Kaindy Lake! A rather bewitching show, between the turquoise blue water and these strange ghostly trunks – which many compare to the masts of shipwrecked boats…
A night not like the others: camp by the lake
Is it possible to camp by the lake? Of course, and it's even highly recommended! Imagine the view when you open your tent…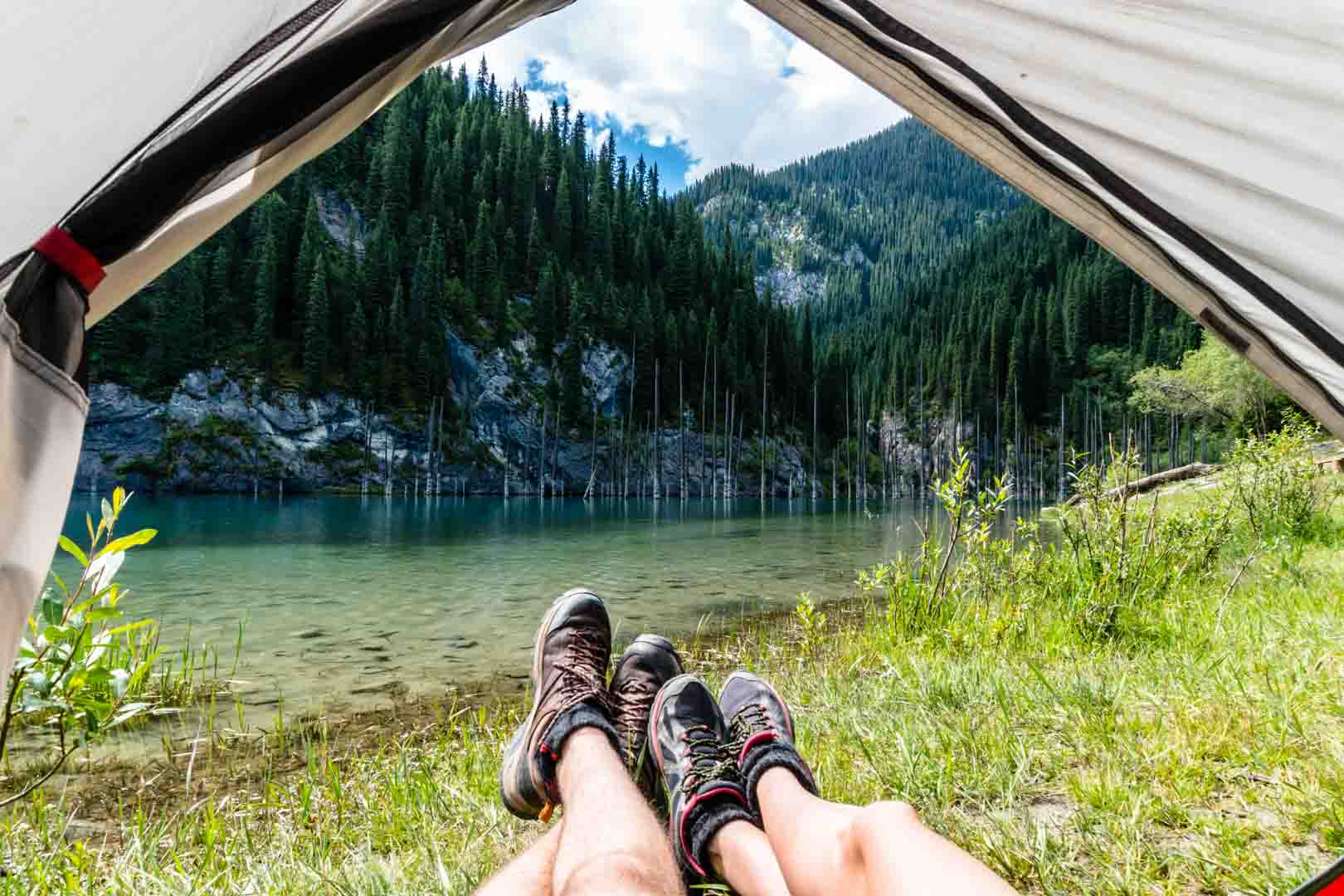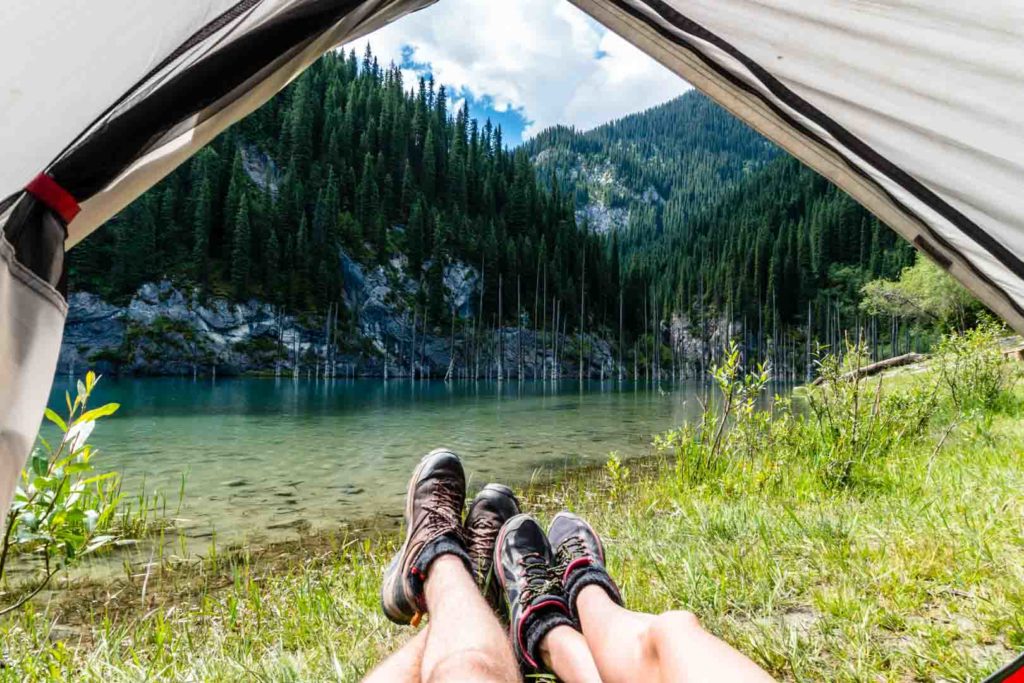 … isn't it lovely?
If you also want to spend a perfect night at Kaindy Lake, here are a few tips that may be useful to you:
If summer (June to September) is the ideal time to camp in the mountains, don't forget that at high altitude… nights are rather cold (between 0°C and +5°C on average)! Take warm clothes with you; you can always take them off to sunbathe by the lake during the day!
You can pitch your tent directly on the shore: soil is rather soft, ideal for driving in the tent pegs. And best of all, we even found a naturally flat platform to pitch our tent on!
Starting a fire is in theory forbidden – in theory only, because when we arrived we noticed several extinguished fires. We did not hesitate to light a fire in one of the existing fireplaces (respecting basic safety rules, such as staying away from the forest).
A picnic area (table and sheltered benches) and dry toilets are available to campers.
As water of the lake was (very) cold, swimming in the lake was not on the program. On the other hand, along the lake, you could easily find a water spring: the best to fill your own bottles (with drinking water) and take a quick shower!
If you have a small budget (or if you prefer to picnic), we advise you to stock up on food at Saty. Although there is a traditional yurt restaurant next to the car park, we preferred to eat by the fire!
You will be asked for a small extra fee for the tent: in addition to the entrance fee, 750 Tenge per tent must be paid. Keep the receipt: you may be asked for it when you leave!
Useful informations:
Entrance: Kaindy Lake, 12 kilometers from Saty cemetery. 740 Tenge/person + extra fee of 750 Tenge/tent (receipt to be kept).
Duration: 1 day / 1 night (ideal)
Access
: by 4×4 or
by hitchhiking
.
Unpaved road (track), with a river crossing on the way!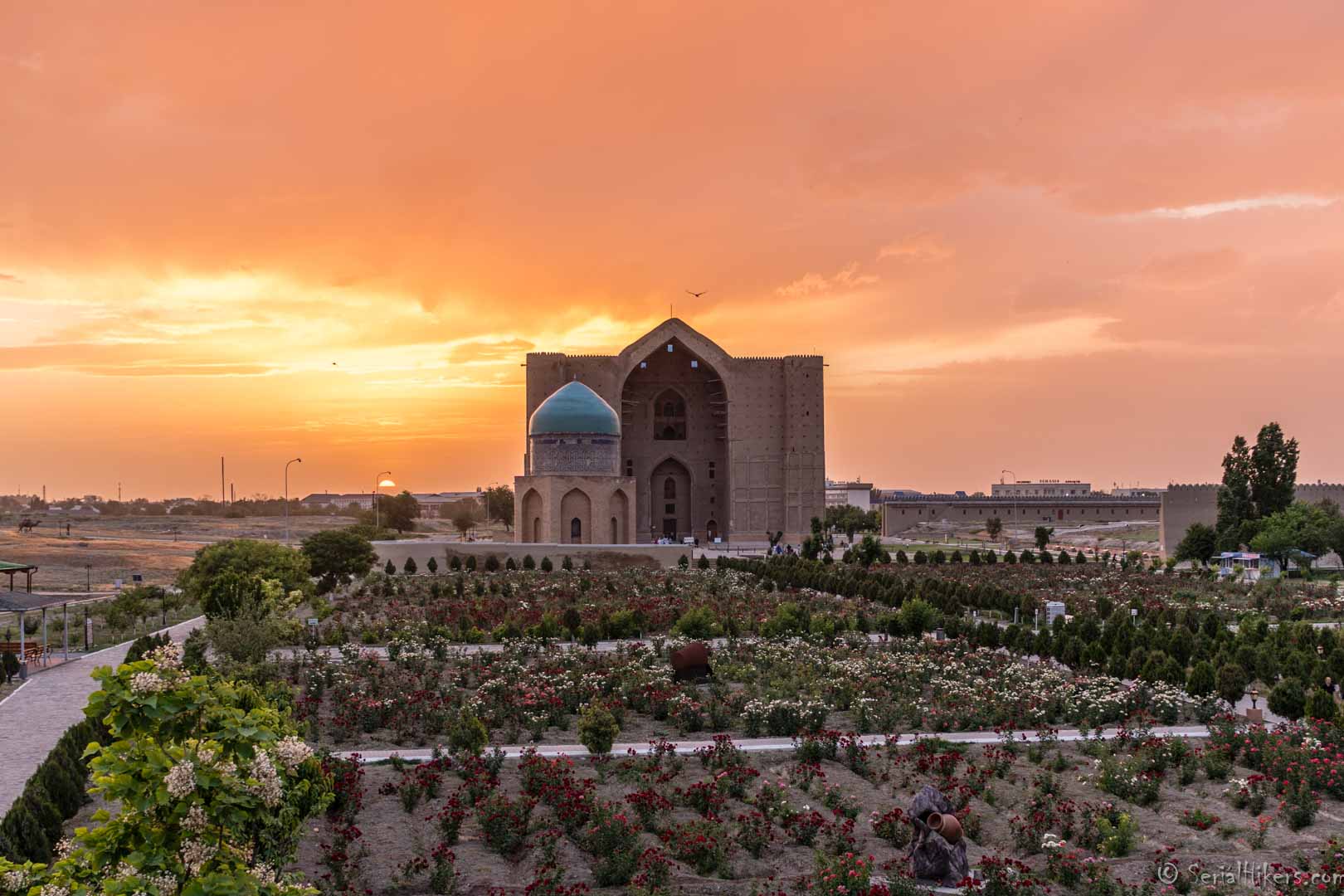 More about Kazakhstan
* Post written according to our personal experience *