In 2012, Kyrgyzstan embarked on a major project to establish World Nomad Games, an sports event similar to the Olympic Games, in order to preserve and promote sports that are part of all around the world nomadic people cultures. These include horse-riding, hunting, wrestling, archery, tug-of-war and intellectual games (ossicles, marble games). For the third edition this year, the World Nomad Games brought together more than 2,000 athletes from 77 different countries, including France. And we were there!
---
An awaited event
Few months before crossing Central Asia, we saw a great teaser on social medias for the 2018 Nomad Games that will be held in Cholpon-Ata, Kyrgyzstan. As Kyrgyzstan was on our way to the East, we made a promise to attend them!
However, and despite of the considerable resources employed upstream for this major event marketing (teaser, official website translated into english), some grey areas appeared very quickly: lack of information on the spot, unclear programming, shuttle system between the different sites cancelled at the last moment, online ticketing open late for foreigners… It's partly with the help of our local contacts that we were able to identify the good spots and competition timetable for the various events that interested us (out of the 37 sports that made up the Nomad Games). On our list: the ethno-village in Kyrchyn valley, to admire the hunting sports, archery events and traditional dances and songs demonstrations; then, the Hippodrome and the Sports Centre of Cholpon-Ata, for the horse riding and wrestling competitions.
In the ethno-village, many yurts, traditional clothes and animals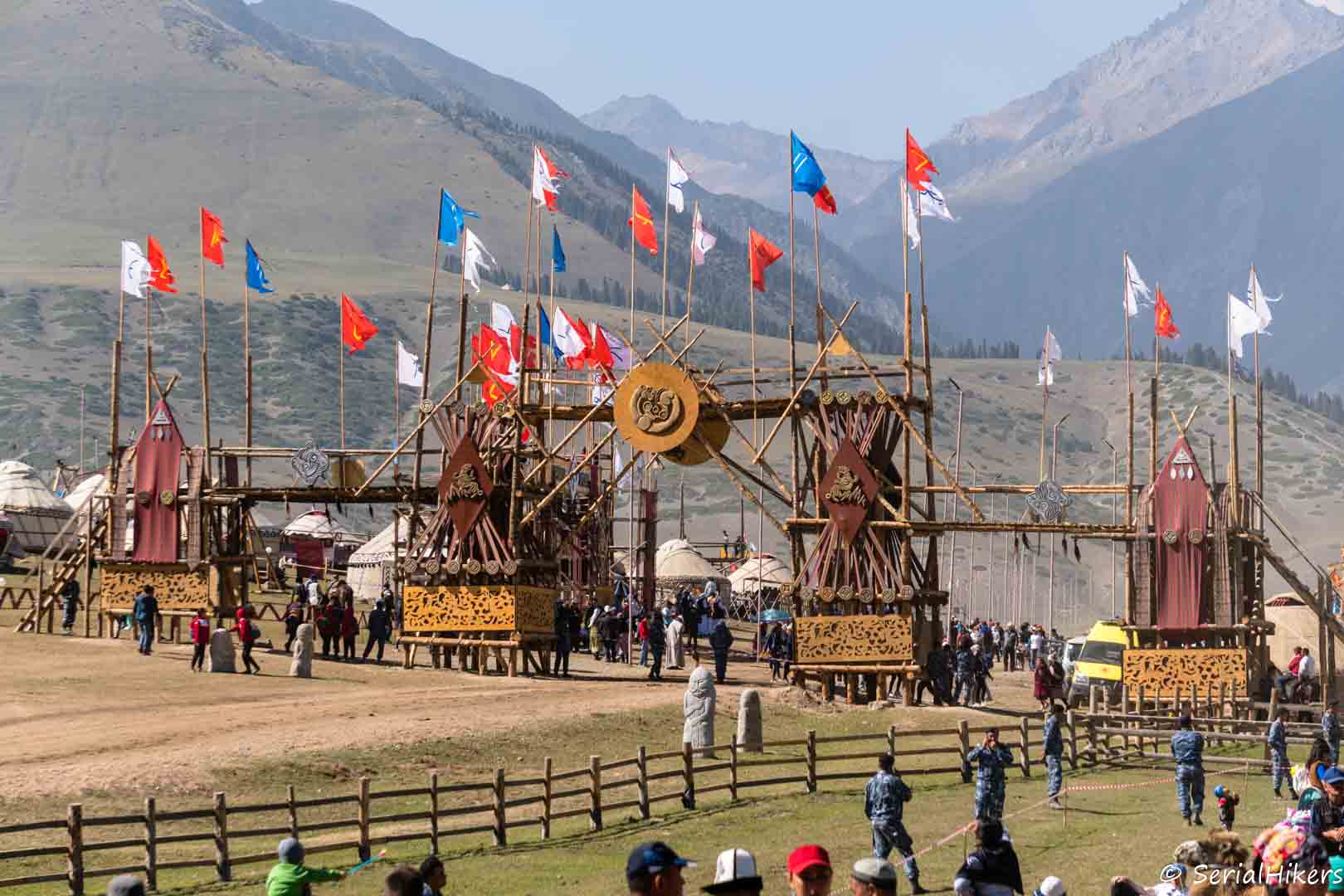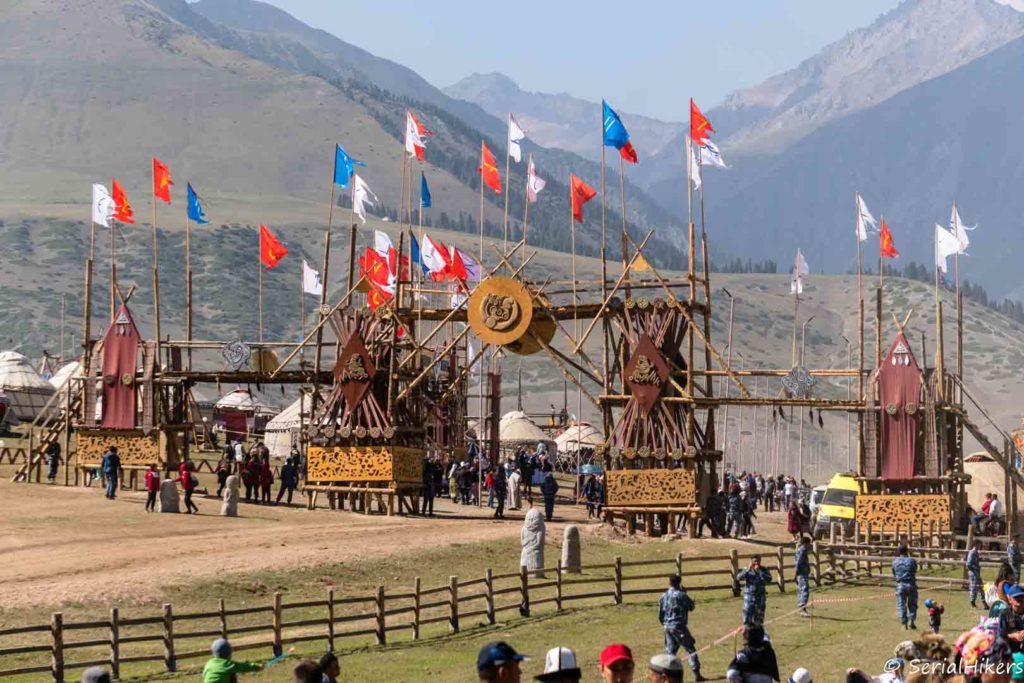 No sign? No sign.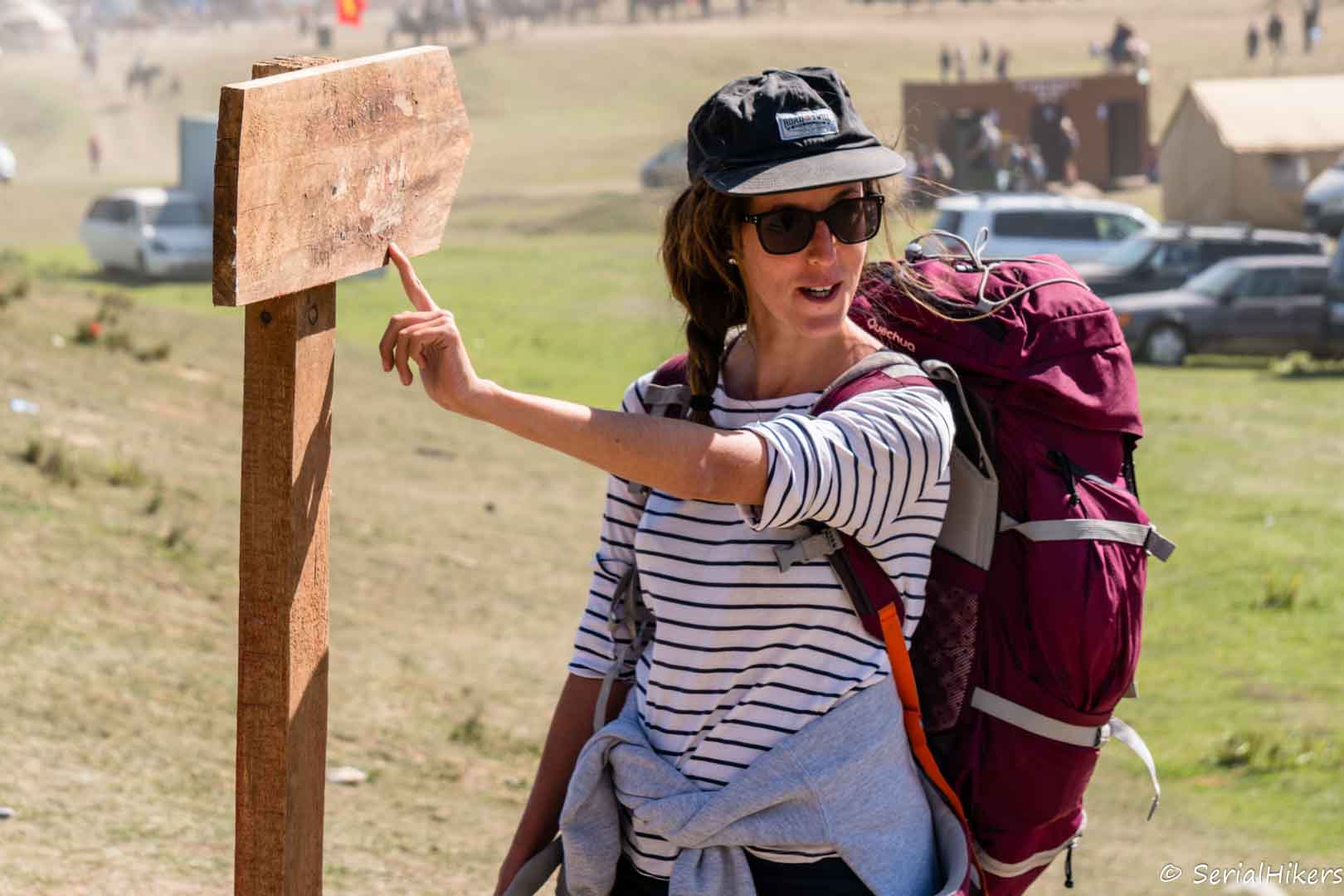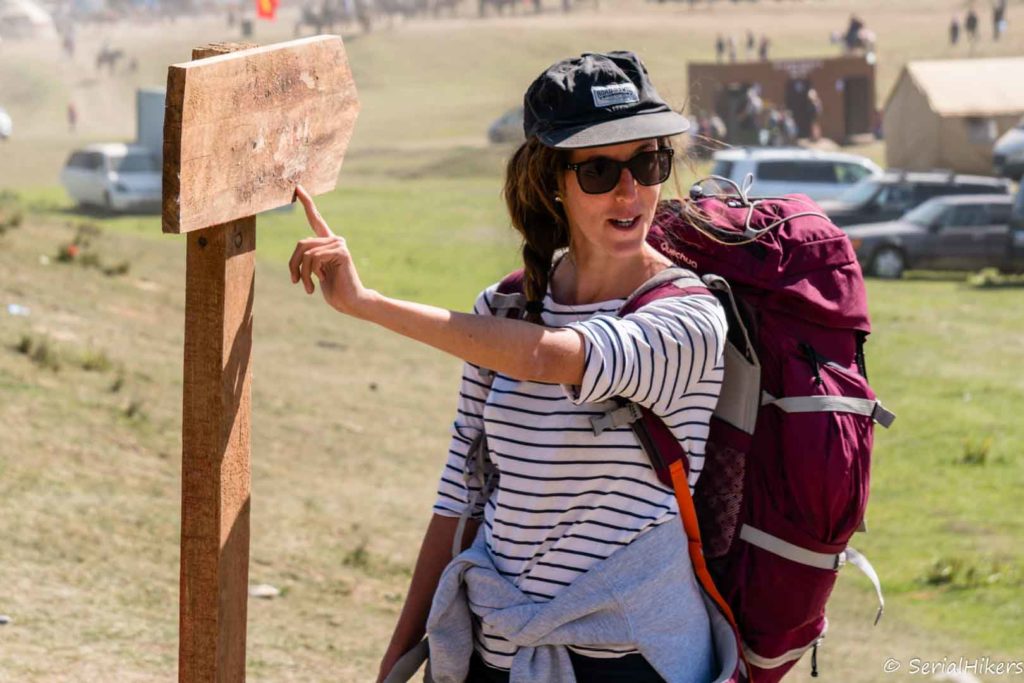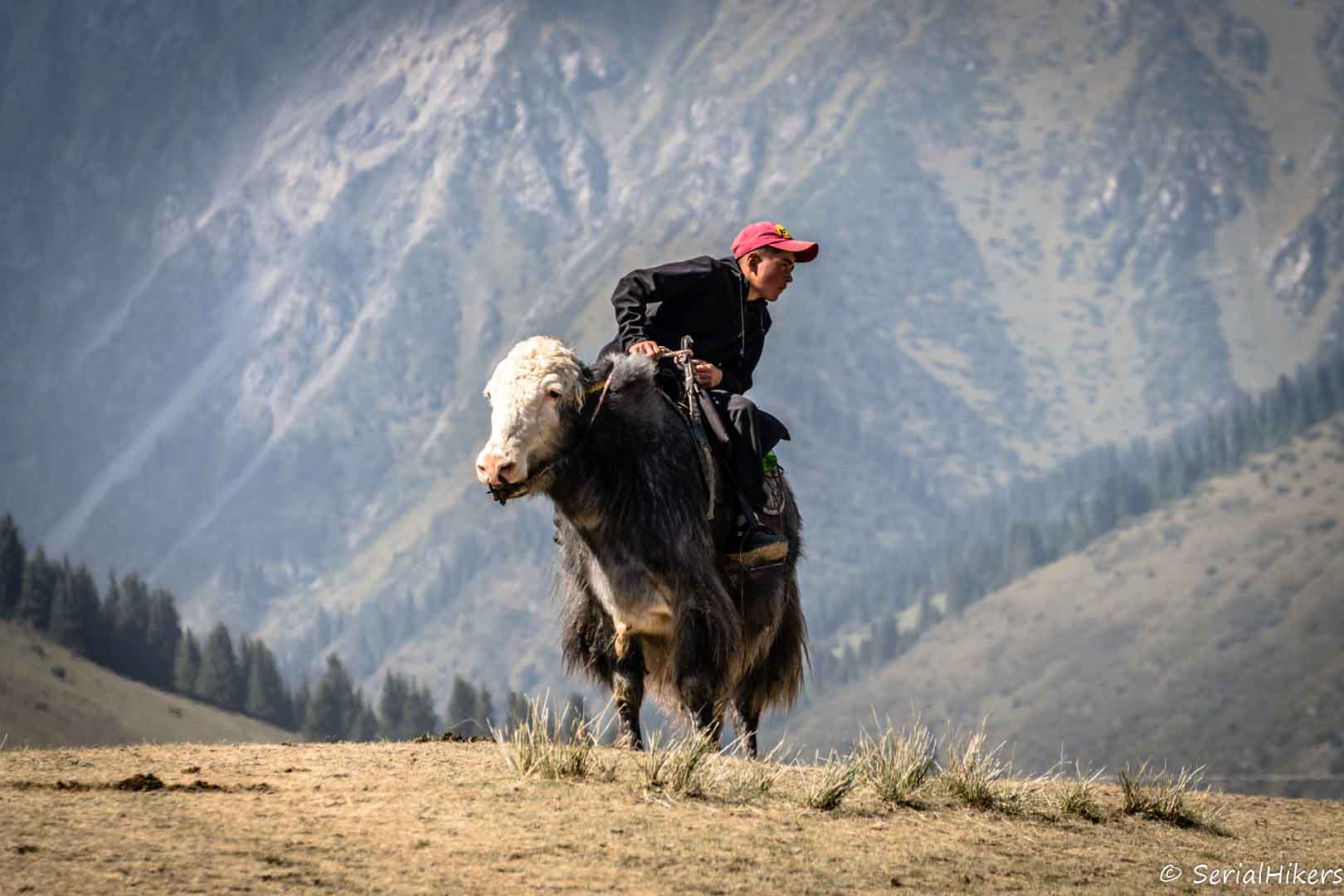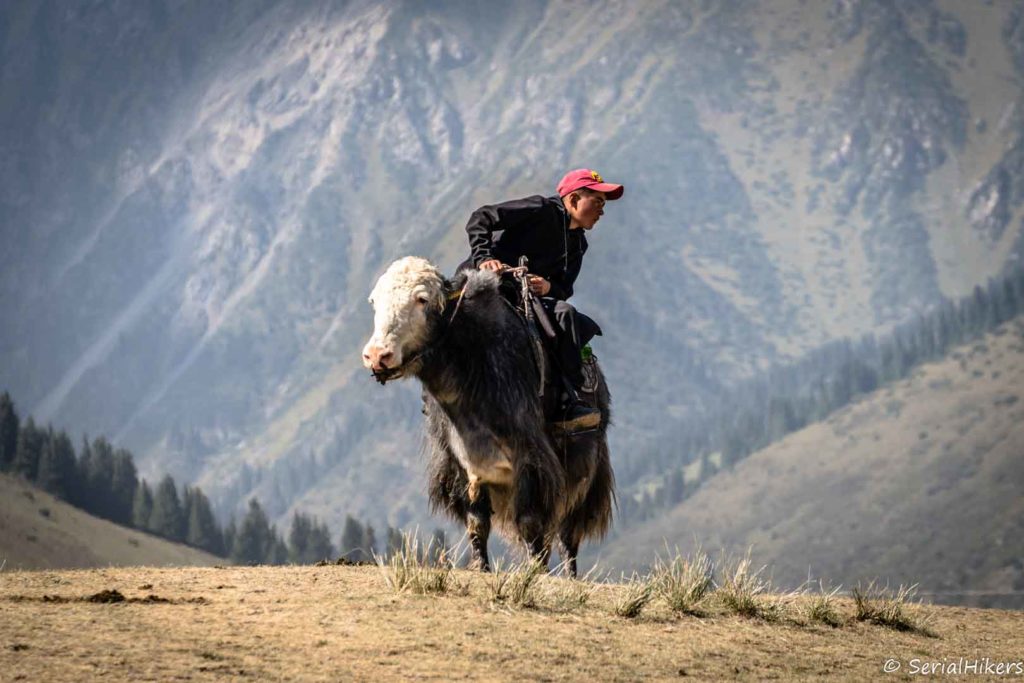 After a 3 hour drive from Karakol and 5 lifts, we were dropped off at the entrance of the huge ethno-village built in the beautiful Kyrchyn valley. The scenery is typical, perfect: mountains surrounding a green valley, endelessly yurts on the spot. Here we go, we have just crossed the nomads' territory – with our modern backpacks and dusty shoes. We started by looking for a map, a program, some signs… To finally come across a wooden sign indicating… nothing. Even the young kyrgyz volunteers available, who were supposed to guide tourists in distress, were not much help. We ended up following the crowd and journalists to the flat fields dedicated to archery and hunting sports. It has became a habit in Kyrgyzstan: nothing is well prepared, nothing is completely finished, nothing happens on time – but everything works.
On the archery fiels, arrows are already firing. At a distance of 35m (30m for women), the targets representing goats are pierced with beautiful wooden arrows. At the referee's whistle, archers, in their traditional costume, walk towards the target, retrieve their arrows, score the points and return to their position at the firing line for a second set. Each set allows archers to fire 5 arrows per participant, in less than 2 minutes. Bows and arrows must imperatively be made of wood, without artifice – no carbon arrows, arrow rests and other sights; it's the Nomad Games! We witnessed these graceful athletes, shooting from the front, from the back, then a knee to the ground; in an atmosphere of seriousness and camaraderie. As I was leaving, I spotted a Tatar woman. She was about to shoot, in her long and inconvenient dress – a costume that revealed a prominent belly, synonymous of a new life.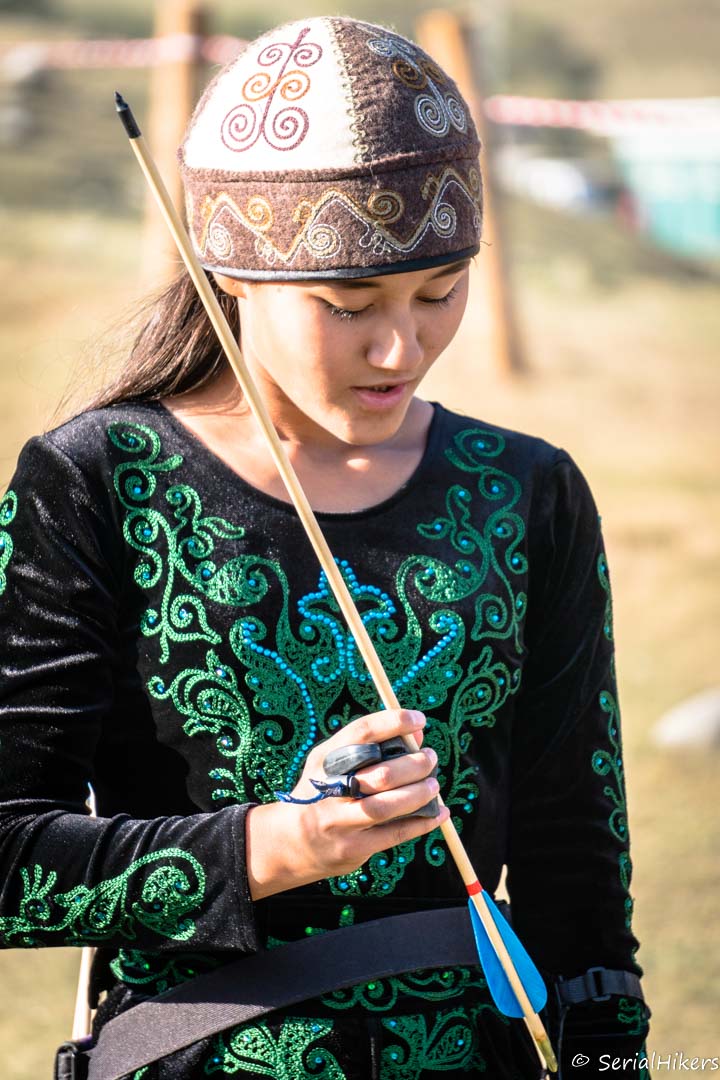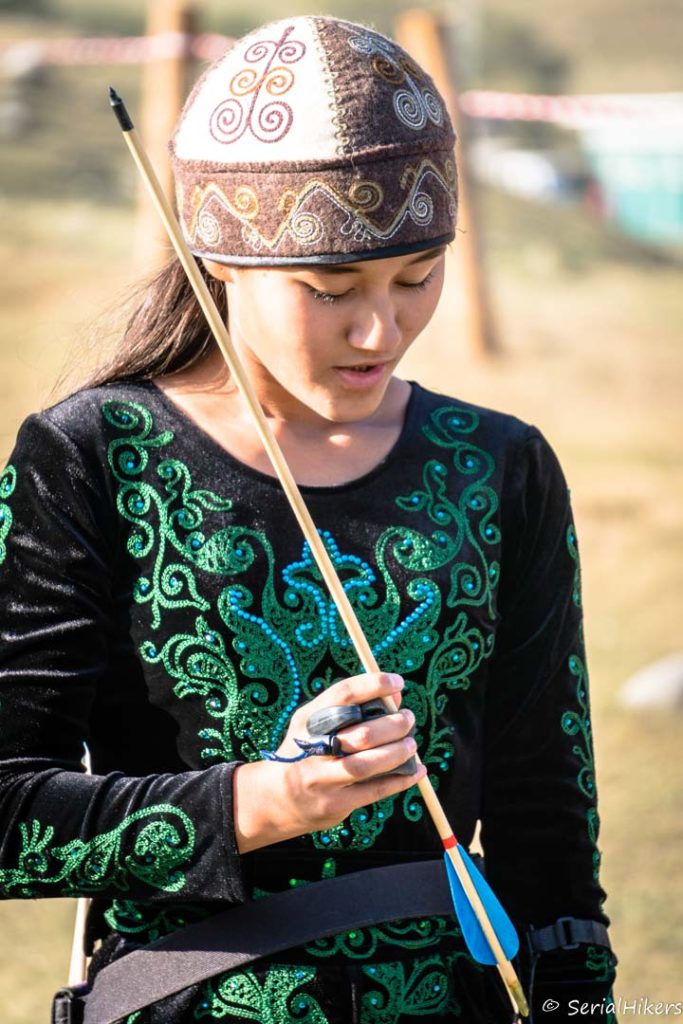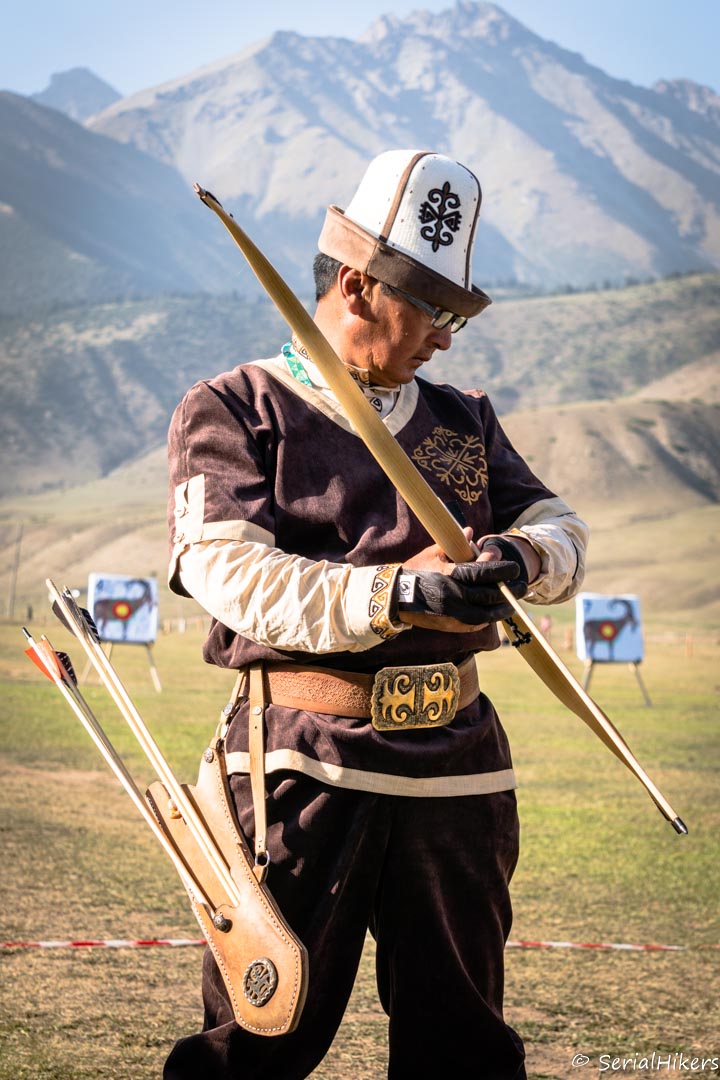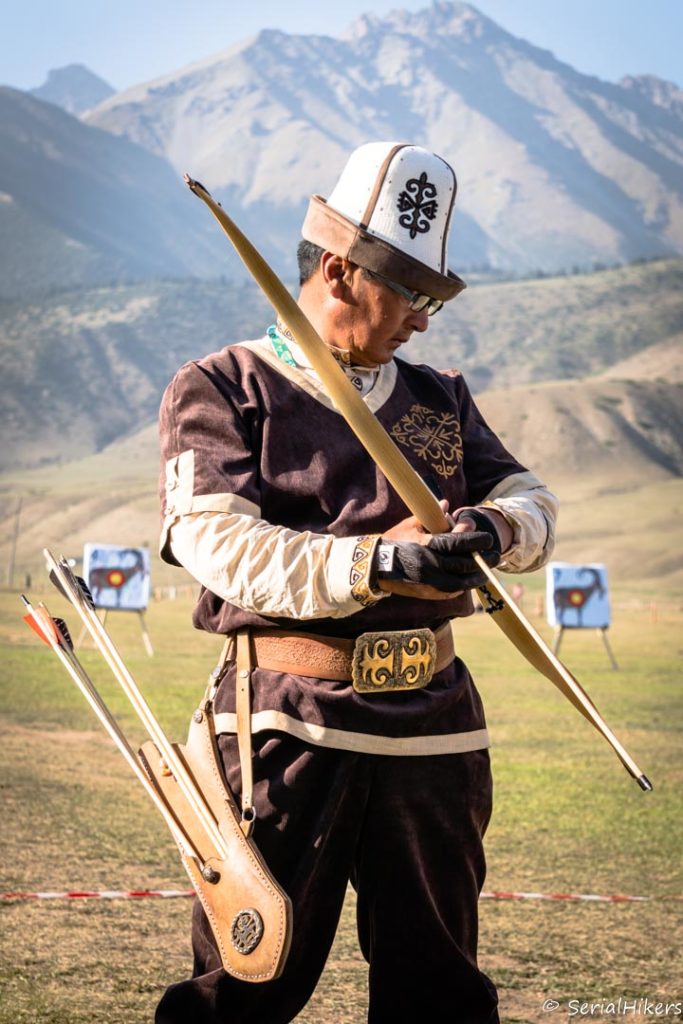 A hardy hunter that hunted a hare
On the next field, silence reigned. In the middle of this immense field, a Kyrgyz eagle trainer waves a bait from the tip of his leather glove. Suddenly, his calls broke the ambient calm: he called out to his eagle. The bird, 200 metres away, didn't seem to react. Everyone held their breath… Will he fly away and land on his trainer's arm within 2 minutes, as per the strict rules of Burkut Saluu? We poke our heads out, attentive to the slightest animal movement… And then, suddenly, we saw it spreading its wings, taking off in a few beats – before gliding in a furtive moment of collective fear at the public's level. The master's calls intensified, the bait was more strongly agitated: it worked! The eagle headed towards its trainer, all claws out. As the eagle devoured its (well-deserved) prey, crowd cheered in jubilation. The Kyrgyz trainer can be proud of his majestic companion, his opponents have not been able to do better – at least, according to our own estimations because here, no commentator nor results display can be found…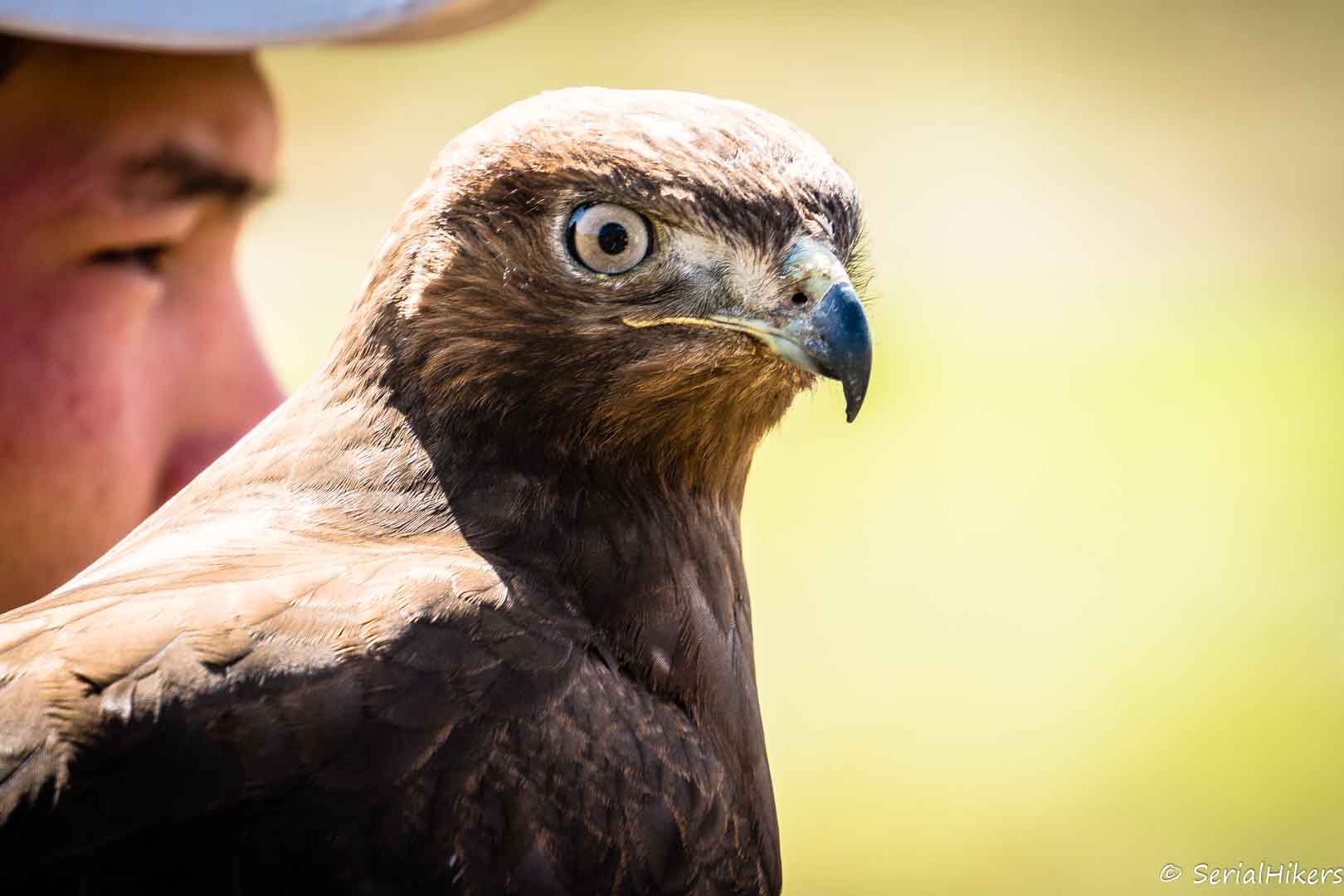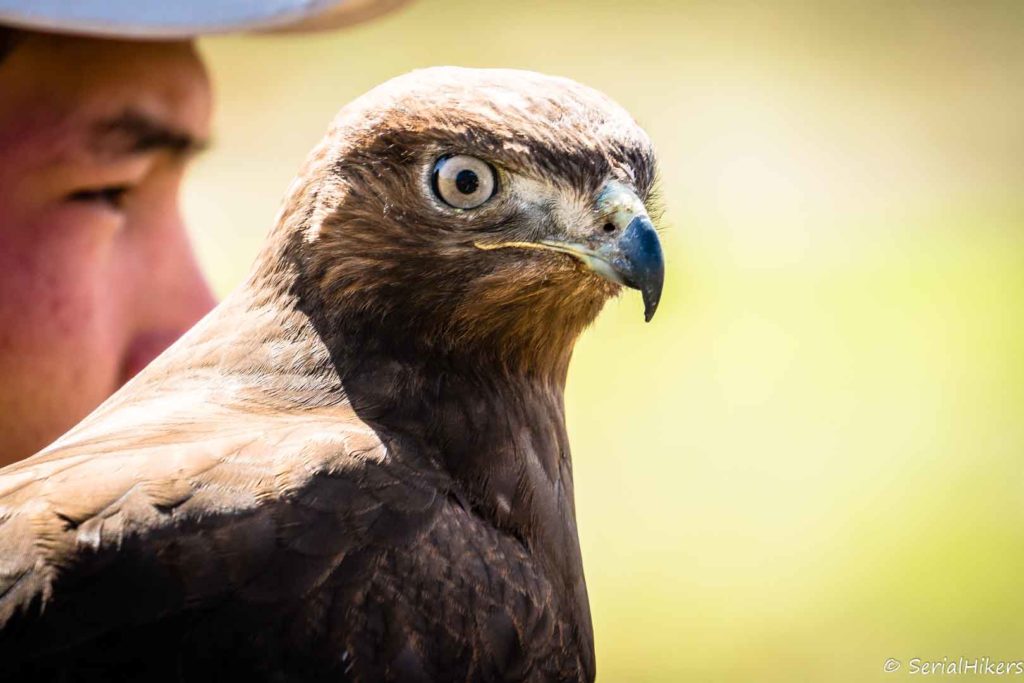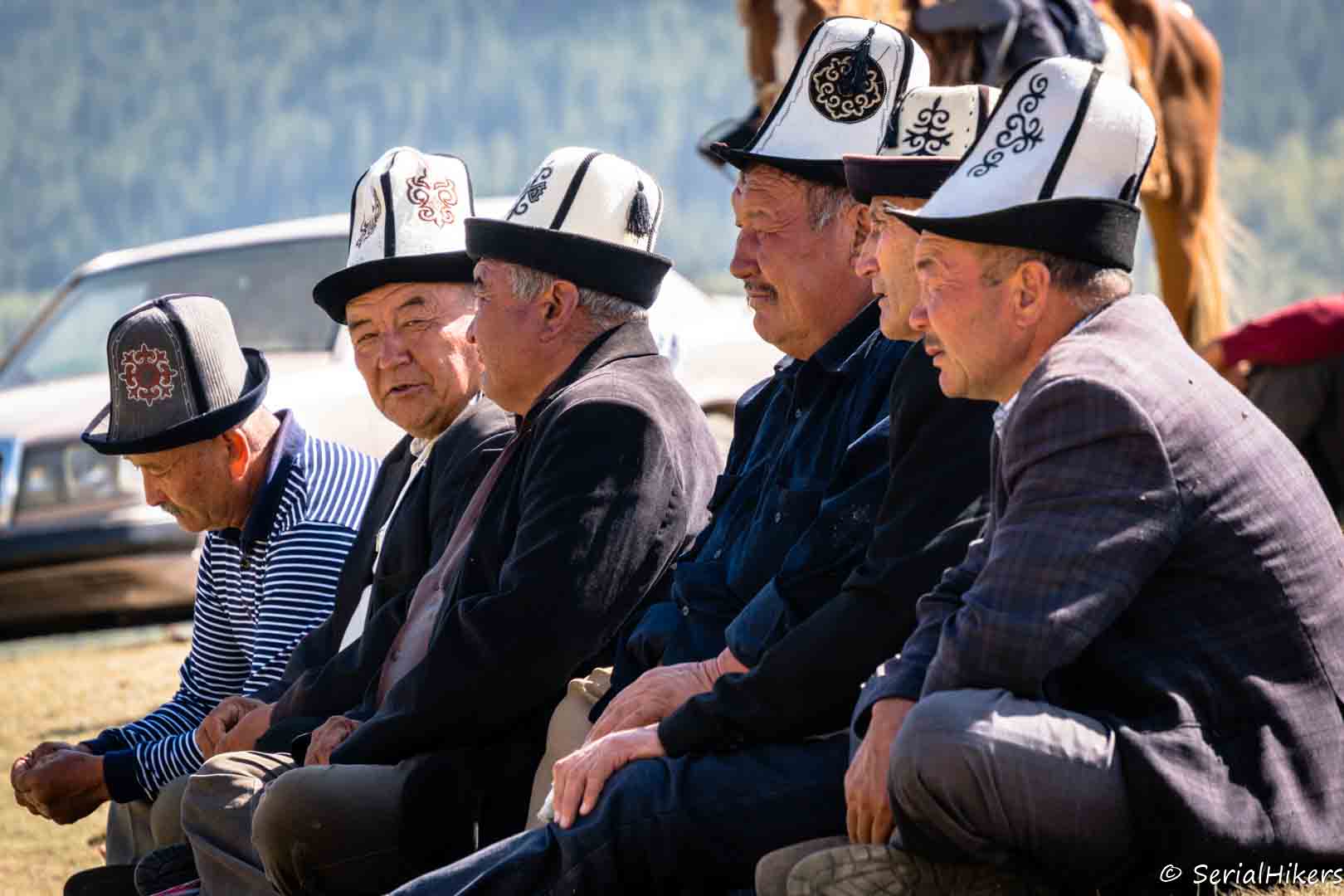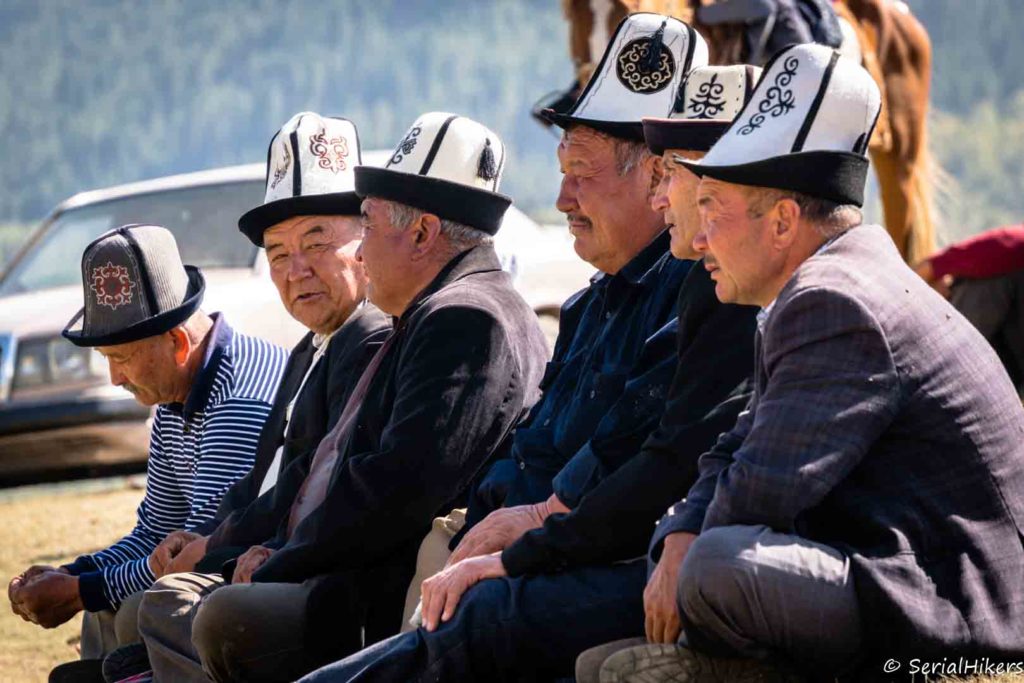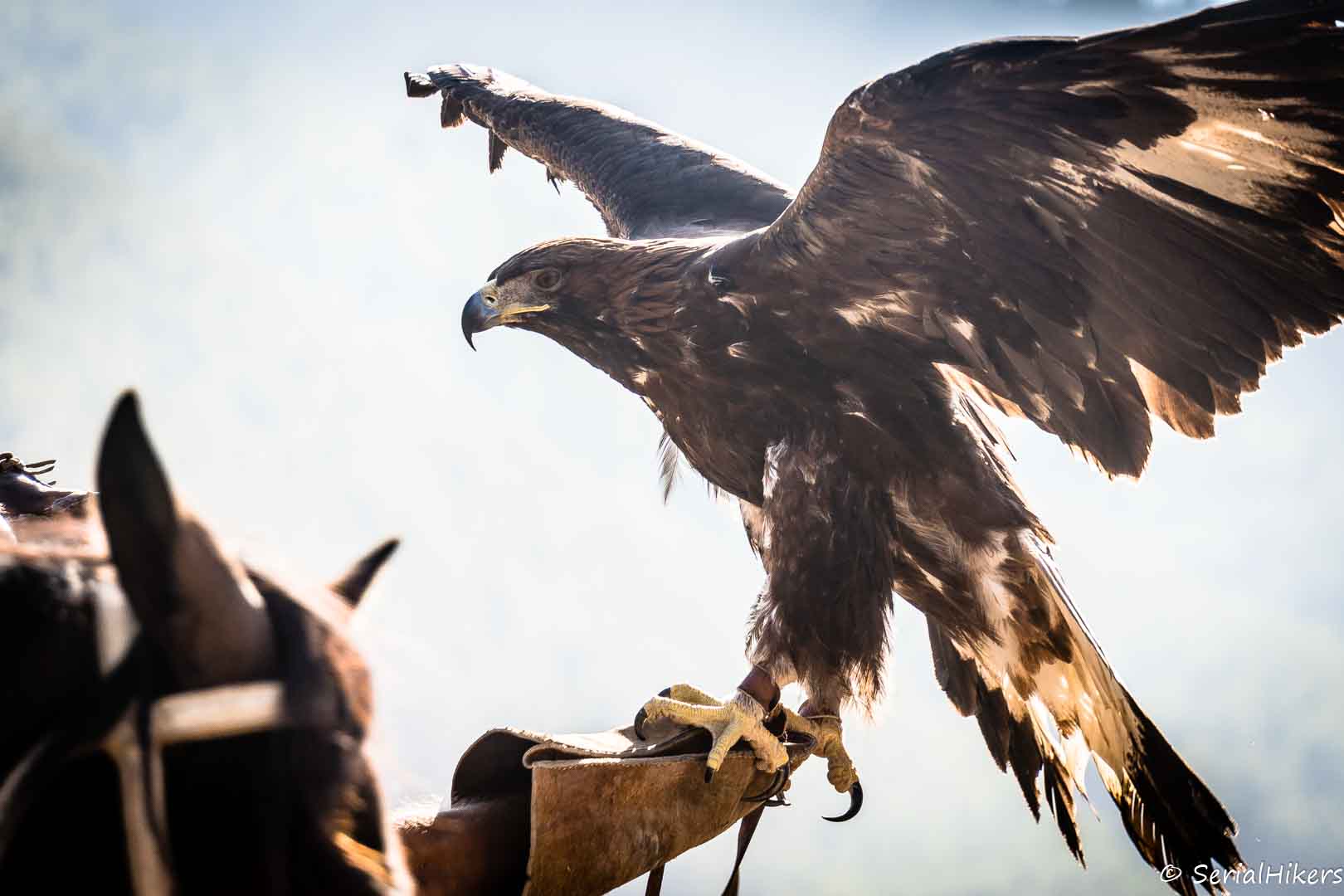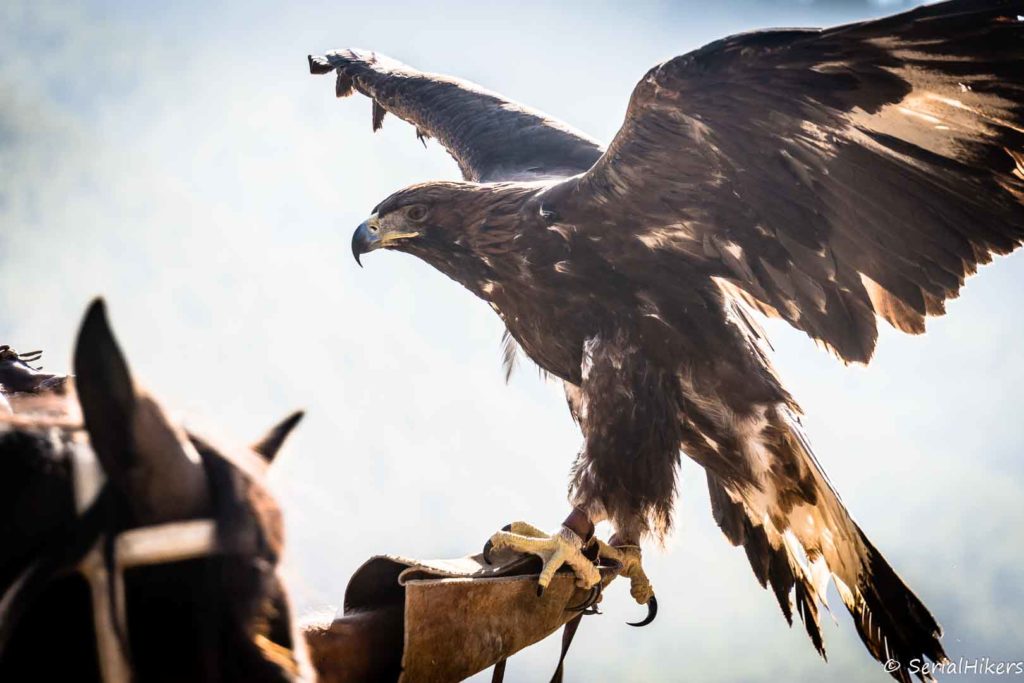 When archery and hunting displays cease, we understood that lunch break has just begun. We took the opportunity to stroll through the ethno-village, among yurts and local craft stands. Between two stalls, we were approached by locals that came to take advantage of animals attraction on tourists: "Horse back?" "Eagle photo?" No need of a camera to face the truth: chained eagles seemed stressed and horses, chained under the sun, seemed tired. "No, thanks." We would rather prefer the beauty of the dancers in their traditional outfits, the Kumuz sound resonating between two yurts… And the enthusiasm of Kyrgyz grandmas, dancing merrily to the rhythm of country music played by an American delegation…
Back at the hunting sports field, a voice on the microphone announced (in Russian and English, please!) that the greyhound hunting competition will soon start. And indeed, we saw packs of slender-legged and muscular dogs being brought to the starting line. A horseman took position a dozen of meters in front of the impatient dogs: at the signal, he will gallop, dragging behind him a fox skin to bait the dogs and take them to the finish line, 350m further on. At each passage, times are announced: 42s, 35s… At the end, Saudi team's greyhounds won, with 32s on the clock! Exactly the time it will take us to fall asleep, in our tent pitched on the riverside, a few meters away from the ethno-village.
At the racecourse, hectic atmosphere for the Kok-Boru
Eww!
Bedding at dusk, waking up at dawn! Day was already shaping up to be beautiful. We had our breakfast eaten on the grass, before folding our tent, putting our bags back on our backs and leaving the ethno-village, our thums raised on the road side. We arrived without too much difficulty at the huge racecourse of Cholpon-Ata around noon, just in time for the first Kok Boru game of the day… Kok, what? Kok Boru, it's the kyrgyz national game – a team sport in which riders compete for the possession of… a whole, beheaded sheep carcass (a "ball" rather unusual, weighing 35kg on average). The goal? To be the first to place the "ball" in the opponent goal, a kind of pit built at the racecourse end, without having the carcass stolen by an opposing player! At the end of the game (3 sessions of 20 minutes each), the sheep is cooked, eaten – we heard that the meat, pounded for an hour, is much more tasty…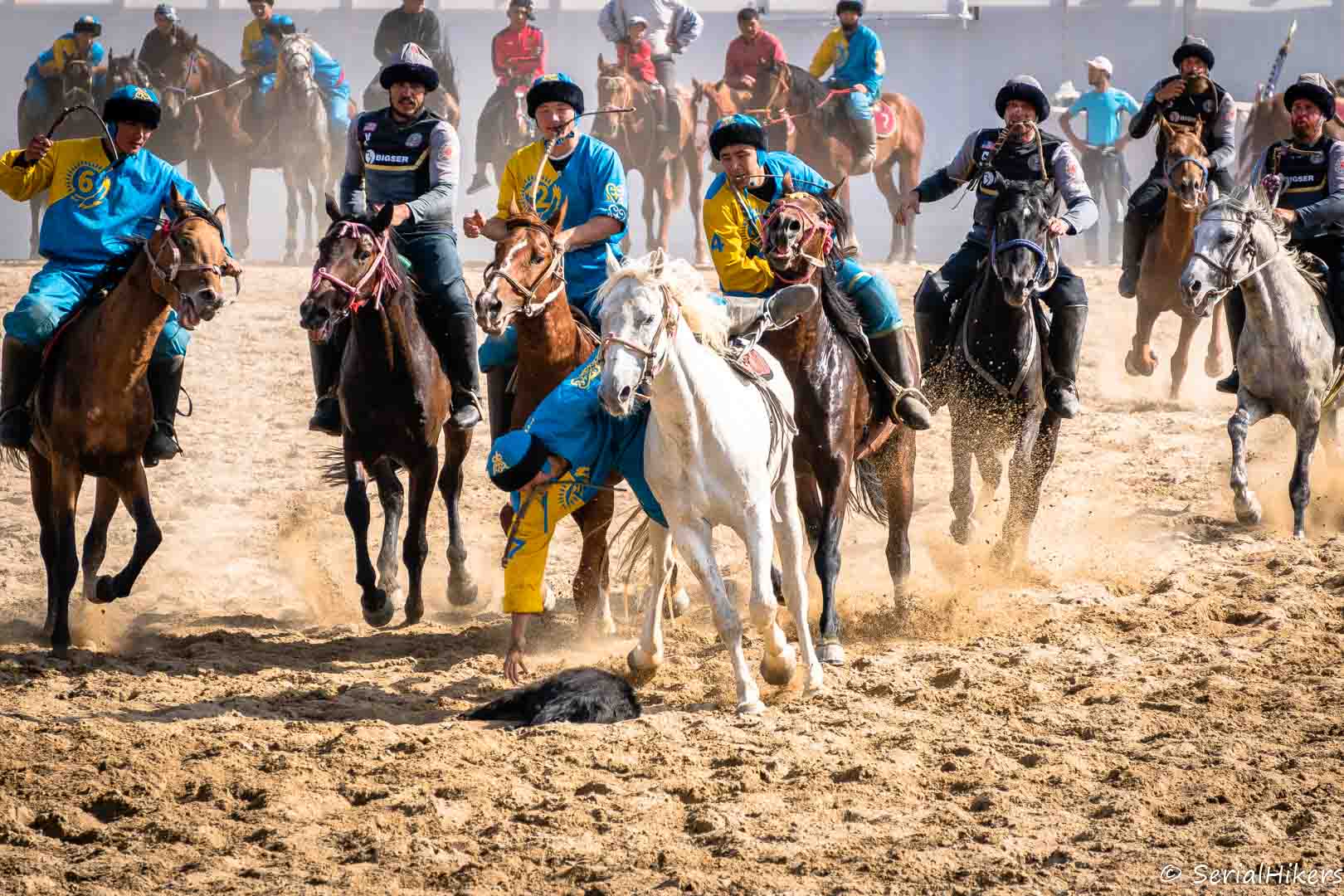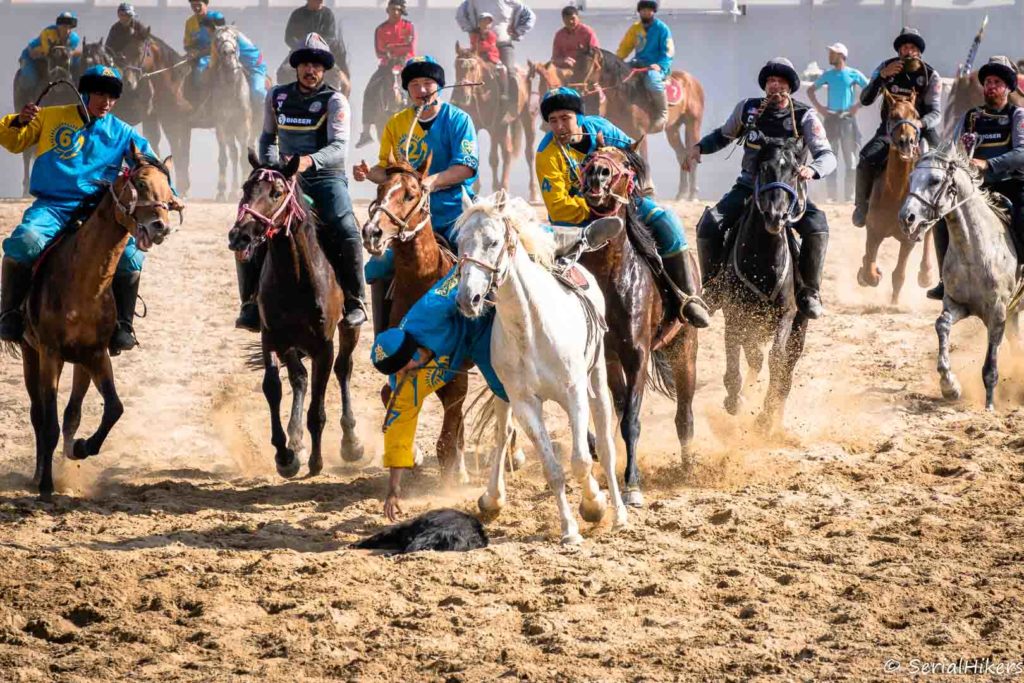 But let's go back to the matter at hand – or rather the dead sheep, that going to be played for this first Kok Boru game between Kazakhstan and Krasnoyarsk Federation (Russia). As the bleachers were filled with old Kyrgyz men proudly wearing felt hats and gold teeth, horsemen paraded through the racecourse to the sound of war music. At this moment, it was more like Ancient Games than Nomad Games: a large sand track, a game that could be described as barbaric, fighting horsemen passing their hands over their faces in a sign of prayer (a traditional lucky gesture) and an excited crowd cheering for the future heroes. With only one exception: thumbs up from the Ancient Rome public have now been replaced by the blue thumbs of a famous social media…
French team will play. No way?!
When the game ended (on a very large victory for Kazakhstan), we were ready to leave the racecourse to attend wrestling games taking place next door. But now the French team is announced for Kok Boru's next game…. What? Surprise was as big as our confusion; Kok Boru is not a sport practiced in France… And yet, riders in navy blue uniforms and carrying a French flag were getting ready to enter the field! Feeling patriotic, we stayed to encourage them as best we can (Allez les bleus!) even if, let's be honest, our players had no chance of winning. We were wrong: French players, although often struggling to catch the "ball" or confused in the action, managed the feat of scoring 6 points – partly helped by their Uzbek opponents and public's encouragements, very fair play. Above all, they have achieved the feat of playing with dignity a sport that is not theirs (we were told that they were Horse Ball players) with horses that didn't belong to them.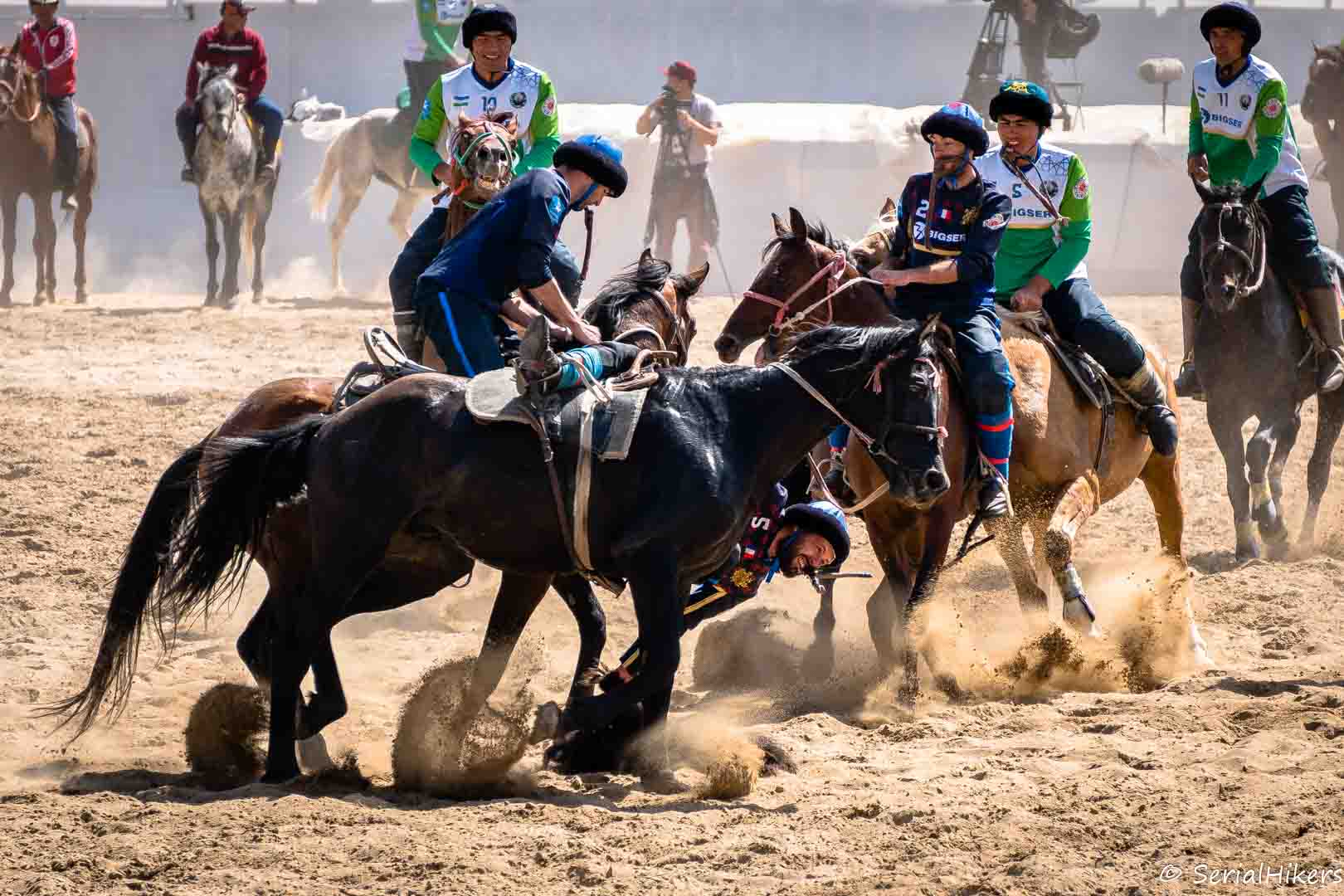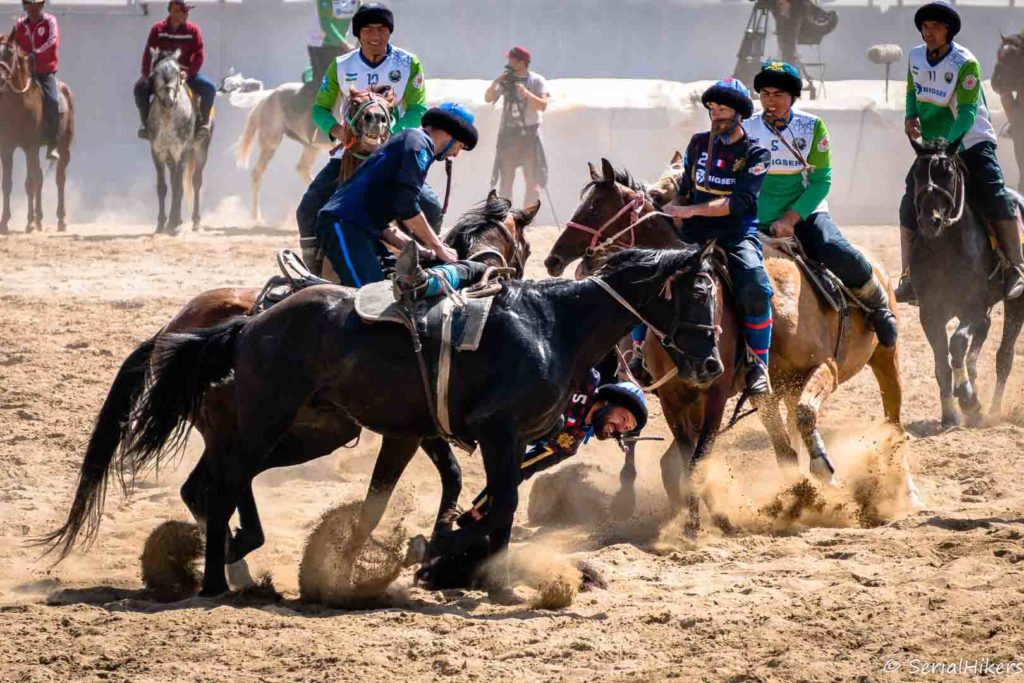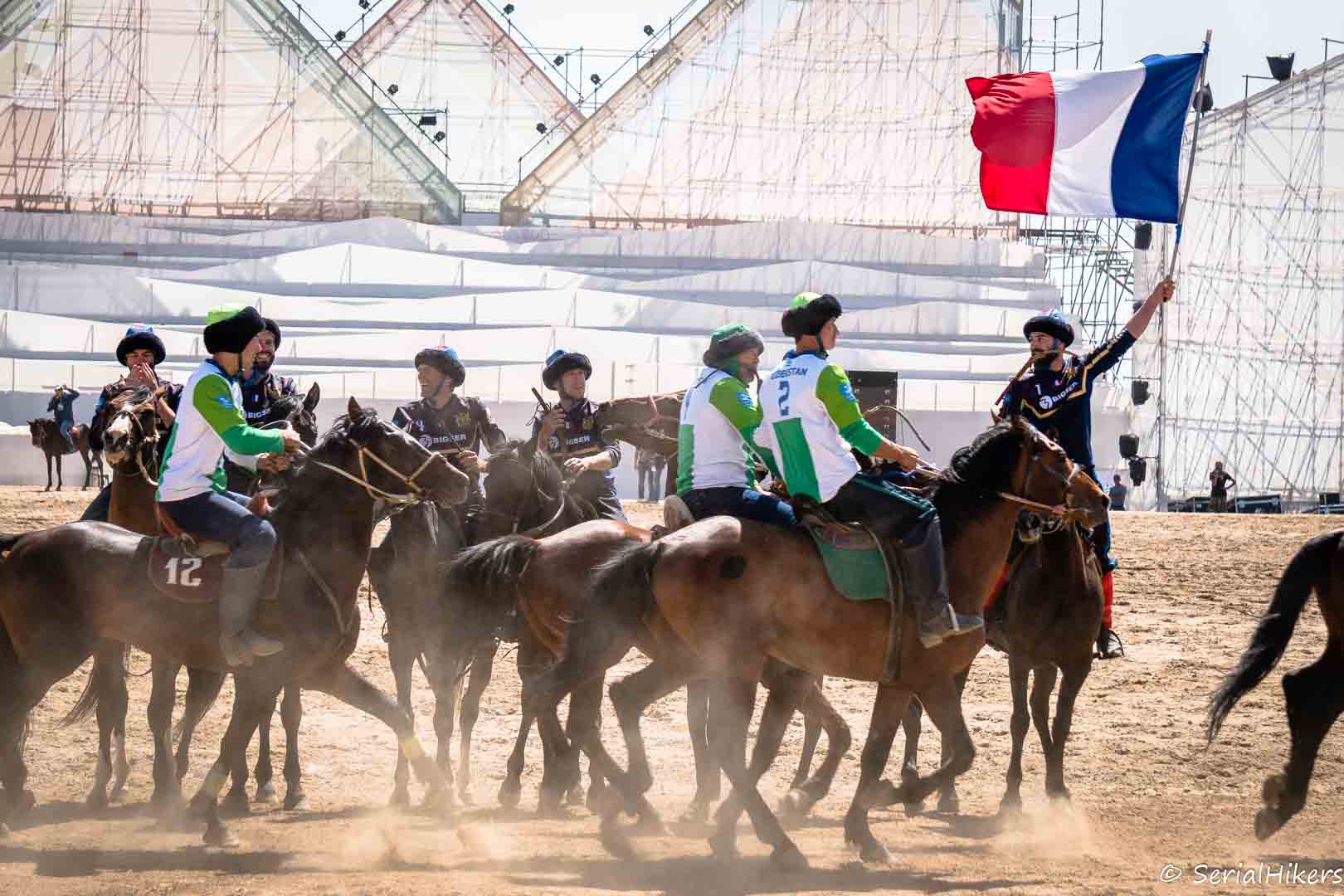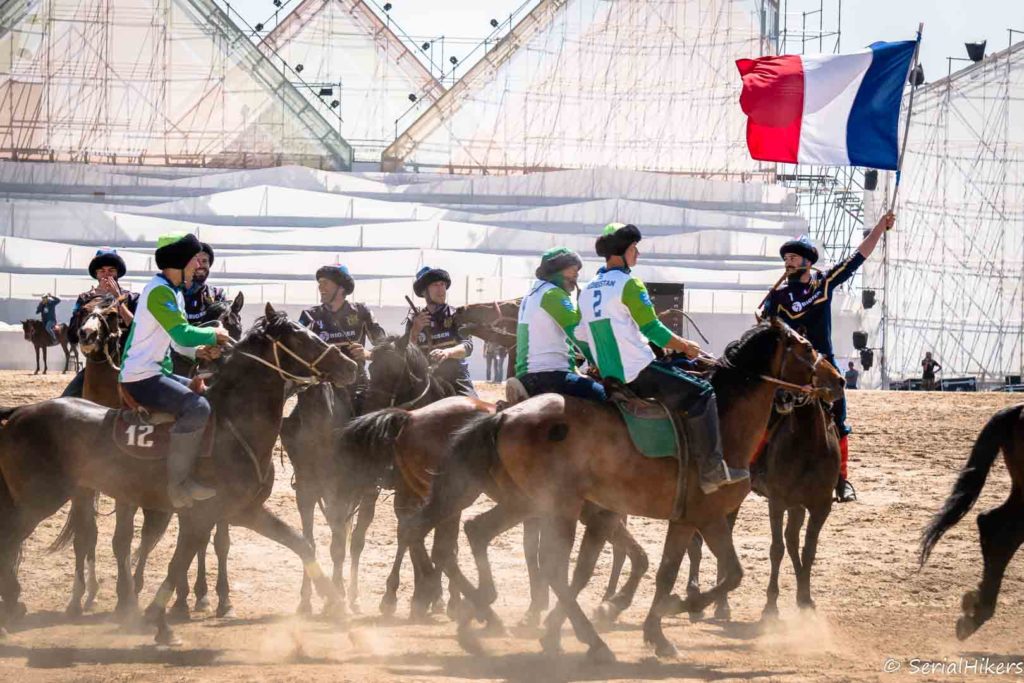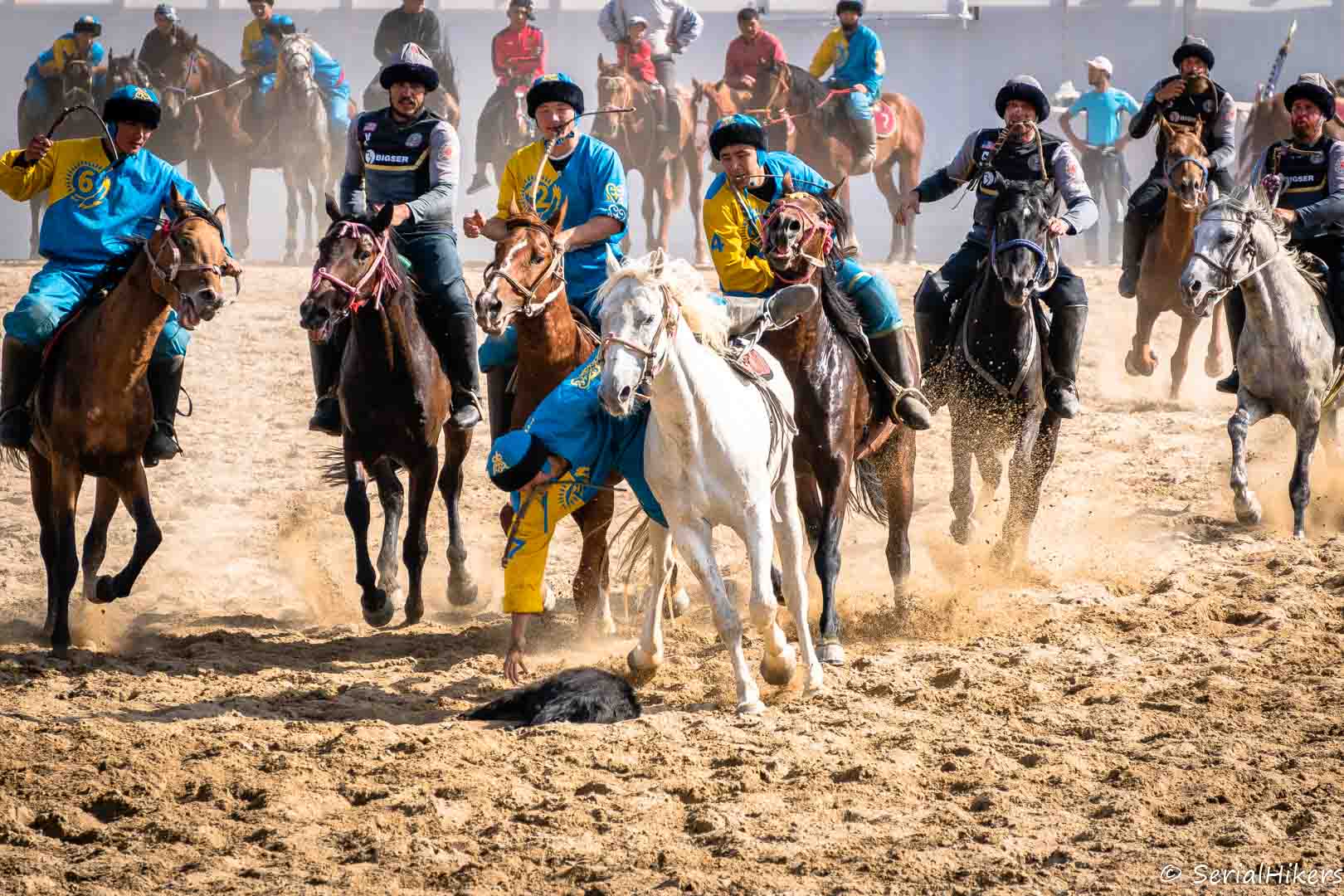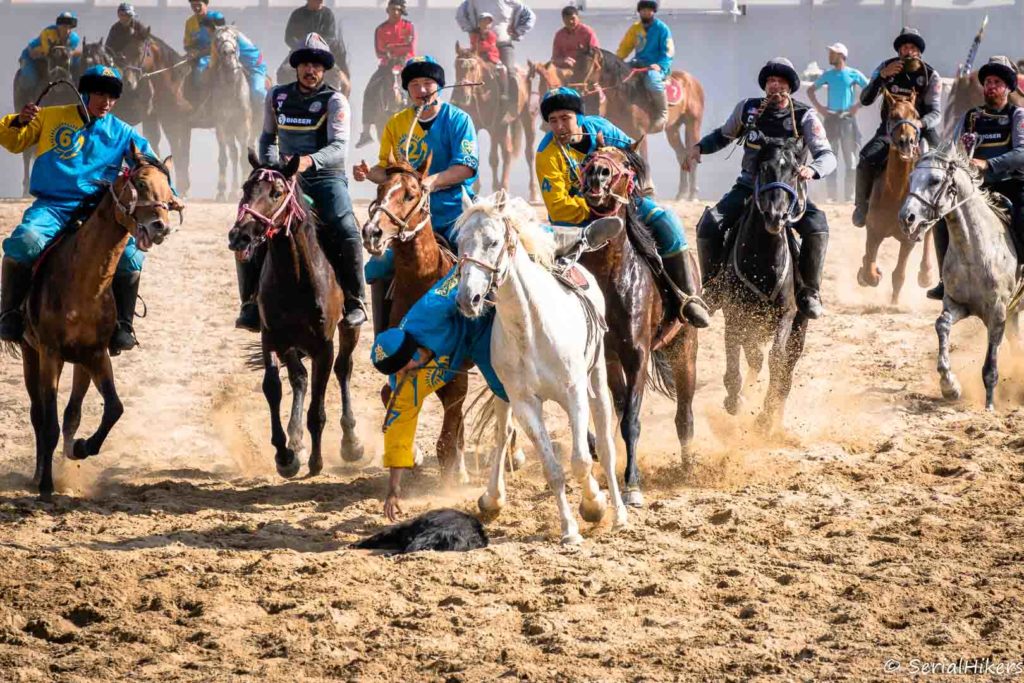 After the French team's surprise game, we thought we'd seen it all. But we didn't. The American team took over on the field, against the Kazakh favorites! We sat down in time to admire the show – everyone present, including the Kyrgyz old grandpas, will remember for a long time this bearded American player who scored the points by literally throwing himself into the pit head on, carcass in his arms…. We almost forgot the wrestling events, which seem much less impressive in comparison – probably because wrestling is also one of the sports practiced in our country, even if our wrestlers do not wear such "attractive" outfits as Mongolian wrestlers or Japanese sumo wrestlers. After two full and emotional days, we headed back to Karakol Mountains with a smile on our face, stars in our eyes… and a lot of memories in our head!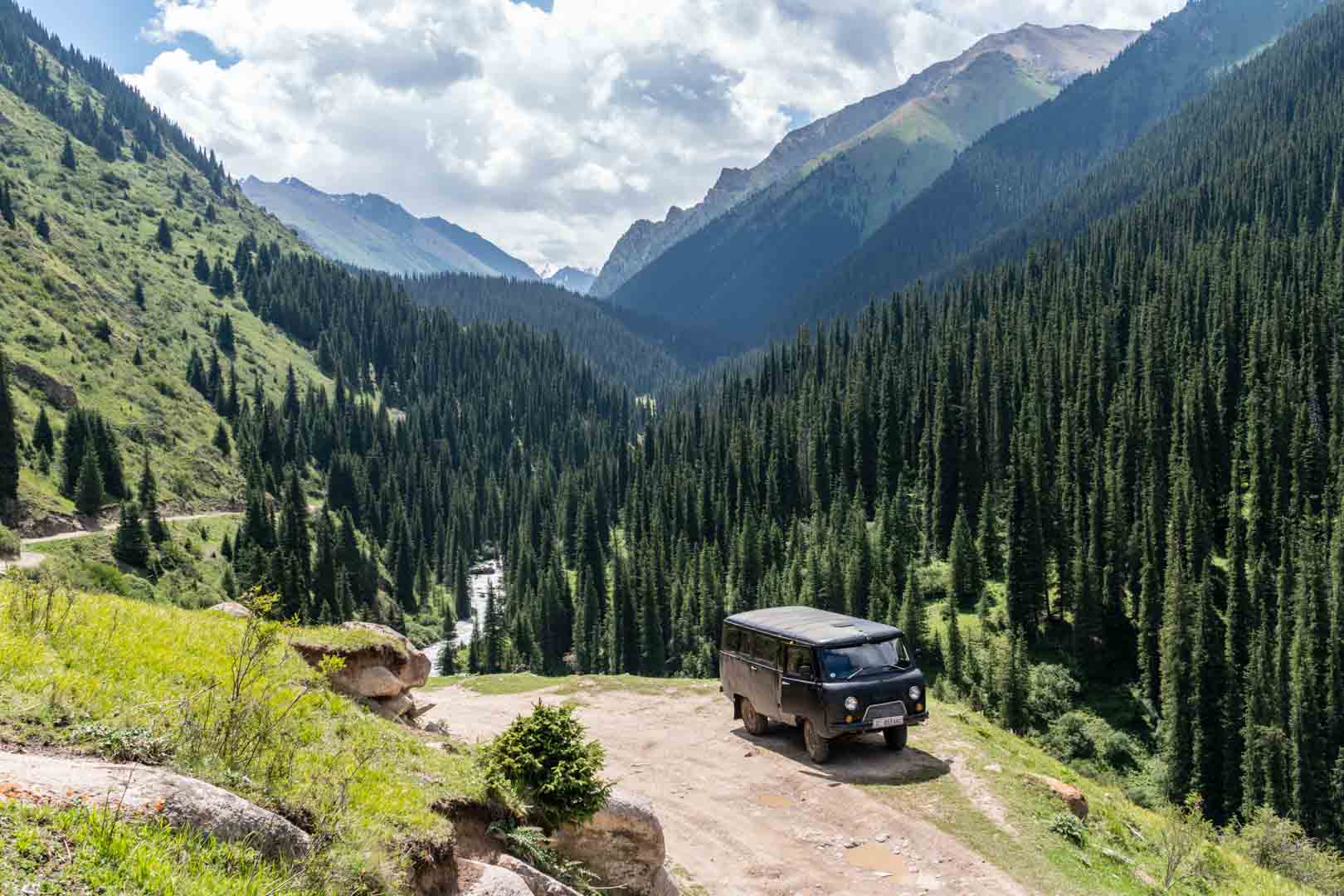 More about Kyrgyzstan
* Post written according to our personal experience *