Before entering Kazakhstan, we thought this country was a very vast and semi-desert land, with steppes as far as the eye can see. We even had gotten used to "Move along, there is nothing to see here". We were, to tell the truth, far from suspecting that Kazakhstan actually had several sides… Of which we took pleasure to discover each of them!
---
Visa and border crossing
30 days for French passport holders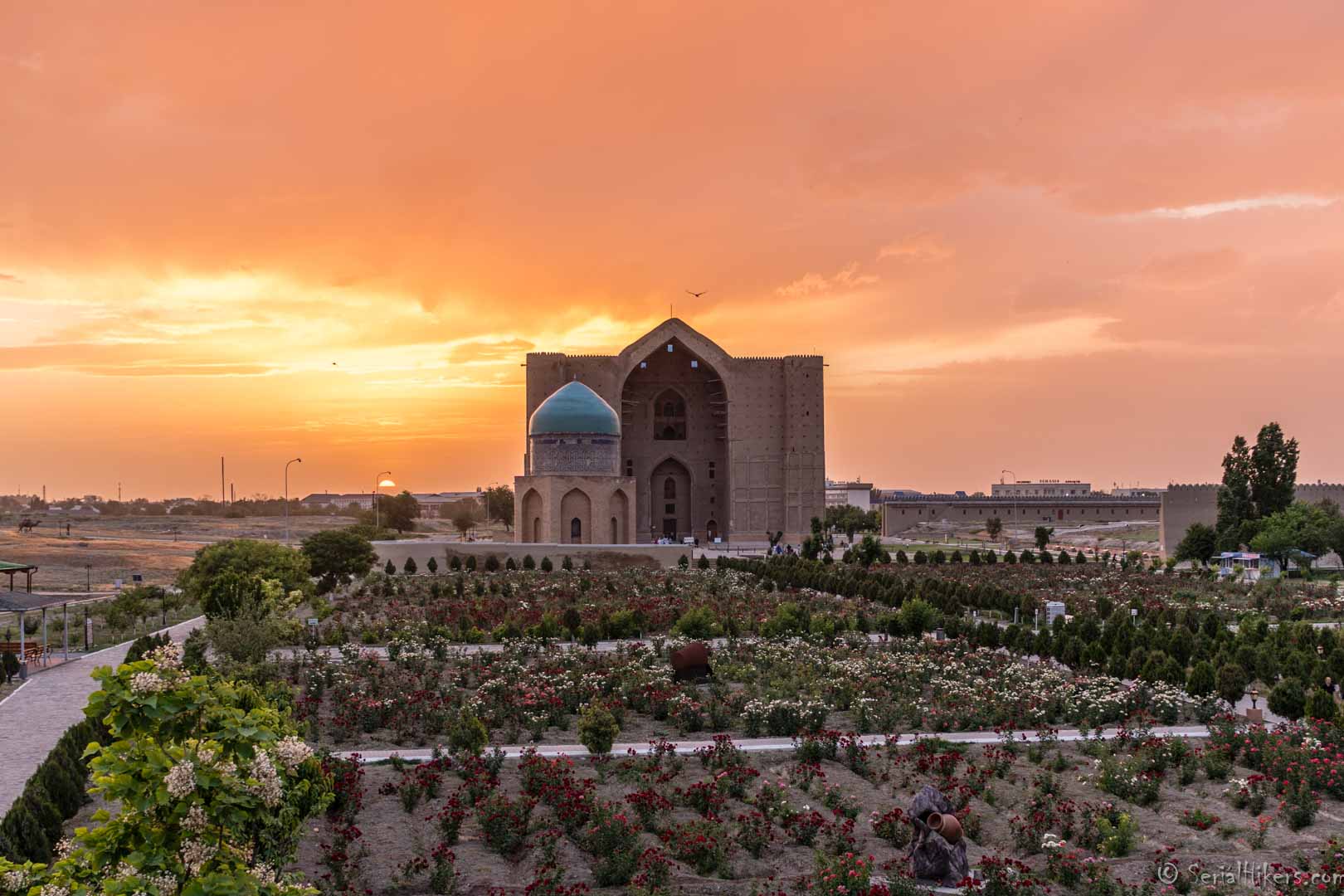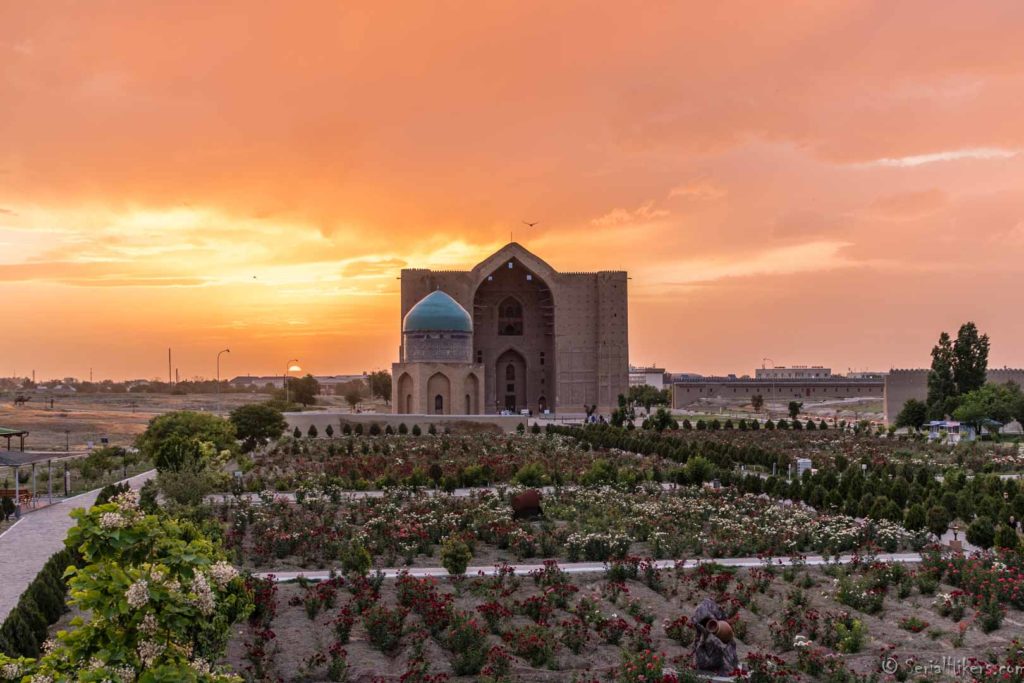 What to see in Kazakhstan?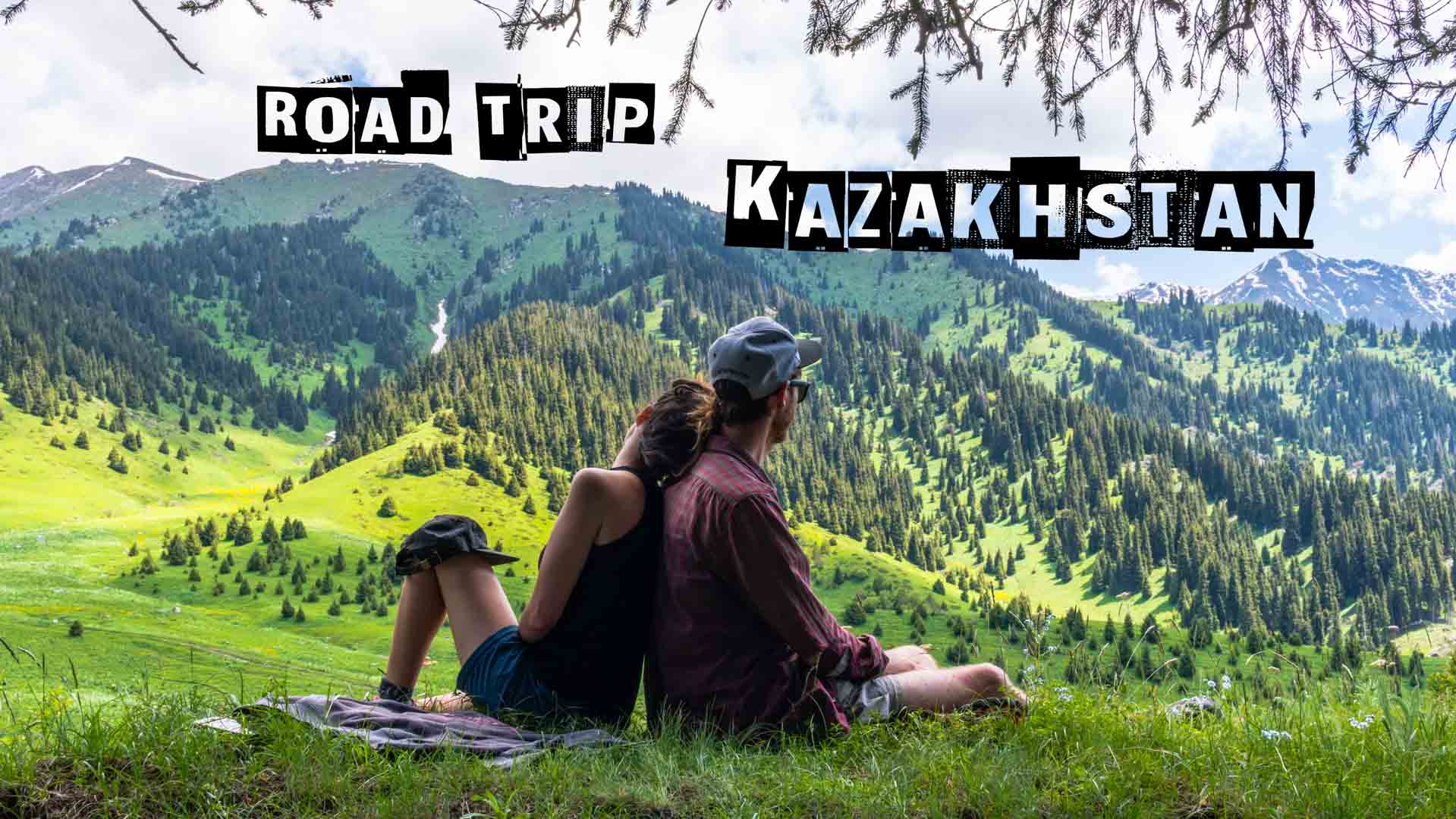 Almaty the green beauty
We fell in love with the former capital of Kazakhstan and its profusion of greenery: we loved strolling along the tree-lined boulevards, wandering in public gardens and hiking in the mountains of Almaty! But what we liked the most were our trips to Kok Zhailau, highland overviewing the city, and to Furmanov Peak – a climb that takes us above the clouds, with a swing at the top to swing over the void!…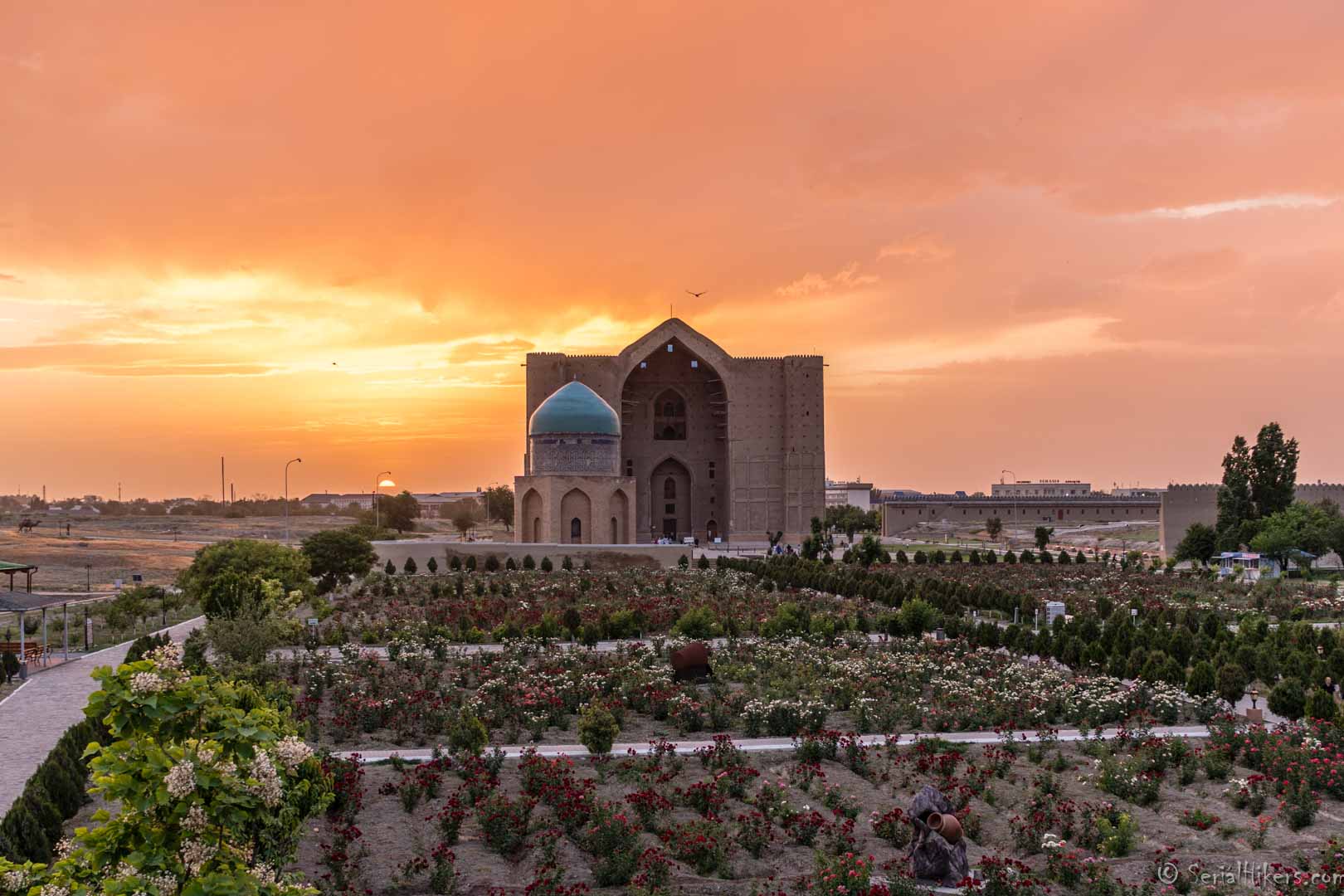 Kazakhstan Heritage
Turkestan
39m high, 600 years old: welcome to the Mausoleum of Khoja Ahmed Yaswi, an influential Sufi poet! From our visit of Turkestan, we will certainly remember the view of the mausoleum at sunset, the beautiful flower gardens and the intriguing ruins of the ancient city, near which we camped at night!
Kazakh mausoleums
After the visit of Turkestan Mausoleum, it became difficult to be ecstatic in front of the other mausoleums of Kazakhstan, much less impressive in size… However, Aisha Bibi mausoleum (Aisha Bibi was a princess-to-be, who died of a snake bite before being able to marry her prince! ) and Tekturmas mausoleum in Taraz impressed us with their small architectural details, finely carved in brick, and the latticework windows, a typical form of decoration in Islamic architecture!
Shipwrecks of Aral Sea
Not much remains of Aral Sea: from 1960 to the present day, the surface area of this salt lake has been divided by eight – leaving the former port of Aralsk about 20 kilometers from the current coast… This was caused by the deflection of the two rivers flowing to Aral Sea for intensive cotton culture during the Soviet era. Not much is left of the city of Aralsk either: fishermen are now unemployed and their boats, dry and completely rusty, can still be seen in the abandoned city port…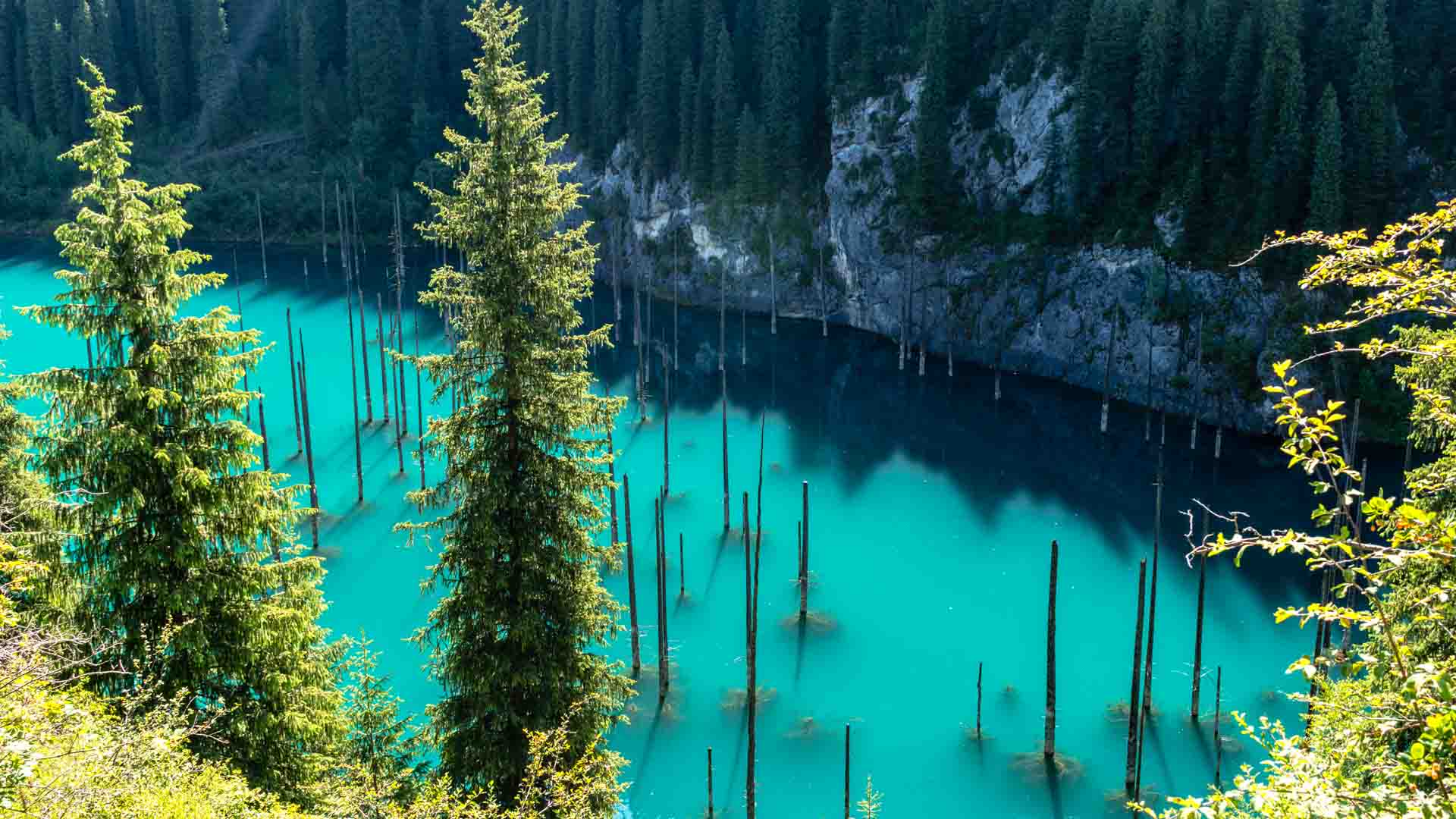 Natural wonders of Kazakhstan
The incredible canyon of Charyn
A picture is worth a thousand words: we think this say applies well to Charyn canyon! This canyon is located 4 hours drive east of Almaty, near the Kyrgyz border and the strange underwater forest of Lake Kaindy.
Altyn Emel National Park (not done)
If we were not in a hurry due to the end of our 30 days free visa stay, we would have liked to visit Altyn Emel National Park: there we could have seen mountains reminding Mars planet (Aktay red mountains), dunes singing under the Kazakh wind, the petroglyphs of Terekty and an incredible diversity of fauna and flora evolving in this immense protected space!
The strange sunken forest of Kaindy Lake
An unusual night on the shores of an unusual lake: when we talk about our night at Lake Kaindy, we still have stars in our eyes. One of our most beautiful experiences so far!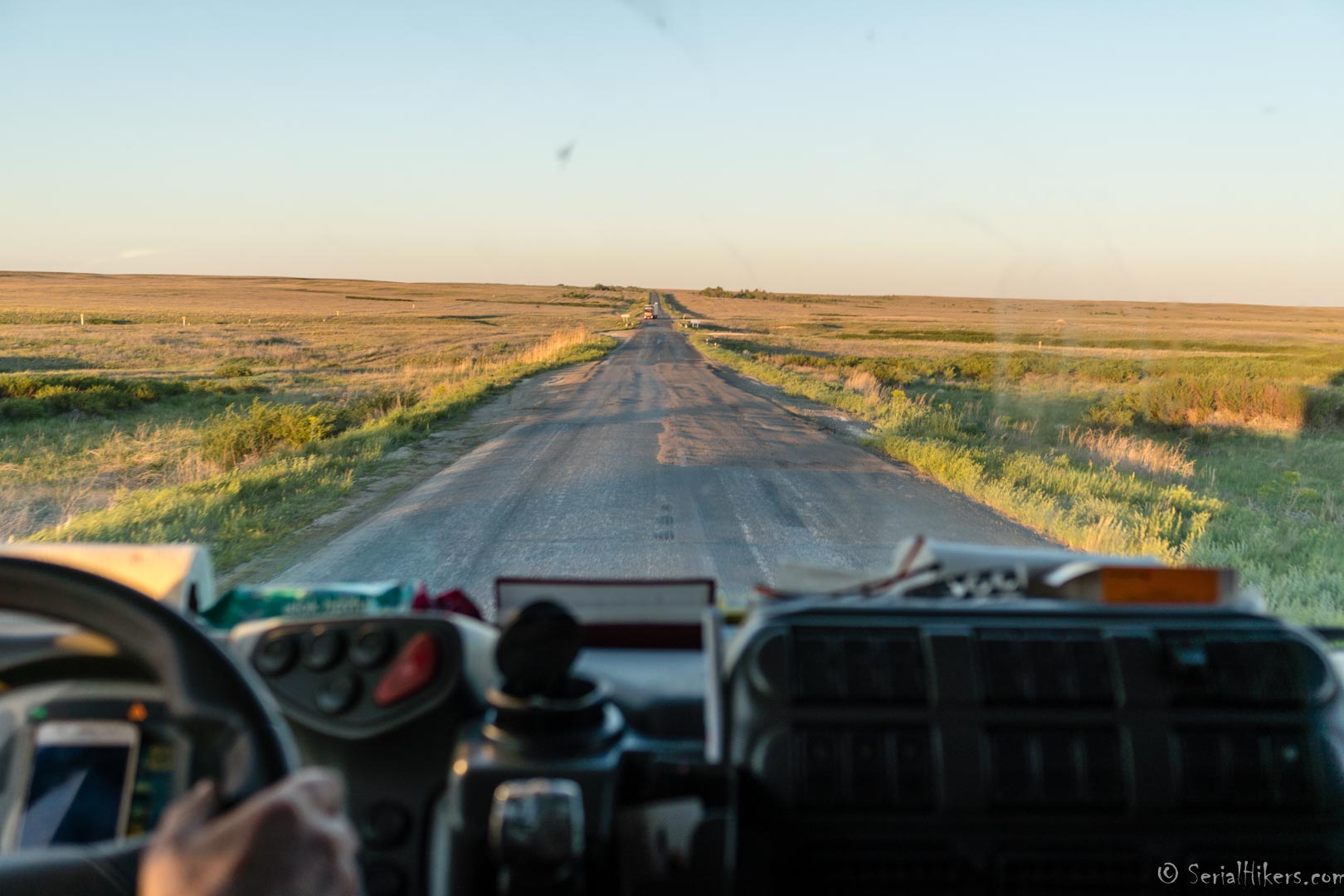 Baikonur, a Russian aerospace base in the heart of Kazakhstan
You don't enter the Russian aerospace base of Baikonur as you would enter a Kazakh karaoke: you will need a special permit, take on a guided tour, submit to strict controls on a ultra-supervised site… Unless spending a lot going through a specialized tourist agency, we have preferred to say "Dasvidaniya" to our exploration project of this Soviet base – which saw Yuri Gagarin, the first man to travel in space, take off aboard the Vostok 1 in 1961.
Our Kazakh hit
Did you know?…
Extended families
This is the norm in Kazakhstan: two parents and…. lots of kids! To the fateful question "and you, do you have children?", we found it very hard to explain that in France, the norm is rather not having a child at our age…
Kazakh or Kazakhstani?
We told you about it in our travel story in Kazakhstan: here, ethnicity and nationality do not mix! So, you can meet kazakhs from Kazakhstan, but also kazakhstani Russians, kazakhstani Tatars, kazakhstani Uzbeks, etc… We agree: this difference is a bit confusing for a French born in France, who will define himself as French whatever the origin of his parents.
A leader who still got some power…
Until 2019, President Nursultan Nazarbayev ruled Kazakhstan – before he officially resigned from office. Since then, his influence is such that the capital city Astana has even been renamed Nursultan in his honor .
Kazakh castes
Zhuz is a term originally designating an alliance of nomads living on a given territory of Kazakhstan. There are three Zhuz: the Small Zhuz, the Medium Zhuz and the Great Zhuz. Over time, Zhuz have been assimilated to castes… Thus, the great political leaders (including the former president) often come from the Great Zhuz families, while several Kazakh poets belong to the Middle Zhuz.
Steppes and camels
Kazakhstan, compared to France, is a country with 3 times less inhabitants but a territory 5 times bigger. On the other hand, 1/3 of the country is made up of… semi-arid steppes where camels live. Moreover, camels provide an excellent source of meat for Kazakh people (which they cook for their traditional dish Beshbarmak) and camel milk is also appreciated once fermented (Shubat)!
Traveling alternatively in Kazakhstan
The budget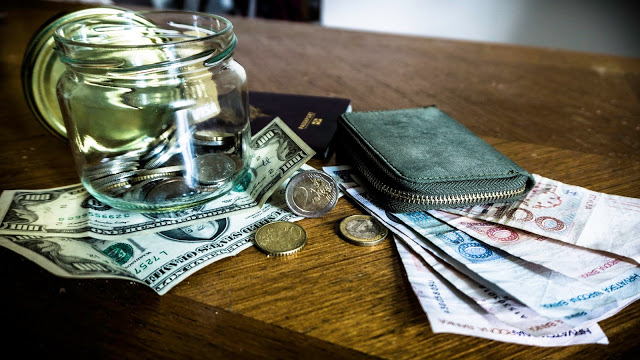 Our daily budget
€1.20 / person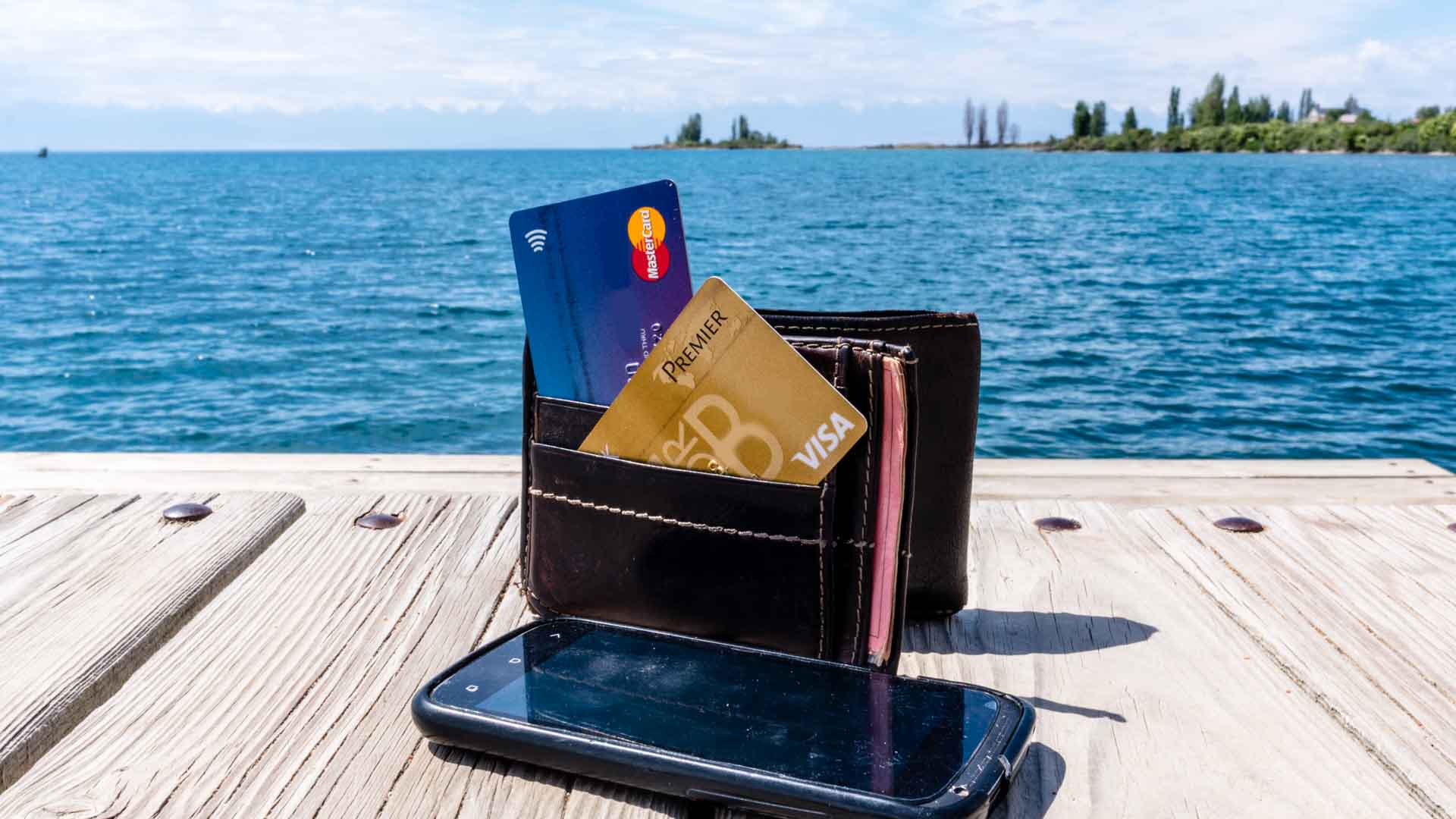 Bank with no extra fees (foreign card)
All those we have tried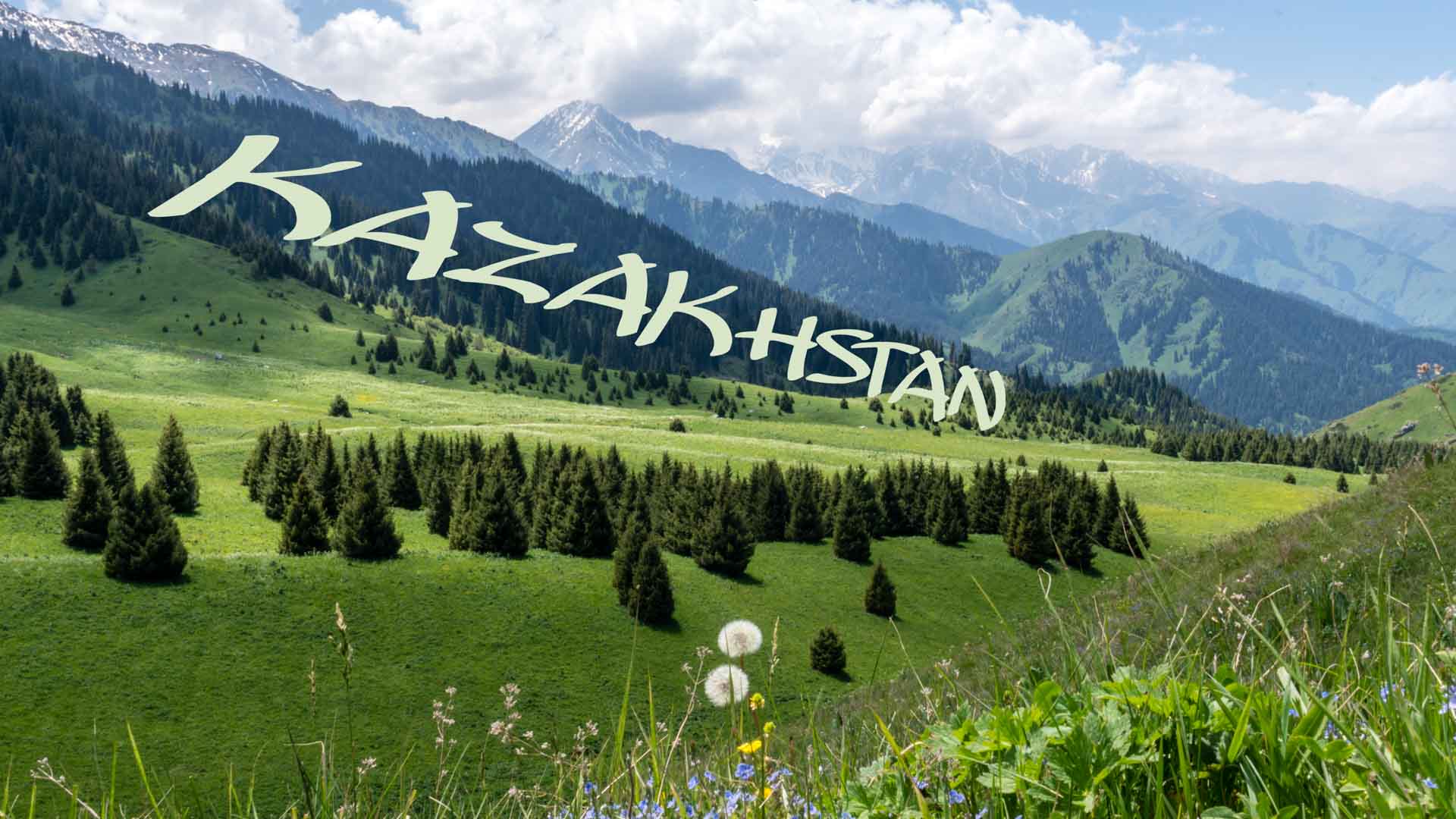 Currency
TENGE (€1 ~ 390 Tenge)
1200 Tenge for a vegetarian plov
350 – 600 Tenge for a pint of beer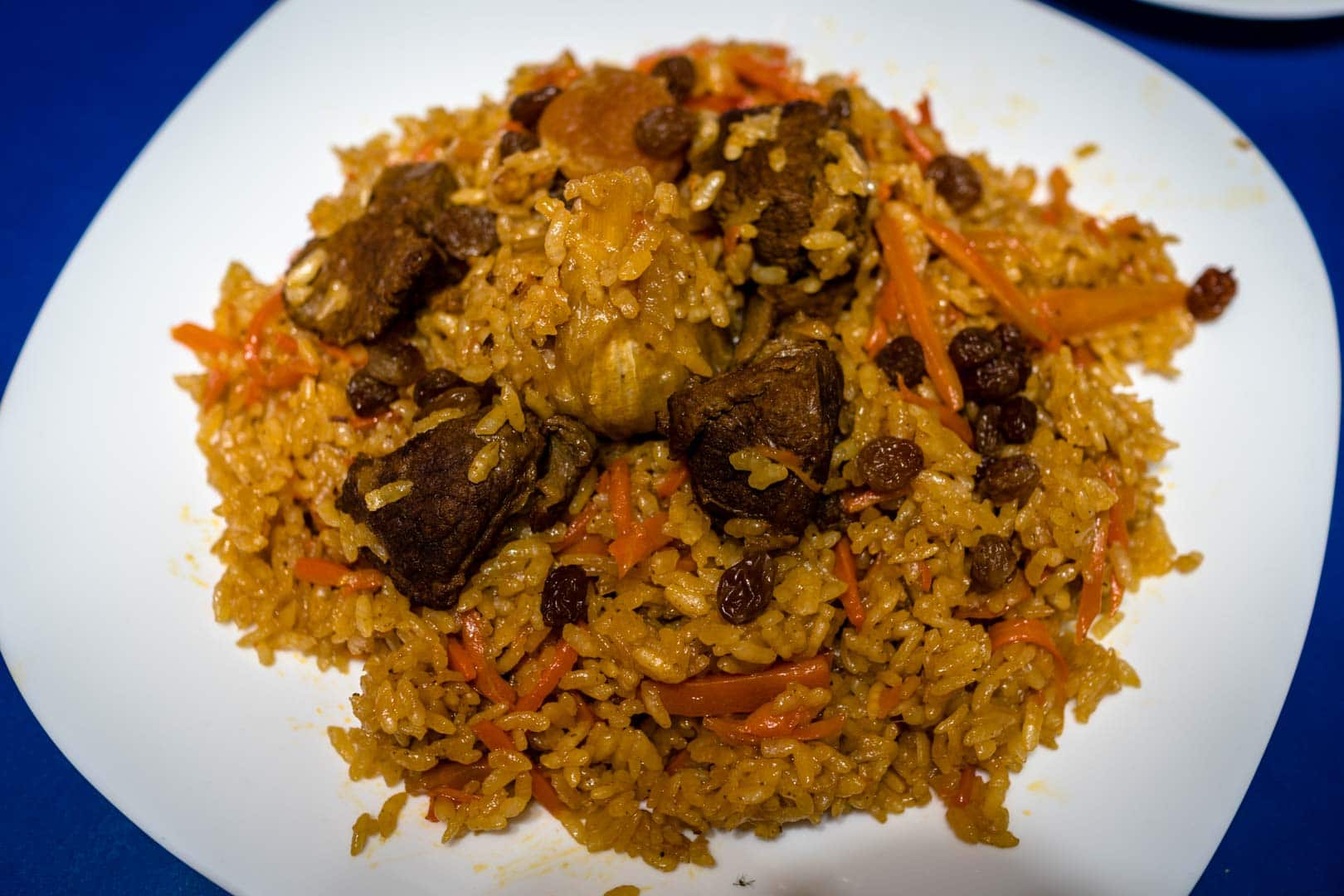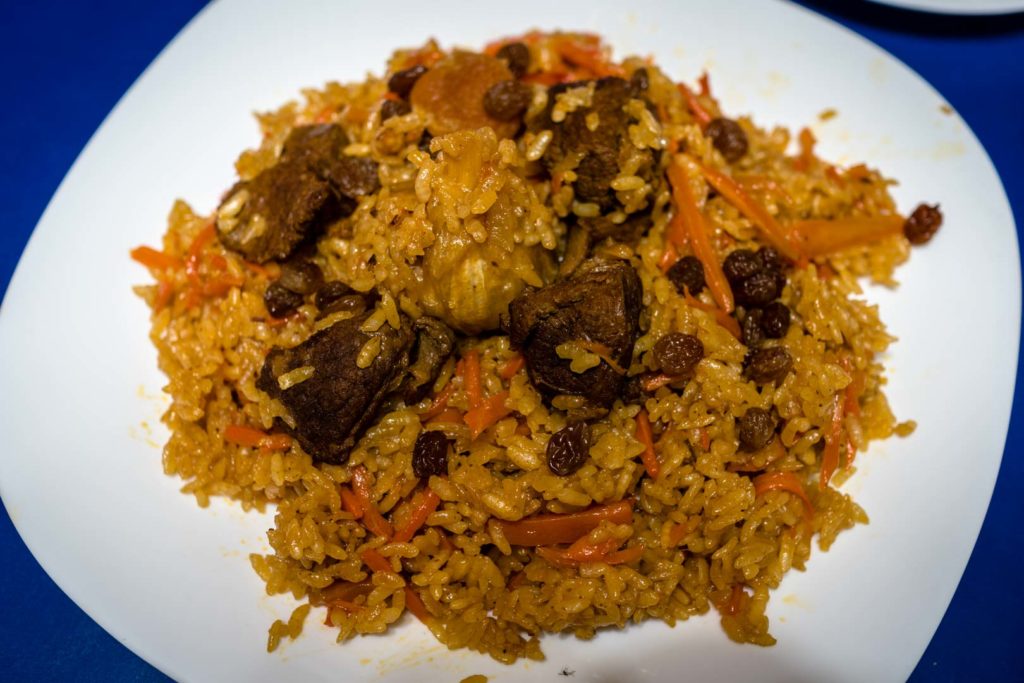 Hitchhiking
No major difficulties encountered! If Kazakh drivers are happy to help hitchhikers, don't forget to specify that you will not pay (in Russian, "dengi niet") to avoid any confusion!
Hospitality
Hospitality is a tradition in Kazakhstan: if you can't find a place to pitch your tent, chances are that some Kazakh people will invite you directly to their home!
For us, we've alternated between "planned" accommodation experiences in major cities through the hospitality network and "spontaneous" hosting invitations – thanks to our drivers or friendly Kazakh people we met on the street. However, even though the spontaneous invitation experiences always went very well (full hospitality, with bed, meals included without any compensation), we have noticed that they were always limited in duration: one night, no more!
Wild camping
In Kazakhstan, wild camping is not forbidden: you can pitch your tent literally anywhere! As for us, we took this opportunity to pitch our tent near the Kaindy lake, in the canyon of Charyn but also on the road, behind petrol stations, when we had no hosts.
Our tops (and flops)
In practice, we had 30 days to cross Kazakhstan (visa free) – a duration that we slightly exceeded, cumulating a total of 32 days in that country (which earned us a formal warning). To tell the truth, we didn't see the time flying in the south of Kazakhstan, where you can find all our tops!
The warm colors of Charyn canyon
Almaty, a cool city surrounded by mountains
Finally, of all the "hidden" sides of Kazakhstan that we were able to discover, we appreciated the "nature" and "local experience" sides the most!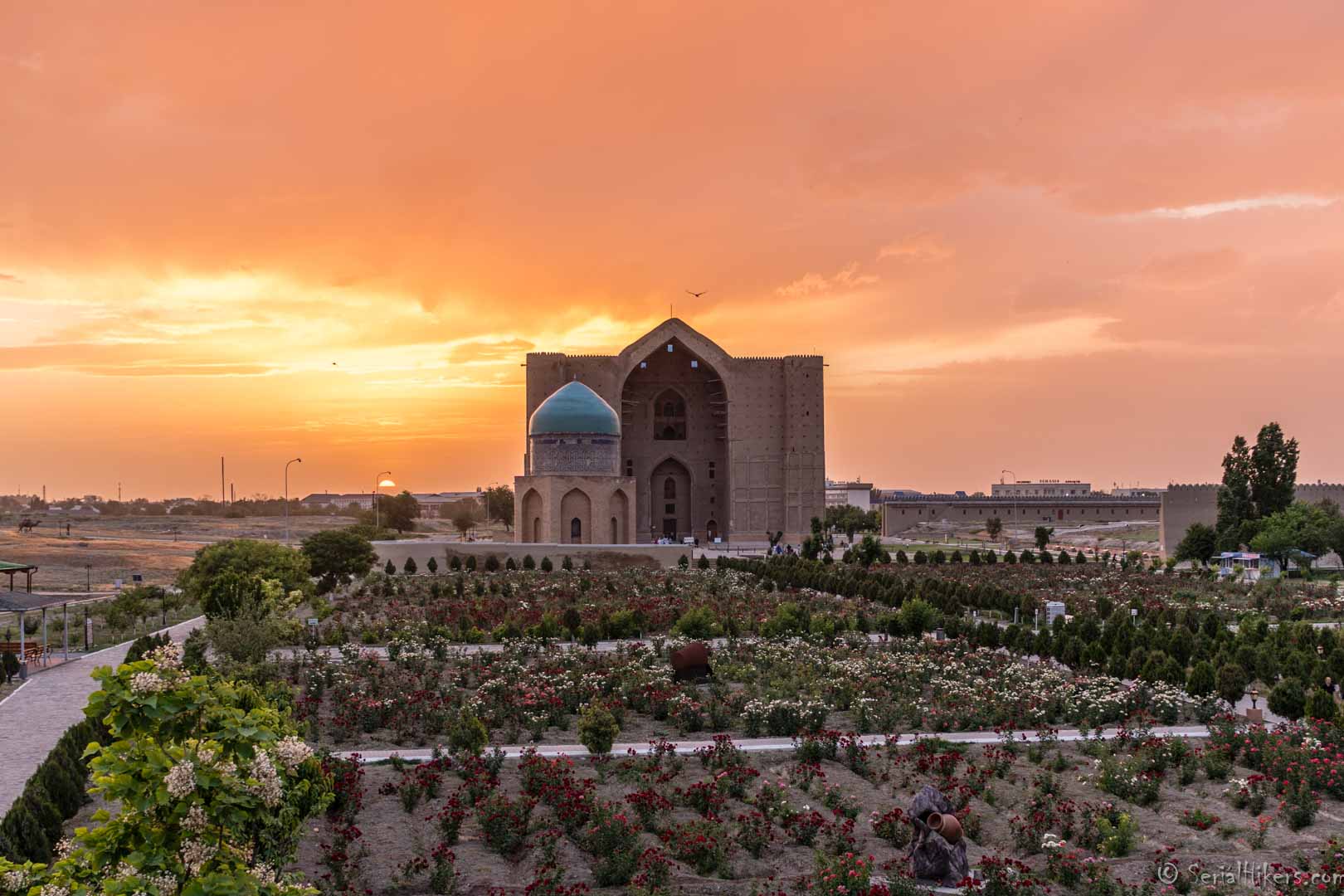 More about Kazakhstan
* Post written according to our personal experience *