Bansko, this name didn't mean anything to us before we drop our bags off in this Bulgarian ski resort, as we were lucky enough to find a host to welcome us for 5 nights! As you know, when it comes to visiting a country or a region, we completely rely on the advice of the locals. And thanks to them, we were able to plan some activities to do around Bansko!
---
Bansko, the ski resort town with an unsuspected charm
Just arrived in Bansko, we made a quick tour of the town center and our feelings were mixed: hotels, casinos, clubs, restaurants, tourists stalls… The town has everything we usually try to avoid! Especially since on this summer day, there were no crowds and the town seemed desperately empty… This excess of luxury made from scratch (most of the buildings were built at the beginning of the 2000s) really gave us the impression of walking around in a movie set (where are the cameras?).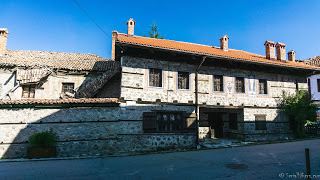 Not wanting to leave the town with a bad impression, we chose to explore it a little more. And by taking the time to visit, we were able to fall under the charm of some very typical houses, to appreciate the mountain water freshness that flows in the fountains, to walk around all these paved streets where only pedestrians are allowed… Is Bansko a ski resort town with an unsuspected charm?
A day hike to the top in Pirin
A must to do near Bansko: the ascent of Mount Vihren (2914m!), in the Pirin National Park. Moreover, for pure thrills lovers, there is a very hazardous hiking trail passing through the Koncheto ridge in the Pirin mountains. Due to lack of time (and courage, maybe?) we hitchhiked a few cars to go up to the Vihren chalet, and continued our way on foot. This totally improvised day hike took us through three small mountain lakes, as well as steep slopes and more or less well signed trails… In the end, this good hike made us very tired, but totally amazed!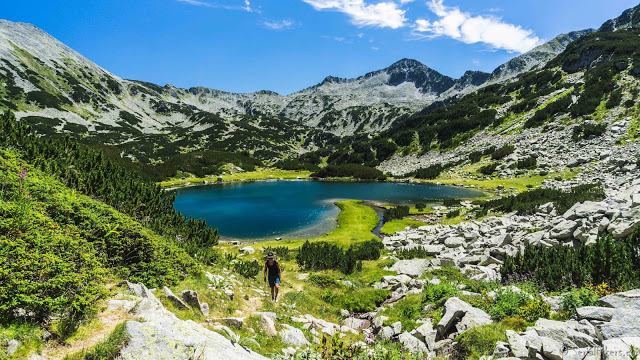 Useful information:
Path: Hiking from Chalet Vihren, follow the paths (no signs) to the lakes, then go directly up the mountain sides to reach the Vihren peak
Duration: approx. 6h
Level of difficulty: intermediate
The refuge of mistreated bears
Have you ever heard of "Dancing bears", those bears that are captured, mistreated and chained up all their lives and, conditioned at a very young age, perform tricks and paw movements to the sound of a musical instrument? This cruel practice was unfortunately part of a very deep-rooted folklore among gypsies living in the Balkans. In 2000, thanks to the joint efforts of the Bulgarian government, Austrian foundation 4 Paws and French foundation Brigitte Bardot, an 11-hectare park called "Dancing Bears Park" was created: a huge space dedicated solely to street bears!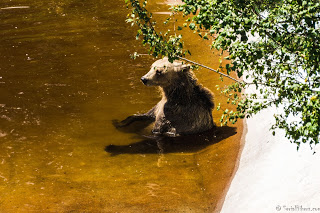 At first we hesitated to visit the park: why look at disabled bears, now locked up behind large enclosures? The answer was pretty obvious: too weakened by the mistreatment they have suffered, these bears could not survive in the wild… No doubt reassured by the presence of animals foundations and by visitors positive feedbacks, we finaly met Bobby and his friends, weakened by years of abuse but visibly happier than ever!
USeful information:
Duration: from 30 min to 2h (the guided tour lasts 30min)
Entrance fee: free entrance (donations encouraged)
Relax in a natural hot spring
We end this post with our good spot alert: in the surroundings of Bansko, we have found thanks to indications of some locals, two pools of naturally warm water… and totally free of charge! Lost in the middle of nowhere and totally unknown to tourists (most of them go to Dobrichte, a nearby city famous for its thermal waters), these pools are just waiting for you! But where can you find them?
The "very hot water" pool
Located about 3 kilometers from the junction of 84 and 1903 Highways (close to the General Kovachev Station), a pool of water at about 50°C stands on the other side of a pedestrian bridge over the Metsa River, at the foot of a small chapel. You will have to be patient to wait for the night and for the pool to cool or come with a bucket, to temper the water thanks to the nearby fresh water river. If neither of these solutions suits you, go to the bigger pool of warm water.
Big warm water pool
Still from the Highways 84 and 1903 intersection, drive about 4 kilometers and take the dirt road on the right. Continue for 2 kilometers until you reach the bridge pictured below – be careful driving over it. Cross the bridge, or park nearby, and continue walking on the path. You will have no trouble finding the "big warm water pool" at the edge of the forest, much more spacious and temperate than the first very hot water pool. Now you can relax!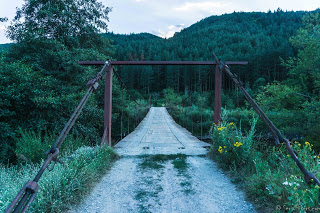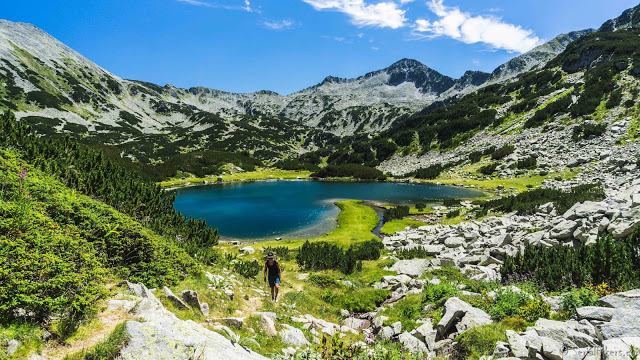 More about Bulgaria
* Post written accordind to our personal experience *