Because traveling in good health is synonymous with a peace of mind(let's be honest, who wants to be bedridden for several days in a foreign country ?!) we decided after some talks to take some precautionary measures before leaving – even if these solutions can be expensive and questionable!… Let us share our experience, some insights about health and travel.
---
Be aware of your health condition
When we say "traveling in good health" it implies, in the first place, to make all the necessary health checks!
So the first step will be to take all necessary medical appointments as soon as your travel project is planned. Ophthalmologist, dentist, gynecologist, GP… List of health checks can be as long as the waiting time to get a medical appointment, if you know what I mean. Another detail that weighs in: your medical bills will no longer be reimbursed by your own health insurance when your employment contract will come to an end. So better to do it sooner!
Is it mandatory to get vaccinated?
Yes and no. Some people do not want to be vaccinated by conviction, and most vaccines are not mandatory and at your own expense.
We have made the choice to be vaccinated according to the countries we planned to visit, with our intimate conviction of the validity of vaccination, and secondly because some countries require that vaccination be made to enter their territories – as it's the case for the yellow fever vaccine in South American countries.
If you want to get vaccinated, do not wait too long to make a medical appointment with your GP or at a vaccination center for advice. Keep in mind that some vaccines require boosters from 1 to 3 months after the first injection, and others are not compatible by simultaneous vaccination (such as Tick-borne Encephalitis vaccine). Not to mention possible stock-outs!…
But first, keep calm: no sting at the first appointment. To start with, you need to explain your travel plan: according to what doctor will look at your health checks, and explain you all the possible side effects. Don't forget to raise these questions: What countries are you going to visit and what are the recommendations to know in terms of health? Are you up to date in your vaccines? How many injections and time are needed to be fully immune? What are the side effects?
Vaccines that we have done
For your information, we have carried out the following vaccines (prices practiced in France by Pasteur Institute in Paris in 2016):
• Hepatitis A (Vaqta 50): 50€
• Hepatitis B (Engerix B20): 18,50€
• Diphteria-Tetanus-Polio-Pertussis (Repevax): 27,62€
• Typhoid Fever (Typhi VI) : 55€
• Japanese Encephalitis (Ixiaro): 210€ for 2 injections
• Tick-borne Encephalitis (Ticovac): 120€ for 2 injections
• Rabies (Pasteur Institute vaccine): 165€ for 3 injections
If we do the math, it's almost €600 spent each in vaccines.
At the start this big investment seemed useful to us, but with the benefit of hindsight, we think that some vaccines (Tick-borne encephalitis, Japanese encephalitis) were not very useful since we did not travel through (yet) in risk areas…
If you are unsure about visiting risk areas, then do not rush into a useless vaccination process: you will still be able to get vaccinated abroad, in a suitable vaccination center.
Prepare an effective First Aid Kit
Being protected is good, traveling equipped is better! And to prepare a good First Aid kit (without being too heavy with superfluous treatments), get some advices from your GP.
For your information, here is the list of medicines we took for our trip (reconditioned in small plastic bags identified and with their leaflets):
Treatment of mild to moderate pain and / or fever: take it in the form of capsules, because soluble powder can be difficult to use if there is no drinking water nearby… and in general, Paracetamol is better preserved than aspirin!
Help for difficult digestion
Antibiotic broad-spectrum, to be taken only in case of serious infection such as suspicion of malaria and on medical advice…
Disinfectant spray, to prefer to a iodine solution which does not keep very long after opening.
Always useful in case of small injuries: cuts, rubbing, blisters…
Used as deodorant, anti-stain, cleaning properties for fruits and vegetables, and many more!…
To be added optionally according to the places in your list:
Anti-malaria. It's the only medicine on the list that was not covered by our Health Insurance. This drug is often prescribed in prevention, 1 tablet per day from the day before departure in the risk zone and up to 7 days after leaving the hazardous area… an incredible amount of chemicals and a huge cost for the traveler! We advice you to discuss this with your GP and eventually use this treatment in a curative way: 4 tablets / day for 3 days – for adults over 40kg.
Used for water disinfection
Useful for the night, if you don't carry a tent! During the day, we advise you to wear long sleeves clothes and light pants, and as a last resort use an anti-mosquito spray – to limit the contact of your skin with harmful chemicals!
A tool that comes in the form of a small lever, to remove ticks from the skin. Get a medical appointment after the tick removal: some ticks carry serious diseases, such as Lyme disease.
To use in first intention after a snake's bite in order to suck out the maximum of venom. In any case call an ambulance to take the injured person quickly at the nearest ER!
Very important: we want to clarify that this list is not exhaustive at all! We have made the choice to not be burdened with drugs which will sooner or later expire and that can be found in any pharmacy (even in a small office lost in the depths of Kazakhstan). We have also chosen to not take mosquito nets, mosquito repellents and specific treatments such as anti-malaria, as long as we do not cross risk areas. When we will need them, we will make send them by air post!
Grandma's tricks to cure small aches
First of all, we would like to underline the fact that these tips will never replace the advice of a doctor: everyone must be responsible for his/her own health, and know how to distinguish between a minor problem and a situation that requires an expert's intervention. In case of doubt, fever, medication or acute pain, do not hesitate for a second to consult a doctor!
Sore throat (without fever)
Your throat tickles, your voice starts to get hoarse, you suffer from a dry cough (i.e. without mucus): an infusion of fresh ginger boiled for 10 minutes will certainly do you good! For more effectiveness, you can add salt and lemon juice to your infusion bowl. In the same style, try gargling with hyper-salty water: you should feel a quick relief!
Stuffy nose
In Asia, we bought a small jar of tiger balm: not only did the tiger balm prove to be efficient to relieve our aching muscles (after a long walk for example), but it also served us well to clear a stuffy nose!…
Insect bites (very itchy)
If you don't already have one, we strongly recommend that you use a natural alum stone. Used as a deodorant or hemostatic (to stop small bleeding), slightly moistened alum stone is also very effective in stopping any itching!
Sunburn
We've all been known to get sunburned because we weren't careful enough (especially at sea, where the sun's rays are reflected on the water!). To remedy a red skin and the unpleasant sensation of burning, nothing better than the application on the skin of aloe vera gel (or a freshly cut branch of aloe vera). Of course, before you get to that point, take all the necessary protective measures: covering clothes, hat and sunglasses, eco-friendly sun cream, etc.
Seasickness
Our first hitchsailing experience not only taught us the basics of navigation; it also taught us how to fight seasickness and nausea with a simple, natural remedy: ginger! As soon as nausea appeared in rough weather at sea, chewing a piece of fresh ginger made the symptom disappear. Good to know: ginger is also used to fight motion sickness, and you can find ginger powder caps in most pharmacies!
Health insurance
In Europe
In France, National Health Insurance covers people even after they lose their jobs, and only within French territory (under certain conditions). This coverage is extended to European Union countries thanks to the European health insurance card: this card can be easily obtained by simple request to your National Health Insurance system – if you're living in a European Union member country too!
Bank insurance
…and since this article is about health insurance, we are only going to talk about health insurance coverages with a bank card (loss of luggage is not a health risk, sorry).
Let's come back to our subject: VISA card holders can be covered, under certain conditions, in case of accident or illness requiring care up to 90 days after departure (by purchasing a transport ticket with their VISA card) or after the last financial transaction made in the country of residence (for travelers, like us, who do not have a transport ticket as proof of travel). And when we talk about conditions, at VISA, they don't joke with them: can be excluded from guarantees countries in conflict being subject of a notice by the Ministry of Foreign Affairs, practice of air sports, mountaineering or Scuba diving with a device, kilometer threshold… That's why it's better to call your financial advisor and/or VISA customer service to know all its guarantees – and not have any bad surprises during your trip!
Travel Insurance: option or need?
Our answer: a need! It's like having a home / car insurance, it's a certain sum every month but in case of a hard blow, like during my accident in Bosnia and Herzegovina… We are glad to have it! You should also know that the majority of travel insurances have a civil liability guarantee, which covers you if you cause damage to others. Get in touch with an advisor and remember to end your own liability insurance contract. Another point: some countries authorities may ask you for a certificate of insurance, as it's the case if you want to apply for an Iranian visa.
First, you need to clearly define your needs and planned activities during the trip: Travel by bicycle? Diving lessons? Bungee jumping? Trip to the moon? And do not hesitate to ask all your questions to different insurers: as my grandmother would say, a wise man is worth two! If you are lazy, you can also find comparative "Insurance World Tour" already available on Internet: these are good bases to help you in your choice, but be careful with conditions and rates which are not always updated…
For our travel, and after testing several different insurances during our trip, we are happy and totally fine to recommend CHAPKA Insurance (french insurance) and True Traveller Insurance (British insurance, with no time limit). Don't hesitate to check their options for your future travel!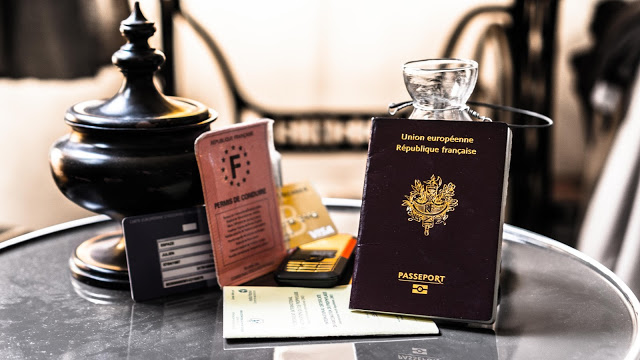 More about the necessary steps to get ready
for a long journey
* Post written according to our personal experience *