There are so many islands and islets in Croatia: say in a simple way, choice for visiting are endless! And to have visited some of them, we have to say that Croatian islands are all appealing… Choice is going to be difficult! For us, the opportunity to put our bags down in Orebic led us to visit the Peljesac peninsula and Korcula island. This small detour in our route plan was well worth it: a quieter destination, but just as fantastic!
---
Orebic, between sea and moutain peaks
We have to tell the truth: Orebić did not have much to offer according to us – apart from the pedestrian promenade along the port, the Franciscan monastery and small churches in the western part of the city (a place where you can have, by the way, an exceptional panorama of the Adriatic Sea and Korčula island).
So, if you are looking for the exceptional side, it's not in Orebić that you should walk but rather on the hiking trails leading to Mount Ilija – a 961m high peak overlooking the tip of the Pelješac peninsula. No lie: the breathtaking view between sea and mountains will cause some wonder and thrills (don't forget to take a proper equipment and bring enough water: accidents, even if they are very rare, can be fatal!)
If you are not addicted to hiking, don't worry: there are plenty of things to do while exploring the surroundings, such as visiting wineries producing the famous red wine Dingač or discovering the Spila Nakovana cave!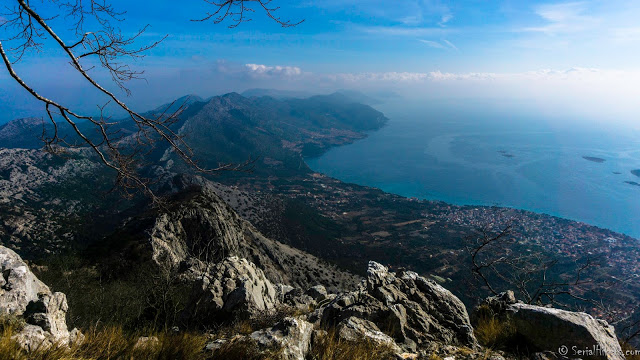 Useful information:
Trail: Mount Ilija hiking from Orebić
signposted path ~ 16 km
Duration: approx. 6 hours
Difficulty level: intermediate

Visit of the Korcula city
There was no way to miss the visit of Korčula, this fortified city built on the island of the same name: according to locals, the great explorer Marco Polo was even born here! From Orebić, a pedestrian ferry takes visitors to the island in 20 minutes.
Once arrived in Korčula, nothing could be simpler: we let ourselves be guided by the multiple paved and sloping alleys of the old city, between the main gate and Saint Mark Cathedral, then we went up via ulica 45 to admire the view on Korčula.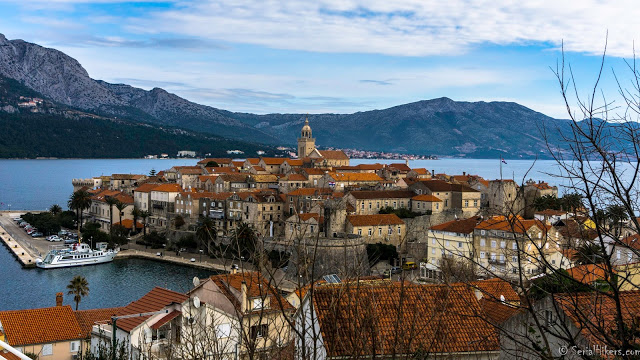 When our stomachs started gurgling, we bought some pastries and picnic food (burek, sandwich, desserts) and we sat down in front of the sea, on a pebble beach… A great lunch, lulled by the waves sound and water tickling our feet, facing the peninsula and Mount Ilija we hiked the day before!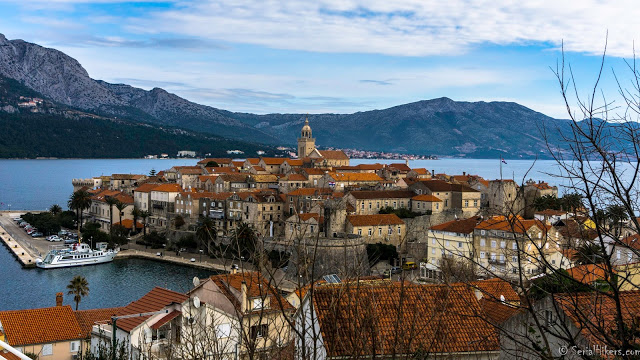 More about Croatia
* Post written according to our personal experience *