Are you also interested to travel alternatively and connected? Perfect! Here is our list with the best applications for an alternative travel – that we now use daily. And good news: most of them have an offline access!
---
Important notice!
– Follow the "wifi" symbol ( – wifi) to know if the application needs an Internet connection to work!
– Before you leave, make sure to make room on your smartphone and download applications that interest you (some are no longer available for download in other countries)
Travel guide
Triposo
Pro(s)
A good discovery, neat and intuitive application! Good point for "near by" option that list things to see around, "background" that allows you to know more about local culture, history, art, nature and animals than we can observe in the country and "Tools" option that allows quick access to the weather, exchange rate (need an internet connection) and some basic words / phrases. A good alternative to paid travel guide books in e-book format!
Con(s)
You need to install each application for the concerned country and remove the old installed Triposo ones to make room (very heavy applications)
Maps
Maps.me
Pro(s)
This is our reference: a super detailed application, even drinkable water springs are indicated! Another good point: the possibility to download and delete maps when they are not needed anymore to make room.
Con(s)
As good hikers we find it unfortunate that this application doesn't include the concept of altitude as reliefs, plateaus, slopes (the only given altitude is the peak's one). Offline direction and route calculation is also very bad, with over-estimated / underestimated driving or walking time…
iOverlander
Pro(s)
Application created by some backpackers, for the backpackers: best wild camping spots, public toilets, free wifi, comments on the state of the roads and other details left by users for the community!
Con(s)
Remember to download map of the area as soon as you have an Internet connection to see it offline!
Citymapper
Pro(s)
Very practical, we can search the best route with all existing means of transport in big cities like Paris, London, Madrid etc. The search, performed during a connection, can be saved and available offline. For having tested it in Paris, Citymapper indicates exactly where to place yourself in the subway track (front / middle / behind) to not miss the right exit or the correspondence with another mode of transport!
Con(s)
We wish there are more cities on this application!…
Wikiloc
Pro(s)
Created from the online wikiloc database, this application allows you to download maps and hiking routes offline, either by typing the desired route or by clicking on the option "List" to have all routes available or the nearest on a map. Possibility to enrich the database by creating your offline routes, via your GPS and photos (need to be downloaded on the site with an Internet connection)
Con(s)
Registration mandatory to access the data. Some maps lack of precisions (lack of GPS accuracy of the user who has shared his/her route)
Others
For maps, there is also Google Maps that can be downloaded offline by zooming precisely on the places of interest, as well as Here from Nokia and NavMii (offline navigation system) applications for van or motocycle drivers!
Alternative accommodation
Trustroots
Pro(s)
Awesome alternative to Couchsurfing.com 100% free with a stricter registration rule: you must be invited by another member of the community to have access to all the database! The Interface is fantastic: list of potential hosts available on a map (through "search" menu), filters by "group of common interest" (hitchhikers, vegetarians, cyclists, musicians, etc).
Con(s)
The advantage of filtering member registration turns to one big disadvantage when it comes to find a host: Trustroots community is not yet developed around the world…
Couchsurfing (paid network)
Pro(s)
Well done interface with a useful summary in the homepage (reference requested / next hosts / nearby events) and filters that, if they are used, allow you to find hosts that best meet your interests (1 or several people to host, active member, with references). This app also sends a notification as soon as a member answers which is very convenient!
Con(s)
Since May 14, 2020, CouchSurfing has required its members to pay for access to the site – a real blow to the community we're part of, helpless against the measures taken by this now for-profit company.
Others: BeWelcome and Host a Sister
Although there is not yet an application available for this hospitality network, BeWelcome.org aims to bring together travelers and hosts from all over the world to form a democratic community, based on free mutual aid.
Another alternative that is developing quickly is Host a Sister network (Facebook group and website). As the name suggests it, this network is exclusively for women – although most hosts also accept couples.
Volunteering missions for free accomodation
Recently, Workaway has released a mobile application – handy for searching for volunteer missions nearby!
This application complements the offer of volunteering websites that come with an application, such as Woofing Australia and Worldpackers (free download, registration fee of $49/year/person to contact hosts).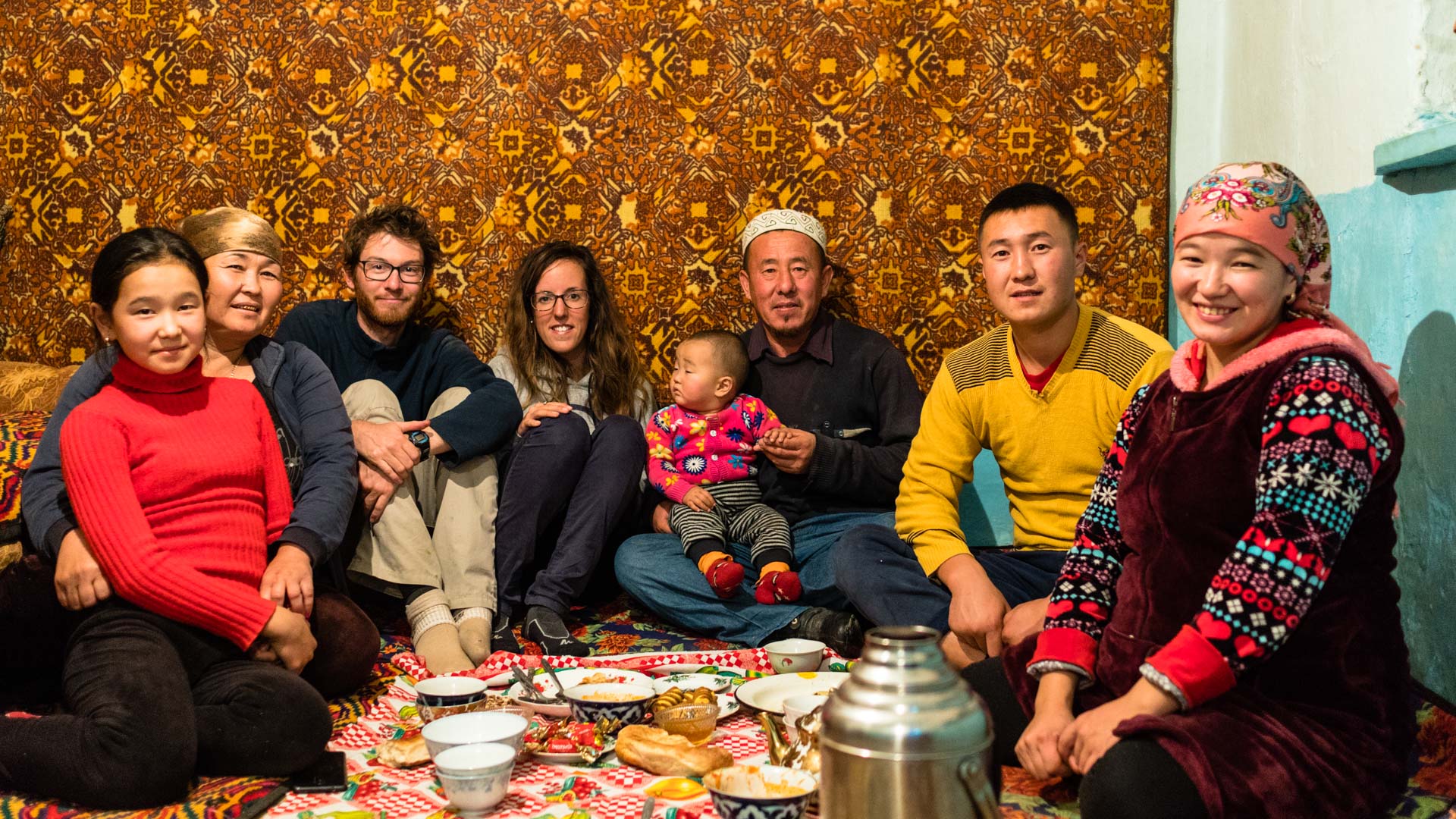 More about all alternatives in place to be hosted by locals
Translation
Linguee Dictionary
Pro(s)
Huge fans of the website www.linguee.com for our French – English translations, this app did not disappoint us: a reliable translator and available offline!
Con(s)
Translation is limited to major languages such as English, French, Spanish, German, Russian… And designed to translate only words by providing different translations depending on the context. Difficult to translate big sentences!

Google translation
Pro(s)
Basic dictionary, available in several languages (each dictionary has to be download in the application with an Internet connection) and very useful for everyday life (simple discussions, specific requests). Translation of whole sentences possible. Ability to delete dictionary(ies) in the application when there is no use anymore. Connected to a wifi, application can translate an entire text by taking a picture!
Con(s)
Lack of reliability in the translation. Some languages (such as Lao) are not available offline.
Others
WordReference (based on the same name website) remains in our opinion the best tool available for the words translation. Unfortunately, it only works with Internet and doesn't translate sentences…
Communication
To communicate with your friends in a foreign country, it's better to travel with online messaging applications – which avoids expensive calls and SMS! On the other hand, not all countries use the same application… If Whatsapp and Messenger are spread all over the world, Viber is the most used application in the Balkans, Telegram the most used in Russia and Iran, Imo in Central Asia and WeChat the only one used in China! You can also find all our advice for calls / SMS on our post "Traveling preparation guide".
Learn a new language
Duolingo
Pro(s)
Very well designed application to learn the basics of a language, with several levels of learning available according to one's own knowledge, reminders in the form of notifications to maintain a certain regularity of learning and voice mode that allows you to hear the correct pronunciation of the words.
Con(s)
Big doubt about the usefulness of some words learnt from the app (eg, the word "wiper" in Russian for a beginner). Another negative point: this application doesn't make you practice the language at all! Also you need to download all necessary keyboards with a different alphabet to progress in the application.
Other applications
We tried other applications such as ItalkI, HelloTalk and Tandem on some users' advice. The principle is based on a free language exchange between two members, which on paper promised to be really great! But after a few days, big disappointments: language courses with some male users turned to a dating offer, and time spent on these applications was too huge with a little progress observed… These apps were quickly removed from my phone! At the end, nothing is better than learning a language directly with locals!
However, if you want to improve on your side, you can find free courses on Youtube by tiping "Michel Thomas" or "Assimil". For having tried "Michel Thomas" courses of basic Russian, I enjoyed its interactive side with breaks to be able to assimilate, repeat the new words learned or build simple sentences.
NOTE: There are other applications to learn a language, but paying. Their name are Babbel, Memrise or Busuu.
Traveler's tools
How to find a free WiFi: WiFi mapper
Pro(s)
Great application to connect to all open WiFi and protected networks whose passwords has been shared by the community (restaurants and bars WiFi) Opportunity to enrich the database by sharing passwords protected networks.
Con(s)
Must be logged on the application before you can use it during a city tour, to spot all the hotspots shared by the community…
Find a drinking water spring or distributor: Refill my bottle
Pro(s)
Very good alternative to find a spring of drinking water nearby! Just activate your GPS and find out on a map the nearest distributor (free or paid).
Con(s)
This application doesn't work offline, which is a shame… Another negative point: you have to create an account (that is to say, give some personal information such as surname, first name and email address) to access the application… Not very ethical to share this kind of data to just spot drinking water sping/distributor!
Convert your currency: Currency
Pro(s)
Very practical application, especially for doing accounts and converting expenses. This application contains all possible currencies!
Con(s)
Conversion rate is not automatically updated, we must remember to manually refresh as soon as a WiFi is available.
Free VPNs
Using a free VPN enables us to connect to state-blocked websites, both from our phones and computer. Unlike other VPNs, there are no data restrictions with Turbo VPN, Thunder VPN, VPN Proxy Master and Psiphon (Mobile) / WindScribe and Psiphon (computer). Our advice: you should install several VPNs, because it happens frequently that some VPNs are also blocked time to time…
Scan your documents: CamScanner
Create an official PDF document with a smartphone is now possible thanks to this miracle application: just take a picture of the document with your phone, crop sides of the image taken that you don't want to find in the final document and in one click, your PDF document is ready, as if it had just been scanned! This application also allows you to send this document by email, bluetooth, messenger or MMS.
Share expenses: Tricount
For trips or outings with friends (or couples), Tricount application allows you to enter all expenses made and balance amounts according to the number of participants. You can enter the name of participants, how many participants, how to share an expense (who participates or not), person(s) who pay money in advance for the group… And finally, this application calculates everything and tell you "who owes money to whom"!
Store your essential documents: Google Drive
Before leaving, we scanned and stored all our essential documents on Google drive: this digital cloud can help travelers in case of loss / theft of identity documents for example. Very practical, Google Drive application on smartphone allows you to have a quick access to all the files and consult them or download them offline. On our Google drive there is also a Google sheet file, where we put our daily expenses and allows us to have an overview on how we spend (automatic calculation of expenses per day and per person, costs by category expense, different spreadsheets per country, etc).
Take some notes: Google Keep
Our stick-note tool that allows us to write everything offline. The main advantage is that your notes are synchronized with your personal Google account: if a serious malfunction of the phone occured, your notes are saved!
Hitchhiking
My hitchhiking spots
Pro(s)
Application linked to the reference site for hitchhiking, hitchwiki.org! Working on the same principle as wikipedia, users can add their hitchhiking spots and update the database. This gives a lively database, full of useful information and advice, with real feedback and an estimate of average waiting time. Application only available in English. Maps of hitchhiking spots to be downloaded in advance.
Con(s)
Non-intuitive application: difficult to understand first how it works, how and where to look for information, where to add a new one… Also, risks are high that spots provided on the map are not up to date.
Other applications
We downloaded and tried several other applications for hitchhiking (almost all those available on Google playstore including the keywords "hitchhiking", "hitchhiker" or "autostop"). None of these applications pleased us for the following reasons: obsolescence of the application (not updated), bugs, creation of a mandatory account to access data, difficult use of the application or impossibility of reading the spots advised on a map.
* Post written according to our personal experience *