Reputation of Turkish gastronomy is well established: rich, varied and tasty, Turkish recipes have kept their Asian roots while adapting to locally grown products – sun-filled fruits and vegetables from the Mediterranean region. What if today we took some food inspiration from Turkey?
---
Before presenting some Turkish recipes, we would like to remind you that as vegetarians, we prefer to give vegetarian alternatives to traditional meat dishes. We would like to thank our hosts again for the time spent cooking good food, and sharing these recipes with us. Afiyet Olsun!
Turkish breakfast
The traditional Turkish breakfast is one of the most hearty and healthy we have ever eaten. Usually composed of tomatoes, cucumbers, olives, cheese, traditional tea or coffee, breads or pitas and cooked eggs; some Turks do not hesitate to complete the breakfast table with homemade jams, honey, tahini (sesame paste)…
In Van, in the east of Turkey, breakfast is like a huge buffet! From our point of view, this kind of gargantuan breakfast is more than enough to feed one person for the day!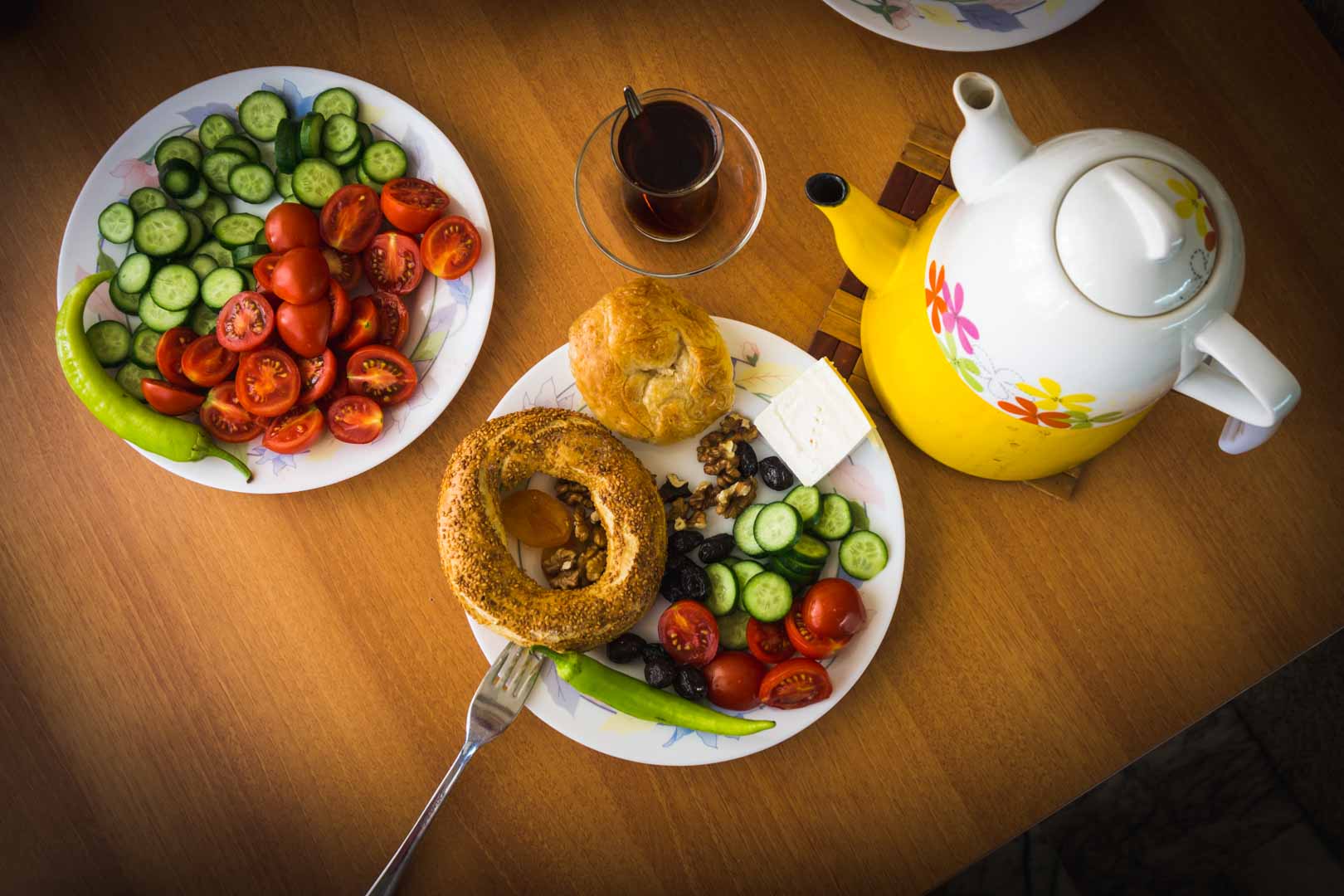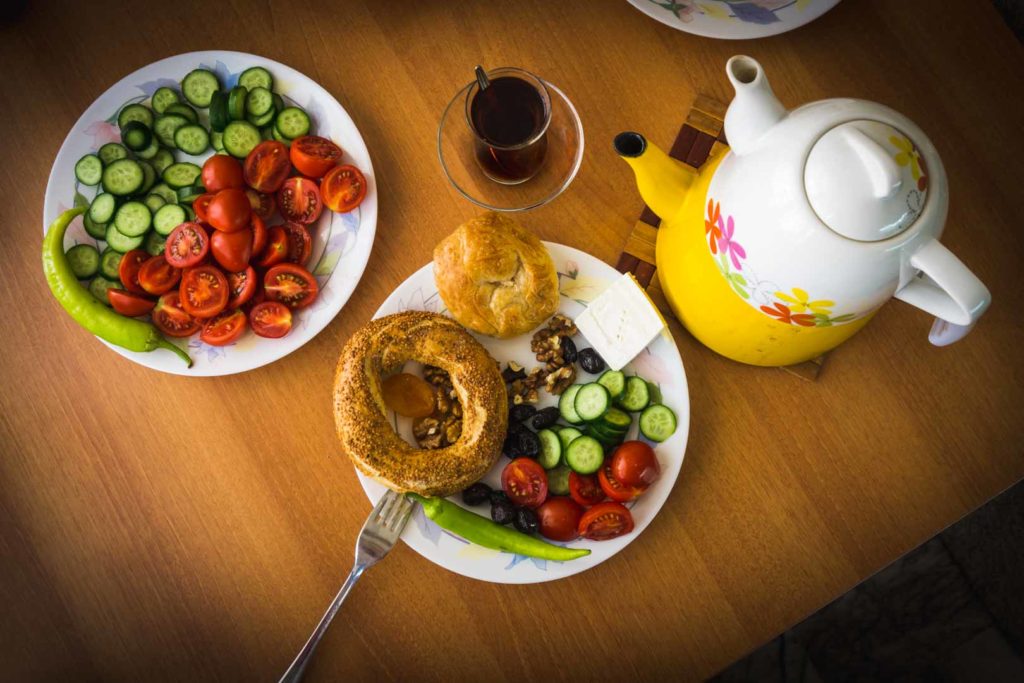 Breads and pitas
Spinach Börek – 4 people
– 500gr fresh spinach
– 1 onion
– 1 big bell pepper or 2 small (red and/or green)
– 100gr cottage cheese
– salt, pepepr, 10 dill sprigs
– filo pastry (see recipe of Burek)
— Cut the spinach, onions and bell peppers into small strips and put them in a salad bowl. Season with salt and pepper and sprinkle with fresh dill. Add the cheese. Spread the dough on a clean cloth and brush it with olive oil. Spread some of the mixture over the entire width of the dough, so as to form a long roll. Roll the dough over the ingredients previously laid out, and cut the dough when these are no longer visible. Place the roll in a mould to form like a snail. Repeat until all ingredients and dough are used up. Place in the oven at 250°C for 10-15 minutes and serve warm!
Small turkish breads
– 100gr of flour
– 1 egg
– 10cl of water
– 1 yoghurt
– a pinch of dry yeast
– 1 teaspoon of salt
– 1 teaspoon of lemon juice
— In a bowl, mix all the ingredients and leave the dough to rest for at least 10min. Then spread the dough and form small balls. Fry each ball in a pan of boiling oil. Enjoy your warm pides for breakfast!
Pogaça, stuffed buns – 4 people
– 1 egg
– 300gr of flour
– 100gr of grated carots
– 100gr of feta cheese
– 250gr yoghurt
– fresh dill
– 1 tablespoon of olive oil
– salt, dry yeast
— Mix all the ingredients in a bowl to form a dough like a bread dough. Leave to rest for 10 minutes, then take a piece of dough, of the size of your palm, and form a Pogaça by kneading the dough in your hand (desired shape: oblong). Place your Pogaças on a baking tray and coat the top with egg yolk (optional). Bake at 200°C for 25/30 minutes.
Other types of bread/pita
Pide: turkish pizza
Lahmacun: the most traditional pide, usually served with arugula, parsley and salad
Gözleme: thick pita bread
Bazlama: turkish pita
Simit: a kind of bagel that can be found everywhere on the streets, from street vendors…
Boyoz: small borek from the Izmir region, eaten with a boiled egg sprinkled with salt, pepper and chilli pepper
Kumru: a kind of boyoz, stuffed with tomatoes and feta cheese
Drinks
Turkish-style tea
As tea lovers, we were not disappointed by the Turkish tea! To prepare this black tea, you will, of course, need a 2-compartment Turkish teapot. In the lower pot, boil water. Once the water is boiling, transfer it to the upper part and refill the lower pot with water. Add 2 to 5 tablespoons of black tea (depending on the desired strength) to the upper pot. The tea is ready to be served when all the tea leaves fall to the bottom! And don't forget to dilute your tea with the hot water from the lower pot!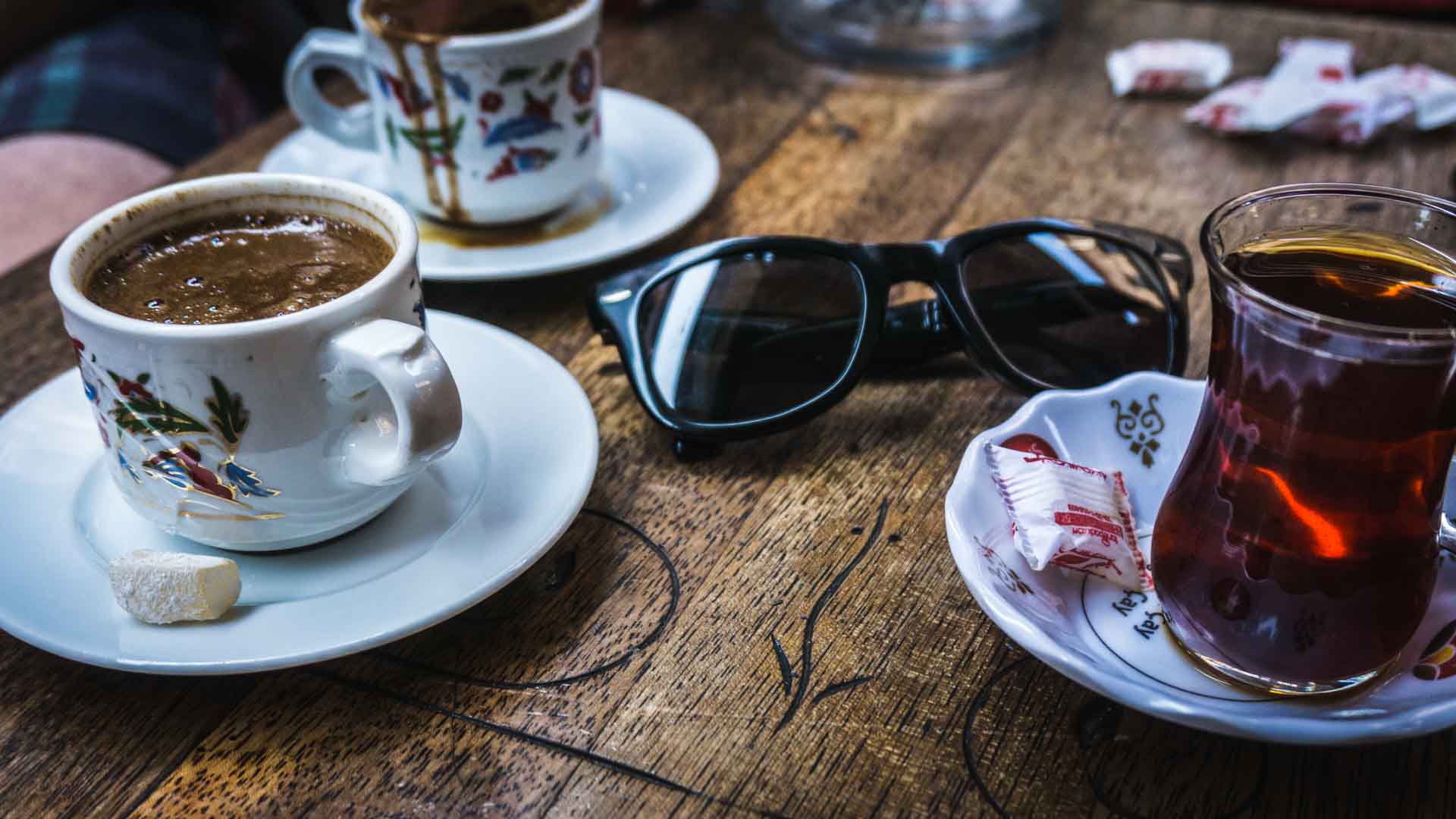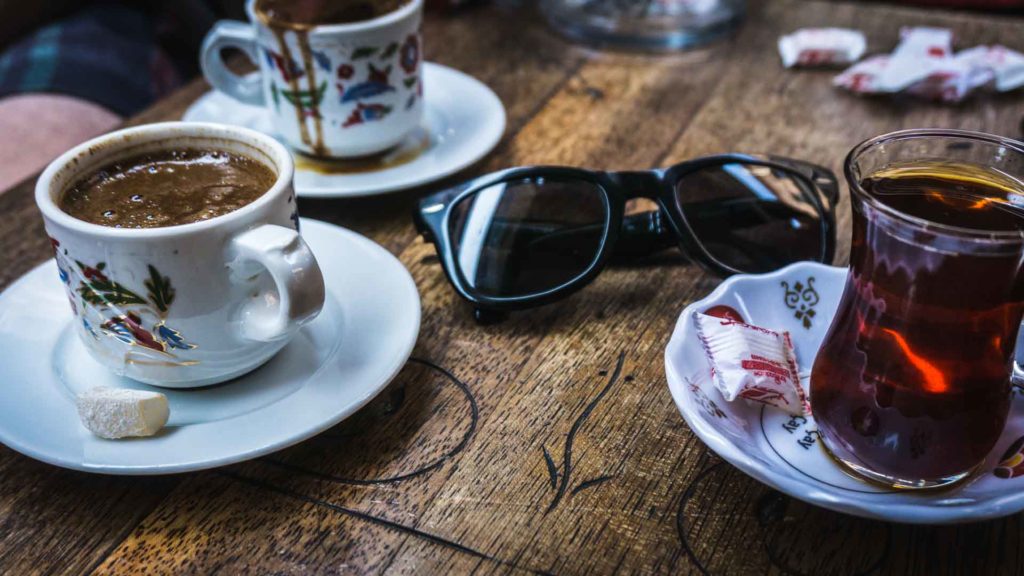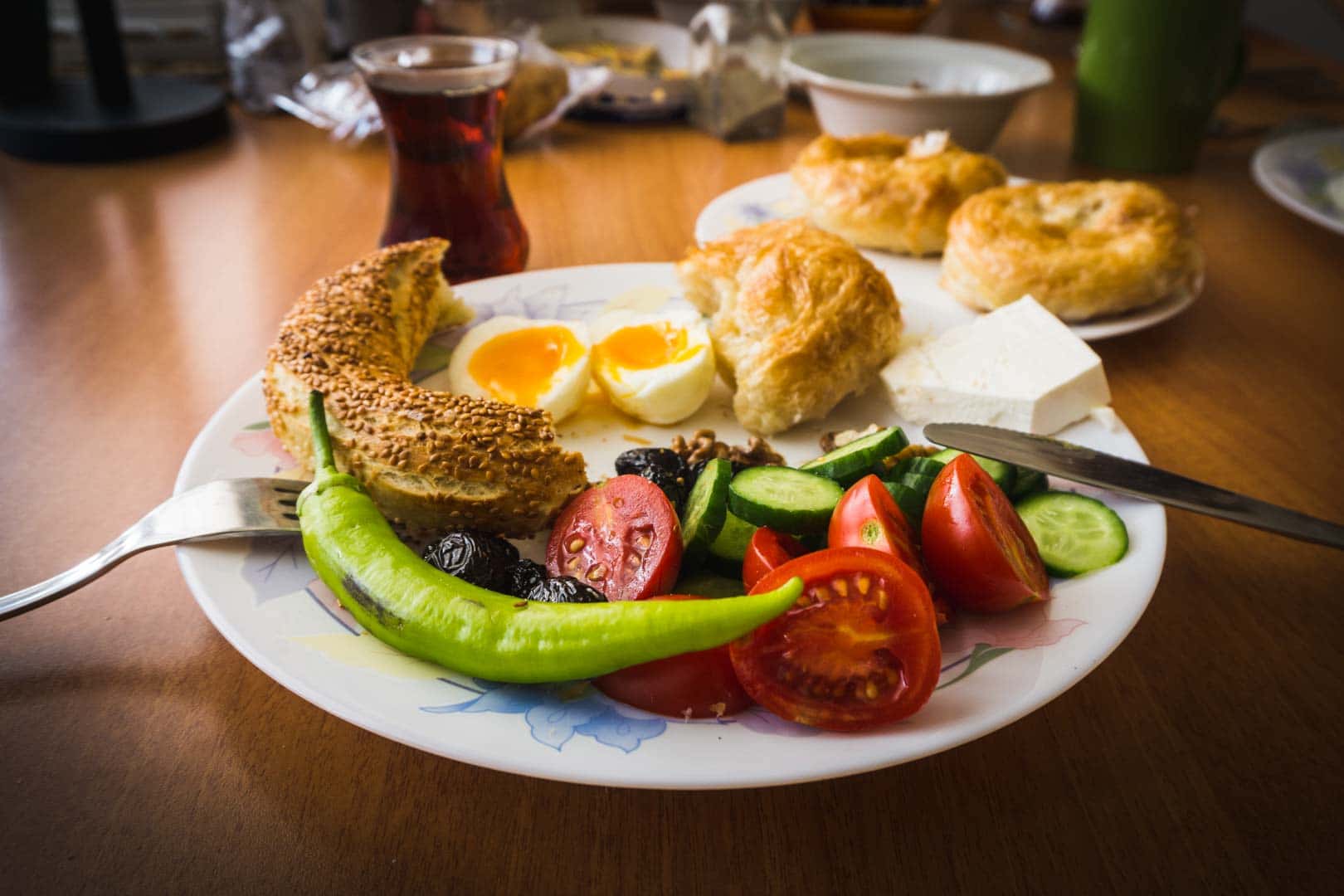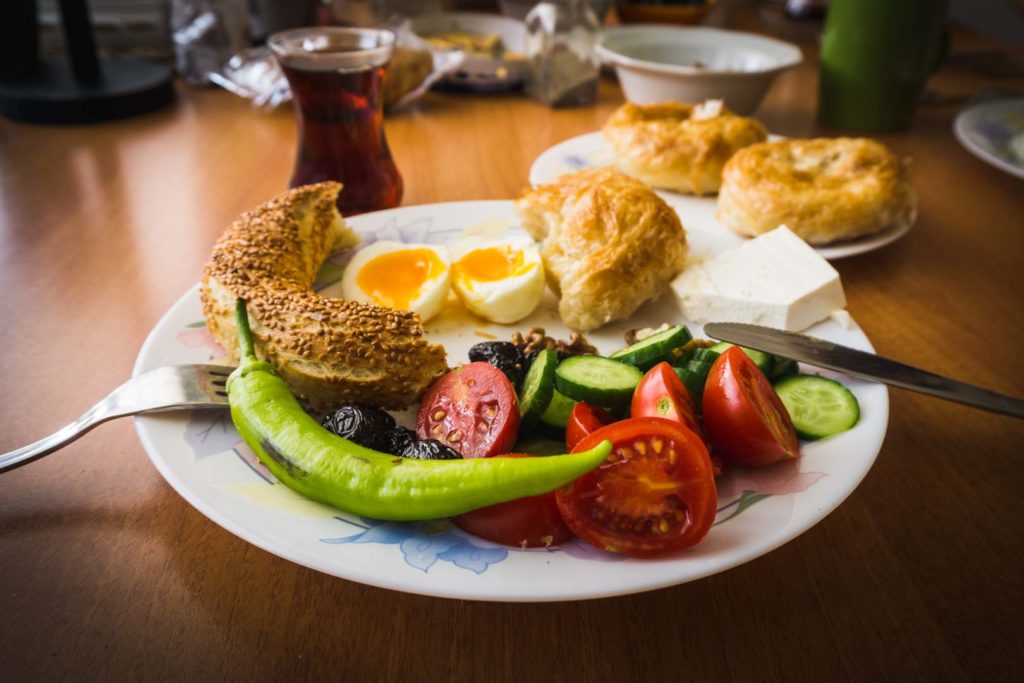 Other typical drinks
Rake: an anis-flavoured alcoholic beverage, similar to Greek ouzo
Salgam: black carrot (or beetroot) drink, macerated in vinegar. Salgam is often drunk with rake!
Ayran: yoghurt-based milk drink, to used to be drunk at every meal
Turkish dishes
Turkish bulghur (Kısır) – 4 people
– 2-3 onions
– 1 can of tomatoes paste
– 400gr bourgour
– salt, pepper
— Fry the sliced onions in a pan with a little olive oil. When onions are brown, add 5 to 6 large wooden spatulas of tomato paste. Add the bulghur: for 2 portions of bulghur, add 5 portions of water (respect this quantity). Season with salt and pepper. Boil and stir from time to time. When there is only a small amount of water left, cover the pan with a cloth and leave to stand until serving.
Vegetarian menemen (turkish omelette) similar to Shakshuka in Middle East – 4 people
– 2 big onions / 3 medium-sized
– 2 bell peppers
– 5 big tomatoes / 6 small ones
– 15 mushrooms
– 6 eggs
— Cut onions, peppers and mushrooms into small pieces. At the same time, remove the skin from the tomatoes and grate them to obtain a juice. Fry the onions in olive oil in a frying pan, then add the peppers and mushrooms. Leave to cook for 5min then add the tomato coulis. Season to taste. Finally, break the eggs directly in the pan and mix everything together. Cook the omelette and serve the menemen hot!
Dolma, vine leaves stuffed with rice – 4/6 people
– 2 onions
– 150gr white rice
– 1 can of tomato paste
– sprigs of dill, mint and fresh parsley
– olive oil
– 250gr vine leaves (to rinse and drain)
– 1 lemon
— In a saucepan with olive oil, brown the onions cut into strips. Add the rice and water until the level completely covers the rice. Boil until the rice is half cooked (about 8-10 minutes), then leave to cool. In a bowl, mix together: 3 tablespoons of tomato paste, 1 tablespoon of olive oil, the finely chopped dill, mint and parsley sprigs, and the cooled rice and onion mixture. Salt and pepper the preparation. On a well-opened vine leaf, place the equivalent of a teaspoon of the mixture, fold each side of the leaf over your preparation and roll it up like a cigar. Place all the dolmas at the bottom of a pot. Add water until it covers the whole, and simmer for at least 40 minutes on low heat (add more water if the level becomes too low). Squeeze a lemon over the dolma before serving!
Other dishes
Sucuk: spicy sausage
Tarhana: made in large quantities, dried becomes flakes or powder, potted for the whole winter. When we want to eat it, we put it in water and it makes a spicy tomato soup!
Kelle pasa: butter and beef (offal) soup, speciality of Antalya
Mantı: kind of Turkish ravioli, served with a tomato coulis and yoghurt
Kuymac: cheese and cornmeal fondue, Trabzon's speciality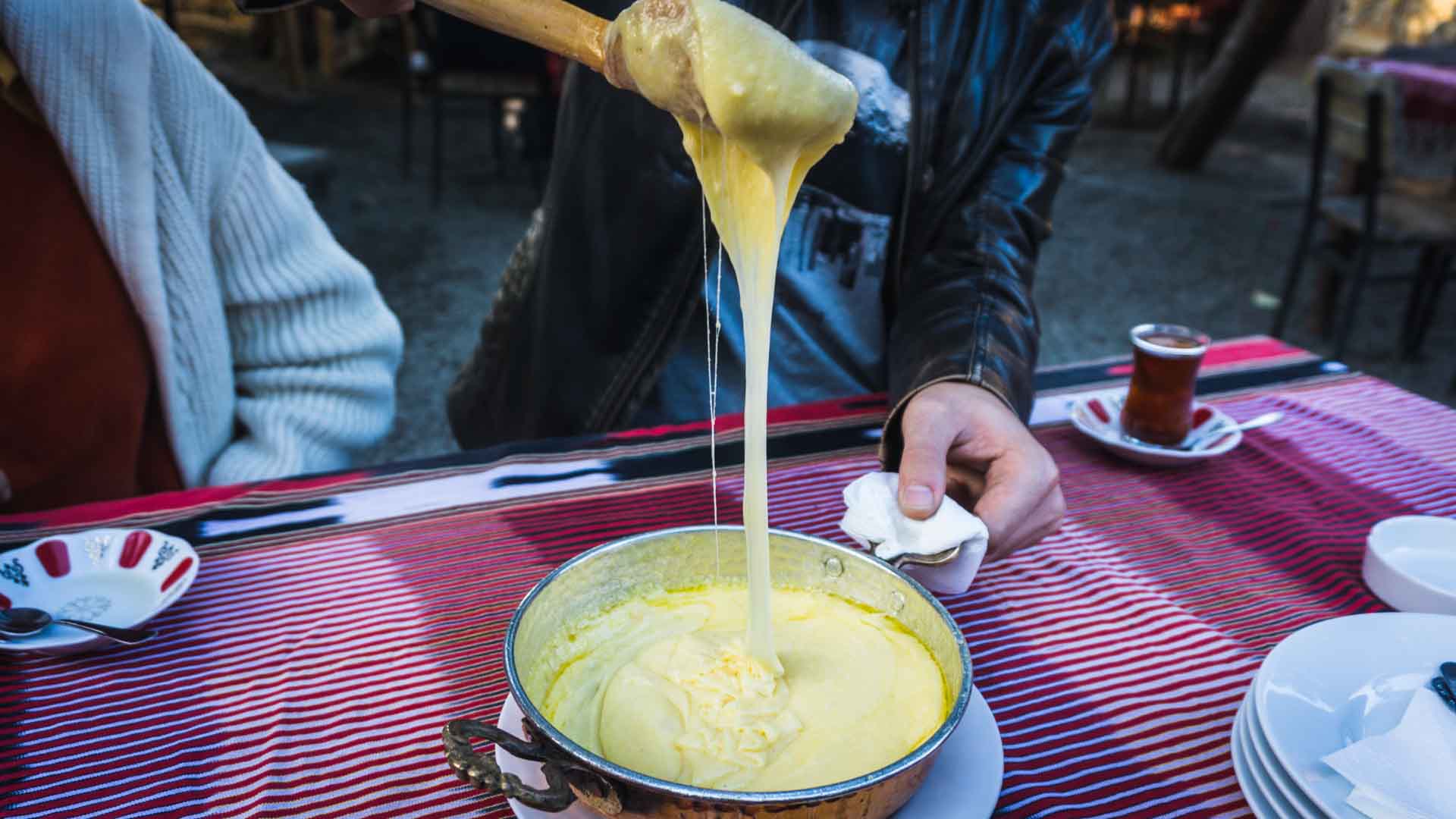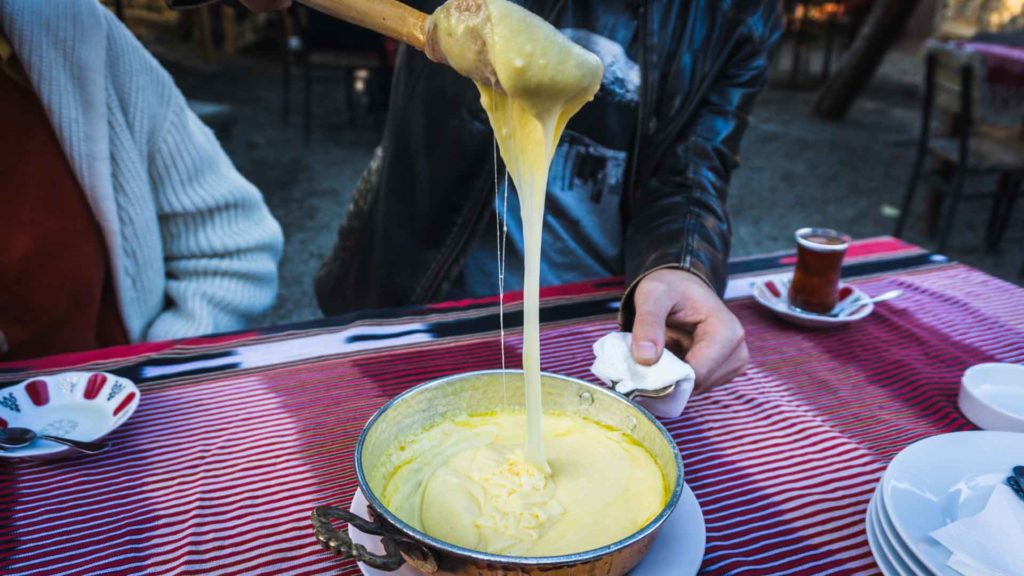 Desserts
Kabaktak tatlısı – pumpkin dessert
– 1/2 pumpkin
– Cinnamon powder, cloves
– 2 tablespoons of brown sugar
– water
— In a round pie tin, place a layer of sliced pumpkin. Scatter a few cloves, powdered cinnamon, and sugar on top. Add a glass of hot water and bake in the oven at 180°C.
Baklava – dessert with honey
– 500gr of crumbled walnuts
– filo pastry (see recipe of burek)
– 200gr of sugar
– 1 glass of water (25 cl)
– 12,5cl of honey
– olive oil
– cinnamon powder
— In a rectangular baking dish, spread olive oil with a brush. Place two sheets of filo pastry at the bottom of the dish, previously cut to the size of the dish. Coat with oil, then place a layer of crumbled walnuts and sprinkle with a little cinnamon. Put two sheets of filo pastry back on and repeat the operation until all the ingredients are used up. For the last layer, place up to 6 sheets of filo pastry. Pre-cut your baklava with a knife, creating 4 columns across the width and 8-9 rows diagonally. Bake for 50 minutes at 180°C, until the baklavas are golden brown. At the same time, bring the sugar and water to the boil. Lower the heat, add the honey and simmer for 20 minutes. Cover the baklavas with the syrup. Serve cold!
Other desserts
Aşure: a kind of Turkish pudding made of fruit jelly
Katmer: very thin, buttered and crispy pastry, a speciality of Gaziantep. The most popular is a pastry filled with thick cream and pistachios!
Lukum: confectionery made from starch and sugar, flavoured and sprinkled with icing sugar
Did you like these dishes?
At the end of the meal, don't forget to compliment the cook in the Turkish way: Elinize sağlık! (Health on your hands!)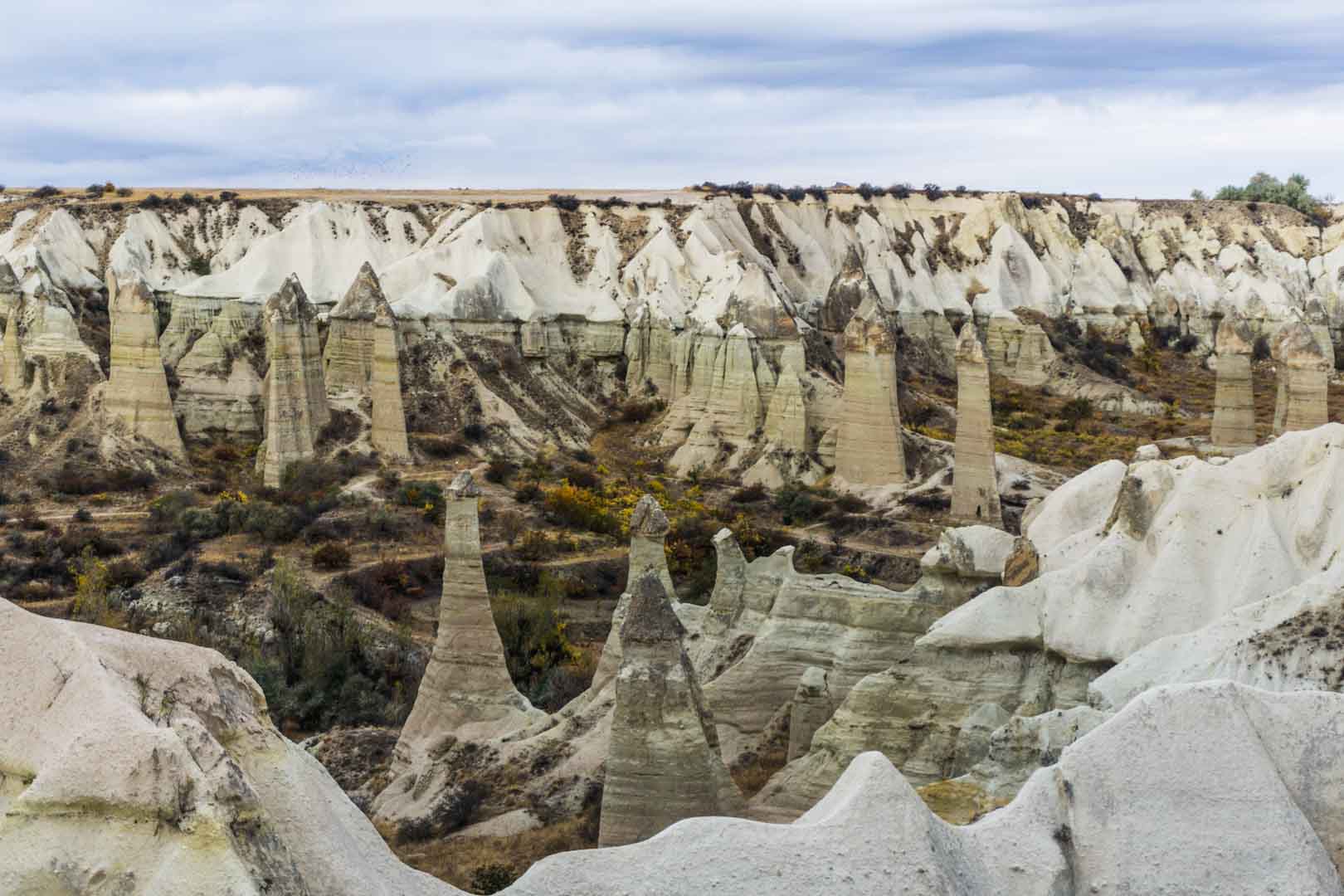 More about Turkey
* Post written according to our personal experience *