When we went to Laos by land with our French passports, we hadn't taken any steps to make our visa for Laos in advance: indeed, it is quite possible to get your visa directly at the border – which is a big saving in time, energy and paperwork!
---
Open border posts
At the time we are writing this post (January, 2019), there were 7 open border posts to tourists to go to Laos from Vietnam:
In North Vietnam
Tây Trang (Vietnam) / Sop Hun (Laos)
Na Mèo
Nam Can (Vietnam)
In Center Vietnam
Cau Treo (Vietnam) / Nam Phao (Laos)
Cha Lo (Vietnam)
Lao Bao (Vietnam) / Davasan (Laos)
Ngọc Hồi – Bo Y
As were traveling in the North Vietnam, near Tam Coc and Mai Chau (places that we highly recommend!), we logically choose to cross the Vietnam-Laos border at the nearest border post, which was for us Na Mèo.
Border post at Na Meo
Before crossing this border, we sought recent and relevant information about the conditions at the Na Mèo border crossing. We learned that:
This border post is open every day from 7:30 a.m. to 4:30 p.m. (approximate timetable)
Lao customs officials appear to be particularly corrupt…
By a happy coincidence, we found a Vietnamese driver the day before we entered Laos to drop us off at Quan Son, a Vietnamese town 50 kilometers away from the border. We spent the night there, before going on a particularly long and trying day… To begin with, we had to face big difficulties in hitchhiking: the few locals passing by this road all took the opportunity to sell us the ride ("Laos motorbike! Laos car! 10 dollars!"). We systematically refused, preferring to walk as far as possible, watching angrily these fake-taxis going away on a mountain road in bad condition. We thought we wouldn't make it in time, or that we would collapse from exhaustion in front of the customs officers after a very long walk – before, finally, 2 Chinese guys took us to the border!
At the Vietnamese border post, all clear: the customs officer in his office scanned our passports before stamping them, kindly asking us if we liked Vietnam. No tricks, no hidden bills – "You can pass"…!
Make your visa for Laos on the spot
At the Lao border post, a few meters away, it was a totally different atmosphere: if the customs officers speak good English, their welcome is rather cold. We were invited to fill in a questionnaire with all our personal information (identity, address, profession) and to provide a passport size photo. If you don't have a passport size photo on you, you can make one on the spot for 1$.
Once the questionnaire was completed and returned to the customs officers with passport and photo, the whole process was quick: in less than 5 minutes, each visa for Laos was ready, stamped and signed. As a precaution, we took one last look to verify the information accuracy on our new visa before paying…
What do we need?
Passport (with 6 months validity beyond the end of the stay)
1 ID or passport size photo
31$ US/person (unmarked notes): 30 US$ for the visa, and 1 US$ for the National Tourism Fund (since October, 1st 2018). Dollars are available in change offices, located on Hà Trung street in Hanoï
Lao customs officers in charge of visas will certainly find any excuse to make you pay more: for us, an extra 2 US$/person was asked because we crossed the border on a Saturday (weekend). While signs at the border did mention the cost of 1$/person for the National Tourism Fund (a rather obscure measure, put in place by the authorities since October 1, 2018) nothing was indicated for an extra during the weekend – as a reminder, this border post is officially open every day. However, when leaving Laos via the Cha Lo border post, we did see an official sign detailing all the extra costs to be paid – including a 1$ extra cost that applied to weekends and overtime (9am-4pm for this one) … But let's go back to our story: as nothing was mentioned at the Na Mèo post, we started a rather animated discussion with the customs officers. It was out of the question for us to contribute to any form of corruption (an attitude to be condemned everywhere in the world, regardless of the country's standard of living).
If we finally agreed to donate $1/person for the weekend supplement (which would be, according to the Cha Lo border official sign, a justified extra cost), we advise you to be aware of your rights and the amounts applied. If you don't want to give in, don't forget to stay calm and firm in your discussions. Also, important notice: the customs officers in charge of visas do not take care of the National Tourism Fund. To them, just give the right anount to be paid for the visa: you will be invited to pay the supplement for the National Tourist Fund at another counter further away.
On the other side of the border
Finally in order, our visa for Laos in the pocket, we ended up on a dusty track – indicated as a national road on our GPS! Far on the horizon, there was nothing more than a hilly landscape with tropical vegetation, wooden houses on stilts and fallow rice fields… No one to sell us a taxi ride, or to exchange our money on the spot!
Luckily, a Lao couple in a small truck drove us about twenty kilometers, dropping us off in a village where we could eat instant noodle soups, paid in Vietnamese Dongs. We had to wait until the next day to laboriously complete, after a night of wild camping by the river, the hundred kilometers to Sam Neua (the provincial capital) where we were able to withdraw our first local currency, Lao Kips. For the travelers who don't want to hitchhike, don't worry, we saw a mini-bus (very simple, but functional)!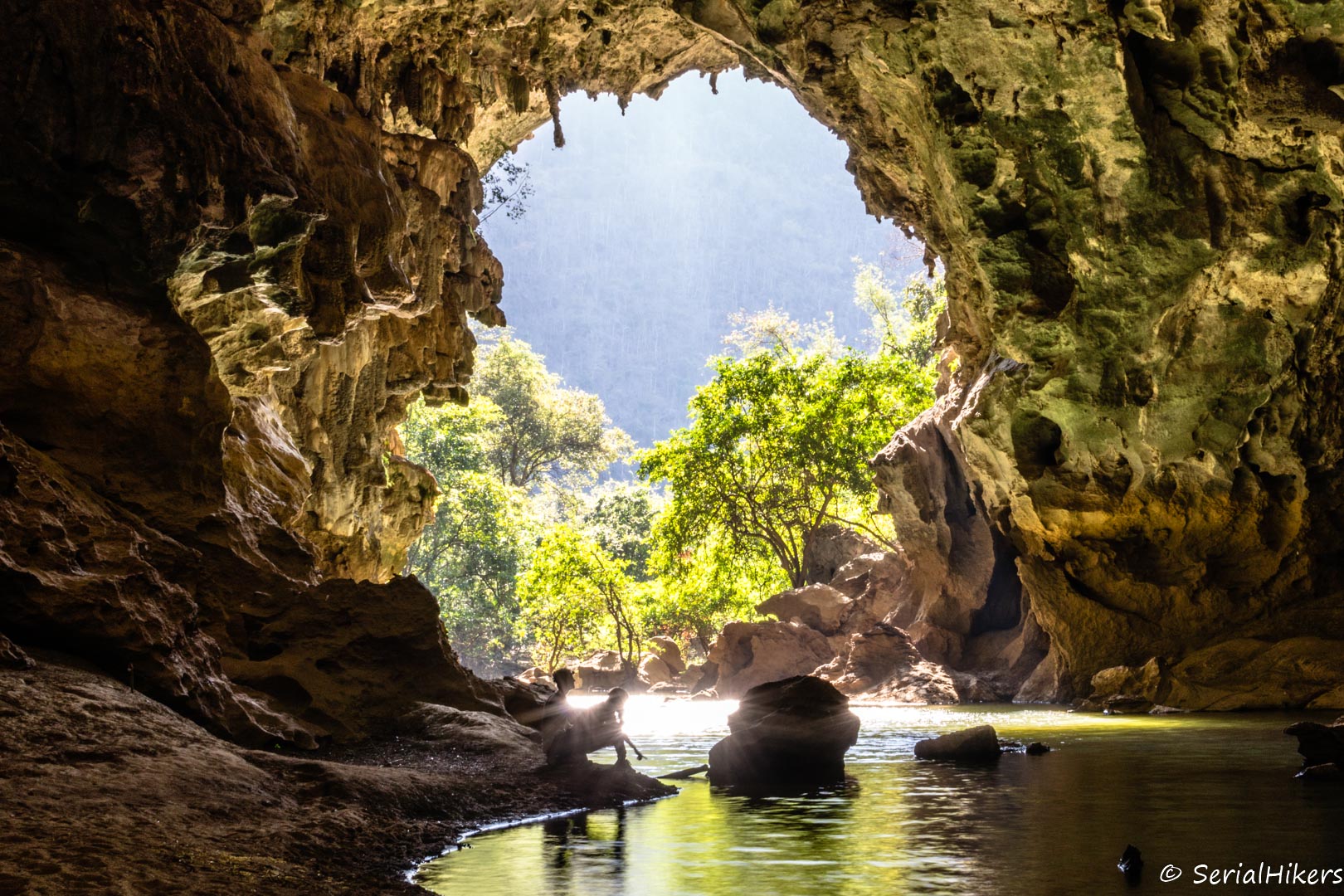 More about Laos
* Post written according to our personal experience *