Ahoy! Are you ready to set sail to explore new lands? Are you motivated enough to find a nice ship and a good captain to make a crossing, despite your lack of sea experience? Look no further! Our Boat Hitchhiking Guide was written to help you sail safely to new horizons!
Before getting to the point, let's start by defining what hitchhiking a boat is:
Boat Hitchhiking: like hitchhiking, it means boarding a ship (cargo, sailboat, ferry, etc.) for free. There are two cases: either the captain did not initially plan to take on board another crew member, or either he needs help on board and is willing to take on a crew member without any financial contribution. The voyage plan is defined by the captain, and the crew member rarely has any say in the matter…
Chartering: such as carpooling, boarding is scheduled in advance (planed departure) and costs are shared equally. In general, when it comes to chartering, all crew members without exception agree on the destination, stopovers, activities, etc.


In this guide, we will rather talk about the practice of hitchhiking a boat, in particular hitchhiking a sailboat and briefly the practice of hitchhiking a ferryboat, which are the two forms of hitchhiking that we had the opportunity to try during our adventure.
There are a number of reasons why travellers choose to hitchhike a boat:
To avoid flying or any mean of "conventional" transportation
To limit our carbon footprint: by sailing, the crossing is done mainly thanks to the wind strength!
To live an adventure and enjoy the adrenaline it brings: living confined in the open sea, for several days, facing storms, huge waves… It's an experience in itself!
To learn new skills, such as knowing how to tie sailor's knots, steering, or sailing… and discovering a new passion?
For us, hitchhiking a boat was a huge challenge in our round-the-world hitchhiking journey: in order to be in line with our ecological convictions and to respect our challenge of a trip without airplanes, we had to cross the seas… And so to find a boat!
Before taking the plunge, we strongly advise you to read up on the subject: books about navigation, videos/vlogs, forums, blogs, stories… Everything is worth to give you an idea of the crossing conditions, life on board, the stakes and the risks! In addition to avoiding unpleasant surprises, having some theoretical knowledge of navigation can compensate for your lack of experience and make a difference in your search for boats.
As a good start, find out about (good) sailing seasons: a good sailor will avoid taking the sea in the middle of a storm season, with headwinds or opposing currents!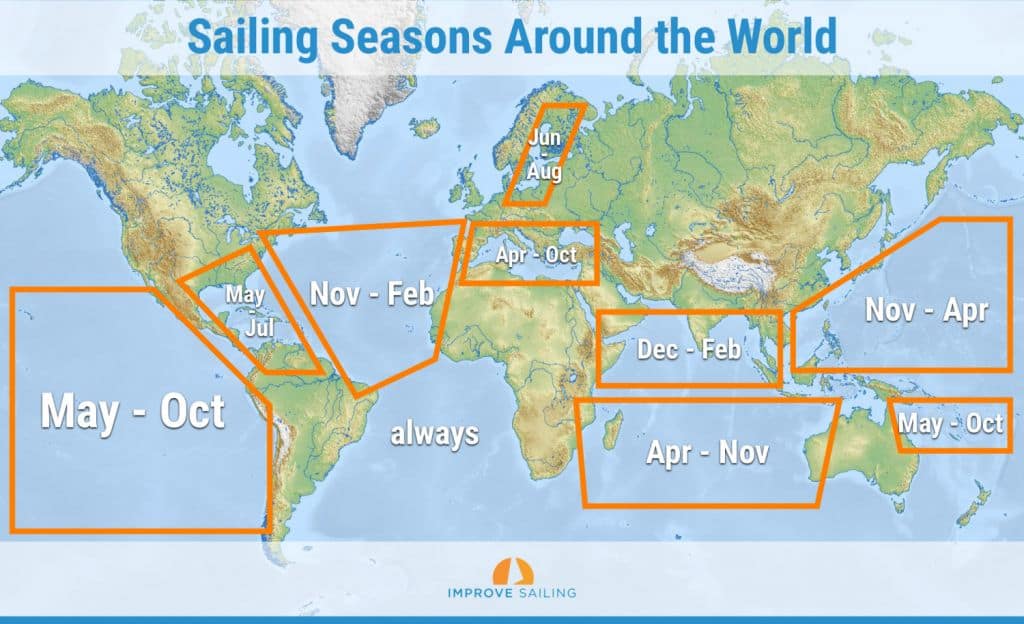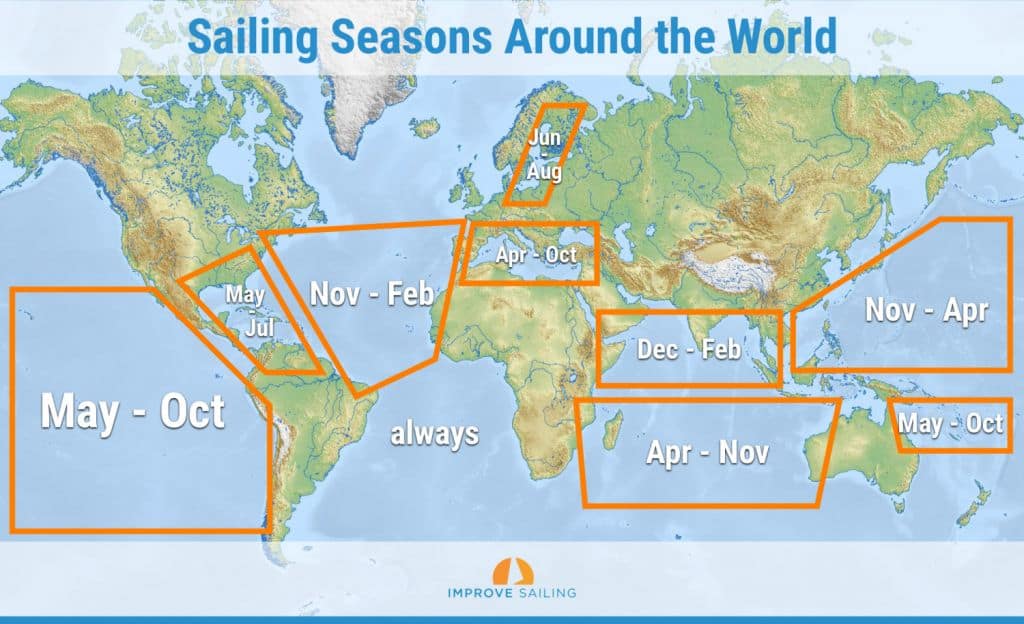 Check regularly the weather forecast
In addition to the indicative sailing seasons maps (which are not always very accurate!), a majority of sailors rely on the website Windy.com to evaluate the direction and strength of the winds at sea, as well as the wave heights for the upcoming days. Check regularly this website, in order to determine the next ideal sailing window!
We have to confess you something: while we were still novices, we went aboard a sailing boat for two weeks at sea, where the safety level was… almost nonexistent. If this experience gave us a few scares, it mainly taught us to be much more careful in term of safety!
The following is a non-exhaustive list of safety points to be checked before boarding a boat (check the complete list here):
Some captains ask, in addition to the tasks required on board, a more or less inflated financial contribution on board – some fees that usually include food, marinas costs, fuel and gas costs. This is what we call chartering, and as explained in the introduction, all costs are shared equally among the crew. You can find online ads where captains ask for a financial participation… up to 50$/day! At this price, it's no longer chartering but a luxury cruise (where the captain makes a decent profit)…
Talking about costs on board is a very important topic which has to be discussed very early to not to be fooled. Considering that we give our time and energy to help the crossing (night watches between 1am and 4am, meals cooking, navigational assistance etc) and especially that we hitchhike boats and are not chartering, we feel that our financial participation must be limited to our food expenses at the maximum. Thus, we aim our research to captains making crossings for themselves or on behalf of an individual (deliveries)and not the ones ready to fill their boat (and bank accounts!).
Furthermore, we noticed taht the way to sail depends on captain's habits (e.g. engine use or true sailing, stops at marinas or anchoring in bays, etc). We do not wish to pay for fuel or marina fees, knowing that we prefer to sail as much as possible and anchor off islands to explore them.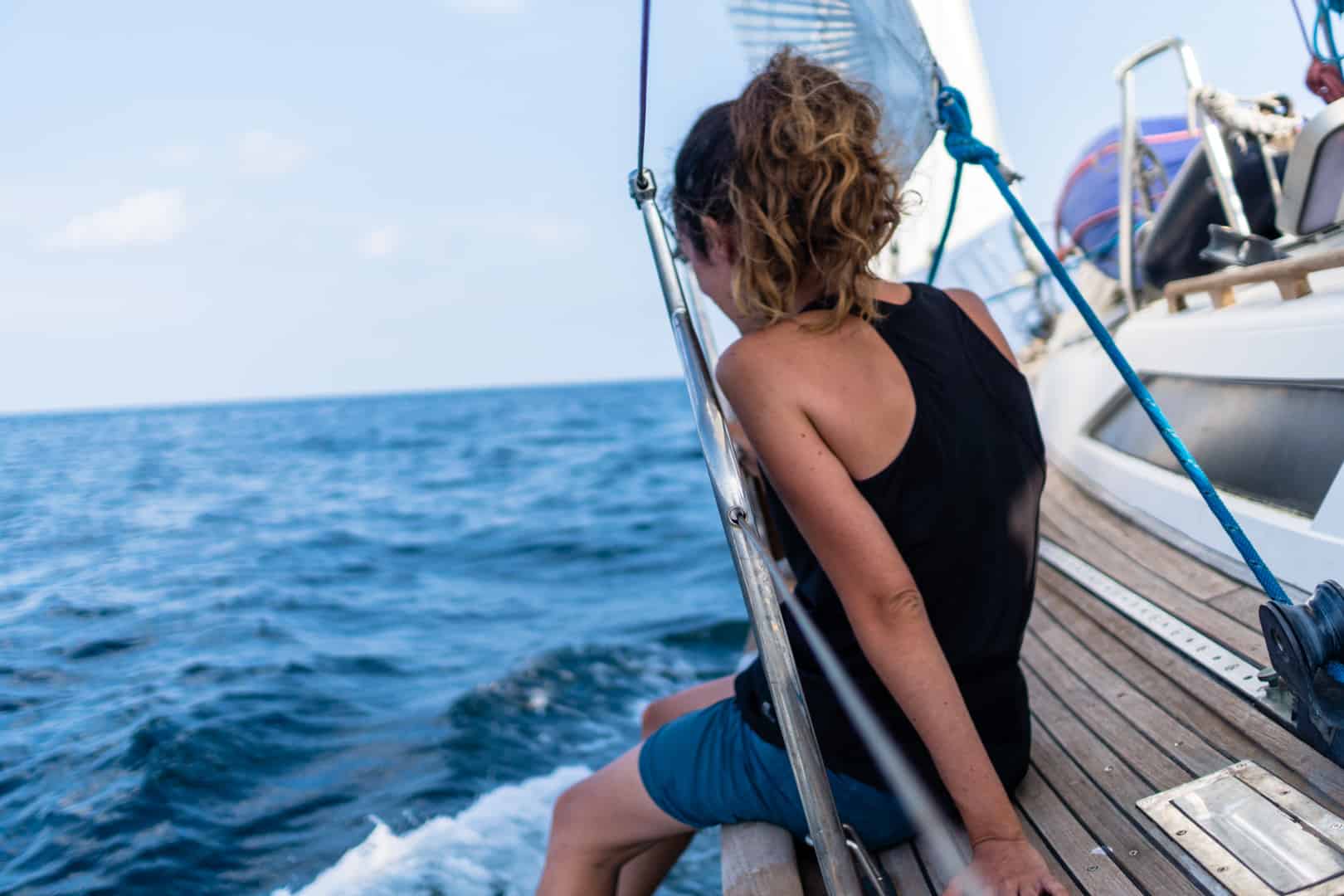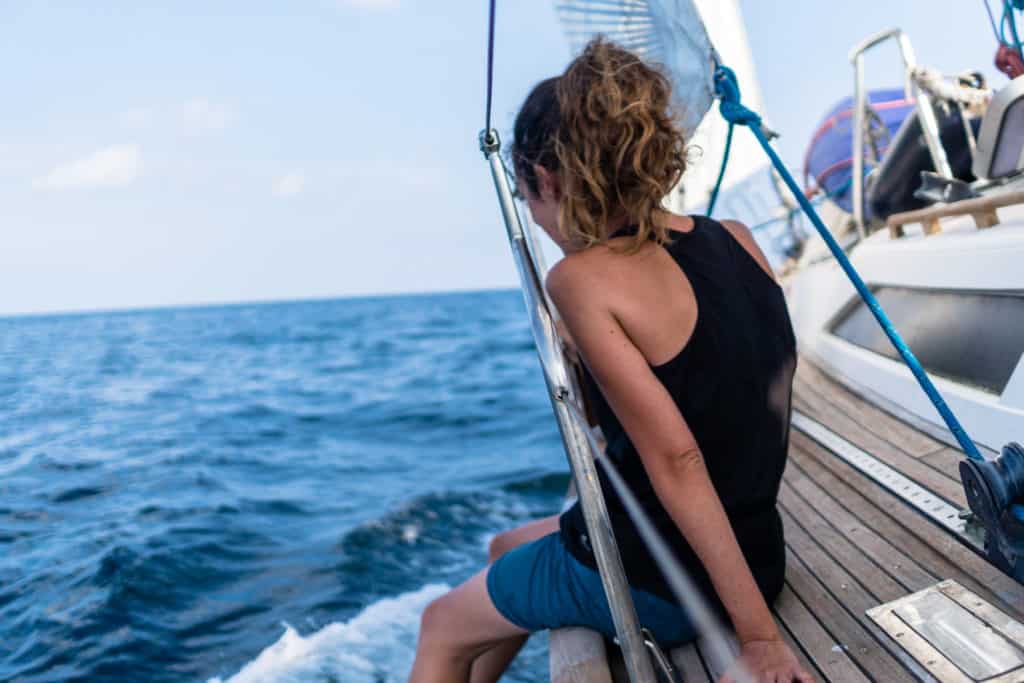 Night watch or night shift is a period of time during the night when a crew member is assigned to stay in the cockpit, to provide a constant supervision. This allows other crewmembers to sleep, while ensuring that the boat does not risk collision (mainly with cargo ships and fishing boats) while staying on course.
No special knowledge is required to keep a night watch: the horizon is monitored with binoculars; movements of other vessels are anticipated by AIS (Automatic Identification System, a system that allows each vessel to locate vessels in its area), radar, navigation lights… And in case of problem or doubt, crew member should not hesitate to wake up the captain (and possibly the rest of the crew).
Read about our first sailboat experience
A useful skill on board is the ability to manage groceries and all menus according to one's diet. Products type to be purchased will essentially depend on the duration of the crossing.. Provisioning is typically managed as follows:
First week: fresh products as fruits/veggies, meat, eggs
Second week: frozn meat/fish, fruits/veggies that can be stored longer (such as potatoes, pumpkin, etc.)
Third week and more: rice, pasta, and food cans
In any case, it is better to leave a port with at least twice as much as necessary and a large stock of cans and dried fruits (in the event of inability to cook on board, such as storms, ship abandonment, etc.)
Knowing several recipes is a plus: crew will eat a more varied and balanced diet, and stay in shape for the rest of the trip! If you're in need of inspiration, don't hesitate to check our World recipes to impress the rest of the crew!
Our recipe of bread / pizza on a pan
If the boat doesn't have a functional oven, have fun testing our bread / pizza pan recipe:
Mix flour, baking powder and a pinch of salt with a little oil or butter with your fingers until you obtain a granular flour texture

Gradually add water, and knead by hand (add a little flour if the dough gets sticky)

For pizza; spread the dough thinly, cook it on one side and flip it over. Add tomato paste along with your pre-cooked ingredients (onions, peppers, mushrooms, grated cheese, etc.) and cook the other side
For bread; spread the dough to the pan's size, and cook it on each side
A boat is like a house, only worse: it requires constant maintenance and technical knowledge to deal with any problems on the open sea. People with knowledge in mechanics, electricity, and/or plumbing are more sought after! Similarly, crew members ready to sand, varnish or paint wood are generally welcome on board.
Days and evenings can be long and difficult, which is why it's often enjoyable to get a crew able to entertain the rest of the crew through conversation, card games or role-playing…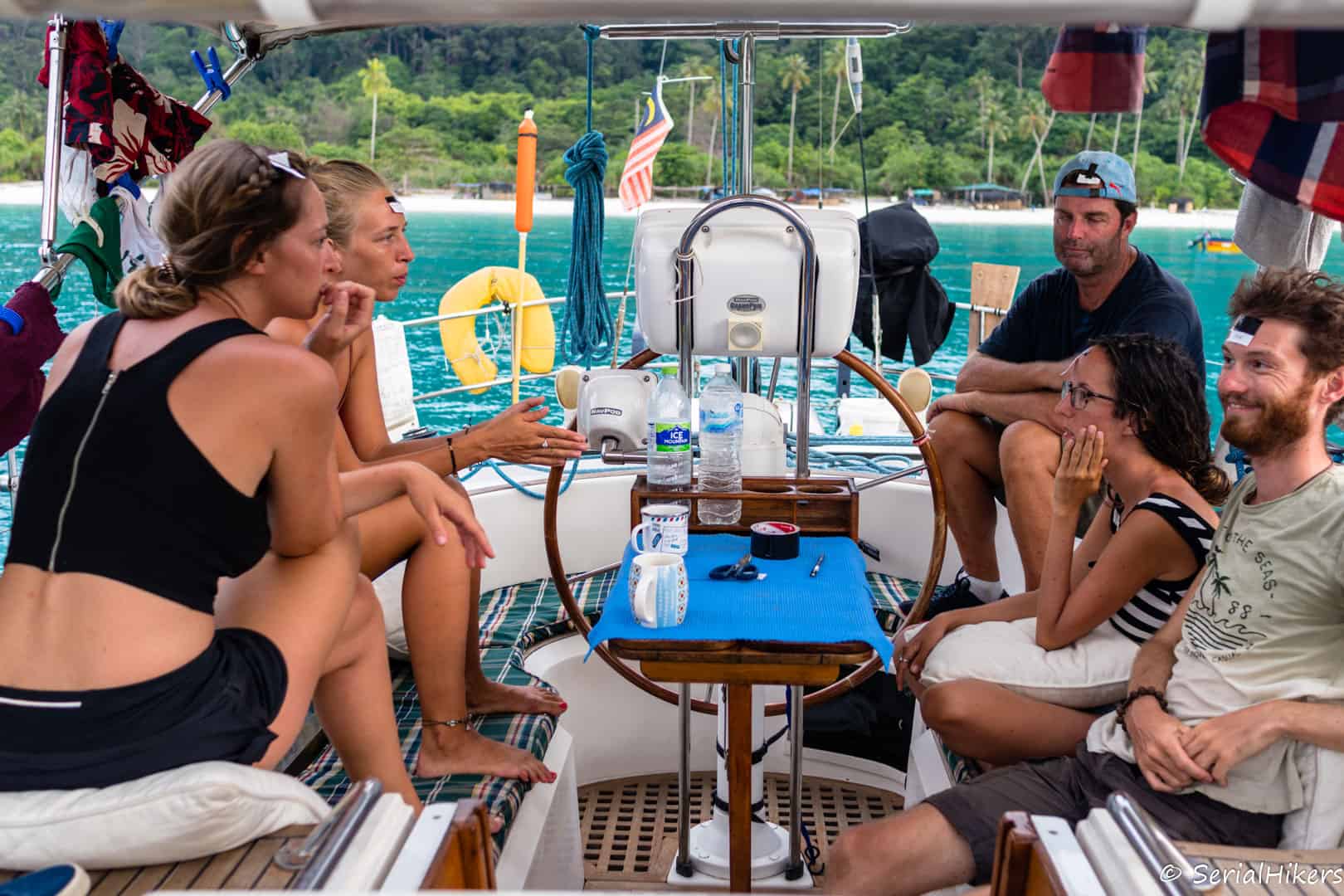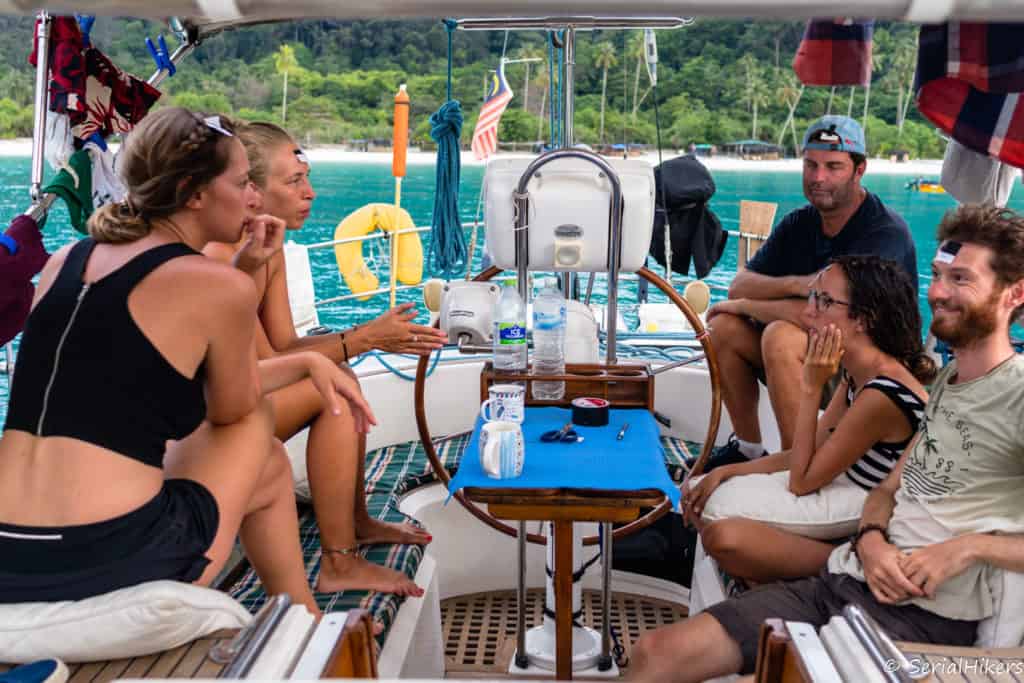 In the digital age, websites to look for a boat online hasve multiplied. Some of them require to pay, others are aimed to French-speaking people… To multiply your chances, it will be wise to combine a regular search on different websites with an active direct search. Here is a (non-exhaustive) list of the websites we know:
Direct search, in marinas
Although that our online searches have been more successful than our direct searches, looking directly for a boat in marinas has enabled us to make ourselves known and expand our network.
First, find out marinas and yacht clubs by doing an online research (key words: marina, yachtclub and the country name). Another way of locating anchorage points or marinas is to use vessels GPS coordinates on a map updated in real time, such as Vesselfinder.
Go directly on the spot and speak about your project to the sailors you meet. Leave them your contact details, in case they consider a crossing or hear about a captain looking for crew members.
Post your resume (CV) to the key points: club/sailing office, laundry room, lobby, sailor's bar… Be careful, competition can be fierce and you're going to have to stand out!
What to put on your resume
when you don't have experience?
While crewmembers with little sailing experience have a better chance to find a boat, it's not uncommon for captains to accept a motivated novice crew on board. Whether handmade or printed, your CV should stand out by attracting attention, while being clear and concise. Here is a few tips:
Colorful title, short and straight – such as "Sailing to…?"
Photo of you – rather taken outside, in a fun and relaxed atmosphere
Short introduction of you (name, age and nationality)
Text explaining your motivations, byemphasizing your interest in navigation and life aboard
List of skills that might interested and reassured captains:

spoken language(s)
hobbys
travel insurance
good swimmer

no seasick
other skills: first aid, good cook, maintenance skills (electricity, plumber), entertainment, etc.
be ready to live in very minimalistic conditions: rational and minimal use of fresh water and electricity on board (quick shower, or on deck in case of heavy rain, salt-water washing up), living together in a confined space for several days, …

Contact infos (phone, whatsapp, Facebook, email, etc)
Patience and perseverance
Even when all the conditions seem favourable to us, there may be no opportunities for days, weeks or even months. In Hong Kong, we waited 6 months before boarding another sailboat!
We really advise you to be prepared for a (more or less) long wait, by looking for a place to stay (wild camping near the marina, volunteering missions, or free accommodation on a moored boat in exchange for services as we did in Hong Kong). Give regularly update to all your sailors contacts, rely on word-of-mouth work, check online opportunities… Patience and perseverance always pays off at the end!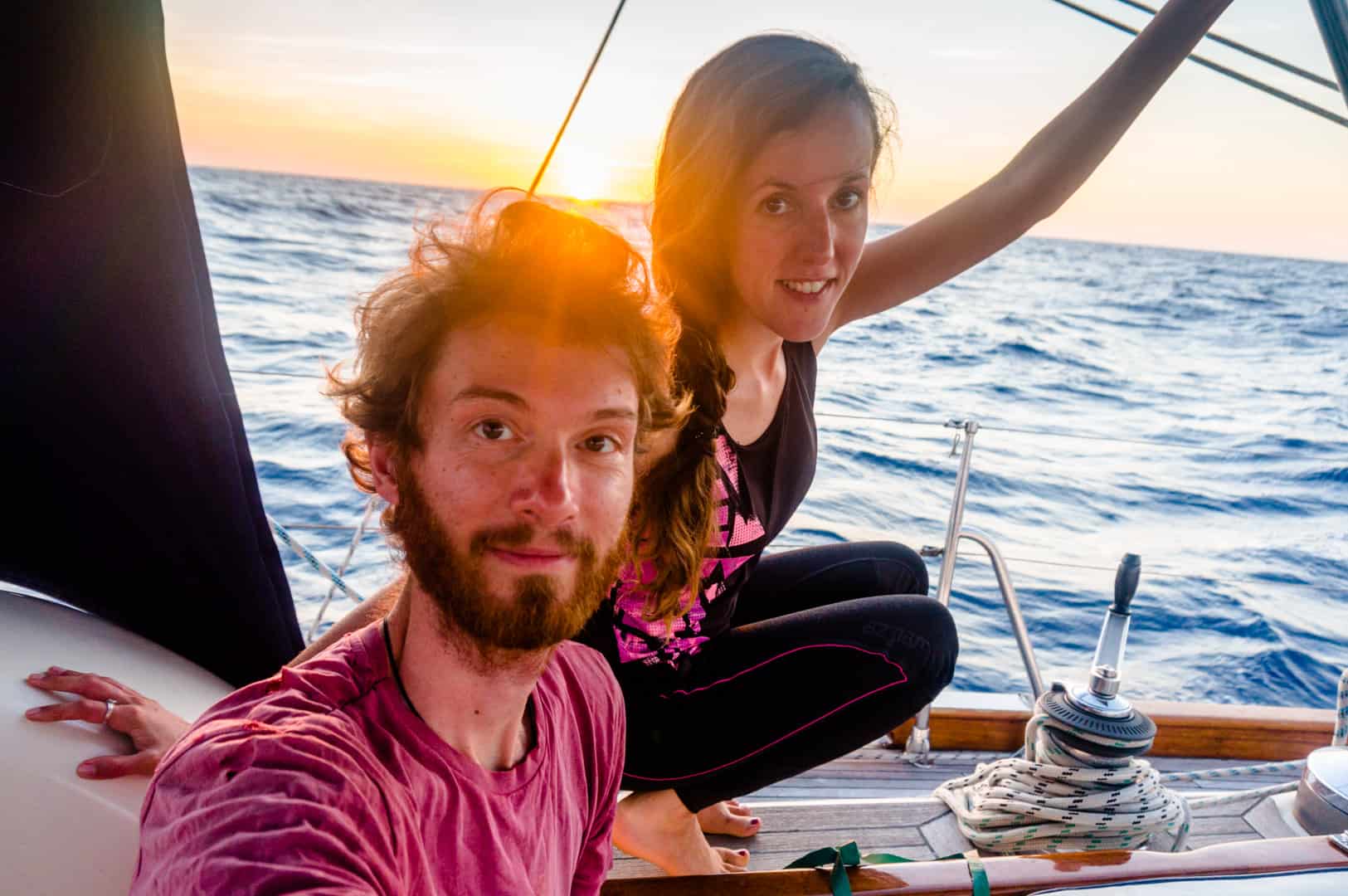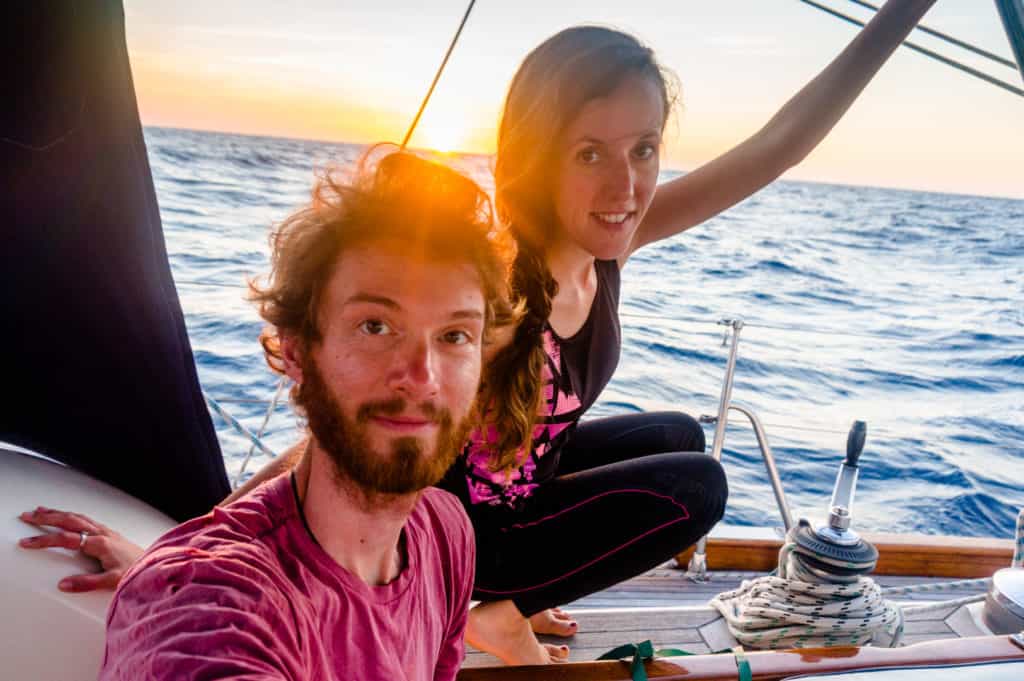 Be prepared for the sea sickness
Every crew member, even an experienced one, can be prone to seasickness. Before each crossing, make sure to take enough medicine for seasickness (or natural, ginger-based remedies). If symptoms of seasickness occur, lie down outside in the cockpit.
Take warm clothes and waterproof bags
When you take the sea, it's always better to take some warm clothes (it's always cooler at night), and waterproof. It is also necessary to take at least one spare outfit in case you're getting wet. Take also a waterproof bag, or alternatively, store your important papers and electronic devices in freezer bags (like ziploc®). And, if you haveclosed, waterproof and lightweight shoes then wear them. If you don't have any, don't worry: we're doing fine without!
Of course, if a visa is required to enter the destination country, then you will need to take all the necessary steps before departure.
It will also be necessary, the day or the day before departure, to go to the Immigration offices to get your passport stamped before you leave the country. Usually, each port has an Immigration Office – if it's not the case, then you will be invited to go to the nearest airport to do so.
How traveling without flight?
In practice, there are two main scenarios:
Hitchhiking a car/truck making the crossing: either by hitchhiking a truck (in some cases, lorry drivers have two tickets even if they are driving alone, and can offer the second ticket to a passenger who requests it); or by hitchhiking a car, before the car is loaded onto the ferry. However, hitchhiking a car is still very rarely possible, as most ferry companies require a passenger ticket (booked in advance) when boarding – often nominative tickets for each passenger in the vehicle.
The ferry company offers free tickets to passengers who request them, often in exchange for a service (promotional photos or video, partnership on social medias…).
This is the second case that happened to us during our trip!
How to approach ferry companies
Before approaching ferry companies, we look for informations about the existing connections (names of the operating companies, ferry schedules, fares, etc.) and whether hitchhiking a vehicle before boarding is possible, or not.
After getting  to know the names of the operating ferryboat companies, we contact them – with priority being given to contact directly marketing directors and managers, so that our request would have a better chance of success. We explained them our story, our travel objectives – while listing our skills, and offering our help in exchange. If your travel project appeals to them as well as ours did, and/or they are interested in a service exchange, the ferry company (via their marketing department) will offer you the ticket for the crossing of your choice. Don't forget to honour your part of the contract, in case of a partnership!
More about Alternative Travel:
* Post written according to our personal experience *