It's summertime, time to cook Greek recipes! On the menu: Mediterranean dishes that reflect the sun, colorful and tasty veggies soaked in a fragrant olive oil, mixed with the legendary feta cheese… Let's discover, thanks to our local experience, the best of Greek cuisine to impress your guests! Καλη σας ορεξη!
---
Greek mezze
Very popular in tavernas, Greek mezze consists of a set of dishes, to be shared among all the guests!
Tsatziki (for 8 people)
– 400gr Greek yoghurt (plain yoghurt very drained)
– 1/2 cucumber
– 5 garlic cloves (for a strong taste, but you can put less)
– 1 pinch of salt
– 3 tablespoons of olive oil
— Peel the half cucumber and grate it against a medium grater or food processor. Add the cucumber to Greek yogurt, along with pressed (or grated to the smallest size) garlic, a pinch of salt and olive oil. Stir and serve chilled, to be enjoyed by dipping bread in it! Variant: some recipes contain mint or dill to enhance the taste!
Fava (4 people)
– 500gr split peas
– 1 big onion
– 1 lemon
– 1 pinch of salt
– 3 tablespoons of olive oil
– parsley
— Cook the split peas, and blend them in the blender to make a purée by adding the olive oil. Add the juice of the squeezed lemon. Serve with the raw onion cut into thin rings, a few fresh parsley leaves and a pinch of salt. To be eaten on bread!
Imam Bayildi eggplants (4 people) – turkish influence
– 4 eggplants
– 2 big onions
– 2 tomatoes
– 2 bell peppers
– Optional: raisins, seasoning
— Cut the aubergines in half lengthwise, and put them in the oven at 200°C, covering them with a drizzle of olive oil. At the same time, brown the onions, tomatoes and coarsely chopped peppers in a pan with olive oil (optional: you can add raisins and spices). After about 30 minutes of cooking time, when the aubergines are tender, remove them from the oven and remove the flesh of each aubergine with a spoon. Add this flesh to the mixture in the pan, and continue cooking a little more. Place the final mixture in the hollow of the eggplant halves and finish cooking slowly in the oven at medium temperature (120-150°C). Serve hot!
Tarhana or trahanas
A kind of Greek bulgur, where the grains are made from wheat flour and sheep's milk!
Greek salad (4 people)
– 1 cucumber
– 2 big tomatoes
– 1 bell pepper
– 1 medium size onion
– feta cheese
– olive oil, wine vinegar, origano
— In a salad bowl, place the diced cucumber, quartered tomatoes, pepper and onion cut into rings. Sprinkle with feta cheese, a drizzle of olive oil and vinegar. To complete the dish, add a pinch of oregano..
Variant: In Crete, bread croutons are placed at the bottom of the salad bowl before creating the Greek salad. The bread croutons will absorb the oil and vinegar when they are seasoned with the oil and vinegar! This variation is called Dakos.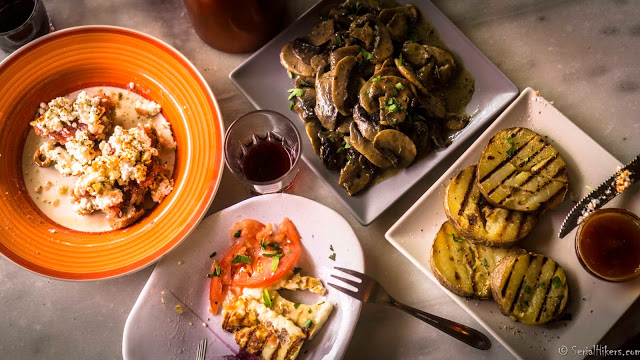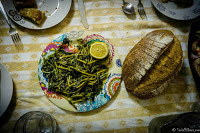 Kritamos salad (seaweed salad)
– a bunch of sea criste (crithmum maritimum)
– garlic cloves
– oil, vinegar, salt
— Plunge the sea criste into hot water and leave it to soak overnight until the bitterness disappears, then drain (if still too bitter, repeat this operation). Add garlic, olive oil, vinegar and a pinch of salt. Serve cold!
Greek potatoes salad (4 people)
– 500gr of potatoes
– 2 raw onions
– dill
– olive oil
— After cooking the potatoes in water or steam, arrange them in a dish with the sliced raw onions, dill and a drizzle of olive oil. Serve cold!
Cooked dishes
Vegetarian Moussaka (4/5 people)
Description: it's the typical Greek dish par excellence! The original recipe contains meat, which is replaced here by mushrooms..
– 3 eggplants
– 1 big potatoe – or 2 medium-size or 4 small
– 1 zucchini of medium-size
– 2 big onions – or 4 small
– 3 big mature tomatoes
– 1 bell pepper
– 150gr of mushrooms
– cheese
– béchamel
— Wash, trim and cut into 5mm thick strips along the length of the aubergines. Peel and cut potatoes and courgettes into strips of the same size (you don't have to peel them). Arrange the slices of these 3 vegetables on one (or more) baking tray(s), add salt and olive oil, bake at 250°C for about 30 minutes (the slices must be cooked but still soft). Thinly slice the onions and brown them in a pan with olive oil. Add the sliced mushrooms and leave to cook for a few minutes. Cut the tomatoes and peppers into small pieces and add them to the pan with the onion and mushroom mixture.
Arrange the ingredients on a rectangular dish as follows:
– 1st layer: all the potatoes cuts at the bottom
– 2nd layer: 1/2 of the eggplants (with the first 2 layers, the bottom of the dish should no longer be visible)
– 3rd layer: pour and spread the tomato / pepper / onion / mushroom preparation. Sprinkle with feta (or other local cheese),
– 4th layer: spread the zucchinis cuts,
– 5th layer: spread the rest of the aubergines and sprinkle with olive oil,
– 6th layer: spread the béchamel. Sprinkle this last layer of feta cheese and drizzle (again!) with olive oil. Bake at 240°C for 15 / 30 minutes. Serve hot!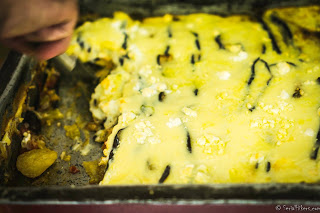 Briam (vegetable gratin, for 4 people) – turkish influence
Depending on the vegetables size:
– 2 or 3 onions
– 1 or 2 zucchinis
– 1 or 2 eggplants
– 1 or 2 bell peppers
– 1 or 2 potatoes
– 2 or 4 tomatoes
– 4 garlic cloves
– olive oil
– feta cheese
— Cut all vegetables (onions, zucchini, eggplant, peppers, potatoes) except tomatoes into medium sized strips and mix them in an oven dish. Add garlic, grated tomatoes or mandolin, feta cheese and pour olive oil over the mixture. Bake in the oven for 1 hour at 180°C, stirring halfway through. Serve hot!
Lahanoriso (4 people)
– 2 onions
– 5 to 10 garlic cloves
– 1/2 or 1 cabbage, according to its size
– 200gr of rice
– 2 big tomatoes
– olive oil
– optional: parsley, celery slices, diced carrots, raisins, mushrooms, glass of red wine…
— Fry onions and garlic in a saucepan with olive oil. Add the cabbage cut into strips as you go along, mix, and cook over low heat to allow the cabbage to soften. Add the optional ingredients of your choice: carrots, celery, mushrooms… and leave to cook. Add the tomatoes at the end of cooking and let it cook in the juice for 10 minutes. If you have time: add 200gr of rice and continue cooking until the rice is completely cooked (30 minutes to 1 hour depending on the amount of liquid, you can also add water if necessary). Otherwise, cook the rice separately and add it at the end. Add salt, pepper, sprinkle with fresh parsley and serve hot!
VARIANTS:
– Spanakoriso (spinach without the tomato sauce),
– Prassoriso (leeks instead of cabbage)
– Anginares me arakas (artichoke hearts instead of cabbage and green peas instead of rice, without tomato sauce)
– Fakoriso (lentils instead of cabbage, with bay leaf and a little vinegar at the end of the cooking process)
Other dishes
Spinach pita: a pita filled with spinach and feta cheese.
Okra in greek style: a dish of cooked okra, tomato juice, olive oil, feta cheese and oregano. Tested once and 100% approved!
Desserts and drinks
Halva: Greek dessert prepared from taxini (sesame paste)
Ouzo: kind of ricard that turns milky white with water/ice
Tsipouro: 2 distillations from wine
Raki / Tsikoudia (Crete): grape marc brandy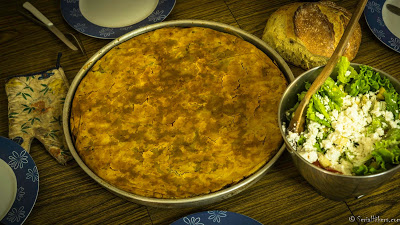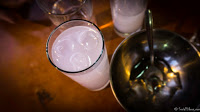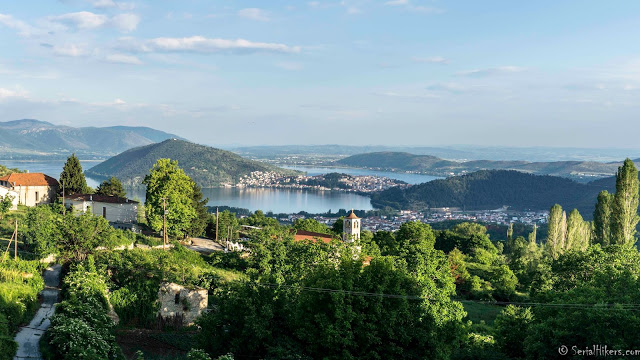 More about Greece
* Post written according to our personal experience *