When we arrived in Hong Kong by the sea in the middle of the night, we dropped the anchor off a semi-wild, semi-industrialized island called Lamma Island. From the boat, we watched fascinated the island's busy fishermen on their small boats, wondering if we were actually in Hong Kong… When after a few months temperatures became bearable (unlike the city life, which had become unbearable), we remembered Lamma and decided to give it a go.
---
Hiking on Lamma Island: a not so obvious choice
Hong Kong is composed of several small islands, most of which are accessible by ferry: Lamma, Cheung Chau, Po Toi… If we first hesitated to visit Lamma island, it's probably because of its huge coal power station deforming a whole part of the island – chimneys of the power station are visible from the south of the main island of Hong Kong, about 5 kilometers away… Nevertheless, many positive feedbacks and the idea of hiking all day on this (otherwise unspoiled) island won it. So we left with the only information we had: the name of the ferry company operating to this island, which can only be visited on foot (motorized vehicles prohibited, except for a few quads). Guided by our curiosity, our off-line map and some signs, we explored Lamma island, its peak and wild corners, its fishing villages and also… its past.
Mo Tat Wan, a surprising first step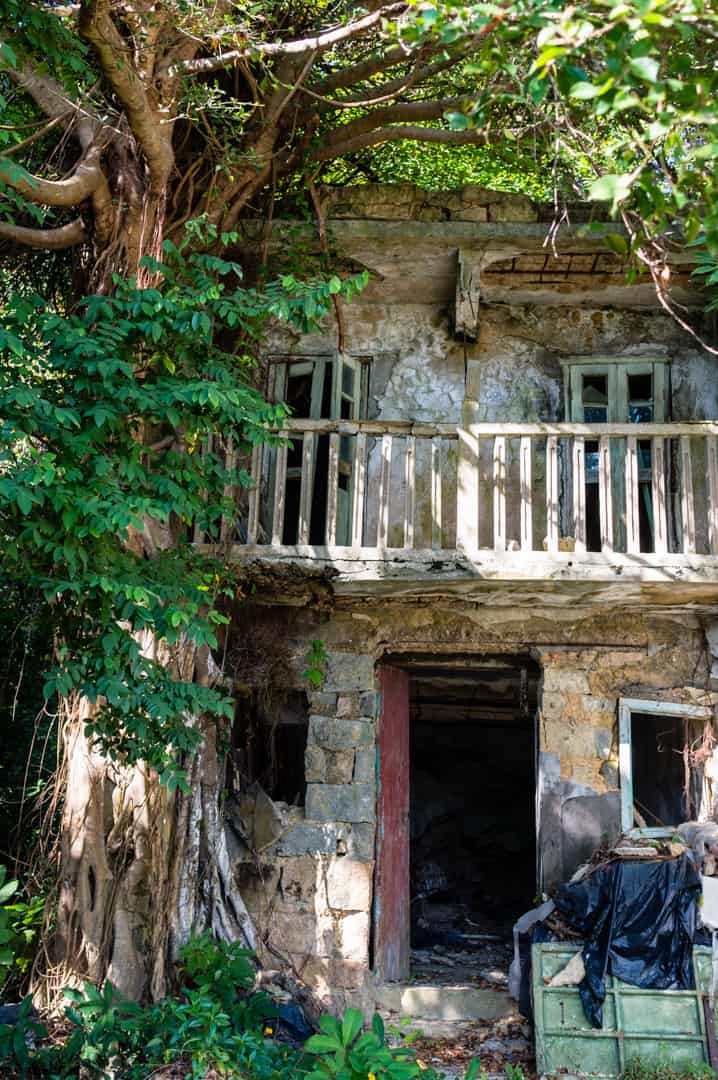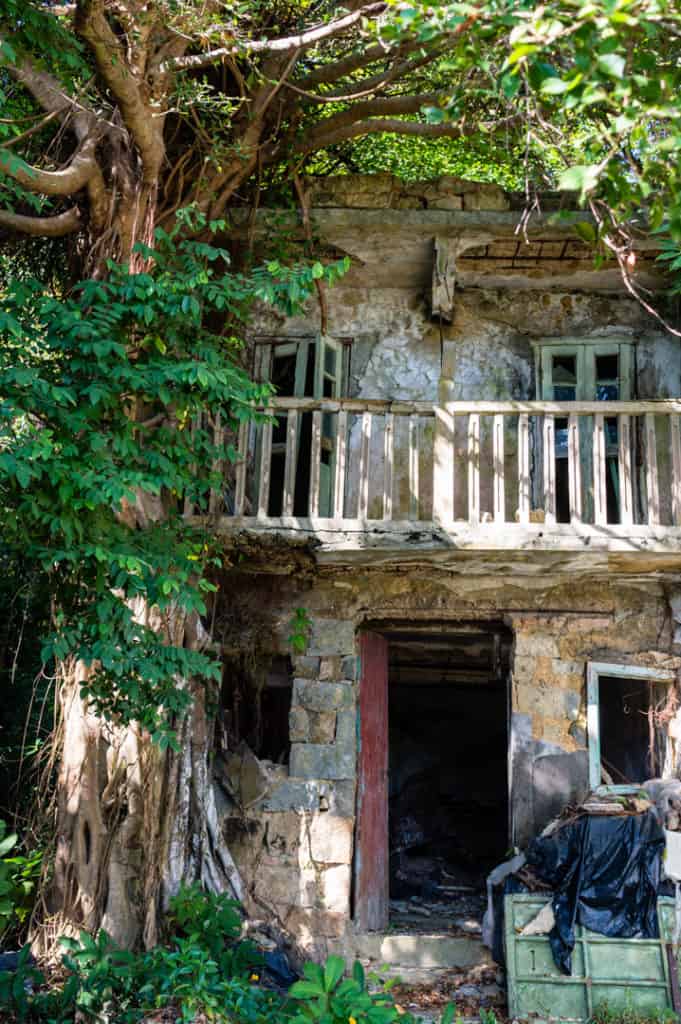 We left Aberdeen at 9:30 am in direction of Mo Tat Wan, a small and quiet fishing village located on the east side of the island. As soon as we disembark, we decided not to go along the coast to reach Sok Kwu Wan, the second village on our way – but rather to go up to the old village of Mo Tat Wan spotted on our offline map.
When we arrive at the old village of Mo Tat Wan, we discovered a village that looks like a ghost village (an information sign tells us that most of the houses were ravaged by termites several decades ago; forcing the villagers to rebuild their village 200m further). For the first time since we have been in Hong Kong, we find ourselves in front of ruined buildings and old traditional Chinese houses, with their thick stone walls and greyish tile roofs. But the highlight of the show is still to come… Hidden behind an imposing banyan tree, an abandoned building caught our attention: it was the old village school. At a time when there was no ferry connection to Hong Kong, nor a developed public school system, this place of interest built by the hands and pocket money of the villagers allowed children of the island to receive a basic education. A leap into the past, a quite surprising and delighting surprise!
From Ling Kok Shan Peak to tourist Sok Kwu Wan
Shortly after the old village, the path splits in two: we choose to walk to the Ling Kok Shan peak – or rather to climb, since an impressive series of steps has replaced the concrete path. As the peak stands 250m above sea level, this steps ascent became more sportive: under a pleasant December sun, our thighs heated up, our bodies warmed up. Between two steps, we stopped regularly to drink, admire the landscape and take some pictures. Both the view and the path are clear: none of the other tourists we met in Mo Tat Wan chose to continue the hike by the peak… And it's a pity: by taking some height, we could contemplate in all tranquility the wild side of Lamma!
At the first intersection after the peak, we choose to go back down to Sok Kwu Wan: it was almost noon, and our stomachs were already starting to rumble. Good timing: on the way to the village where we will have our lunch break, another surprise brought us back to the past of Lamma… Old tombs hidden by a dense and colorful vegetation, but especially old abandoned houses aroused our interest. The meal will wait a little longer, our desire to explore was definitely stronger!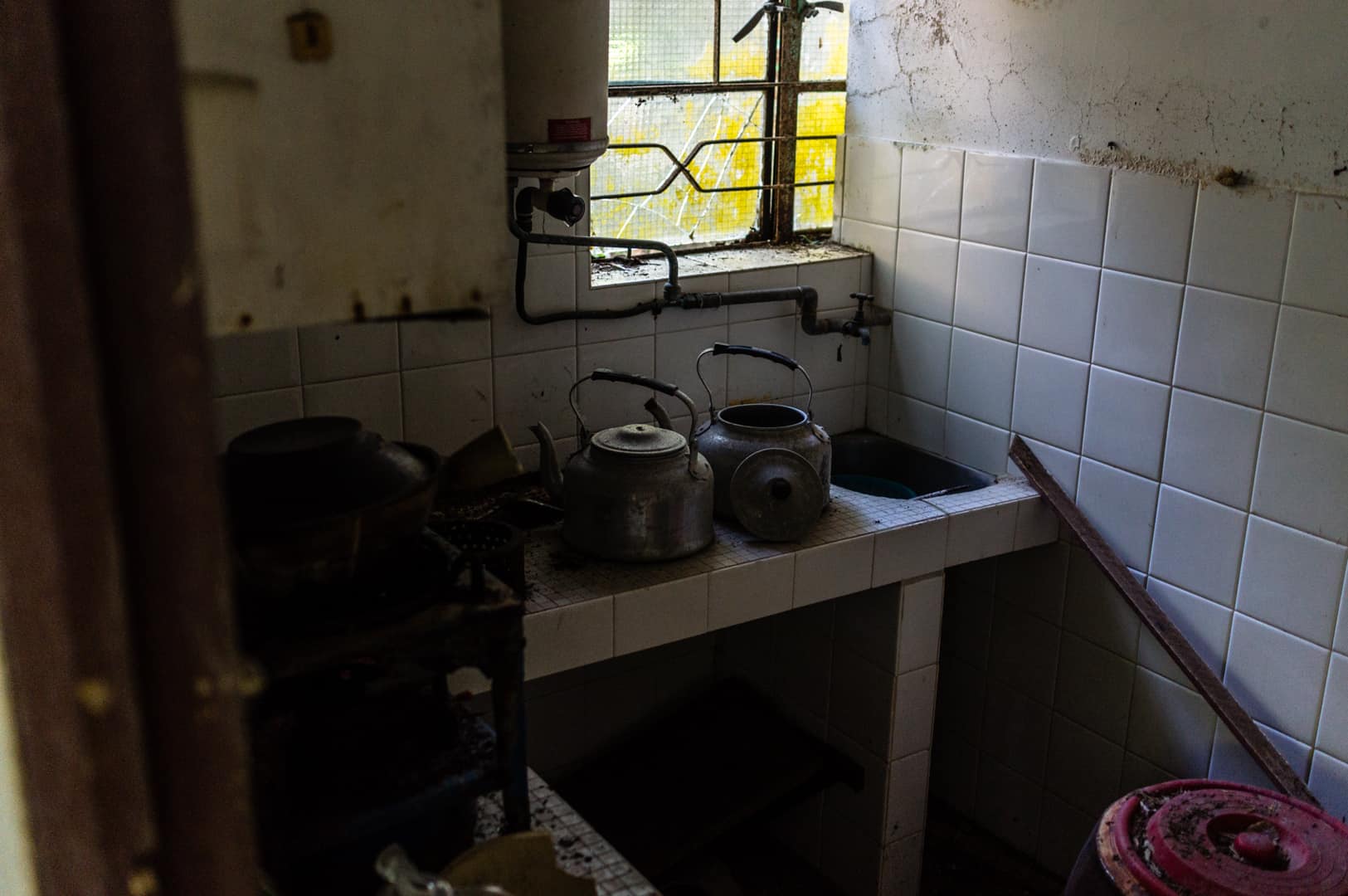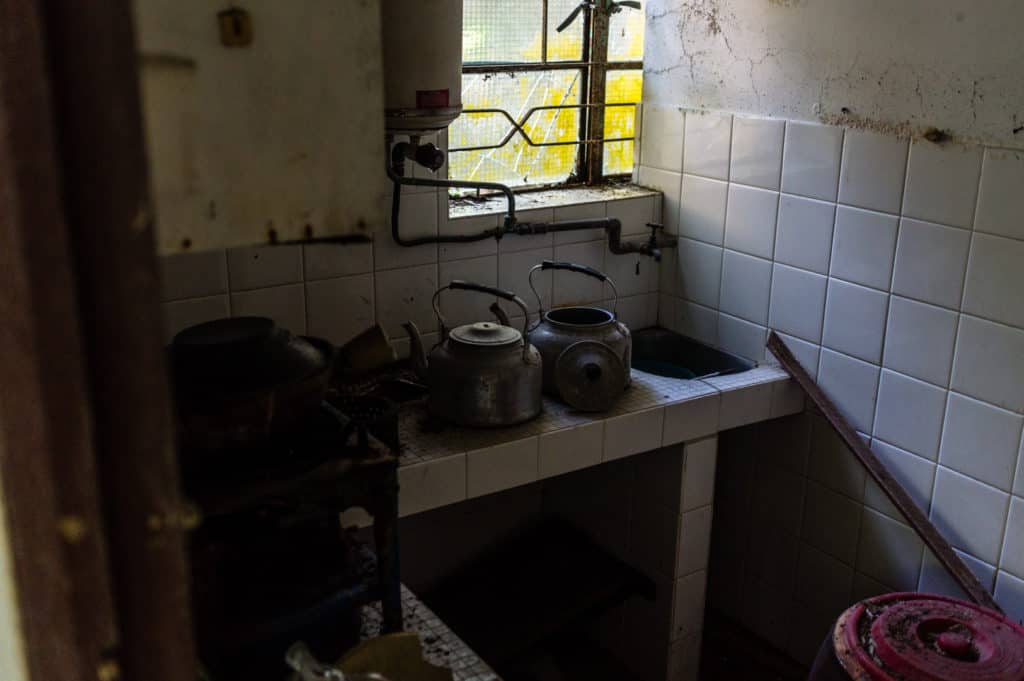 As in Mo Tat Wan, Sok Kwu Wan seems to have an old deserted neighborhood and a much more lively and modern downtown. A little too much to our taste: fishermen's houses have been replaced by a long row of tourist restaurants, strategically located by the sea. Strolling along the central street, we were literally harassed by restaurant owners in a hurry to sell us their (overpriced) fish-based menus. Ignoring their calls, we ran to a small discreet restaurant that we spotted filled with a crowd of locals.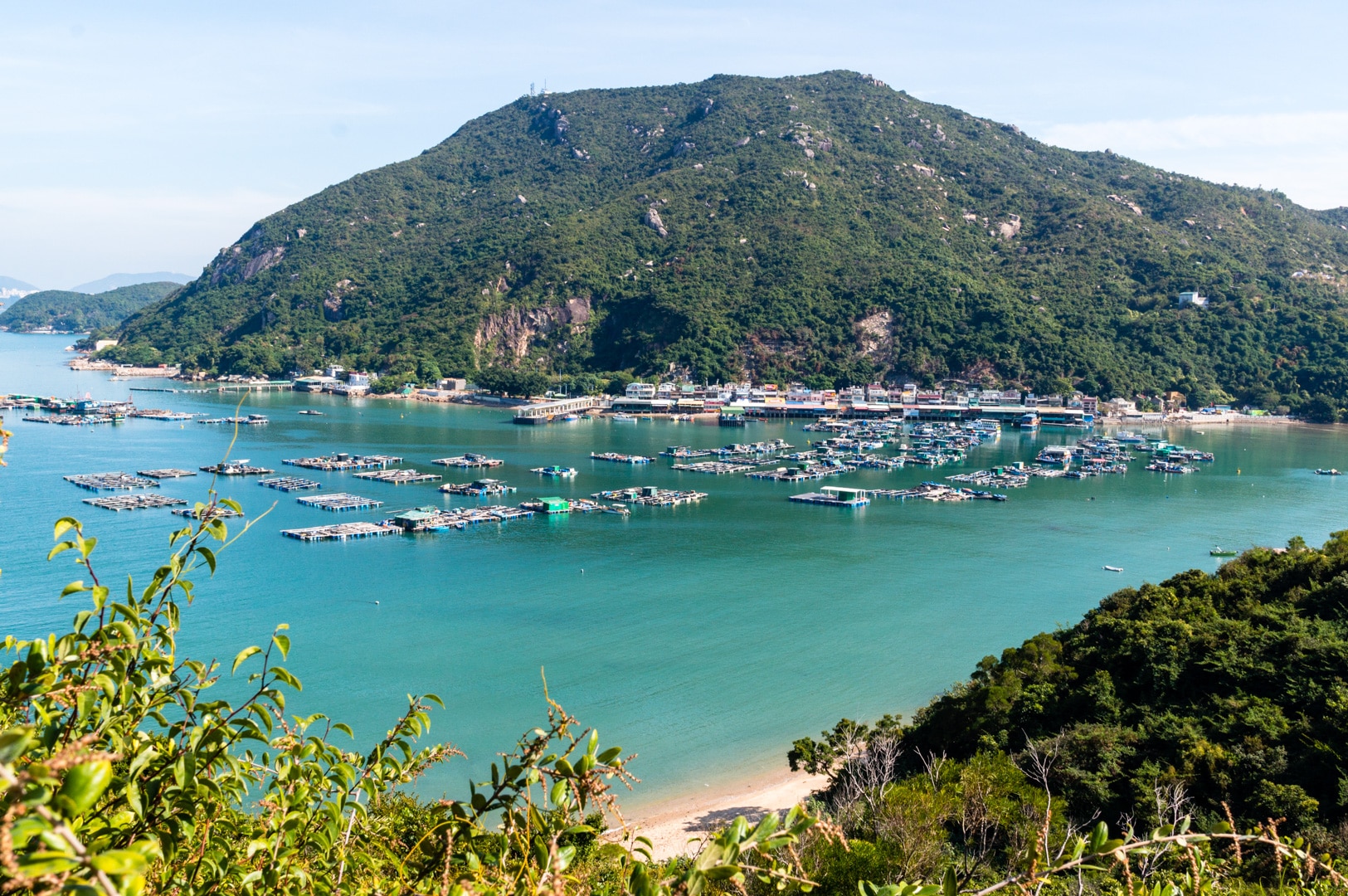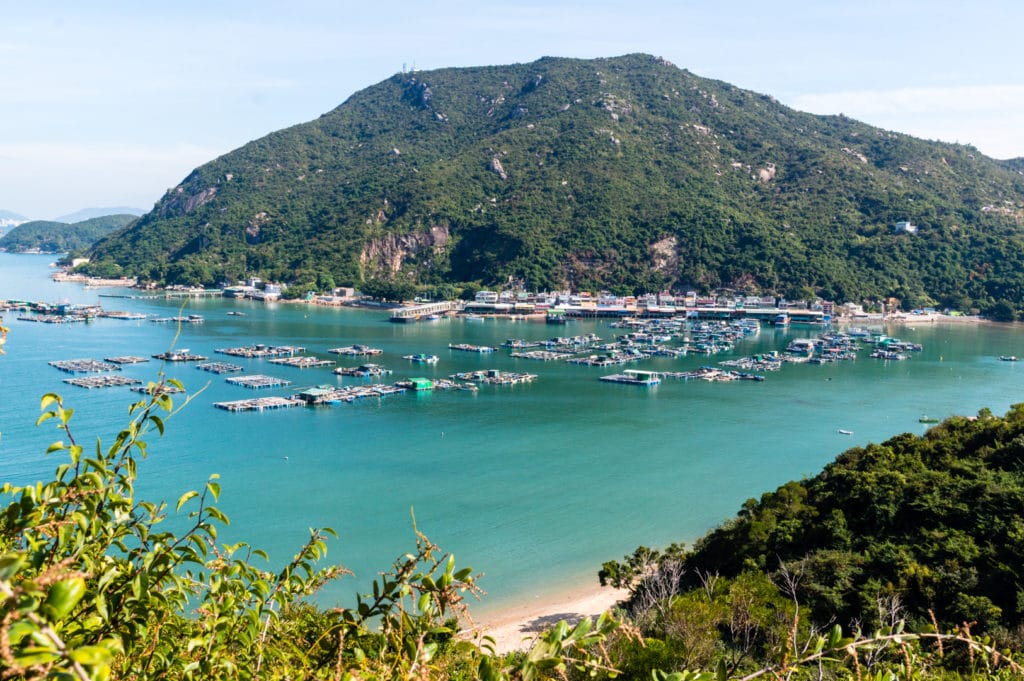 From Lo So Shing to Yung Shue Wan, the hippie village
After a good vegetarian lunch, we enjoyed getting out of Sok Kwu Wan and its noisy restaurants towards the north of the island. A few steps from Lo So Shing beach, we made a stop at the "Kamikaze" cave – in reference to those Japanese soldiers who used to carry out suicide missions. A sign tells us that this cave, dug by the Japanese during the Second World War, was used as a cache for Japanese ammunition but should have housed S-boots (small motorized boats, piloted by suicide bombers ready to crash into allied ships).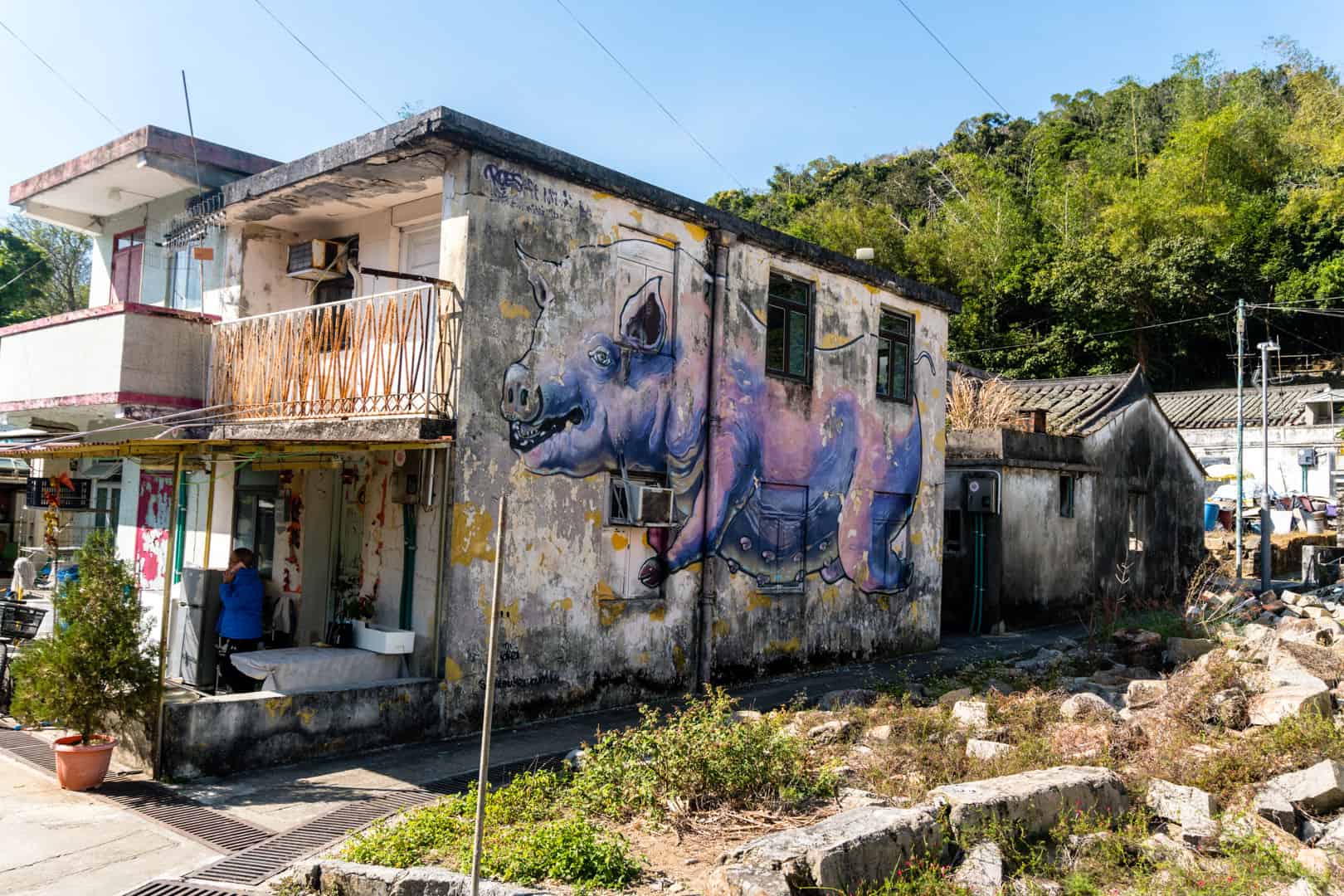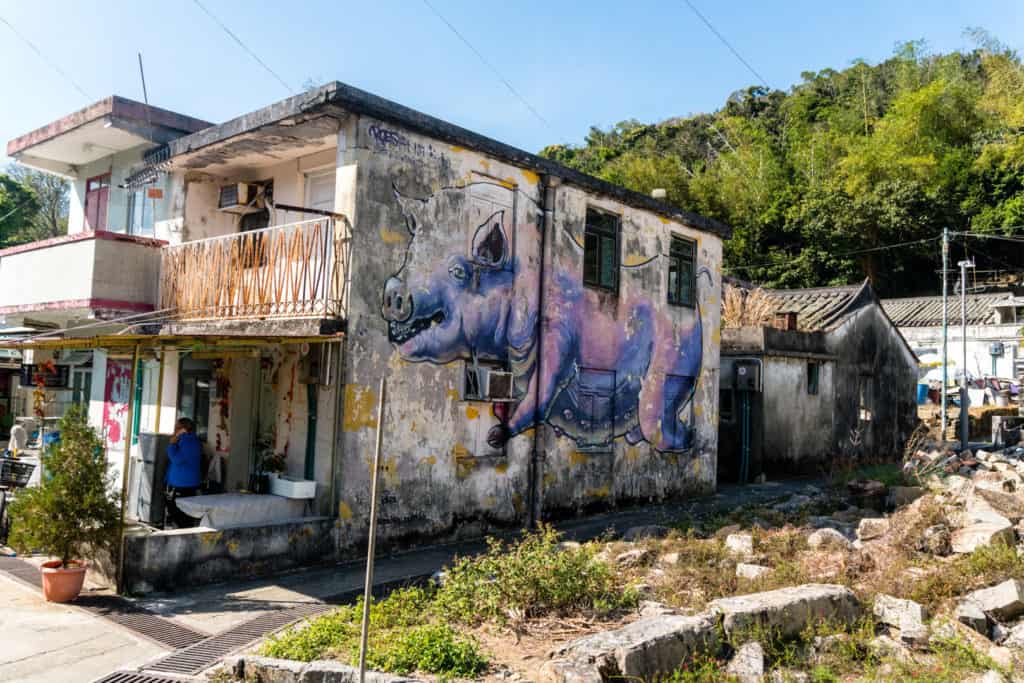 In this month of December, air was certainly pleasant but the water remained cool: we remained satisfied to contemplate the waves crashing on the beach, before going up to the charming village of Lo So Shing and take, again, a little height. Unfortunately, landscape is quickly spoiled with a huge concrete and steel pipe on one side and chimneys of the coal power plant on the other. The view, from the pavilion overlooking the bay, was not very exceptional either… We choose to continue the walk to the summer camp (Lamma Youth Camp) where other tombs and "Kamikaze" caves are located nearby.
We quickly went down, a little disappointed and tired, to Hung Shing Yeh beach to end our hike to Yung Shue Wan – nicknamed the hippie village. A very funny nickname for this village, inhabited today by a large community of expatriates in suits! While waiting for our return ferry, we settle down on the terrace of one of the many bars to refresh ourselves with a well deserved beer… And to end this hike in beauty (despite the obvious lack of charm and authenticity of the north of the island, something that Cheung Chau Island has on the contrary).
Useful information:
Path: Lamma Island, hike from Mo Tat to Yung Shue Wan, via Ling Kok Shan Peak, Sok Kwu Wan and Lo So Shing. Signed and paved path ~ 9 km
Duration: 4 to 5 hours (except lunch break)
Difficulty level: accessible to all
Ferry
: from Aberdeen
Regular connections Aberdeen <> Mo Tat Wan and Sok Kwu Wan with
Chuen Kee company
(adult price: 12$HK, or 18$HK on weekends and bank holidays)
Regular connections Aberdeen <> Yung Shue Wan and Pak Kok Tsuen with Tsui Wah ferry company (adult price: 19$HK, or 21$HK on weekends and bank holidays)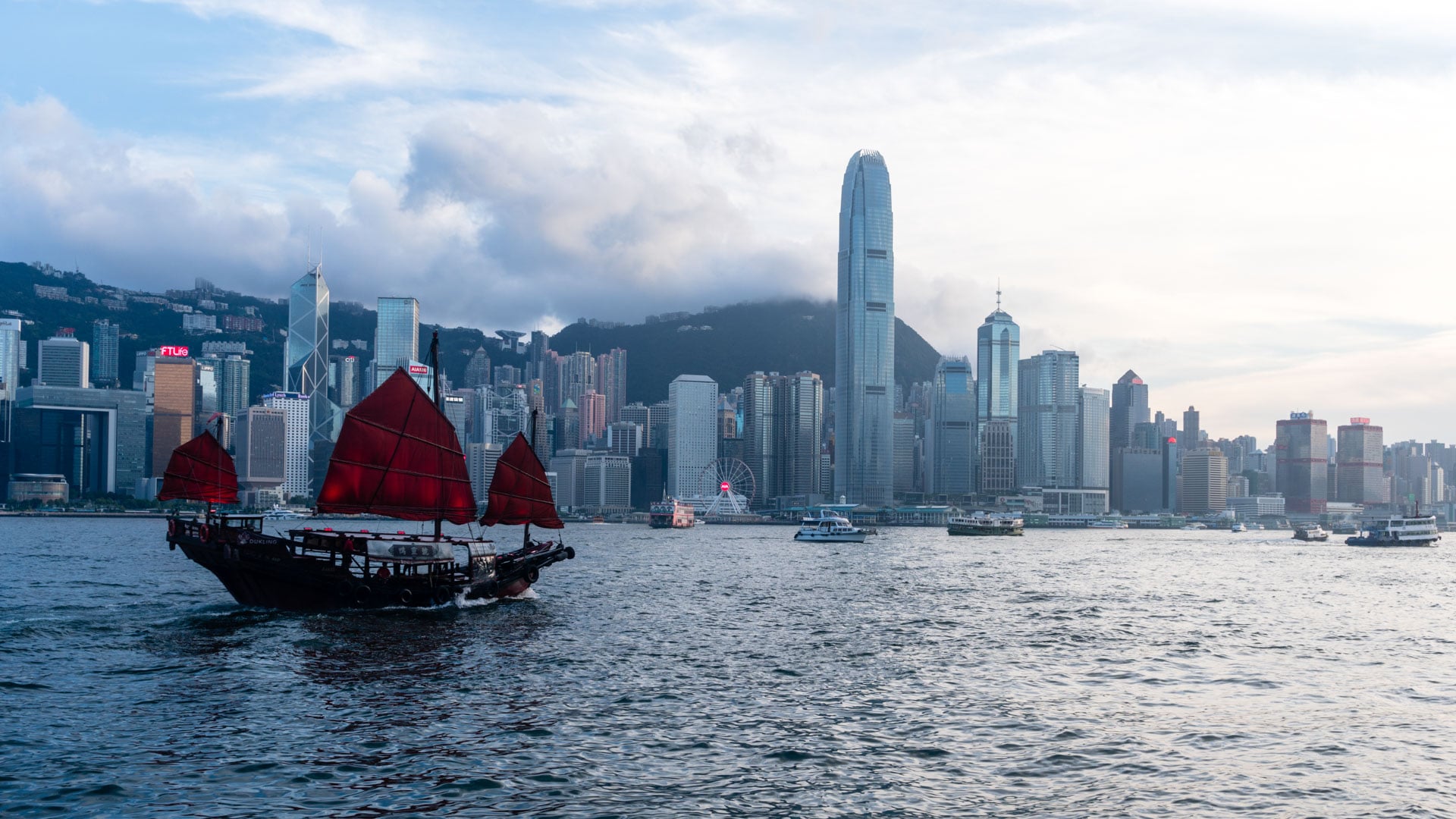 More about Hong Kong
* Post written according to our personal experience *