During our trip, we asked ourselves several times this question: "Should we boycott over-frequented places?" Indeed our way of traveling tried to be the more responsible possible, but is it really responsible to visit a place that suffers from mass tourism? We wanted to put our thoughts here, bringing both our personal and documented lights on the subject, in order to bring out some answers… but especially solutions!
---
About over-frequented places…
Let's start at the beginning: we need to define what is meant by "over-frequented places" and how tourism can be harmful in these places (even if you can figure the answer!).
An over-frequented place is a place of interest victim of mass tourism (or overtourism), for which the threshold of maximum capacity was exceeded with a temporary or seasonal tourist peak. This place can be:
A cultural / historical heritage site: Mont Saint Michel, Machu Picchu,…
A city, a village: Venise, Barcelona, Paris,…
A coastline, beaches, islands: Albanian Riviera, Santorini in Greece, Maya Bay beach in Thailand…
A natural site: Halong Bay in Vietnam, Plitvice National Park in Croatia, …
A place that gathers crowds for a particular event: October Fest in Munich, Fête des Lumières in Lyon, …
The presence of an excessive visitors number in the same place can be measured by experts (scientists, UNESCO, government authorities) or simply perceived in the facts (by locals, tourism professionals etc). In any case, defining a place as over-frequented remains very subjective. Indeed, notions of overtourism and over-frequented places are recent and there is currently no official definition or standards, homogeneous thresholds about it.
On the other hand, it's pretty obvious that hosting a large number of people at the same place and at the same time inevitably has detrimental effects:
first on the environment – like serious damages or destruction of a natural environment, overuse of resources (water, electricity), pollution (waste, visual and noise pollution, etc.)
then on local populations – loss of quality of life (pollution, price-rising of the rents, problems of insecurity, prostitution, drugs etc), eviction of non-tourism activities for the tourism benefit (purchase of agricultural fields, individual houses to build hotels etc), deterioration of their heritage, development of a strong feeling of tourismophobia…
If the adverse effects on the environment are rather obvious because visual, adverse effects on the local populations are much less obvious… For example, rice terraces of Yunnan in China (cover photo) are very popular and well arranged to allow tourists not to step in the rice fields – so the fields can be still cultivated and not damaged. It's therefore difficult to realize, at first glance, the impact of mass tourism on local populations… Fortunately, by learning from the locals, we learnt that Chinese authorities had put measures in place to protect the minority ethnic group exploiting the rice fields – by making it impossible to buy, build and run commercial activities by Chinese of other ethnicities.
Acting in knowledge is a first step towards responsibility!
Map of over-frequented places identified by Florie Thielin and her students (non-exhaustive)
(source: voyageons-autrement)
Map legend:
– Black: closed/prohibited places
– Red: places suffering from mass tourism without any measure taken
– Orange: places suffering from mass tourism with measure taken
– Yellow: places to follow-up closely
Should we refrain from visiting over-frequented places?
At the risk of disappointing you, we have no answer to give for this question: it's a very personal choice. And to have already visited over-frequented places along our trip, we will certainly not give you moral lessons!
This said, before going headlong towards a place of interest, we think that it's necessary to get some informations about it. This makes it possible to make your own opinion, a decision in full knowledge of the facts – but especially, look for alternatives to limit your impact!
Get informed to better decide
Here we will give you some examples of questions that we have already asked ourselves during our trip, and whose answers have helped us to make choices. They are categorized: impact on the environment, impact on local populations, measures taken by local authorities and personal input.
Impact on the environment
Does tourism have a negative impact on the environment (climate change, endangered ecosystems, untreated waste, etc.)?
Can we find some activities featuring wild animals?
Is the environment protected by a label or a legal system (like protected natural area)?
The issue of the environment played a crucial role in our personal choice to not visit Halong Bay in Vietnam: in 2018, there were 15,000 visitors / day – visitors who gathered in polluting cruise ships, to visit a site that looked more like a boat highway…
As for now, no measures have been put in place by the authorities to protect this endangered natural site.
Impact on local populations
Does tourism really generate profits for locals (employment, maintenance of small businesses)?
Do local people have access to this historical heritage (national tourism versus international tourism)?
Are human rights respected when locals are hired to serve tourists?
Measures taken by local authorities
Are there some quotas, or access restrictions?
Are the authorities aware of the problem? Do they take concrete measures, such as totally banning access to a beach so that the reef could regenerate?
Since 2019, access to Plitvice National Park in Croatia has been regulated in high season: the number of entries is limited to 10,000 visitors a day.
Recently, Thai and Filipino governments have taken concrete steps to protect the environment, by closing temporarly Maya Bay beach (Thailand) and by limitating the entrance to the small lagoon near El Nido (Philippines).
Personal input
Do I really want to see this site? Is my interest real? Or influenced by my entourage, social networks, a travel guide describing the place as "a must-do, must-see"?
What is my intention, my purpose in visiting this place?
It's not always easy to dissociate a real interest from a totally influenced intention – especially in the era of social networks, hashtags and filtered photos. We can still think and ask ourselves the question, for example, whether it's better to relax on a small beach not popular, rather than a beach identified on Instagram, with its photoshopped colors and a huge crowd of holidaymakers …
What solutions are available to us?
You plan to go to a place flagged as an over-frequented place, but want to minimize your impact? Here are some practical solutions:
Visiting in low season: and we have quite a few personal examples, starting with the Plitvice National Park in Croatia! We visited this place during the winter of 2017 and saw only advantages: an empty park, a discounted entrance fee (about €4 / person against €15 usually) and a landscape just as grandiose!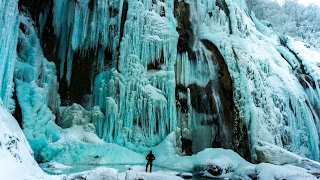 Find out about similar sites, nearby and less visited: as you already know, we have not been to Halong Bay (Vietnam) – prefering to visit the mountains around Tam Coc, a site nicknamed the terrestrial Halong Bay. And we really enjoyed this alternative that allowed us to get lost on not touristic dirt tracks, to watch locals paddling boats with their feet, and appreciate an environment that is not (yet?) over-exploited!
Avoid on-site activities that have a negative impact on the environment: how many sites accessible on foot still offer rides on an elephant, or jeep off-road?…
Lobby to put pressure on the authorities and actors of the tourism: without going to protest in the street, you can still act to obtain more measures – by doing acts of boycott, sign some petitions, or mediatize problems… That's how many companies selling elephant tours (mistreating these big pachyderms to tame them) have closed in South-east Asia!
To conclude, it's important to remember that our actions would not be without consequences – whether traveling, at home, visiting a place over-frequented or not. It's never too late to adopt better habits, and especially more responsible behavior when traveling.
Useful links:
* Post written according to our personal experience *