Bonjour, Hello, Ciao, Dober dan, Dobar dan, Mirëdita, Geai sou, Merhaba, Barev, Gamarjoba, Salam! Welcome to our series of newletters which retraces, chapter by chapter, our great hitchhiking jouney. Here is the chapter 11 of our travel stories: "Steppes conquest" – Roadtrip in Kazakhstan.
---
A promising start
After 5 days transiting in Turkmenistan (and 5 hours transiting at the kazakh-turkmen border…), our super Russian trucker Sergei dropped us off in Zhanaozen, the first "big" Kazakh town located on the road. He was on his way to Russia, while we wanted to stop for a while in the west of Kazakhstan, to discover the Caspian Sea. "Davisdaniya Sergei, spasibo!" As hunger began to set in, we walked with our backpacks on, in search of an ATM to withdraw some money – and a small grocery store to buy some food. As we came accross the main mosque and its huge garden, the idea of camping there came to our minds: after all, we'd already pitched our tent near mosques in Iran, and these places are famous for having public toilets and available sinks. A horn brought us back to reality: a car has stopped right in front of us, and the driver called out with a very characteristic hand gesture, meaning "What the hell are you doing?" We went closer, a little confused… How do you say "walking on foot" in Russian again? Luckily Sergei had taught us a few words of Russian just before. Our driver seemed to understand; this time he beckoned us… In fact, he just invited us to eat and sleep at his house, in his big house, in the presence of his wife and 6 children. As the sun set, Ramadan fast has just ended: table is set, a big plate of Beshbarmak (a traditional dish eaten with our "five fingers") and tea cuos with milk were brought. Hospitality was complete, but limited: our hosts woke us up at 7 am the next day and invited us to leave after a hearty breakfast. We took the road again in the direction of Aktau, rather confident, even if most of the drivers who stop asked us for money: "niet taxi, niet dengi" (no taxi, no money!). Finally, we manage to get our lift for Aktau.
In Aktau, we spent 4 days/3 nights at Murat and his wife Dina's home, who also hosted Dina's brother; then 2 nights at Kimbat's appartment with her beautiful cat Sonya. We got along very well with these first Kazakh hosts; educated, open, modern people – probably an "Aktau effect", as this city seems rather rich and developed with its huge port on the Caspian Sea – and plenty of oil wells nearby. Literally we did nothing special: we needed rest, and time to cure our stomach cramps (a euphemism for not saying "diarrhea"!) that didn't really leave us ever since we migrated with the Bakhtiaris, Iran's last nomads…
How to getting screwed
When cramps finally left us in peace, we took the decision to leave. Bob, a Couchsurfing member, didn't hesitate to offer us hospitality in his hometown Shetpe, a village without much interest but on the road to Atyraou. Already, we had found him a bit weird from our whatsapp conversations: he had tried to sell us tour packages; then, when we answered with a no, he became less prolific – but still agreed to host us. Today, we bitterly regret that we did not trust our instincts that told us not to go. As soon as we arrived after a long hitchhiking day, Bob took us directly to a room where a dozen young Kazakhs were waiting: he left us there, tired, struggling with our big bags, forcing us to give a private English lesson for 2 hours to his students… A course for which he will, of course, be paid at our expense. After the class, we let him know that we were not confortable with this situation: Bob apologized and promised to take us to his place – after a trip to the local grocery store. But then again, when it came to pay for the groceries (including several kilos of meat that we, as vegetarians, will not eat) Bob screwed us… forcing us to pay for everything. Anger was growing, but there was no way that we leave without enjoying a meal with our paid ingredients. At home, the situation got worse: his family didn't speak a word to us, and the house was full of children who came to practice English (again!) with us. Dinner took place in an absolute silence, and we finally were allowed to rest around midnight – only to be woken up at 8AM with only two cups of tea… We left, writting a feedback to Bob on Couchsurfing as negative as the welcome we received. Irony of the fate: Taylor, our american host and friend of Gudauri (Georgia), who left Georgia to travel by bicycle on the Silk Road, will live the same ordeal at Bob's house two weeks after us…
Fortunately, all is not dark: after 500km hitchhiking, our last driver invited us to have dinner and sleep at his place in Kulsary. Once again, we found ourselves in a house full of children; but this time the welcome was totally different: we were looked after, fed with delicious food, we were given a large room to sleep and our hosts even open the door of a local Banya, a Russian public bath similar to a sauna. Relaxed, rested, we hitchhiked the road in direction of Atyraou, with a whole roasted chicken in our bag – a gift from our last hosts. Our last driver, who gave us a lift to the crossroad of Ural road, promised us that his friend, who was planning to make the trip at night, will be able to take us with him. But it was all in vain. He screwed us, too! By dint of wandering on the side of the road, 2 Turkish lorry drivers ended up calling out to us: "Hey! Merhaba!". How long has it been since we were in Turkey? 5, 6 months? Turkish words came back to us fast, to the great pleasure of our interlocutors. They offered us pasta, tea, a bit of comfort – the true Turkish hospitality, as we already experienced it! One of them even offered to give us a ride, on condition that we have to get up at 5AM. Deal! We pitched our tent behind the petrol station, and woke up at 4.30AM to be sure getting ready on time. And then we waited, and waited, and waited in the morning cold… Would they have screwed us also, like the others…?
Crossing the steppes
The first driver finally woke up at 6.30AM and waved us up after starting the engine on, puffing out his first cigarette. We warmed up inside, and one after the other we completed our night, lying on the back bunk. Lifted across the Kazakh steppes, our red truck traveled almost 900 km on the first day: a new record in our hitchhiking statistics! This first day even ended up creating a strange bond with our Turkish driver: during a video call, he introduced us both to his wife, and at the end of the day he even offered us to sleep in his heated cabin, each one sleeping on a seat. We politely declined, preferring our tent comfort – that we pitched in front of the truck, somewhere hidden in a truckers parking lot.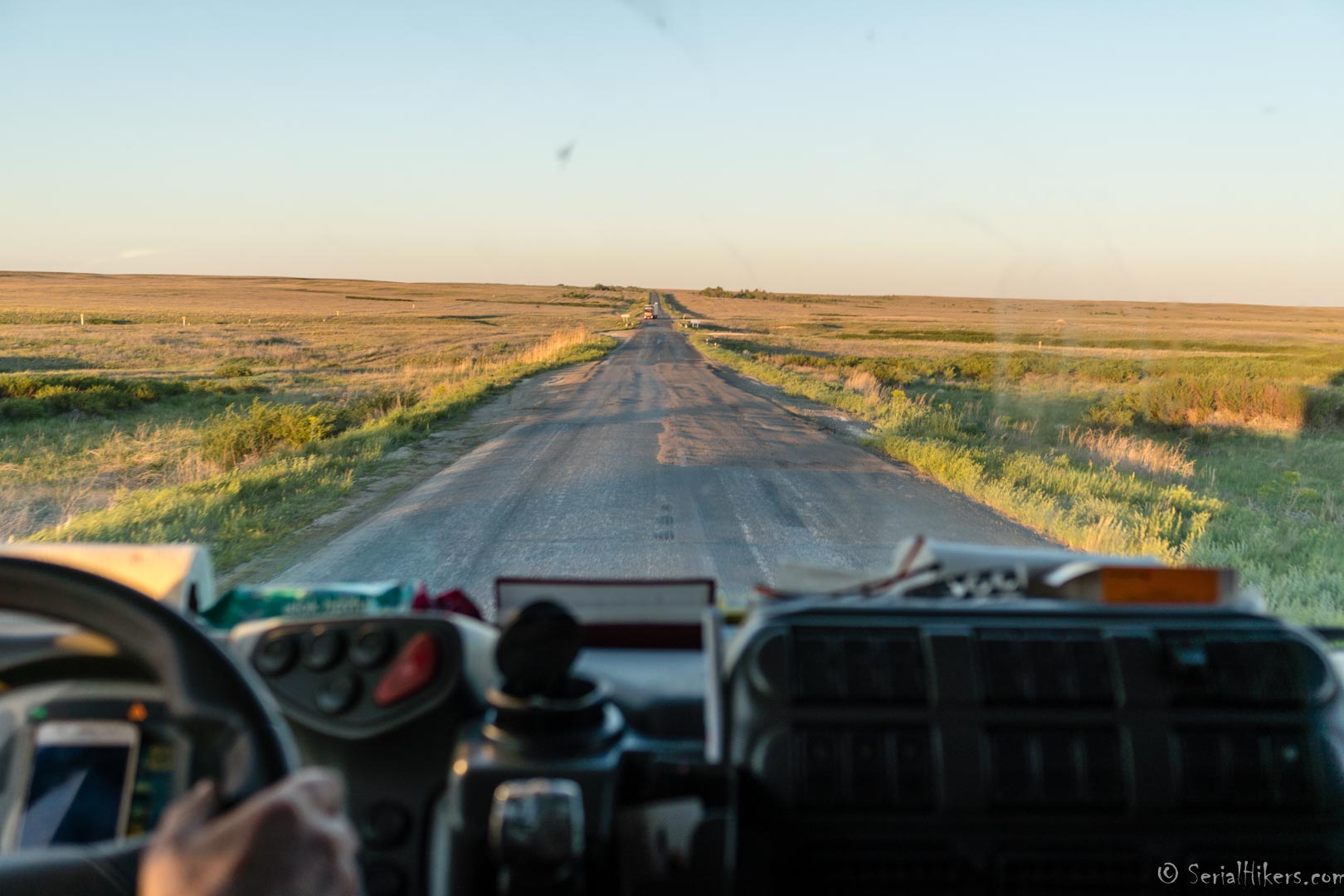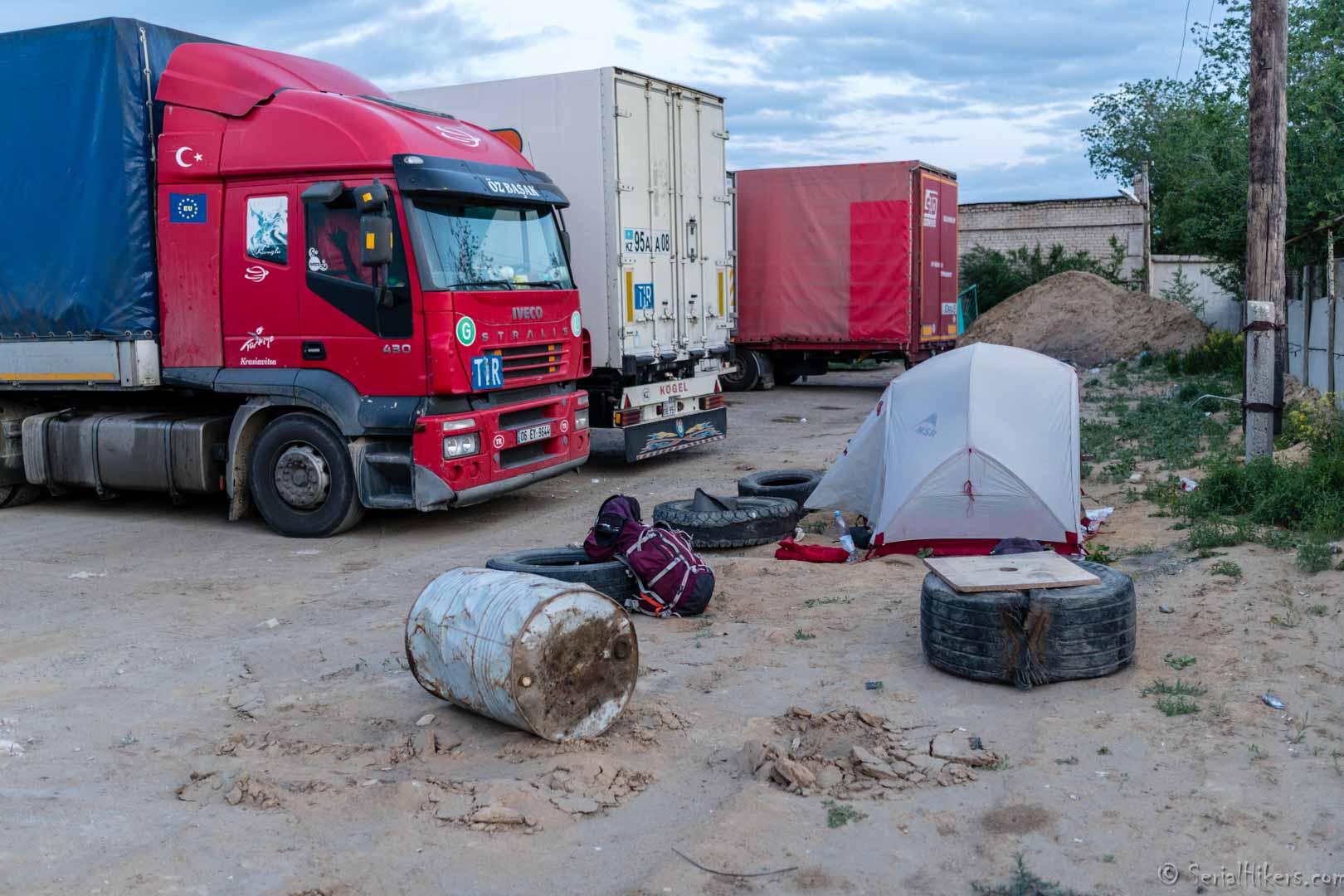 Days go by and they all look the same: back in the truck, then warmed a bit up, laid on the back bunk, lifted forward in this arid, flat and endless landscape. We arrived in Aral in the middle of the afternoon: our paths had to separate here, our driver wishing to get quickly to Almaty, and us wishing to visit the remains of an almost vanished sea. We are pretty sure to have perceived a hint of disappointment draw in our friend's face. He, as we understood, would have preferred not to make the trip to Almaty by himself…
We knew nothing about Aral before arriving, except that the village was very close to the former Aral Sea – a sea that has almost disappeared because of intensive industrialization and global warming. On our offline map, a boat graveyard was indicated at the end of a 60 kilometres track from Aral. Despite it was late in the day, we tried our luck by hitchhiking: 3 hours of waiting and… no one (except a few camels). Eventually the night fell and we resigned ourselves to camp in the area. But where? "I think we passed a park, do you want to try and see there?" "Let's go!" But when we reached the park, a group of kids spotted us… Too late to turn back! They rushed in our direction and surrounded us quickly: they didn't give us a single moment of rest, filming us constantly with their phones, watching every move we've made to better reproduce them. Everybody seemed to be enjoying the situation… except us. Despite of our obvious annoyance, we started to pitch our tent in a corner of the park, too tired to find a more suitable place. We didn't have time to settle down completely: two policemen came, and made us understand that this area is not secure enough to spend the night. With an official police car, they drove us to a supervised construction site where we met 3 workers on guard: apparently, construction materials thefts are not so rare here… And hup! We add a new Russian word to our vocabulary: "Hooligan" (theft). Policemen offered that we pitch our tent near the headquarters; but workers offered us to sleep on one of the bunk beds in their modest dormitory… Choice was easy to make. We fell asleep very quickly after swallowing a tomato soup, near the old TV that broadcasted french "Taxi" movie – dubbed in Russian, of course…
Our companions woke us up at 8 o'clock. Outside, construction machines are already at work; we had to leave. We thanked them, and went back to the dirt road start, at the same place we were the day before. The boat cemetery was a bitter failure: we only managed to be lifted on 12 kilometres out of the 60 in… four hours. We were less persevering than our last hitchhiking companion – a Russian adventurer who wanted to see the Aral Sea again 30 years later, dropped off like us at the first hamlet – something that didn't prevent him to cover the remaining distance on foot. We decided to cross the hamlet, the railway, and the huge Kazakh steppe before going back to the main road to continue our trip. According to Manon, our future host in Almaty, we didn't miss much: most of the boats on the Kazakh side have been dismantled and sold, piece by piece.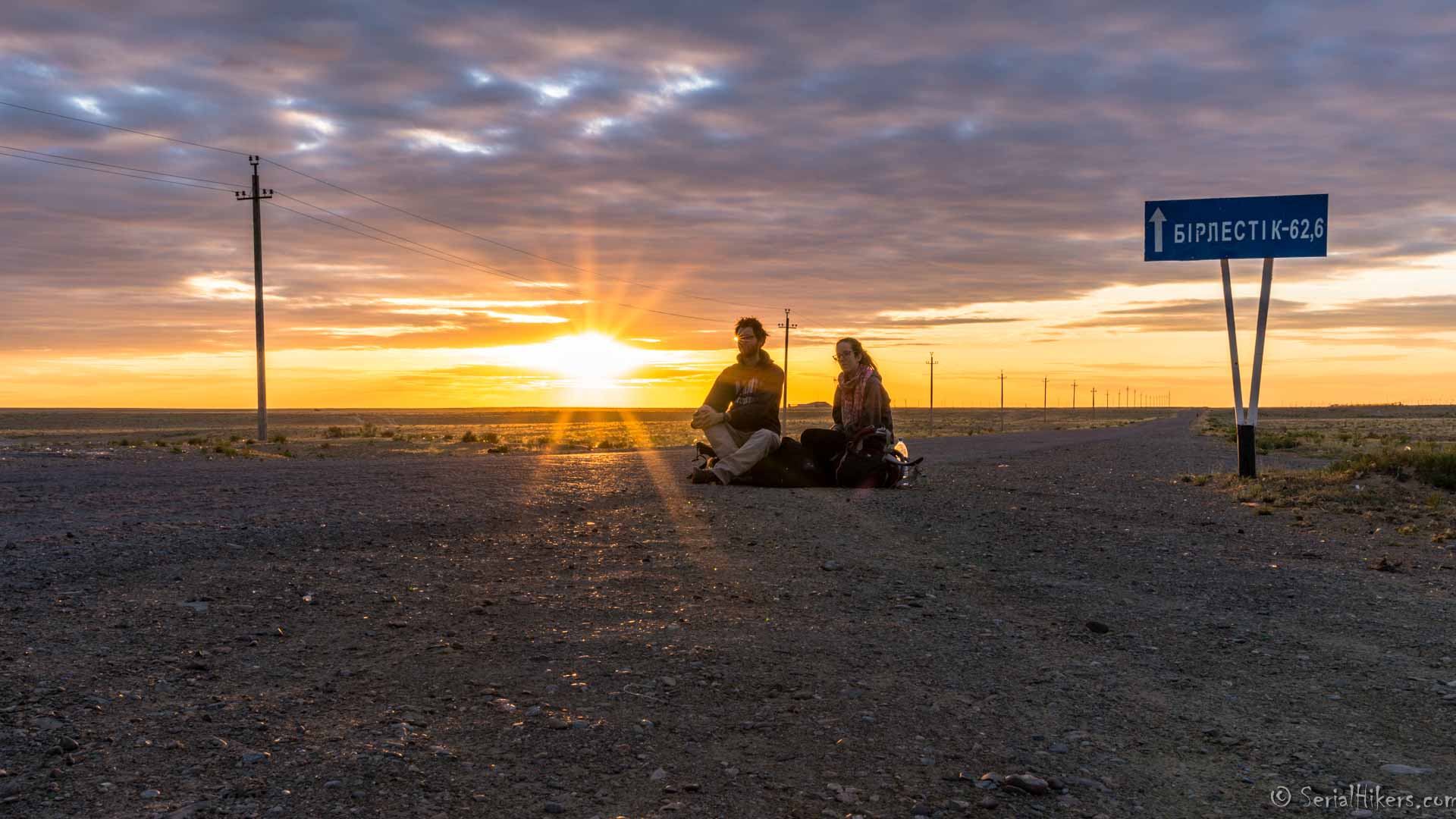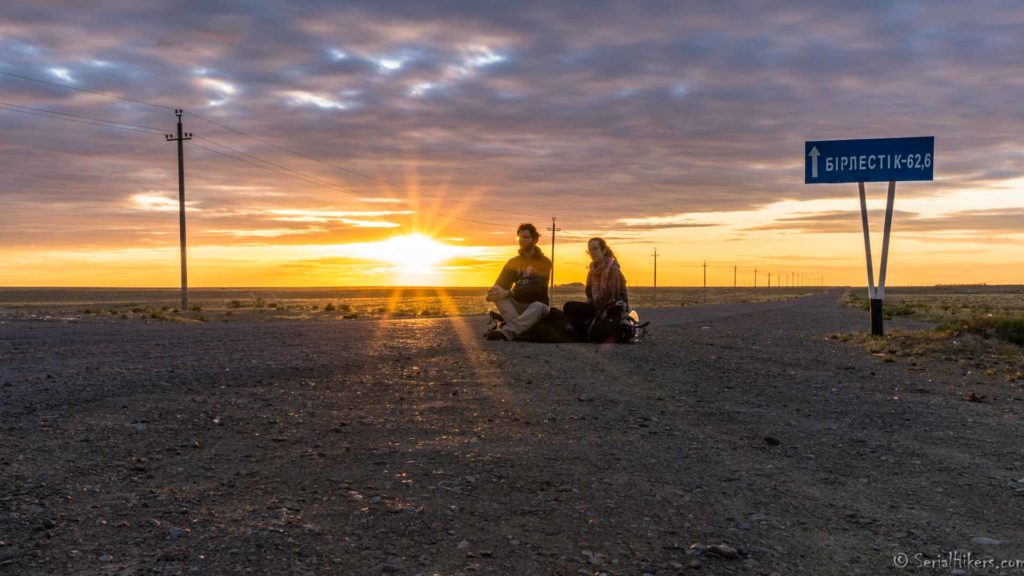 Tourist mode: on
Our long walk under a blazing sun was well worth it: after waiting for a while on the side road, a big air-conditioned BMW stopped. The driver, a young Russian, dropped us off at the entrance of Kyzylorda after a short passage in front of Baikonur aerospace base – a 100% Russian base, located in Kazakh territory (another quirk of the former USSR). We had just been walking for barely 5 minutes when a family apostrophed us: "Photo, photo"! We let them pose with us, uploading pictures on Instagram before asking them a favor, in our turn: "Palatka… Gde?" Despite our low Russian level, they understood that we wanted to pitch our tent somewhere. They made us understand, in return, that there was no way to sleep outside but in their house. That's how we ended up staying with Azamat and his wife, in an almost empty apartment: the young couple has just moved, but Azamat wanted to do some renovation work himself in order to realize an increase in the property value. We finally took our time to visit, starting with the city center of Kyzylorda: a pleasant but not extraordinary place (despite colorful paint layers, Soviet era concrete buildings were clearly recognizable). We then headed towards Turkistan, stopping on the way at Sauran – an archaeological site dating back to the Middle Ages, which turns out to be a simple enclosure of adobe walls. This day, the overwhelming heat made us stop in the shade of a railway bridge. And I took the opportunity to cut Julien's hair, while waiting for the right (or cooler) time to resume hitchhiking.
Dropped off at the entrance of Turkistan, we were forced to walk 30 minutes to reach the historic city center. We did not take 2 steps when a group of children, coming out of nowhere, ran in our direction shouting at us in Russian. They were not bad, in fact we understood that they were desperately trying to get our attention… Problem was that even after politely answering their greeting, these excited kids followed us (very) closely for a good part of the way… Where are the parents? Fortunately, when we arrived at the feet of the gigantic mausoleum, little monsters have all disappeared. This time, a respectable Kazakh family came to meet us: they wanted to know where we come from, what we think of their country, if we agree to take pictures together… As a thankful gesture, family father gave us 2 entrance tickets for the mausoleum. He had no idea that foreign tourist have to pay 3 times the fee that apply for Kazakh citizens, but with a little insistence at the ticket office we managed to exchange our 2 "Kazakh tickets" for "2 tourist tickets", paying only the difference in price.
The day ended in style with a hearty picnic in the mausoleum gardens and a beautiful sunset. We were not done being ecstatic when a storm threatened to hit: that night, we preferred to play it safe, setting up our tent near the sheltered ruins of the ancient city – so that we could retreat in case of heavy rains. Unnecessary pain: night was perfectly quiet, and we even were awakened by a radiant sun and dozens of curious susliks…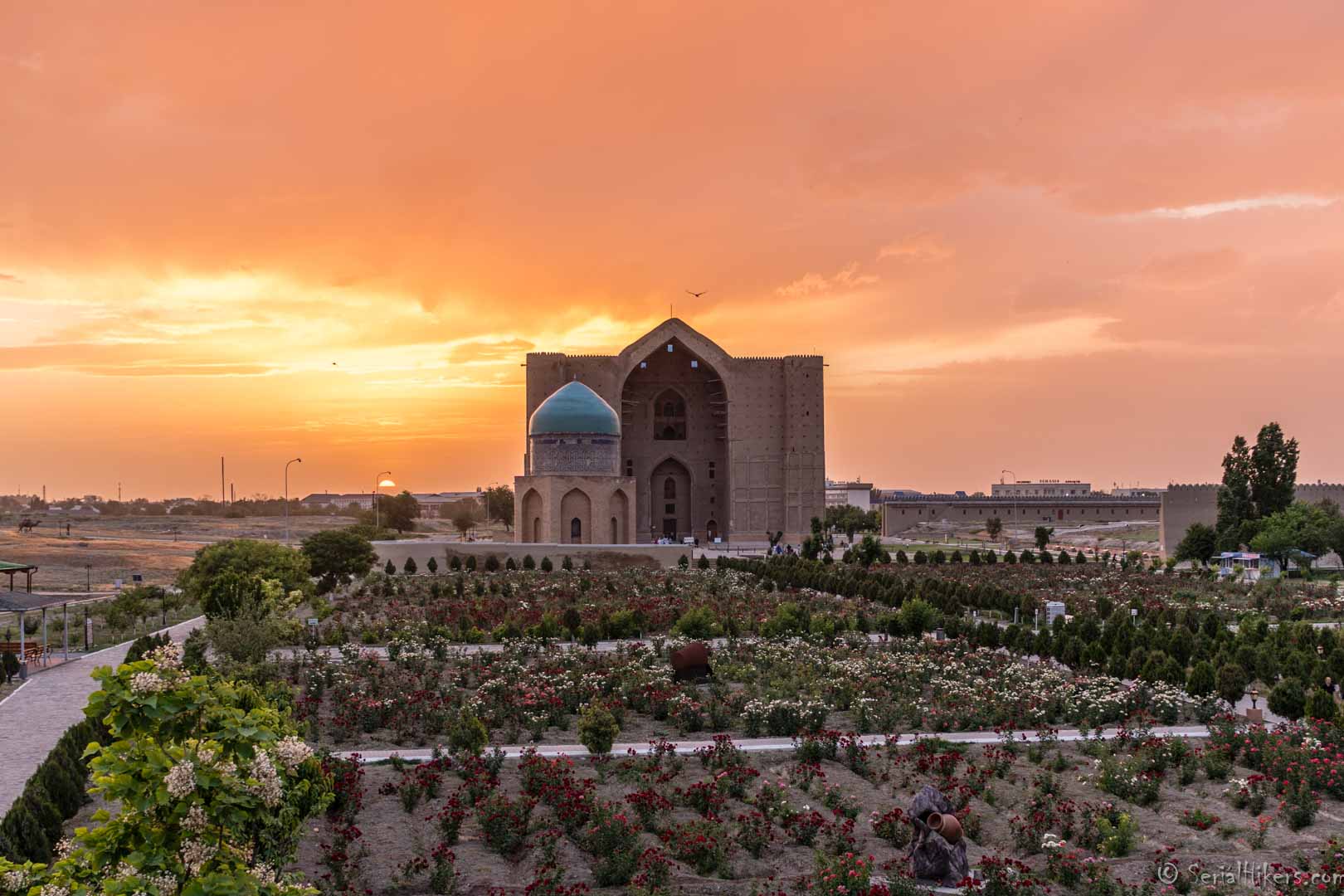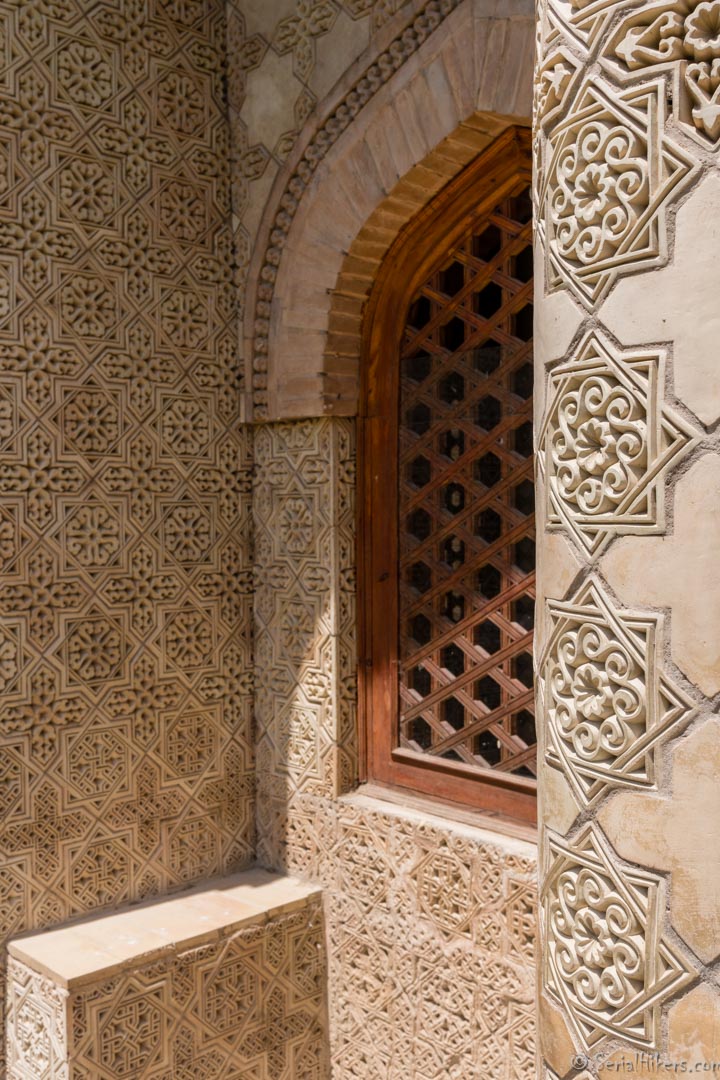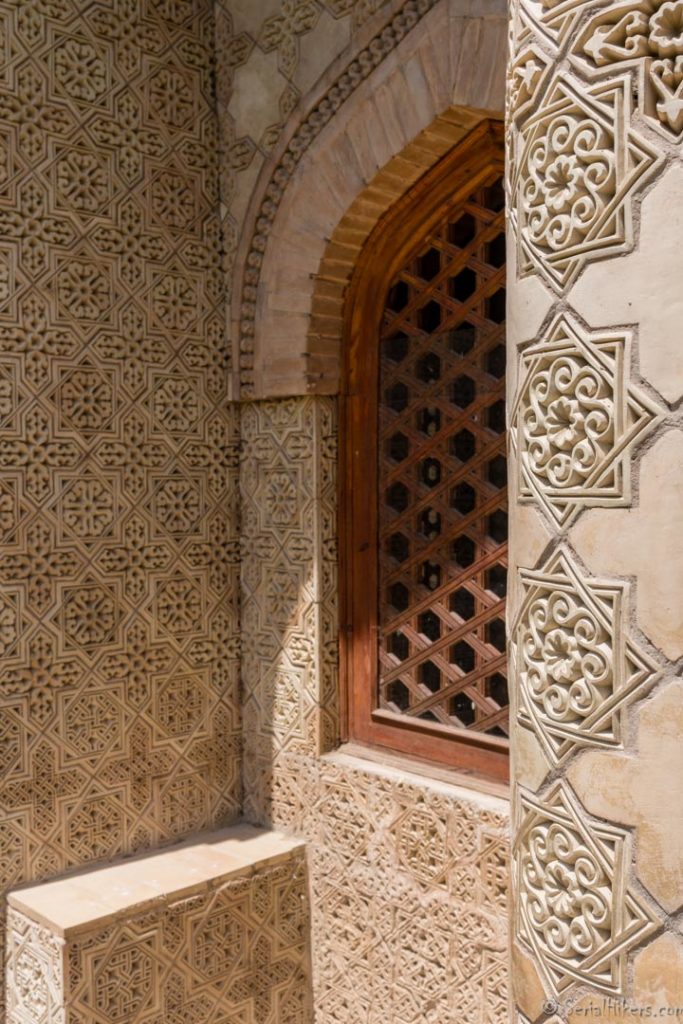 Sleep – eat – hike
After our crazy epic in the Kazakh steppes, it was time for us to slow down and rest. That's what we did in Shymkent, where Javid an Azeri expatriate welcomed us for 2 nights. This was a good timing because, quite honestly, there was not much to do or see in the metropolis of Shymkent… So we left Shymkent, without regrets, for Taraz – an older, more historical city. That day, despite the good weather and heavy traffic, nobody seemed to stop for us: we hop-hitched cars (a series of short hitchhiking trips), we waited, we desperately tried to attract drivers' attention…. Our efforts finally paid off; with a Kazakh driver stopping for us. "Not kazakh, kazakhstani!" In Kazakhstan, ethnicity and nationality don't mix. That's how Kazakh people of Kazakhstan and others live peacefully together: Kazakh Russians, Kazakh Tatars, Kazakh Uzbeks… After this instructive lesson about citizenship in Kazakhstan, our Kazakhstani driver let us off in front of Azamat's house (Azamat is a young host living in Taraz and working for National Geographic).
In Taraz we took our time to rest, to visit mausoleums like Asha Bibi, to party with Azamat's friends and to forget about time passing. The "goodbyes" with Azamat were difficult: apart from our common passion for photography and alternative travel, he had at heart to make us discover his city, traditional dishes, and to share with us his good mood, as well as his friendship! On our way to Almaty, we again stopped a car drove by a Kazakh driver of Russian origin – sorry, a Kazakhstani! – who spoke good English, which is rare in former USSR countries. He invited us for lunch, and dropped us off right at the foot of our new HQ: the apartment of Manon, a French expatriate and World Bank lawyer! Did anyone ever tell you how we met Manon? No, we haven't! So hang on: Julien's little brother, Clément, has also hitchhiked around the world (and now you're wondering if their parents didn't faint when they let their two sons go – but we can reassure you right away, they're fine!). And it was during his Kazakh crossing that Clément had the opportunity to meet Manon, who hosted him in Almaty! When Manon learned that we were arriving in Kazakhstan, she didn't hesitate for a second: 1 year after taking in the little brother, she got to know his elder brother… of whom she found a certain "family resemblance" with Clément! That's it! About our stay, there was not much to tell – except one time when Julien understood "I'm Mamat" instead of "One moment" and had answered, the most confident possible, "Nice to meet you, I'm Julien". During one week, we rested (a lot), we visited (a little) this green and modern metropolis city centre and hiked (quite a bit) in the surrounding mountains – Kok Zhalau, Furmanov peak… Sleep, eat, hike.
The recipe of happiness
Leaving Almaty was not easy. We had to say goodbye to Manon and her cozy apartment, pack our bags, walk a long way to get out of the city. We ended up stopping a car, a small one driven by a… soap salesman. He offered us a box full of them, filled with a good dozen of these bricks, as colorful as fragrant. After some embarrassed but sincere thanks, we left his car with enough gifts to spoil the next drivers who will be willing to drive us forward – like modern-day Santas in shorts and sunglasses. And like a senile old man, I ended up forgetting my beloved sweater in a truck during this day…
So it's on a half-upset, half-amazed mood that our day ended in the Charyn canyon, thanks to a young couple who didn't hesitate to pick us up in their rented Renault Duster. Small consolation: a local guide offered his woolen winter hat to Julien, to "not to catch cold" and to "keep a souvenir" of him. The next day, bad luck followed us with a heavy shower on the road towards Kaindy Lake, when we were waiting on the broken roads of this forgotten part of Kazakhstan. And to darken a little more this gloomy picture, the almost no traffic left us little hope to reach our destination before night. We prayed hard, very, very hard, for our hitchhiking star… And there, as an answer to our prayers, sun finally appeared at the same time as a strange vehicle from the Soviet era. Hurrah! Julien rushed in to explain our situation, and ended up convincing all the members of a Kazakh family vacationing in the region to let us on board for free. This time we learnt the recipe of happiness: a hint of luck, a healthy dose of adventure and a mix of fantastic encounters – served on a plate of breathtaking scenery!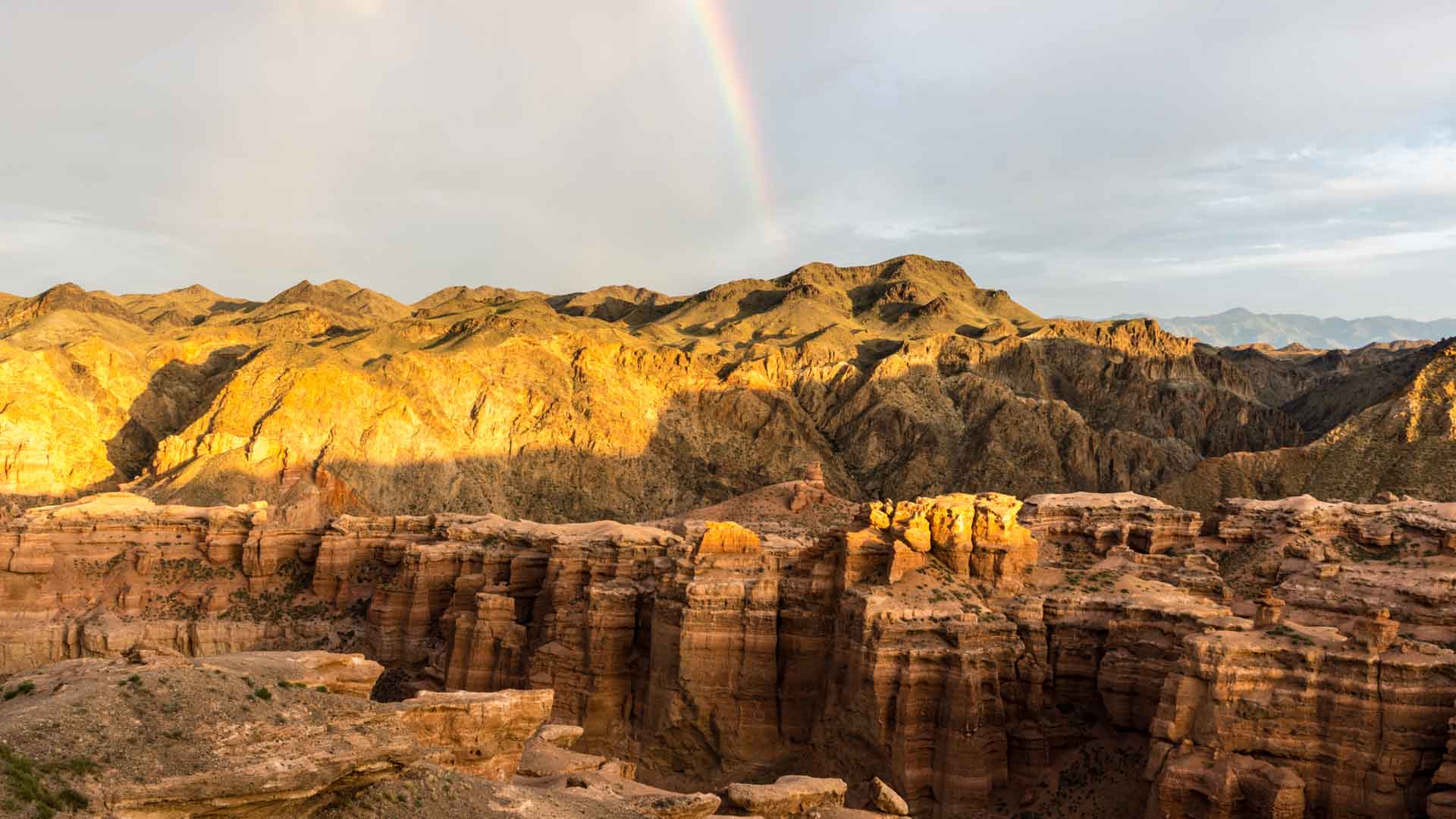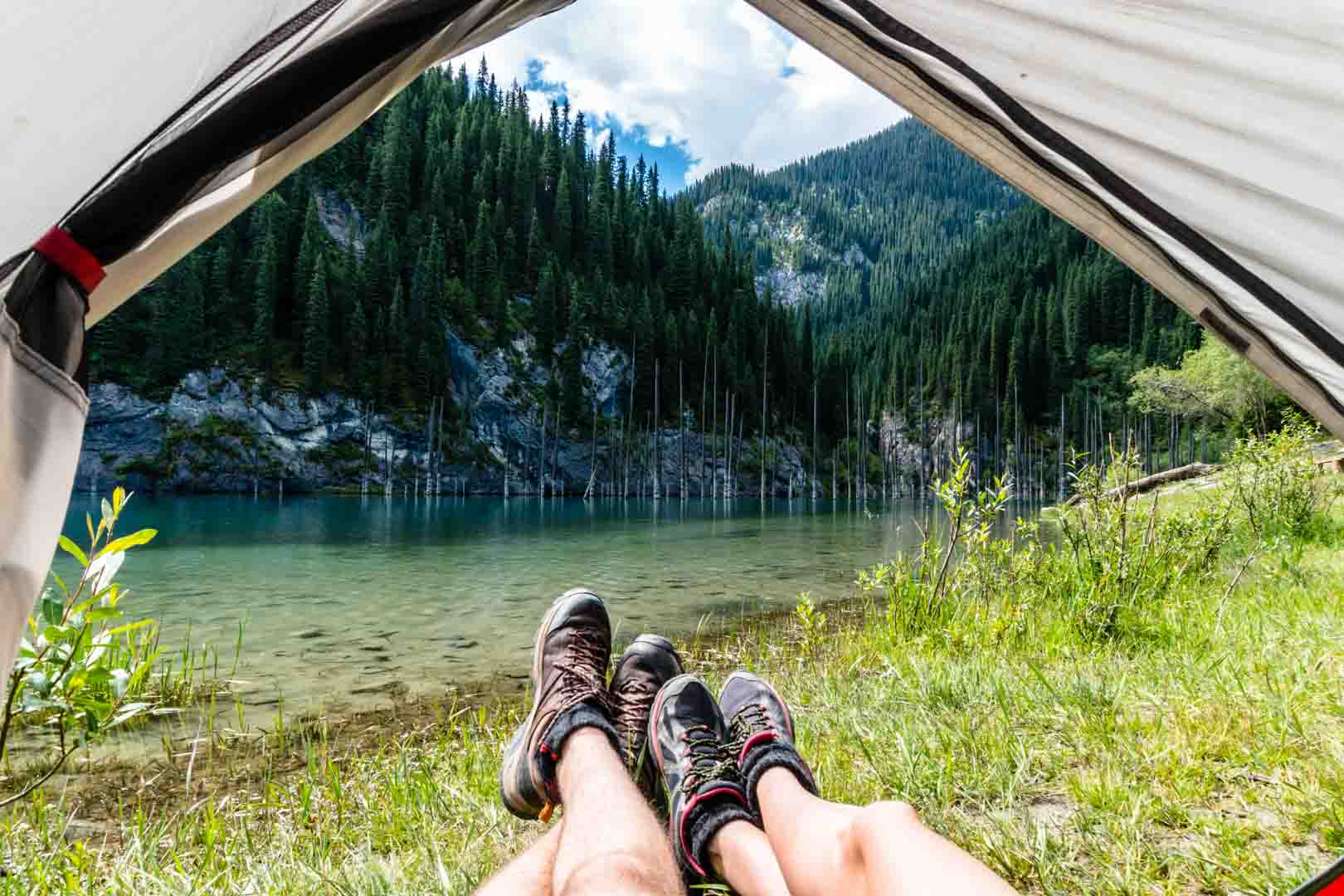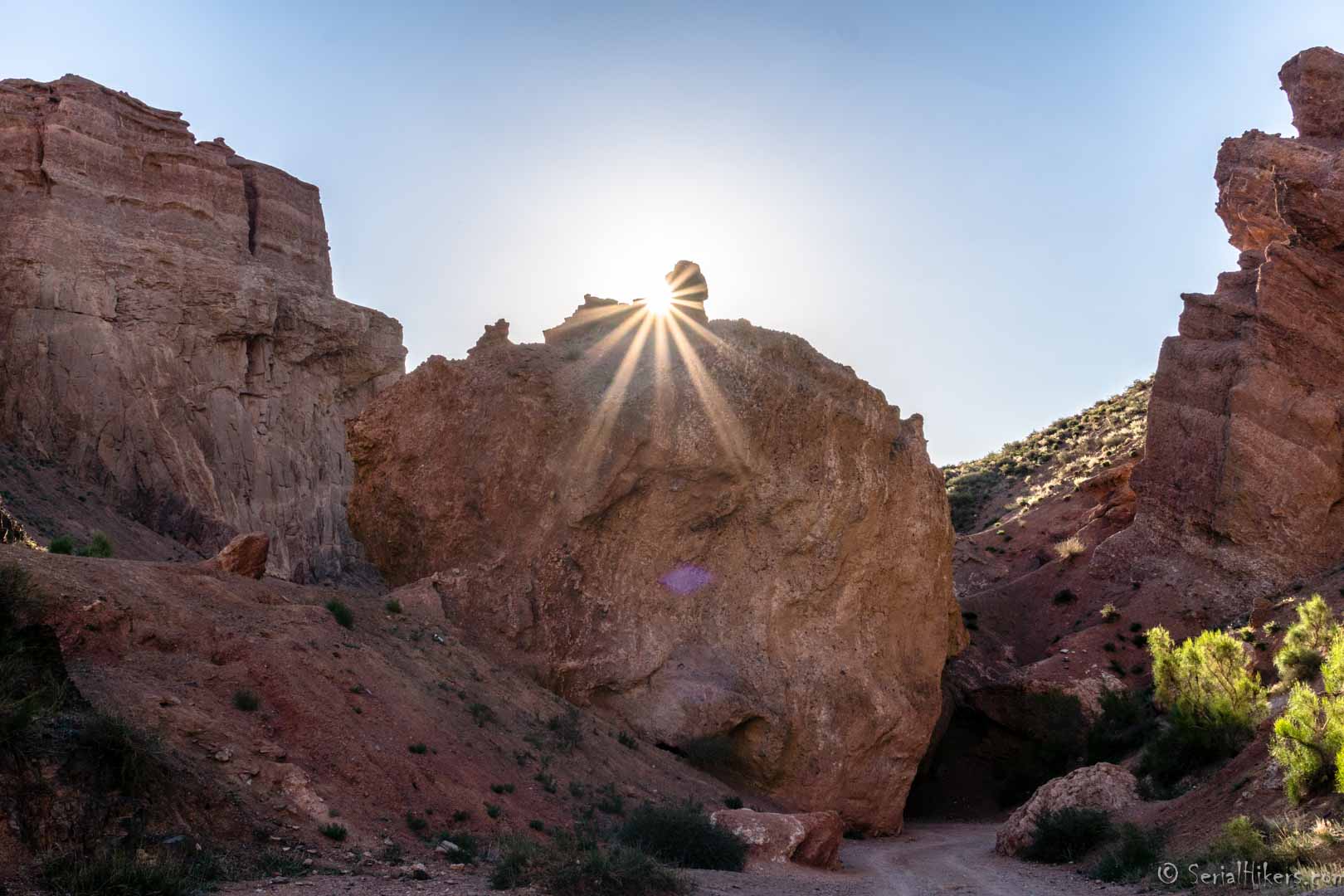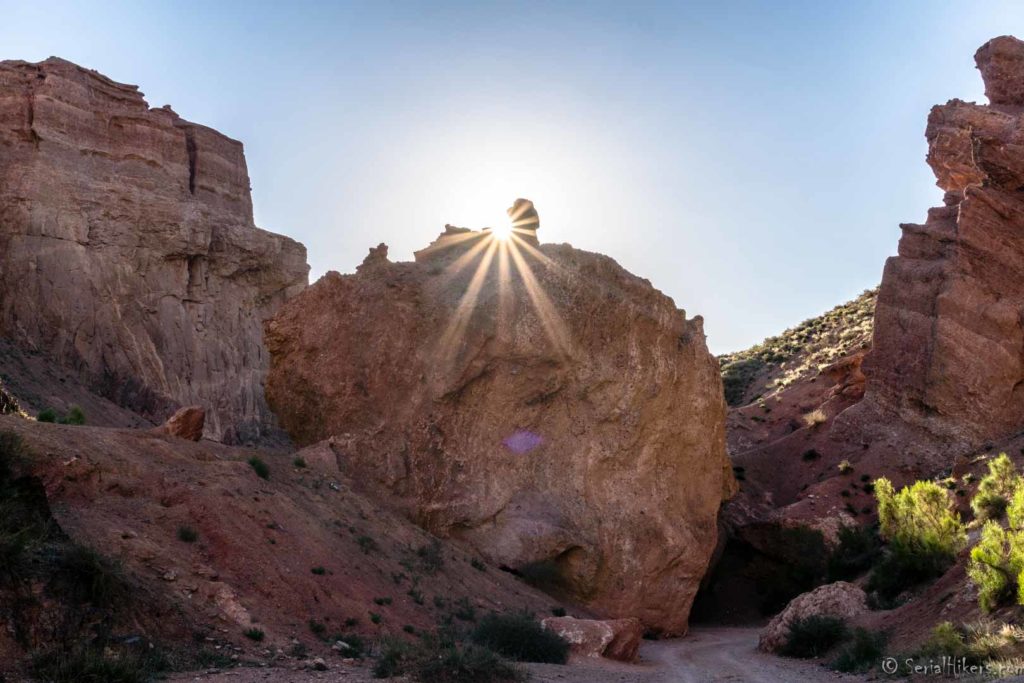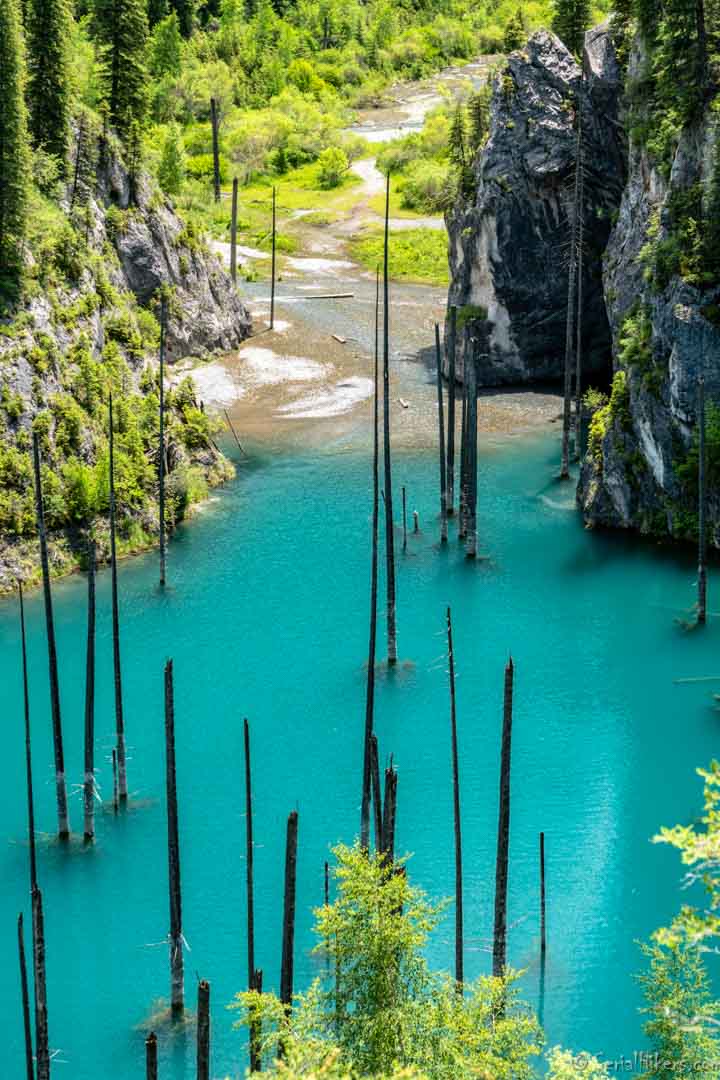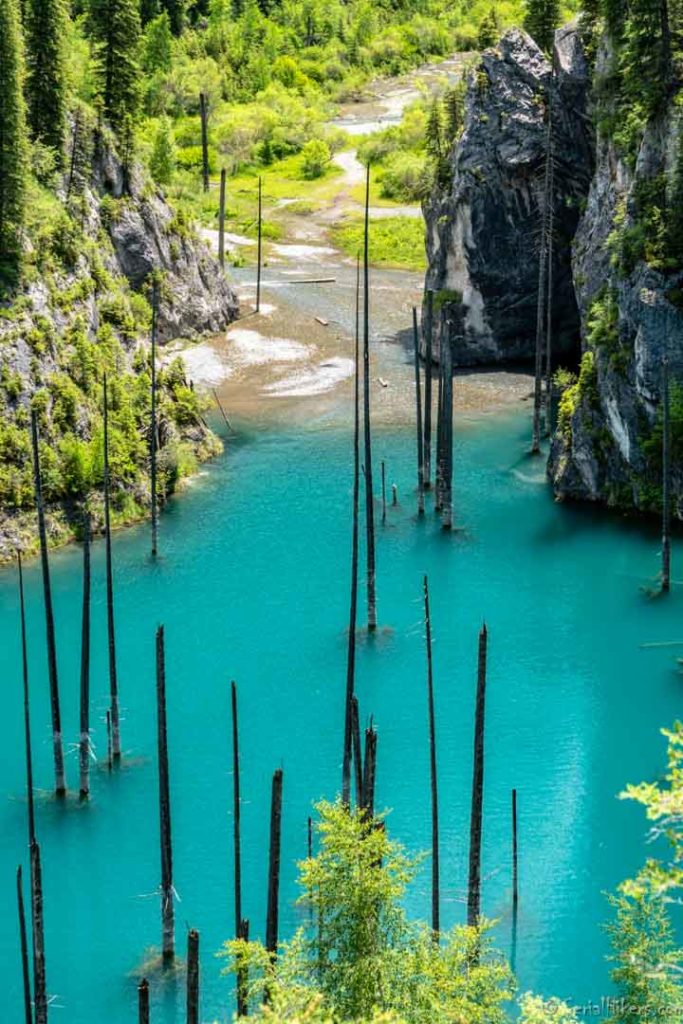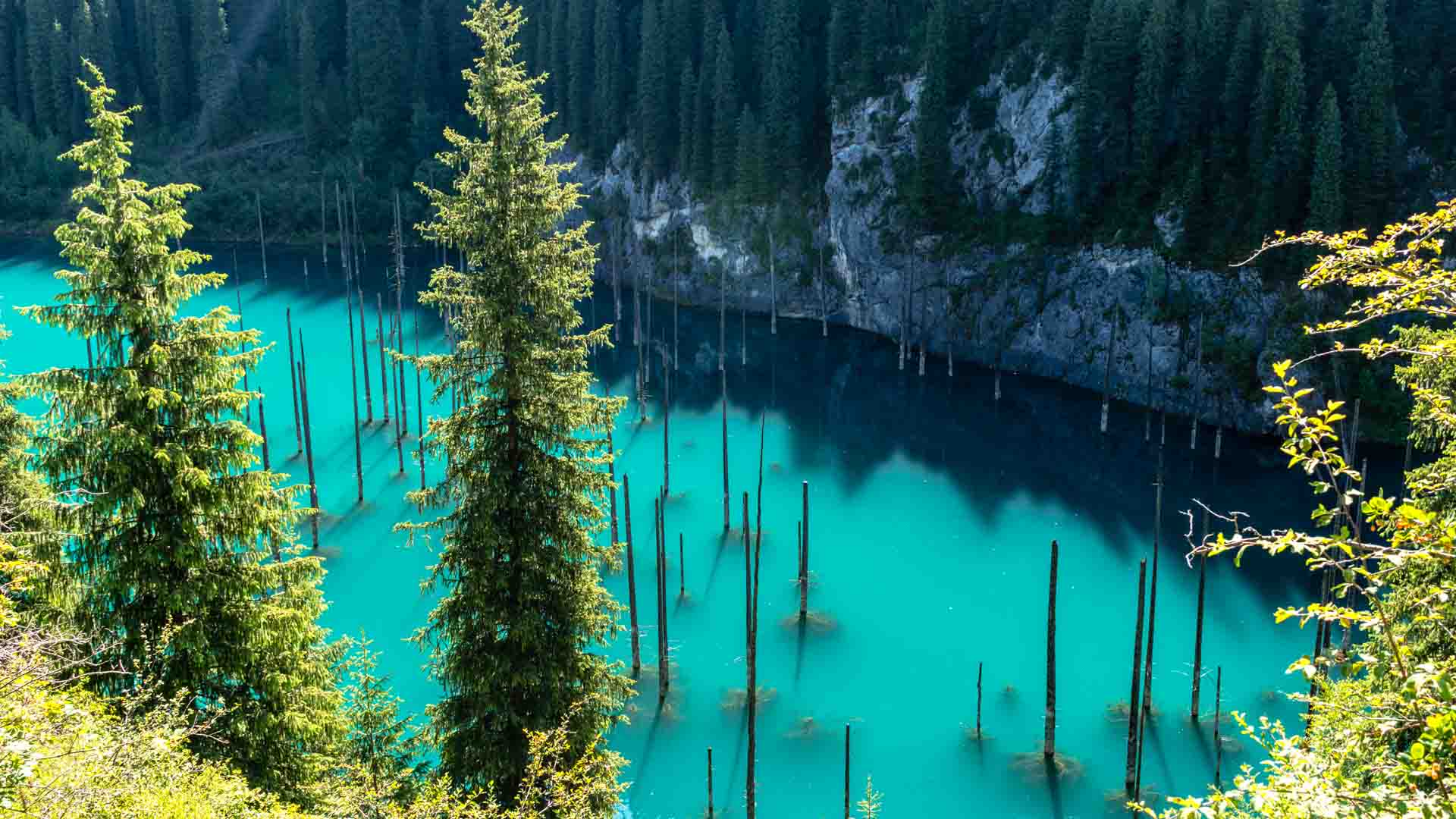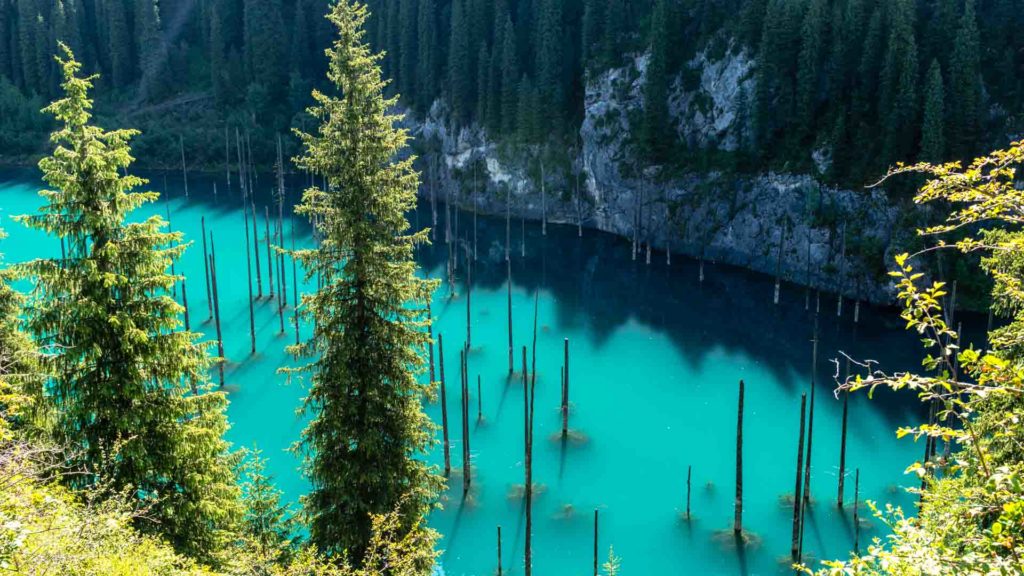 When we arrived at the lake, we soon found the ideal location to pitch our tent. We were not alone: a tent was already set up and its occupant, Peter, a solo American traveler, invited us to dine together around a campfire. It may sound cliche, but while men were busy making the fire, I went for a walk in the forest to find some wild strawberries: the perfect dessert for an already perfect campfire dinner!
The calm starry night at Kaindy Lake gave way to a radiant day. We folded our tent as late as possible, after a final walk around the lake. Thanks to the help of a Polish couple on holiday (and already met at Charyn canyon), we went down into the valley for free in their shared taxi, and was able to go ahead on our way to Kyrgyzstan. We even tried, before crossing the border, to stop a car to visit the Yellow canyon – a part of Charyn canyon that is accessible via another track. In vain. It was finally Turgan, a local driver at the wheel of his white van, that got us out of there. No question of leaving us outside! "Moi dom, skushet i spat" (my house, to eat and sleep). We gladly accepted this unexpected invitation. Raxmet Turgan!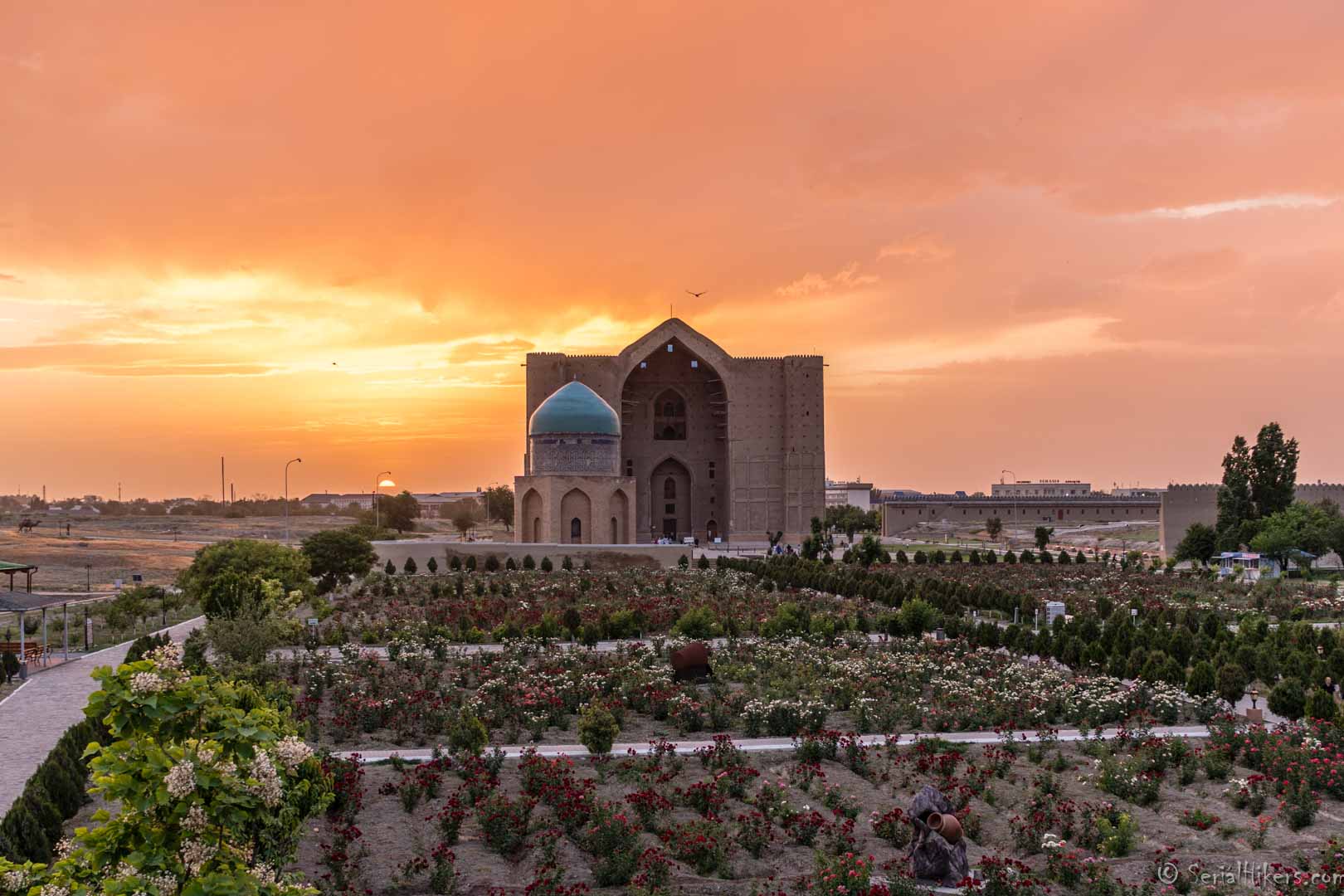 More about Kazakhstan
* Post written according to our personal experience *