Bonjour, Hello, Ciao, Dober dan, Dobar dan, Mirëdita, Geai sou, Merhaba, Barev, Gamarjoba, Salam! Welcome to our series of newletters which retraces, chapter by chapter, our great hitchhiking jouney. Here is the chapter 12 of our travel stories: "Getting higher" – Roadtrip in Kyrgyzstan.
---
Warning
« 32 dney ! » 32 days… June 20th, we entered Kazakhstan on May 20th, there must be a mistake. We took out our cell phones, counted back with the custom officer on the calendar: 1, 2, 3… 32. He was right. We have indeed exceeded the visa exemption period, set at 30 days for French citizens. "Warning, warning, warning!" We did well: no fine, but a first official warning in the form of a letter written in Russian and signed by the officer. One more day, and we would have had to pay a very high price for this misconduct…. We may have wasted 2 hours getting lectured in Russian, but our last 2 days haven't been "too much": they concentrated our most beautiful memories, between our walk in the depths of Charyn Canyon and our perfect night at Kaindy Lake!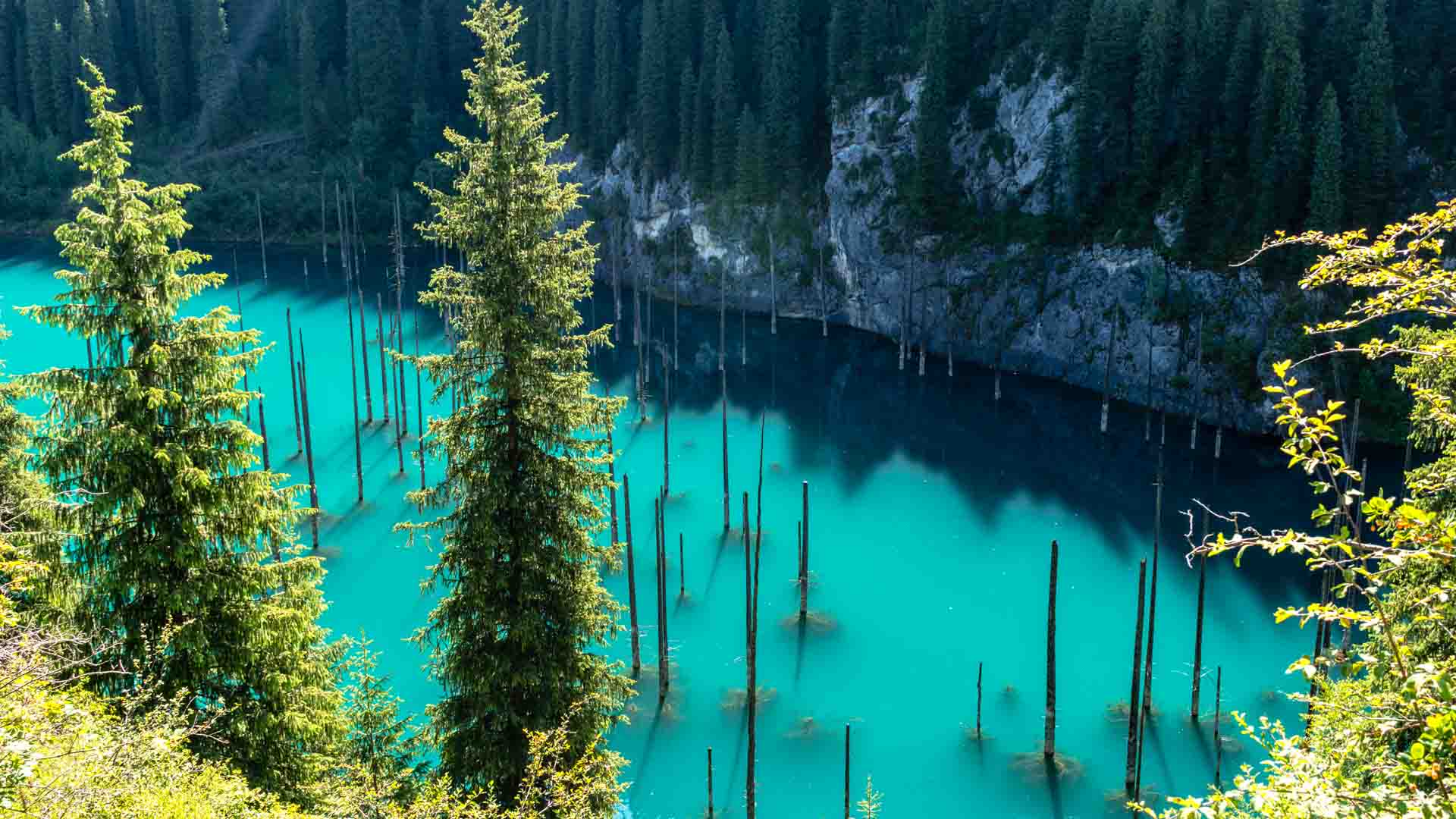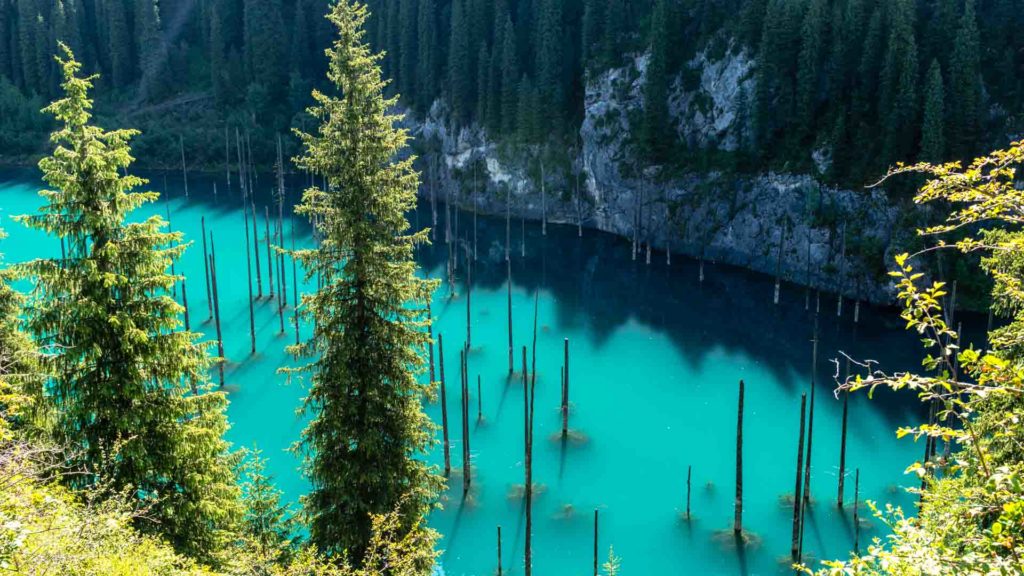 Now in compliance with the rules, we enter Kyrgyzstan serenely, greeted by a Kyrgyz shepherd. In this country, there is little chance of such a misadventure happening since visa exemption for the French lasts up to 60 days… We were looking forward to it; all we needed was time – time to visit, time to settle down, time to rest. We were also expected to work as volunteers in a "comfortable" yurt camp in Cholpon-Ata, a concrete and seaside town north of Lake Issyl-kul, and welcome tourists during the high season. The road is still long, not very busy and in poor condition. We walked, moving forward, and then turning suddenly around when, full of hope, we heard an engine noise approaching. It was not a car, as expected, but… a flamboyant red motorcycle. The driver stopped, took off his helmet: it's Peter, the American traveler with whom we camped at Kaindy Lake! This time, we were not letting him leave without exchanging contacts. As he moved away again, another engine noise is heard: a Kazakh car has just stopped for us.
On the way to Cholpon-Ata, Aibek, a young Kyrgyz who speaks rather good English, stopped to drop us off at our destination. Ironically, we will soon learn that Aibek runs a youth hostel in Karakol – the kind of establishment we prefer, in a Kyrgyz city we prefer (because it's located directly at the foot of the mountains). We explained to him our project, our interest in volunteering in his hostel. The idea seemed to enchant him! To make matters worse, the yurt camp where we were supposed to work was not finished yet… Our presence in Cholpon-Ata was therefore of no use!
So we leave the next day for Karakol, impatient to find Aibek and be able to put our bags in a dynamic, young and alternative place. But when we arrived, we found a closed door. Strange… From the outside, the hostel looks welcoming, with its pop and acidic colours! A little off-centre, but mountains and the nearby small grocery are enough to meet the basic needs of low budget backpackers. After an hour of waiting, we finally saw a group of Kyrgyz youth coming: we understood that Aibek, who stayed in Bishkek for other obligations, has delegated the work to a few local youth – the ones more interested in partying rather than practicing their little English. They set us up in the empty hostel, while they took possession with their noisy friends of a whole dormitory. That night, it was local vodka and beers for everyone. No wonder, with this lack of seriousness, that this hostel was deserted by tourists…
"I think we should change the pictures on Booking.com; they don't really make you ready to book in. We can also open the bar in the garden, and sell homemade pizzas, what do you think?" Lying outside on the hostel hammocks, ideas burst forth. Rosa, the cleaning lady, prepared a meal for us: we quickly became friends with this young woman, a charming neighbour, always smiling and with her heart on her hand; the only serious and well English-speaking employee. A true fairy lady! She had worried the day before about not seeing us, when we had only gone for a day hike with Peter, the American solo traveller… "Rosa, you are amazing! But please, next time, we cook, ok?"

Three weeks have passed; between partying evenings and tranquility, between rest and work, between TV series and trekking to Lake Ala-Kul, between two World Cup games, between two meals with Rosa and two caresses to Blacky, the hostel dog. Three weeks when we took the time – or rather that we didn't see it pass. And then there was a call from my parents: my paternal grandmother's state of health, who had been hospitalized for two months, had deteriorated considerably. According to the doctors, she could die soon. New warning.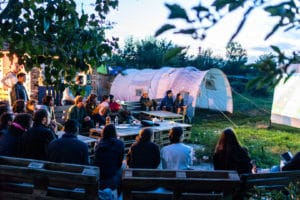 Early return(s)
Even if working in Aibek hostel was a great opportunity, we missed the contact with tourists and proximity to the city centre. Saltanat, the manager of a small family hostel in Karakol, understood this well and had no difficulty in convincing us to work for her – and speaking of "work", this time it was quite like a real job: daily waking up at 7am for "home" breakfasts, rest during the day, then resuming work early in the evening to meet (many) customer requests… Evenings combining seriousness and good atmosphere, work and glasses of Kyrgyz beer (the two are not incompatible!).
We were barely installed when my phone started vibrating in the late morning. On the screen, I read "Grandma died last night". Even if her death was predictable, even if I was prepared for it, this message, rough and sudden, has left me shocked… I went from smiling to crying – a bit like the local weather where the sun rays suddenly disappear in favour of a heavy shower. I was no longer able to do anything; fortunately, Julien managed everything. Informing Saltanat of the situation, we took back our bags and left hastily, for an early return to France, by the fastest route: 3 days of travel, 1 night bus, and 3 airplanes…
We stayed in France for a month. An intense month to heal my sorrow, to see our loved ones again, to rediscover the full flavour of a plate of cheeses and a good glass of red wine. One month to prepare the rest, get our Chinese visa that was impossible for us to do in Central Asia. One month before returning to the road, returning to Karakol, passing through Kazakhstan against our will. Returning to this country was not really part of our plans, but landing in Astana was much cheaper – and made us take fewer airplanes. But if you look at a map more closely, you quickly realize that Astana is not near Karakol… But rather located at 1600 kilometers from there, more precisely. We know it: with hitchhiking, nothing is impossible! Unfortunately, the afternoon we landed, continuous rain fell on Astana. We then decided to postpone our hitchhiking trip to the next day, hoping that the weather would be more favourable. Resigned, we took out our air mattresses and tried to sleep in a corner of this airport that never closes…
We had indeed made no mistake: finding sleep in these conditions was much more difficult than finding lifts on the road. We had just left the airport when we were taken on board, by 6 different drivers, for a crazy journey – 1100 kilometres covered before being dropped off, at 2am, in a small village not far from the Kyrgyz border. This time, we took our tent out and pitch it behind a gas station, resigned to sleep for good. It was another failure: the owner of the gas station, who was not very helpful, kicked us out at 7am. Too bad, but the lack of sleep won't stop us from continuing our hitchhiking trip to Karakol… So in the greatest surprise we arrived at Saltanat hostel only 2 days after landing: an early return, to the delight of its overwhelmed manager!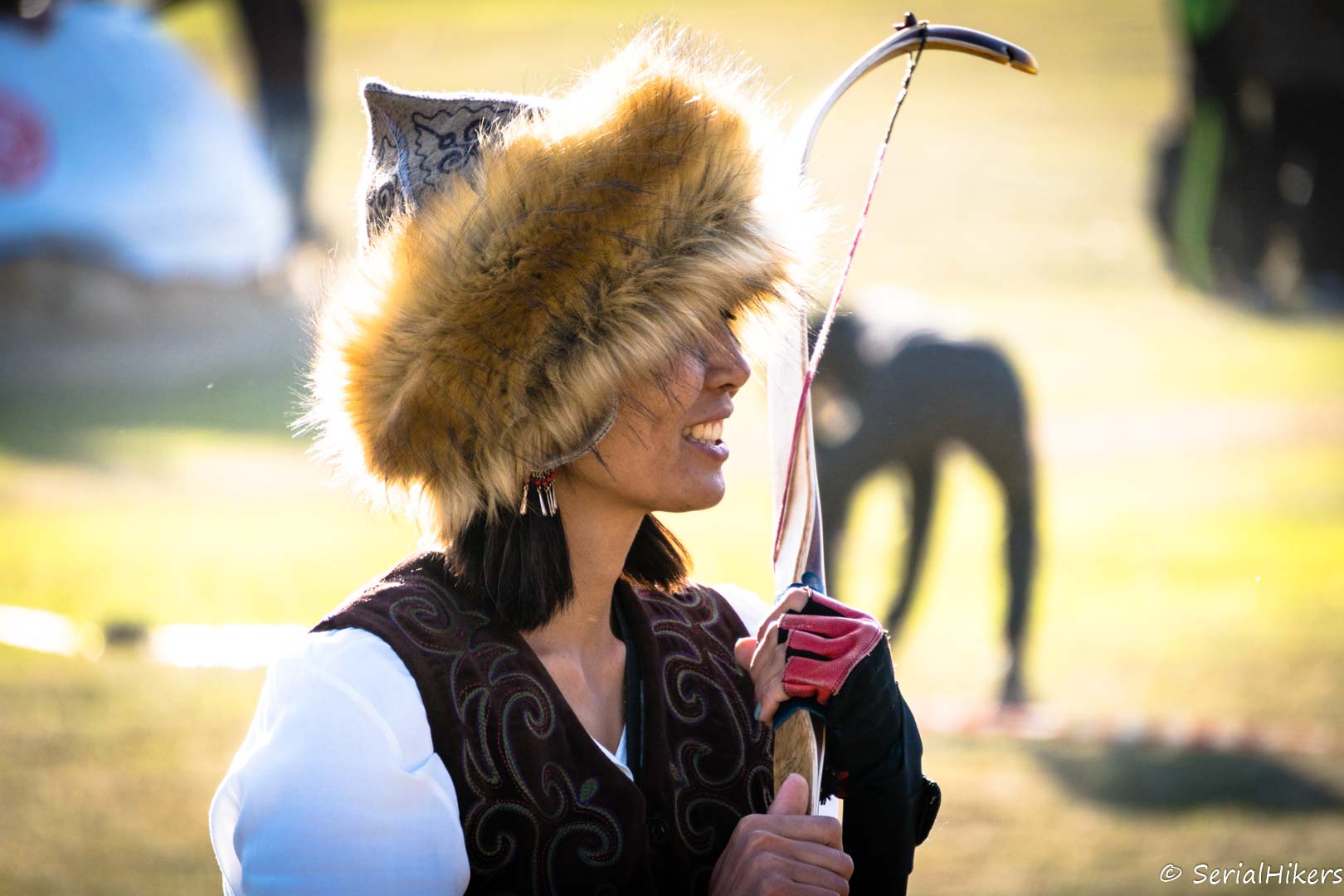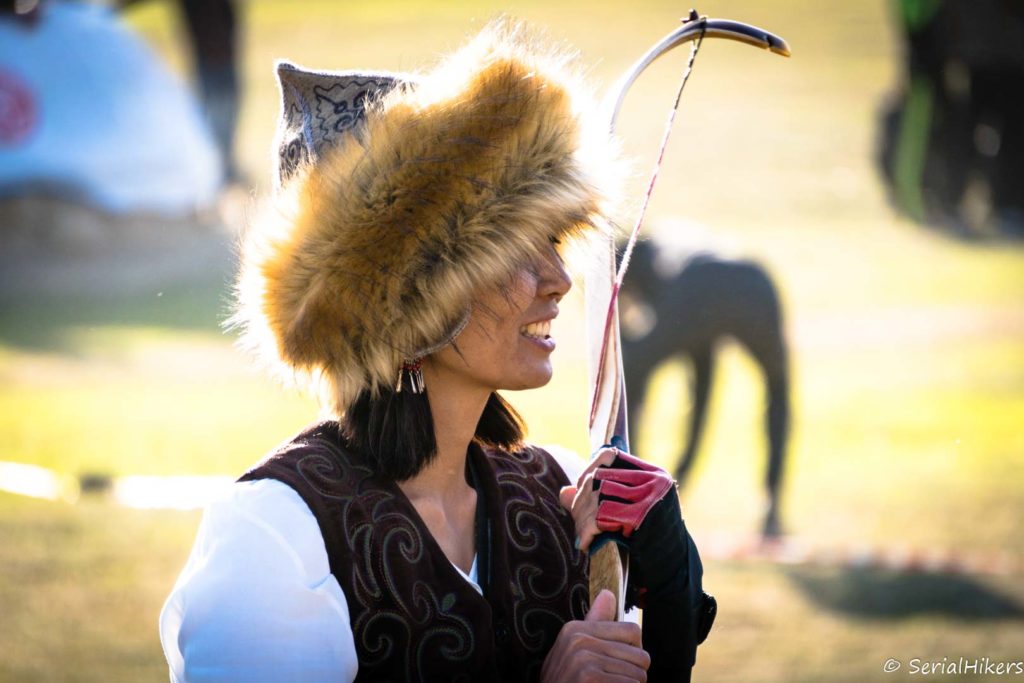 "And so, you've been here for a month now?" ask, surprised, Charlène and Damien – a couple of French travelers in tandem. "In fact, almost 2 months: before leaving for France, we had already stayed 3 weeks in Karakol…" "And you don't mind staying here and working so hard?" No, it didn't bother us… Despite Saltanat and her family absence for two weeks, leaving us running the hostel alone, we had a few days off to attend the World Nomadic Games, to hike in the Jyrgalan Valley and around Karakol. Despite all the hours of work, we had a lot of great encounters: Jimena and her boyfriend, a couple of Chileans traveling for 1 year, Hugo a solo traveler always lost ("Hugo, do you go for a trek?"), Liane the laughing and brave Belgian girl, the old adventurer Roland and his daughter Sophia, Marine the globetrotter and Ryan the british nomad, the group of Israeli friends led by Ido, the great hitchhiker Florence (Le monde sur le pouce), Remi the world cyclist, François the young backpacker, and many others… We were even surprised to meet Taylor, our host from Goudauri (Georgia), who came to explore Central Asia by bike! All these people, this little town and this hostel had become our daily life, our second family: we had our habits, our landmarks, between Saltanat children to watch from time to time, her father-in-law sermons in Russian and the shopping made at the local bazaar. Strong bonds woven from nothing, ephemeral moments, moments of sharing. Leaving Karakol and saying goodbye to Saltanat was not easy. On the day of our departure, she and Rosa (who came by surprise!) spoiled us with gifts… Confused, we get lost in thanks and tears, before heading back on the road, our hearts heavy and our bags full of new memories.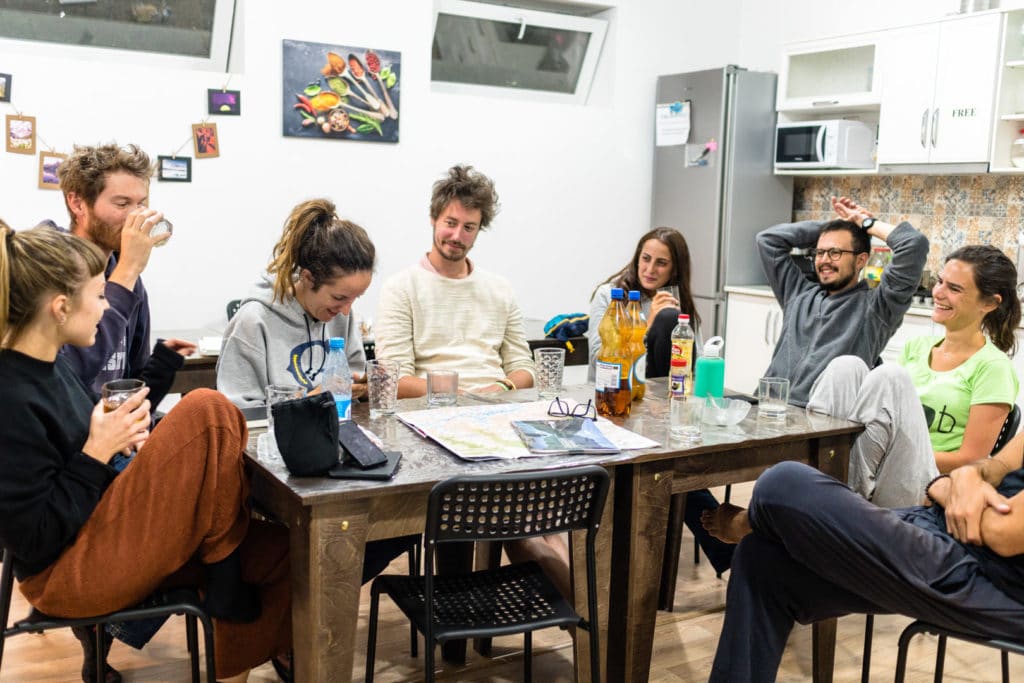 Unusual hospitality
Before settling in Bishkek for a few days where Nurijit, a Kyrgyz student, promised us hospitality in exchange for few French lessons, we decided to explore the southern part of Lake Issyk Kul – a region known for its untouched nature, authenticity, calm at the extreme opposite of luxury hotels, concrete and bourgeois life on the North Shore. From the car that took us to Skazka Canyon, we saw colourful mountains and some fine sandy beaches, as well as very modest houses with tin roofs, scrolling under a shy sun. When we arrived at the canyon, we were only 5 foreign tourists: us, and 3 German travelers we had met at the hostel in Karakol! «Hey guys! You finally left the hostel?»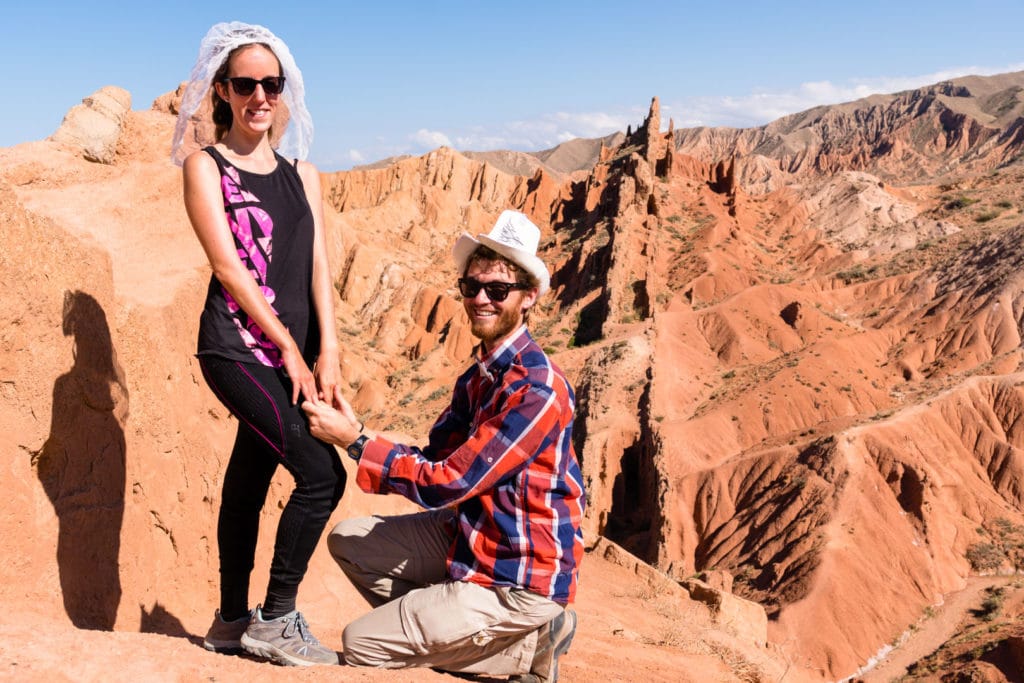 After a good walk in the canyon with our German friends, we decided to camp together by the lake – and hitchhike to a beach 35 kilometres away. Hitchhiking at 5? We also doubted it, and yet, we should have remembered with our experience "that with hitchhiking, nothing is impossible"! After 5 minutes with our thumbs up, we stopped a van that took all 5 of us to a beach. Problem: it was not really clean, littered with plastics and debris of all kinds. No choice, sun was already setting and there was no better place to pitch our tents in the area. Despite humidity and cold (it was early October), we enjoyed a good evening together around a camp fire, a juicy watermelon in hand, and thousands of stars above our heads…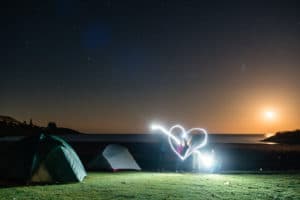 Don't change a winning team: the next day, we tried hitchhiking again at 5 to reach Kochkor. Even if we managed to stop 2 cars spacious enough to drive all 5 of us as far as possible, we decided to split halfway to increase our chances of moving forward. We met our friends in Kochkor at the end of the afternoon, in the local tourist information centre, with devastated faces: a driver accidentally engaged reverse gear while Katharina picked up her bag in the trunk, driving on her foot… Katharina was doing well though: ground was loose and her foot suffered only minor bruises. But this misadventure will mark the end of our hitchhiking at 5 trip: Katharina will stay a few days in the town to rest, while the other girls will go to Son Kul Lake for a horse trek… On our side, we choose to hike to Lake Kol'ukok, located about 20 kilometres from the village. Before leaving them for good, we will have a last meal together in a friendly neighbourhood canteen, surrounded by men in felt hats and women in scarves tied on their heads, clogs and wool socks at their feet…
"Let's do it!" Yeah, let's do 6 hours of hiking with our big bags! After camping in a park right in the city, we were ready to hike new heights. Ready… or not! Even if we left confident under a bright sun, the hike was pretty difficult – especially with all our equipment on our backs. We walked, at our own pace, secretly hoping that a car will pass on this stony dirt road. In vain. We reached a first yurt camp before we even meet anyone; before we even meet the owners, who were busy dismantling yurts further away. Exhausted, sweaty, we were about to make one last effort to pitch our tent when the owners, semi-nomadic Kyrgyz on horseback, finally arrived to meet us: the woman, remembering a few words of English learned from the tourists, greeted us and asked us clumsily if we were staying there to sleep. "Niet, palatka!" She understood that we were not "classic tourists" and moreover, no agency has called her to book a night in a yurt. Why should tourists come when the cold is coming here? End of the peak season is here, isn't it? At that moment, we were wondering what she thought of us: are they crazy? Unconscious? Courageous?… She ended up mimicking the cold, then pointing at one of her yurts before leaving with the others. Have we understood correctly? Did she just invite us to stay in a yurt, free of charge, for the night? Or did she suggest for us to warm up inside, waiting for their return? In doubt, we end up setting up our tent, before briefly washing ourselves with fresh river water and eating a picnic dinner at nightfall. Seeing no one coming back, we discreetly sneak into a yurt before falling asleep comfortably on the modest floor mattresses left there, warmed under thick layers of blankets, rocked by the sound of the wind blowing cold over the mountains.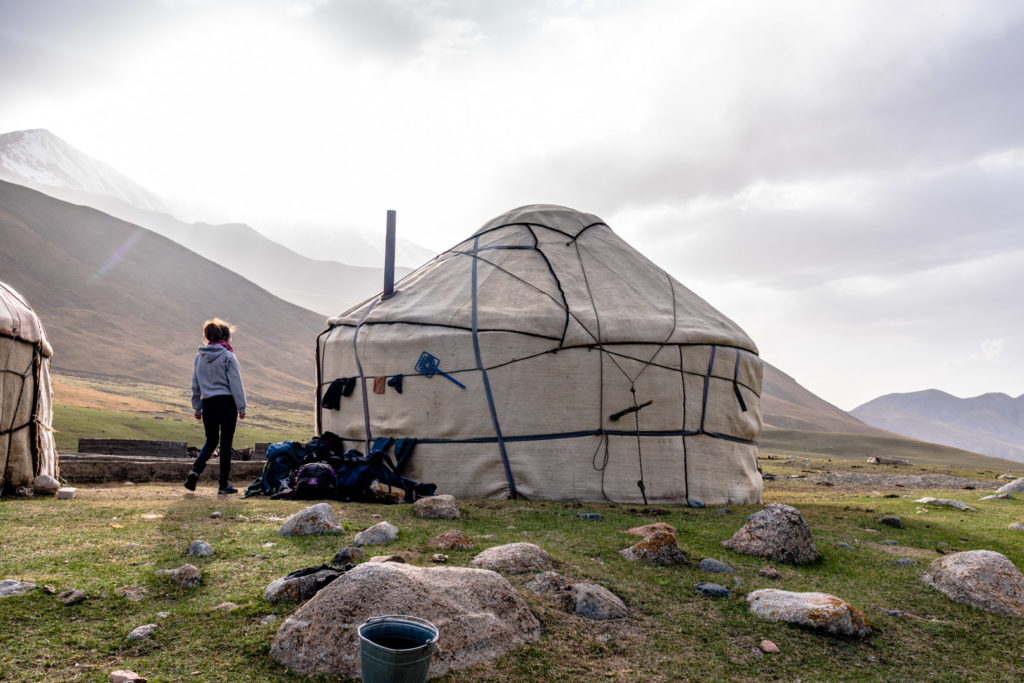 We woke up at the first sunlight, warmed up, rested, but above all happy as never before: we had just experienced an unusual hospitality experience, a "Yurt-surfing" one (as opposed to CouchSurfing concept, a hospitality network where hosts invite you to sleep at home). So it was in a good mood that we hiked the last kilometers to admire the icy blue waters of Lake Kol'ukok, relieved from our bags left at the camp. We found them a few hours later, intact near our still standing tent, in the presence of the owner and three brothers who came to fish: she didn't ask us for anything, just like the fishermen who agreed to take us back by car to Kochkor. For sure, we have earned our hot and consistent meal in a small local canteen downtown! Our last evening in Kochkor could have stopped on this note, on this image of us being full, ready to camp again in town, before leaving for new adventures… But no, fate (or lucky star, call it what you want) got involved again: after asking the boss of the restaurant where it would be possible to camp; she called her daughter without hesitation to help us. On the other end of the line, Aiperi, a young woman speaking very well English, invited us to her home, without questioning herself. When we arrived at the doors of her house, it's a 26-years old mother of three who welcomed us with a smile. Young by her age, but already very mature: Aiperi had to face the death of her husband when she was pregnant with her third child, and had to find the necessary resources to provide for her home, her children… ALONE, in a society where women are only required to look after the house. A true courageous mother who affected, impressed us and who, touched by the silk scarf that we absolutely wanted to offer her, offered me in return a splendid silver ring – a ring far too precious that she fiercely refused to take back. Now I think about her very much (and our lucky star) every time that her ring sparkles on my finger.
"Moï dom"
The next day, we arrived in Bishkek without too much difficulties and found Nurijit in his friends' hostel. The hostel was closing, dormitories were almost empty – except for the few beds occupied by Nurijit's friends, an Indian student and a Pakistani businessman. In exchange for the bed, we agreed that we would give French classes to Nurijit, but too busy in his studies, Nurijit was almost never present at the hostel. A godsend for us, that offers the opportunity to rest, wash our dirty clothes and visit the Kyrgyz capital in the company of François – the young backpacker we met in Karakol. Unfortunately, during one of our outings in the big bazaar called Osh, François had his wallet stolen… A misadventure that reminded us of another, when we were stolen of cash money in Serbia. To help him through this ordeal, we offered him a bag of cashews he coveted so much, and gave him the money necessary to cover the remaining costs, before his return to France. A wallet lost, but a beautiful friendship won!
After counting bills, we had to count days: 3 weeks, that's the amount of time we had before the end of the validity period of the entry in China. Three weeks is both huge and little. And then, besides time, there were the weather conditions. So we decided to visit Uzbekistan, and enjoy the last hot days of October before hitchhiking the snow-covered Pamir highway which will take us to Chinese territory! Au revoir François, au revoir Nurijit, au revoir Bishkek: hello kyrgyz mountains, yaw roads and cold high altitude wind that whips the face! With our proud thumbs up, we reached the small town of Toktogul in the afternoon – a modest town on the shores of a huge lake, lost in the middle of the mountains. For us, it was the real revelation of this country: in a town forgotten by tourists, we were greeted by dozens of smiles – golden smiles, literally and figuratively speaking. We immediately felt good there, just like home. Strolling through the lively alleys of the central bazaar, we breathed in the sweet scent of benevolence that emanates from it, imbued with these simple, authentic moments of life.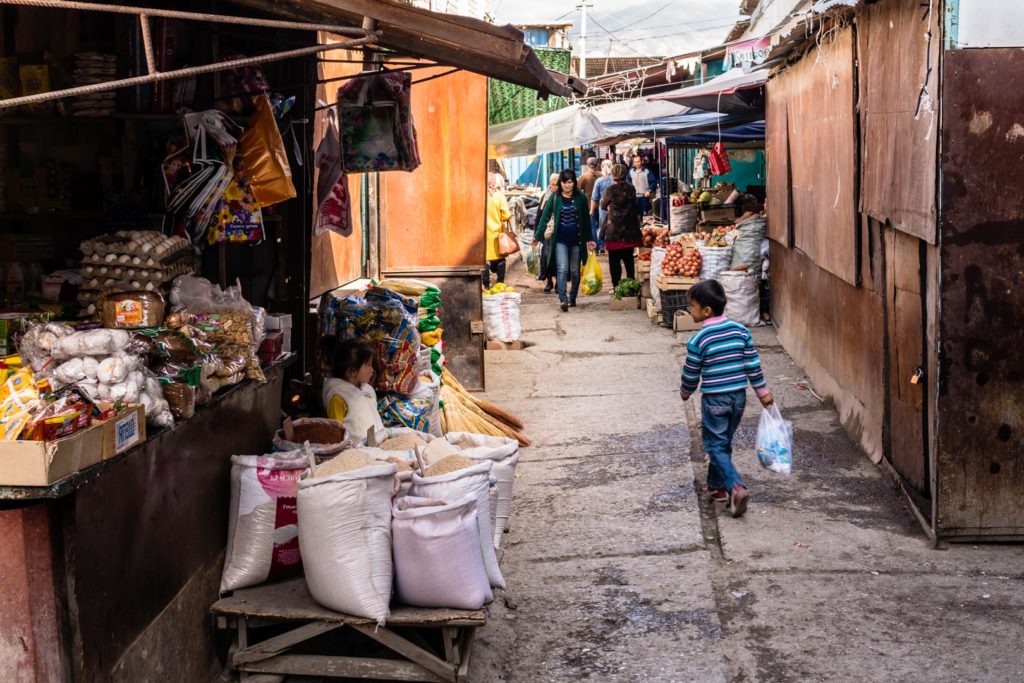 At dinner time, we even let ourselves be tempted by a delicious plov, cooked by adorable grandmothers. Full, we took back our bags in search of a quiet square of grass, next to the central park, in order to pitch our tent. And that's where we met Gula – a cheerful Kyrgyz woman who heads a family of 8 children. First cautious when we asked her where we could camp, she didn't hesitate to send the little ones after us to invite at her home: "Moï dom! Moï dom!" Pulled by the sleeve, they dragged us along, delighted to have fun with us, delighted to have us with them. As a good mother, Gula cared for us as if we were her own children, preparing two bunks and food – a second dinner that we couldn't refuse, even though our stomachs were already full. After wishing everyone a "good night", we went to bed, asleep like babies. Like at home…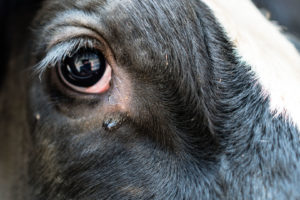 Gula didn't just take us in and feed us. She also offered us socks, a big pot of honey… and found someone to lift us further. If the hearts of men are great with generosity for their fellow men, they sometimes forget the harsh reality for others: taken by a cattle lorry, we will have a hard time escaping the sad looks of these animals destined for the slaughterhouse. For them, this will be their last trip. For us, just a parenthesis in ours… As the cattle lorry continue its funeral convoy to Osh, we stopped at the gates of Uzbekistan, dropped in the middle of the Kyrgyz countryside. Where our map shows a border crossing, we only found a water tower… But guided by our lucky star, we put our destiny back on the road: no matter if we don't cross the Uzbek border tonight, no matter if we have to walk miles to find the official border crossing, no matter if we have to camp… But there won't be such a thing. Jolaman, a young school teacher, did not hesitate to stop and invite us to his home: "Moï dom!" In the presence of his parents, his wife (English teacher too) and his baby, Jolaman will immerse us one last time in Kyrgyz culture and its traditions.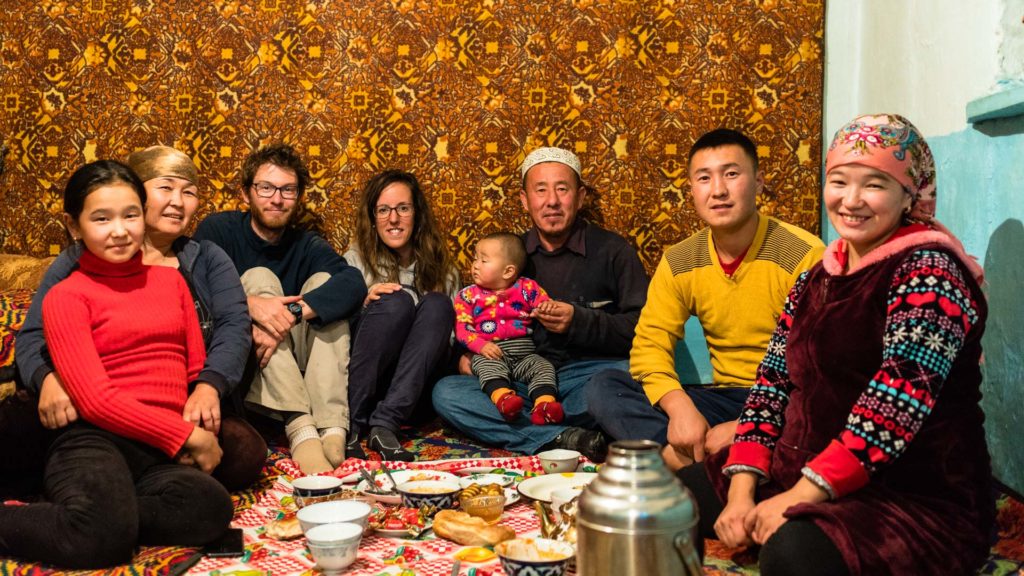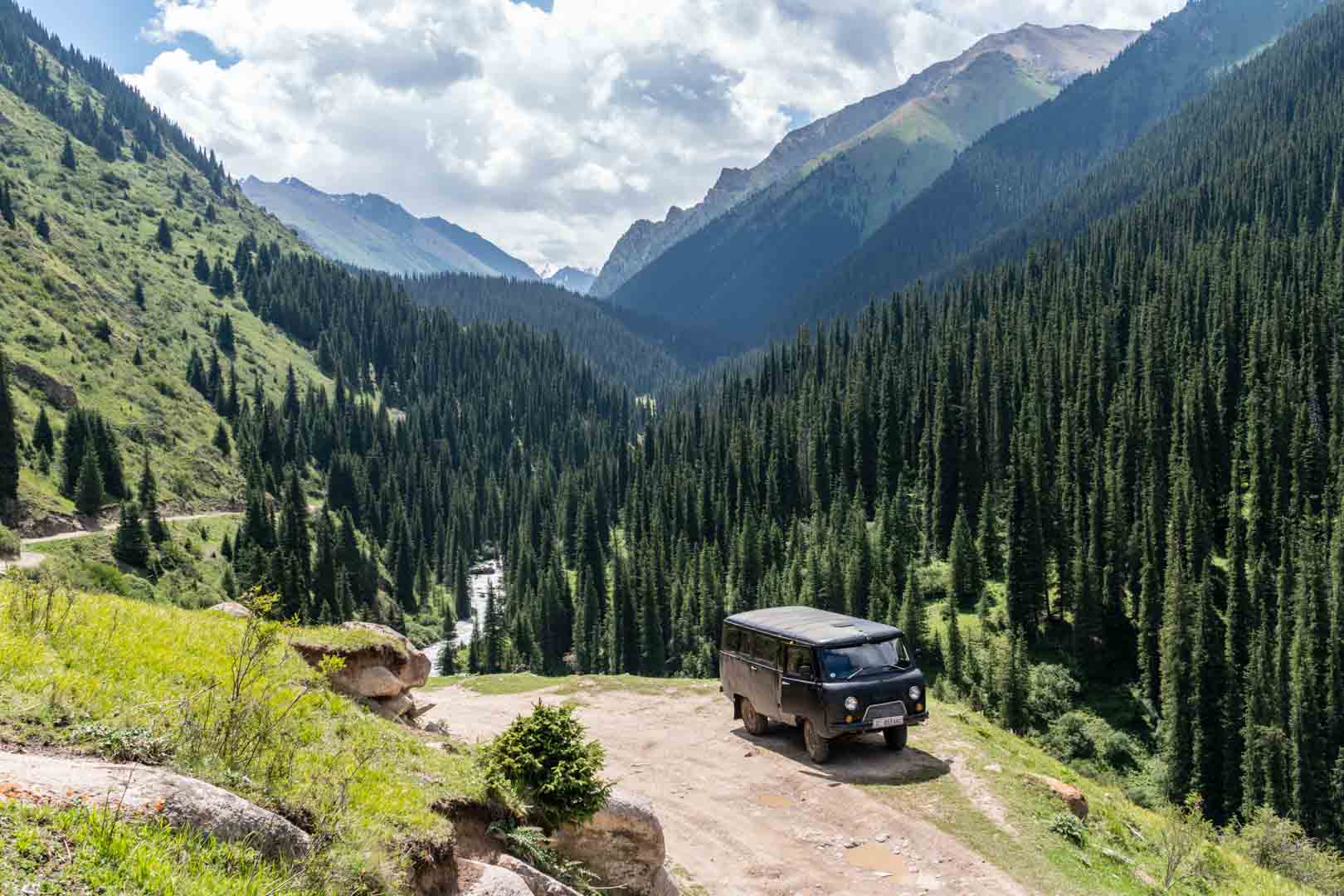 About Kyrgyzstan
* Post written according to our personal experience *