Planning a trip to Kyrgyzstan? You've probably heard about the famous Ala Kul trekking and Altyn Arashan hotsprings – and maybe you're even planning to go there!… We understand you: having the opportunity to hike in the green Kyrgyz mountains, walking on a ridge, somewhere at 3900m above sea level; picnicking on the shores of a high altitude lake and meeting Kyrgyz nomads doesn't happen every day!… On the other hand, you may not know that it's possible to make this trek without a guide and in complete autonomy? The exact location of the free hotsprings in Altyn Arashan? Nor how to prepare this trek, in how many days, with what equipment? All the answers to your questions can be found in this trek guide!
---
Get ready for your trek
An essential step before setting off to the beautiful mountains of Karakol: prepare your trek! We have therefore wrote a complete list of tips and advice, drawn from our own experience, to help you to be in the best conditions to face the Kyrgyz summits!
Equipment
Tent is not necessary (yurts and summer camps can accomodate you along the way during high season) but highly recommended: reservations in yurts are not possible (unless you send a carrier pigeon to compensate for the lack of a telephone network or go through an expensive agency?…) and it's still possible that camps will be fully booked when you arrive on site… If you don't have any camping equipment, don't panic: it's easy to rent some in Karakol downtown, in specialized mountain equipment shops (Ecotrek, eXtreme Tour).
Clothes
In Karakol, we very often hear it said "in 1 day, you can experience the 4 seasons". And it's so true! During our two days of trek, we had everything: wind, hail, rain… and a little sunshine all the same! Don't forget to take all the necessary things to cover you during this trek: t-shirt and sweater, rain jacket, cap, hat, scarf, wool socks etc… Our tip: separate your dry clothes from used clothes (or even wet clothes) thanks to waterproof bags such as storage bags, plastic bags or freezer bags. You can't (yet) imagine the pleasure of putting on dry clothes to keep you warm at night!
Food
In order not to miss anything, we advise you to take enough food for a complete autonomy of 3 days (including 3 meals/day and snacks). You can use this chart as a tool for your shopping day at the bazaar or local grocery store:
With/without gas stove
Morning/Snacks
Lunch/Dinner
Without gas stove
Biscuits
Dried fruits, fruit pastes, cereal bars, honey and bread
Precooked potatoes/eggs
Tomatoes, cucumbers, fruits, bread, cheese
With gas stove
Gas bottles for sale in Karakol
Muesli (мюсли)/cereals
milk powder (сухие сливки)
+ food mentioned above
Noodles, rice
Broth powder (бульон)
+ food mentioned above
Water
Water, there's no shortage of it on the way: rivers, lakes… Don't load yourself up unnecessarily, 1 to 2L/person at the start will be enough! You will then have to fill your bottle directly in the nature, either in the small streams of pure water that feed the rivers, or at the Ala Kul lake. Personally, we didn't use chlorine tablets or filters and didn't get sick; neither during nor after the trek… On the other hand, don't take water from where the horses are grazing, otherwise you might get digestive problems!
Map/GPS
A topographic map of the area can be found at the Tourism Office of Karakol (cost: about 400 soms). But we've got something better! If you haven't already downloaded offline location app called Maps.me we really advise you to do it: as there are no markings on the hiking trail (except for a few cairns well placed in the mountain), we were really happy to be able to rely on the GPS and the offline map to find our way!
Budget
If you're a low-budget traveler like us, at least make sure you have enough money to pay the entrance fee of the national park (250 soms/person, 150 soms for a tent). If you have a more comfortable budget, summer camps run by Kyrgyz families can offer accommodation and meals, provided they are not fully booked!
Our itinerary: from Karakol to Altyn Arashan
Day 1: Karakol – Sirota camp, via Karakol valley
Hitchhiking: 5km
Hiking: 17km
Duration: 7 hours
Elevation gain: +1100m
Highest position: 2900m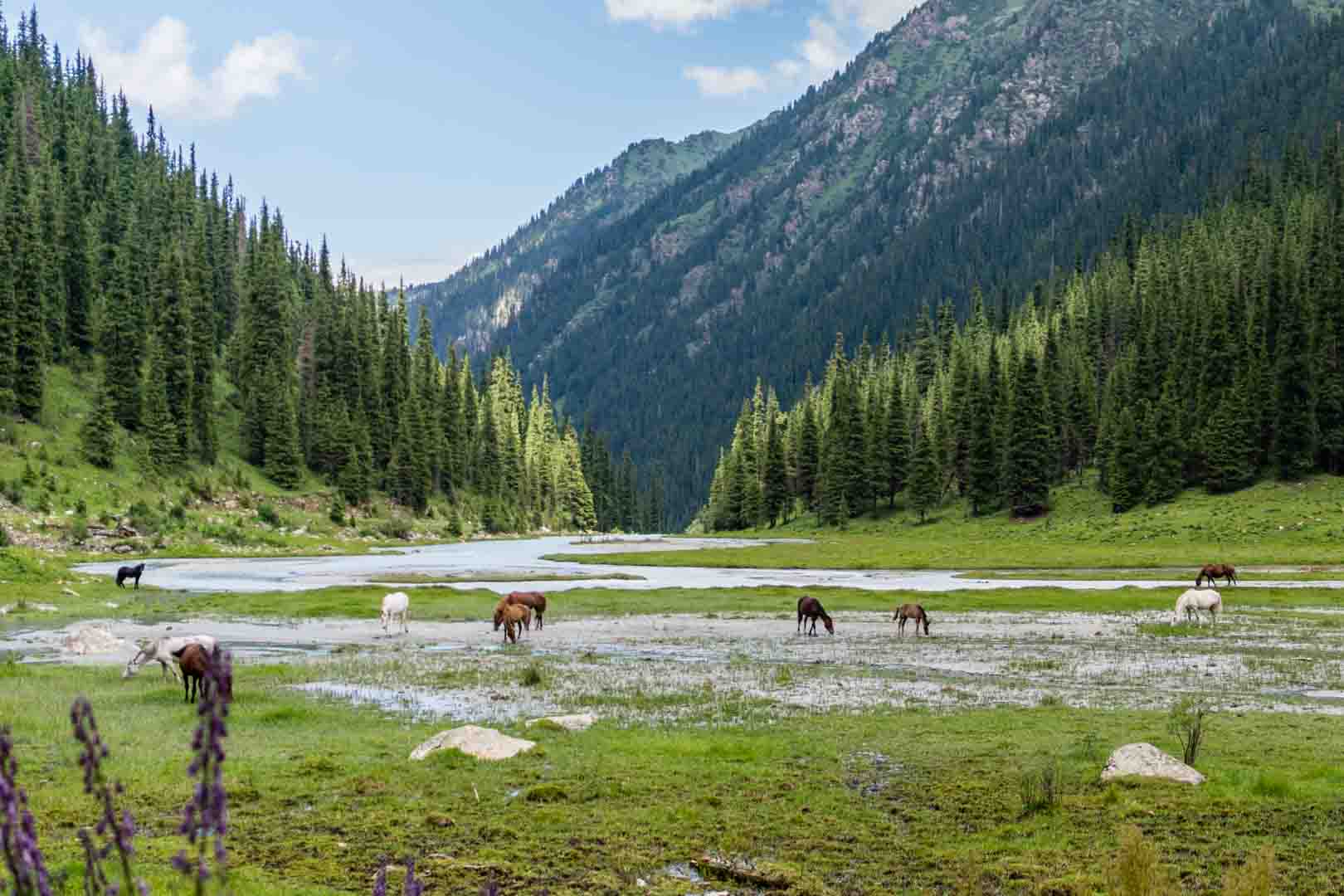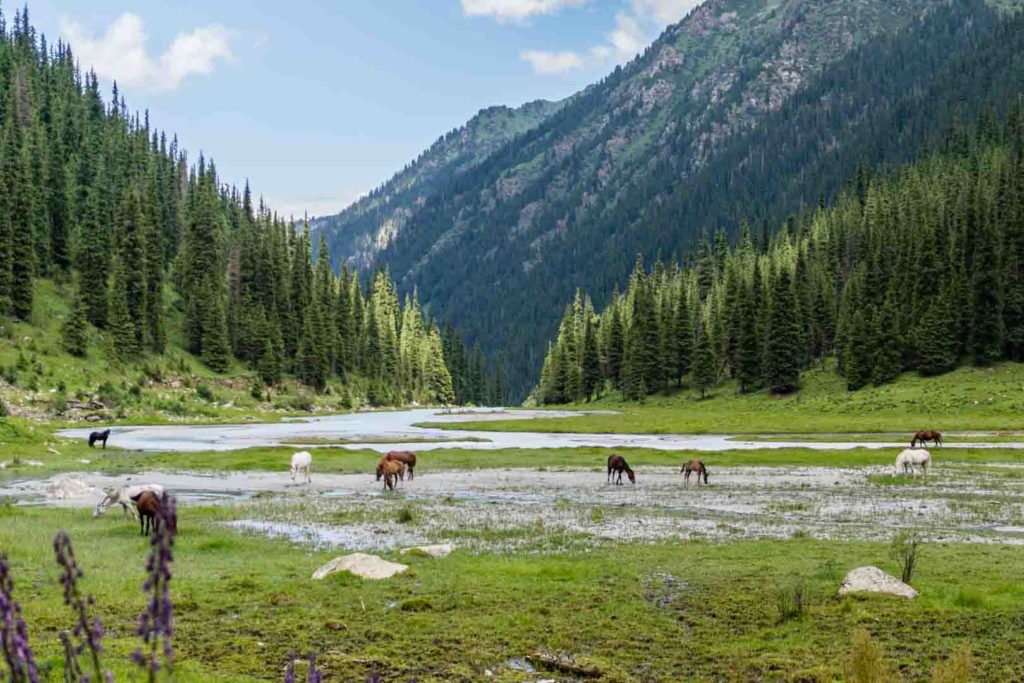 Woken up at 8AM, we left Karakol at 9AM: despite the rain falling this day, we were very motivated and ready to face the mountains. We walked a little (a lot) to get out of the village, to hitchhike and find a car that will take us to the national park entrance. Once the entrance fee paid, we were able to walk (under a beautiful sun this time) along the Karakol river. This walk turned out to be long and without much interest, except when the river widens and branches off at the bottom of the valley: we found the perfect "postcard landscape", with horses grazing peacefully in the middle of mountains and green fir trees. Arriving near the intersection with the hiking trail leading to Ala Kul, we came across some 4x4s: too bad, we could have been lifted ahead instead of getting tired! If you have the opportunity, don't hesitate to hitch a 4×4, or negotiate with the driver.
For us, adventure really began when we crossed the small wooden bridge to find ourselves on a barely marked path in the middle of a dense forest. We even ended up triggering our GPS position and following the path indicated on our offline map… This time, it went up: we walked slowly, at our own pace. After the forest, we found a large clearing populated by dozens of marmots. The monotony gives way to wonder, the landscapes change quickly: mud, dust, grass, rock; experiencing these with our tired feet but wide open eyes… We hoisted ourselves up as best we can on the rocks, guided by cairns and a few blue painted arrows announcing the next camp. After hiking around the mountain side, we saw instantly Sirota camp located on a flat piece of land: there were yurts, occupied by Sasha's family (they rent some of them to travelers) and a wooden hut 15 minutes walk away. You can camp there free of charge with your own equipment, and enjoy a table and logs by the fire. It was for us a good timing: a rain shower had started to fall on us, leaving us soaked in less time than it took to set up our tent…. First sheltered under a yurt thanks to Sasha, then shacked with dried fruits, we finally joined a group of hikers around the fire – a hot tea in one hand, our socks to dry in the other.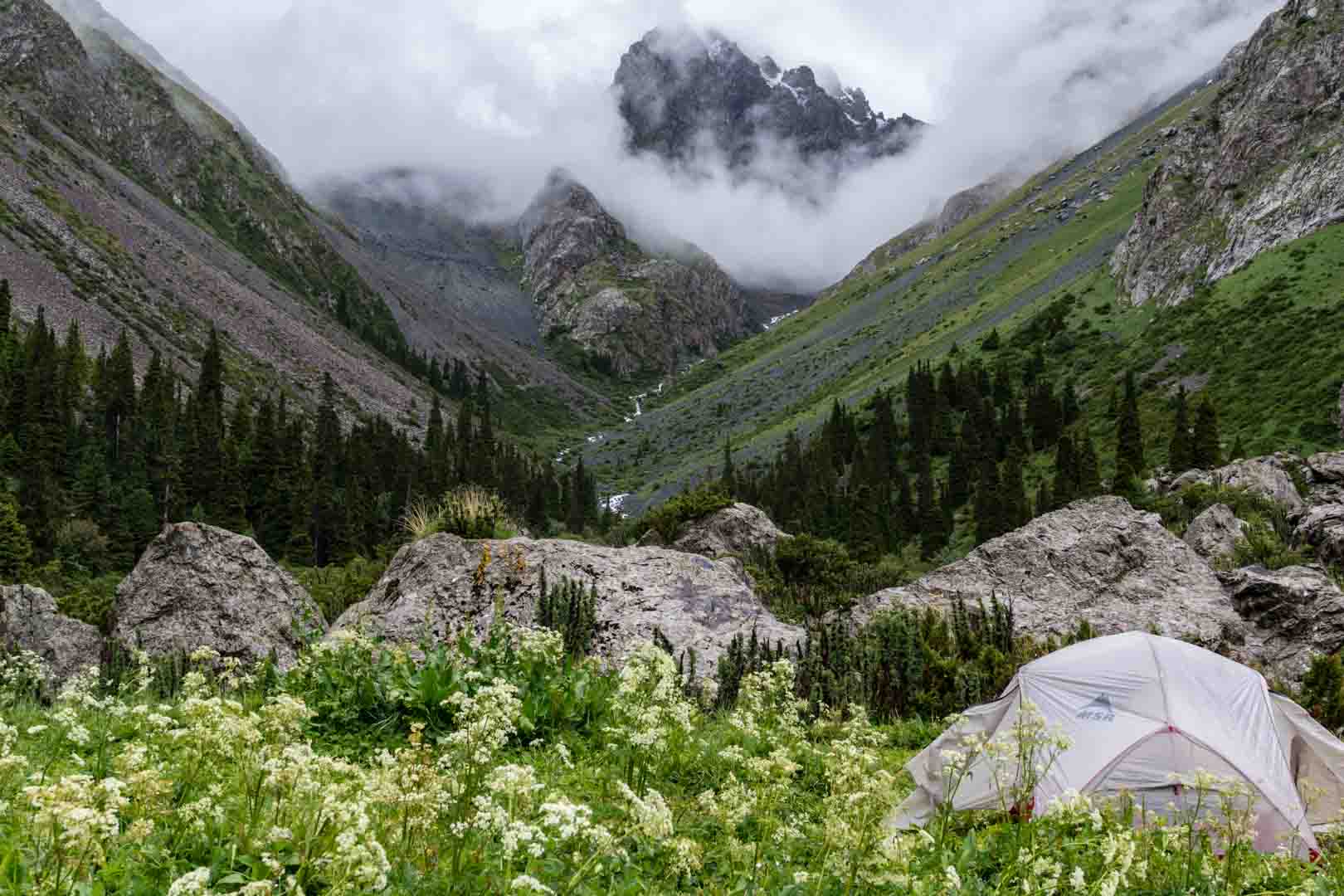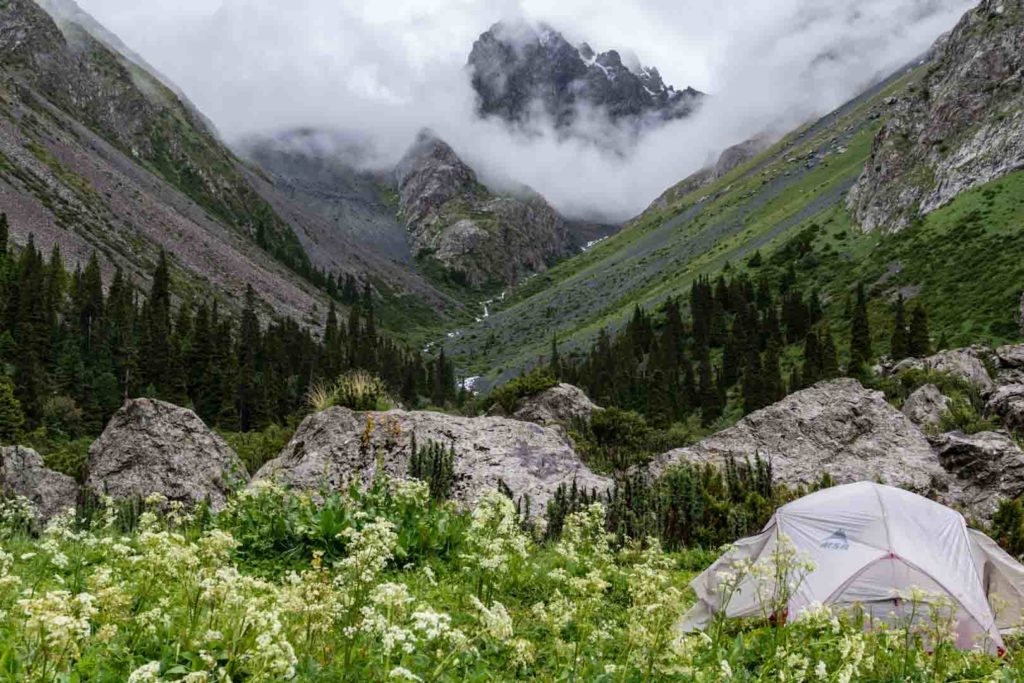 Day 2: Sirota camp – Ala Kul pass – Altyn Arashan
Hiking: 15km
Duration: 9 to 11 hours
Elevation gain: +965m/-1465m
Highest position: 3965m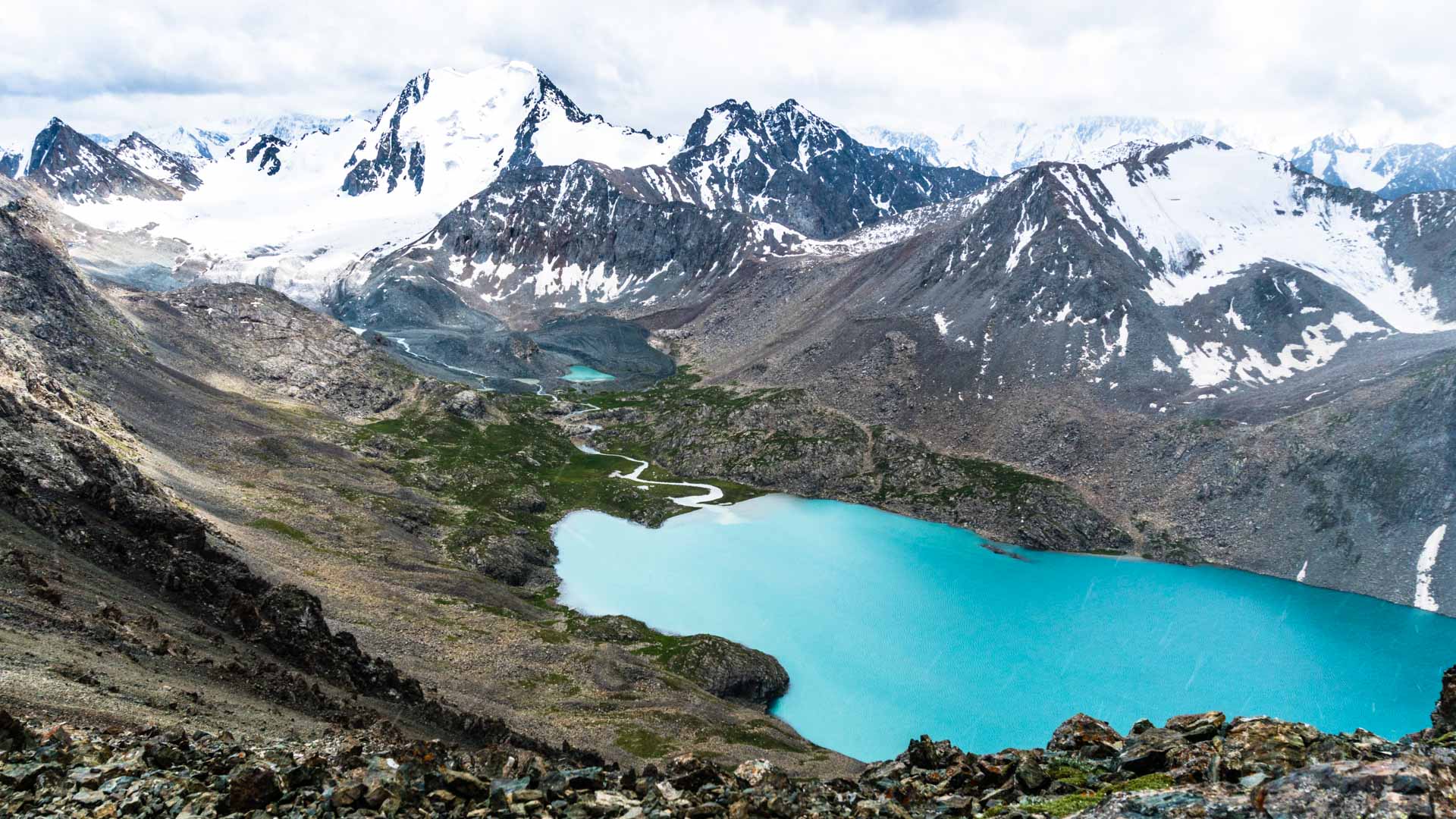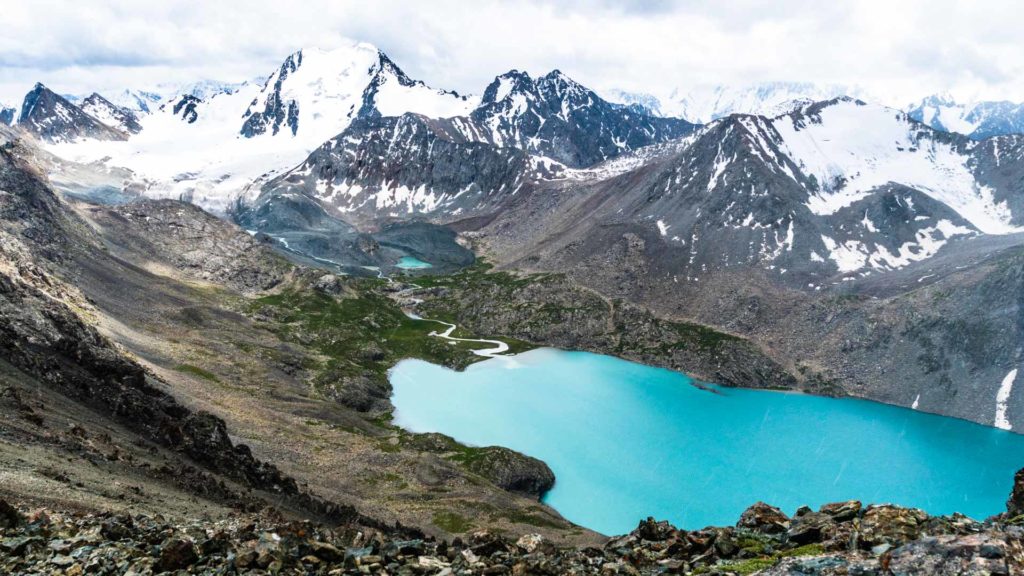 We didn't waste time the next day; packing up the tent, eating an express breakfast and putting on hiking boots. It was a busy day: a long hike to the pass, then a big descent before reaching Altyn Arashan. We started the first ascent along the river, leading to the famous Ala Kul lake: short breathes, we stopped often, praying very hard for the big grey clouds to go away. If the hike has warmed us up, what can we say about the last 100 meters which turn out to be at the limit of climbing a steep cliff? In spite of the difficulty, we enjoyed the view of the green valley, torrents of the Kurgak Tor river, waterfalls from the eternal snow…
After our well-deserved break at the lake, we followed the path towards the Ala Kul pass. Even if the path was less steep and the ascent less painful, our legs can hardly bear the 400m elevation gain after a first ascent to reach the lake. We take the time to hike slowly, drinking and eating regularly – but above all, to admire Ala Kul turquoise waters in the middle of the snowy summits. Arriving at the pass, it was a total release: no more burning thighs, hello to our hearty picnic – sitting at 3965m altitude; alone, silent in front of the majestic Kyrgyz mountains…
Maybe we shouldn't have celebrated this victory too early; because the descent that awaited us proved to be as (even more!) difficult as the two previous hikes. Deep steep and slippery slope, we had to be very careful to get through the snow and not carried away by the mud and small stones. It must be said that the hail that fell continuously since our first steps downhill did not help… At the mountain foot, we were able to breathe: this time, the slope is gently going down for about ten kilometers, a risk of falling is minimal. So we continued our walk at a faster pace, under the hail, sun and rain. And then, 4 kilometers away from Altyn Arashan, bad surprise: the path made us cross the river… on foot. We hesitated a lot in front of this icy, tumultuous river whose water level had significantly increased due to the bad weather and melted snow. And then finally, we crossed it with our shoes on: already wet, we had nothing to fear. When we had to cross the river again 2 kilometres further on, oh joy! Tree trunks had been laid down as a bridge.
Finally, we arrived at Altyn Arashan 5 hours after the start of the descent; exhausted, soaked, covered with mud, our mood at the bottom of our (wet) socks. We were visibly expected: some men offered us to spend a night in a yurt, to pay for a shower, selling us a traditional meal… The offer may have been tempting, but not as tempting as the idea of trying the free hotsprings! We were motivated enough to walk an extra 2 kilometers to reach the springs (location indicated on the map below, more clearly visible on Maps.me application). Even though the water was warmer than hottter, it was a real pleasure and a moment of pure relaxation after our long walk! A moment that lasted well into the night – forcing us to get out quickly, barely dressed, headlamps on our foreheads and soaked clothes put in our bag.
Day 3: back to Karakol
Hitchhiking: 27km
Hiking: 2km
Duration: 3 hours
When we woke up with an empty stomach and full of aches and pains, we realized that it would not be possible for us to walk to the next village of Aksu. In spite of this, we took advantage of the bright sunshine this morning to bask in the grass, wet clothes and tent stretched around us. When we had to get back on the road, we got up painfully, packed everything up, and crawled to the side of the road, thumbs up – a dusty path in poor condition, paved with more or less large stones and more or less deep holes.
After 30 minutes, a miracle happened: a tabletka (a Soviet army all-terrain vehicle) had just stopped, with a group of Belgian tourists on board inviting us to get on. They shared with us their good mood, their own mountain experience and the few remaining nuts and dried fruits. After an hour and a half of bumpy road, our vehicule ended in the main and asphalted road to Karakol: we will be dropped off downtown, and had to rely on our motivation to walk the last 2 kilometers to the hostel where we were volunteers…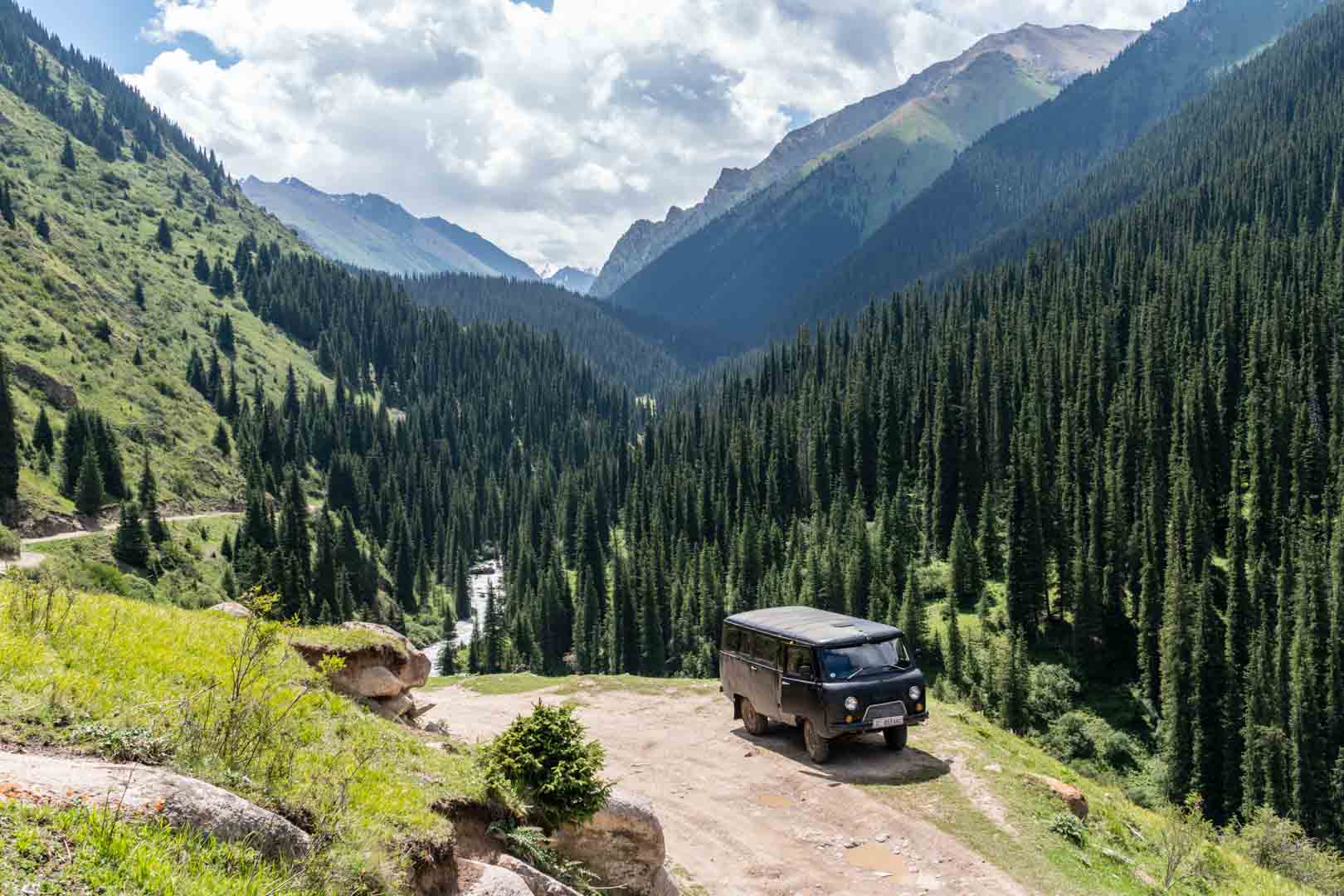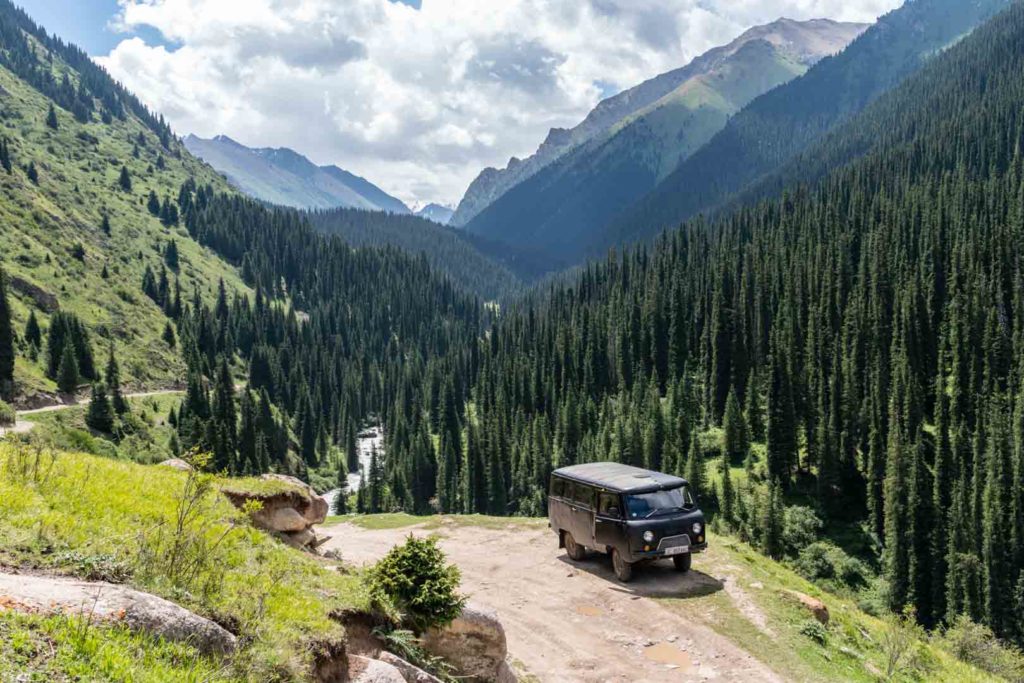 Post-trek assessment
So, verdict: was hiking in Ala Kul… cool?
Well yes, this trek was really worth it, even if it was a bit crowded and very difficult (actually, one of the hardest we've done!). But let's not be surprised: between the lack of preparation (especially in terms of food), underestimation of the difficulty (trek at more than 3000m, long walks) and unfavorable weather conditions… All the ingredients were there to not make our trek easier. That said, this trek is totally accessible to all, regardless of the level of experience in the mountains. For us, if we had to do this trek again, we would take much more time by planning to camp in the Kel Dike valley rather than walking at all costs to Altyn Arashan and its springs for example. And we would drink a lot more, with long series of stretches at the end of the day, to relieve our painful bodies… Fortunately, hitchhiking works very well, and we were able to hitchhike as much as possible!
Useful informations:
Itinerary: Trekking from Karakol valley to Altyn Arashan, through the pass and Ala Kul lake. Dusty path partially marked ~ 32 km
Duration: 3 days or more
Entrance fee: 250 soms/person, 150 soms for a tent
Level of difficulty: rather difficult, but accessible for all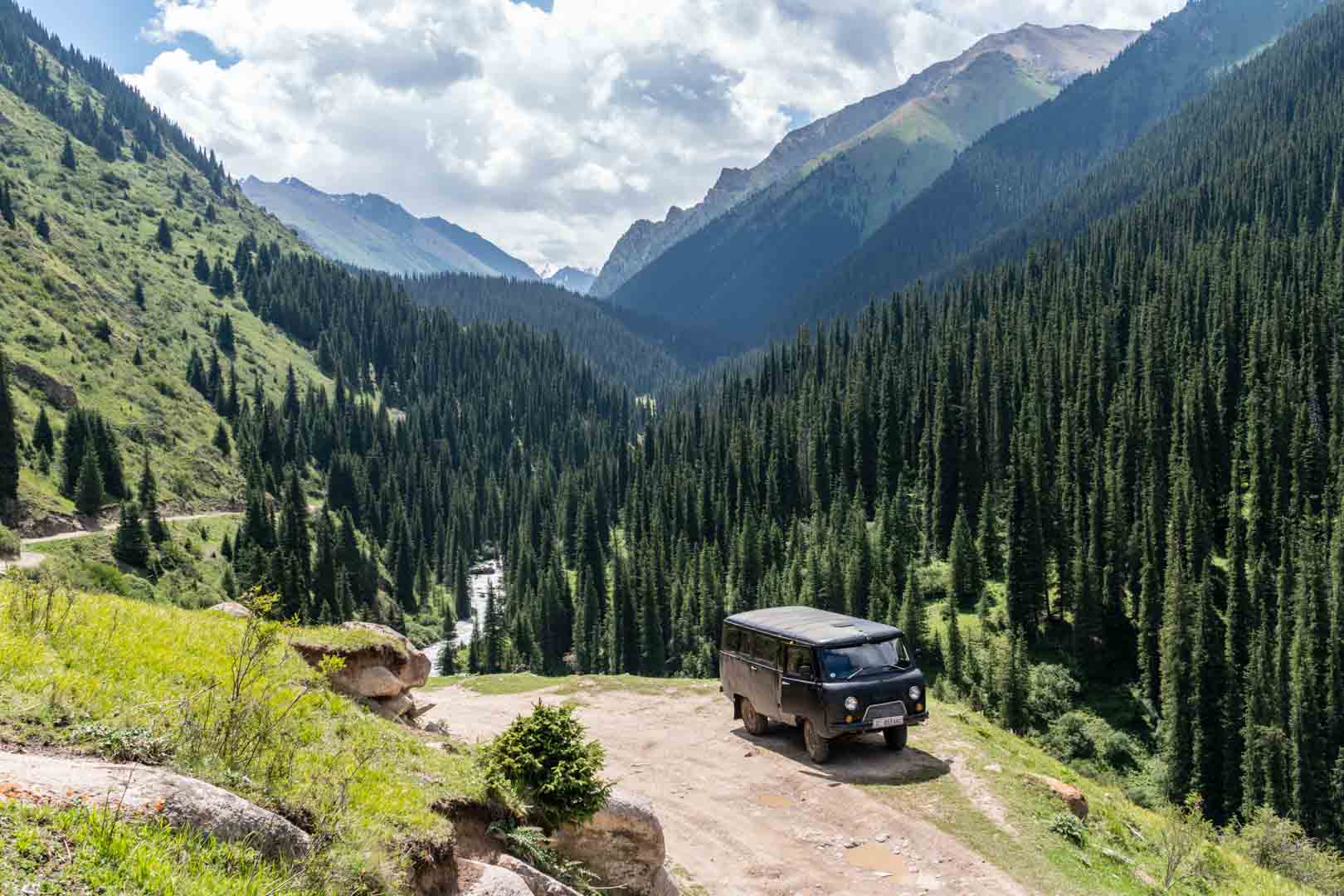 More about Kyrgyzstan
* Post written according to our personnal experience *