Bonjour, Hello, Ciao, Dober dan, Dobar dan, Mirëdita, Geai sou, Merhaba, Barev, Gamarjoba, Salam, Salom! Welcome to our series of newletters which retraces, chapter by chapter, our great hitchhiking jouney. Here is the chapter 13 of our travel stories: "Silk and Doppas" – Roadtrip in Uzbekistan & Kyrgyz Pamir.
---
Welcome!
Big bags, full carts, dust, speechless faces. How not to notice us, with our big backpacks, stuck in the middle of a crowd of locals, our bright red burgundy passports in hand? Uzbek customs officers came to our rescue, all smiles: in all their careers,they didn't have to see many tourists passing by Izbozkan, this small pedestrian border lost in the middle of the fields. Visibly delighted to see us, they didn't hesitate to engage in conversation and ask us few questions with the little English they have, while we answered them with the little Russian we know. "President, France, friends!" Right: a few days earlier, Uzbek president went to France on business and, to mark the occasion, a new decree was signed to allow French tourists to visit Uzbekistan without a visa. Our customs friends seem better informed than we, who, having not followed the political news and presidential agendas, had already ordered (and paid) our electronic visas for Uzbekistan. A smile, a stamp: Welcome in Uzbekistan!
Stamped passports in the pockets, "useless-printed-visas" thrown, we now move into the Uzbek landscape. The poorly maintained Kyrgyz roads have been replaced by large paved roads; sides strewn with trash suddenly became nice and mowed green lawn, well delimited by a row of ordered pebbles. And above all, old Lada cars have disappeared for the benefit of Chevrolet Damas… which don't hesitate to stop by seeing our thumbs up. The first driver to stop offered to take us to Andijan, in his language center, where he studies Japanese to try his luck in the land of the Rising Sun. We accept, although this huge and uninteresting town of Andijan was not part of our plans: after all, the road has already brought us nice surprises. When we arrived at the language center, it's a huge excitement: the director wanted us to visit his center, teachers wanted us to participate in their English classes and students wanted to take a picture with us. We played the game, escorted from classes to classes, until lunch time – until the center was emptied… Mr Rare (a nickname which fits perfectly to his eccentric outfit), a young Uzbek boy possessed by the American dream, took us to town in search of a bank to withdraw our first Soms. If the hunt for a bank accepting our foreign cards proved unsuccessful, it didn't end in a failure: at crossroads, Khomoyun, a 19-years-old young man of Uyghur origins and with a perfect English, came to us and, by listening to our story, decided to offer us hospitality in his family home: Welcome in my house!
"If Heaven exists on Earth, it would be very similar to Khomoyun brick house". When we walked through the front door of his house, we found light-filled rooms with high ceilings, independent of each other, open onto a large sunny inner courtyard filled with fruit trees (vines, plum trees) – in a vision of colorful notes for our eyes, sweet for our palates. Under the entrance canopy, a swing and a huge wooden platform decorated with a large carpet and surmounted by a small tea table seem to call us like an invitation to relax. We immediately felt good at Khomoyun house; happy to exchange with this first Uzbek host and his 38-year-old mother – a smiling and cultured woman who impressed us with her level of English (a language she has been learning for only 4 months!). In the evening, we would even be entitled to the traditional Plov cooked outside, in front of our eyes, accompanied by dried fruits and delicious homemade Eclair chocolates. Housed, fed and spoiled.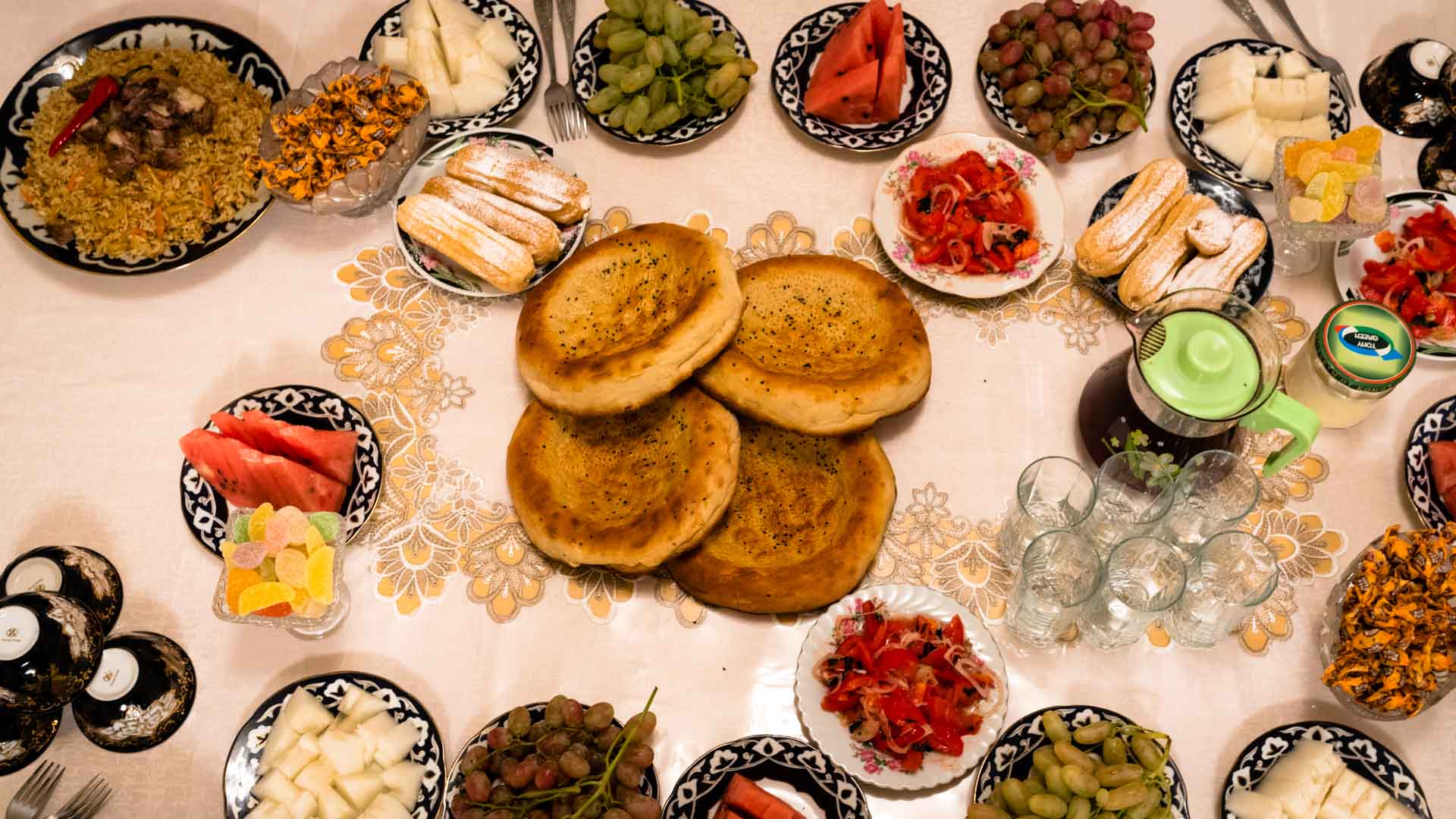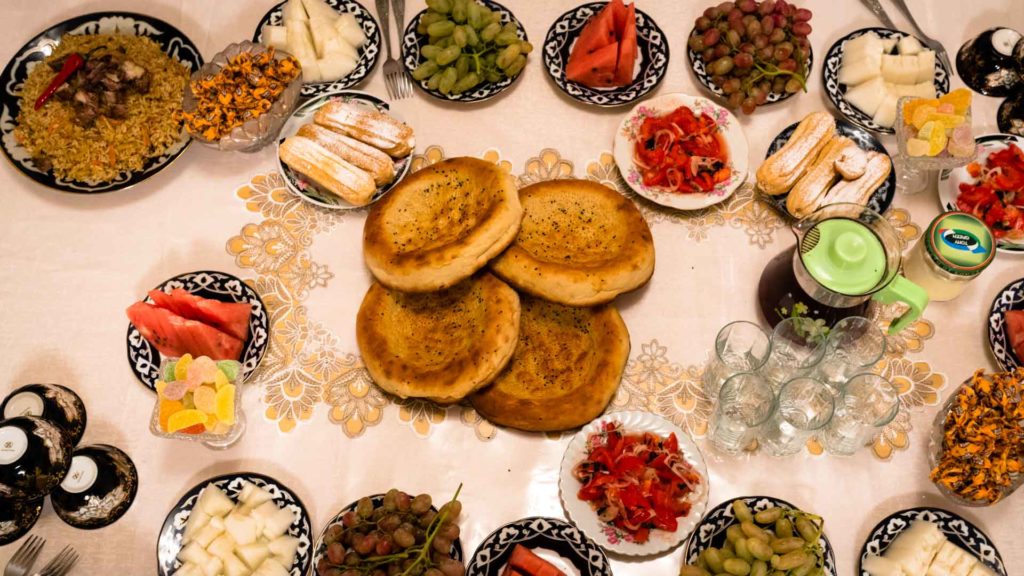 Napoleon pie
In Uzbekistan, hospitality is a family affair: Moubina, the sister of Khomoyun's brother-in-law, a passionate girl about France and its culture, invited us to her home the next day – to meet us, but also to take us to the Faculty of Languages of Andijan, where she is learning French. As the day before, our arrival at the faculty drawn the attention of professors and students, as well as the Chairman's; a cheerful old man with a mischievous personality and a multi-decorated medal jacket rewarding his actions in favor of the Francophonie. Guided by Khomoyun and Moubina, we went off the faculty to withdraw Uzbek money from the national bank, to visit the modern and bustling city center – before being "kidnapped" again by other unknown Uzbeks, to attend this time a wedding! Inside the huge wedding palace, we tried to be discreet, to not disturb the party, to see this ceremony without being seen. If we stayed behind, it's because we have been educated like that, in the discretion and the importance of not getting involved in other's affairs. So we took on us when we were dragged on the stage, to talk about love in French language in front of a hundred strangers, open eyes directed at us, with our dirty and inappropriate clothes. We took on us when mothers came to pull us from the platform to make us dance, hands open to receive banknotes given by the guests as it's the tradition, in front of an amused Moubina. We took on us, but we took great lessons above all.
After these two first crazy days, we left our new friends – not without difficulty… We would have stayed with them, so welcomed in this paradise place; but we must move quickly to meet again Florence, our hitchhiker's mate met in Kyrgyzstan and already arrived in Samarkand… Out of Andijan, we moved step by step when a truck stopped to help us: on board, Gulam beckons us to join him. We didn't know it yet, but we will stay with him for a long time: first because his truck was moving slowly (60km/h in average); then because it was necessary to stop for a while in a village of welders, where Gulam sold his empty container in the black market (a container whose sheet will surely be cut, folded, bent, welded by the village men and also… very young boys, whom we saw working hard in the vicinity of workshops and cotton fields). And most importantly, we will be having a good time with Gulam because we were simply invited to stay at his apartment in Angren. So in this little town, halfway to Samarkand, we'll end the day – after being treated like royals, invited to the restaurant at noon and enjoying a "Napoléon pie" (a Soviet kind yarrow) at night. At bedtime, Gulam will surprise us once again: translating his words in a very approximate way using his phone, this trucker will tell us about his lovers, radioactive radiations in Uzbekistan that make men sterile and a advertisement spotted on a magazine given by another driver about rubber sex dolls…
After breakfast, we left Gulam with his thoughts on sexuality to hit the road, Samarkand direction. "We are arriving" we wrote to Florence, who has arranged to meet us at Registan Square. "We will arrive at the beginning of the afternoon". Over the miles and approaching the major tourist Silk Road cities, finding drivers who agree to take us free of charge by hitchhiking becomes more difficult. Fortunately, between two hitchhiking failures on the road, Guli, a bubbly English teacher, came to comfort us – we will be welcomed to her home later, when we will have finished our historic Uzbek cities loop. "We'll arrived tonight". Finally, we met Florence on Registan Square at the sunset, to end this lovely day!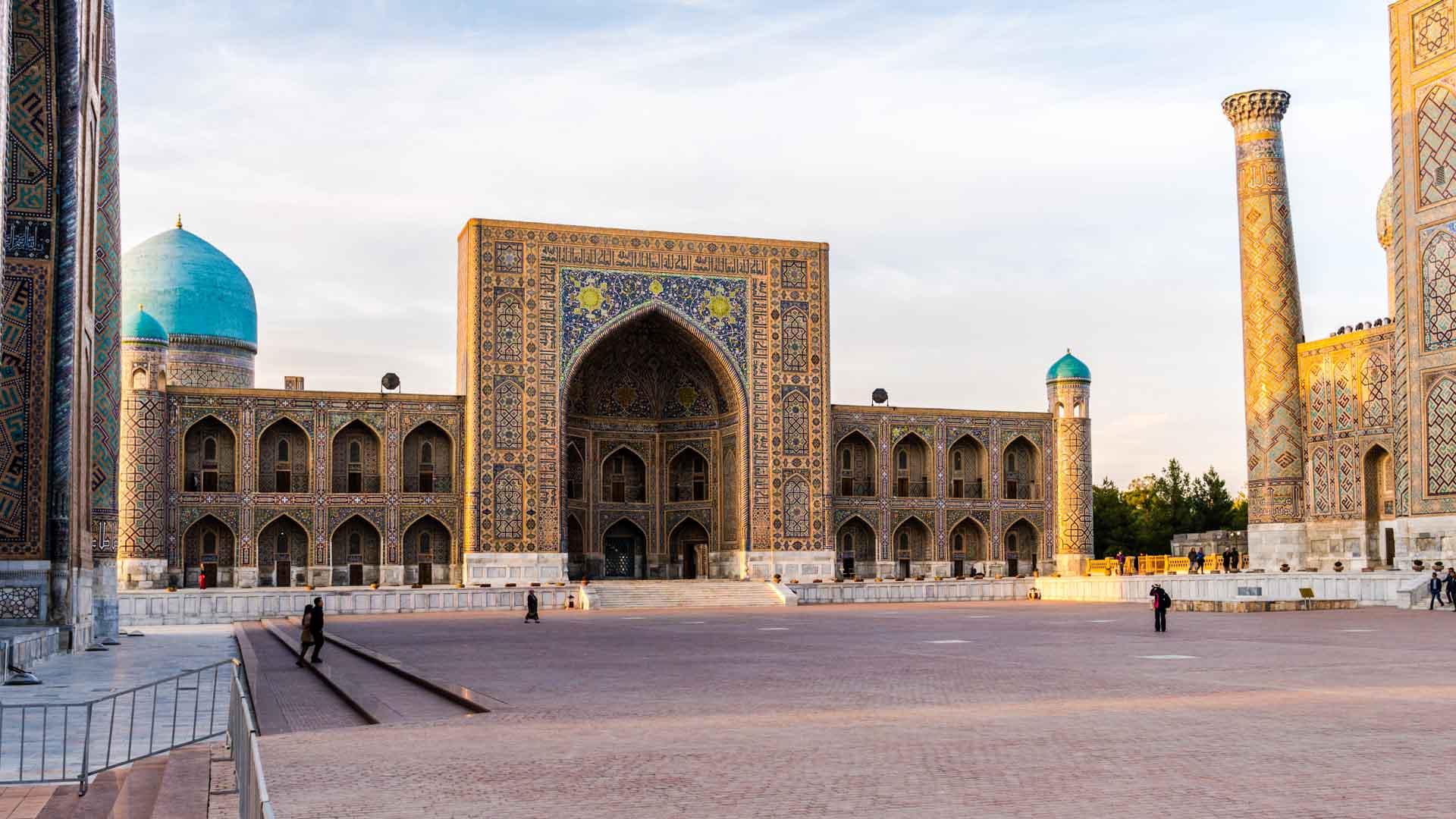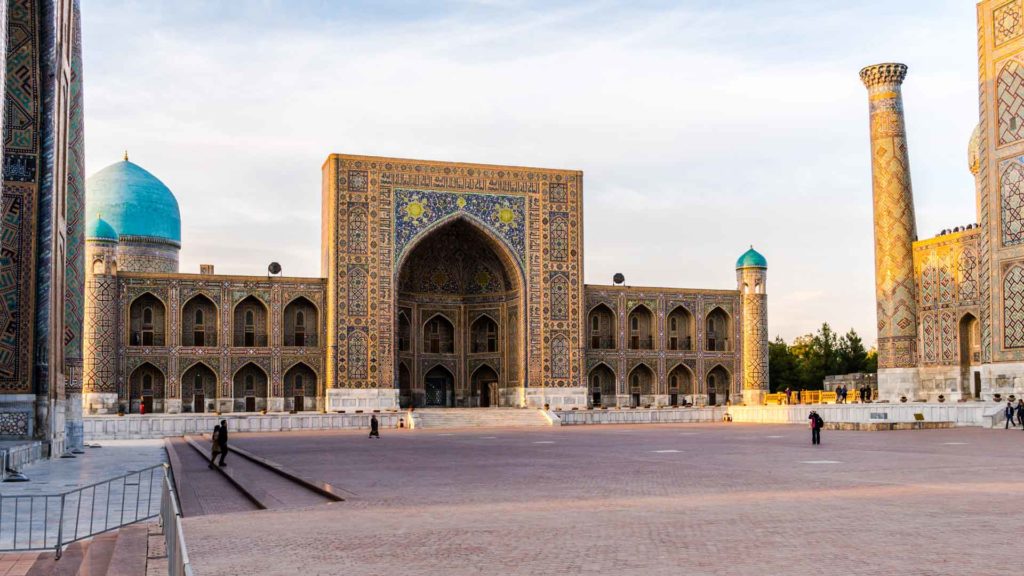 Rendez-vous at Friday
Invited by Sanjar, a Couchsurfing host living in Juma (a small town located 30 kilometers from Samarkand), we said "goodbye" to Florence to go to Juma by hitchhiking – a daring decision, while we were in the middle of the city, in the middle of the night, in the middle of everything and nothing. But against all odds, a car stopped: inside, a father and his 2 sons, tadjiks people living in Samarkand. They lifted us to the city exit, where their house is, and stopped a Damascus – a kind of mini van taxi, Chevrolet brand, shared by 7 people. Without realising it, our saviors gave money to the driver to take us to "Friday" (Juma meaning Friday in Uzbek language). Everything was done quickly, discreetly: we didn't have time to protest, our Tajik friends have already left. There are things we can't control; the goodness of people is part of it…
Despite our late arriva, Sanjar welcomed us with a smile. This computer science teacher wanted to improve his English, and seemed delighted to welcome his first foreign guests to his home. Sanjar feared that we will be disappointed: his house is very modest, wiht no "real" bathroom but only a banya and Turkish toilet at the back of the courtyard. We reassured him right away: banya, we already know; same for Turkish toilet… The most important thing for us is cultural exchange, spending time with him and his family. And that's a good thing because we will have plenty of time the next day – heavy rain showers forced us to postpone our Samarkand visit. While conversing with Sanjar, sitting on the living room floor's carpet, I let myself be distracted by watching his wife, who was eight months pregnant, taking care of all the houseworks under Sanjar's mother orders.. Life in Uzbekistan is settled with arranged marriages: mothers choose a future wife for their son, and once the spouses are united by the bonds (not sacred, but imposed) of the wedding, the new wife needs to move into her husband's (and in-laws) house. The mother-in-law can then discharge all her household responsibilities; her daughter-in-law will take care of everything, as tradition dictates. Like beautiful ceramics outside Uzbek mosques, smiles are just a beautiful facade: inside, everything is dark.
Before leaving, Oibek, a friend of Sanjar speaking French, invited us to return to Juma to taste wine and vodka produced by a local factory. We took note of it! When we arrived in Bukhara, Shukrat and his two children greeted us loudly – especially the children, two canon balls with a high level of mischief: we didn't yet get rid of our bags that we were already assaulted, finally getting a little respite after being drained of all our energy. Despite the fatigue, we found the necessary resources in the evening to walk to the city center to meet Sophia and her father Roland – a detonating father/daughter that we met in Karakol, Kyrgyzstan. A sweet-happy moment, lost in the streets of the old Bukhara.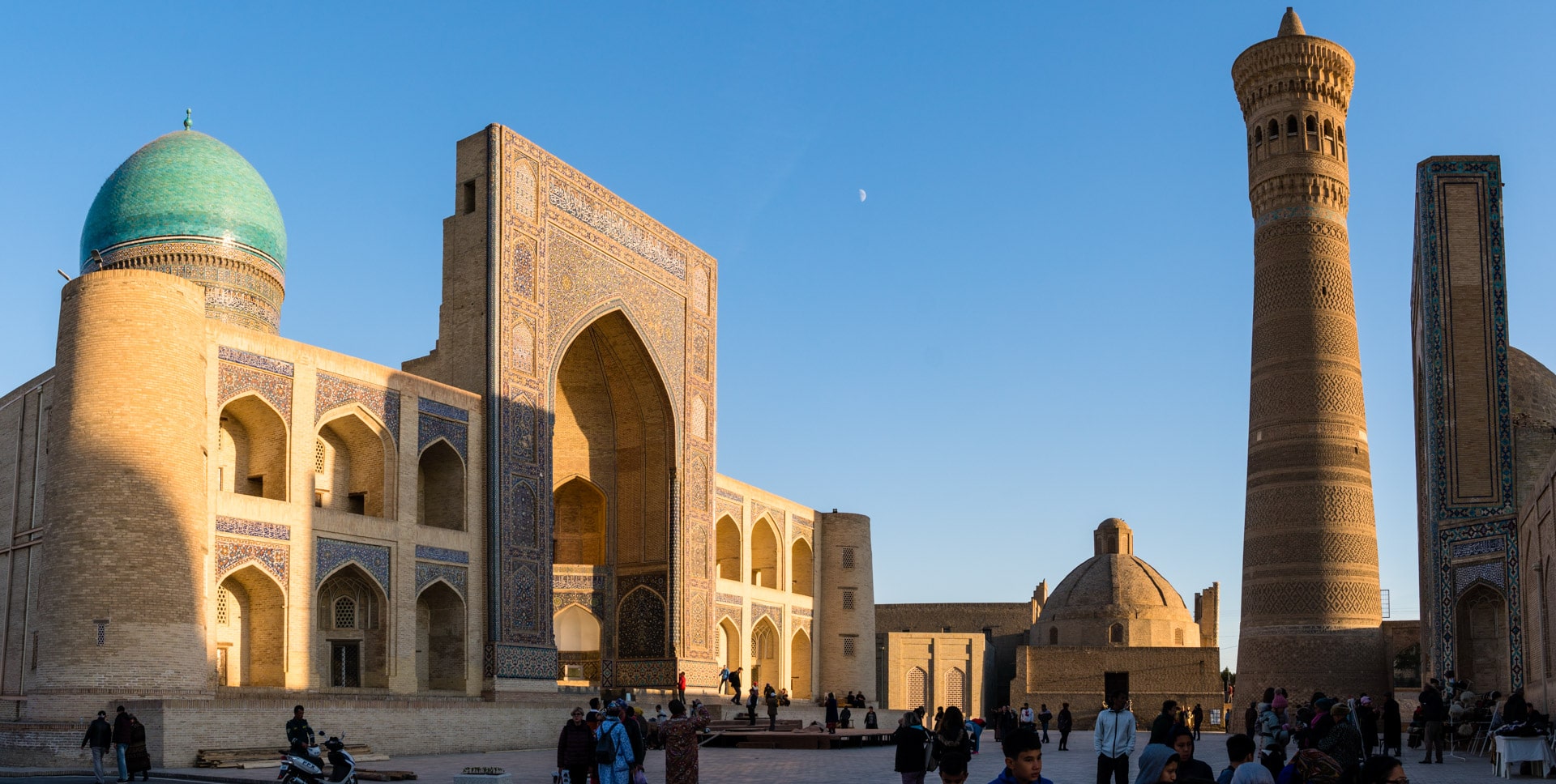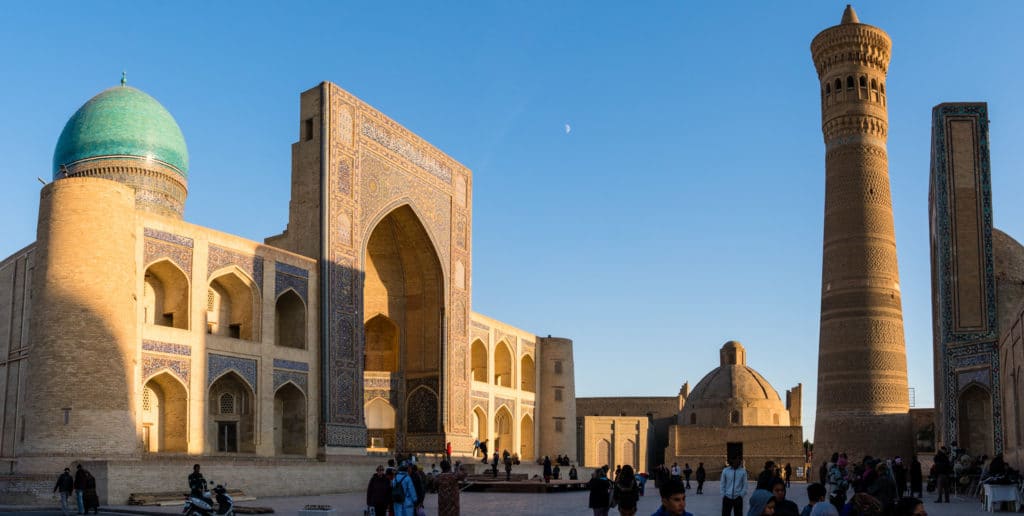 We woke up the next day, in the grip of a big question: Khiva (another big historical Uzbek town, located 400 kilometers away) or not Khiva? We thought about the little time left before our chinese visa will expire, about winter and cold weather ahead, about Bukhara and Samarkand that we have not quite visited, about all our Uzbek hosts with whom we would like to share more… And the answer is clear, obvious: Khiva will wait! After three days spent in Bukhara, we took the road in the opposite direction to return to Juma – the same straight asphalt line, boring, cutting sharp desert landscapes extending to horizon loss. Had we already forgotten that from desolation comes consolation? Stopping an Uzbek jeweler, we will be invited to the restaurant to feast on the traditional plov, then in his jewelery shop to admire his creations. Noticing the silver ring on my finger (Aiperi's gift), our new friend was going to let me, in his way, a new souvenir: a silver necklace (representing a fork and a knife crossed, symbol of our lunch) came to complete my outfit.
Men and pledges
Back at Sanjar's, a well-stocked table awaited us: his (very) pregnant wife has prepared a hearty dinner, not specially for us… but for us and another couple of travelers that Sanjar has happily invited, delighted to have plenty of guests at his place! We are also delighted: Bri and her boyfriend, a Franco-Italian couple trained at sea (he was the captain of a ship, she was an apprentice sailor) provided us valuable advice for navigation and subsequent search of a boat. The next day, we finally ended up visiting the old town of Samarkand – enjoying a sunny day and expert advice from Florence, Roland and Sanjar. Only small shadow was left on this day full of sun: Oibek, Sanjar's friend who invited us to visit the local factory producing wines and vodkas, never kept his promise – a custom quite spread in Uzbekistan, similar to Iranian's Ta'arof.
Fortunately, Guli kept her promise. When we arrived at her apartment in Almalyk (an uninteresting town on the outskirts of the Uzbek capital, also uninteresting) the table was set and garnished with delicious pumpkin samsas that she cooked all the day with her daughter. English teacher at the local primary school, Guli took us to meet her students: curious children, ambitious, totally devoted to their teacher. We also met Sevara, a young Uzbek student of Tajik origin, who invited us to taste a vegetarian pizza in Tashkent, before asking us many questions about ecology… English language, ecology, alternative travel… During our trip, we did not just learn – we also shared our knowledge.
We left for Andijan where everything had started two weeks earlier, happy to see that nothing had changed during our absence: cars that stop for us easily, warm smiles, cotton that escapes from trucks with a gust of wind, radiant sun. If travelers on the Silk Road have forgotten Andijan and Ferghana valley, inhabitants of this region have not forgotten them: invited to sleep at one's house, or that another wanted to pay us a taxi to do the remaining 100 kilometers, generosity is everywhere – especially in the heart of Khumoyun and his family, who welcomed us once again. One thing is certain: we will not forget Andijan, nor those moments spent with them. We will not forget this last plov (locally called "Osh") before leading to… Osh, Kyrgyzstan.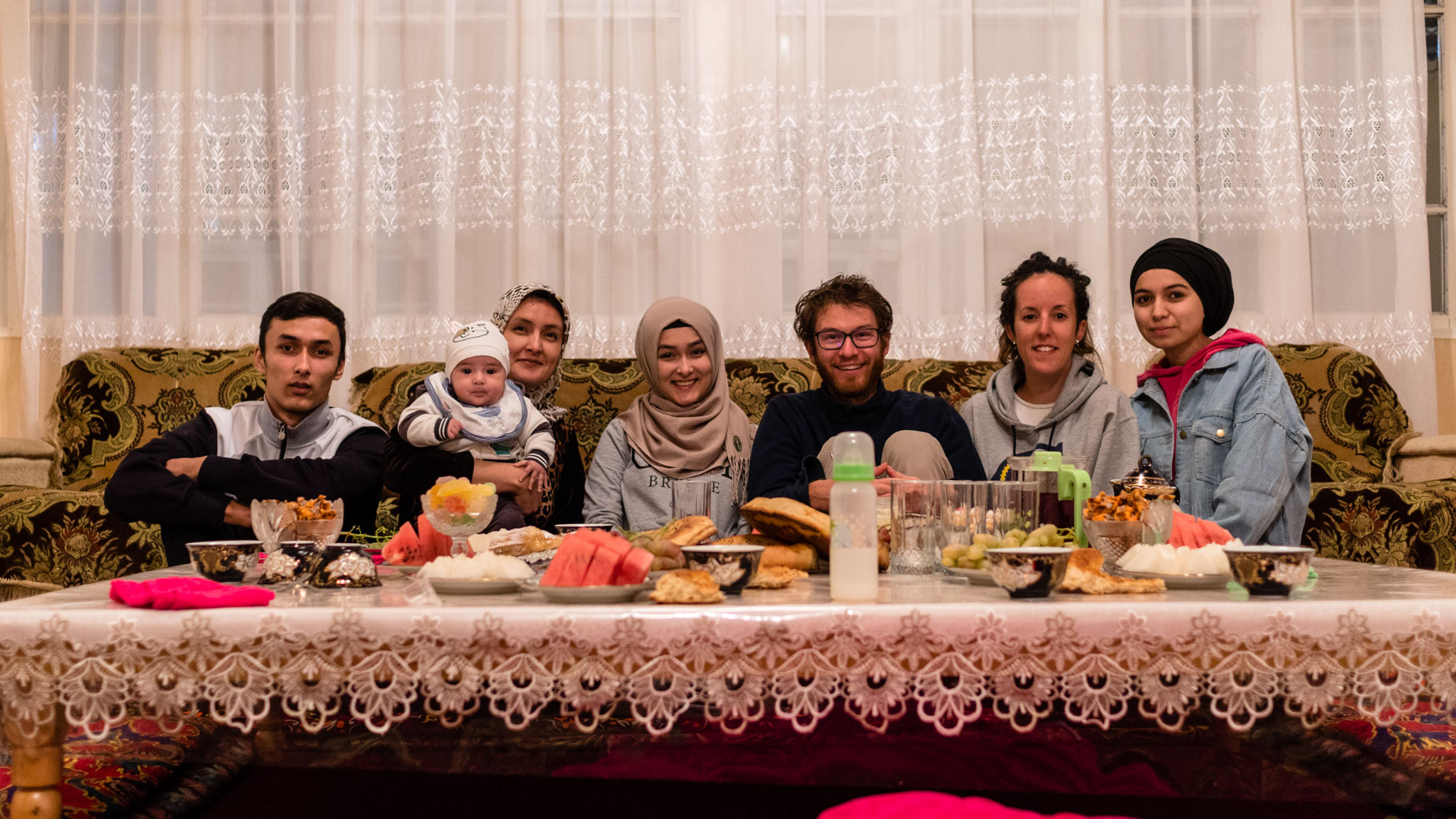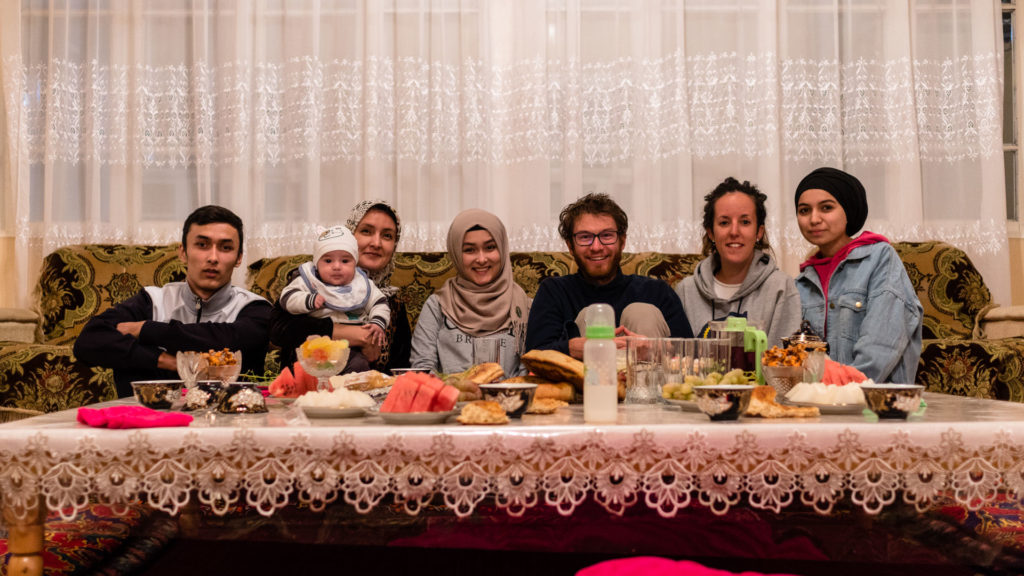 O Pamir road, how faithful are thy peaks!
It didn't take us long to reach Osh from Andijan by hitchhiking; after all, these towns are only 50 kilometers apart, separated by hills set in the heart of a dry landscape and a border fence separating villages, houses and private gardens in two (we later learnt that some families did had no choice but to see a barbed wall crossing their garden, preventing them from accessing their only toilet located on the other side). If Osh rules under Kyrgyz codes, very influenced by the Soviet era (tin roofs, all concrete buildings bars, a bustling central bazaar and the Cyrillic alphabet omnipresence) it reigns in Osh streets a very special atmosphere – probably because of the thousands of Uzbeks populating this Kyrgyz city, making doppa hats meeting the traditional kyrgyz Ak-Kalpak, Somsa meeting Mantis.
For our last Kyrgyz experience, we unfortunately not stayed in a Kyrgyz family but at Yeji's, a young South Korean traveler and volunteer at a training center. In exchange for accommodation and meals, Yeji taught English but also computer science to the Kyrgyz yougsters of Osh – who have no choice but to go to Bishkek, a 6-hour drive away to study this indispensable skill. Despite her retiring character (and her unjustified fears that the owner of the center will refuse hospitality to us too), Yeji guided us through Sulaiman-Too Mountain and Osh's main streets, in search of a bottle of red wine to accompany our shared dinner. Noticing the many holes in my too worn top fabric, she didn't hesitate to give me one of her long sleeves top, a warmer one, "to replace my top full of holes and to better withstand the cold waiting for me". She was so right.
This morning of October 28, 2018, our alarm clock rang very early: it didn't ring twice, because we got up almost instantly, awakened by an adrenaline rush and a tight feeling in the stomach. We were (very) aware of everything: the road, and especially customs formalities on the Chinese border side were among the most difficult stages of our trip. After a brief morning "goodbye" to Yeji, we walked through Osh to join the beginning of the M-41 road, more known under the name of Pamir Road: a mythic road, second highest road in the world, characterized by its many passes, deplorable state and the heavy traffic of Chinese trucks, supplying Central Asia with its plastic and poor quality products. We end up stopping a first car, leaving behind us the half arid, half green landscape of Osh for snowy mountains and ice. Arrived at Sary-Tash, it's a beautiful landscape that lays in front of our eyes: south direction, an impressive chain of high peaks faces us, like a natural barrier guiding us to China, to the east. In the distance, somewhere in the middle, lies Lenin Peak – a culminating point at over 7000m above sea level. A trucker will finally pulled us out of our torpor to lift us to Irkeshtam, the last village before the border. On the road, we will be stopped at a Kyrgyz military checkpoint for a first control: behind these reclusive men, wearing chapka and high boots, a tame fox squealed…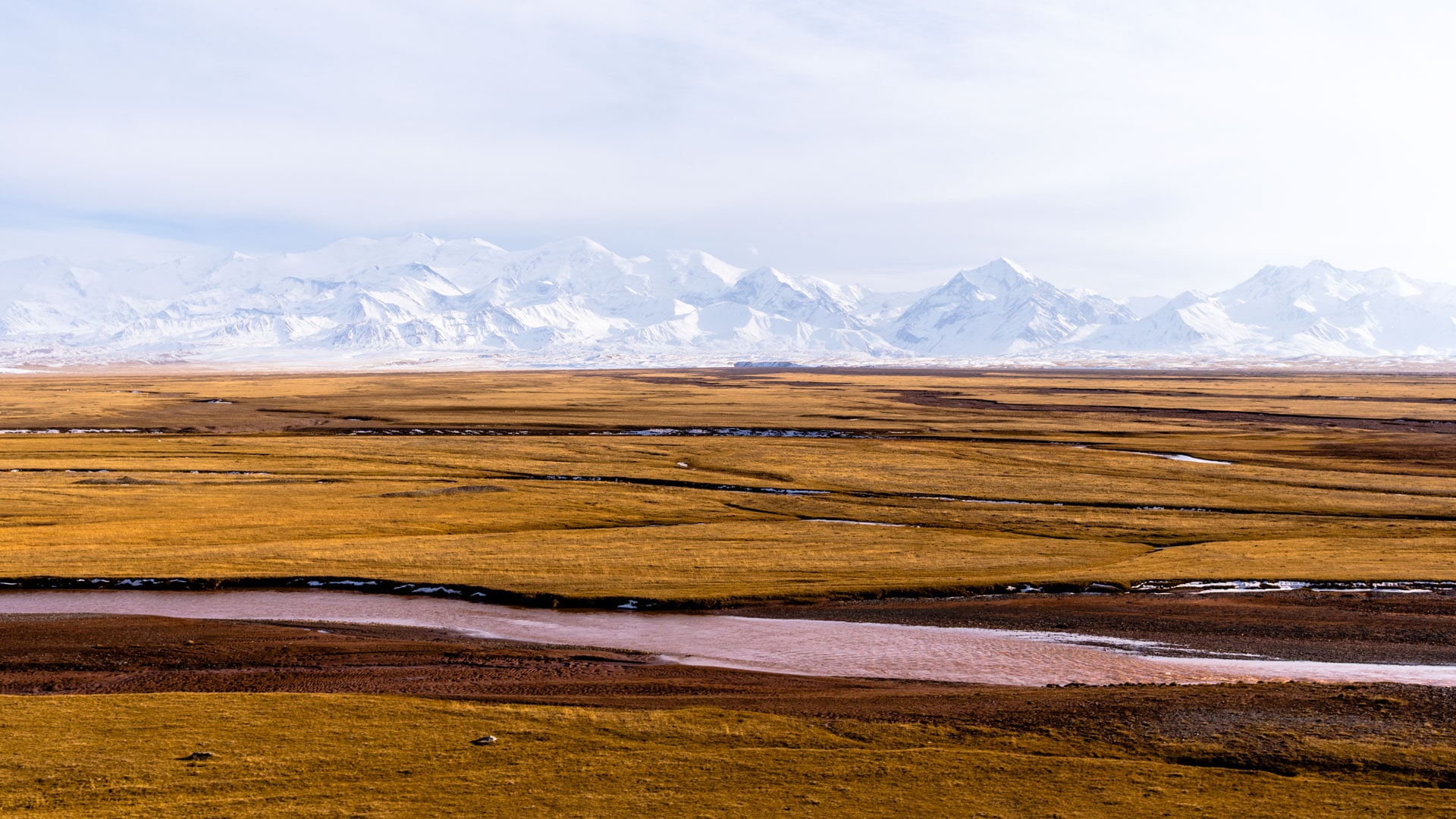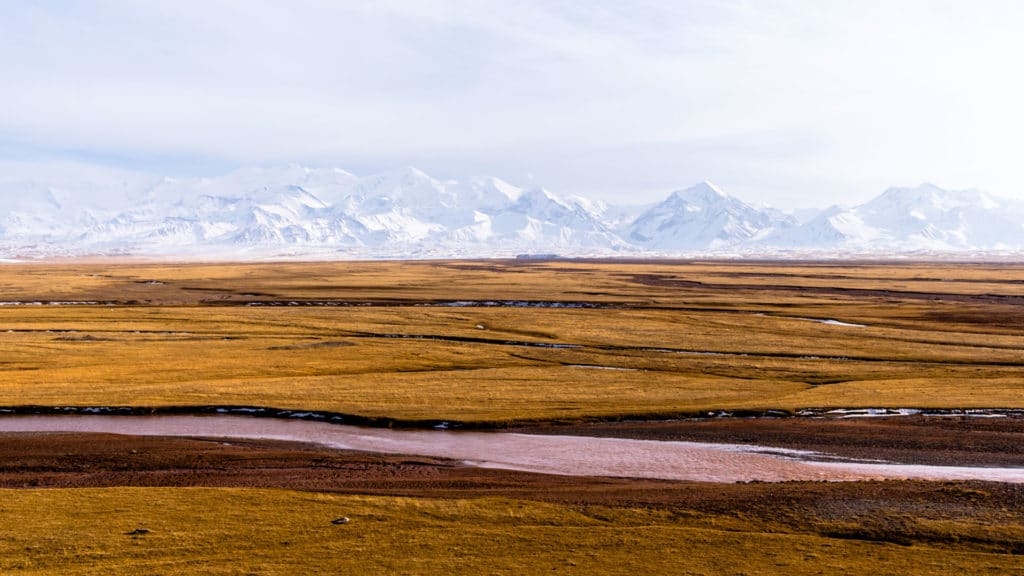 It's almost dark when we arrived at the ghost town of Irkeshtam – a place with dozens of converted containers, mostly abandoned. Only a small coffee shop seems to bring some life and warmth to the hundreds of truckers stranded at the border. We will settle inside a moment to give ourselves a break, warmed up with a hot tea, before finding a place sheltered from the cold to pitch our tent. We found our happiness in the form of a protected shed, near the only house in the village. Only when we asked the owner his permission to camp there, he invited us by gestures to come inside. He made us understand that we can sleep, for free, in one of the dormitories reserved for truck drivers; a dirty dormitory whose sheets have not been changed for some time… In fact, we didn't ask much: for our last night in Kyrgyzstan we were again offered hospitality!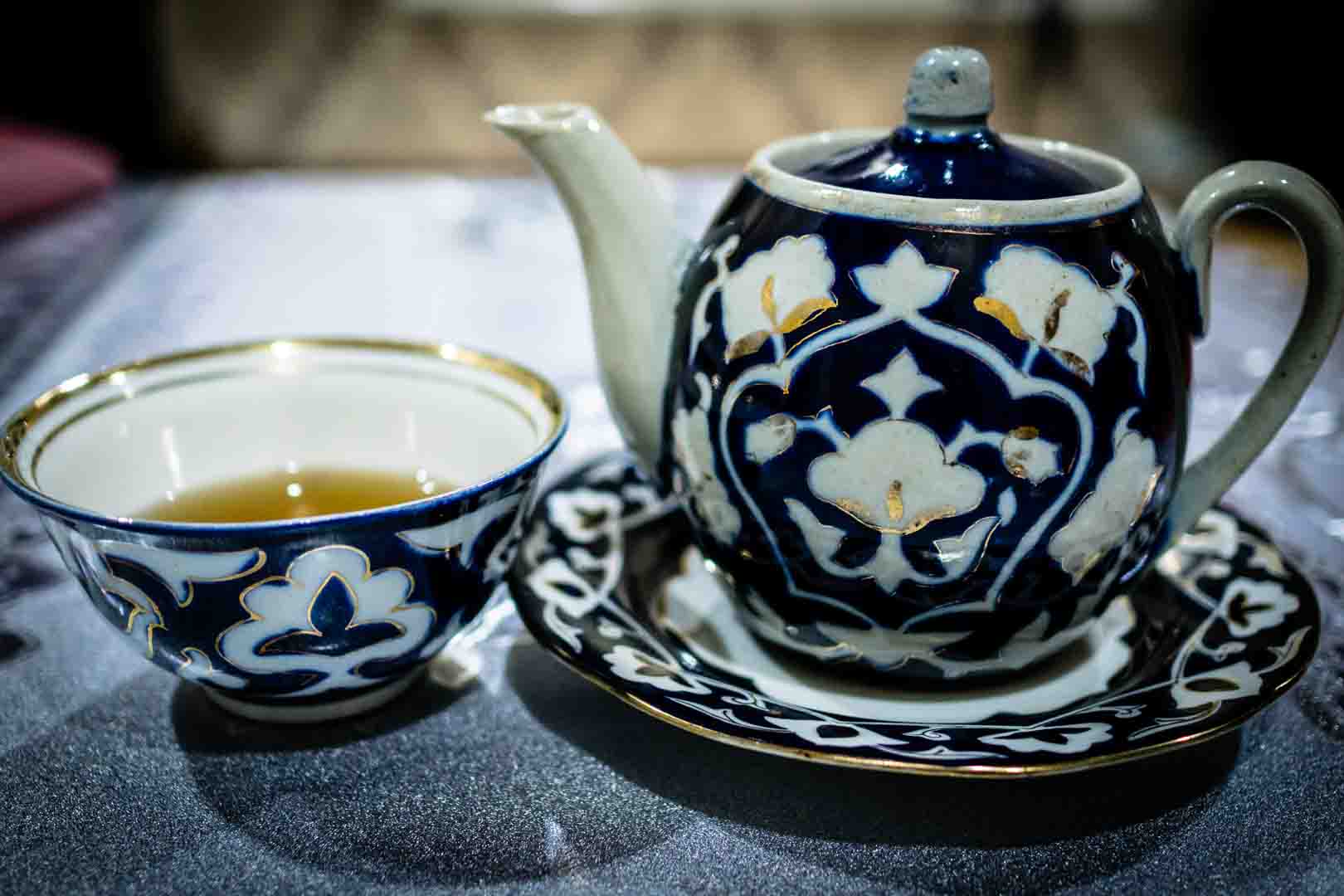 * Post written according to our personal experience *