Bonjour, Hello, Ciao, Dober dan, Dobar dan, Mirëdita, Geai sou, Merhaba, Barev, Gamarjoba, Salam, Salom, Nihao, Xin chào, Sabai dee! Welcome to our series of newletters which retraces, chapter by chapter, our great hitchhiking jouney. Here is the chapter 18 of our travel stories: "Heading to Têt" – Roadtrip in Vietnam.
---
Bingo!
On one side, a track, a no man's land, a few barracks, some corrupt customs officers. On the other side, a well paved road, a new building, organized lines: here we fall again under the red flag with a yellow star, in the land of two-wheelers and torrential downpours. A few steps from the border post, a Vietnamese man on a scooter stoped, offered us his help: in less than two minutes, he negotiated our trip with a Laotian truck driver. This is Vietnamese hospitality in all its splendor: no need of a thumb up to find a helping hand. And that's how we were lifted for 70 kilometers, in the company of a Lao trucker speaking surprisingly good English.
Our paths diverging, we were dropped off, on our insistence and under a non-stop rain, on the side of the road towards Phong Nha caves. On the other side, a group of men beckoned us to come and shelter: chairs, beers, rice; we were quickly integrated into their friendly party. Nobody spoke English; fortunately, we managed to communicate by gestures and a translator. Quang, the place owner, ended up asking us how old we are: 29 was displayed on my screen while I slapped my chest, 31 for Julien who did the same gesture as me. Quang grabbed a piece of paper, a pen: numbers were copied before being passed on to a guest, who left quickly with the paper in hand, along with a little bit of money. We understood much later that Quang had, in reality, made our ages play Lotto. Everyone was waiting for the evening draw, full of hope… And against all odds, 29 number came out, allowing him to pocket 4 million Dongs (about €160 or 1 month's salary). To celebrate this good fortune, the lucky winner invited us to stay: who can boast of having won the jackpot thanks to two strangers?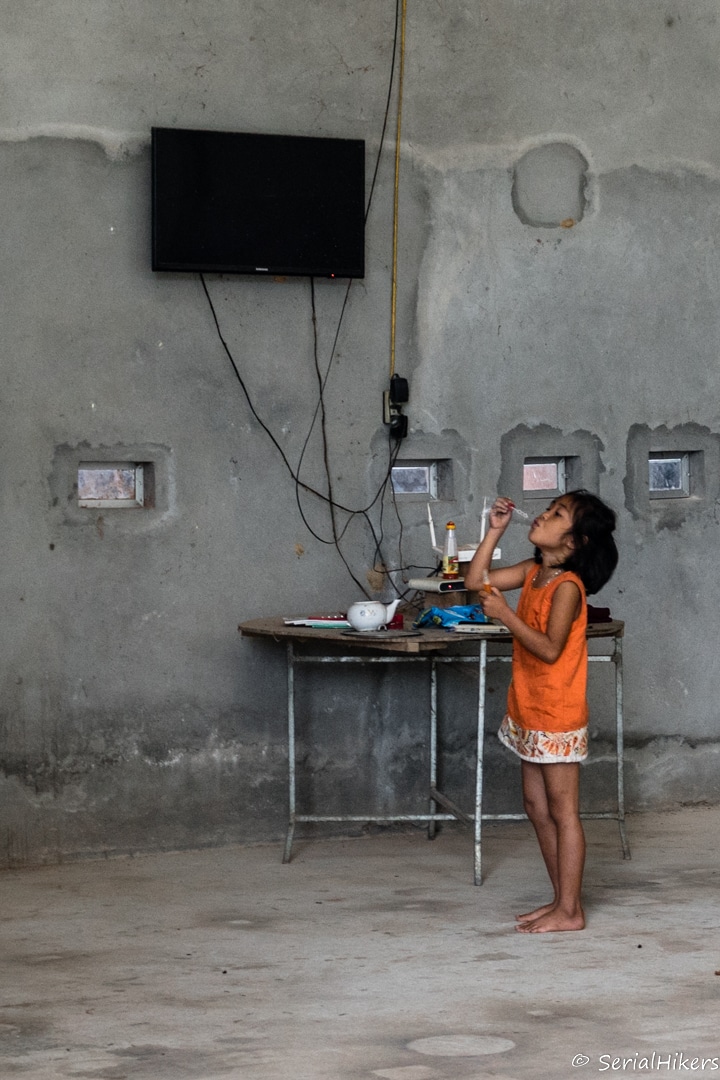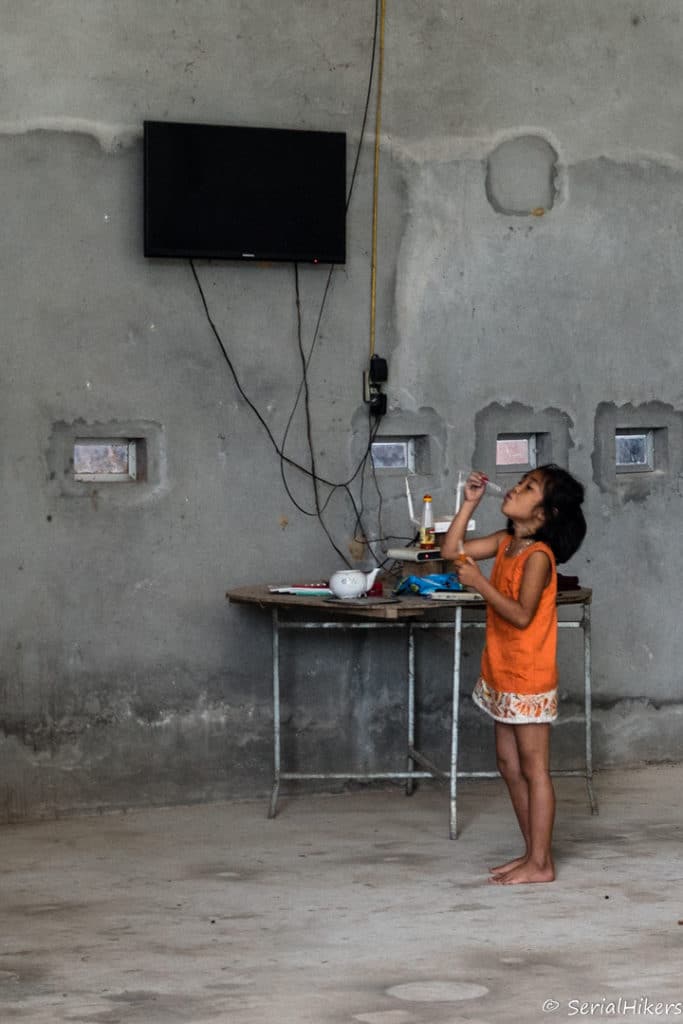 When we woke up in the morning, our host's three children were there: in their hands were new toys, probably bought with some of the new loot. The youngest seemed completely hypnotized by us: her wide-eyed eyes did not leave Julien when he cooked pancakes for everyone, nor my hands sewing a dress for her new doll, with a scrap of cloth kept to repair our own clothes. Despite our efforts, language barrier was too huge: we quickly turned around in this small, rudimentary, isolated house beside a national road. We left the next morning, rested, showered: refusing the warm invitation of our host to stay at least until Têt (the Vietnamese New Year), we wanted to go back on the road, to hitchhike cars, to follow other opportunities. We reached Paradise Cave in the morning, which we visited by spending our last dongs and dollars. A pleasant visit where we ended meeting a lovely Vietnamese family, on vacation in the area: they took us with them, stopping on the way to make us discover Hiền Lương bridge (a bridge divided in two during the Vietnam war opposing the North and the South). At nightfall, they dropped us off in Hué, the former imperial capital, after having offered to accommodate us later on Ho Chi Minh City, if eventually our way pass through there…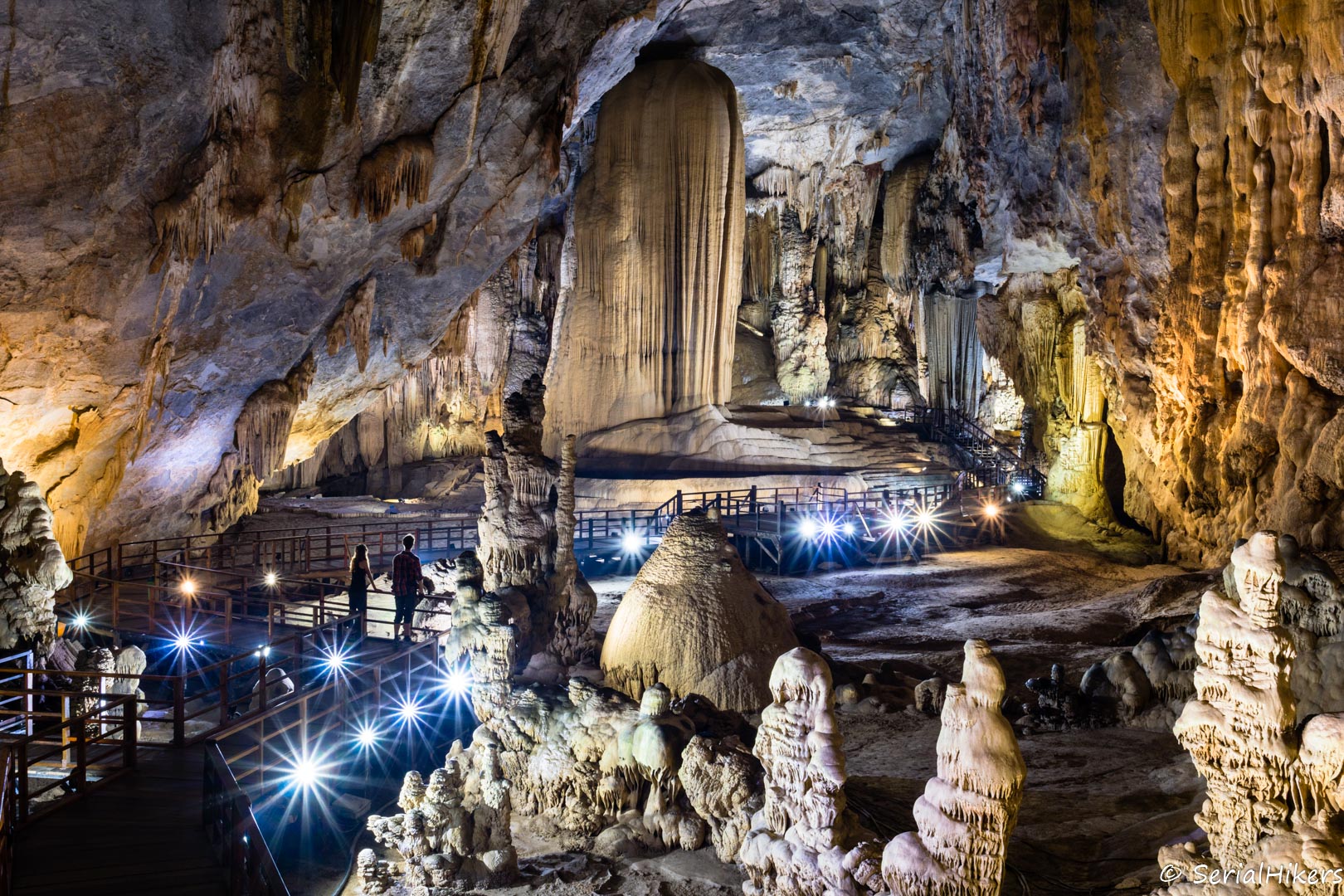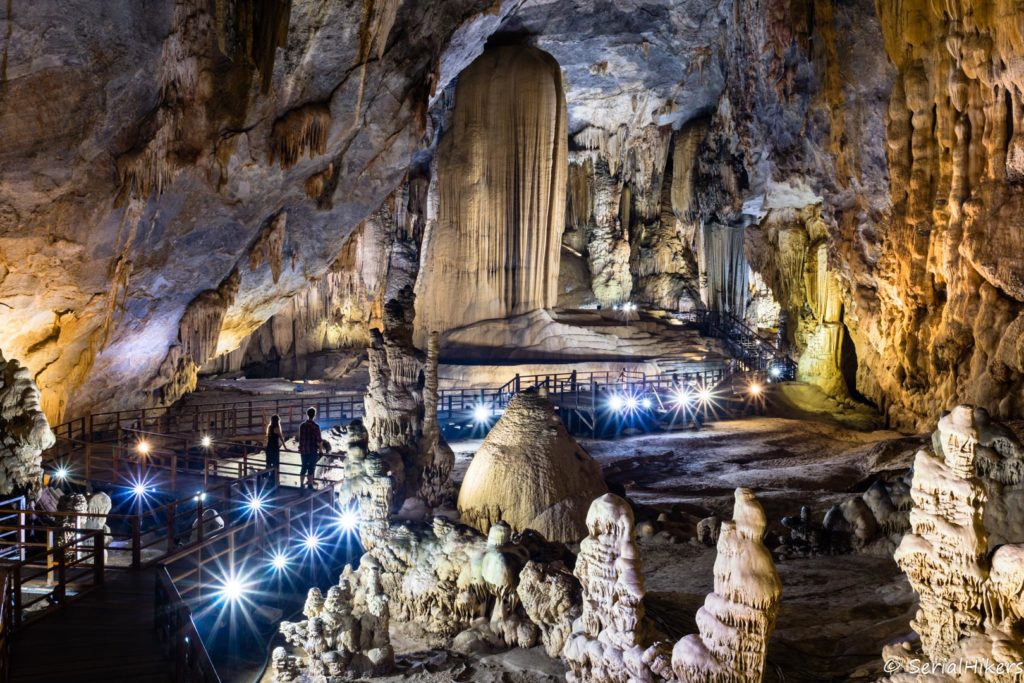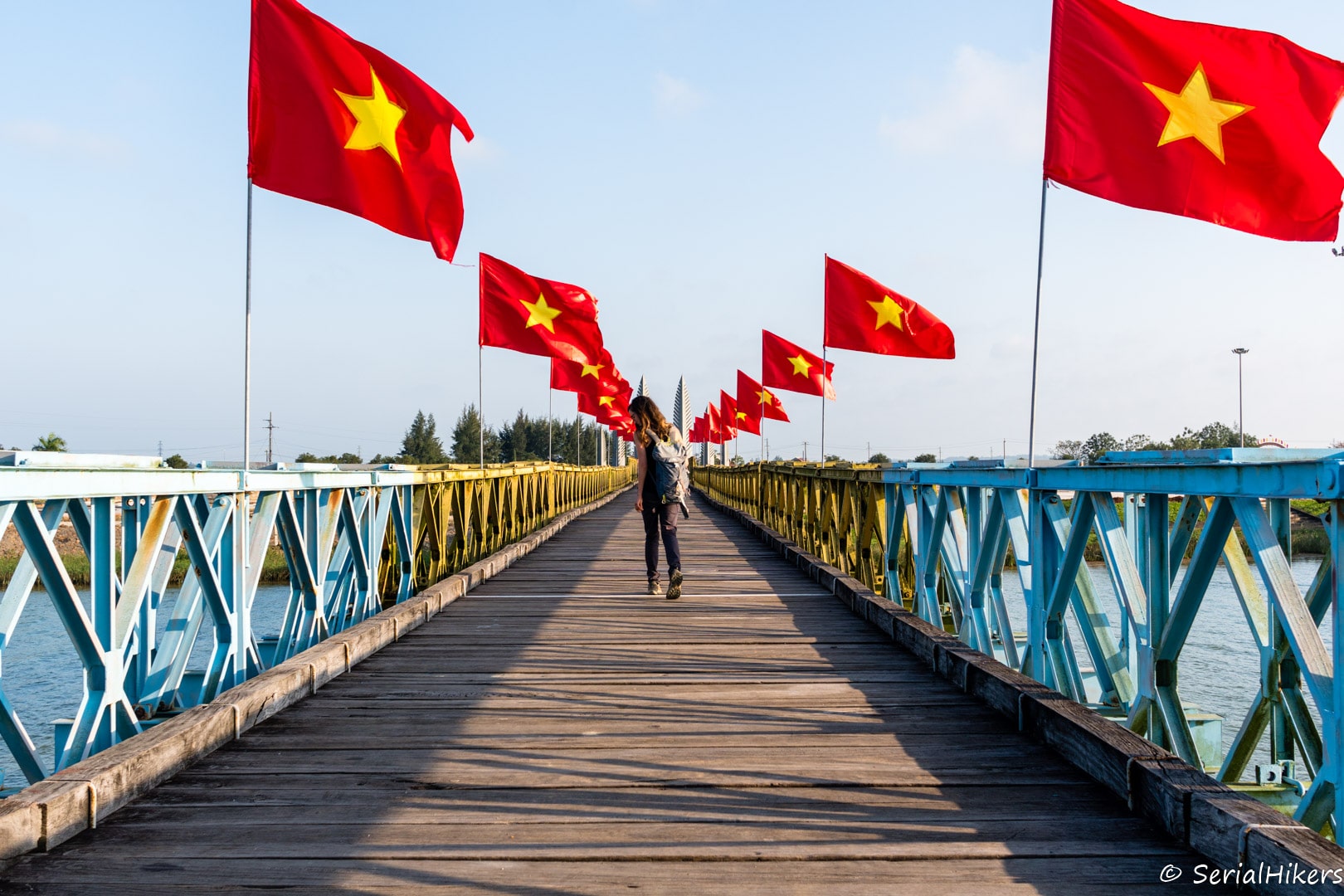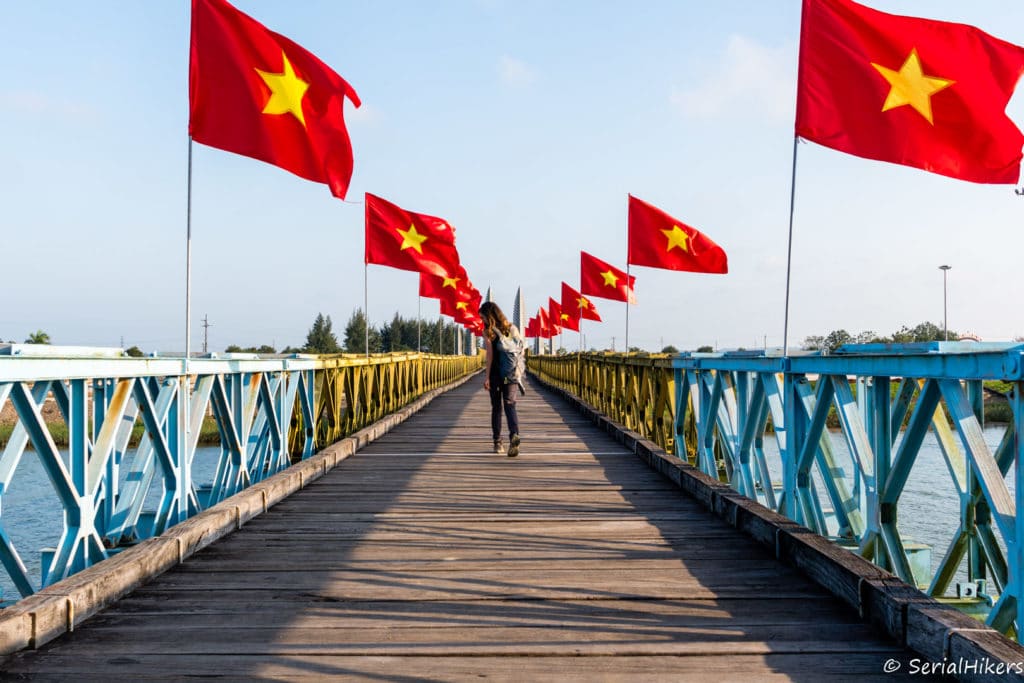 Let's celebrate Têt!
Stalls full of food and flowers, kumquats strapped on scooters: everywhere in the city center streets, we can feel an exciting atmosphere. Sneaking through the crowd, our steps led us to the February 3rd park, across the bridge Trường Tiền, on the Perfume River banks. Sitting on a low wall, with delicious Bánh Mì in our hands, we enjoyed this festive atmosphere, Tet, our vegetarian dinner. "Hi! Are you backpackers? ». We raised our eyes, puzzled: in front of us, a Chinese backpacker carrying a bag as big as her insurance. Yes, we are backpackers; but also hitchhikers, couchsurfers, campers, walkers, long-term travelers…. "Me too!" Amy's face lighted up, delighted: tonight, in a little corner of the park, our two tents will be pitched, side by side, under a flowered arch.
Dare to ask: the next day, we found a hostel that accepted to keep our bags for free all day long, and then we interviewed several tourists to get their feedbacks on the different attractions in Hué. That's on their advice that we decided not to visit the Forbidden City – which is of little interest without the detailed explanations of a local guide. We ended up touring around the city's grounds, stumbling upon the wide open gate of the Thua Thein Hue History Museum where old military vehicles are on display, landing in a small restaurant. And like the day before, we ended the day at the park, disappointed not to have found the opportunity to spend this New Year within a Vietnamese family. When Têt fireworks were fired, our spirits were definitively not at the party.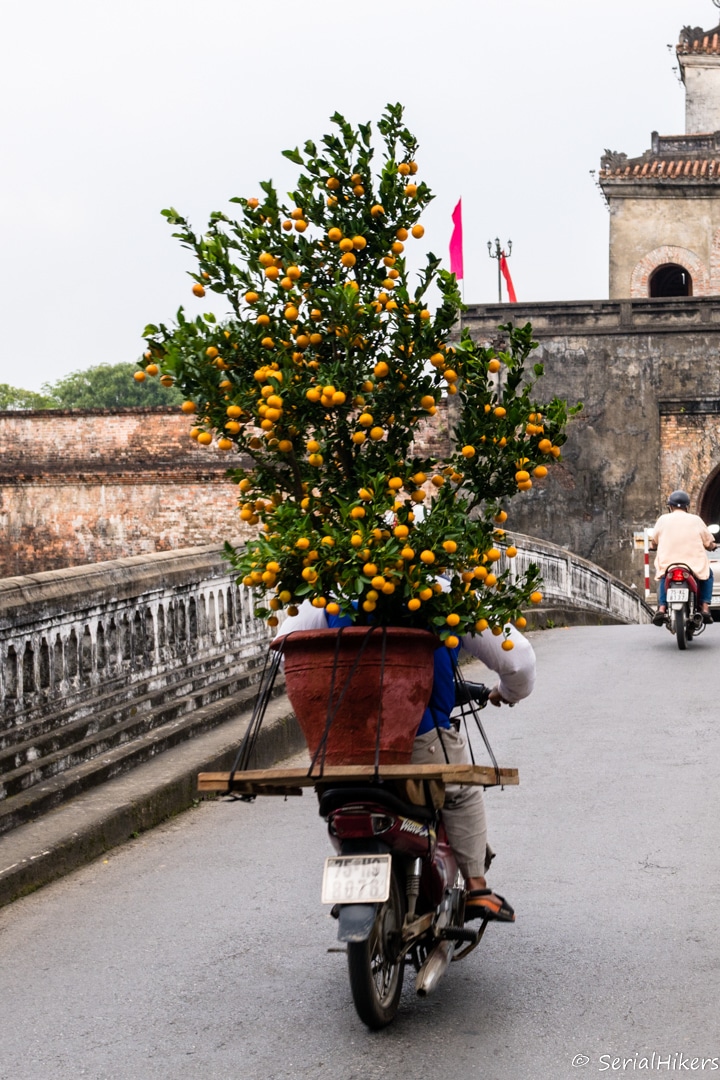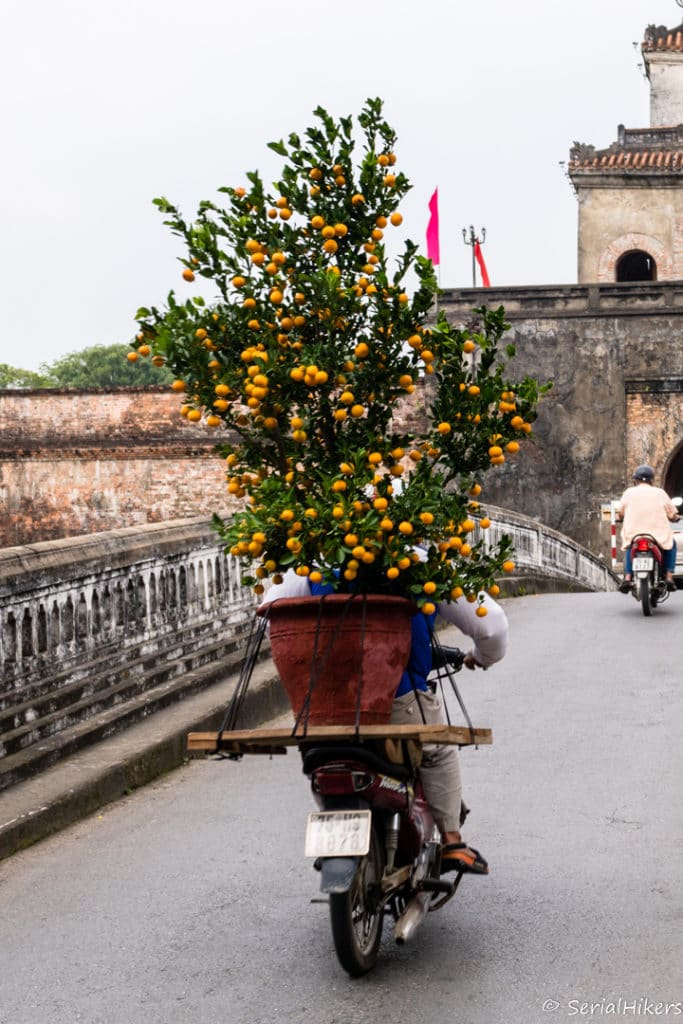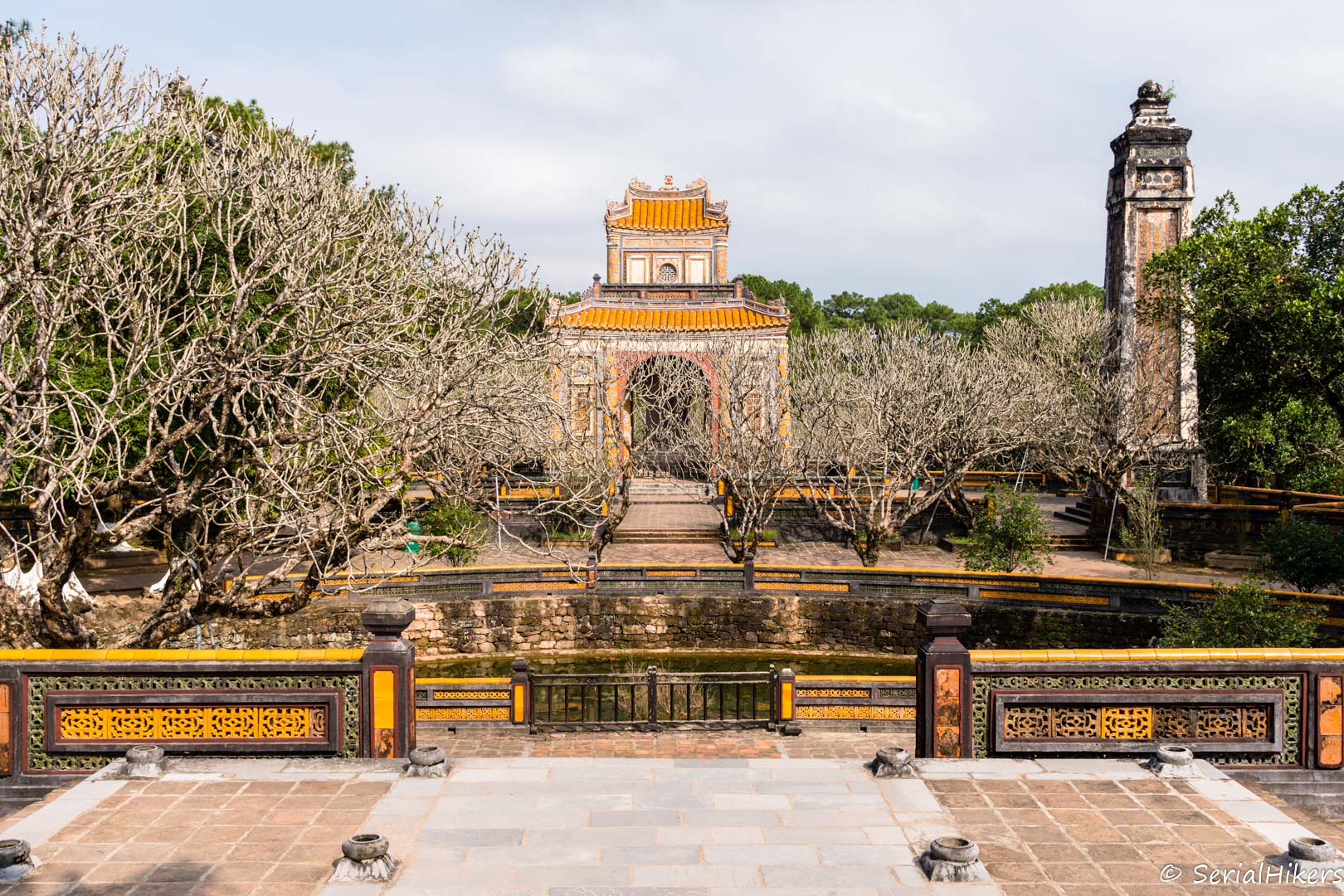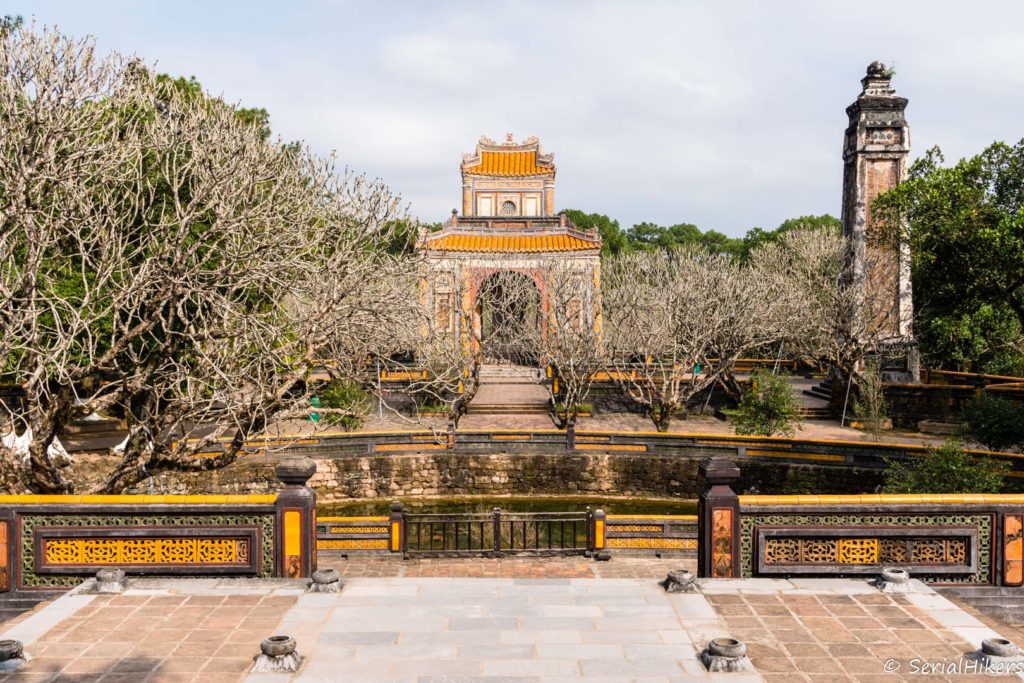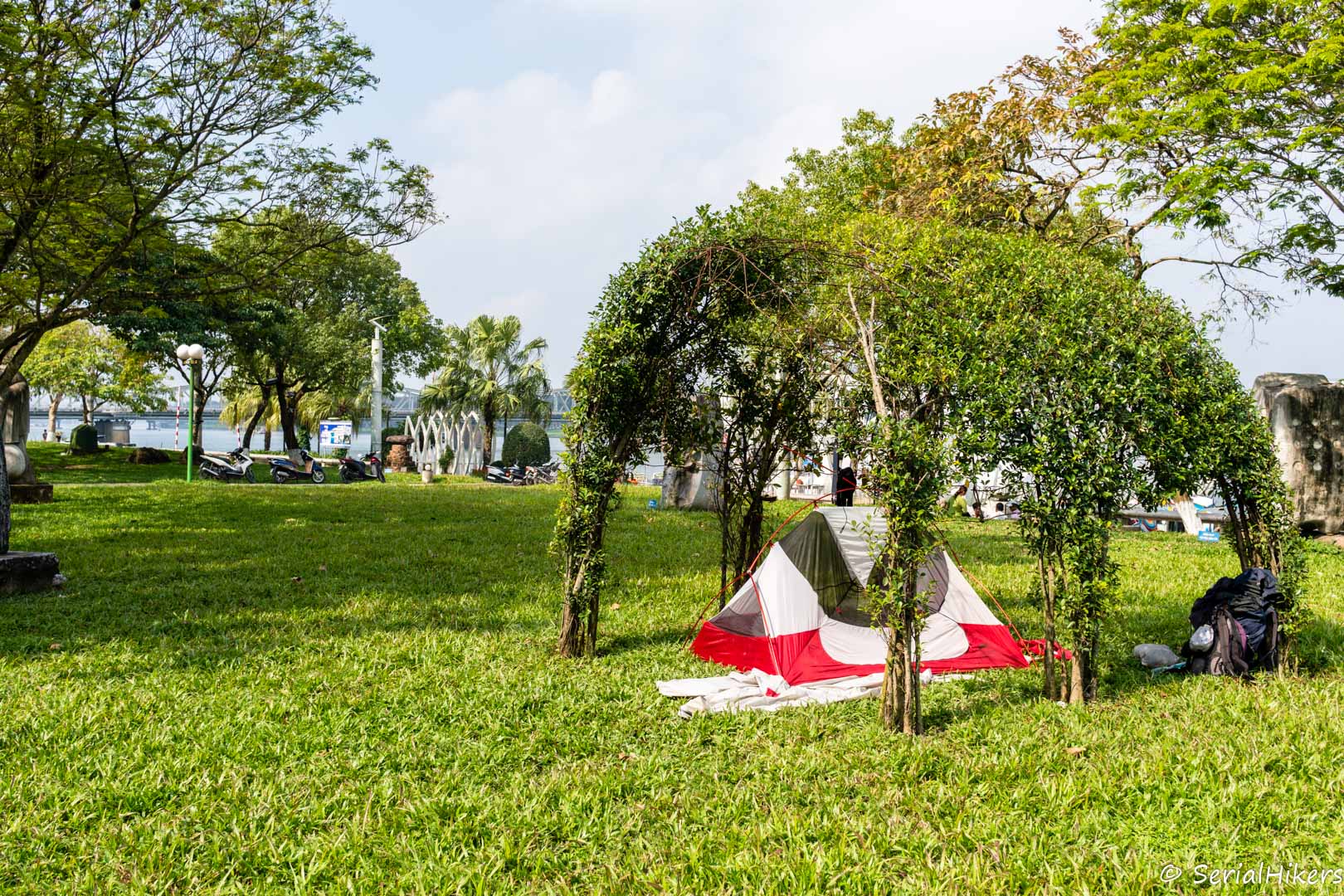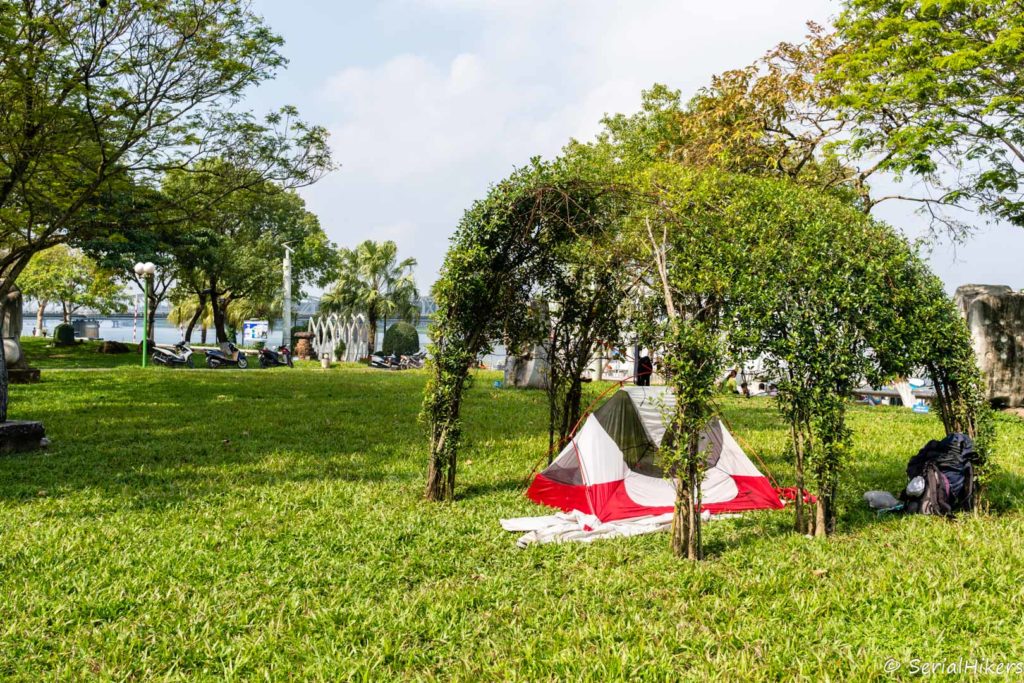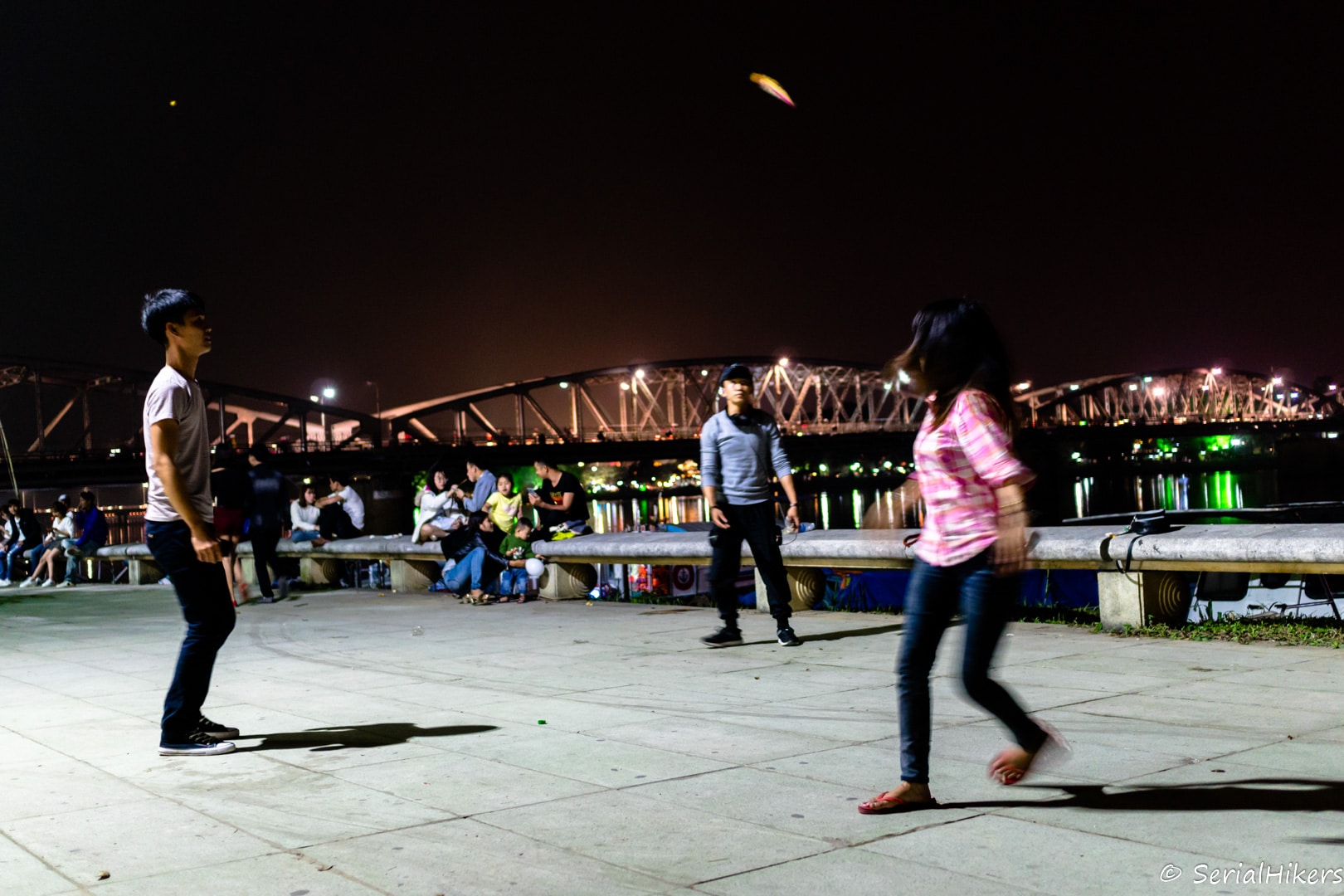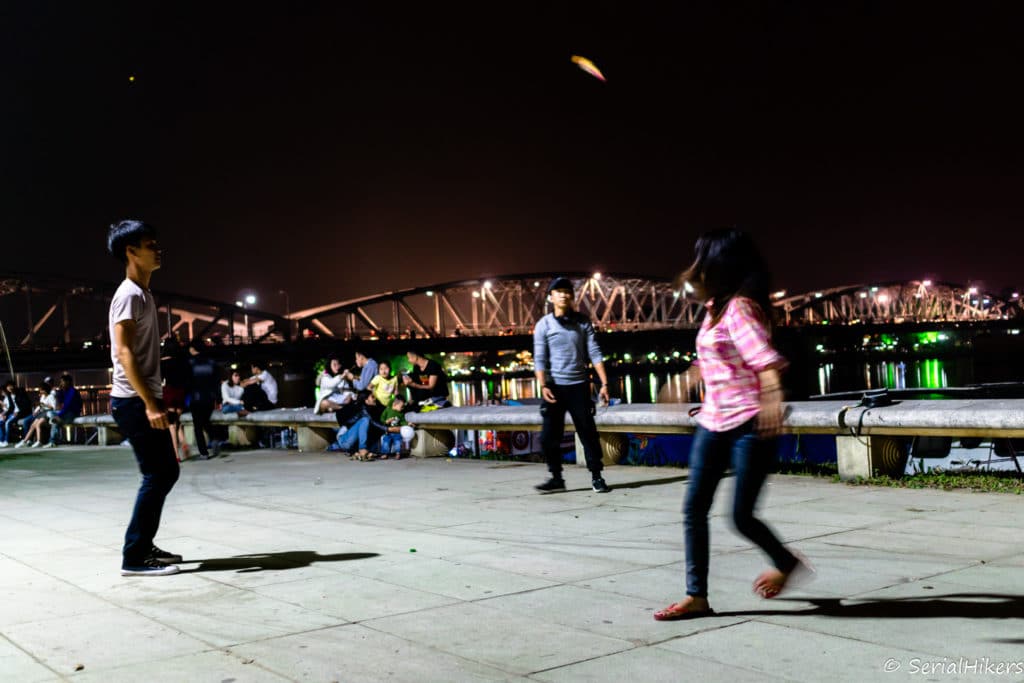 Pig New Year began with a long walk: about eight kilometers to leave the city and get back on the road heading south, eight kilometers walked at our own pace, being stopped on the way to see a pagoda, have a lunch, or visit an imperial tomb. We ended up hitchhiking a car, driven by a young couple on the way to Danang. We checked on the map, our suspicions getting confirmed: this city looks big, to find a place where to camp will be almost impossible. Let's see… Here, the road is going through a small seaside town, with a long sandy beach where we will certainly be able to pitch our tent, facing the sea. "Could you finally drop us off at Lăng Co please? ». We enter in the first local rudimentary restaurant opened on the side of the national road, to order a bowl of vegetarian noodles. A customer already seated at the next table started a discussion in English, while translating then our story to the owner: impressed, she offered us to use her modest bathroom, and to come back the next morning, to try a real Vietnamese breakfast. Her offer came just at the right time: after a shower with a bucket and warm thanks, we went to the beach to set up our camp!
A radiant sun, a perfectly blue sky, and the sound of waves in the background: we went out of our tent totally relaxed, happy, to find ourselves face to face with the next-door resort manager… Oops! We were about to have to leave with our contrite air; but our man held us, with a big smile: he offered us to move our tent under a row of palm trees within the resort, and to take advantage of all the amenities for free – swimming pool, toilets, shower, WiFi. What was only a randomly chosen stopover turned out to be a real backpacker paradise: we stayed there for four days, resting, reading, working. Four days in a quiet place, facing the sea, enjoying a resort empty of tourists, befriending with the small restaurant Quan bé viêt owner – an old man speaking a bit of French. Four days during which we met Vivi, a Vietnamese woman passing by and a private English teacher, who proposed us to come and spend the last days of Têt at her home in Da Nang. Four perfect days.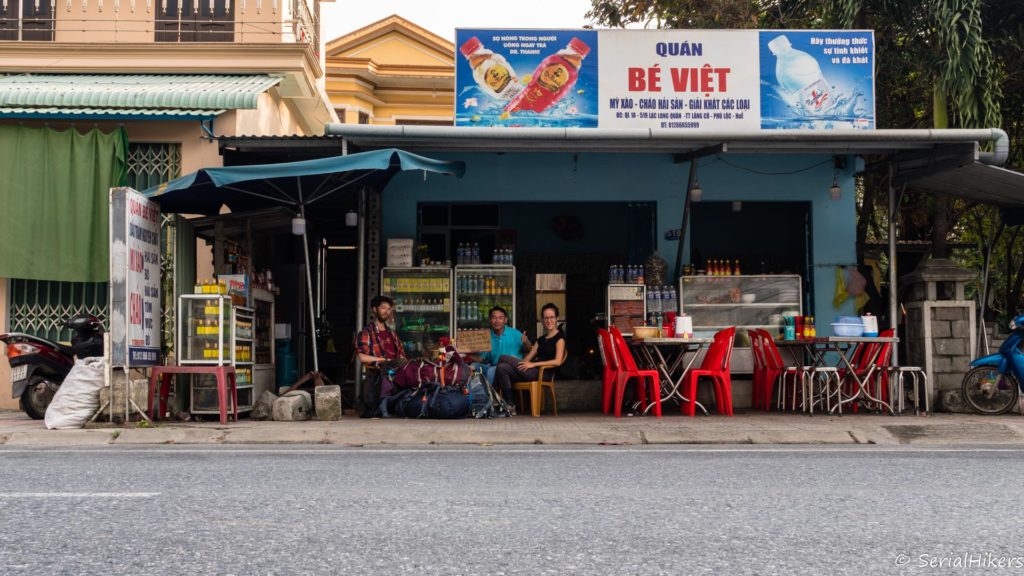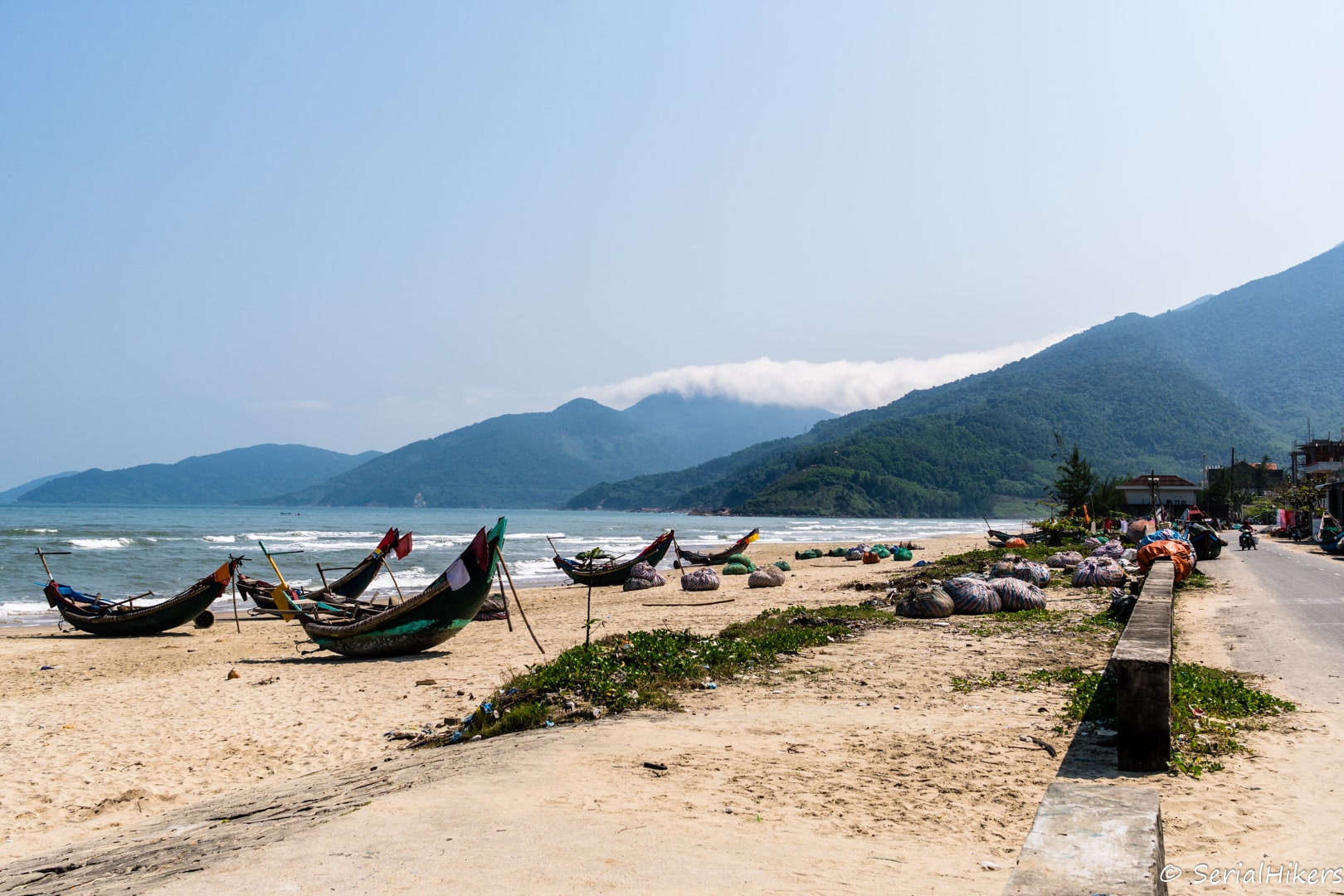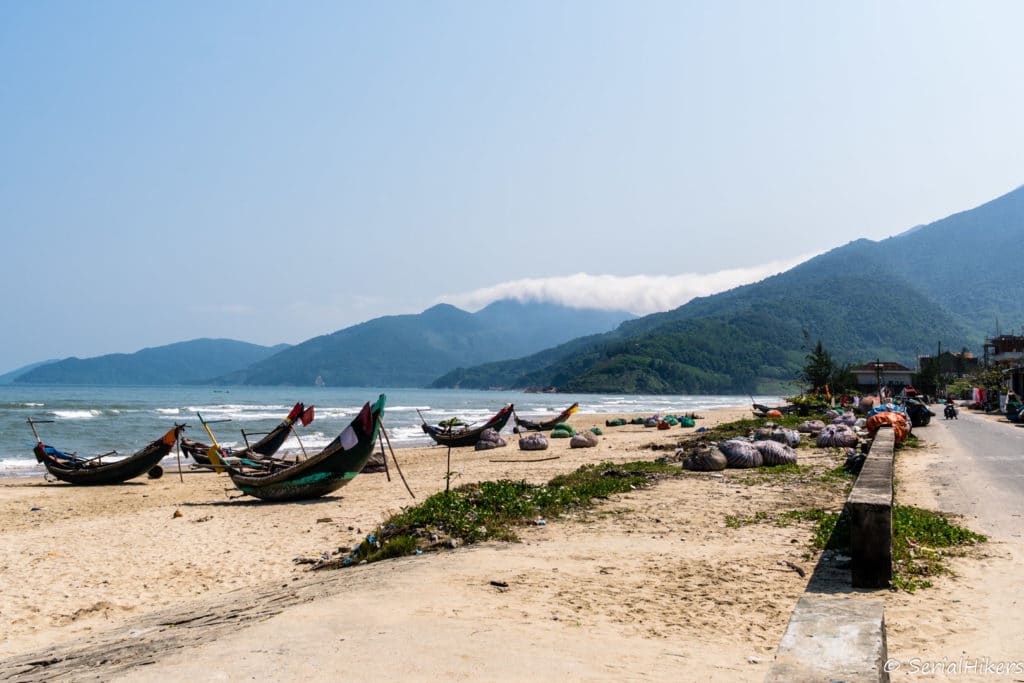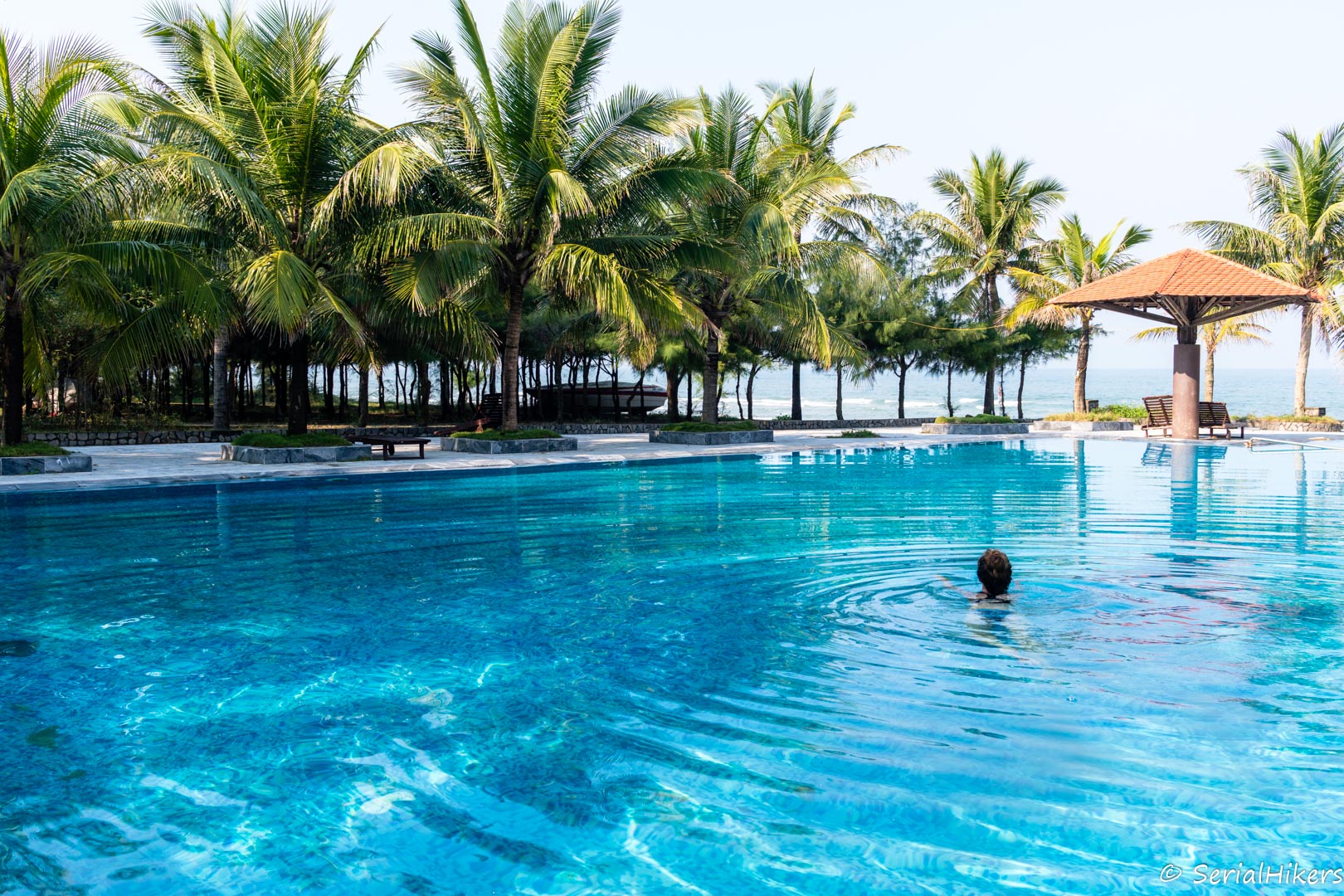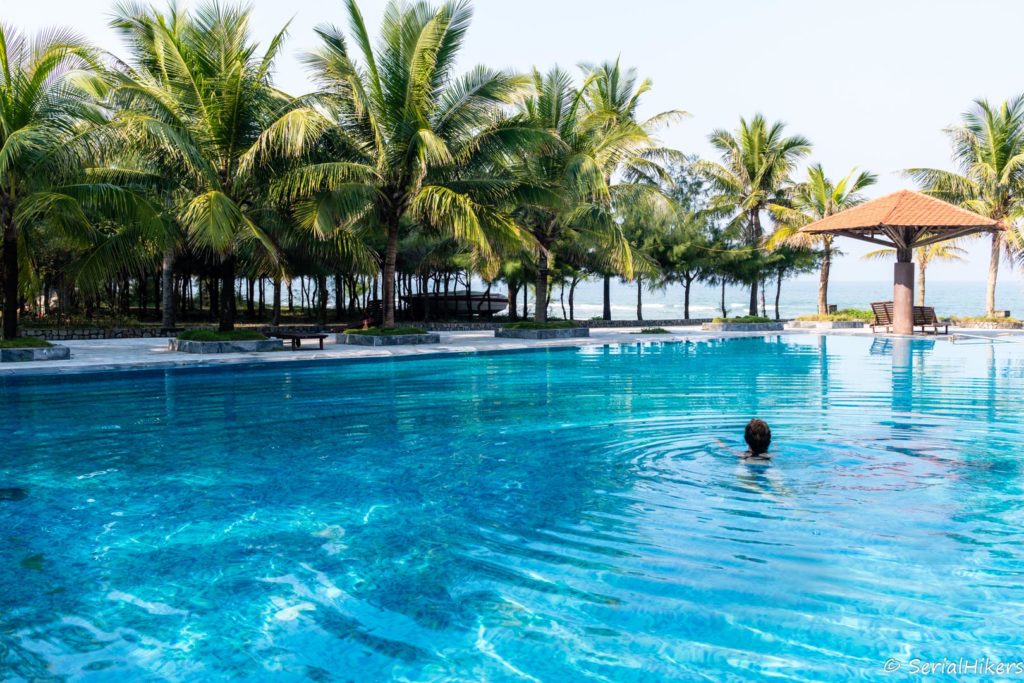 We left our paradise by thumbing up towards the Clouds pass (Hải Vân pass) before being drove down towards Da Nang, a blissful smile on our faces, our head in cloud nine. Warmly welcomed by Vivi and her husband Hai, her two children Sim and Sam, and all the children of the neighborhood, we were finally immersed in the magic of Têt, with its traditions, its festive meals. The very next day, Vivi lent us her scooter to allow us to visit the surrounding area, from the marble mountains to the Son Trà peninsula: from our first shy accelerations to the sudden braking in the middle of traffic, we will remember with emotion this first experience of driving an automatic scooter in Vietnam.
"Cảm ơn, Vivi ". From one language to another, we always experience the same difficulty: that of expressing our gratitude to those who offer us hospitality. "Goodbye children, we will miss you". We left, with a little regret – especially since leaving the big city of Da Nang caused us many difficulties… We kept going on, despite the wait, the heat, the small distances lifted. At the exit of Tam Kỳ, an old Vietnamese man called us: in a remarkable American English, he invited us to sit around a table and offered us fresh coconut juice. Unbelievable! We listened to him talking about the war against the Americans in the shade of a banyan, a glass of juice in hand. As the daylight started to decrease and without any other perspective, we decided to spend the night on the island of Tam Hải (an island accessible via a free ferry). On this Valentine's day, we thought we would camp on the sand, facing the sea – just to end our trip on a romantic note… But when we arrived on the long beach of Tam Hải, we were shocked and disillusioned: our beautiful beach was buried under a mountain of trash, our project buried by a huge disappointment. We walked away from the beach, looking for a piece of clean land, when an elderly couple waived at us: Ham, smiling grandmother, took us to her house… Without asking any questions, Ham and her husband just offered us hospitality – from the basic shower to the shellfish dinner (thanks to their fisherman son), from the crab dessert to the selfie sessions (with all the family members) until bedtime, settled in the main room, lying on our air mattresses.
When police get involved
After an early farewell, we left with the ferry going in the opposite direction. During the crossing, Sen, a young active woman dressed in white pants and a well-cut jacket, stared at us. Discreetly, she read our hitchhiking sign written in Vietnamese. Shs didn't wait too long before going off her motorcycle to offer us some help: first she invited us to the local coffee shop, in order to exchange around a Vietnamese breakfast. Sen, after several laborious exchanges with the translator, convinced us to go back to Tam Kỳ (the city we passed through the day before): she insistently wanted to invite us. At the exit of the café, she stopped another lady on a motorcycle: each of us sitting on the back of a scooter, we let ourselves be carried away by the magic of this first hitch-motorcycling. We sat down for a second round with Sen, but this time the meal was shortened: Sen had to leave for work at HCMC… Misunderstanding, change of plan? We never had the whole story. A little disappointed but well fed, we walked for a while before reaching the nearest highway…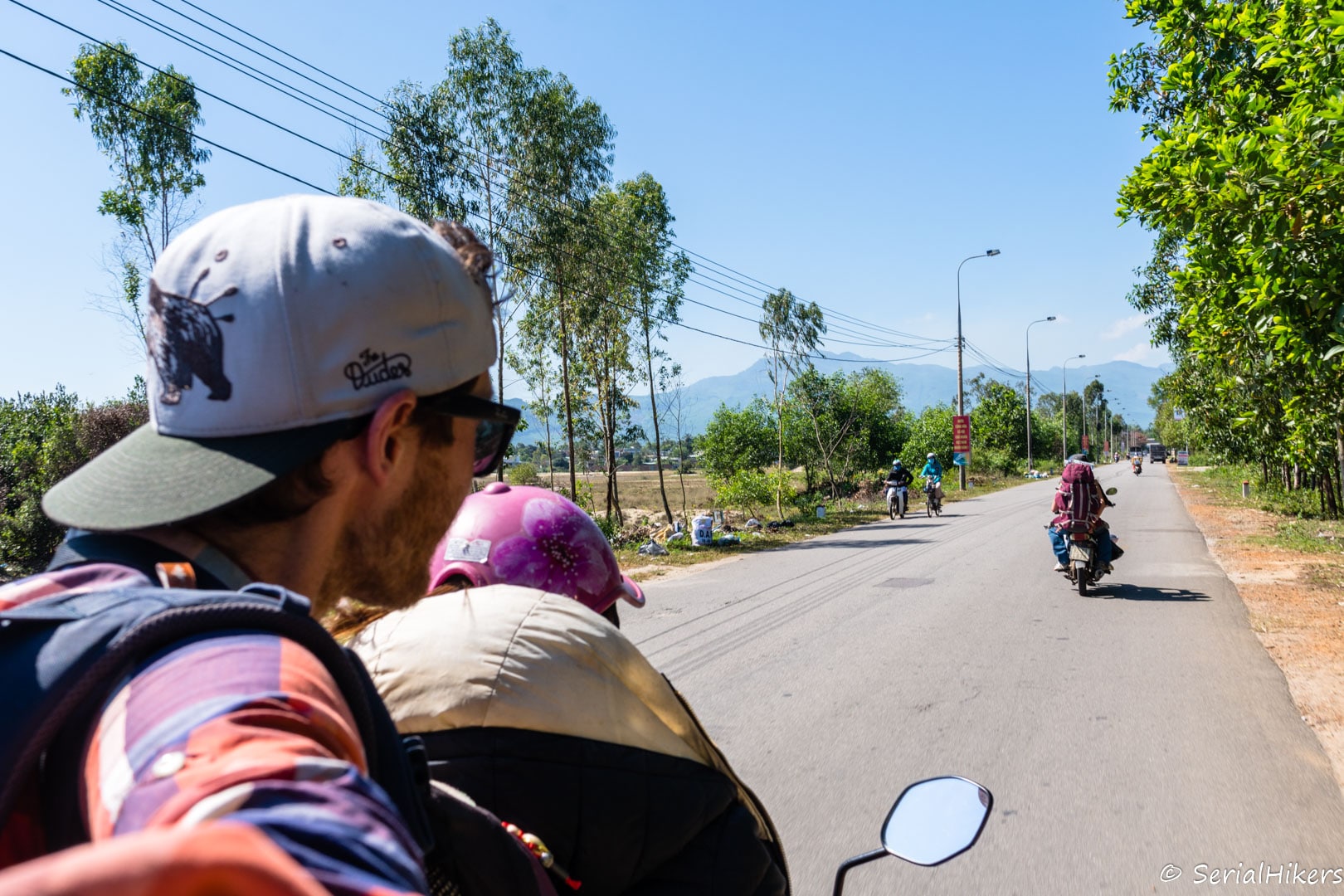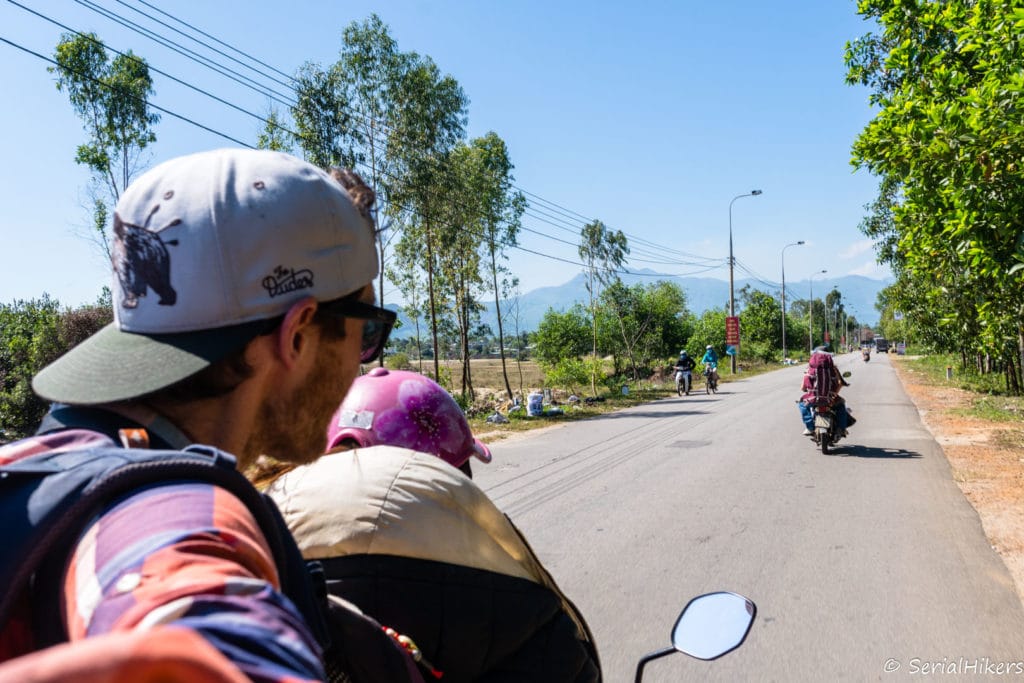 We made our way to Duc Pho, where nightfall forced us to stop: after a light dinner, we asked young students to show us a safe place to camp. The group took us by motorcycle to the big city park (Quảng trường 8 Tháng 10): after touring the park, we chose a spot at a distance, under trees, to pitch our tent. "Papers, please!" Warned by the neighborhood, plainclothes policemen came to meet us: we quickly understood that we were not able to stay there; on the other hand they didn't understand why we prefer to sleep under our tent rather than going to the hotel. We took out the translators and translate the main lines of our adventure on our phones, explaining everything, from why to how. There was nothing to be done, orders are orders: one of the policemen suggested that one of his acquaintances gave us a place to stay, but when we arrived in front of the said house, we were told that this plan finally fell through. Slightly annoyed, we went back to the park: why we can't camping there, when no one is bothered and there is no other possibility? Of course, our return has led policemen to return too. But this time, they told us that they have found a new, more viable solution… They escorted us to the local motel, where we spent the night, free of charge, in the relative comfort of a dilapidated room.
After our misadventures of the night before, what a surprise to see how easily things end up happening the next day: a direct lift to Da Dia, an invitation to share a family picnic on the beach… Overwhelmed by these good vibes, Julien convinced me to spend the night there: in the beach length is a small fishing village, where no tourist dares to venture. As the sun set over Da Dia, another spectacle was played out in front of us: in the center of the village, children and parents gathered in a circle to play money games. The reward? A complete dinner, cooked by an adorable Vietnamese grandmother who has already catered us.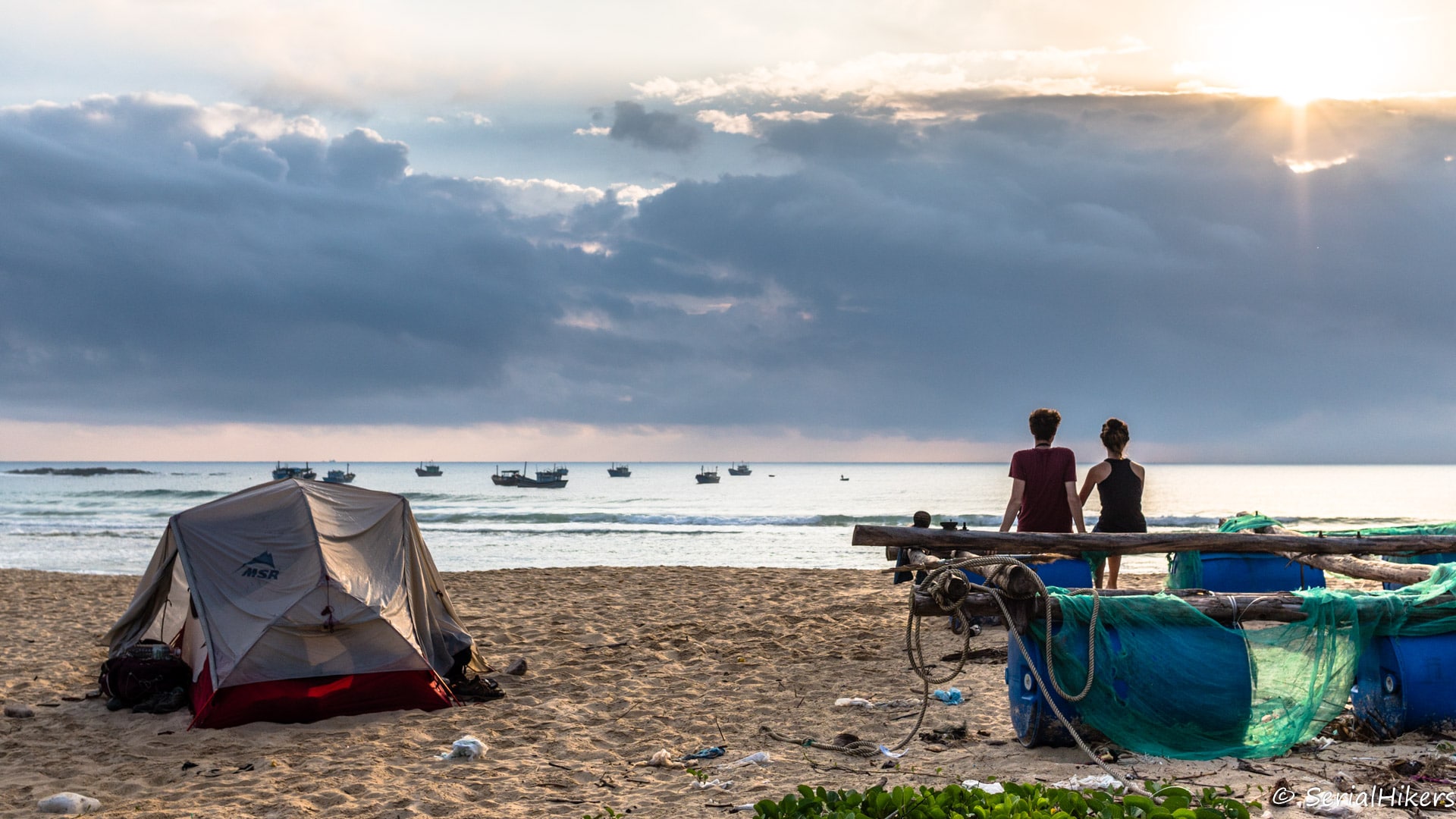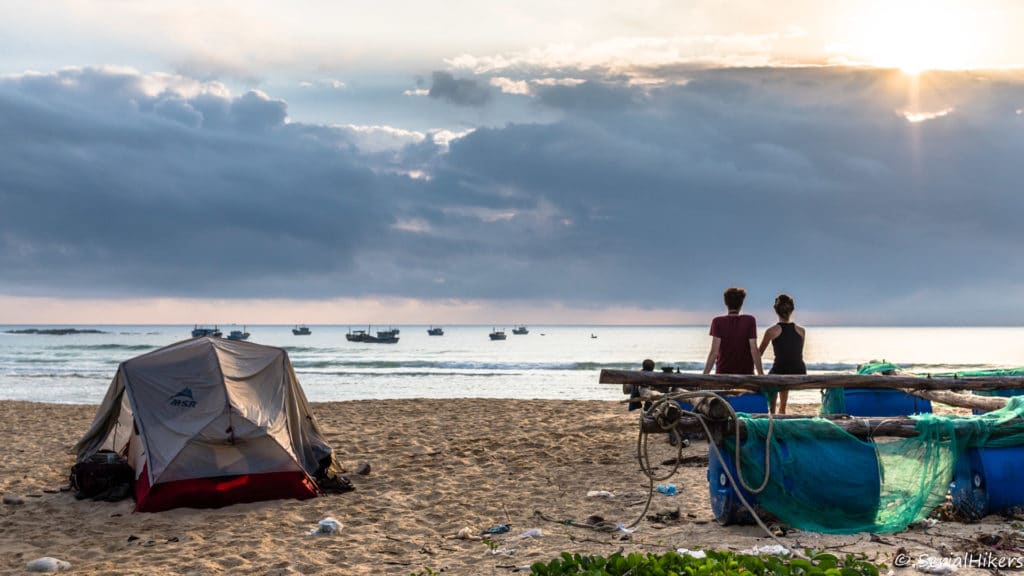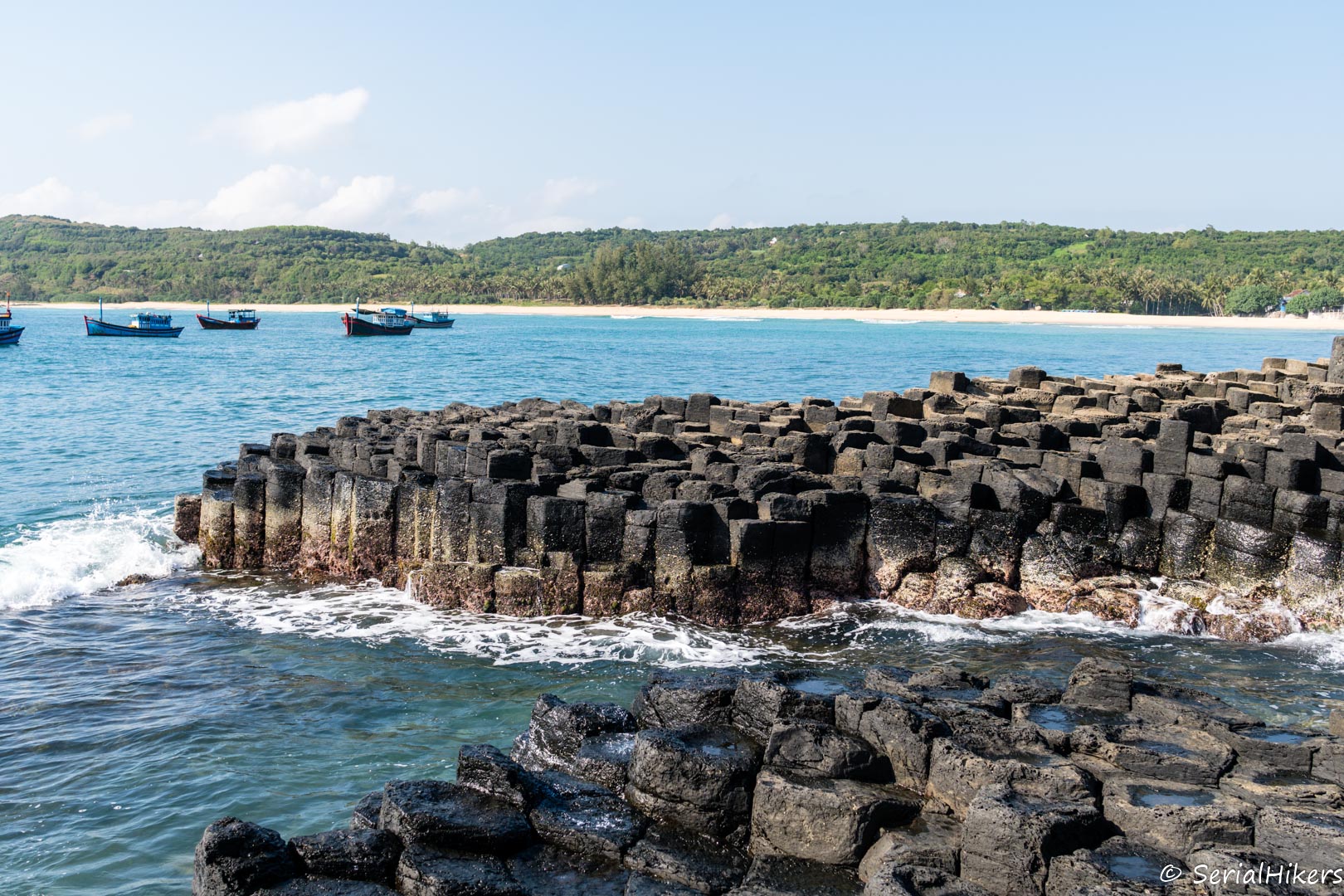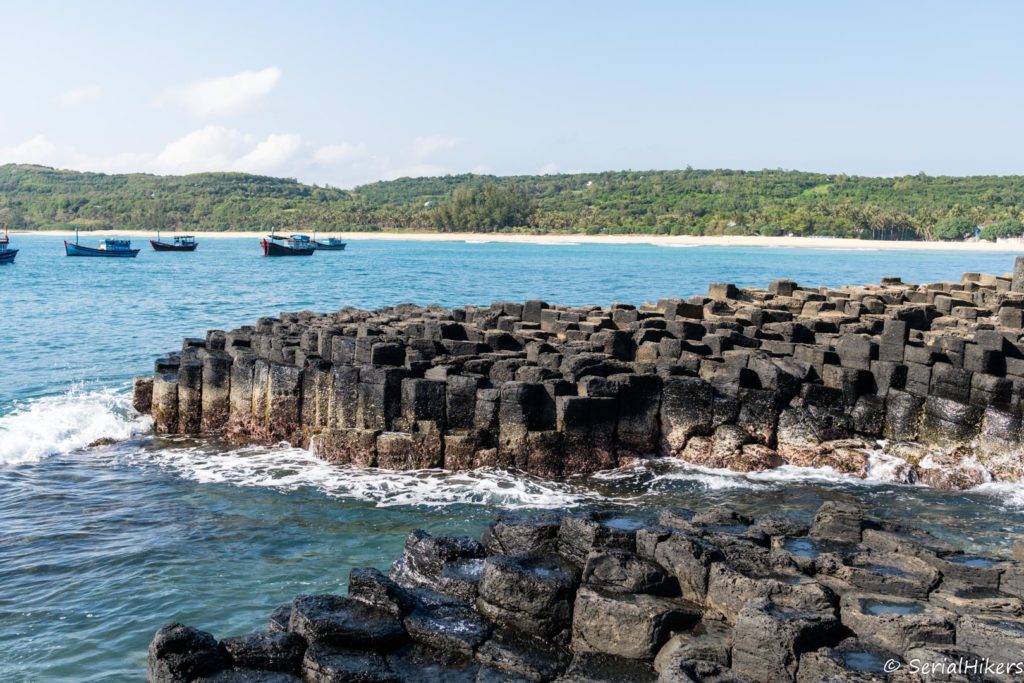 Camping on the beach, a stone's throw from Da Dia, turned out to be a great idea: when we woke up, we were all alone to take advantage of these strange rock formations to take pictures without tourists. When tourists arrived in the middle of the morning, we then took our bags back to the exit: we entered the clean and empty toilets to groom ourselves (Julien will later confess to me that he took a shower, using the toilet's hand shower). On the road near Tuy Hòa, a driver stopped and invited us to his uncle's Sunday Party – a trader for Saigon, the local beer… An opportunity for us to try this lager made of malt and rice, and a full table of delicious meals (including roasted red ants, served as a condiment!).
After guests departure, our driver came to us, a little embarrassed: for lack of better, he suggested to take us to the park of a small suburban town, on the road to Buôn Ma Thuột. Unfortunately, this place turned out to be not suitable for camping: the park was covered with paving stones and there was a lack of vegetation to pitch our tent discreetly. No way to be thrown out by the police a second time! We left by foot from there, stopping here and there to ask the neighbors, looking for a piece of garden… Finally, we were welcomed by Tung and his daughter Vi, both of them agreeing to let us camp close to the family house. Problem: Tung's husband and Vi's father doesn't seem to agree… Vi told us to move our tent behind, next to her grandmother's house. A little embarrassed to be a cause of conflict, we offered to Vi to leave but she refused, and did her best to help us: Wifi sharing, shower, extension cord to charge our devices; we didn't know how to thank her properly! Despite a hot night that prevented us from sleeping well, we got up early to leave – in the mean time politely declining Vi's proposal to share breakfast, for fear of creating further tensions in her family. Before taking the road again, Vi slipped us a 200 Dongs bill (less than €0.01) signed with her name, as a good luck souvenir.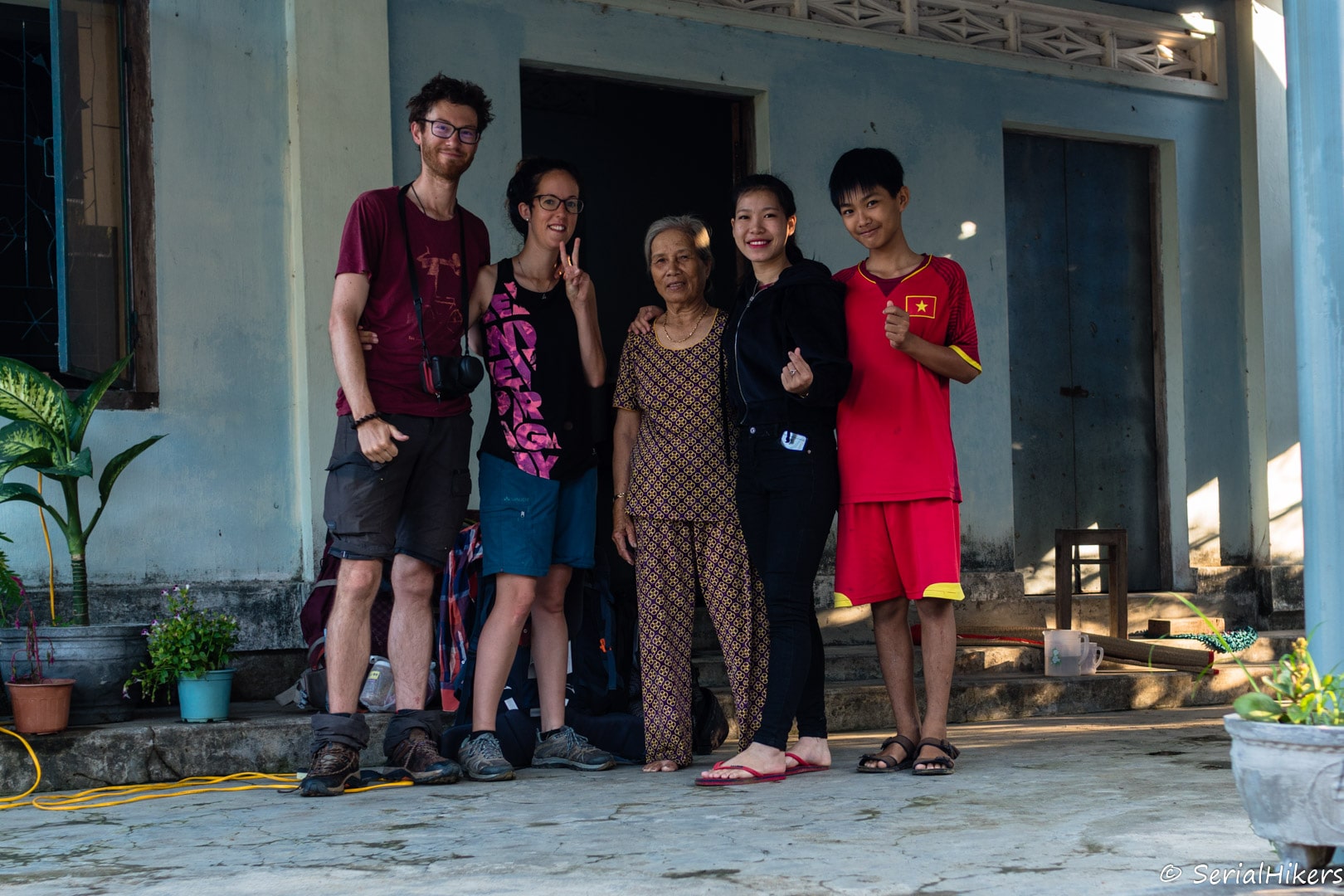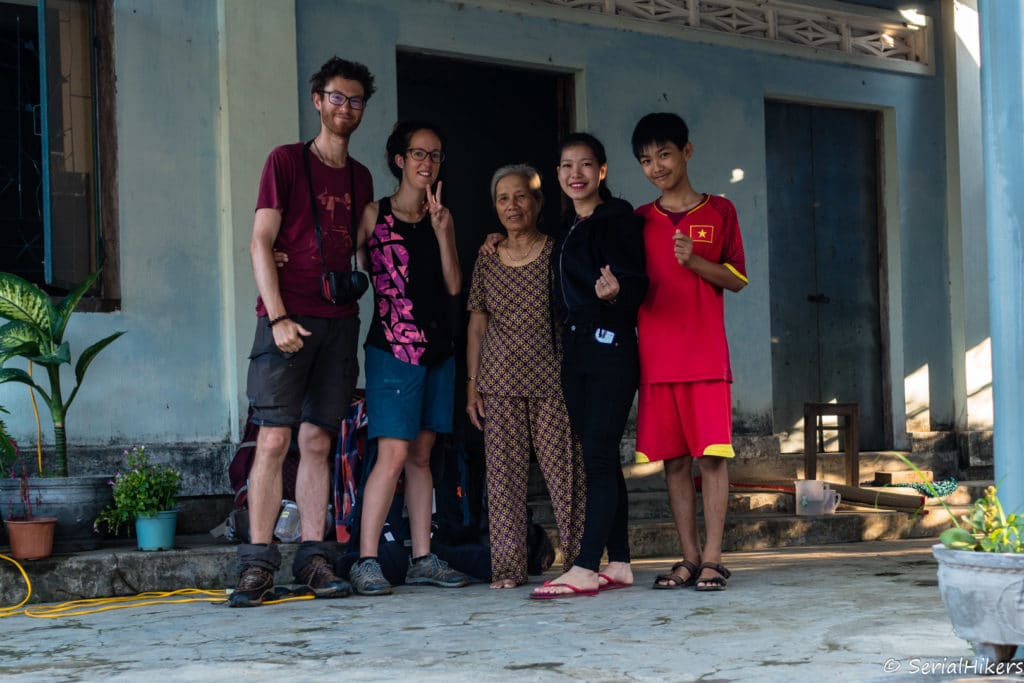 From English Centers to English Centers
"May I help you?" Duy, a young active woman on a motorcycle, stopped by our side at the exit of Buôn Ma Thuột. We explained her our route, our plan to camp not far from the recommended waterfalls of Dray Nur to be able to admire them the next morning, alone, quietly. "You can come to my home instead, I live nearby!" We may have already had some, and yet spontaneous accommodation proposals always have the same effect: they let us speechless by surprise for a moment, before warming our hearts and transcending us with a mixture of happiness, gratitude and appeasing thrills. Julien hitchhiked another motorcycle, while I took a seat behind Duy. At the bottom of my pocket, crumpled, I reached with my fingertips Vi's lucky bill.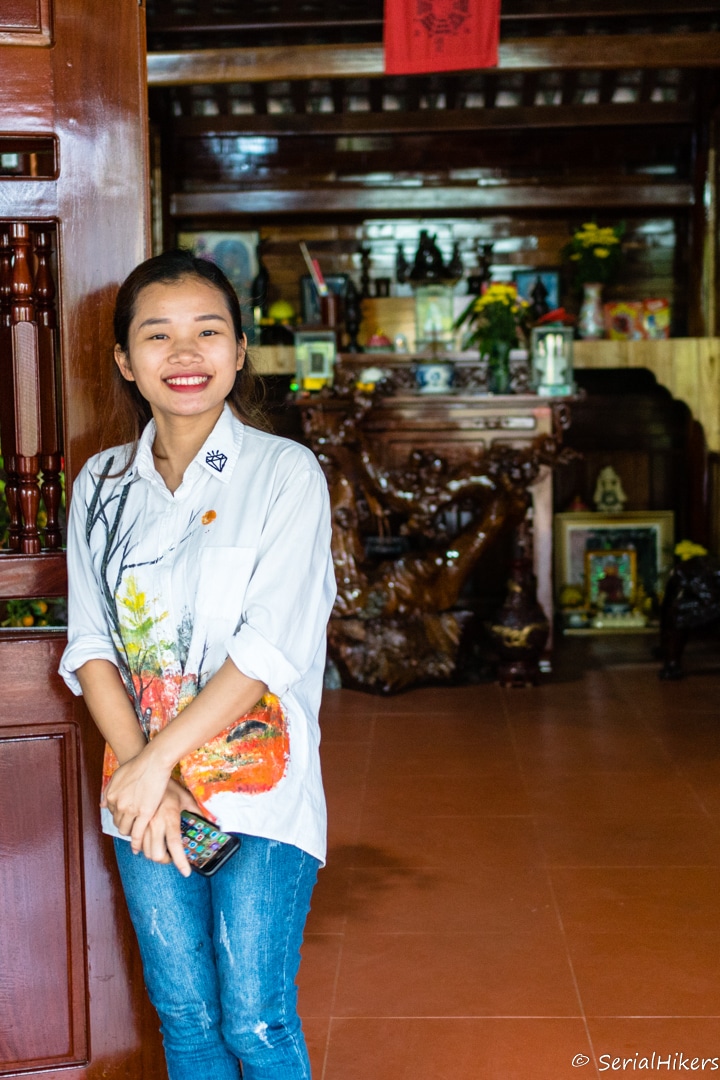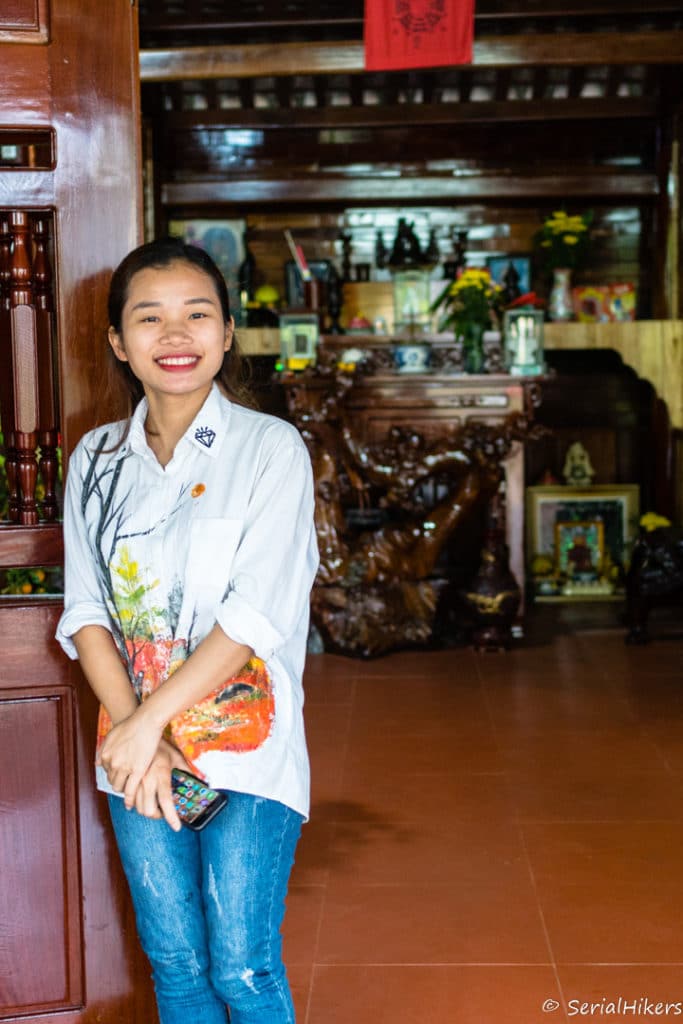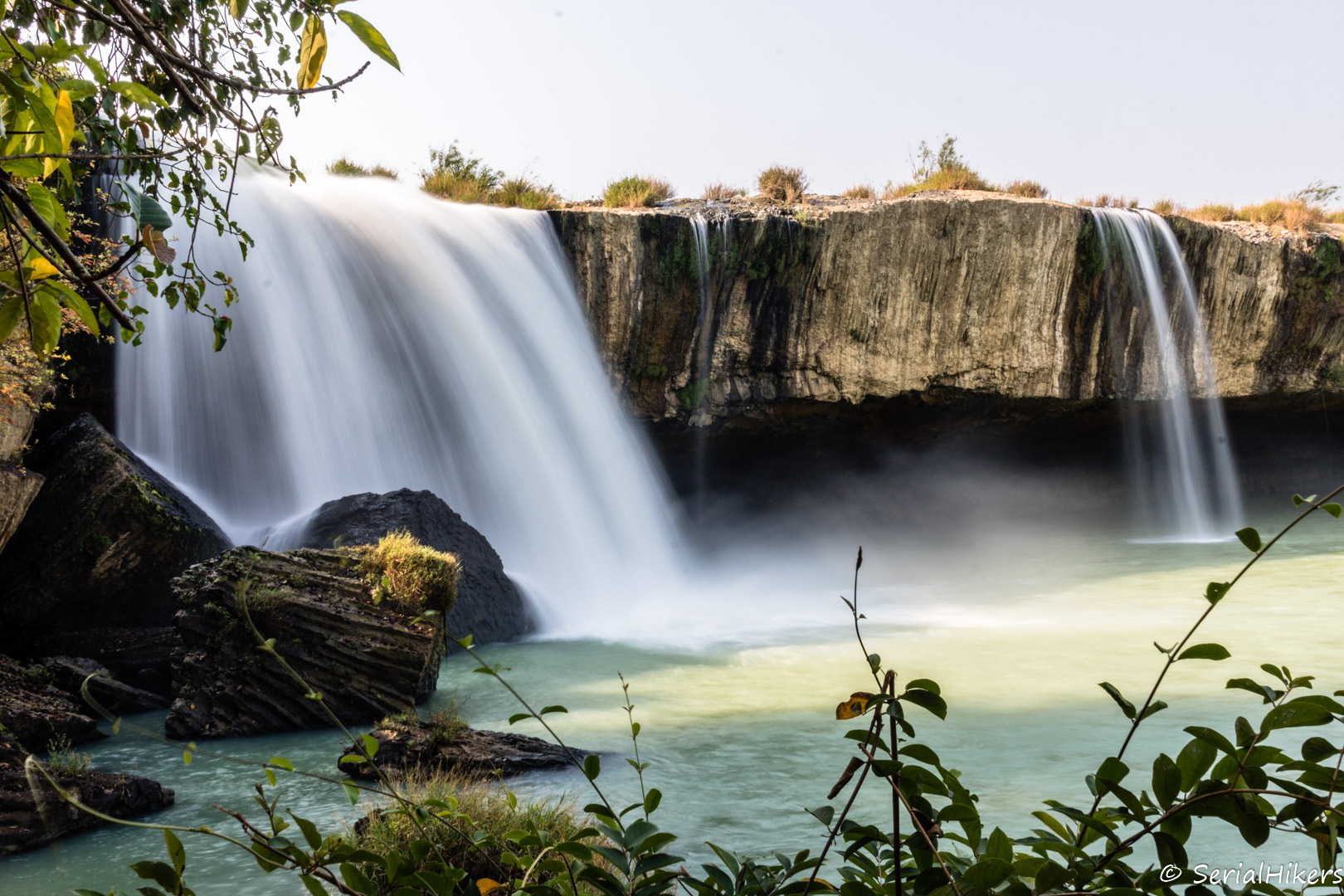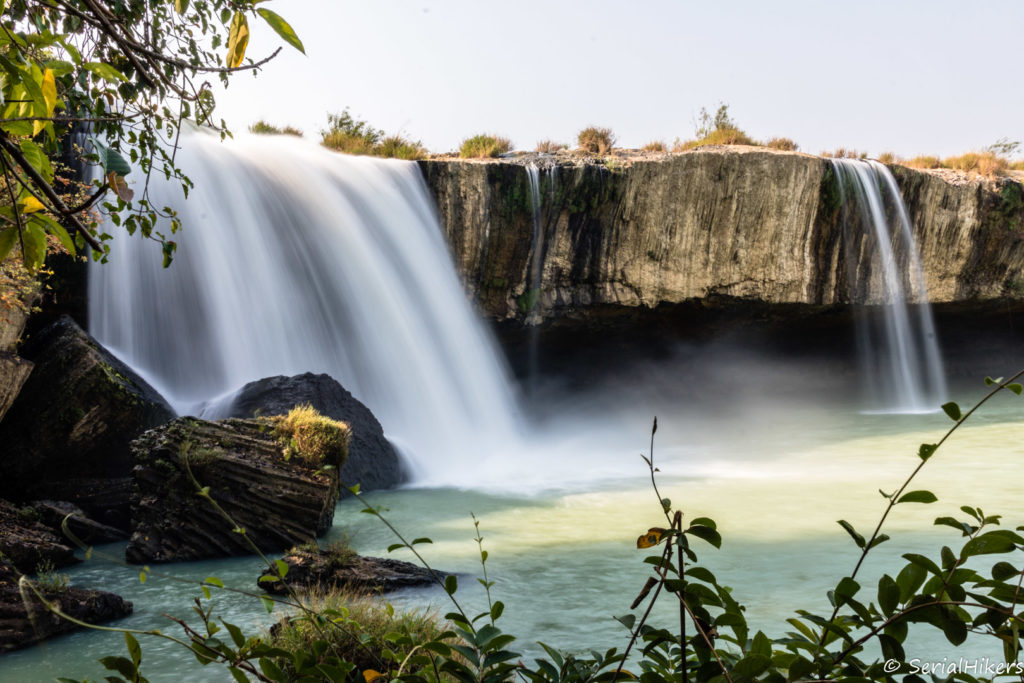 We met the sun during our visit of Dray Nur; and met the luck during hitchhiking: from the waterfalls hidden behind coffee fields, we made short trips to Hama, a hamlet located in the heart of the central mountains. Peter and Hang, our next hosts, had doubts that we can reach our destination by giving a thumb up on the road: we reassured them, even though Gia Nghia police almost failed our plan. Finally lifted by a neighbor who knows Hama well, we arrived at the farm at nightfall – or rather in a strange farmhouse, set up as an English center: behind the old shed walls are a dormitory, shared kitchen, showers and toilets, large classroom… where young adults were practicing, reciting loudly the Latin alphabet. Peter explained to us the quasi-military functioning of the center: getting up at 5 a.m. and yoga classes, breakfast, a day of intensive classes, shared domestic chores, a collective garden… A strict functioning to which no one derogates – no one excepted us, guest stars and special speakers.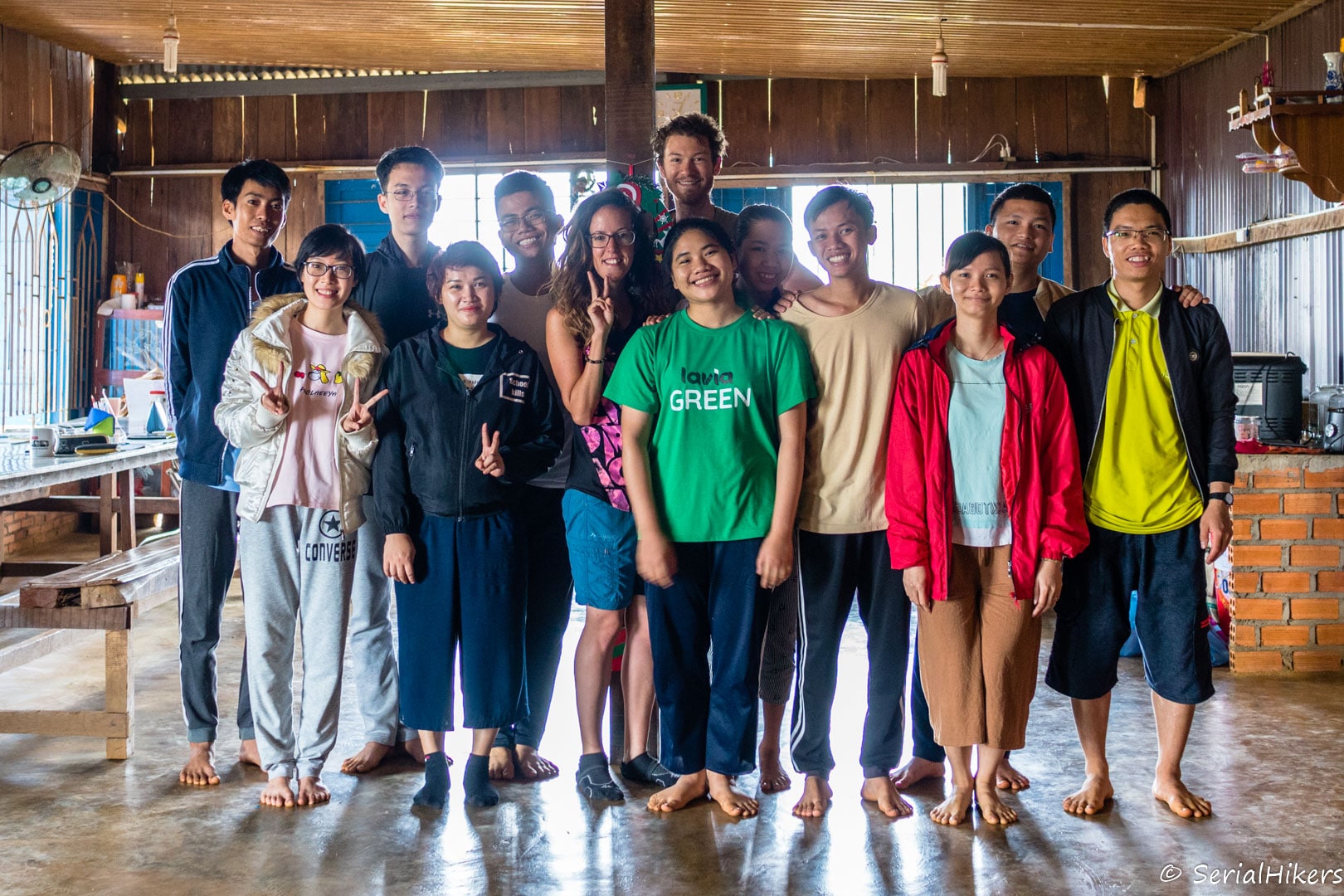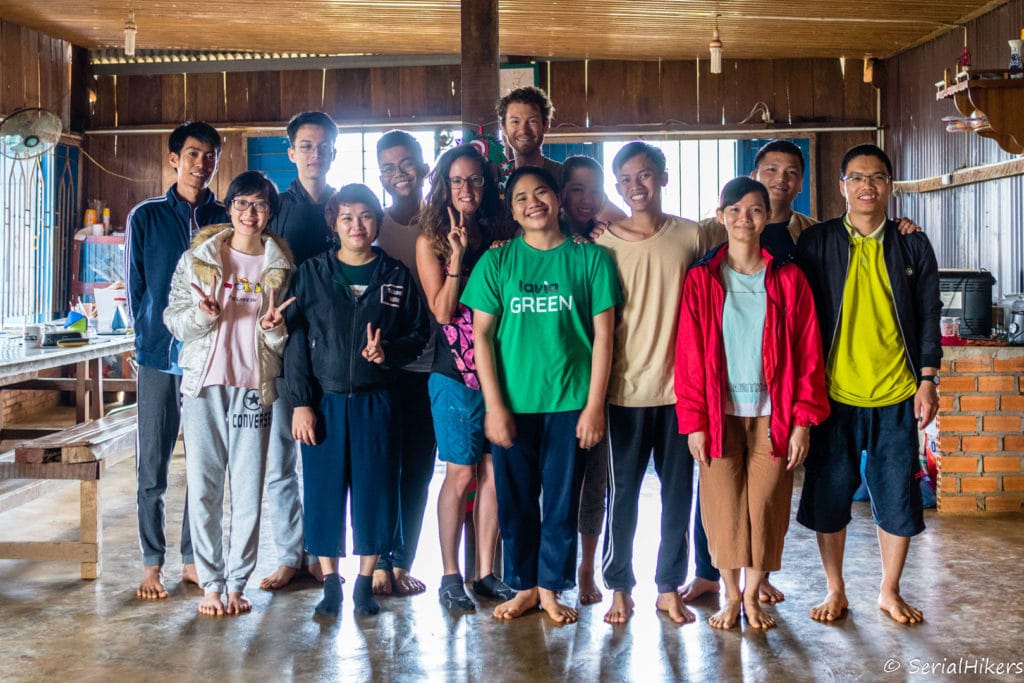 From Hama, the QL28 road took us to Phú Thủy, on the coast. From there, all we had to do was find a vehicle to drop us off 20km further at Mũi Né – a tourist resort, famous for its "red sand" dunes. On the beach of Mũi Né, we met Amy (the Chinese hitchhiker we met in Hue): very soon, the three of us decided to camp again. Walking along the beach and the streets of Mũi Né with our big bags, we asked around where we can pitch our two tents. Unfortunately, in a seaside town where every piece of land (including the beach) is privatized, it was impossible to find hospitality: exhausted by a long day, we let Amy convince us to pitch our tents on top of the sand dunes. Very bad idea! Woken up at 5 am by a horde of noisy tourists, sand everywhere inside, we quickly packed our things, grumbling, in a hurry to find some comfort elsewhere…
While Amy stayed at Mũi Né, we visited the Fairy Stream canyon located a few kilometers away with our backpacks. At the exit, we met Amy again, happy to be back on the road with us: with more ease than we imagined, we managed to find a car that took the three of us to Trảng Bom, a city located in the suburbs of Ho Chi Minh City. It was 3:30pm and we hadn't had lunch yet: on the side of the road there were many restaurants, and we quickly found an establishment to eat at a low price. First surprise: the eldest daughter spoke perfect English; in fact she just came back from Australia (where she was studying) to spend Têt with her family, her Australian boyfriend and a friend of his. Second surprise: when she found out our story, she convinced her family to accommodate the three of us in an unoccupied room behind the restaurant. As a thank you, we helped them clear all the tables during the evening service – quite a commitment considering the number of plates served on this busy Saturday evening!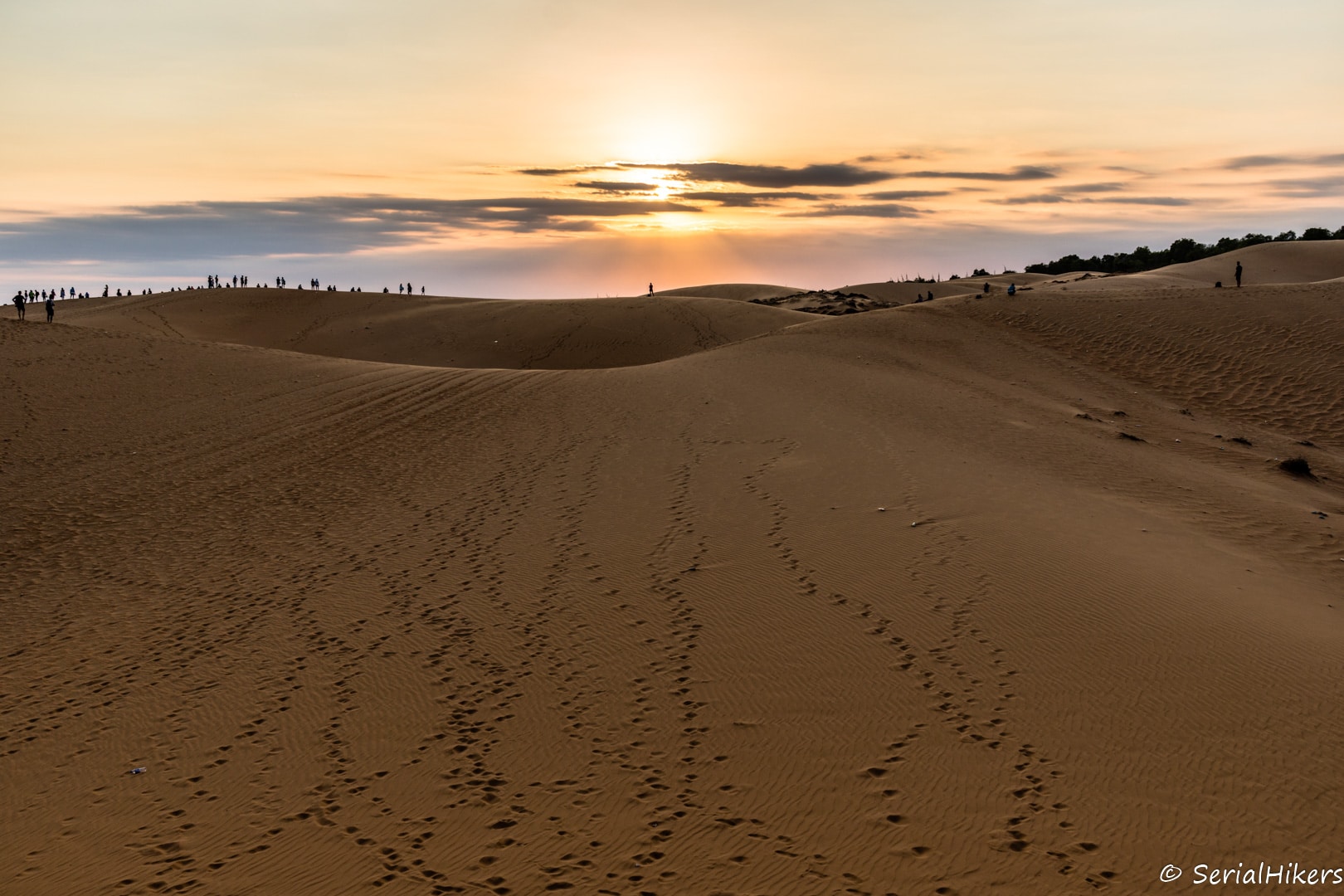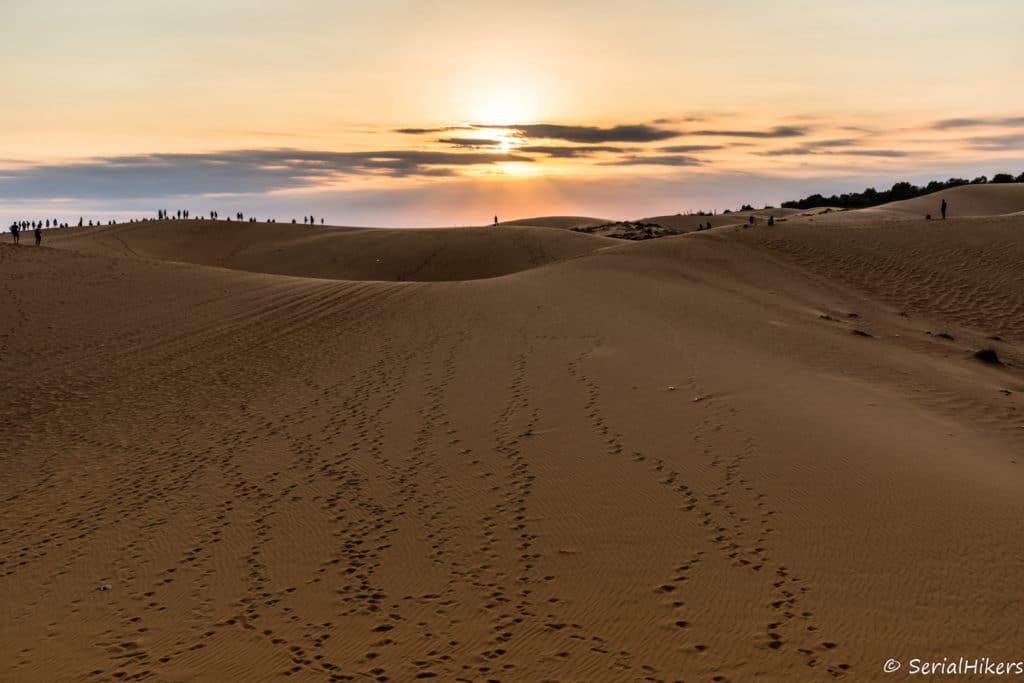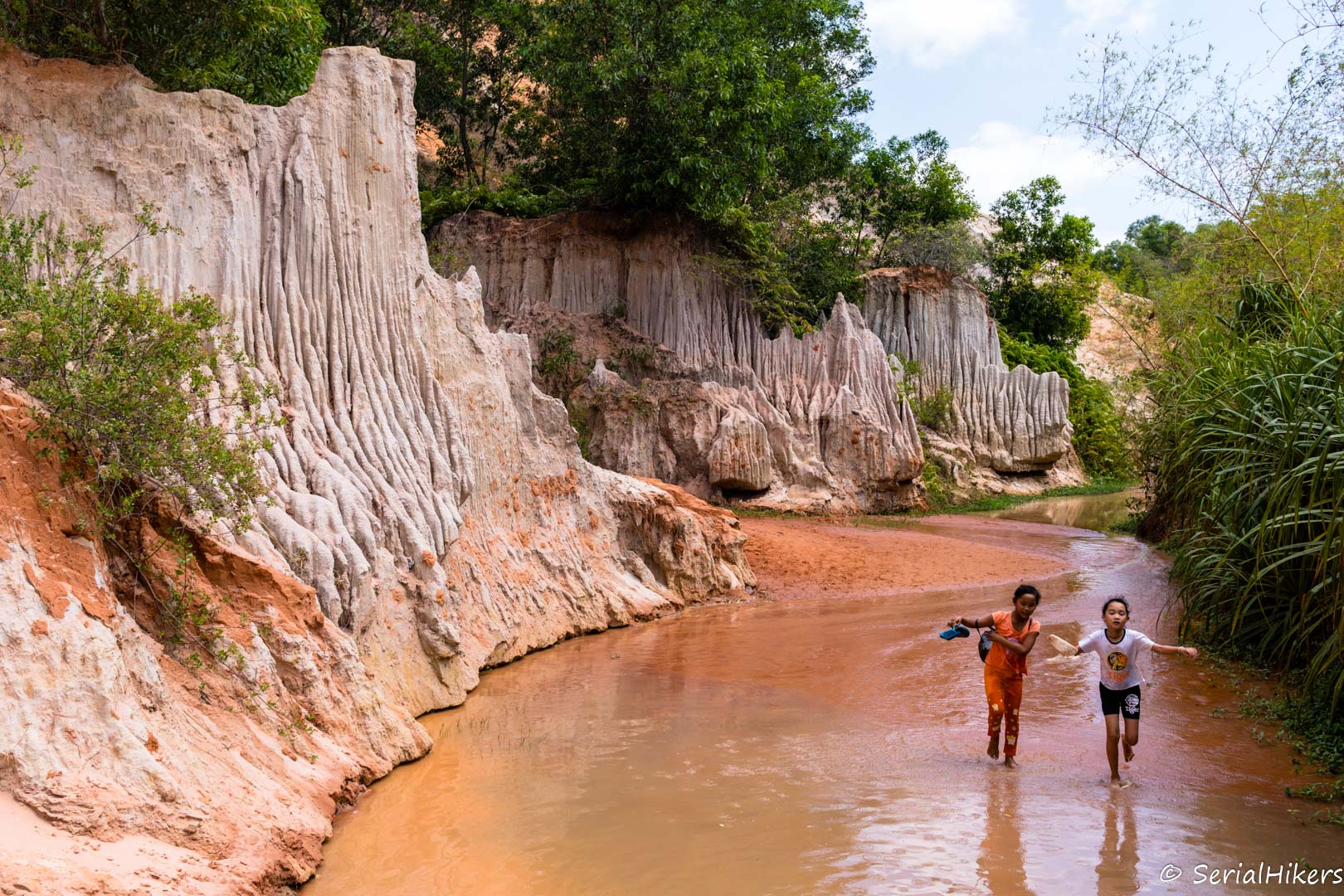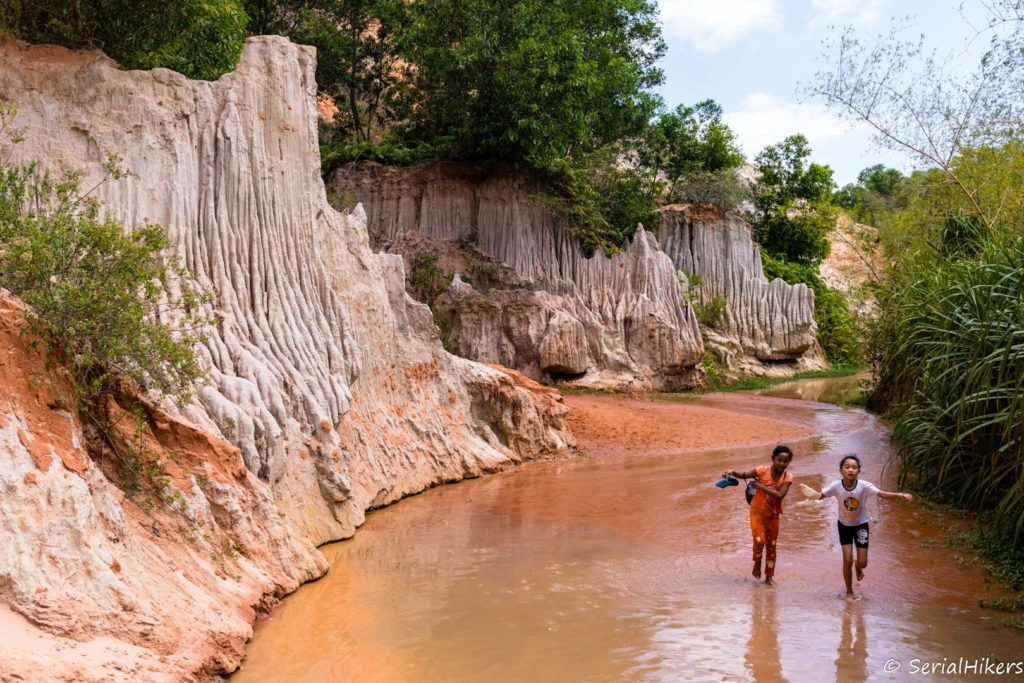 Julien reached the family who dropped us off in Hué out, and asked them if they still agreed to welcome us, as well as Amy who was now staying with us. "Of course! You can stay in our English center for as long as you like". We definitely have "visited" a lot of English centers! It must be said that in Vietnam, a country in full expansion, many families are ready to pay for private lessons for their children, at a golden price. Appointment was set: we were welcomed the next day at the English Kingdom center in the presence of Maika, a young Filipino girl employed and accommodated on the spot. We took our quarters, our three air mattresses on the floor, in an empty room of the center – before realizing, with sadness, that our visas were about to expire. While Amy headed to Cambodia, we decided to stay around HCMC until the very last end (of our visas): we crossed out Mekong Delta from our "wish list", and spent time with friends – with Clémence, a French expatriate met through social networks; with Julien, a long time friend who accepted to bring back some of our stuff in France; with Peter, the American traveler we met in Central Asia; with Keïjy, a young Vietnamese and Martinican mixed race; with An, a mom who is a solo manager in clinical trials (i.e. our former jobs)… Not forgetting Randy, who hosted us for two nights in his massage salon at Thủ Dầu Một, where he employs only local blinds and disabled people. We closed this Vietnamese chapter with two visits for the Memory; those of the war remnants museum in HCMC and Cu Chi tunnels… An opportunity to open our eyes on another part of Vietnam, less glamorous: its turbulent past.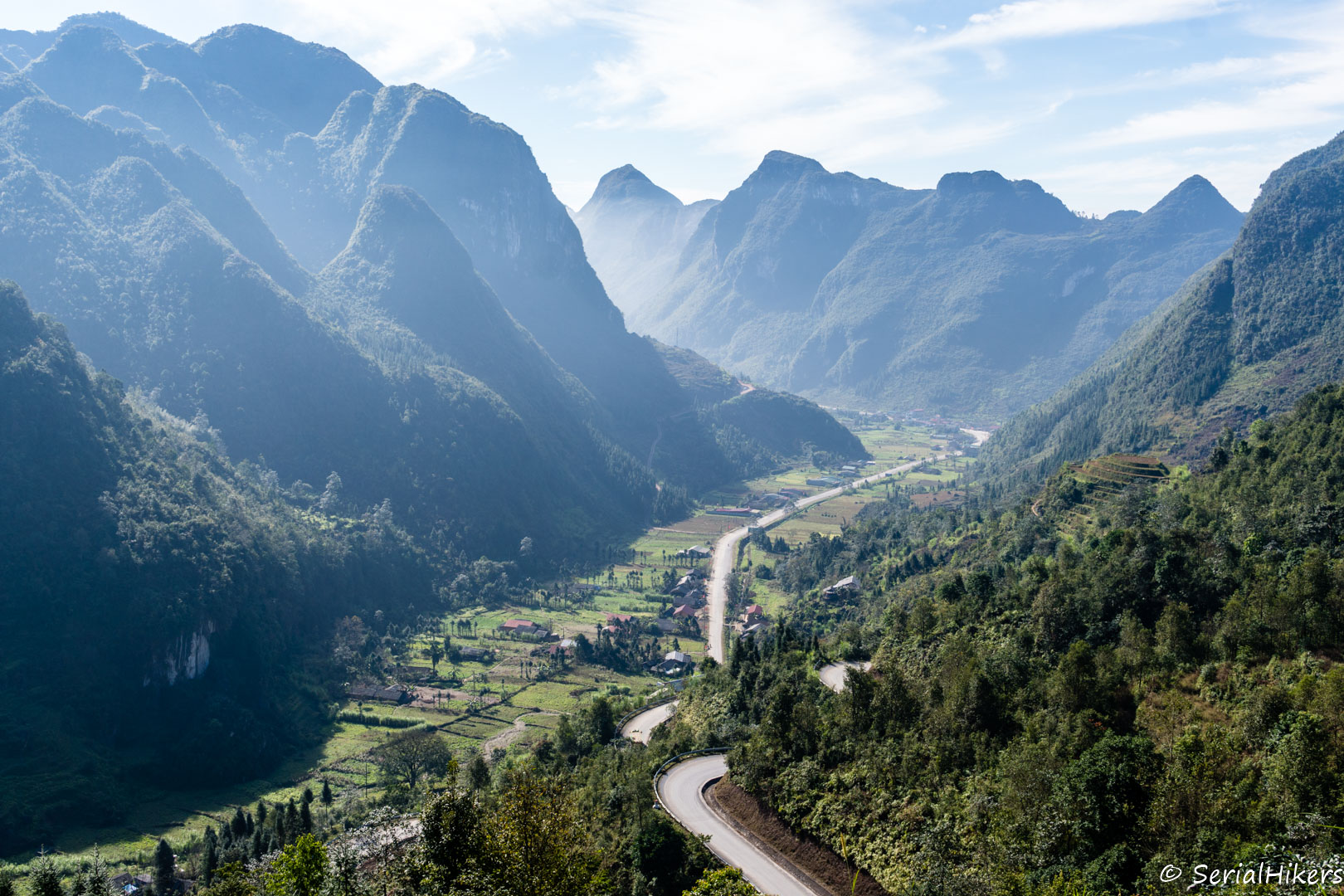 More about Vietnam
* Post written according to our personal experience *