Bonjour, Hello, Ciao, Dober dan, Dobar dan, Mirëdita, Geai sou, Merhaba, Barev, Gamarjoba, Salam, Salom, Nihao, Xin chào, Sabai dee! Welcome to our series of newletters which retraces, chapter by chapter, our great hitchhiking jouney. Here is the chapter 17 of our travel stories: "Discover the peoples of Indochina" – Roadtrip in North Vietnam and Laos.
---
It's a case of the biter bit
"Give us the good amount". A few steps away from the Chinese customs, a clever Vietnamese old man offered to exchange our last Chinese yuan for Dongs: only, instead of giving us four 100.000 Dongs banknotes as planned, we get four…. 10.000 Dongs ones. His technique is already tried and tested, playing with the gullible spirit of the lost tourist. Bad luck this time: we uncovered the scam, and cross the border with the right amount of cash.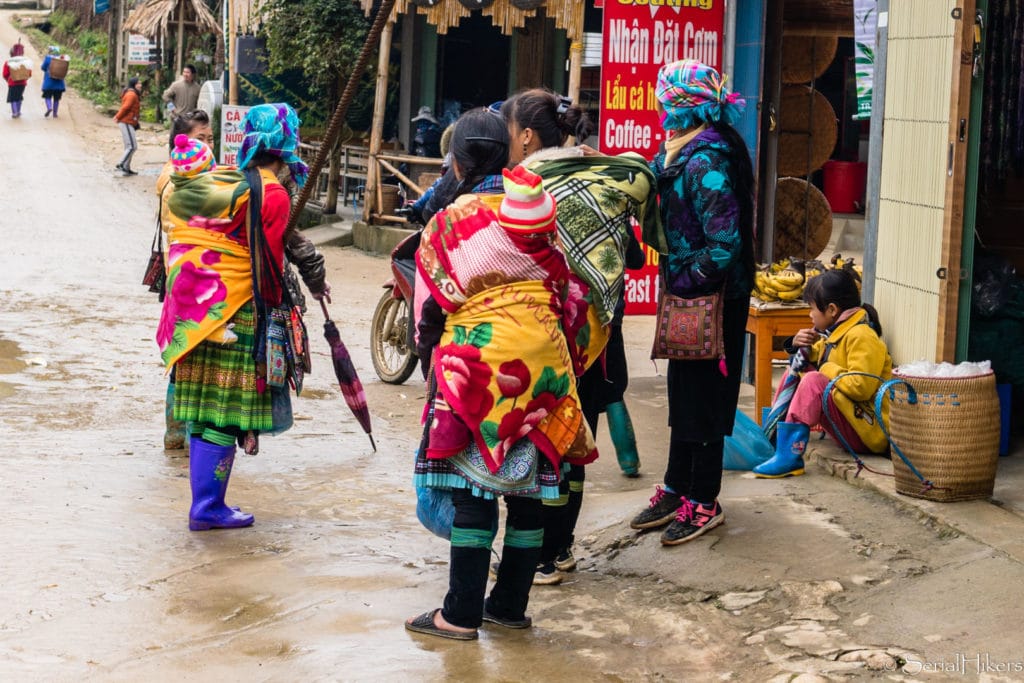 We went through the small town of Lao Cai, to stand along the unique and winding road leading to Sapa. The wait was long, and the weather bad. When a fine rain finally fell, a generous taxi driver waved at us. He will drop us off for free in the centre of Sapa, at night, under a pouring rain. Instantly, the brightness of countless luminous signs and the horrible rhythm of techno music played in loop by the town's resto-bars assailed us. What happened to the small colonial town of Sapa, the one that adorned those black and white postcards from Indochina? Uncomfortable, displeased, we hurried to get out of this disgusting tourist attraction. Fortunately, our host Bao lives in Ta Van, 7 kilometers away.
Soaked, but relieved: at the end of a dirt road passing through the valley, the calm of the village of Ta Van welcomed us. At the main restaurant of the village, we met up with Bao and the owner, a friend. After a quick presentation made over a dinner composed mainly of rice, we followed Bao along small muddy paths to our temporary accommodation: a traditional house of the region, all made of wood and blackened walls, a result of the soot coming from a small wood stove, constantly fed to heat the air circulating from a poorly insulated ground floor, up to the open first floor where a series of mattresses are negligently laid on an old floor. And Bao proudly announced us he was planning to welcome tourists after our stay! There was still a lot of work to be done to fit out the bathroom, but especially a lot of cleaning to remove the layer of black ash that sticks to the beds…
Lucky us, through networking we met Hanh, another Couchsurfing host, also living in Ta Van. We visited her in her Homestay, with her two "sisters" (actually, her sister and her cousin's wife). Her establishment, also a refurbished traditional house, was much cleaner, warmer and more welcoming. The feeling went well with these sisters from the local ethnic minority Dzay: they accepted to host us for three nights, in exchange for help in the kitchen and with dishwasing. This welcoming offer helped us get through these few days, filled by continuous rain.
A new year began, another adventure was written. We left Ta Van the same way we came: under the rain. Only this time, we were better equipped for hitchhiking: Dong, a Couchsurfing member who couldn't host us in Sapa, translated our catchphrase into Vietnamese – "Chúng tôi đang đi bộ vòng quanh thế giới, cho chúng tôi đi nhờ 1 đoạn, cảm ơn" (We are walking around the world, help us to go forward if you can, thank you). The ease with which we stopped cars that day baffled us as much as Dong, whom we thanked a thousand times afterwards. When we were only 18 kilometers away from Vinh Tuy, our destination, a family came to meet us: we took out the translator and started the conversation. "You must be hungry, come in!". We were taken through the motorcycle garage, before settling down around a hearty dinner, served in the main living room. The eldest son, who had read our sign and mistakenly thought we had been walking all day, poured a little homemade rice wine into two small glasses. We didn't dare to let them know that we were in fact being driven by several vehicles; actually few people in Vietnam know about hitchhiking. Anyway, they seemed to be delighted to have us, and we were delighted to spend a great time with them. Against all odds, the family offered to host us: after a short hesitation, we politely declined their offer; our future host Michael was waiting for us in Vinh Tuy. No matter! Father and son insisted on driving us there. They dropped us off in front of the Banh mì (Vietnamese sandwich, prepared with a baguette) stall, right in front of our host's house, a stall still full of Banh mì pâté cooked by Michael's pregnant wife. She and her husband, a private English teacher, moved into the family house, inherited from Michael's parents. Between a monotonous daily life and the upcoming arrival of the baby, our host was asking himself (many) questions – about the meaning of life, the role of each one, happiness, destiny… Even if we didn't have answers to all his questions, this exchange had taken on another dimension – a much deeper dimension than the simple demonstration of our crepes recipe, which might one day end up on the stall, next to the Banh mì pâté.
A quick look, and leave
After two nights spent at Michael's, we went back to the main road, direction Hà Giang province and its mountains. A french friend, based for a few years in Ho Chi Minh City, highly recommended this region to us. But when we saw several tourists on scooters overpassing us, we couldn't help wondering: Was it really a good idea? Could we really going to enjoy it… or even just appreciate the detour?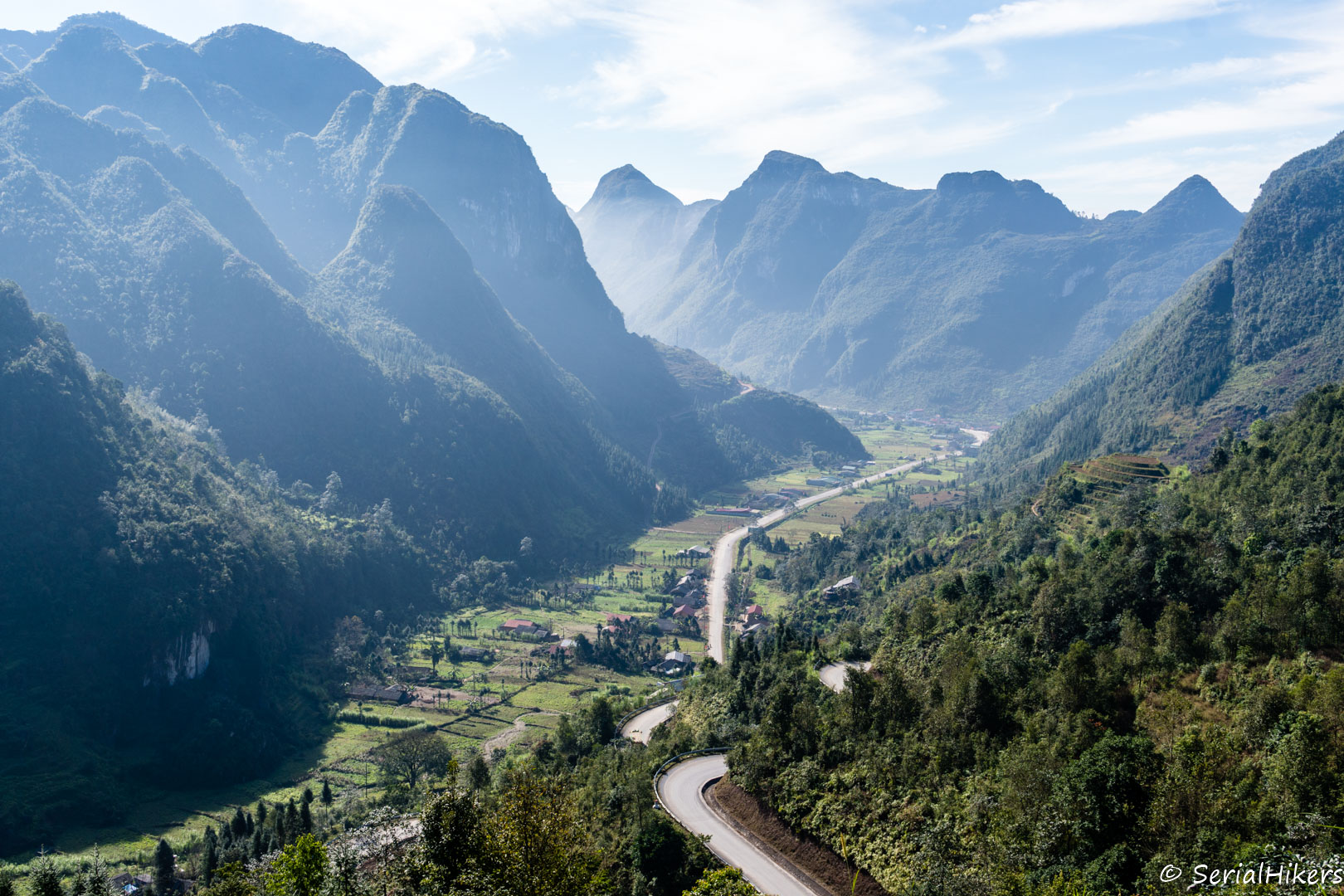 More about our magical hitchhiking trip in the Ha Giang and Cao Bang mountains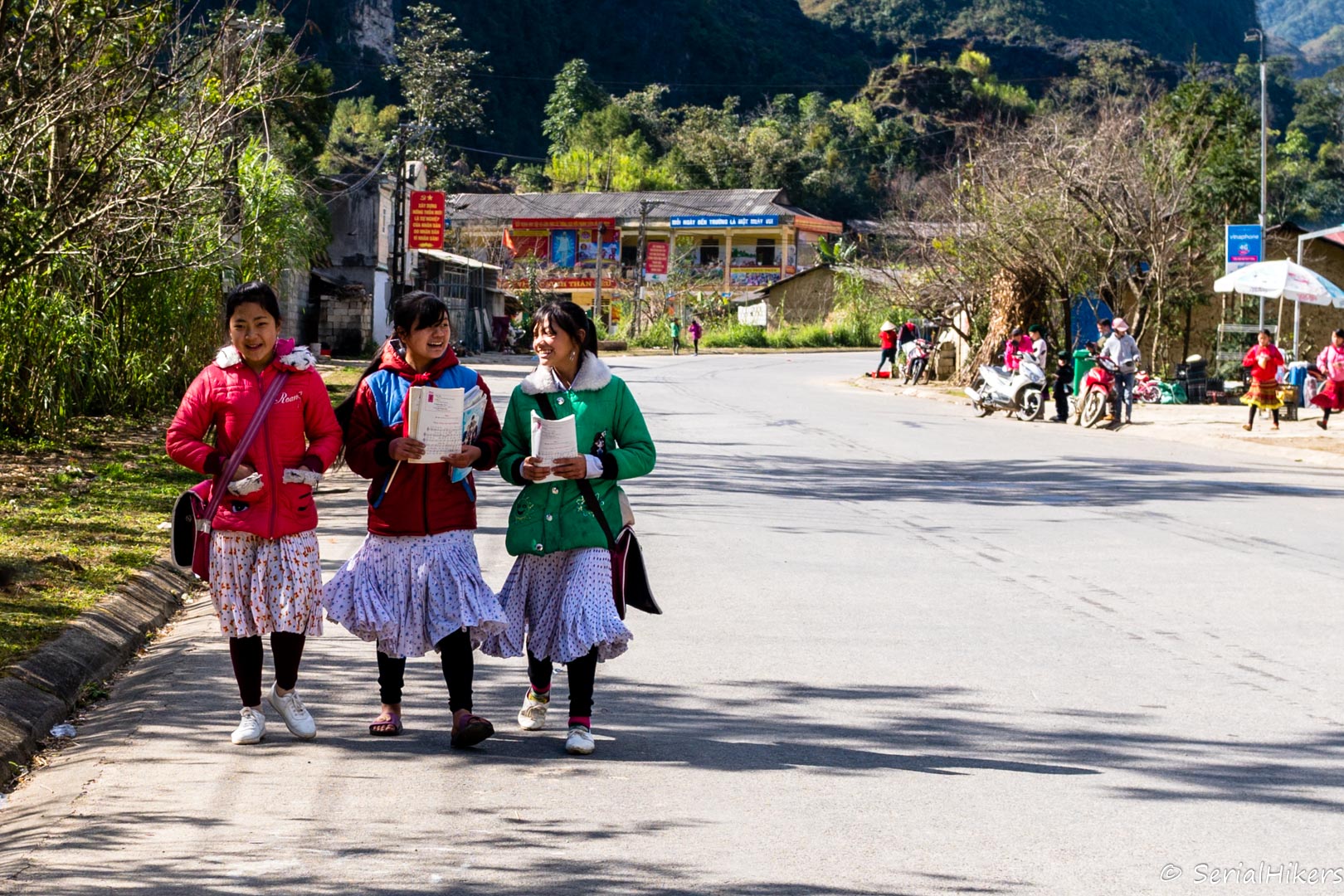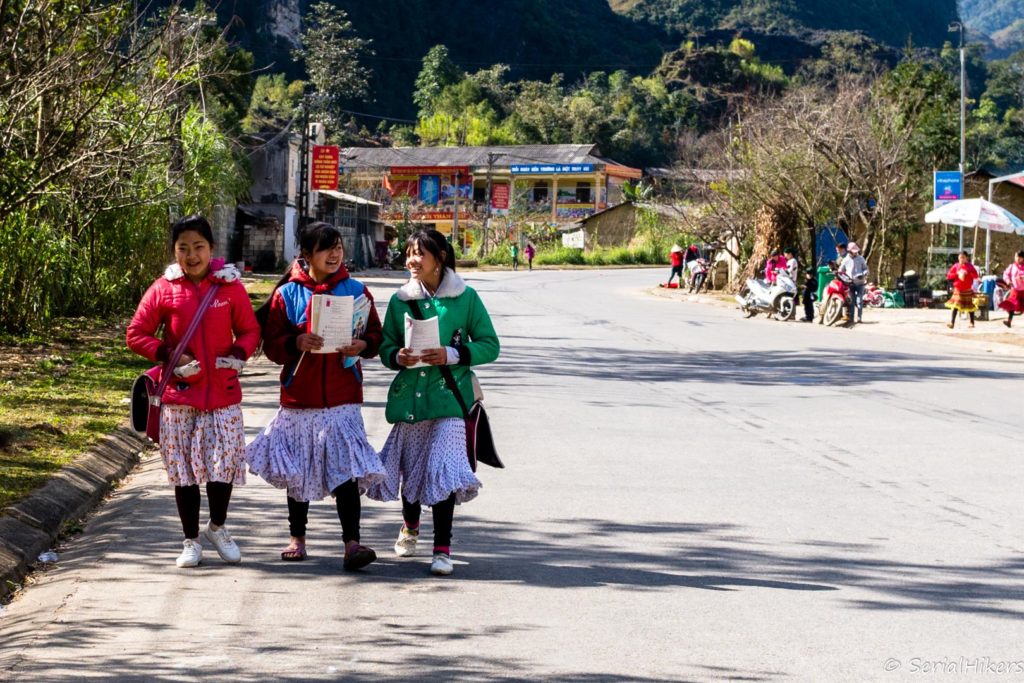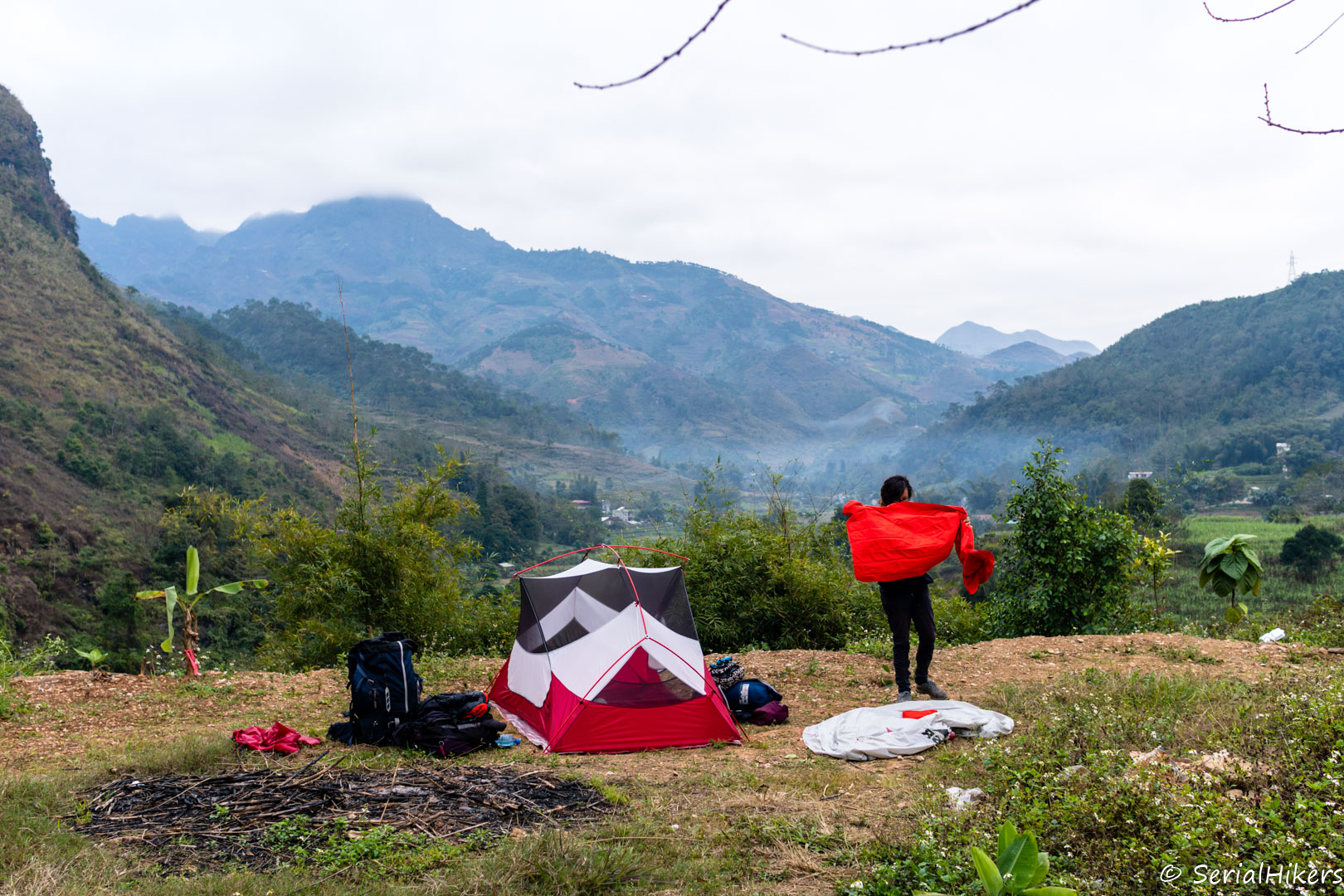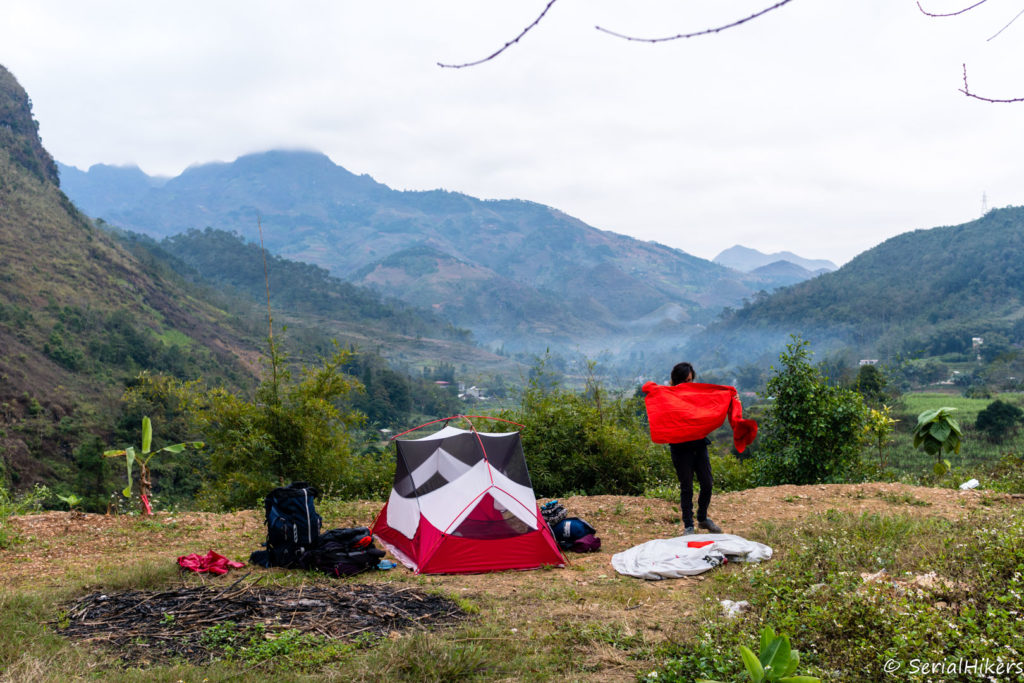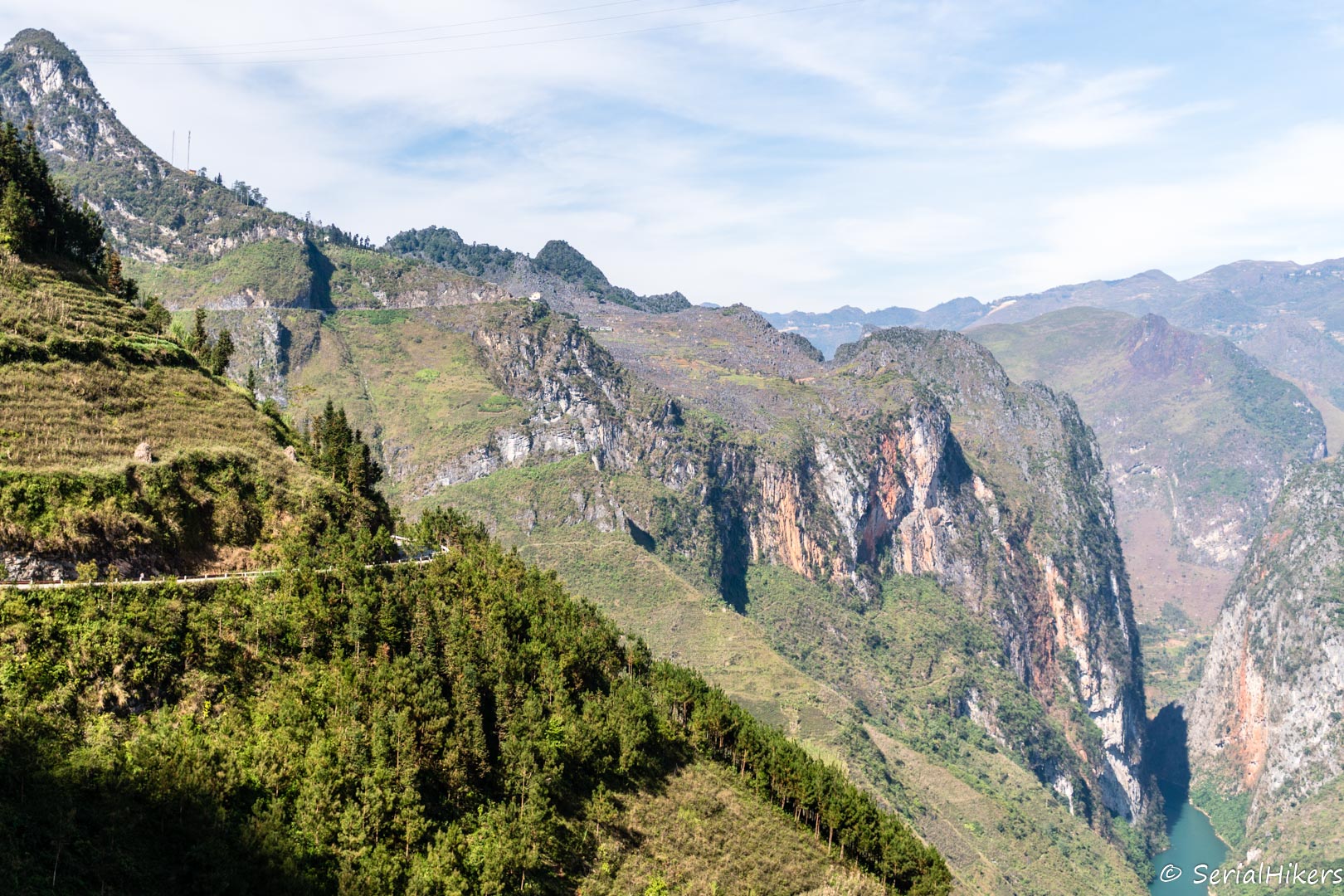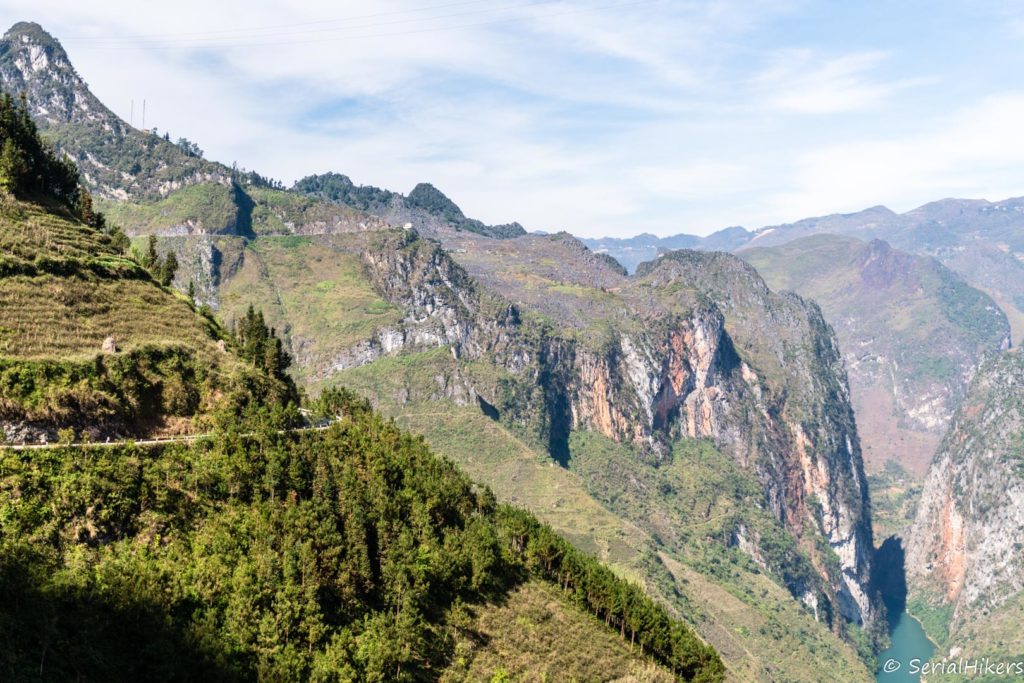 Once again, the disconcerting power of our sign and Vietnamese's hospitality has erased all our doubts. Travelling through the light traffic, we enjoyed every single moment spent there – the waiting between two cars to admire the magnificent landscapes, the smiles of the schoolchildren and inhabitants of Sửa Pả that were given to us, the tea offered by a driver who manages a hotel, a piece of isolated land to pitch our tent…
At Mèo Vac, the last stopover town of the "Hà Giang loop" (as designed by the local tourism industry), a dilemma arose: should we thumb up on the road back to Hà Giang and complete the loop, or should we let ourselves be driven on this other small road, towards unknown destinations? The choice was quick, obvious, almost too simple: we had no motorcycle to return, no travel guide, no time constraint. The adventure went on, on a winding country road, along the Nho Quê river.
Nà Phòng. Our last driver stopped in this isolated village, wedged between two mountain ranges. It has been some time since we've seen any tourists, no permanent houses, and the absence of a busy restaurant or hotel confirms our suspicion: Hà Giang loop popularity has its own limits. As we did the day before, we walked to the exit of the village, hoping to find a flat, isolated spot that can welcome our unfolded tent. Not far from the big petrol station, we waved at a group of locals, translator in hand: "We have a tent, we are looking for a place for the night. Can you help us?". Our interlocutors looked at each other in turn, before starting a lively discussion. Did they understand? A woman came forward, took the translator from our hands. On the screen, her message clumsily translated: "You can stay here". We smiled, thanked them. "Where can we pitch our tent?" The woman understood, took us to the courtyard of the small family cinder block company. Behind a pile of sand and two gravel bags, she pointed to a flat piece of land. The others joined us, before a new meeting started: we tried to reassure them, to make them understand that the place was perfect for us… But obviously it was not enough for them. Our host then went to a small tin shelter, pointed to a simple wooden platform topped with a mosquito net. We understood that she invited us to sleep there, and we accepted her invitation willingly…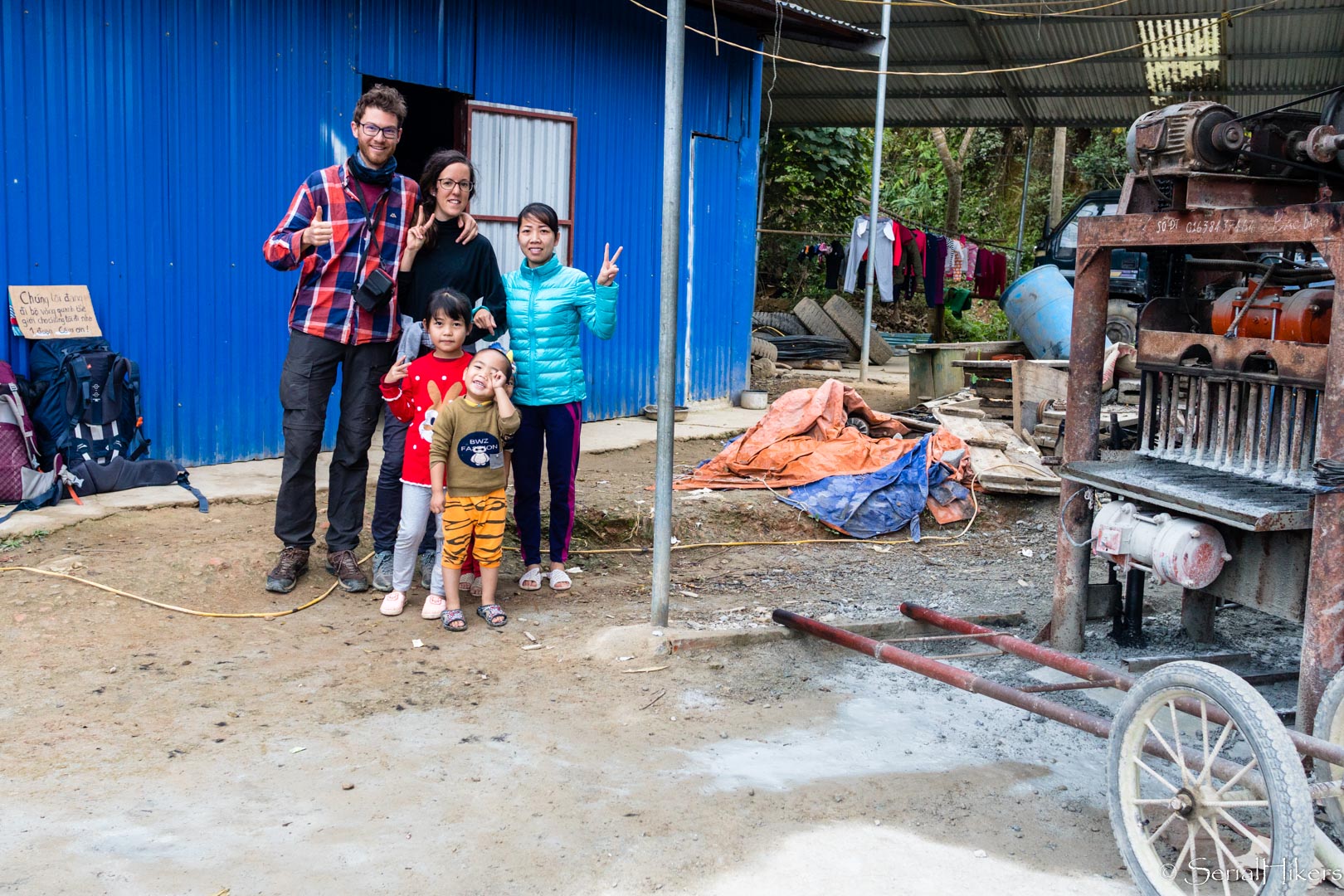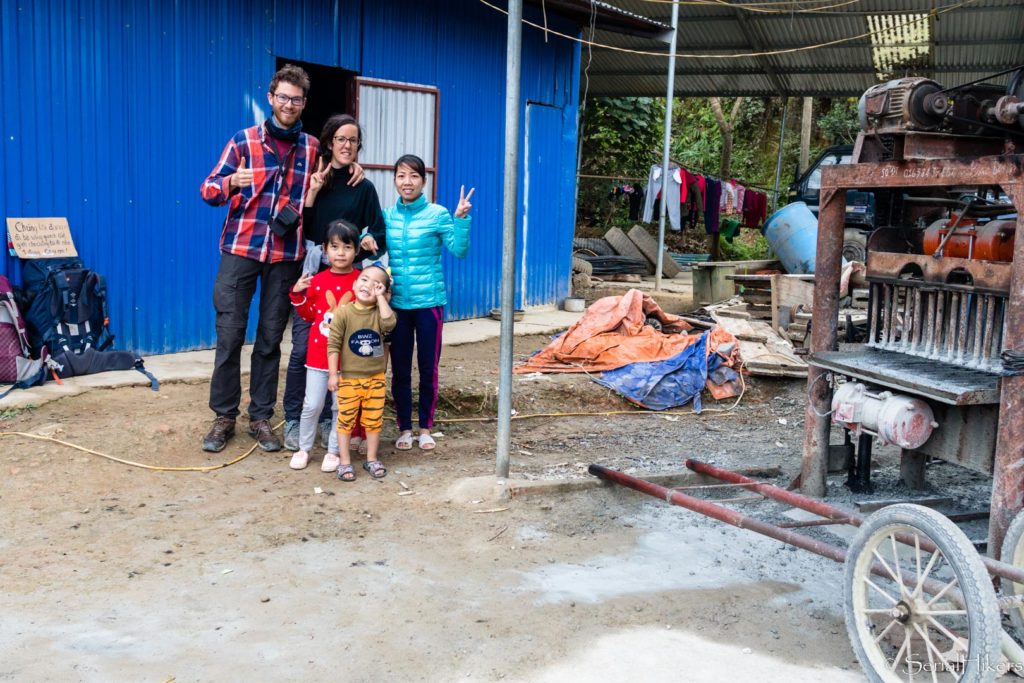 The family lives in the adjacent tin shed, with the little ones sleeping with their parents on the same wooden platform. It's very precarious, but no one seems to lack anything. At dinner time, everyone was served rice and soup – including us. We realized, with some shame, that our wallet was empty of money (from what we had exchanged a week earlier, at the Sino-Vietnamese border). No bank available, of course, to help us. I rummaged through my bag, looking for something I can offer them, and found the coloured pencils that had been given to us by the headmistress of the school where Guli teaches, in Uzbekistan. Seeing their delighted faces, my face lighted up: isn't it the goal of a traveller, to distil knowledge and goods along the way?
We left at dawn with a heavy heart, lighter bag. Direction Hanoi, the big city, the pollution, the crowded streets. Luckily, we managed to stop a small car driven by a hydro-electric engineer who were driven in one go to the Vietnamese capital. While the foggy mountains of Cao Bang disappeared, we spent the last few days of a crazy journey, touched by these first encounters with curious, smiling, benevolent Vietnamese people. Contrary to what we thought, the war, against the French and then the Americans, did not have made them bitter.
We arrived at Giang's house at nightfall, under a light rain. Giang, a student who is learning Chinese and working as a translator at the same time, invited us to taste Banh Mì two blocks away from his house. We stayed there for three nights; a good time for us to visit Hanoi on foot and on scooter thanks to Kevin, to withdraw money from the bank, to buy dollars, to be interviewed by Duong (a young Hanoian girl who absolutely wanted to share our story with her schoolmates), to talk with Bronzel, Giang's black-American roommate… Tick, tock. No time to linger here, there are only three days left before the end of our visa.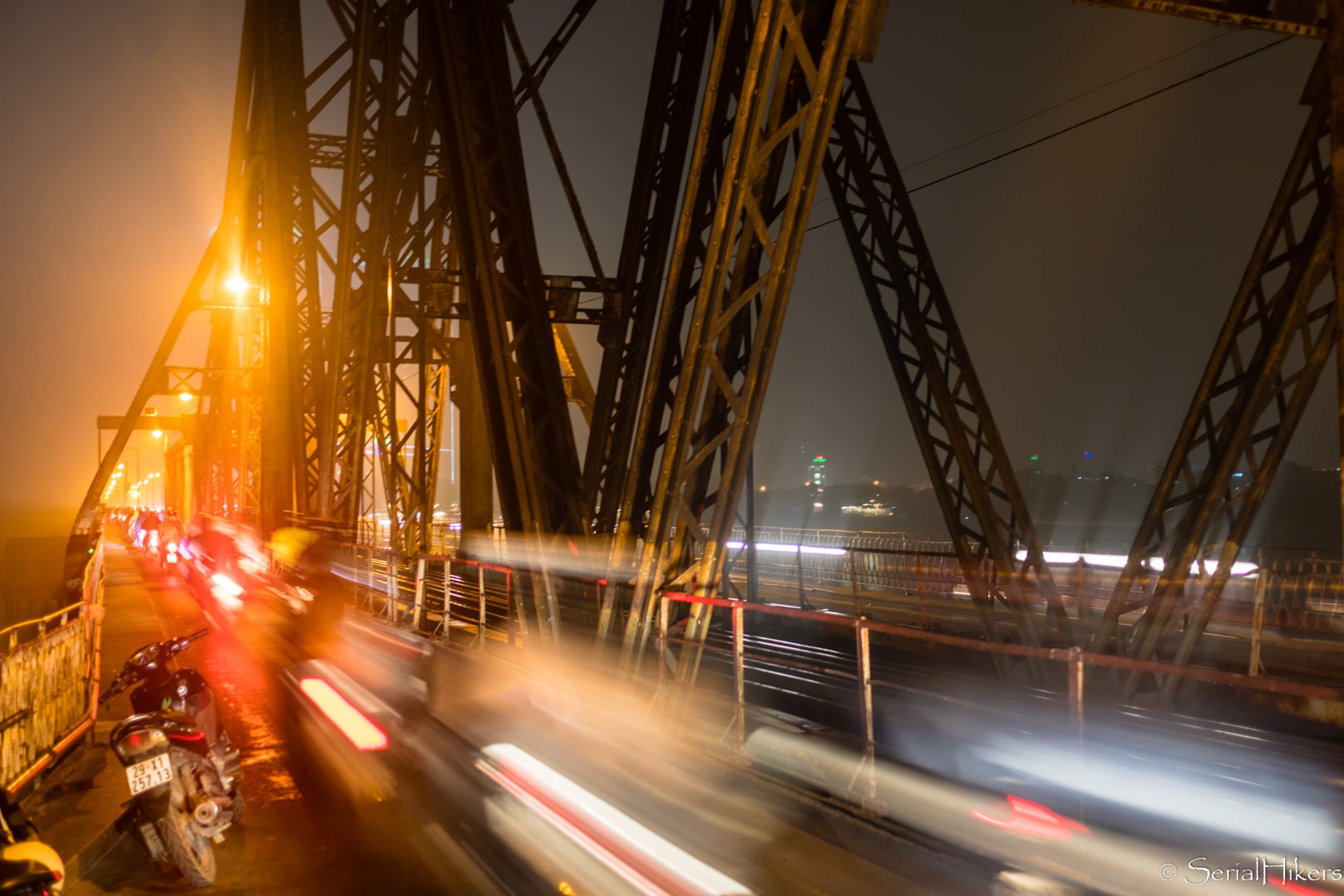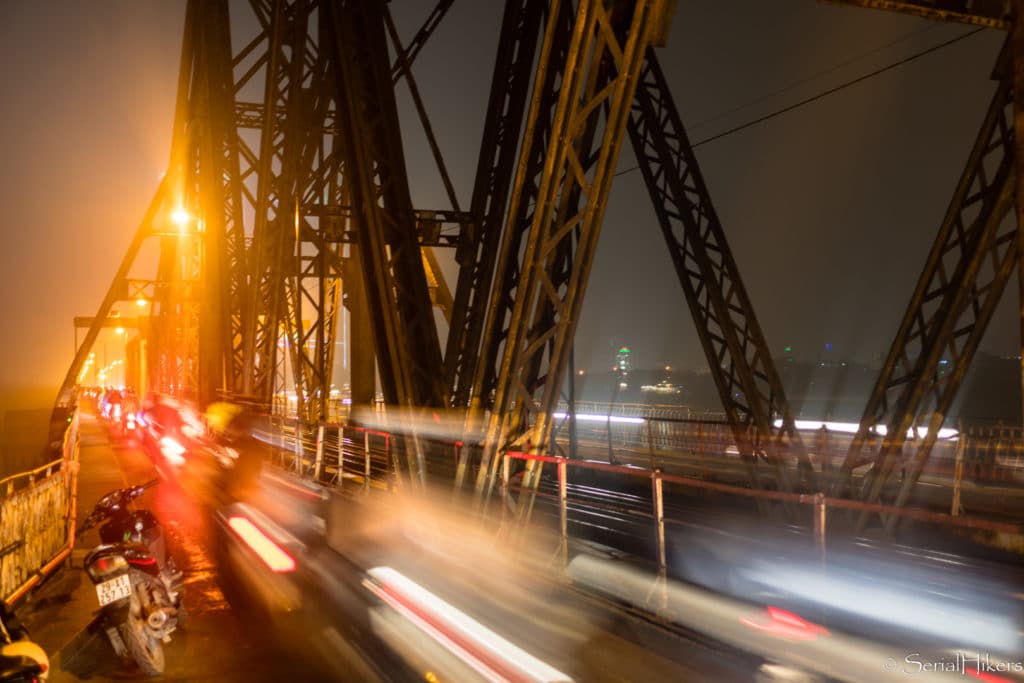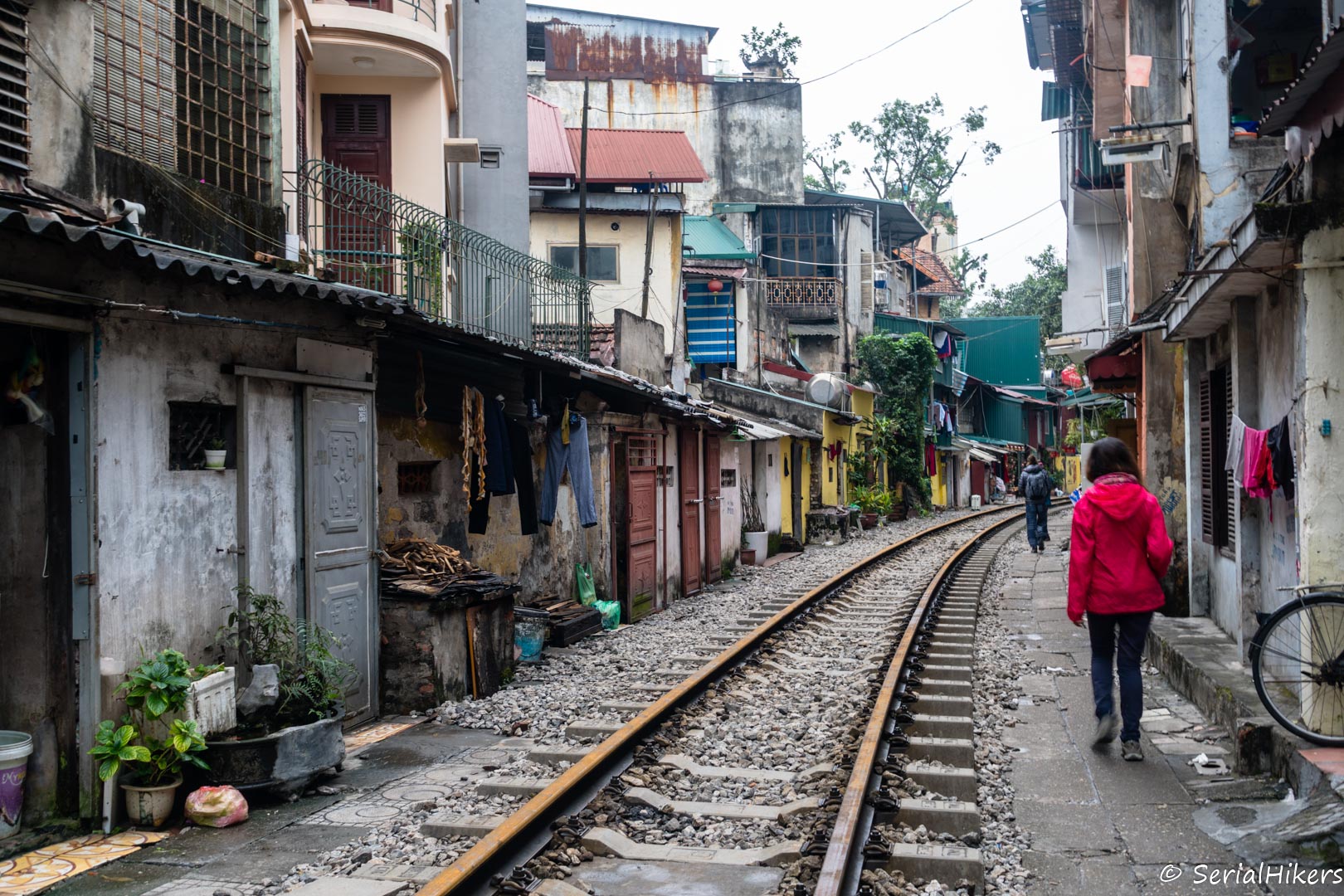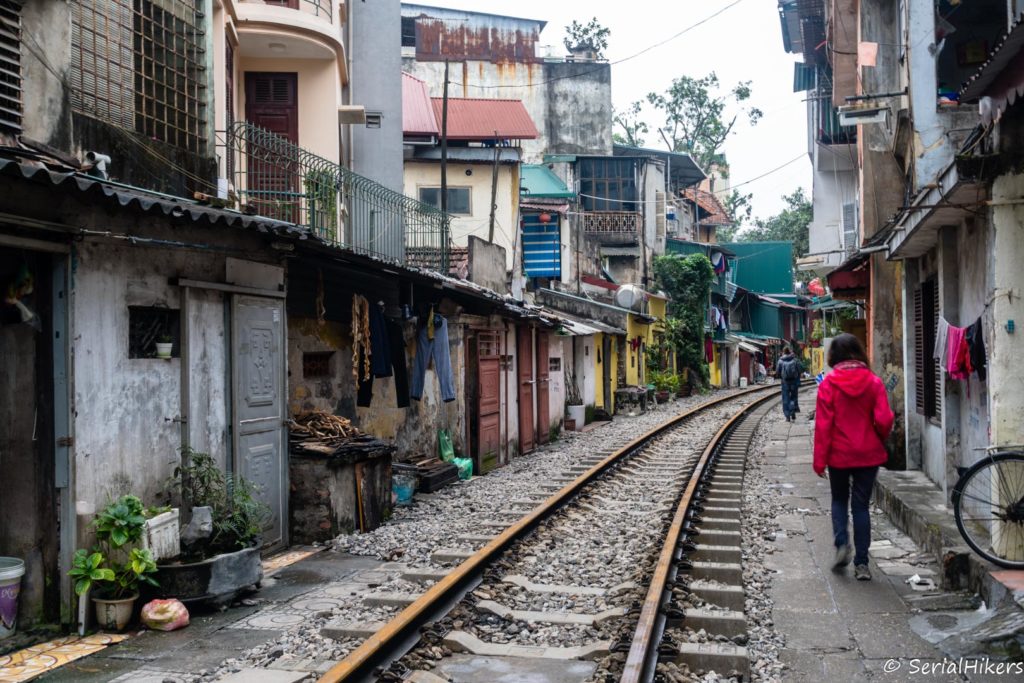 When we look for it, we find it
Before arriving in Vietnam, we dreamed of rice fields, Halong Bay, exotic dishes. When we inquired in Hanoi, our dream of Halong fell into disillusionment: the bay is now polluted, disfigured by thousands of tourist boats. A massacre, a shame, a real ecocide. There was no way for us to go there, no way we can sully the image of the bay of our dreams. At the last minute, someone finally pointed us to Ninh Binh – Halong Bay on land, as it is known.
So we came to Ninh Binh, without a host, without a plan… And under the rain, of course. Taking refuge in a small restaurant, with two bowls of steaming noodles, we patiently waited for the rain to stop before looking for a place to sleep. On the outskirts of the town, a family we asked where we could pitch our tent invited us to camp in their yard. We spent a good evening in their company, before our hosts karaoke sounded in the neighbourhood at dawn, when roosters started to crow.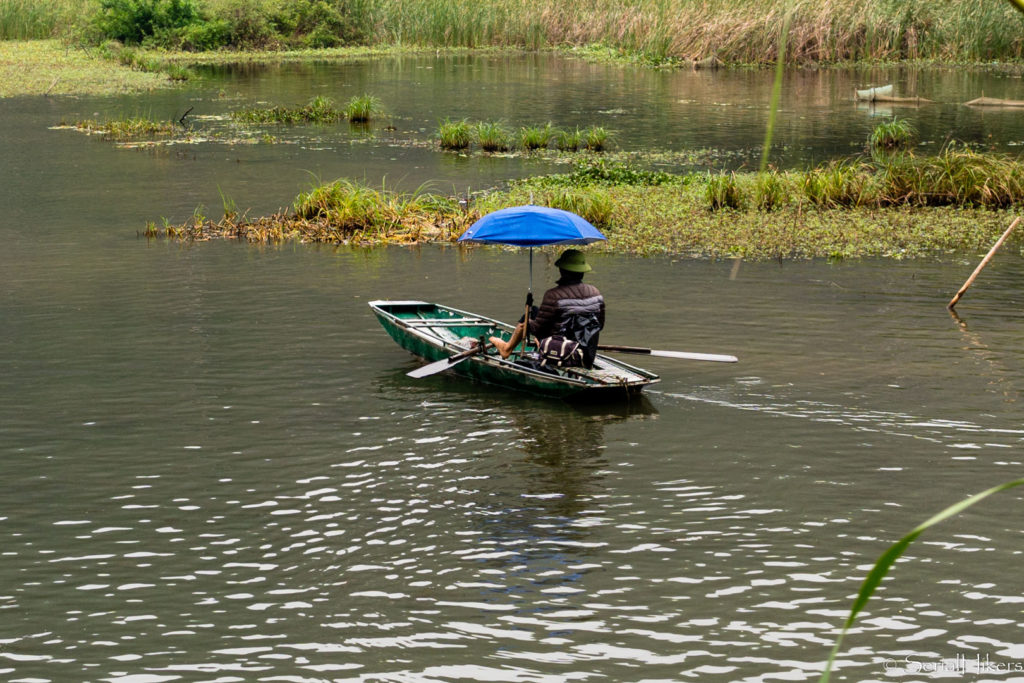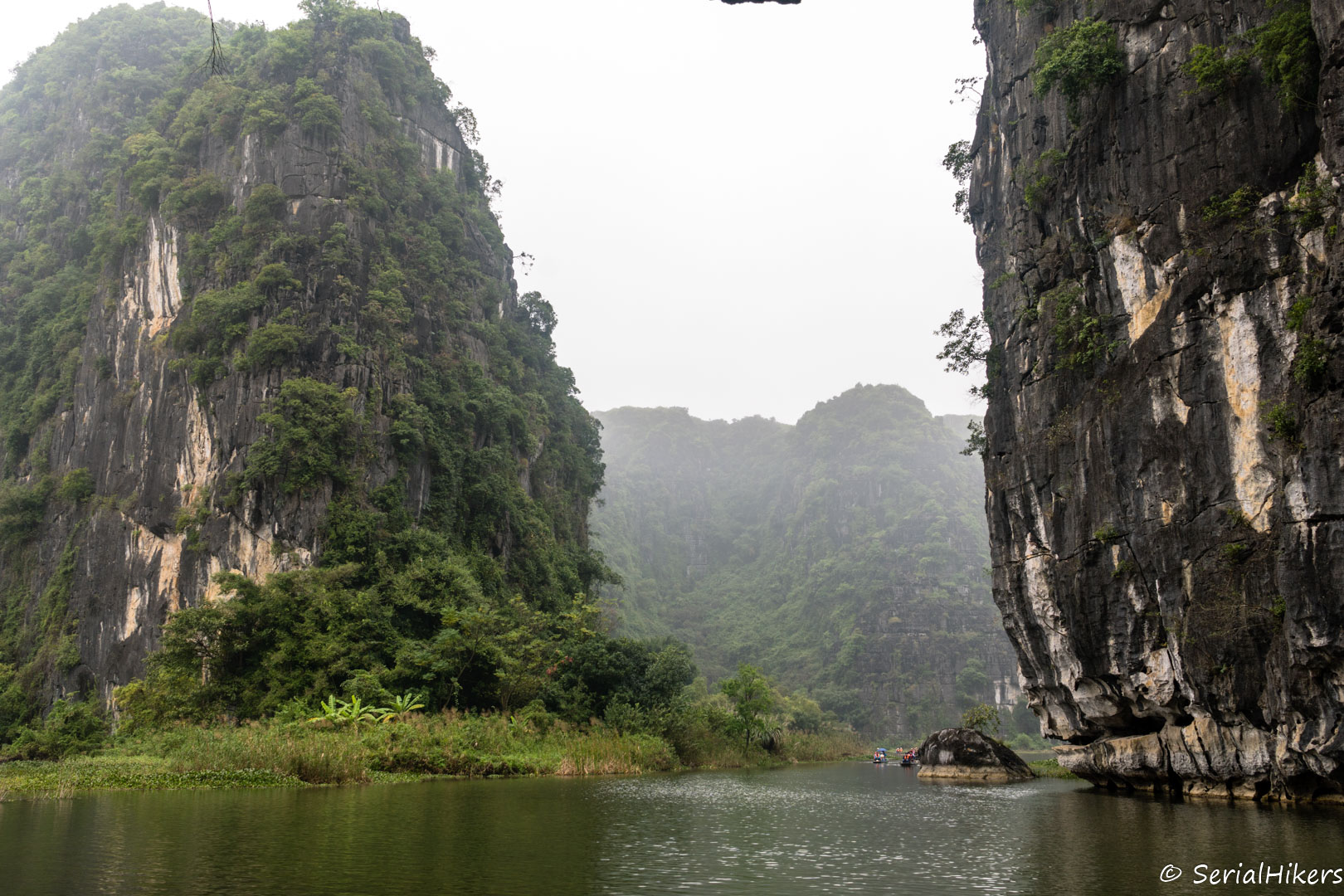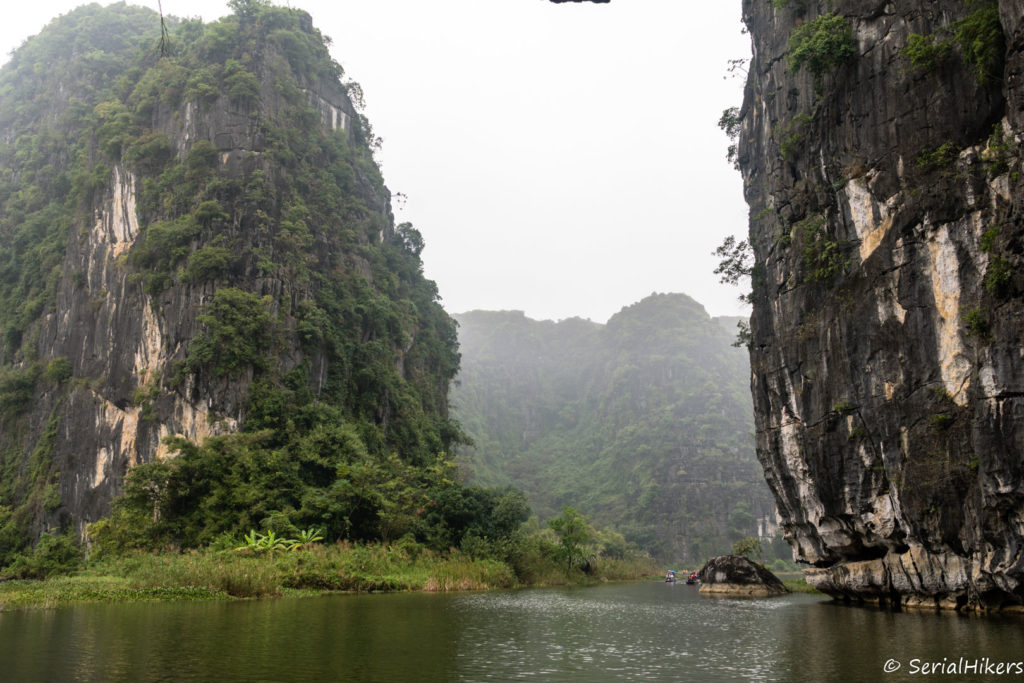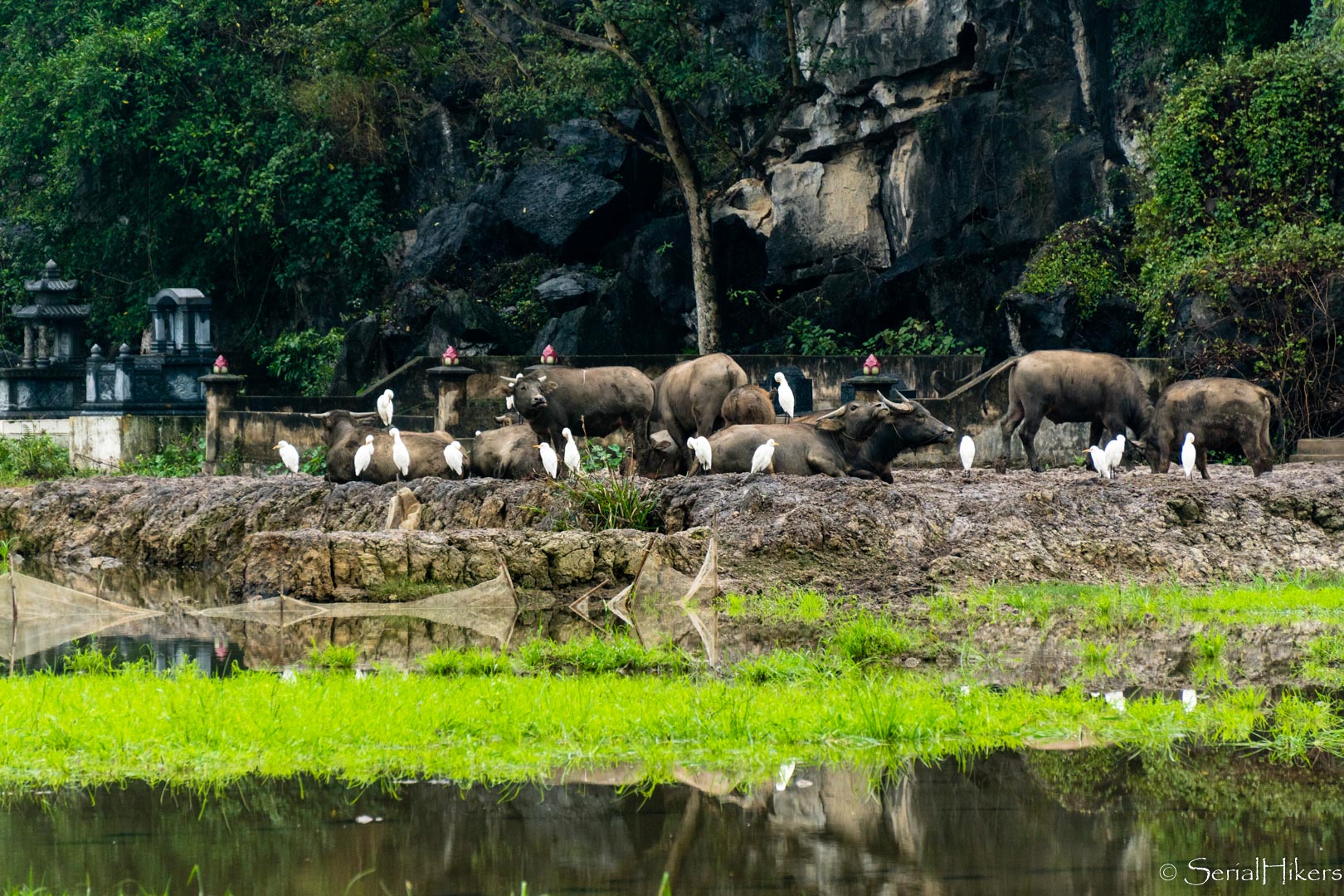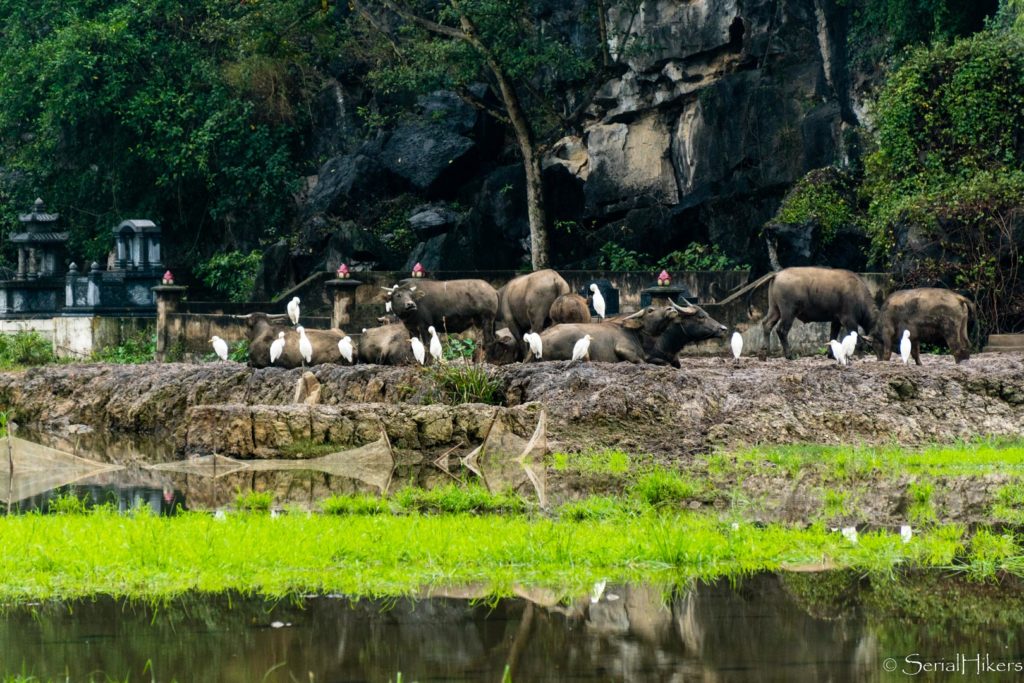 Despite the drizzle, the weight of our bags, the long hours spent walking around the peaks of Tam Coc, we really appreciated the beauty of the place while walking, silently. Our amused eyes watched several boats passing by, which were paddled by Vietnamese women with their feet. But our red shoulders pushed us to quickly hitchhike back, somewhere in the west, somewhere where we could spend a good night, in peace and quiet. While a driver stopped us in the small town of Nho Quan, we took the opportunity to fill our empty stomachs with delicious Banh Mi. With the smiling shopkeeper, I tried my luck: "Can we camp somewhere nearby, maybe in your garden?" She didn't seem to understand, and I ended up giving up, a little disappointed. We started walking again with our aching shoulders, and our door-to-door technique: "Hello, where can we put our tent? Can you point us to a garden, a park to camp safely? Is it possible to put our tent there, in your yard?". And as fatigue and rejections started to pile up, Julien made one last attempt to approach a family at dinner. Without giving us time to explain, Tran Sy invited us to eat, to sit with them, to rest. A generous offer, supplemented by a good shower, long discussions with this ex-military man about the resentment absence for former "great enemies of Vietnam", and a quiet night spent on a thick foam mattress, put by his wife and daughter on the living room floor.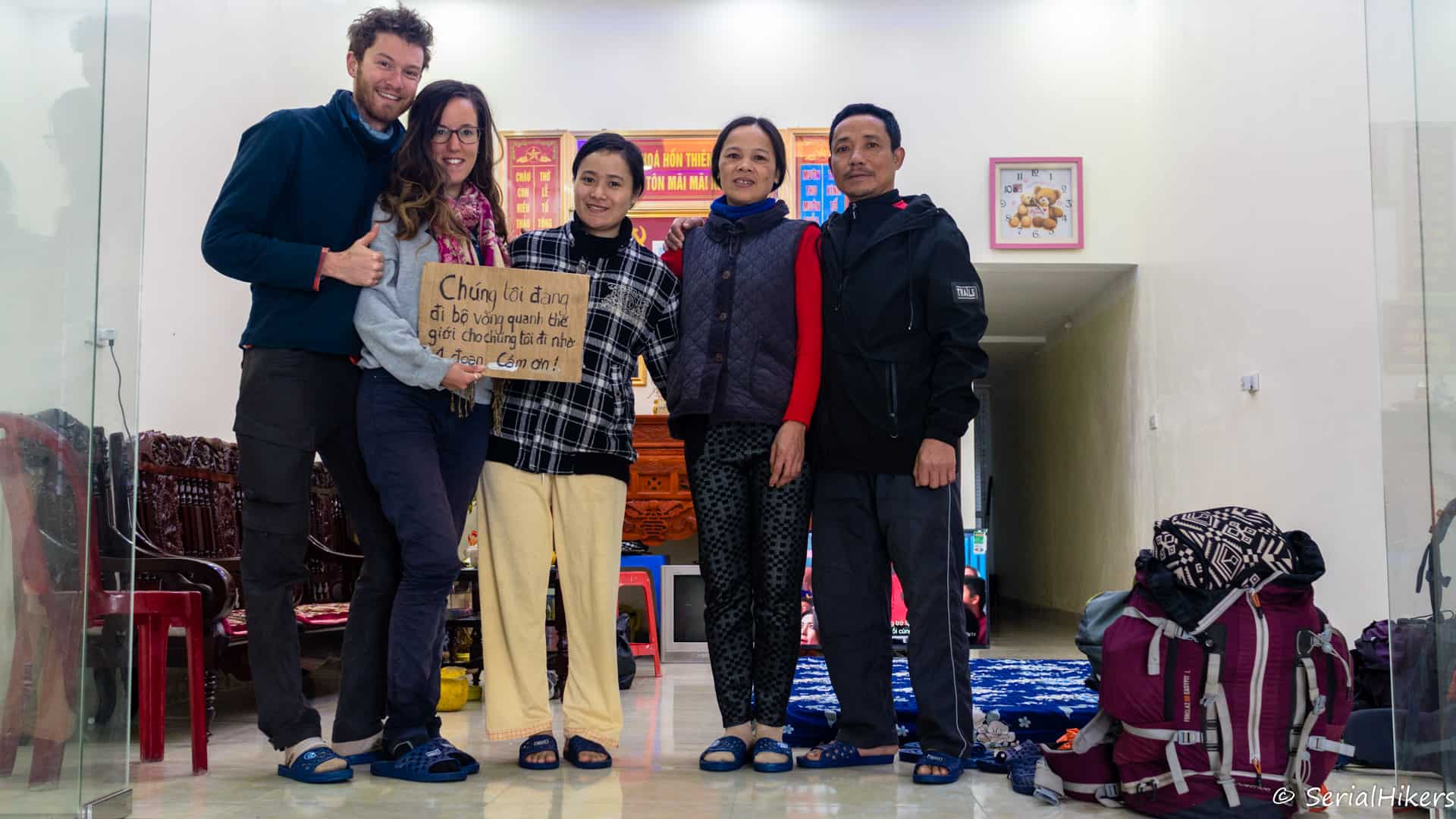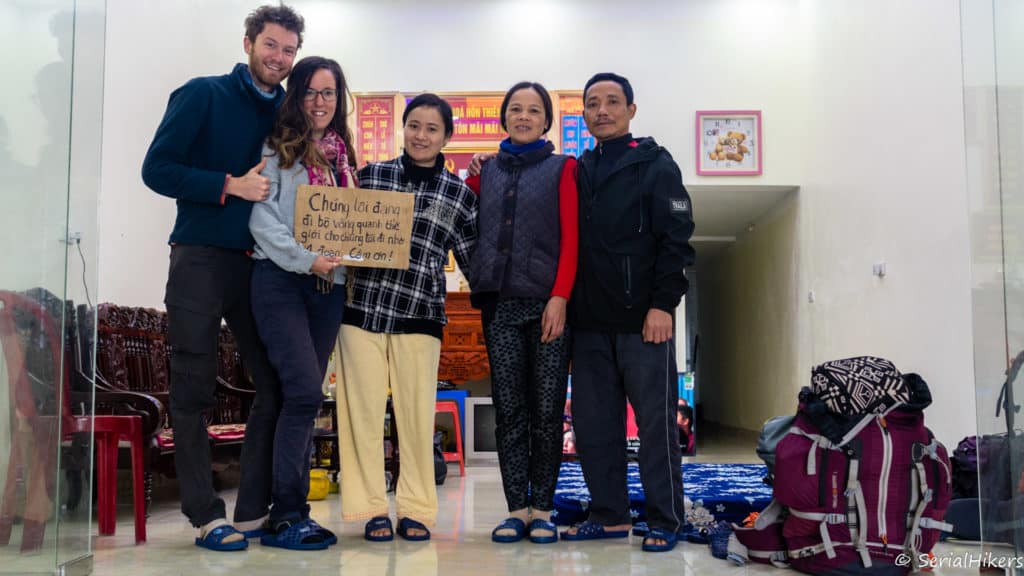 We left our hosts delighted, and rested. The kilometers that separated us from Mai Chau and its beautiful rice fields were quickly covered, under a big clear blue sky. In spite of the beauty of the place and the wonderful weather, we reasoned ourselves: tick, tock, tomorrow we have to leave the Vietnamese territory. At the end of the day, we reached the last big village, Quan Sơn, located 50 kilometers from the Lao border. Like the day before, we asked where to camp door-to-door – this time with a better success rate: Van Anh, a young owner of a café-restaurant at the exit of Quan Sơn, offered us to stay in a small, dark, poorly insulated storage room. We set up our tent there, the only rampart against mosquitoes on the lookout for new blood, before joining our new host and her friends group for dinner. Our last evening in the North of Vietnam was just like its inhabitants: pleasant, generous, full of smiles, exchanges, hospitality.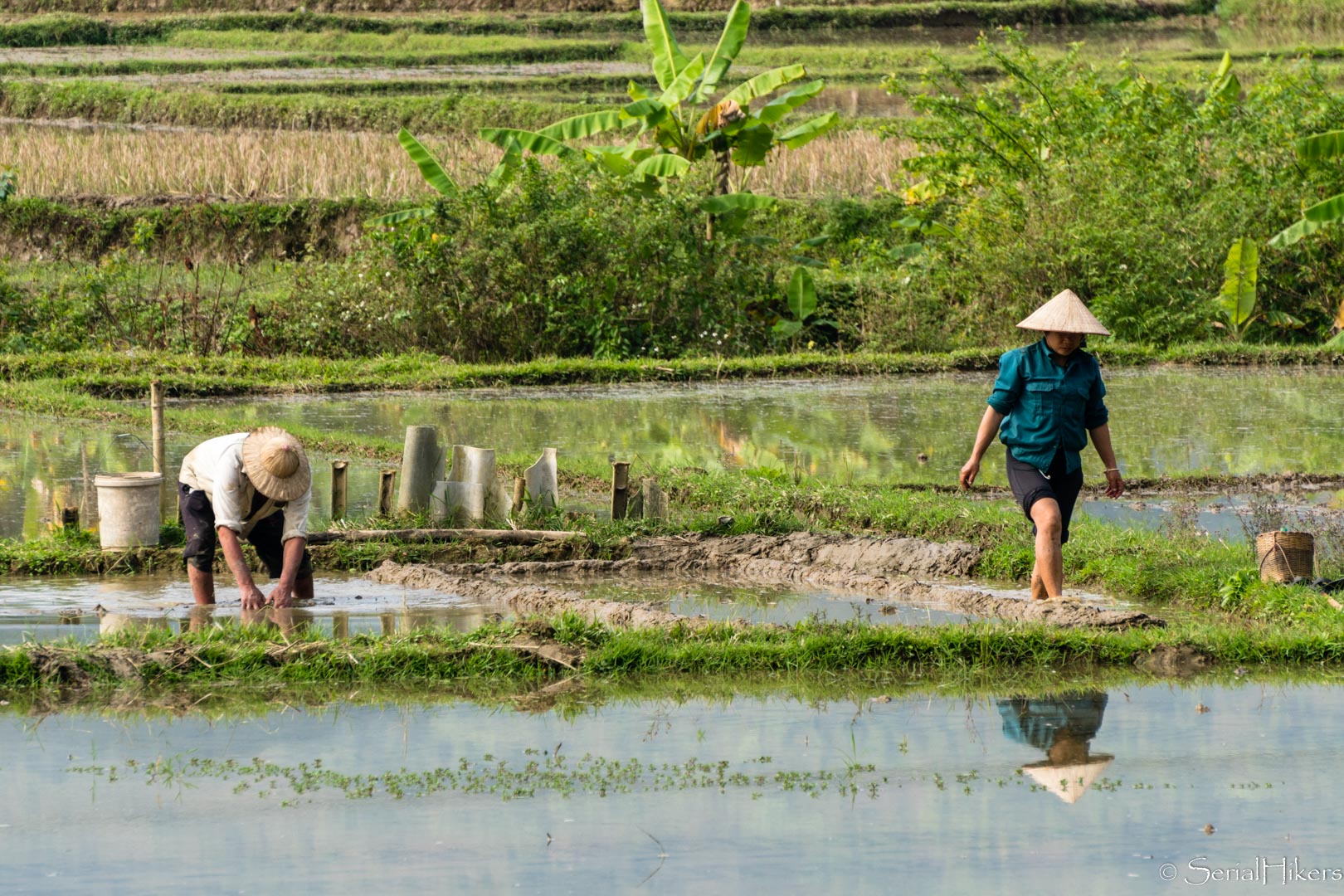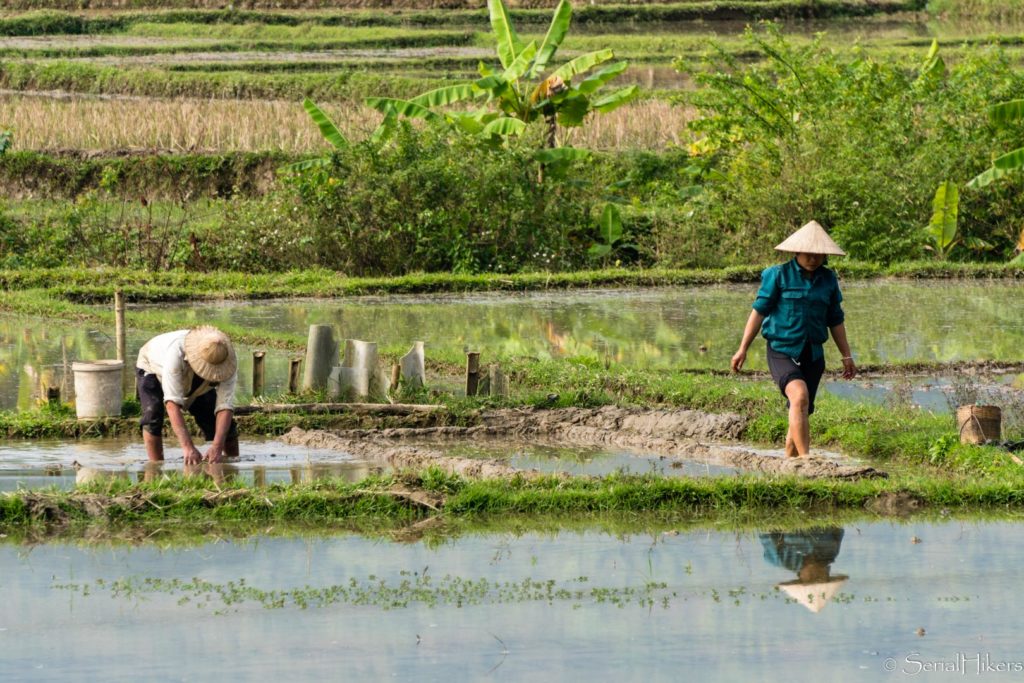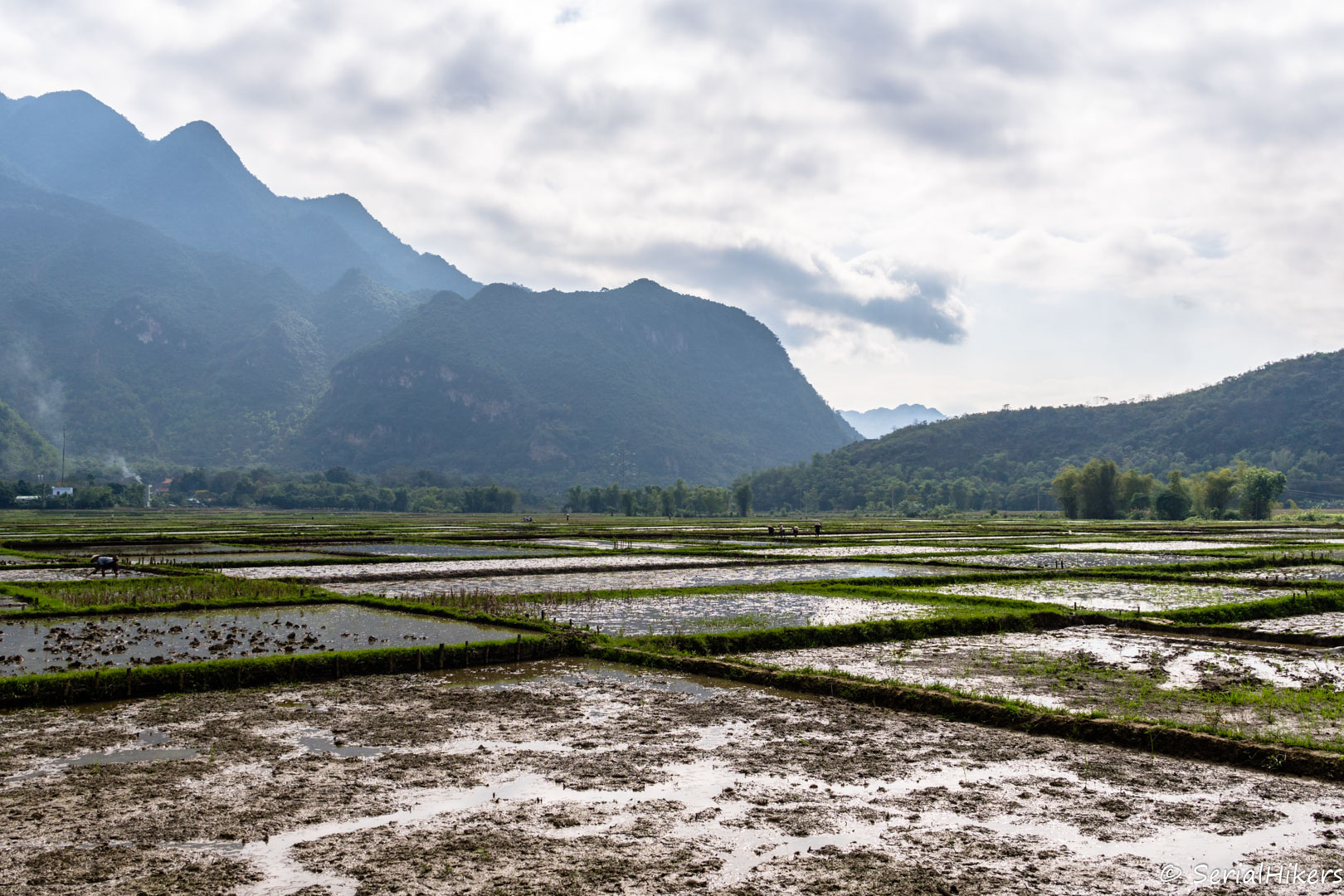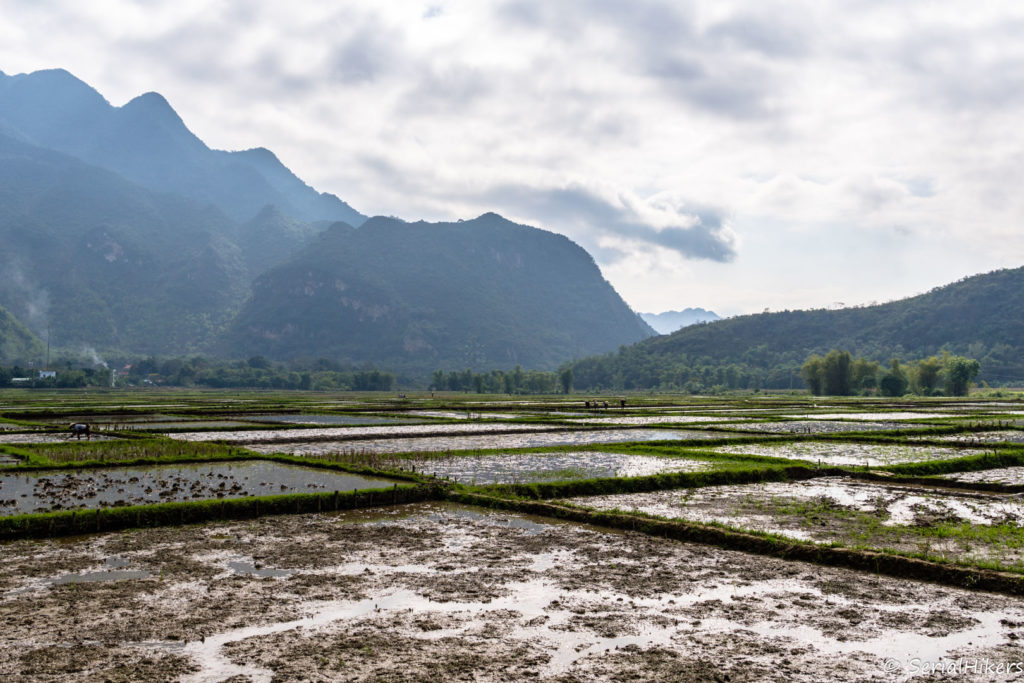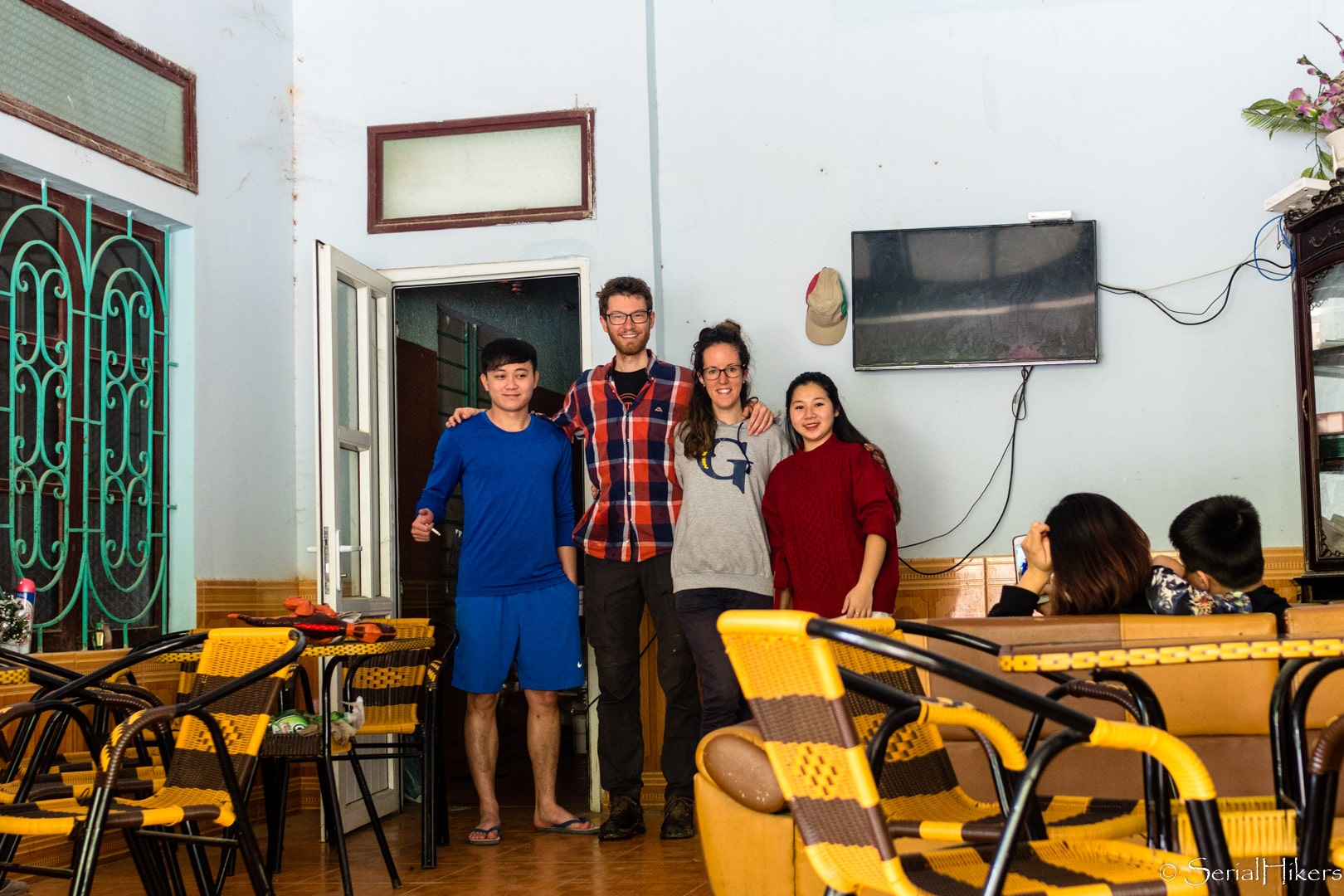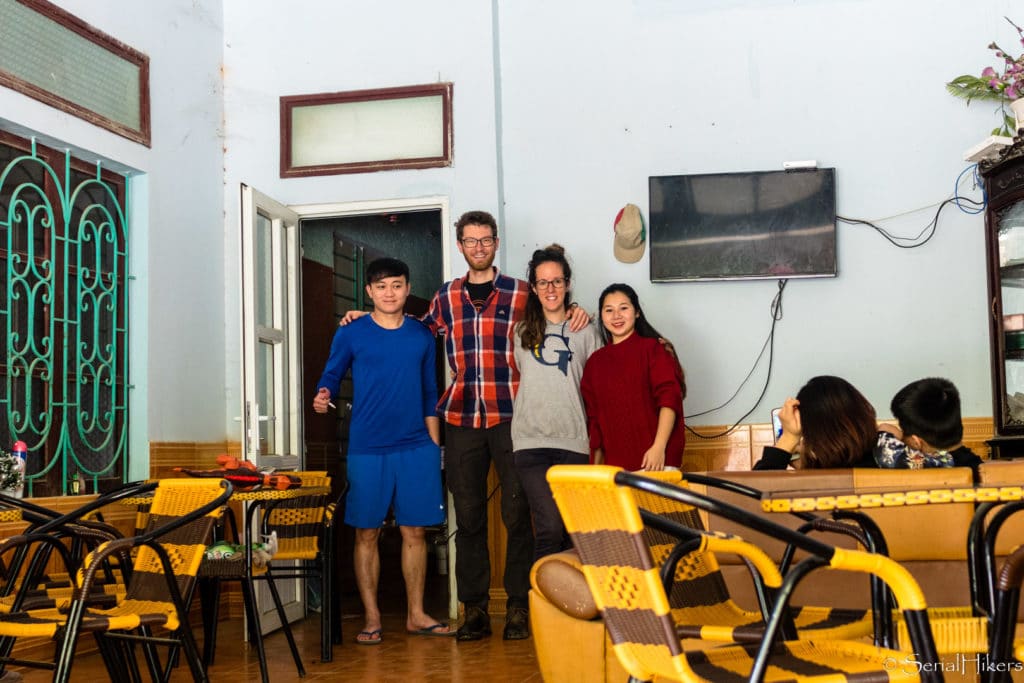 "Julien, wake up. We've got to go." It was after 9AM when I decided to pull Julien out of his slumber. This late departure made us miss a few vehicles and precious time on this non-existent traffic, insignificant road. We walked, stopped on our way by venal locals, ready to take us to the border for a certain amount of money: "Go Laos! Taxi! Dollars!". We vehemently refused, angrily pestering to these big 4×4 drivers with little empathy. We walked, five, ten, fifteen kilometers; our bodies soring, under an overwhelming humid heat. And then a car stopped, driven by two Chinese: they dropped us off at the border around 4PM, before the official closing of the customs. Tick, tock: we entered Laos, just in time!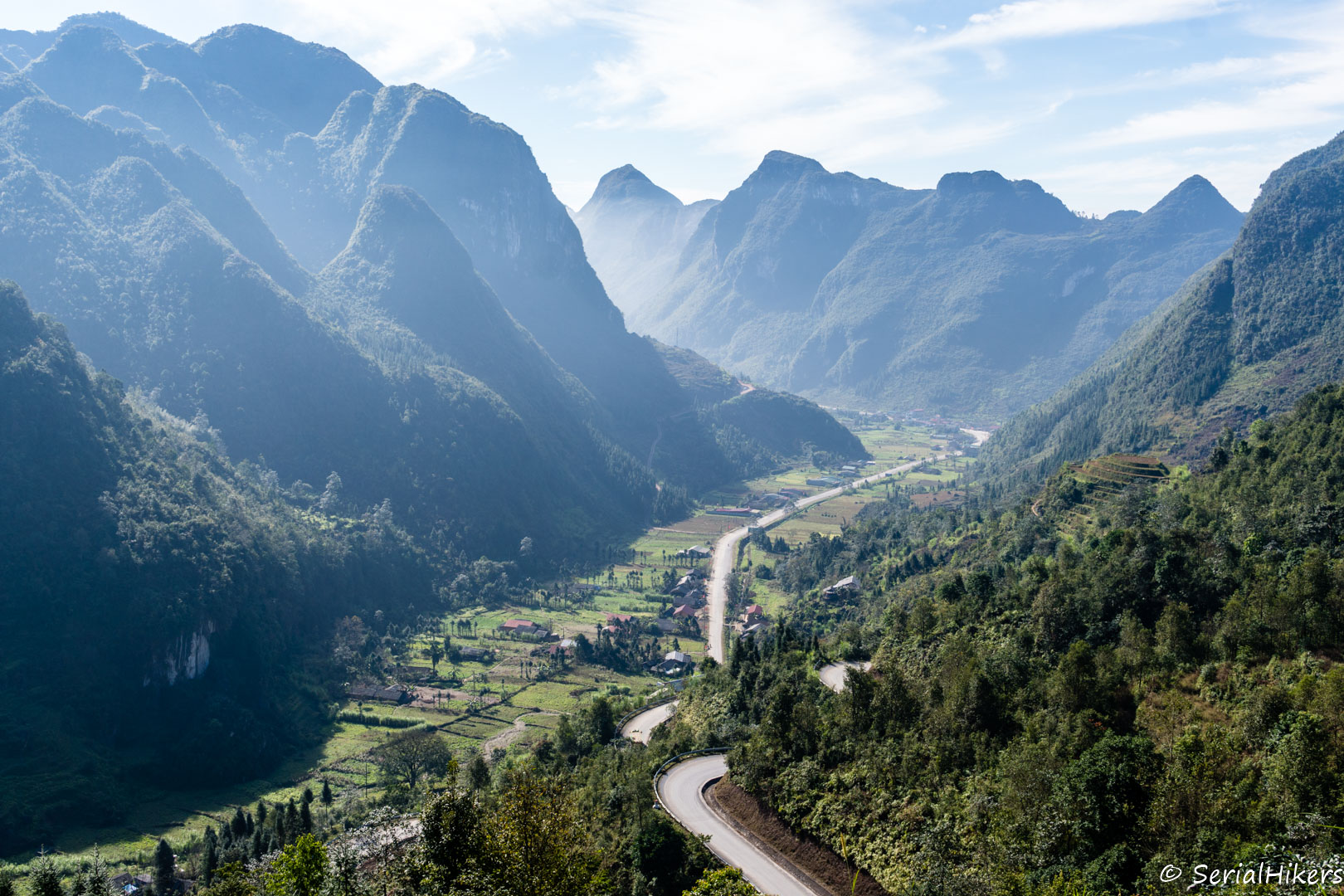 More about Vietnam
Scenery change
"It's $2 more per person because of the weekend". We looked again at the signs: 30$ for the visa, 1$ for the National Tourism Fund… And nothing else. With a firm voice, I made them understand that the extra cost is not indicated anywhere, and that we don't have more to give them anyway. The customs officers eventually abdicated. We quickly walked away from the border crossing, with our visa stamped, at a hard-negotiated price. In the middle of a dusty track, we scanned the green horizon, this hilly landscape covered with tropical vegetation, these fallow rice fields. No one to greet us with a smile, no one to offer to exchange money, no one to sell us a taxi ride. These first moments in Laos set the scene: to hitchhike or have cultural exchanges with Lao people, we will have to ramp up!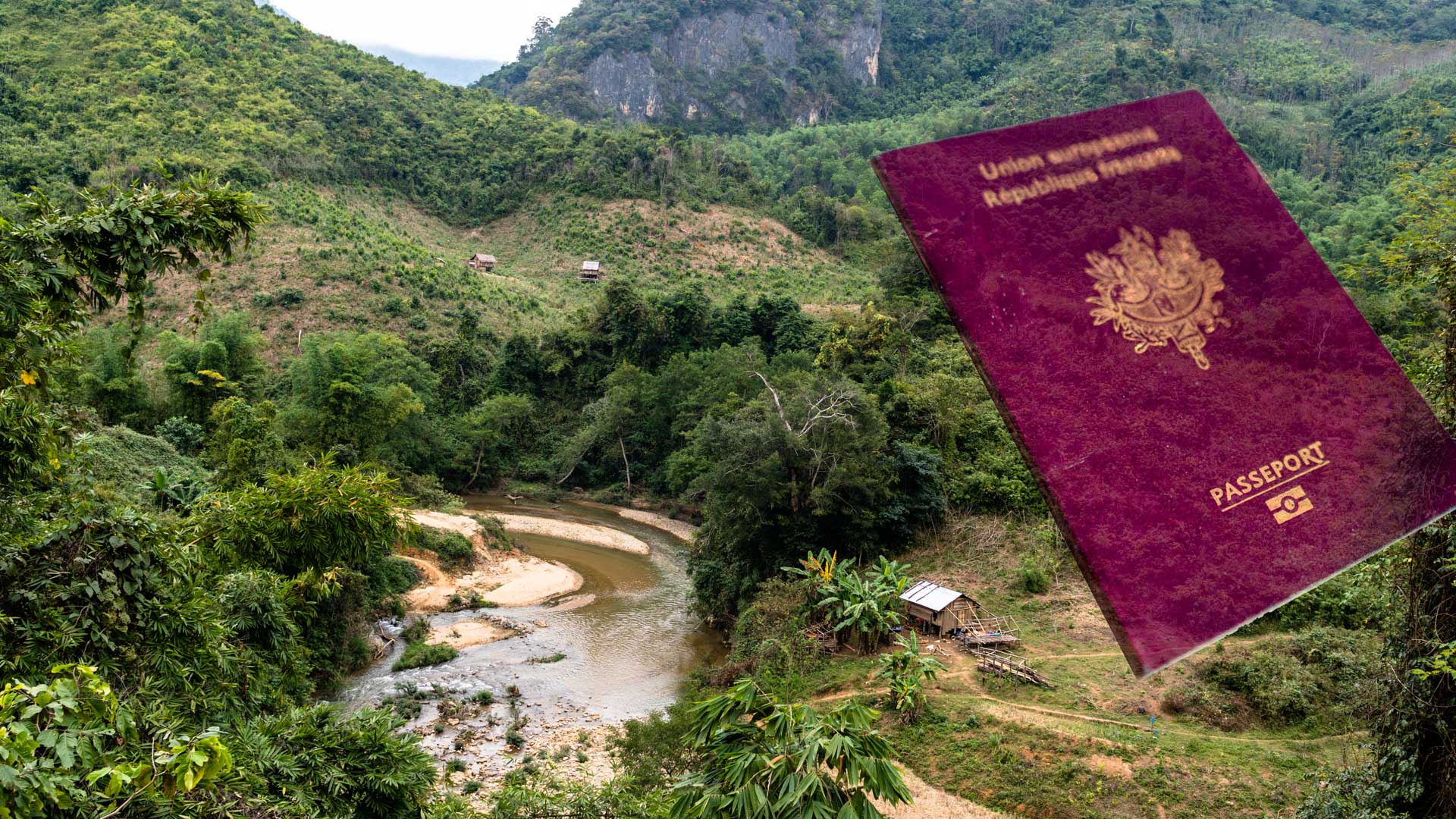 More about Laos visa process on the spot and crossing the border at Na Meo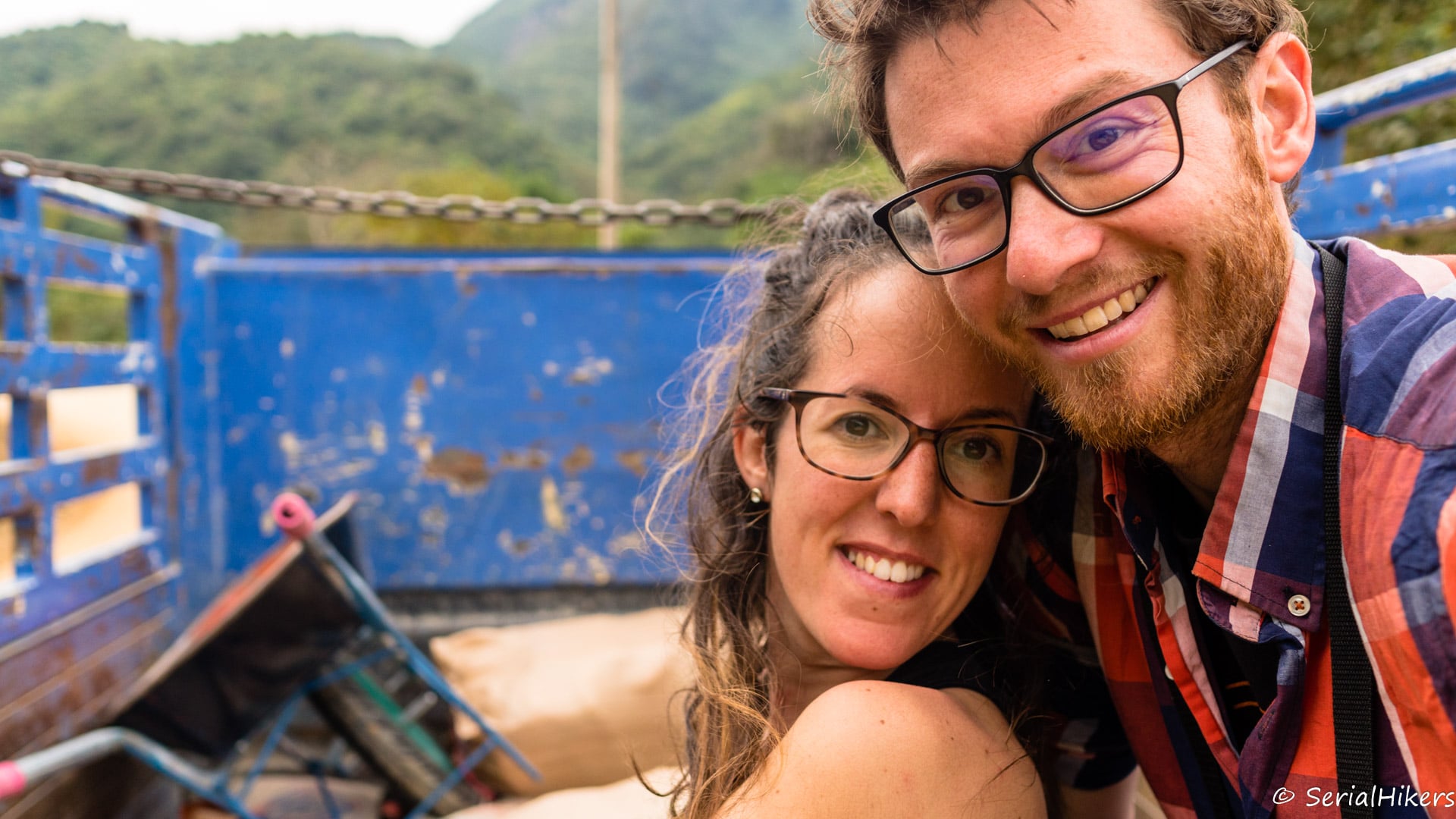 After an extra two kilometres of walking from the border, a van passed by, stopped and picked us up – between a shovel, a wheelbarrow and two bags of cement. It took us about 20 kilometres to the first village where we managed to negotiate two bowls of instant noodles, paid for with Vietnamese dongs. Night fell and, in a hurry, we pitched the tent on the river bank, at the exit of the hamlet. Despite the fatigue, we fell asleep with an open eye: a flashlight beam pointed at us several times – with us huddled inside, ready to confront the intruder(s) if necessary. At day light, we unziped the tent to discover with surprise a group of children, who came to play on the river bank and offered us fresh bananas. We felt reassured, but very silly: in fact, we were the intruders…
It was mid-January, and in this part of the world the weather was very heavy, humid. Wearing our summer combo "short/t-shirt/cap", we took the road again, before stopping a pickup truck. On board, 12 stacked adults, two babies, and cages full of chickens. We wondered if we'll be able to get in with our bags; while our companions didn't seem to ask themselves: here, everyone was sticking together. Here we go for 60 kilometers of tortuous road, hairpin bends that made you vomit your guts out, ruts that trap the wheels, silence as if we better bear the ride. Sometimes we improvised ourselves as doctors to treat the sicks by giving them an antiemetic pill, sometimes as a voluntary helper to push the blocked truck. An intense, striking experience that had drawn the beginnings of a Laotian adventure of nightmare, sweat and dust.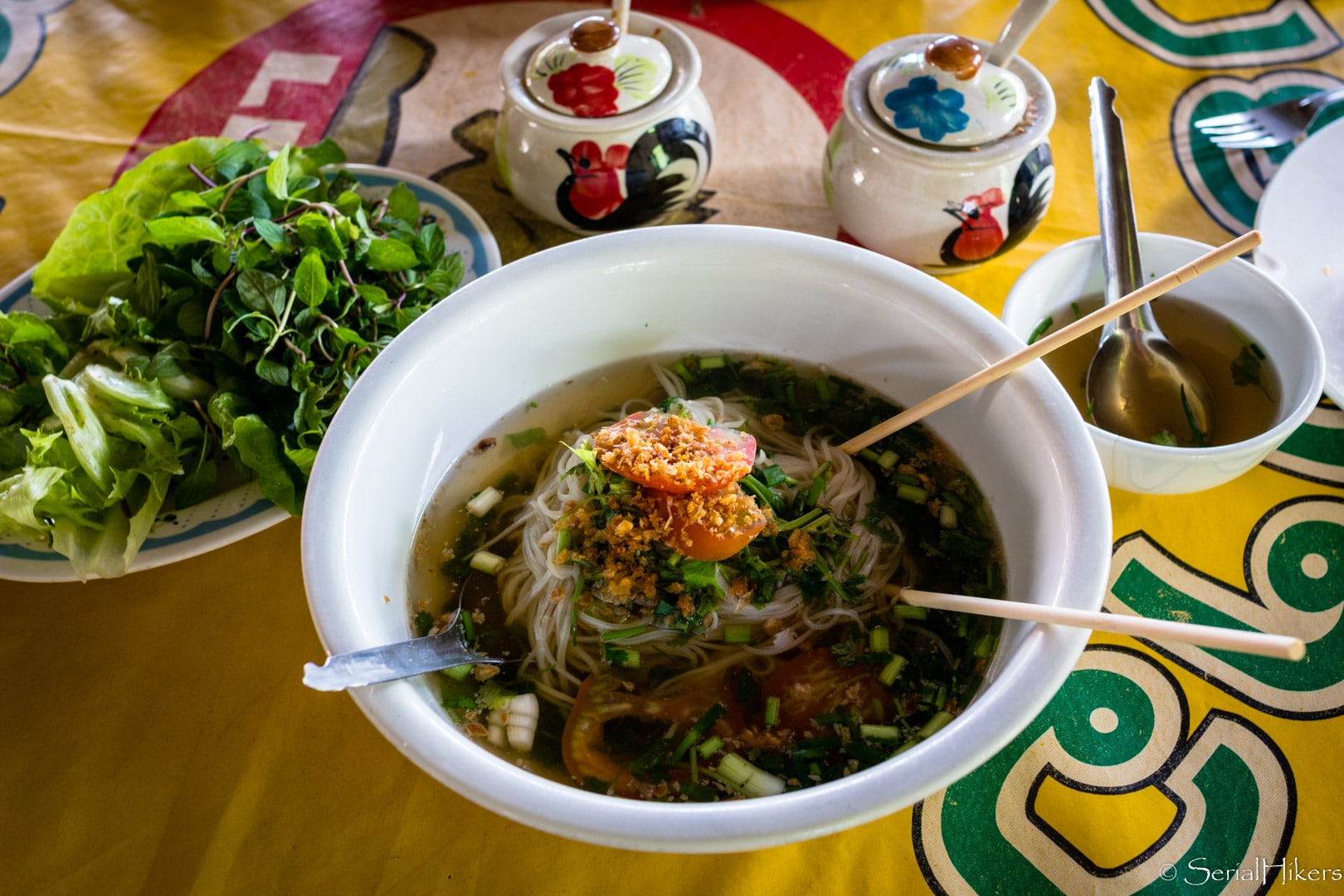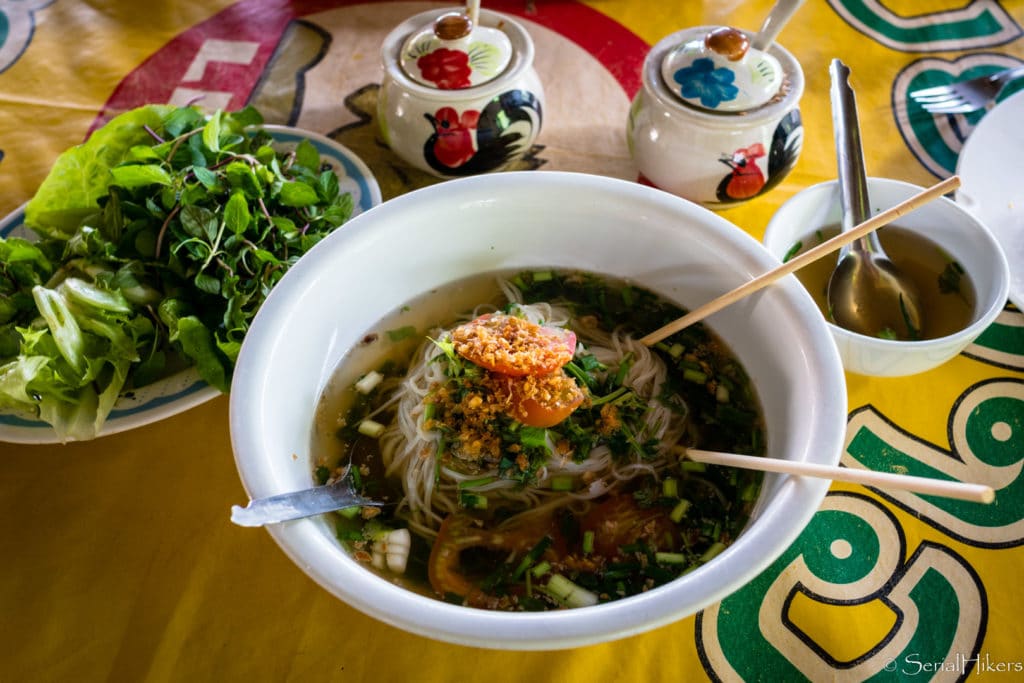 We didn't really visit Sam Neua: after withdrawing our first Kip at the first bank ATM, we sprawled down in the corner of a modest restaurant, hungry and exhausted. We filled our stomachs with noodle soup, then our phone batteries, before leaving.
A couple in a pick-up took us, to finally drop us off at the local bus station on the way out of town: it seemed they didn't understand a thing… Despite the intervention of someone speaking a little English, nothing helped: the couple ended up leaving, and leaving us there, at nightfall. Julien spotted a small path from the bus station, and ventured there to find hospitality for the night, a piece of garden to welcome our tent somewhere in this small and discreet neighborhood. After several unsuccessful attempts, a man accepted, pointing to the courtyard of a house under construction, almost completed. Julien came back with me, our bags; introduction was made in the presence of the whole family, with gestures and smiles. A woman took me by hand, lead me to the future bathroom door: next to a toilet hole and a water basin, I spotted a water gun – enough to wash us, and to rest after clean and refreshed. As we were about to go to sleep under our tent, a young man came to us, speaking in relatively good English: it's Boudman, and as a good neighbour who listens to what his neighbourhood has to say, he came to see these strange foreigners. Reassured, Boudman invited us to come and share a few beers for New Year's Eve, in the company of his family and friends, already exhilarated by alcohol and karaoke songs. Despite the language barrier, they welcomed us cheerfully, with Lao beer, bursts of laughter and failed selfies. So much so that they suggested we move our tent into their garden – something we'll do the next morning, once everyone has recovered from that funny evening. We cooked pancakes for them, collected wood for the kitchen. Between two tasks, we sat down to listen and question our new hosts about their daily life, their plans to open a restaurant, their ethnic differences (Boudman is Khmu, his wife is from a Chinese ethnic group), the peaceful cohabitation between the 160 ethnic groups of Laos, etc…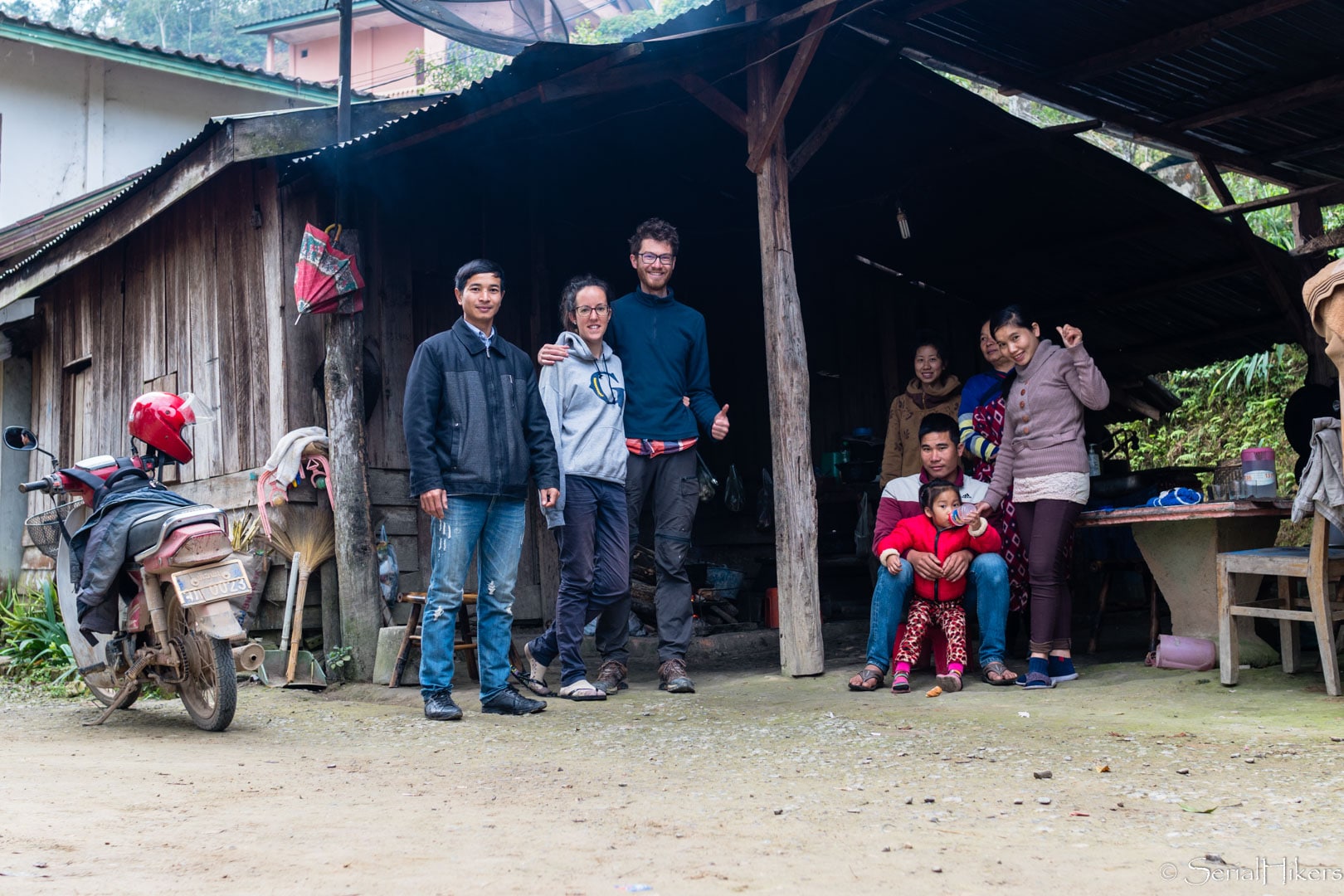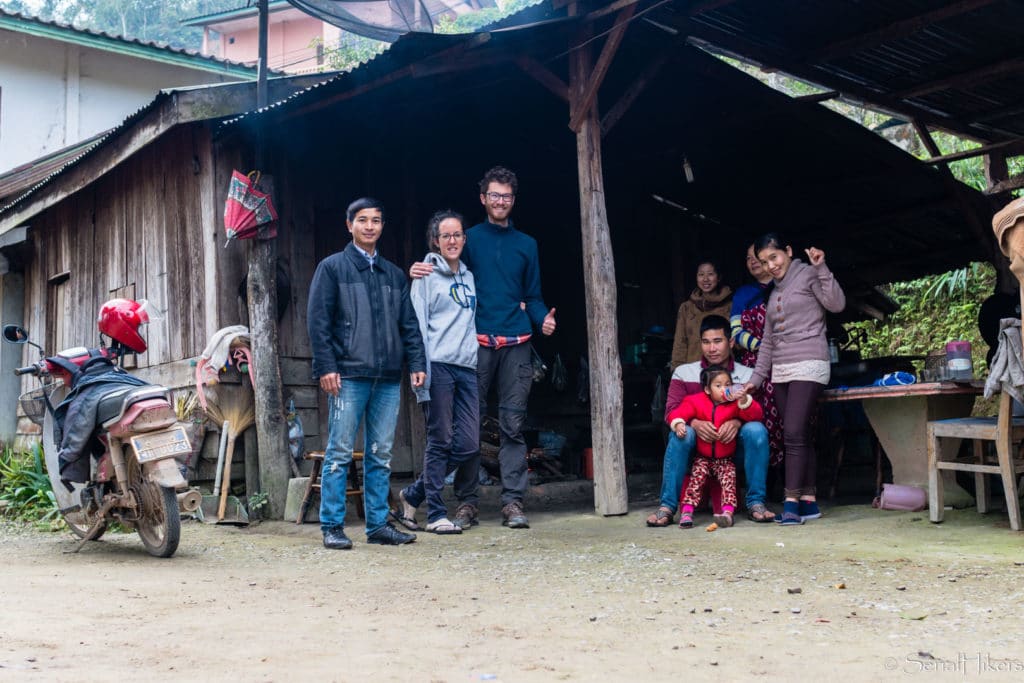 At the exit of Sam Neua, a Chinese driver stopped, we jumped in to Phonsavan. The interminable pinned road has turned our stomachs upside down. We arrived not feeling well, exhausted: we decided to stop hitchhiking for the day, and find a quiet place to camp. Tactical move: this time, the first people we talked to are men of faith. Of the two Buddhist temples we visited, neither of them would be willing to offer us hospitality. "Try at school". We turned around and headed for the high school campus, where the guard, disturbed during his shift, escorted us to the local stationery shop – run by an educated man who speaks good English and turns out to be the school boss. We explained our story to him; he smiled and promised to help us. We waited, one hour, two hours… The man has to leave, "but don't worry, a friend of mine will come". We waited a little longer, maybe half hour, before a motorcycle patrol came to check us out. We understood that the promised help is a decoy, and we reluctantly took to the road again, followed at a distance by the police chief. We ended up sowing him, finding a flat, slightly hidden spot and pitching our tent, away from prying eyes.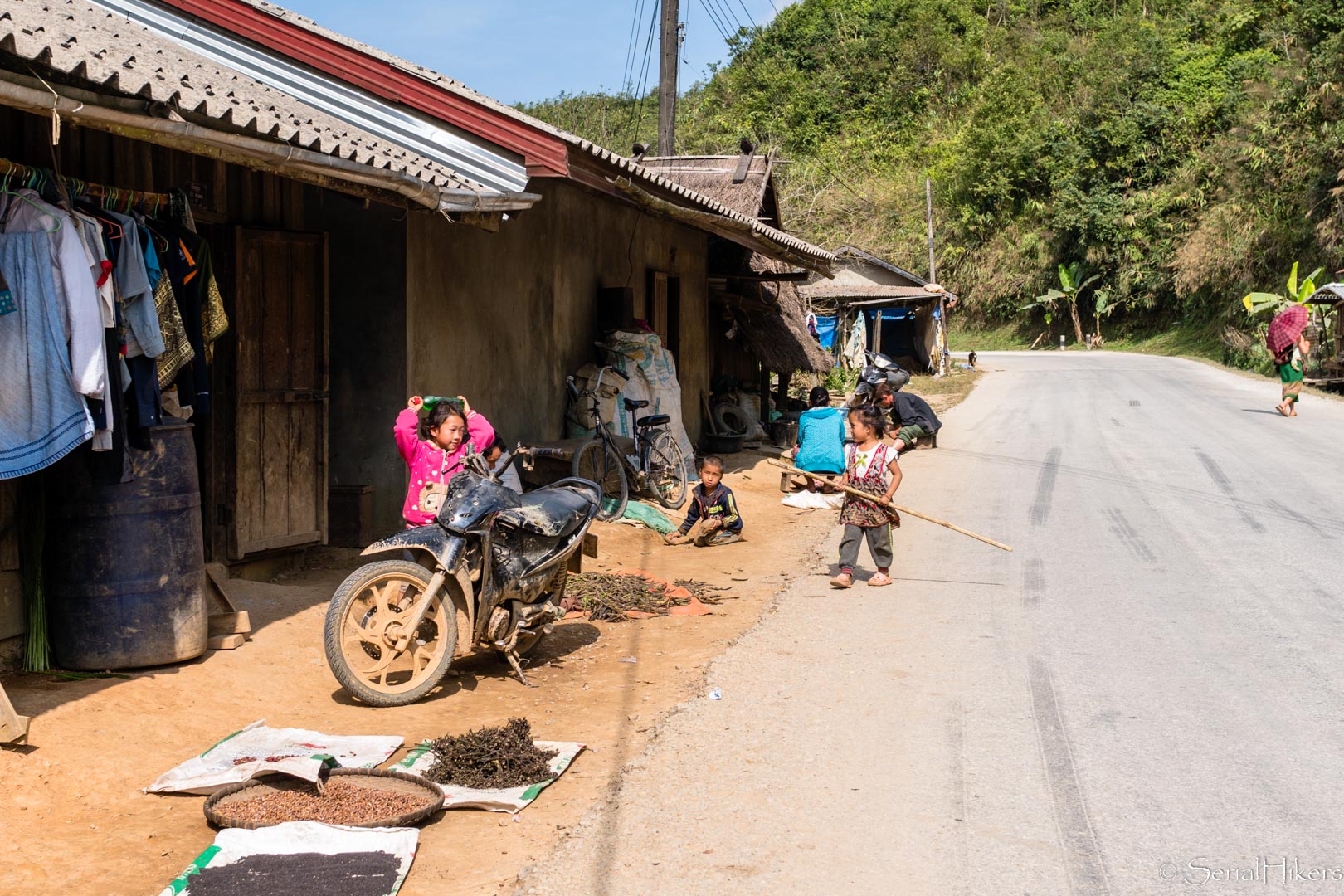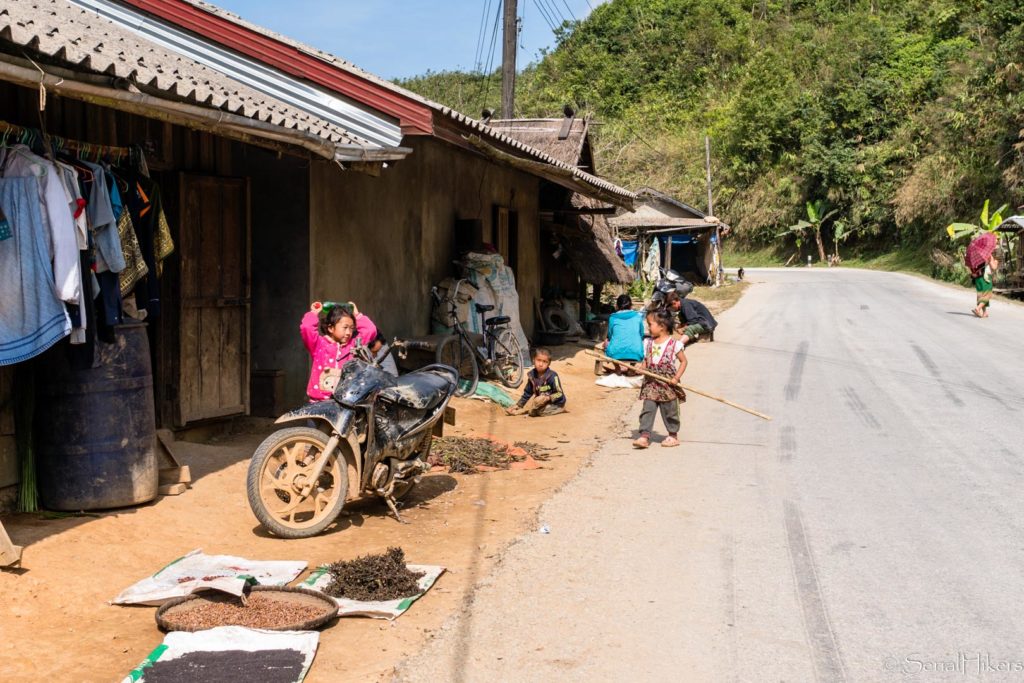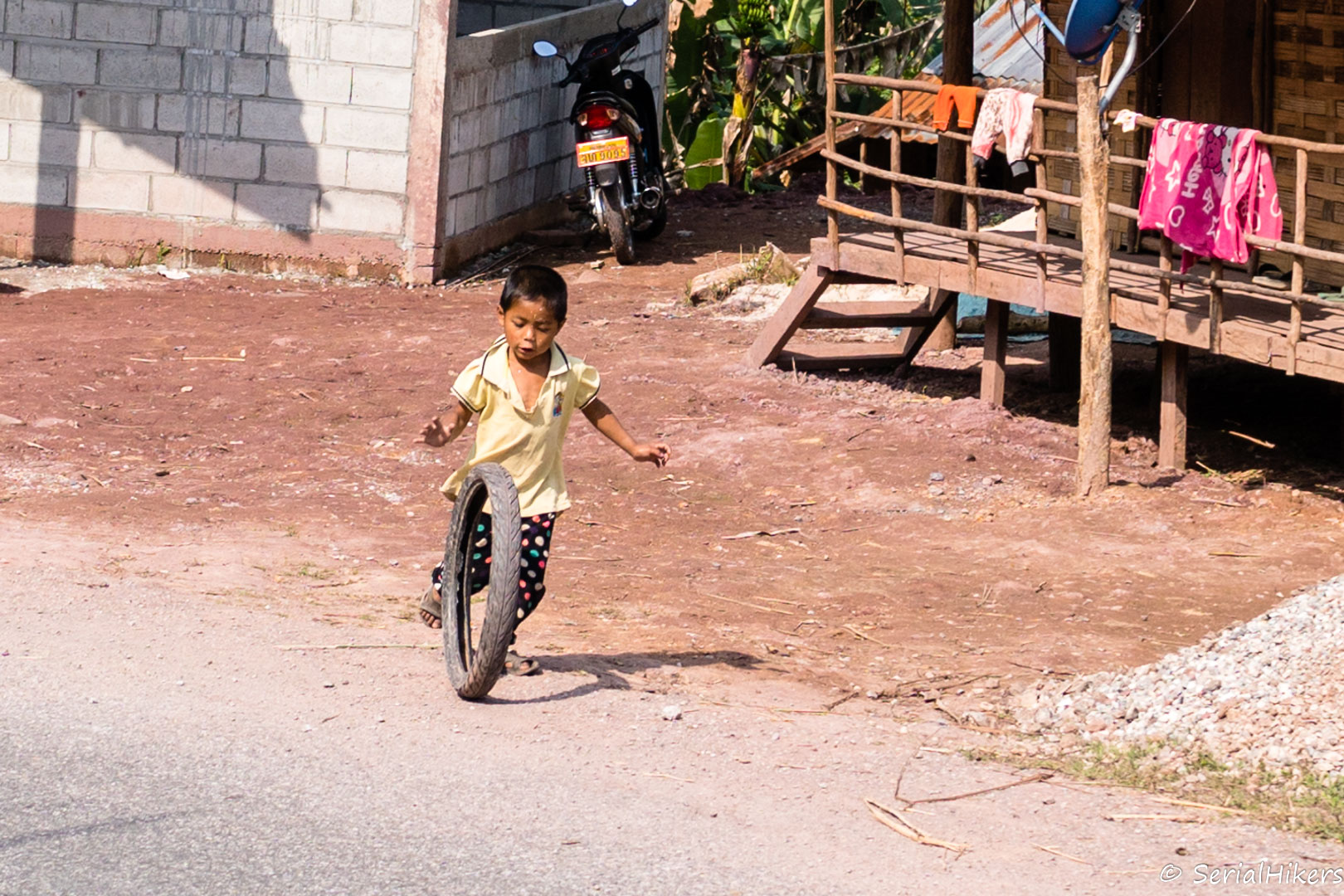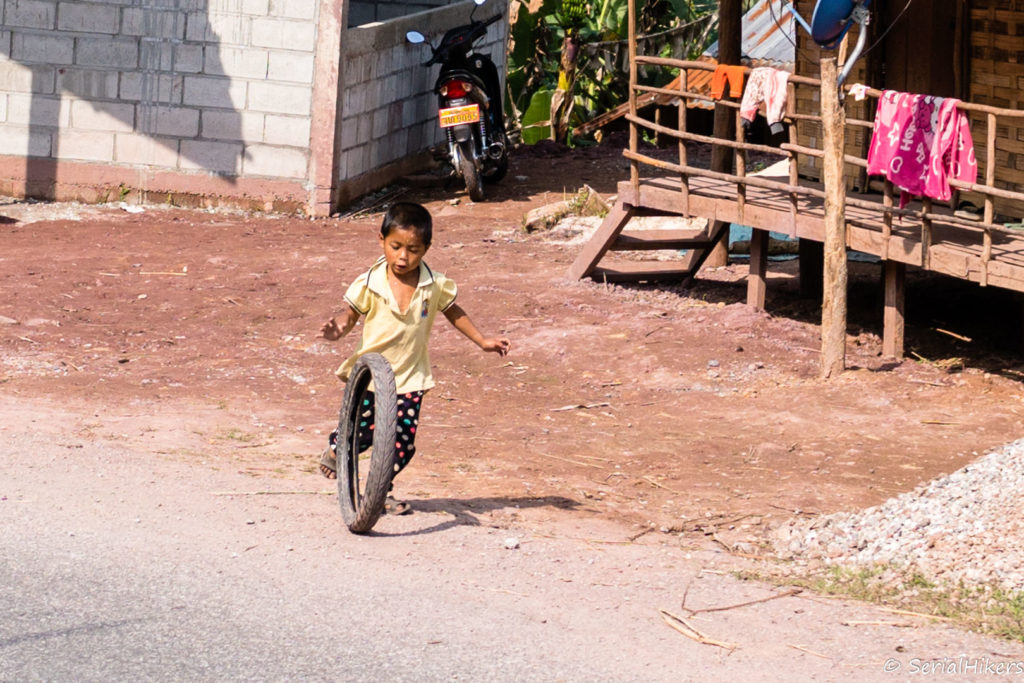 VangVieng, heaven for partying backpackers. Mickael, the manager of the biggest hostel in town, with its 140 beds at very low prices, has agreed to take us as volunteers. After several nights camping outside, no question of quibbling: the cold shower and two clean beds in the 16-bed dormitory will do very well. Despite busy mornings, spent helping to prepare and serve all the breakfasts, clearing the tables, welcoming and advising clients, there was time in the afternoon to rest, read and get informed. We also had the opportunity to explore the surroundings at our own pace, on rented bikes (at a very low price), to get lost in the Phu Kham cave away from the noisy tourists, to rant at the tourists in buggies, who didn't mind smashing everything up in their polluting vehicles. Failing to get along with most of the customers, who came here to get drunk and live like they are gods, we get closer to Mickael, the relentless Vietnamese boss who has left his wife and children behind, and Sophie, a nice young Laotian maid and cook courted by the boss.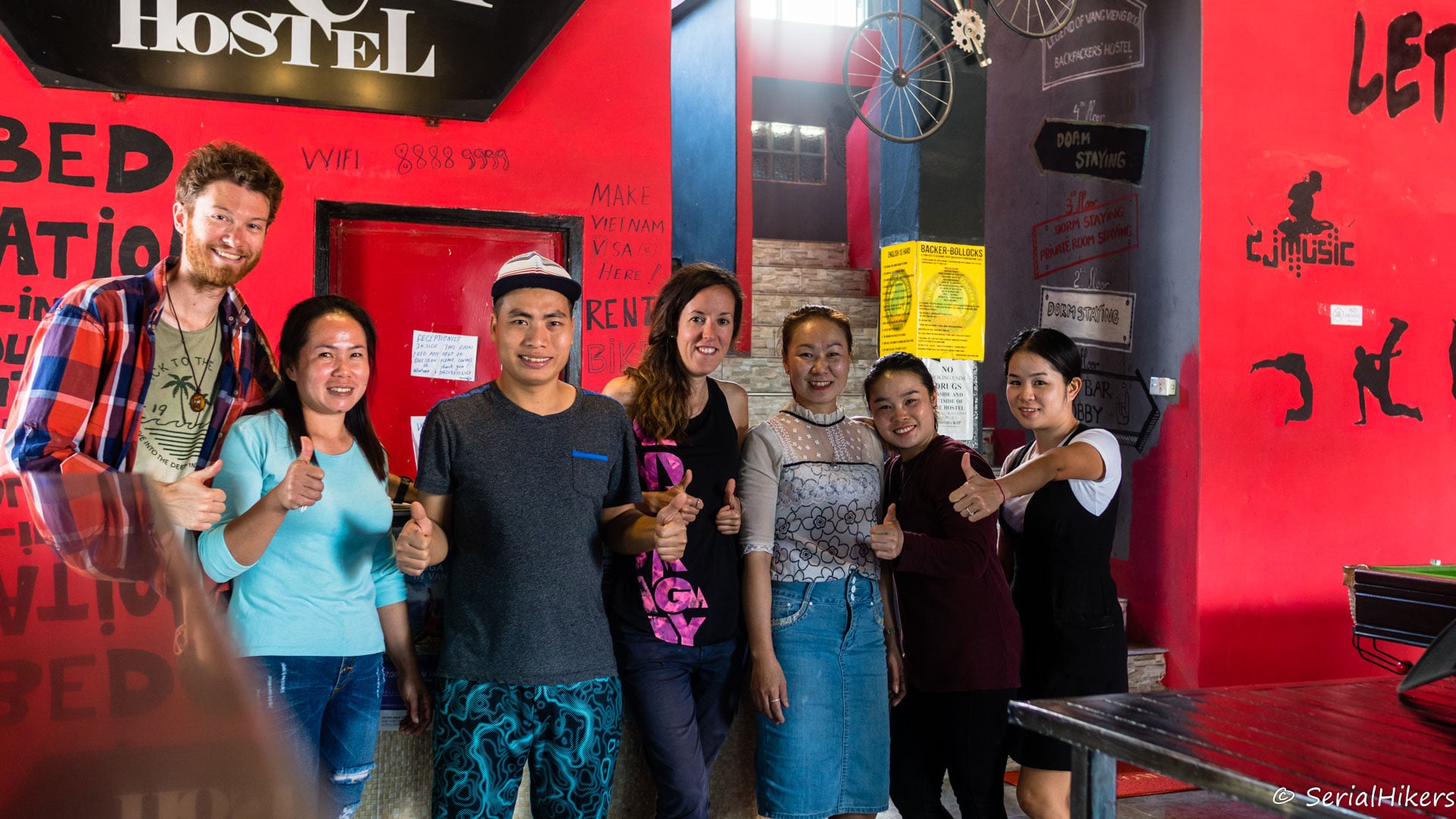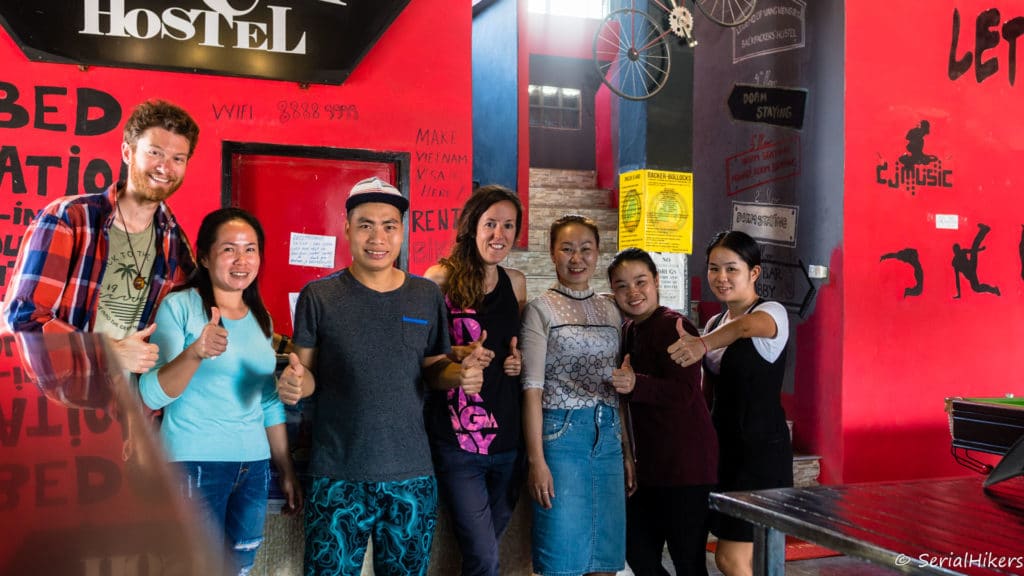 A little bit of Air
Moving away from VangVieng, we ended up finding Air (and some air). Air is a devoted father, banker in Ventiane, speaking good English. On the way home from school, Air took us on the back of his Chevrolet pickup and finally dropped us off at his house with his daughters Dollar and Jida. His wife, although busy with Santa the newest baby, cooked us a real feast – a big meal shared with friends and neighbours. Showered and fed, we quickly fell asleep in our tent, set up in the garden.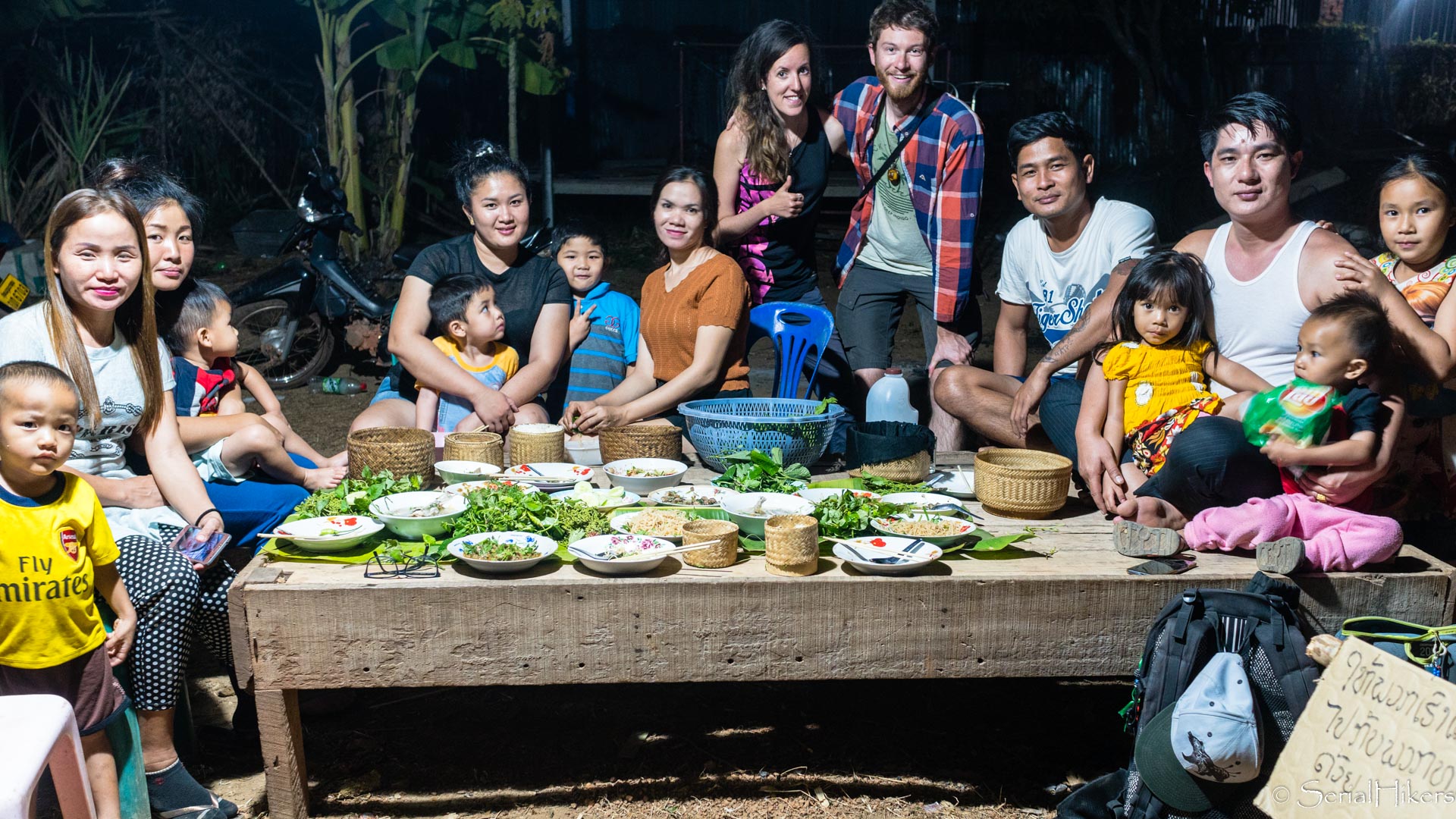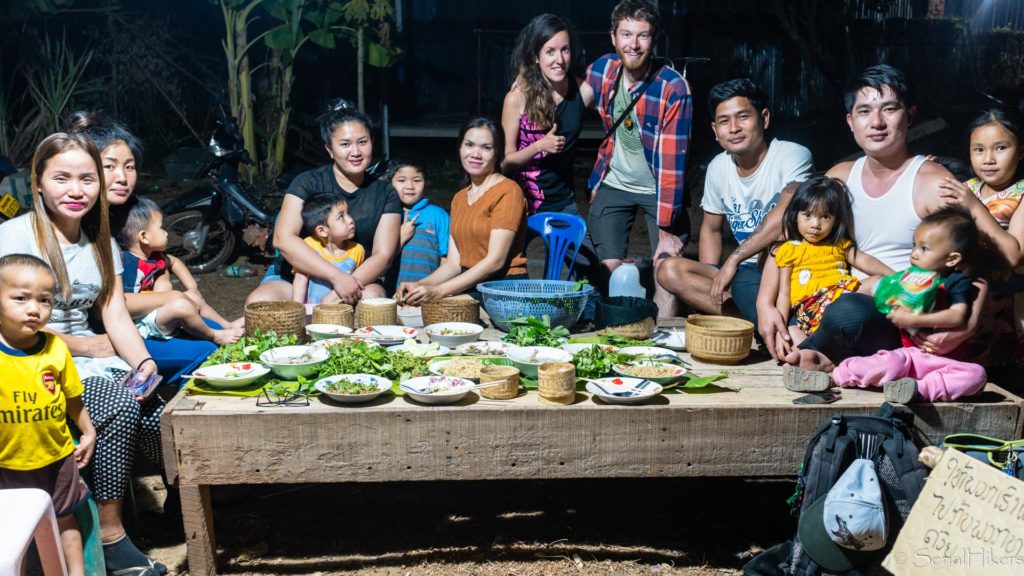 Air brought us back the next day, at 7AM, on the main road leading south. Despite heavy traffic, we waited two hours before a couple in a pick-up truck stopped. They drove us 200km, along the Mekong river, before letting us off at the beginning of the Thakhek loop, right at the intersection of the road passing north of KongLor. A race against the clock began: wishing to arrive at KongLor before nightfall, we crossed our fingers very hard to find drivers ready to take us for the remaining 80km. At the back of the last stopped pickup, we made ourselves discreet, among mothers with their young children. We were the first to get out, at the entrance of the village: we understood that our driver, in good relation with the local guesthouse, would have liked to make us pay for a room. We thanked him as we picked up our bags; then we walked away, covering the last kilometer until the end of this dead-end road. The owner smile and the lights of the small restaurant, located next to the park entrance of the famous cave, invited us to come in, to settle down here for dinner. We finally stayed around all evening, invited to camp on the flat ground next door.
If the beauty and singularity of the KongLor underground cave was worth it, we came out a bit disappointed by the compulsory motorboat ride (a noisy boat, whose operation ended up chasing all the bats out of the cave)… and with a lighter wallet. An issue that we did not anticipate and which, in the absence of a bank, forced us to adopt a very economical diet for two days – based on bananas, cheap soups and raw vegetable sandwiches.
It took us another long and tiring day of hitchhiking before we reached the small town of Lak Sao. It was already too late to find a bank open, but not quite enough to find hospitality: after a door-to-door session, Jacky invited us to camp in the family house garden, and drink a few beers with his friends. In Laos, everything happens outdoors: from hitchhiking in the back of pick-ups to camping in the garden, our trip was a reflection of the modest daily life of the Laotian people.
Woken up by Jacky's dogs, determined to chase us out of their territory, we warmly thanked our host; before going to exchange a twenty dollar banknote at the local bank. Sitting at the back of a pickup car, we took the opportunity to admire and photograph Thalang's submerged tree trunks. At our request, we were dropped off along the main road leading to Thakhek, near the small cave of Xieng Liap – a free, fascinating cave with a clear, refreshing underground river in which we have washed ourselves.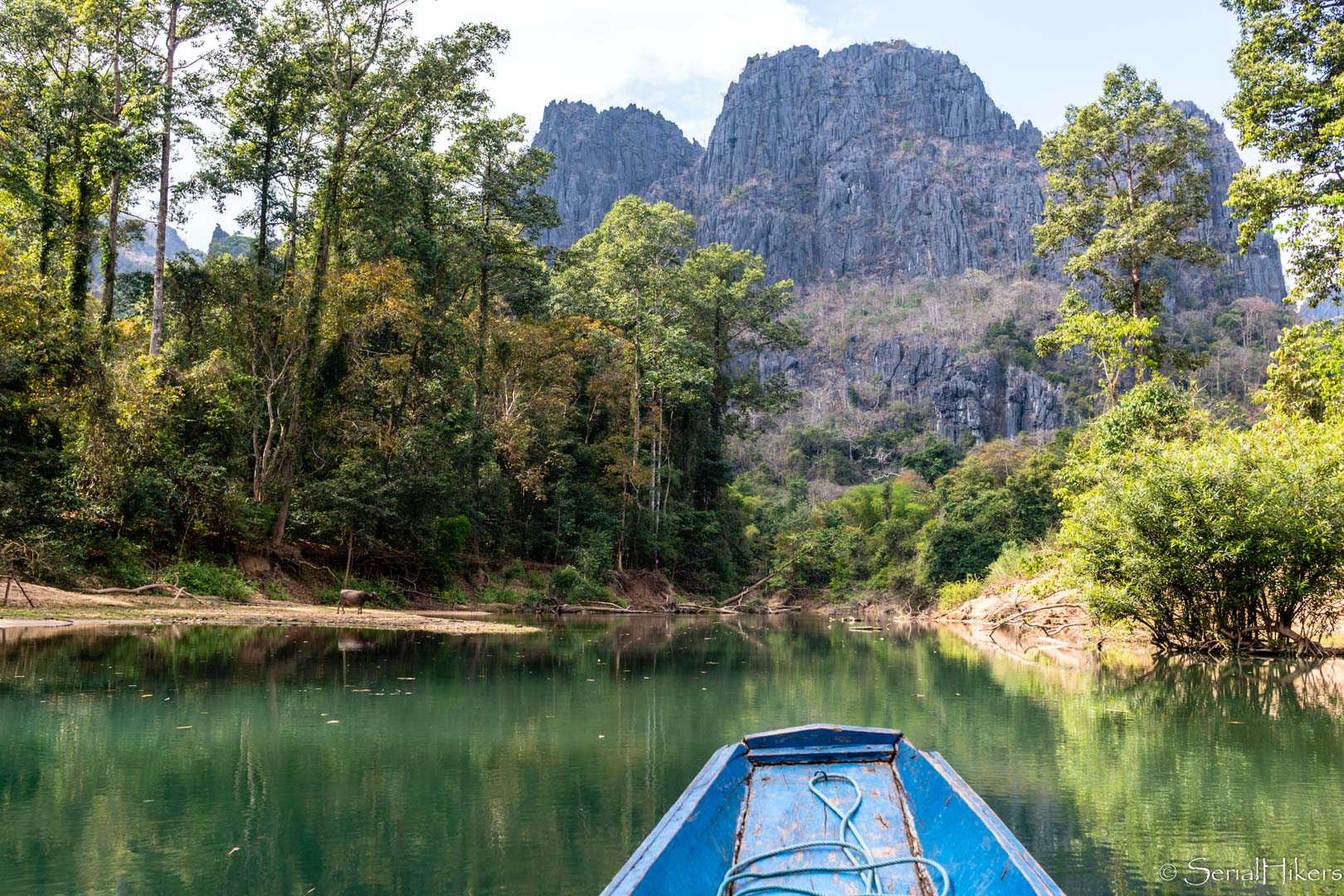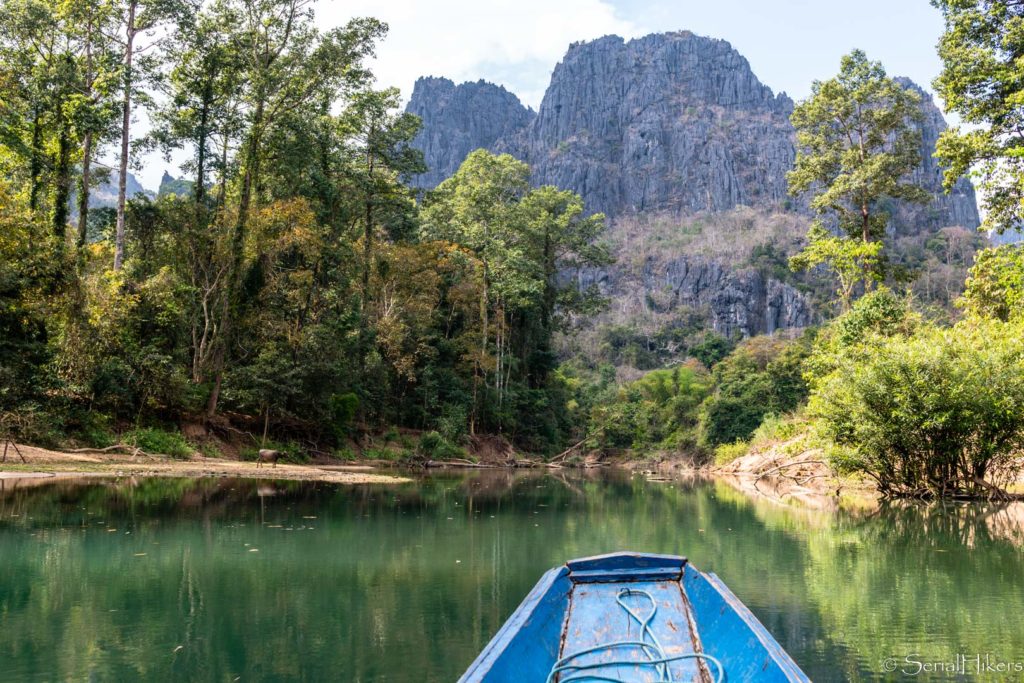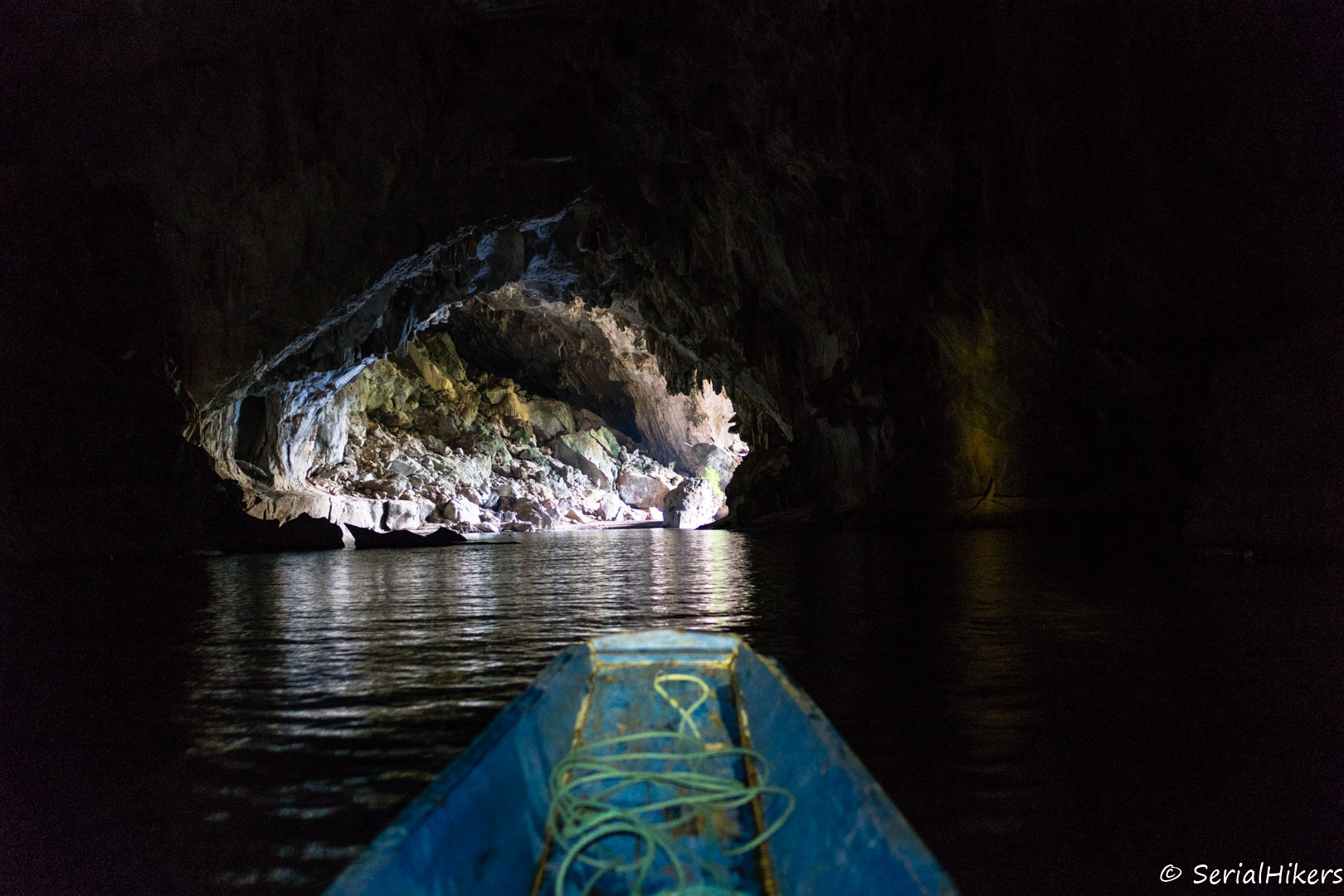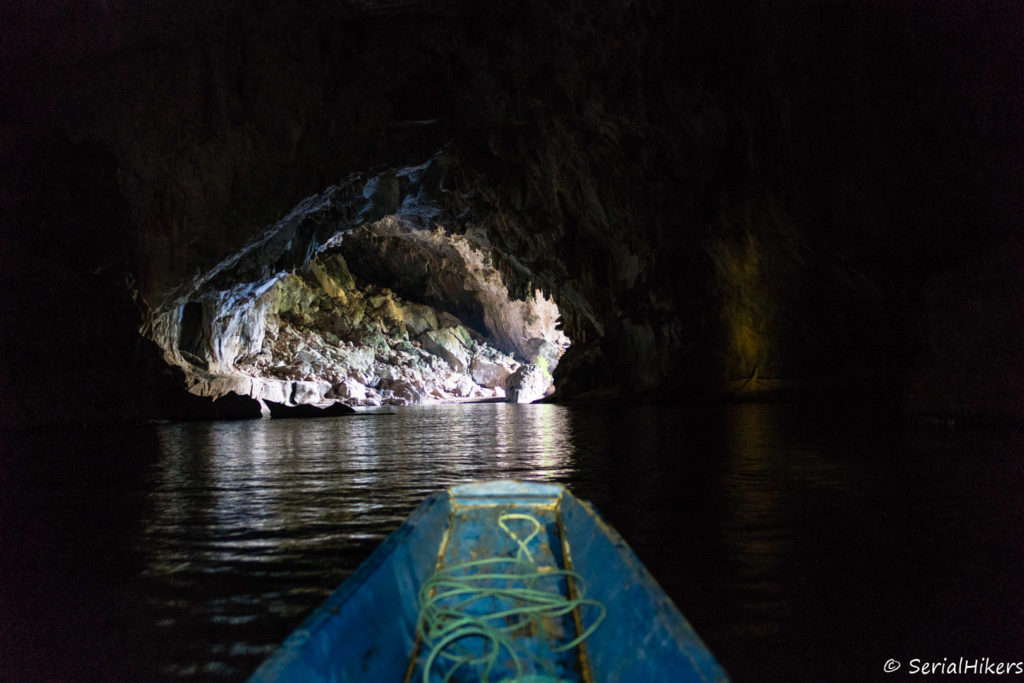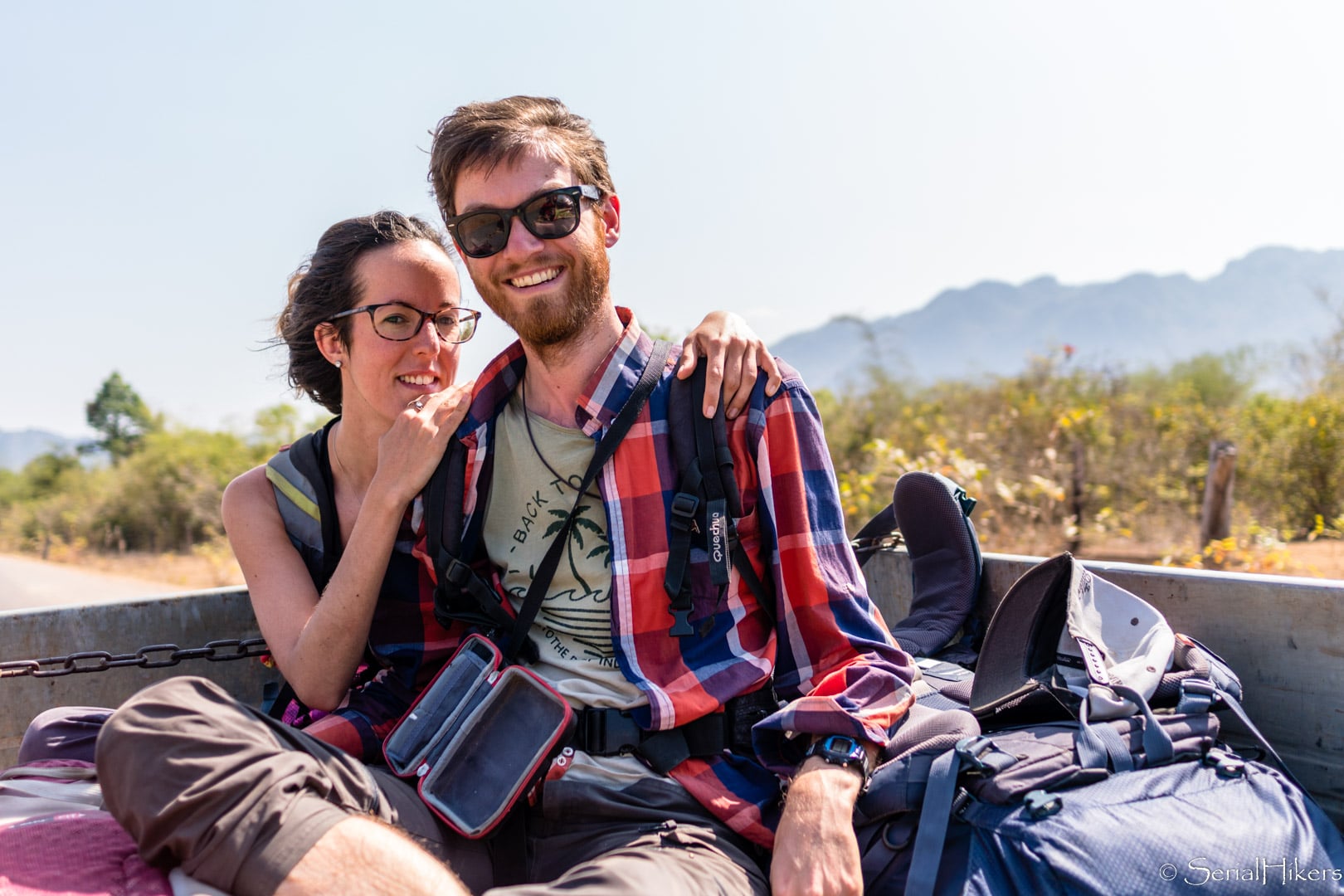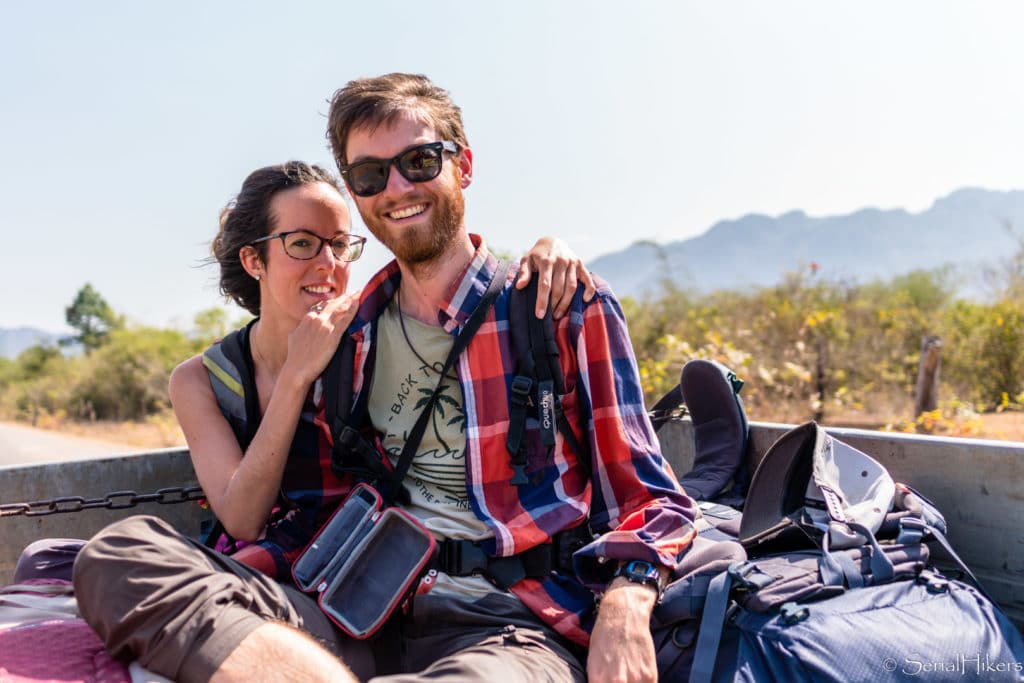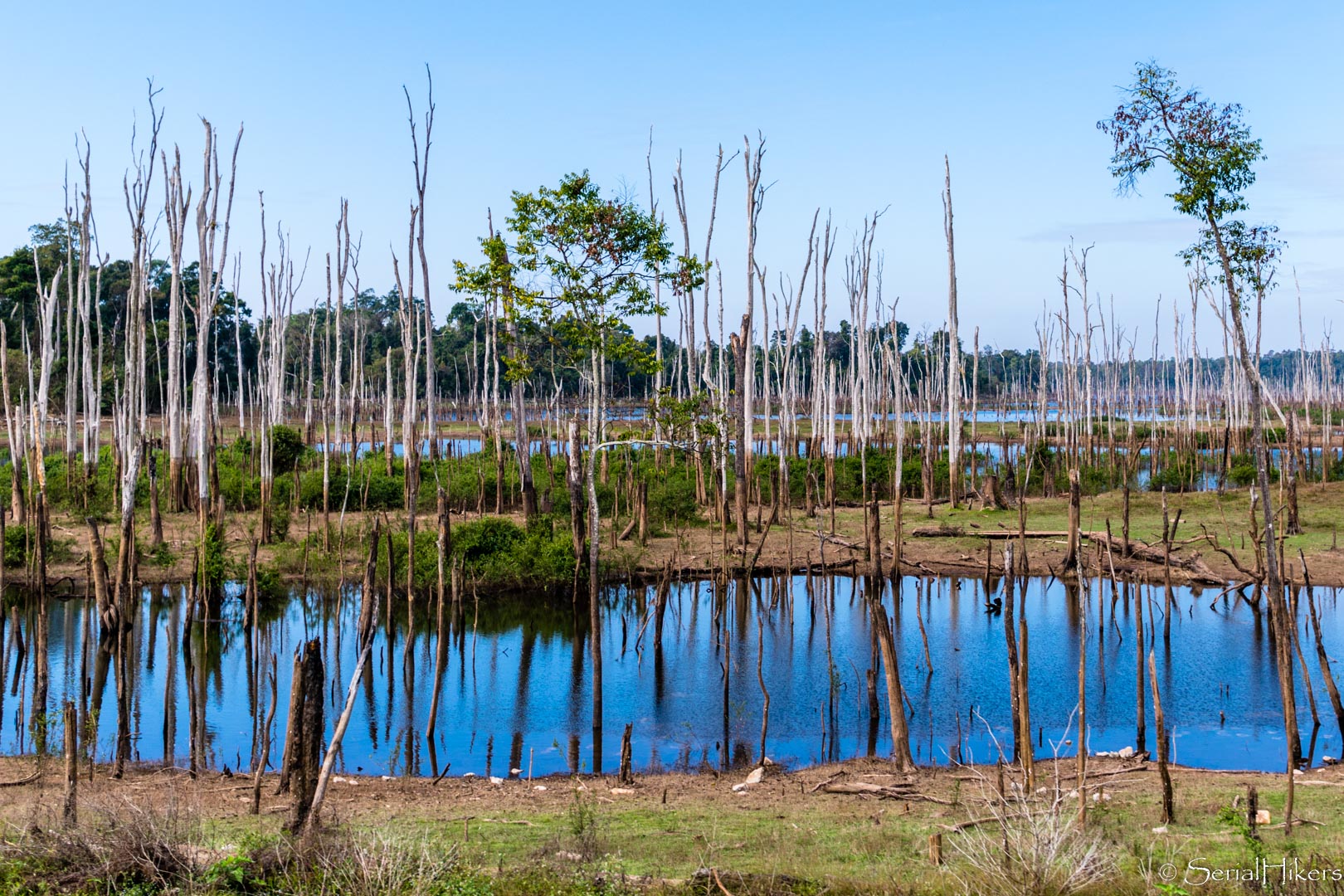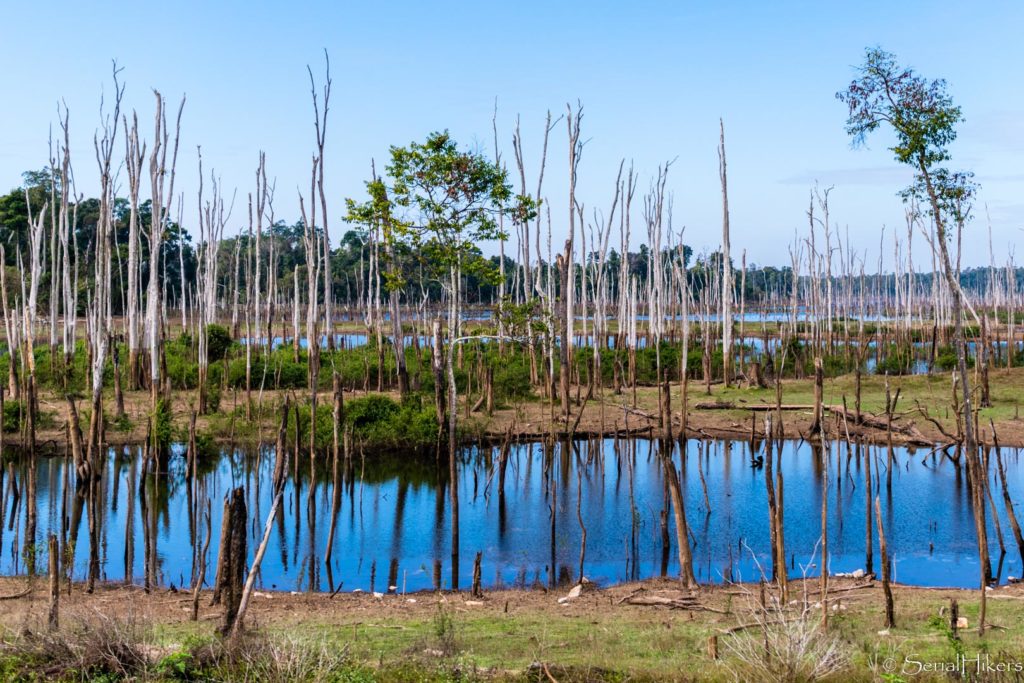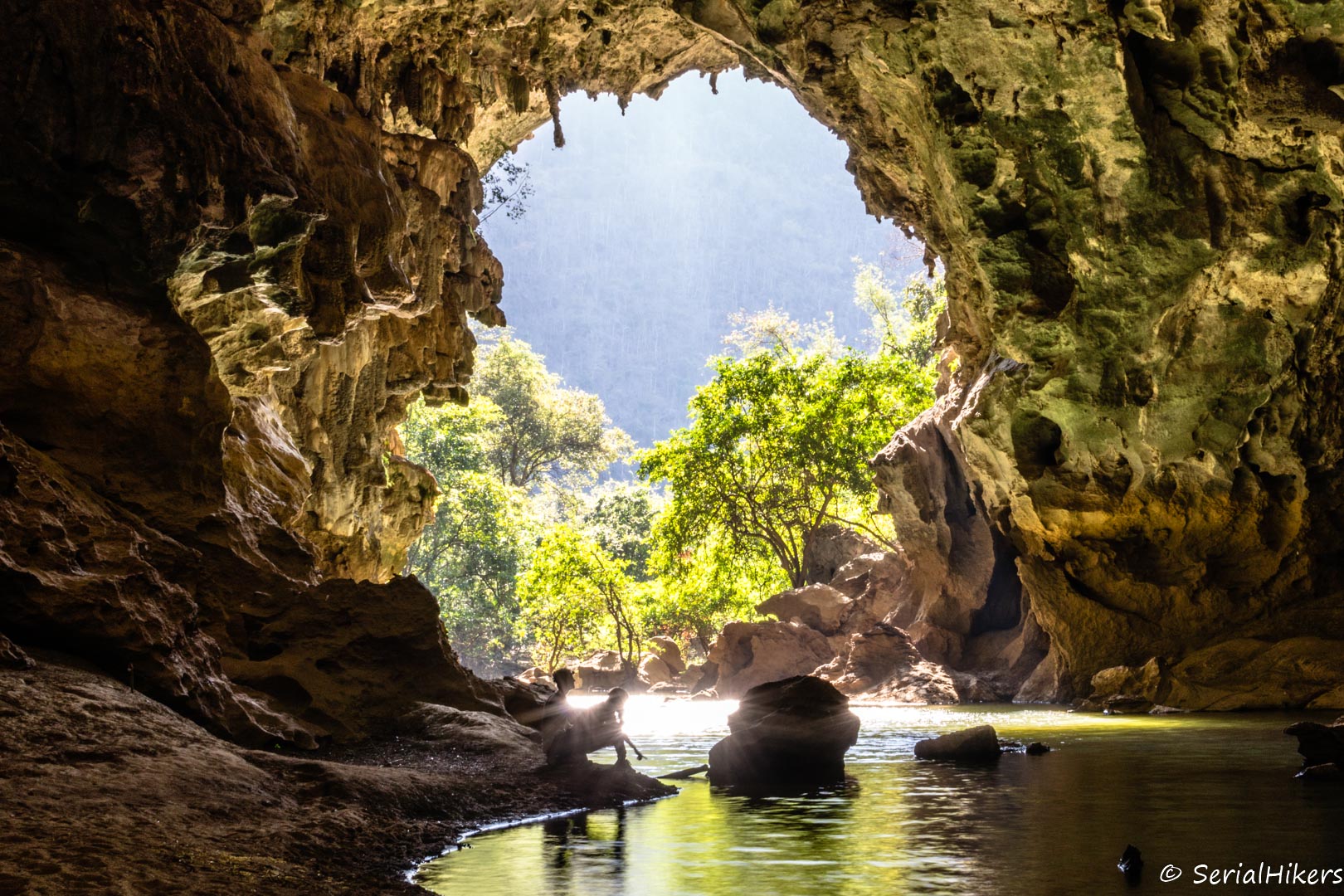 Before returning to Vietnam, we needed to obtain the e-visas we requested a few days earlier – and especially to print them to cross the border, as required. We reluctantly headed to the nearest town, Thakhek, to make sure everything was in order. "May I help you?" a young man in a white coat, behind a small pharmacy counter said. Yes, you can help us: we were looking for a place with Internet, if possible with a printer… "I have." He sat us down, gave us some water and shared his WIFI connection. Unfortunately, our e-visas were still not available… Too bad! Taking leave of our benefactor, we walked around the city, on the banks of the Mekong, until nightfall. Intrigued by the exclamations emanating from the stadium, we entered, attracted and curious, to come face to face with petanque players… Inherited from the French settlers, the "bounes" game as they say here (ndlr. petanque is nicknamed "boules game") remains very popular, to our great surprise! Our new companions, all busy drinking their Lao beers between two throws, welcomed us joyfully. One of them, stammering a few words of English, offered us to camp in the stadium – but didn't forget to warn us: "Tomorrow, six o'clock, bikes!"
We were told about the bikes. The spot was good though, with its functional toilets, its flat and sheltered grounds, its secure enclosure… Bu at five o'clock, techno music was playing: we quickly left the camp, our faces drawn, our bodies still asleep. In three weeks in Laos, we had little taste of tranquillity: nights filled with barking, waking up by the rooster crowing, morning people… Will we find some peace and quiet at the Sikhottabong stupa, a large Buddhist temple located 5 kilometers south of Thakhek, erected on the Mekong River banks? Well, it seemed so as we laid in the temple gardens, in the shade of the trees, to finish our night. Only our gurgling bellies will finally pull us out of sleep, attracted by the smell of the dishes cooked by the local street vendor – and of the still full plates left by Thai tourists (a kind of dumpster diving, practiced with the agreement of the amused boss).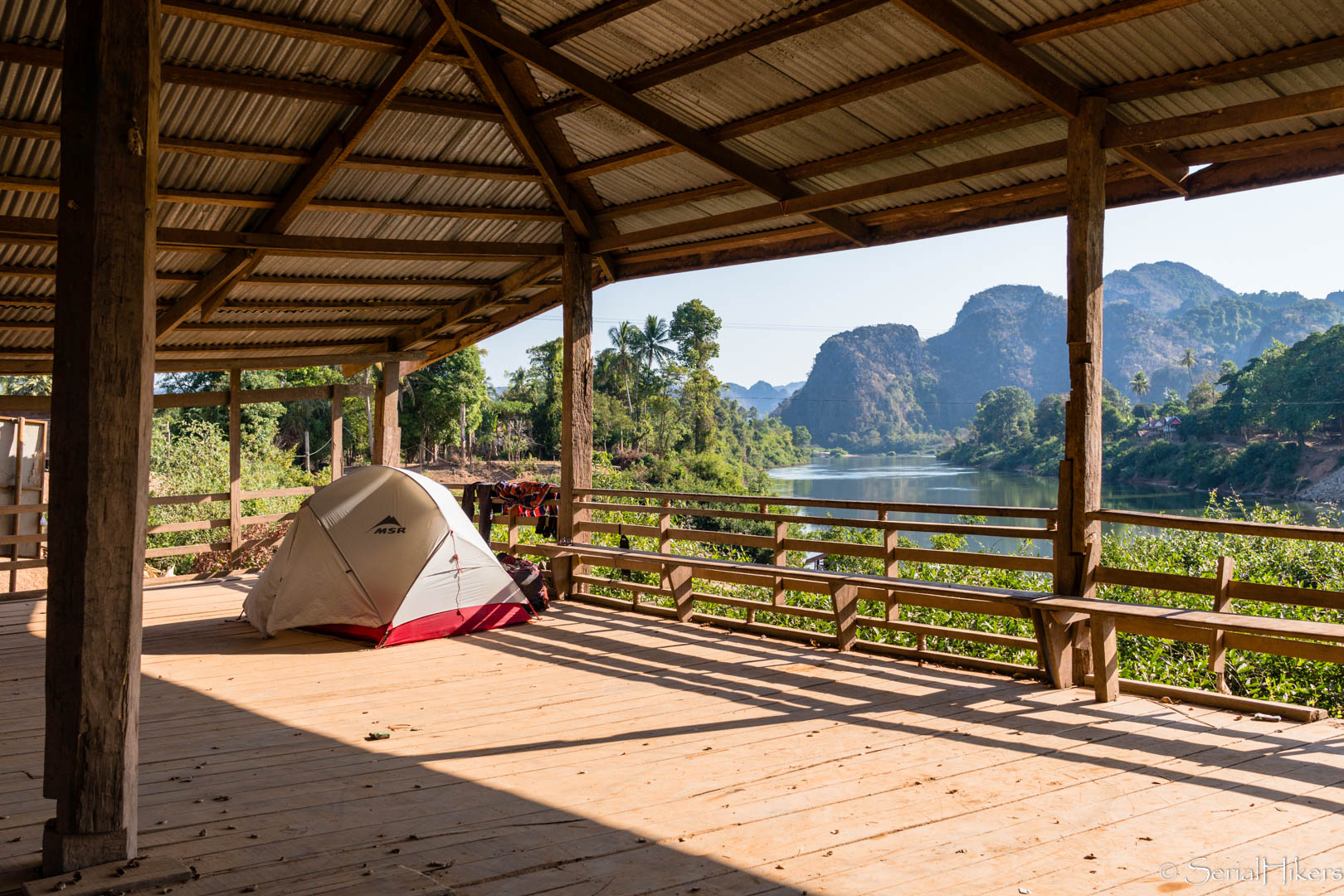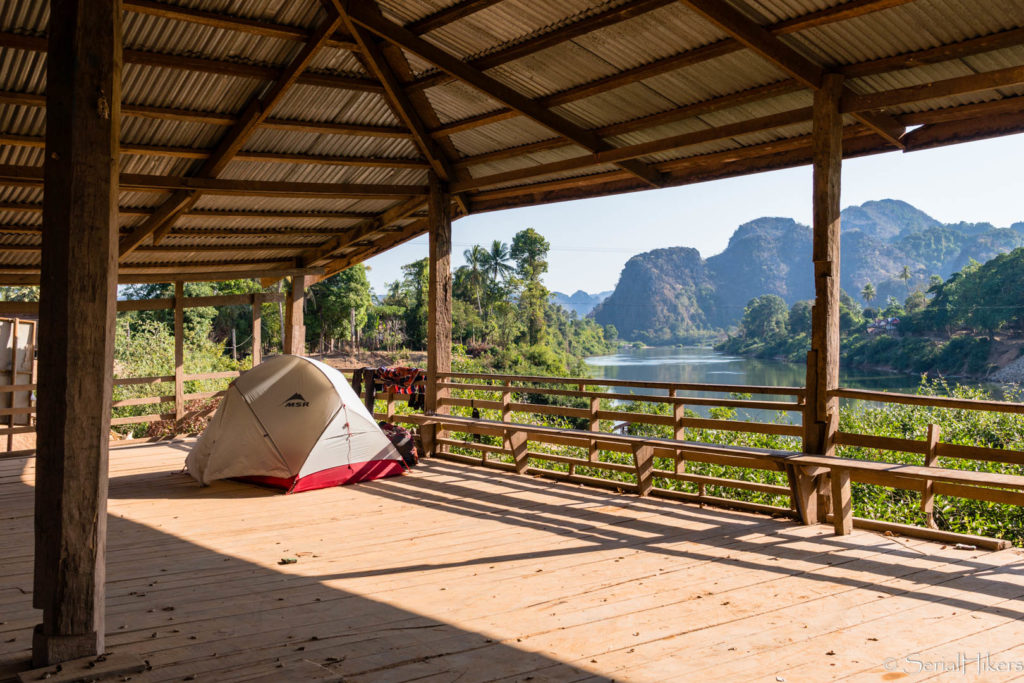 We went back to Thakhek on a full stomach, our Vietnamese e-visas finally ready: we get them printed for free in a phone shop, before going back on the road without any plan. We set our sights, at random, on the small village of Mahaxai: a village a little out of the loop, but how picturesque! There was a large empty shelter, on stilts, on the edge of the river. The place was absolutely perfect, and from the next day we took advantage of the nearby river to swim there, wash some stuff by hand. Sweet Mahaxai, you have marked the end of an exhausting journey, accomplished without regrets.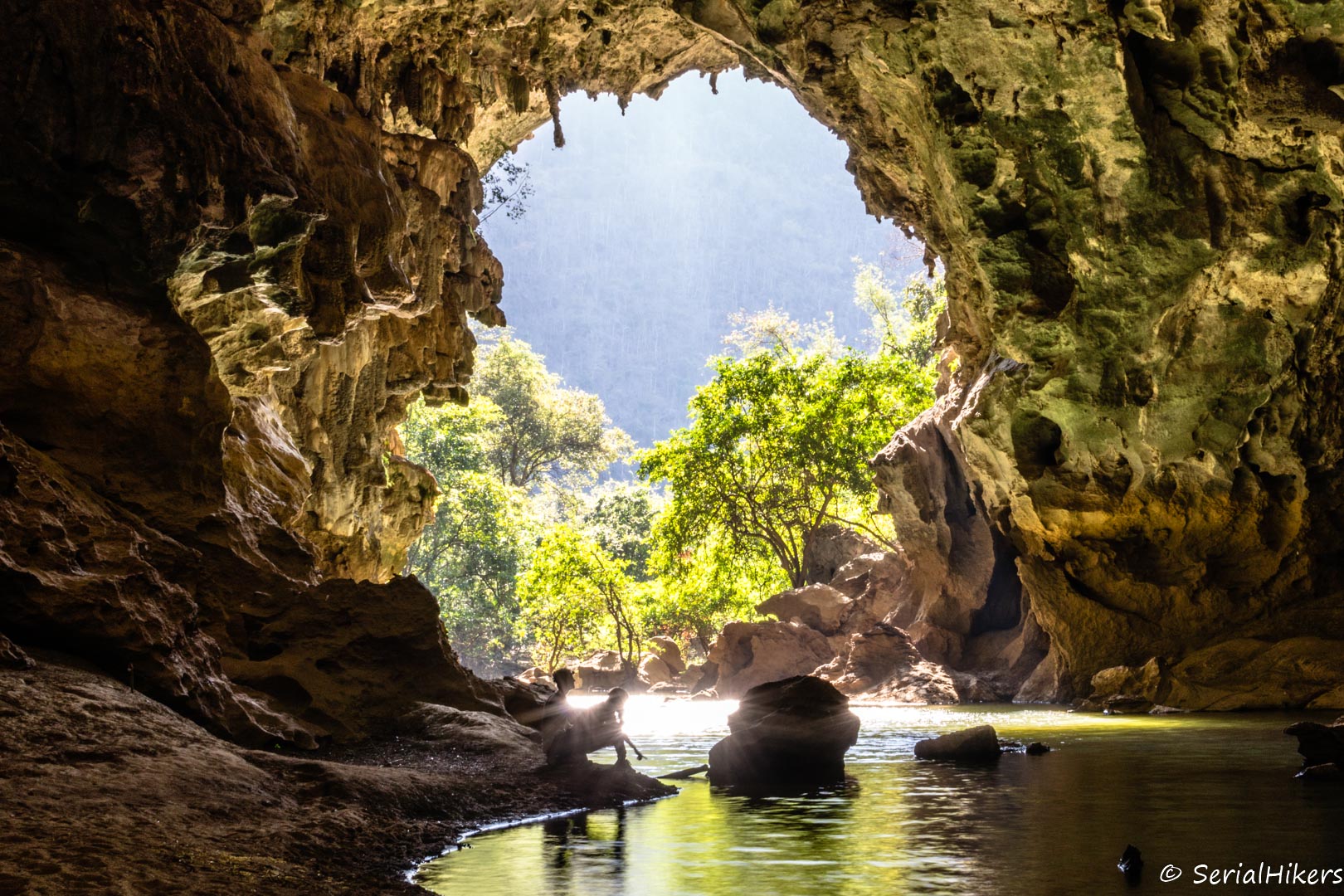 More about Laos
* Post written according to our personal experience *