We already knew it, and this experience confirms it: holding a French passport is a big advantage, because it is possible for us to enter the Vietnamese land visa free for 15 days or with a one-month visa for Vietnam that we got by simply applying for it on Internet (e-visa or electronic visa). Very simplified procedures, to better take advantage of it!
---
E-visa and visa free entry
As we didn't know how long we wanted to stay in Vietnam, we have preferred to take… both options! So we visited the North of Vietnam visa free for 15 days, then we entered again in Vietnam with a 1 month tourist e-visa… A wise way to visit Vietnam for a longer period of time, without paying unnecessarily for a long-term visa!
Visiting visa free
The visa free period is set for 15 days and 14 nights.
You don't need to do anything; as to provide any proof of exit, hotel reservation, or photo ID… You just need to show your valid passport! When the customs officer at the border post in Lao Cai stamped ours, it was clearly stated on the stamp the date on which we had to leave Vietnam (date added by hand). Count well the number of days, then keep in mind the deadline so as not to risk paying a fine!….
Electronic visa (or e-visa)
This is probably the most complicated step, because on Internet you can find many websites to make your e-visa… websites linked to agencies, which obviously make you overpay for the procedure! If you don't want to be fooled, go to the one and only official website of the Vietnamese government:
https://evisa.xuatnhapcanh.gov.vn/trang-chu-ttdt
However, be careful with the e-visa: not all border posts are equipped to accept the e-visa! It's necessary to choose a border post accepting e-visa, among the ones displayed on this list (list available on the official website of the Vietnamese government). Also better to apply in advance: if the website indicates 3 working days to issue your e-visa, we waited 5 working days to get ours (one full week after the application!).
Electronic visa for Vietnam: what are the steps?
Log in to the official website of the Vietnamese government as soon as possible (it takes no less than 3 working days to get your e-visa)
Click on the following link: "personnally apply for e-visa"
Fill out the form
Upload a passport-style photo on a neutral background (jpeg format)
Check the Vietnamese border post you want to go through before proceeding to the next step, as you will only be able to enter Vietnam through it once the e-visa has been issued
Pay the requested fees (~25 US$/e-visa, and 0,90 US$ for service charges)
Finalize your request by checking one last time all the information entered
Write down your file reference, because with the code you will get is the only way to access your profile later to download your e-visa in .pdf format
The border at Lao Cai (from China)
Dropped off in front of the big Hekou post on the Chinese side, we were quickly approached by several Vietnamese street vendors – unscrupulous, often insistent vendors, offering tourists organized tours, cigarettes, or dongs (the Vietnamese currency) at a disadvantageous rate.
We tried to exchange our last Yuans for Dongs: the first one literally tried to rip us off, giving us 10 times smaller bills (10.000 instead of 100.000!). Luckily for us, we knew the exchange rate perfectly well (thanks to our currency application) and we always check the notes. So we took our Yuans back, and exchanged them with someone else, at a good rate. Beware if you have to change your currency, don't be fooled!…
At the border post of Hekou, controls are done on the first floor (entrance on the side). We were expecting a series of restrictive controls, especially after the difficult passage we had experienced in Xinjiang… But no! After a simple X-ray examination of our luggage, Chinese customs officers, rather pleasant and smiling, stamped our passports without asking us any questions other than "Did you have a nice stay in China?" No deep luggage search, no camera check, no phone check. We were free!
Still a bit surprised by the ease of this passage, we left the building and crossed the bridge over the Nam Thi river to reach the Vietnamese border post. When we entered, we were invited to queue; then, when it was our turn, the customs officer took our passports, looked at us and asked: "no visa?". We confirmed him: no visa! Our passports were returned to us, stamped, with the date of exit wrote on them (a date that, after counting, was about 16 days after and not 15!). In short: everything went very well!
The border at Cha Lo (from Laos)
For our second time in Vietnam, we chose to cross the border post of Cha Lo: in addition to being ideally located on an axis connecting Khammouane caves province (Laos) to those of Phong Nha National Park (Vietnam), this border post also accepts e-visa!
But before crossing the border, we took advantage of our short stay in Thakek to download our e-visas via a café wifi connection, and print these documents in town (for free, in a phone store). On D-day, we were ready for the big step: a hundred kilometers to hitchhike on a bad state road with almost no traffic, and a Laotian border post at the end with possibly corrupt customs officers… After an epic morning of hitchhiking, we arrived at the border: we were on a Friday, around 11:30 am, and we wanted to avoid absolutely the extra costs related to weekends and overtime. And indeed, Laotian customs officer didn't ask us anything in exchange for our stamped passports!
On the Vietnamese side, change of scenery: the dusty and bumpy road gave way to a beautiful asphalt line, the sheds were out staged by large brand new buildings, the modest sign "Border customs" was shaded by a big "International Landport" sign. We sneaked into the queue, patiently waiting for the officer to take care of us. When it was our turn, the customs officer took our passports and printed e-visas, before leaving. We waited at least 5 minutes before he came back with our stamped passports and e-visas, which he finally gave back to us. At this time, we wondered if it was really useful to have the e-visas printed; but when we were controlled when we exit Vietnam one month later, we had to take them out again: the customs officer had forgotten to write "EV" (for e-visa) on one of the passports!…
For this crossing at Cha Lo post, we ended the process with a last X-ray luggage check, after an unsuccessful attempt to exchange currency at the two open offices (rates offered did not seem interesting to us). It didn't take 5 minutes, once out, for a Vietnamese man on a scooter to approach us and help us hitchhike on a Laotian truck to continue our journey: we had just found again the Vietnamese hospitality we had before!
Our afterthoughts
If we had to do it again, we would have gone back to North Vietnam with an e-visa and would have taken more time to explore this part of Vietnam, including the center – keeping the chance to enter visa free to visit South Vietnam, which was of less interest to us…
In the end, we were in a hurry to discover provinces that are full of beautiful natural landscapes and where several ethnic minorities live: this is, to this day, one of our biggest regrets of the trip!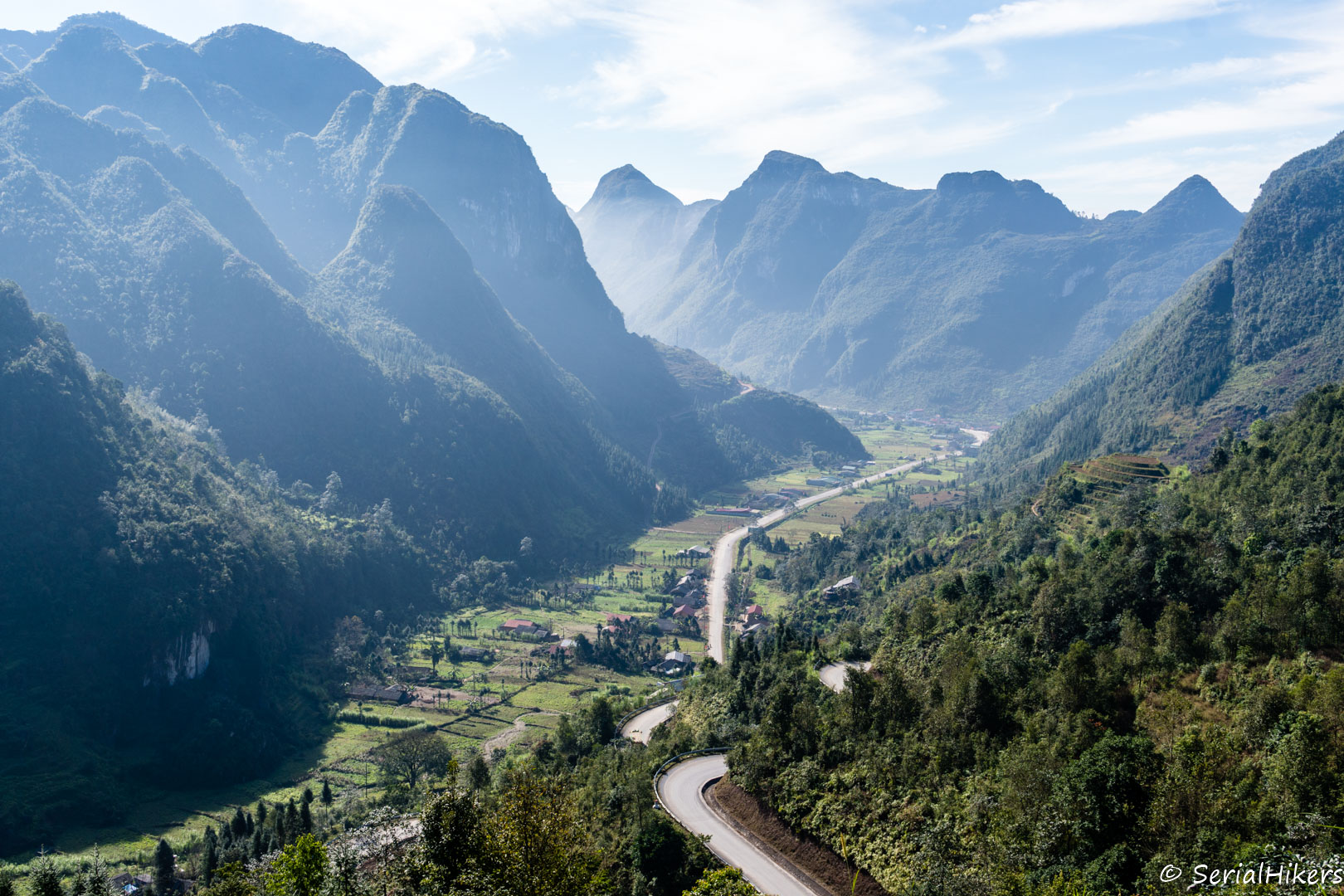 More about Vietnam
* Post written according to our personal experience *