Cover: polar-panorama made by Julien from our photo in Shkodra, Albania.
"Are you traveling around the world?" "Yes, we are!" "So, are you also planning to go to America?" "No, not at the moment…" "So you're not really going on a round-the-world trip…" But what does it mean exactly, to really going on a round-the-world tour? Is it necessary to travel in a certain way? To visit all the continents? To visit a minimum number of countries? From these exchanges and questions a deep reflection was born, on the definition given to the words "round-the-world trip" – an expression commonly used to describe a long journey. So, round-the-world or not round-the-world?
---
Definitions of a Round the World trip (found on Internet)
The literal definition
"A basic definition of a global circumnavigation would be a route which covers roughly a great circle, and in particular one which passes through at least one pair of points antipodal to each other" (source: Wikipedia).
Concrete examples relating to this definition include Magellan's maritime expedition (1519-1522), the round-the-world flight of the solar-powered plane 'Solar Impulse' in 2016, exploits of sailors participating in the Golden Globe Challenge – not forgetting Jules Verne's fictional hero who achieved the feat of completing a round-the-world voyage in 80 days!
This definition does not take into account:
Time (could be achieved in 1 day, 80 days, 3 years, 50 years or a lifetime!)
The means used (on foot, bicycle, motorcycle, van, boat, airplane, scooter, by hopping, wheelchair, etc.)
A minimum number of places to visit (it can even be zero!)
The "current" definition
Nowadays, most of young backpackers consider a Round the World trip as a rite of passage, a must-do. As if a traveler who hasn't done a Round the World trip wouldn't be a true traveler… There is a fashion effect, a tendency to go far away, to the other side of the world, to escape to exotic destinations – all this encouraged by social networks (thanks to Instagram and its travel lifestyle pictures!). The "current" definition is based on figures and experiences: in 2014, TourduMondiste website is launching a major survey among their Internet users (French-speaking users). The results show that a "round-the-world backpacker" starts traveling on average at 27 years old, for a duration of 11 months, takes 9 planes, crosses 13 countries with a total budget of €15000 – of which €3500 is exclusively dedicated to plane tickets.
The "current" definition is therefore narrower than the literal definition, since it gives the round-the-world trip a time limit (11 months) and mentions only aircrafts as a means of transport. It should also be noted that Europe and Africa continents are the least visited by round-the-world travelers: 12% of backpackers include Europe in their itinerary, 13% include Africa… while 100% of the travelers surveyed once visited Asia!
Our definition of a round the world journey
We still don't know how to answer the question "what is a round-the-world trip"; probably because there is no one way to make a round-the-world trip. On the other hand, we already know what we wouldn't put the followings in the definition of a Round the World trip:
Limit ourselves to the Earth element
Traveling around the world is not, for us, to be limited to the Earth element and the beautiful inert landscapes of our planet. When we talk about going on a round the world journey, we also include the world of living things – that is, observing animals in their natural element, discovering flora we don't know (like new fruits and vegetables!) but above all… interacting with people who live on the same planet as us!
Limit ourself in space
Visiting all the continents by visiting only one country per continent, or visiting a continent far away from ours and coming back the other way, is not the same as the way we define a round the world trip. It's out of the question to set foot in every country, to take a selfie and leave, just to "have a full passport": traveling is not a stamp race…
Limit ourself in time
This is one of the regrets most often expressed by travelers: "I would have preferred to take more time… To travel longer… To visit fewer countries…" Indeed, what can we really learn, see, discover in 11 months? That's why we have adopted an alternative way of traveling around the world – in order to take the time to explore each country we pass through, to appreciate the present moment, the encounters, to assimilate new discoveries and to follow our desires, without constraining ourselves!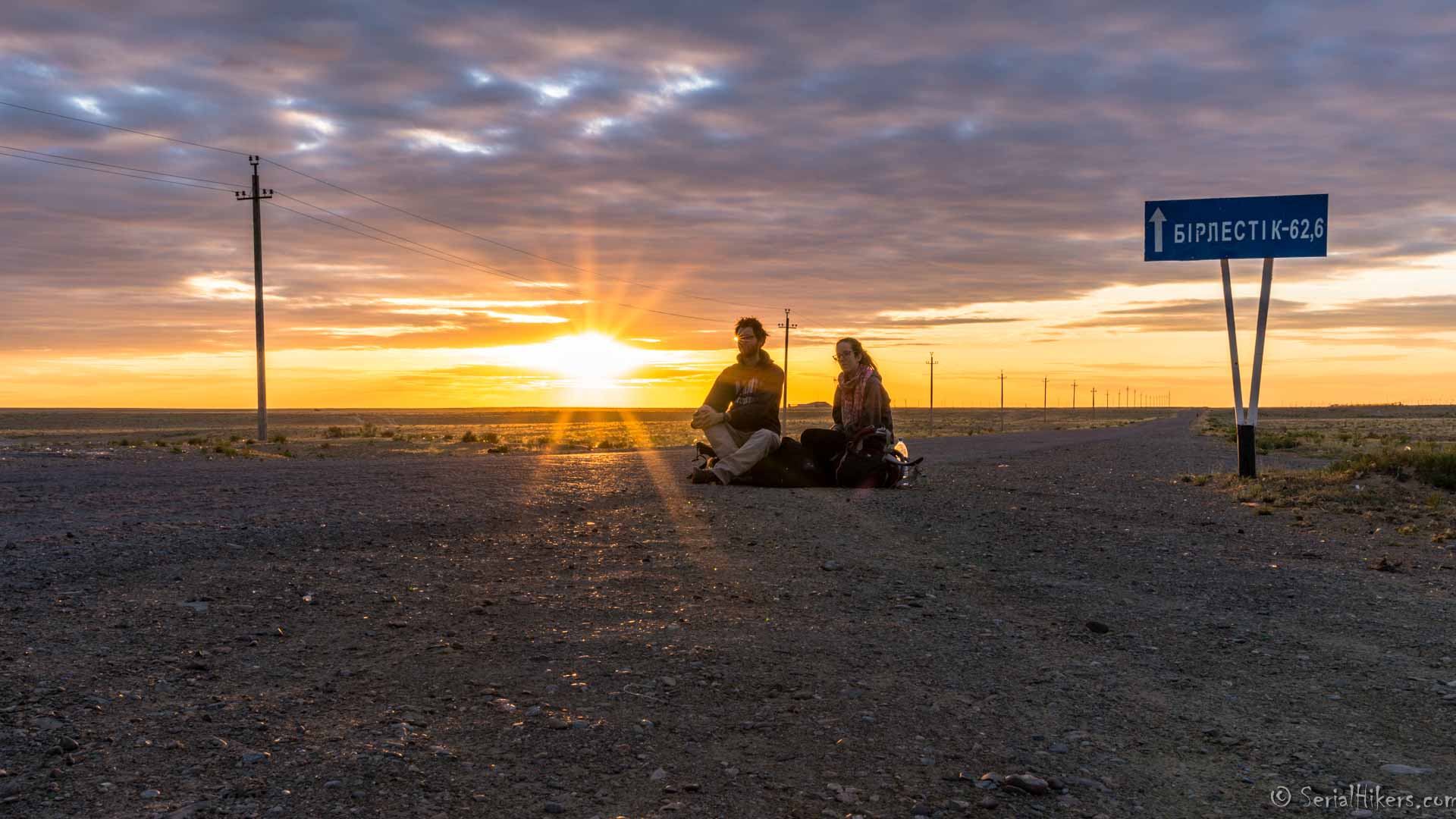 More about the slow travel
Travel in a given direction
Travelers have to make a great circle in one way at all costs to be able to boast themselves? Really? Not for us, thanks. We don't want to follow a precise itinerary, a limited trajectory in a given direction – even if, looking at our route on a map, we see a route from West to East taking shape. We prefer to leave room for the unexpected, whether it takes us north, south, west or east; whether it takes us back on our feet or makes us take a few detours…
So, round the world or not?
The right conclusion is that there is no such thing as a typical round-the-world journey: we consider going around the world, in our own way. As we have already covered more than 40,000 kilometres (Earth circumference) by hitchhiking on two different continents, we could say that we have already done a round-the-world trip… No?
In any case, our vision of a round-the-world trip does not come close to either of the two definitions found on Internet because:
contrary to the "current" definition we travel without flying, with no limit of time, country and budget (and by the way, we are far below the average budget of €15000/person)
contrary to the literal definition, we are not yet sure to achieve a real circle around the globe – even if we are sure that one day we will go back to our starting point: Paris!
Finally, we believe that today, with climate change and this injunction to always move and work faster, a round-the-world "13-country, 11-month and countless flights" tour is no longer to be idealized. Take the time to travel, don't impose yourself any limit, take an interest in the different alternatives that exist to do so; and above all… make your own round-the-world journey!
* Post written according to our personal experience *