Between our two stays in Vietnam (the first one, visa-free, and the second one with a e-visa), we decided to visit Laos – a choice motivated by the need to slow down, to rest, in a quiet place, in the heart of a country renowned for its lush nature and gigantic caves. And while the spectacular natural scenery was there, Laos had surprised us in many other ways – surprises that didn't make our road-trip so chill: few challenges, a little bit of corruption, a lot of waiting time on the road side and dust swallowed along the dirt roads!
---
Visa and border crossing
What to see in Laos?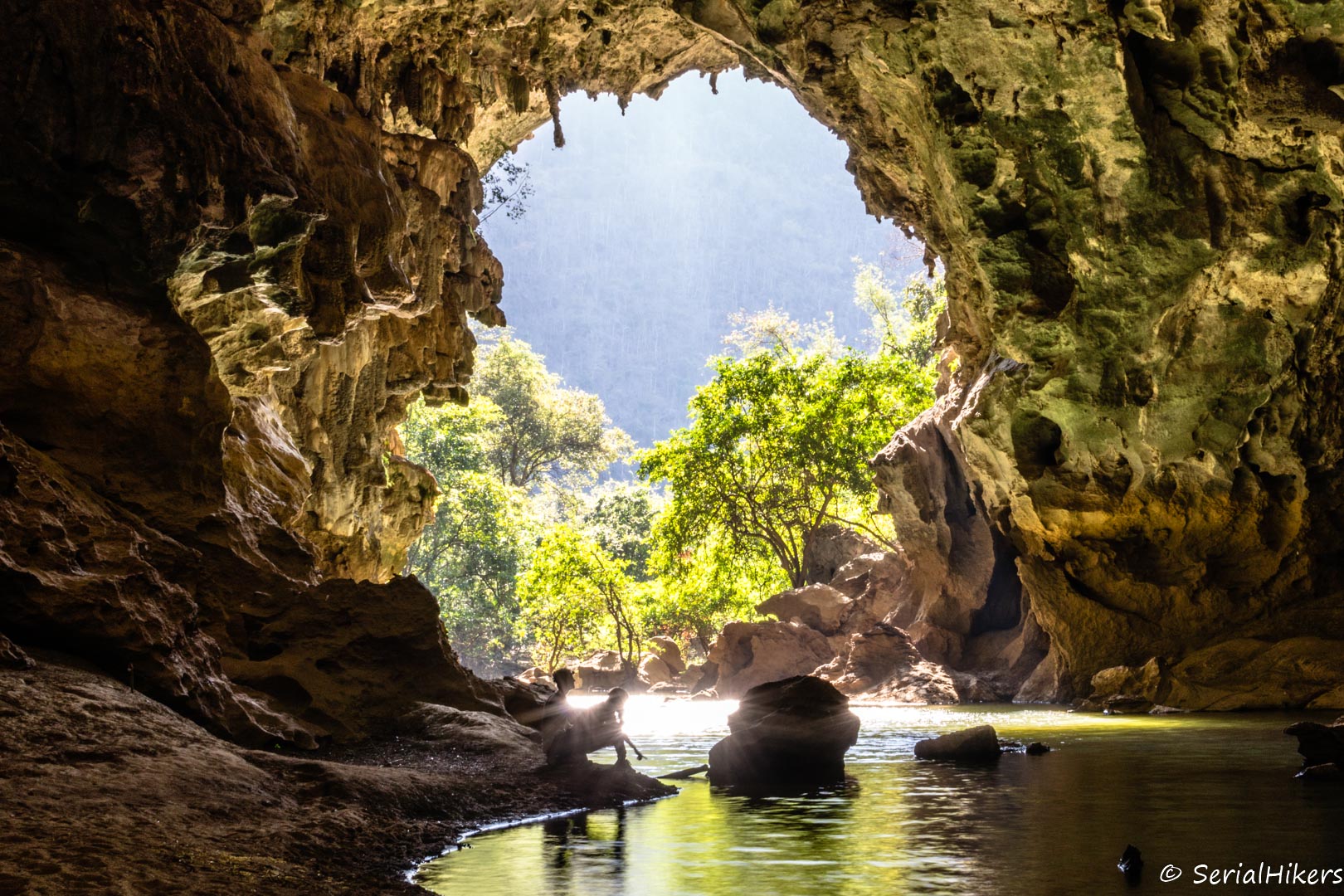 Explore gigantic caves in Laos
Caves of the Thakhek Loop
Those who are planning to travel to Laos have probably heard about the Thakhek Loop: a great loop-shaped itinerary (about 500 kilometers), easily accessible from the peaceful town of Thakhek, built on the banks of the Mekong River… which takes us through the most spectacular caves of the country!
From this tour, we especially remembered our visit of 2 magnificent caves:
– The free cave of Xieng Liap (section cover picture)
– The huge underground cave of Konglor (paid entrance, cave that could only be visited by boat)
Caves of Vang Vieng
Don't stay in Vang Vieng for Vang Vieng itself: the noisy, dirty and perverted city is not worth the detour in our opinion. On the other hand, in the west of this living hell where you can easily find yourself surrounded by alcohol and drugs, big buggies and alcohol-filled tubing excursions on the river, there are still some little heavens – such as the beautiful and unsuspected cave of Tham Phu Kam (entrance fee included in the ticket for Blue Lagoon 1) and the more modest Num Bor Keo cave (also paid entrance).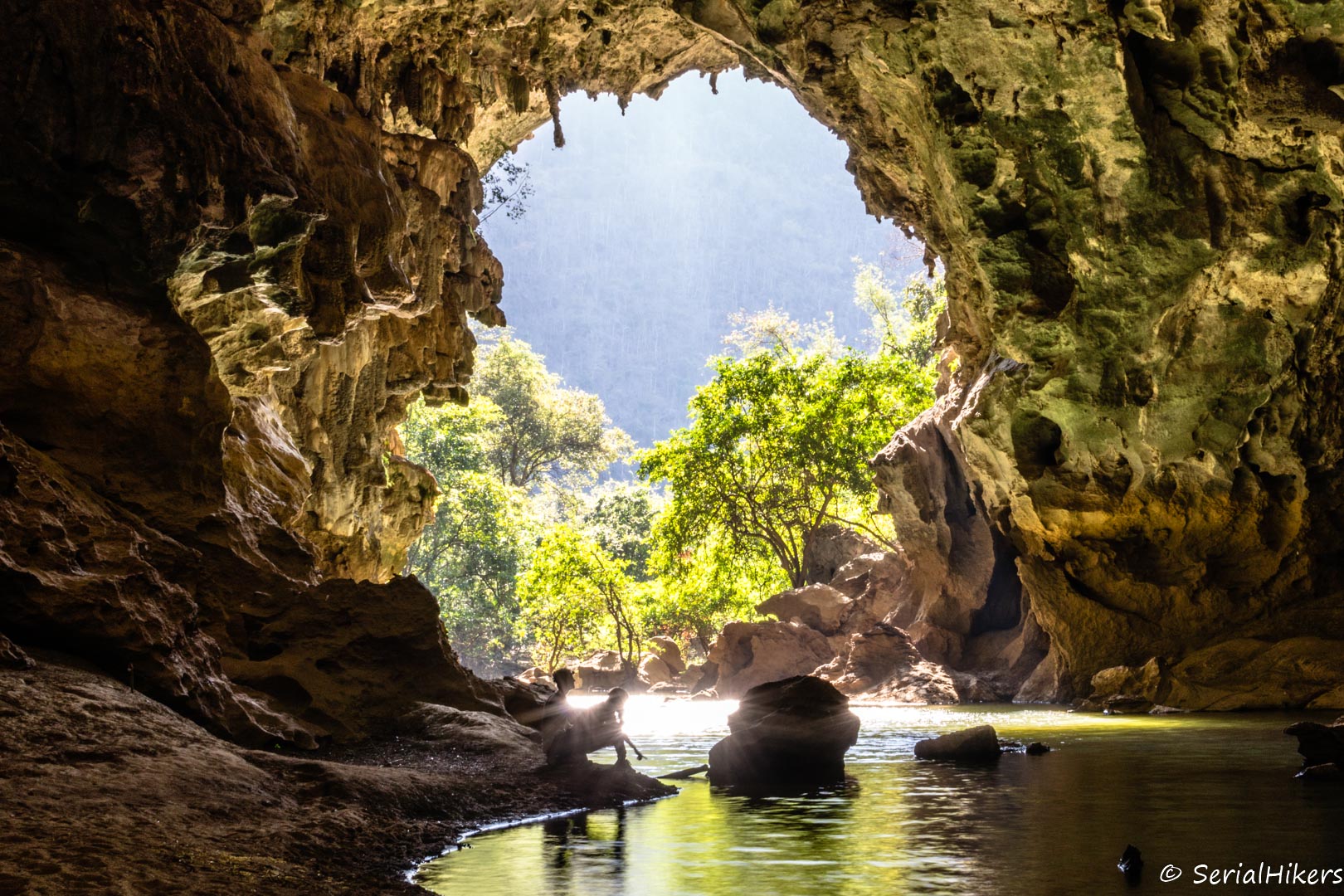 Discover the magnificent nature of Laos
The forgotten province of Houaphan
Let's face it: getting off the beaten track in Laos is not an easy thing, given that this destination remains quite popular in Southeast Asia… Yet, when we came to Laos through the Houaphan province, there was not a single backpacker, not a single adventurer, not a single holidaymaker in sight!
So yeah, on paper, there is not much to see in Houaphan province (only the archaeological site of Hintang) – but for us, there was everything to see! From villages with traditional bamboo houses to mountains buried under an lush tropical vegetation, from nauseous winding roads to flooded banana and rice fields, everything, but absolutely everything was beautiful and could be placed within a postcard frame!
Thalang's dead tree trunks
Dead tree trunks, sunken in a lake, as far as the eye can see… This Laotian landscape inevitably reminded us of the dead tree trunks of Lake Kaindy in Kazakhstan! The only difference is that dead trees of Thalang became so because of Humans – in this case, because of a dam built upstream…
Blue Lagoons of Vang Vieng
In Laos, every natural attraction has to be paid for – often with a fixed price of 10000 Kip/person (about 1€). Two options are then offered to travelers: either you accept to take out your wallet each time (and expenses can quickly rise!), or you can reason with yourself by carefully choosing between attractions you want to do… That's how we landed at Blue Lagoon 1, a very (too much?) popular lagoon which, with its entrance fee, also gives access to the huge Tham Phu Kam cave. A good compromise for a day of visit/chilling on a small budget, but certainly not the best choice of lagoon to visit!… For that, go further away to swim at Blue Lagoon 3 or Blue Lagoon 5.
Bolaven Plateau (not done)
Another loop, just as popular as the Thakhek loop, and highly recommended by travelers who have traveled through Laos! And it's true that looking at the pictures of high waterfalls along the loop, one would only want to get lost in the dense vegetation made of coffee plantations, until finding themselves at the foot of a magnificent hidden waterfall. Unfortunately for us, time was ticking: we had to make a cross on the Bolaven plateau and south of Laos, to match with the entry date of our Vietnamese visa…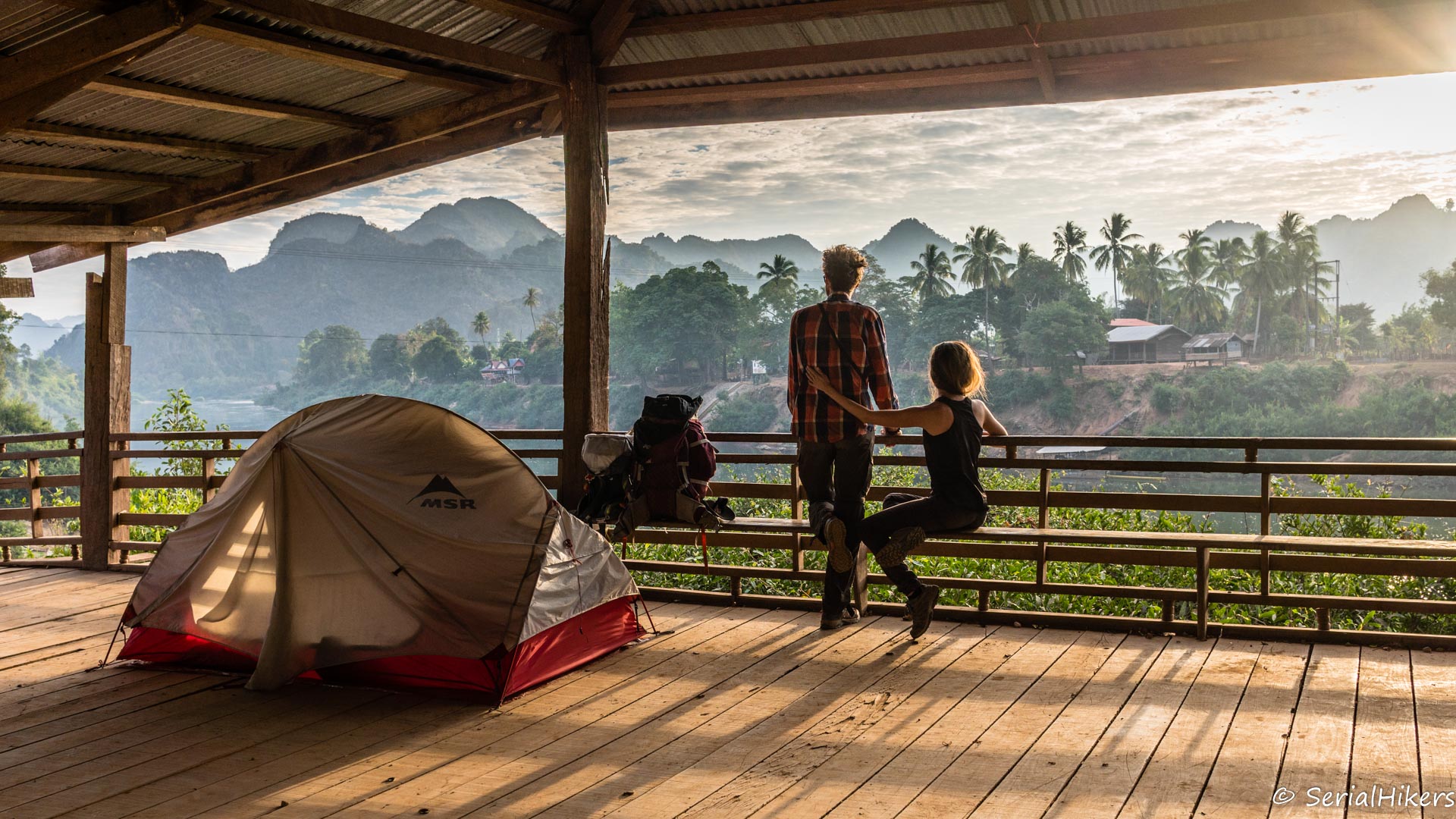 Mahaxay is the name of this small forgotten village, located less than ten kilometers from the popular Thakhek loop. A village forgotten by the majority of tourists, but a village that we are not about to forget: a real heaven, built on the banks of the Xe Bang Fai river – a river leading to another underground cave that can be visited by boat, less touristic than Konglor (Xe Bang Fai river cave). We did not hesitate to put down our bags, under the big shelter overlooking the river, invited to rest, lulled by the daily life of a small picturesque village, in the middle of a magnificent landscape.
Did you know?…
Farmers and Dip Khow
Do you know what a Dip Khow is? It's a small bamboo basket, containing a good portion of sticky rice, that Laotian farmers and rice growers take with them… when they go to the fields!
French legacy
As French people, we didn't have too much trouble finding French words written all over official buildings, such as "école" (school), "poste" (post office)… But what surprised us the most, among those French colonization reminiscence, was what Laotian call the "boun" game – in other words, a "boules game" or petanque!
Ethnic patchwork
Did you know that Laos has about 160 different ethnic groups? Well, don't worry, we didn't know that either until we were hosted by a Khmu man in Houaphan province – who also reminded us that the exact name of his country, in long form, is "Lao People's Democratic Republic" (encompassing all ethnic minorities in Laos).
Thai or Lao?
In Laos, most of the TV shows are Thai. In fact, these two languages are so close that it's not difficult for a Laotian to understand Thai!
The Forgotten War
It's not only Vietnam that suffered from the war: among the 7 million tons of bombs dropped by the American army, at least 2 million tons would have been dropped over Laos – making Laos the most bombed country in the world. The reason behind? To counter Vietnamese soldiers who were transiting through this country, and to cut off all supply lines to them… Even today, some traces of this forgotten war can still be observed: in the vicinity of Thakhek, a few graves have been erected near the main road leading to Vietnam to bury Viet Cong soldiers bodies killed by the bombs…
Traveling alternatively in Laos
The budget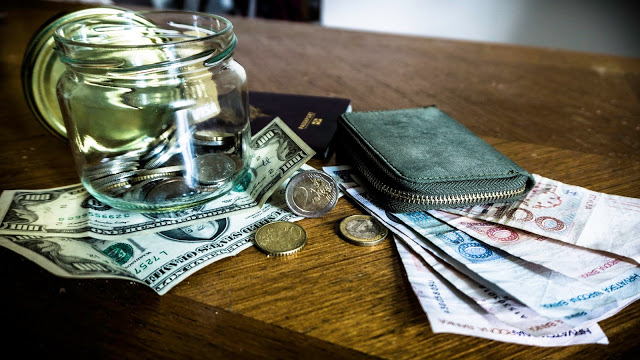 Our daily budget
€1.50 / person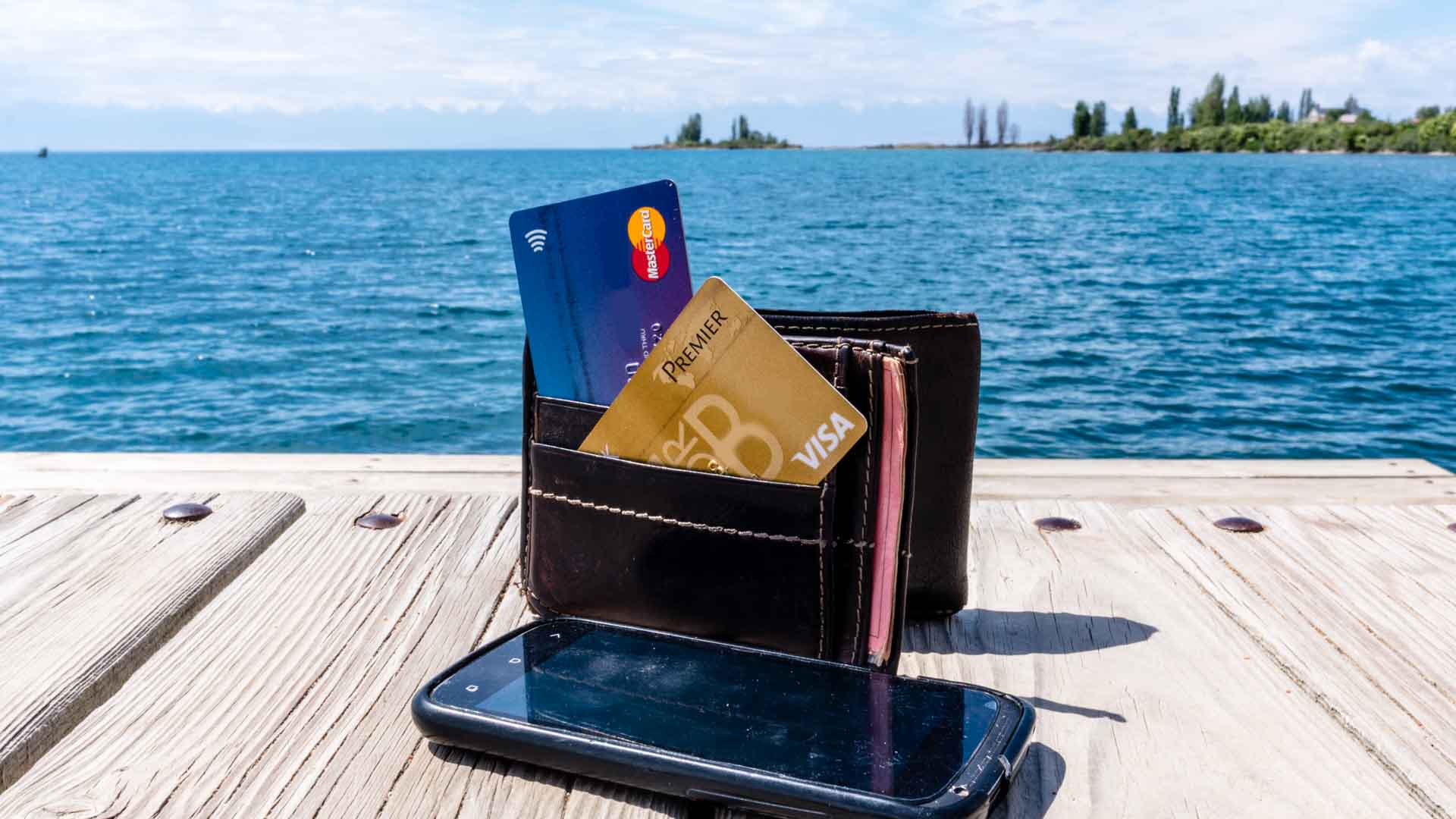 No withdrawal possible with no fees
Take Dollars, to be exchanged on the spot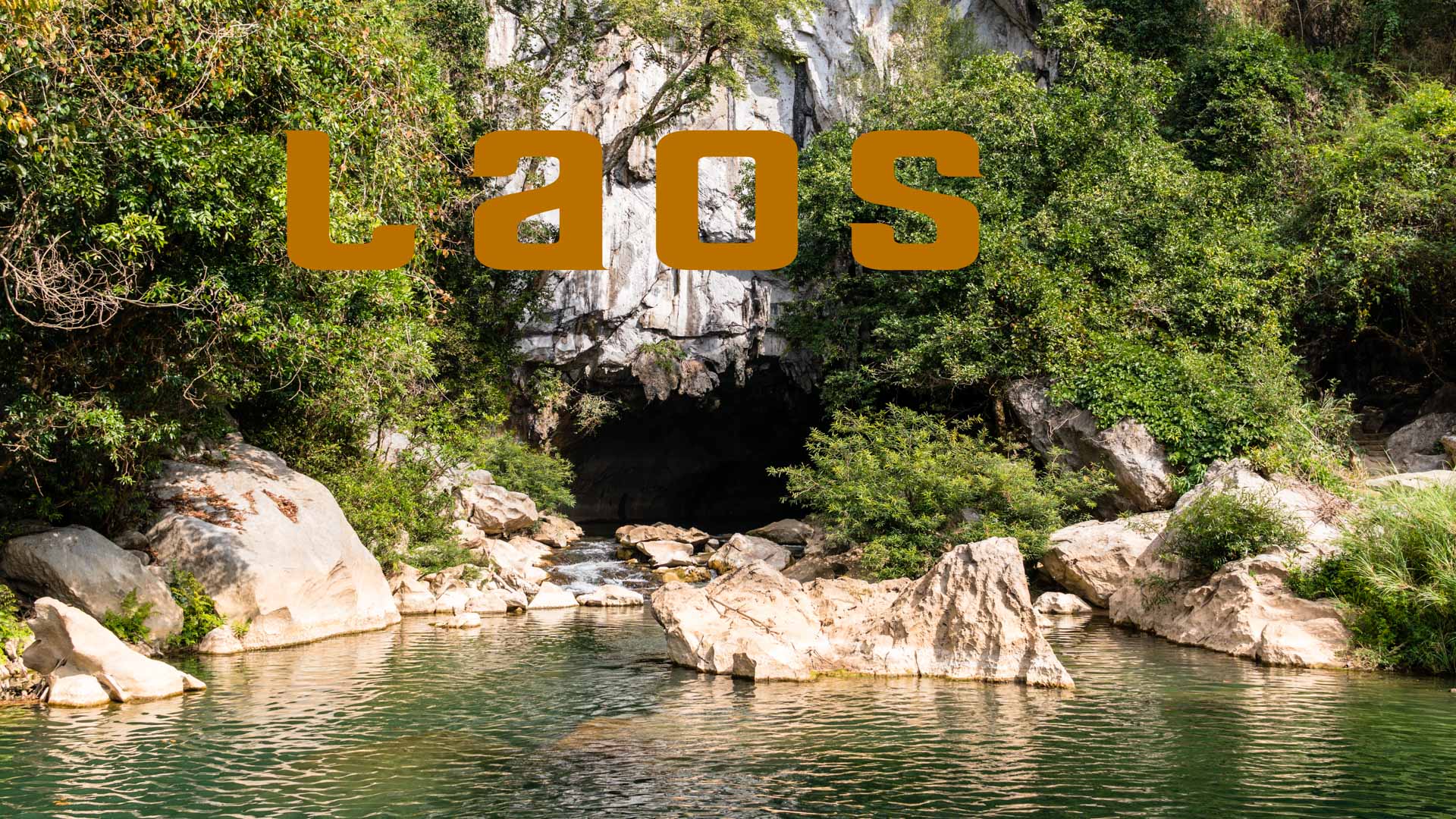 Currency
KIP (€1 ~ 10,000 Kip)
Noodle soup: 10000 – 15000 Kips
10000 Kips for 0.5L of beer (in store)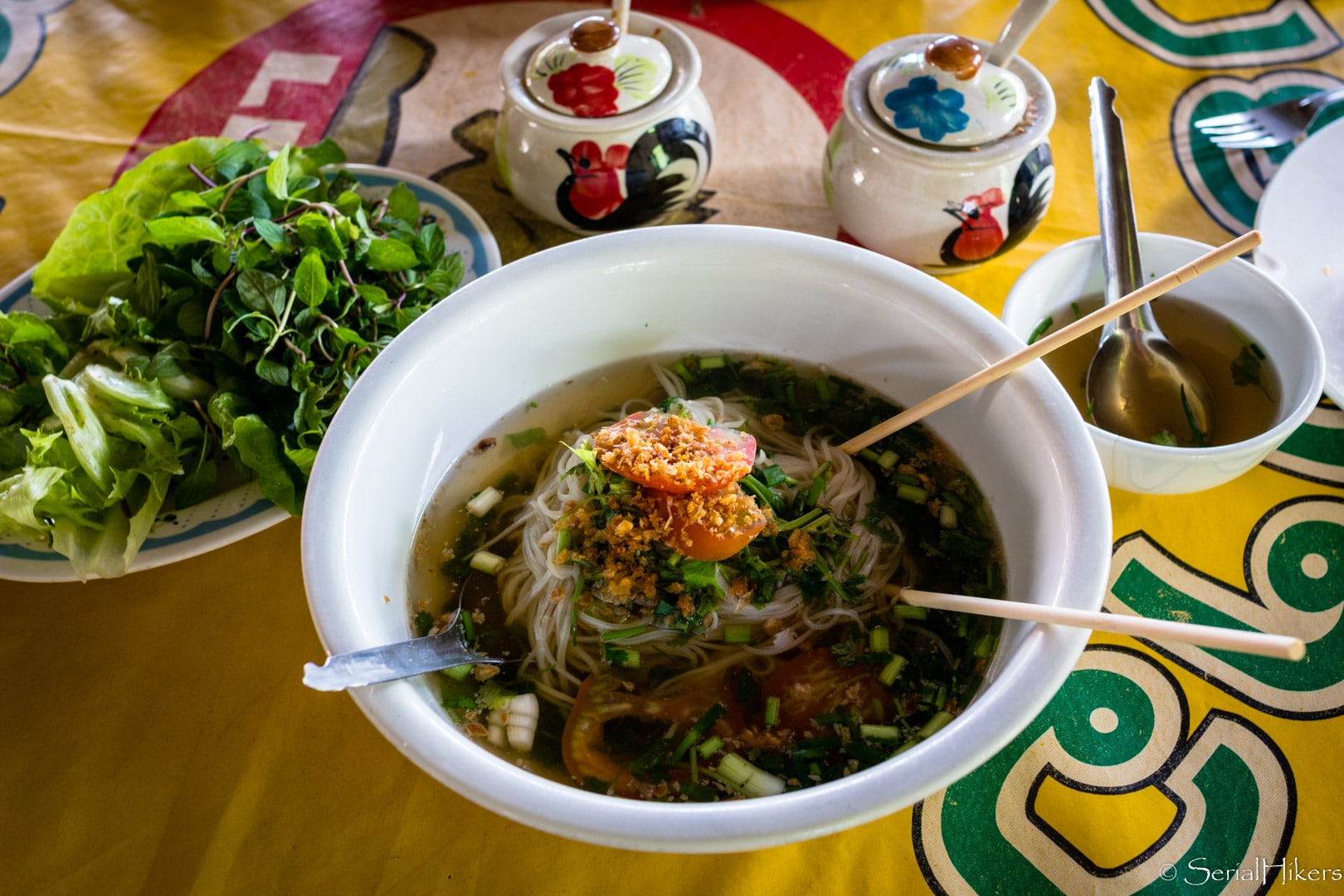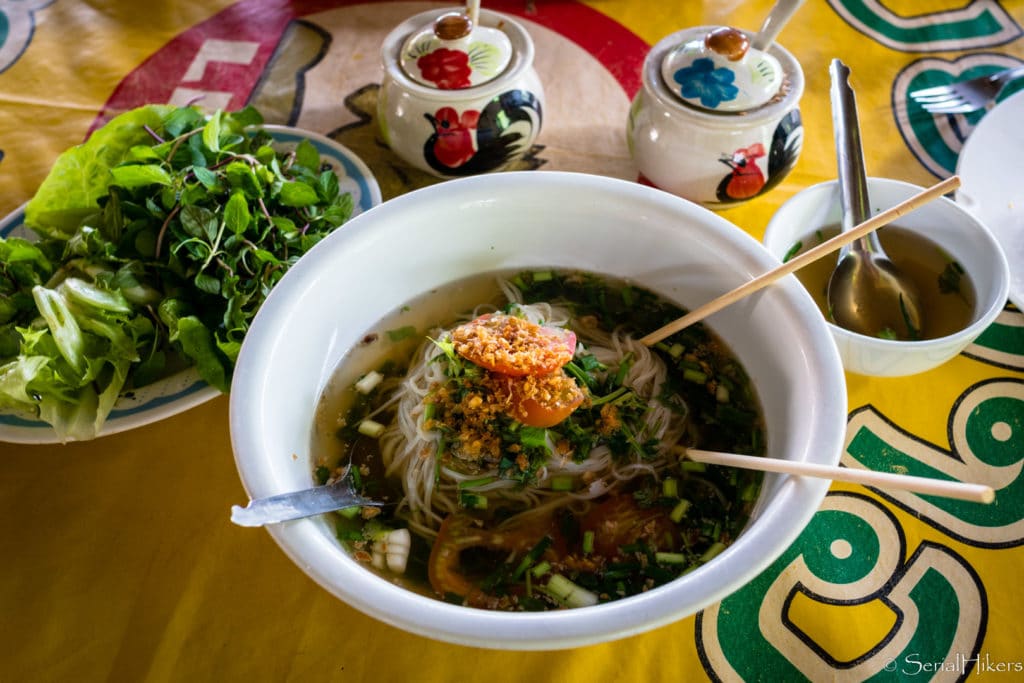 Hitchhiking
Rather difficult! It must be said that a light traffic on Laotian dirt roads did not help us. Laotian drivers did not stop easily either, even when we were lost in the middle of nowhere, with a sign written in Lao… Of all the drivers who took us, a good part of them were either Chinese on a business trip or Vietnamese truck drivers!
Apart from that, when we were picked up by Laotian drivers, we were often invited to get into the open back of their pickup truck or van!
Hospitality and volunteering
Hospitality in Laos is different from what you might think: although two families opened the doors of their house to us, we were not invited to sleep inside! In fact, most Laotian houses are very modest – often made of wood and on stilts, with usually only one common room for the whole family to sleep in… In these conditions, we were more than happy to be able to pitch our tent in a protected space (like a yard), to have access to water and toilets and share very good moments (and even meals made of sticky rice!) with them!
About volunteering, we had no difficulty to find a volunteering mission in a hostel in Vang Vieng, especially during the high tourist season (from November to March). You can also find in Laos several volunteer missions on a farm, or as an English teacher!
Wild camping
Wild camping is tolerated, but strongly discouraged in the most remote areas because of the buried bombs that have not yet exploded!… Our advice: ask locals, with the help of a translator or a picture dictionary, if you can pitch your tent in their yard or nearby in a safe place. Often you will also be given access to water!
Our tops (and flops)
We came to Laos to rest, we left even more tired… but delighted! For nature lovers like us, Laos is a destination of choice! Here are our tops in this country:
Caves located on the Thakhek Loop
Mahaxay
Landscapes of the forgotten province of Houaphan
Kob chai Laos!
Our flops
We didn't like Vang Vieng at all, which has become a den for backpackers in search of cheap alcohol and drugs of all kinds. We don't know what was the worst: to relax next to hordes of noisy Asian tourists, to see young people vomiting their guts out in the river, clinging to their buoys or unconscious people rushing into the wilderness in their polluting buggy…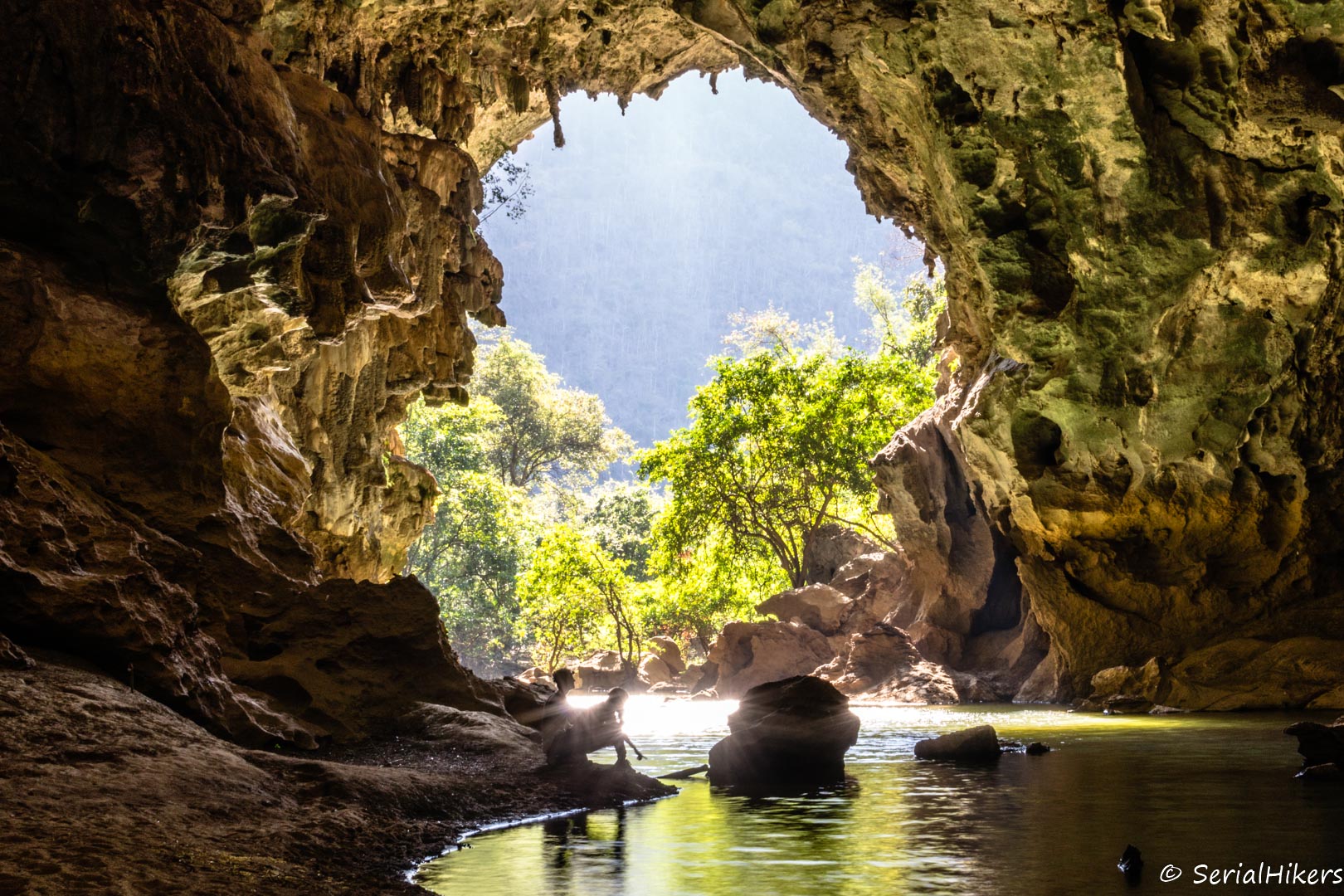 More about Laos
* Post written according to our personal experience *