Leaving the mountainous region of Sapa, its tourists and rainy weather, we continued our hitchhiking trip to another mountainous region, in the provinces of Hà Giang and Cao Bang, located in the North-East of Vietnam, on the border with China. On the spot, we did not only find good weather and few tourists; we also found much more authentic, captivating and impressive green landscapes!
---
About our hitchhiking journey :

Many tourists choose to rent a motorbike/scooter in Hà Giang to visit the area – especially for the Hà Giang loop. If it's true that travelling by motorbike gives you a certain freedom, it represents a cost (economic of course, but also ecological).

As for our Tour, we chose to hitchhike the loop. And it did work very well! Using a cardboard sign written in vietnamese, we had no trouble stopping cars to give us a lift, step by step, through the region. The hardest part was the waiting time because of low traffic: a bad for a good, which allowed us to enjoy even more the scenery and the local life!

With our tent, we did wild camping in the area – except for one night when we were invited by a family to sleep at their house. Even if we didn't find any regulation concerning the legality of bivouac in Vietnam, it's important to know that every piece of land (even a wasteland) is exploited by somebody. We advise you to always ask the neighbours for permission before pitching your tent, with the help of a translator or image dictionary.

On the Hà Giang loop
First day: from Hà Giang to Yên Minh
Our feeling:
Distance: 100 km
Arriving at Hà Giang in the late morning, we took advantage of the mild sunny day and the park along the Claire River (sông Lô) to picnic. The city is pleasant, surrounded by small mountains, but not extraordinary: we didn't linger there, preferring to walk a small kilometer on the northern road (QL4C) to start hitchhiking again. After a few minutes, a small truck stopped and took us to Quản Bạ: we set off for the adventure in the heart of Hà Giang mountains!
The first 25 kilometers are rather flat and took us through small villages (and a police roadblock) in the Vietnamese countryside. And then, suddenly, we went up: road started to meander up and down the mountainside, our driver made his engine roar to pull his clunker. Thanks to a slower speed, we took the opportunity to admire a landscape of mountains buried by dense vegetation, wild and cultivated fields, small valleys hidden between two reliefs. As we approached Quản Bạ, our driver had to push even harder to get his truck over the pass at Quản Bạ, nicknamed the "Gateway to Paradise": indeed, the view from the pass over the surrounding area promises great things for the future!
In Quản Bạ, we came across several groups of scooter travelers: not surprising, here you can find everything you need – restaurants, cafes, hostels… But the day being far from over, we decided to continue for a while while enjoying fresh buns bought from a local baker. We moved away from the town, standing on the side of the road, thumbs up, facing the "Fairy Mountain" (a lonely hill, surrounded by houses and agricultural fields). We eventually stopped, without too much effort, another vehicle to take us to Yên Minh.
Before zigzagging again in the mountains, the road took us along the Claire River for about ten kilometres. Bends are then tighter: we started to get through a new pass, which this time took us through hardwood and pine forests. After 2 hours (for about 50 km), we arrived in Yên Minh – the last town of our day trip. Sunset reminded us to be careful: before darkness set completely over the valley, we had some noodle soup and found a flat wasteland near the intersection of QL4C and DT182 roads to pitch our tent (with the neighbours permission).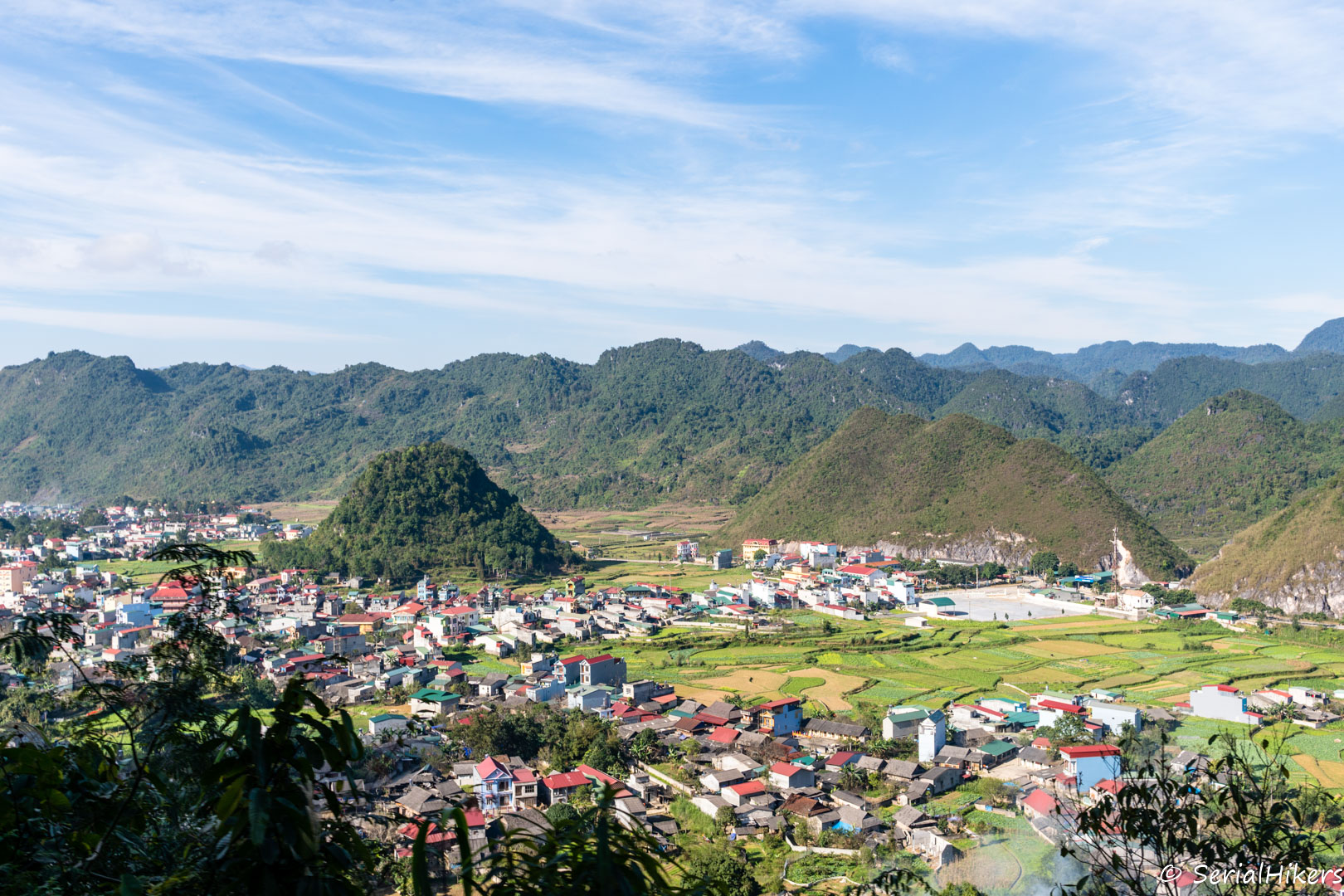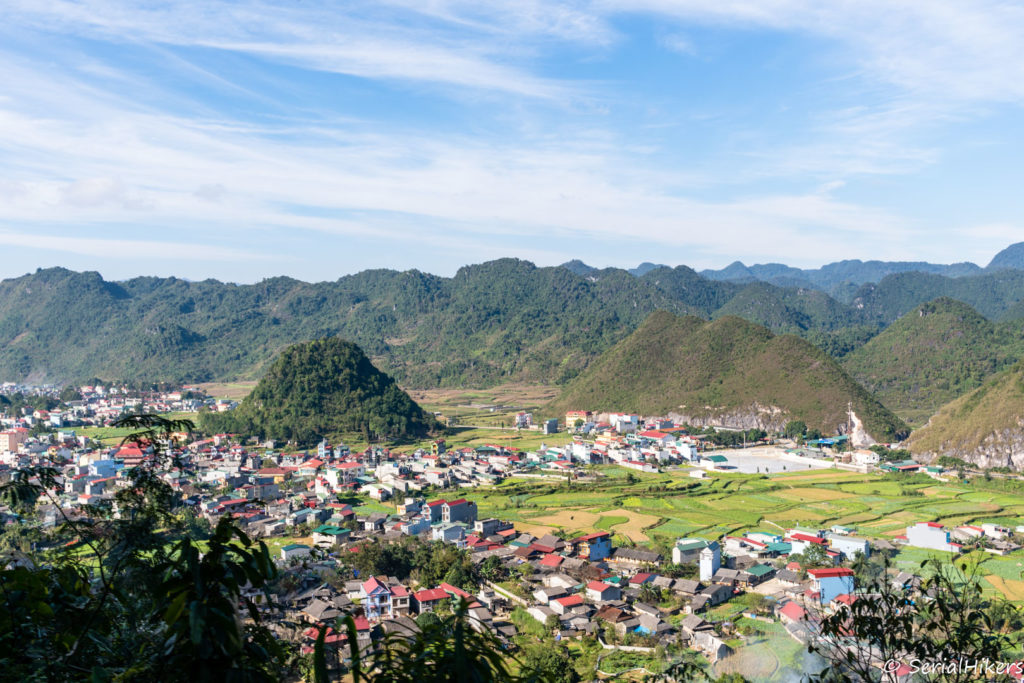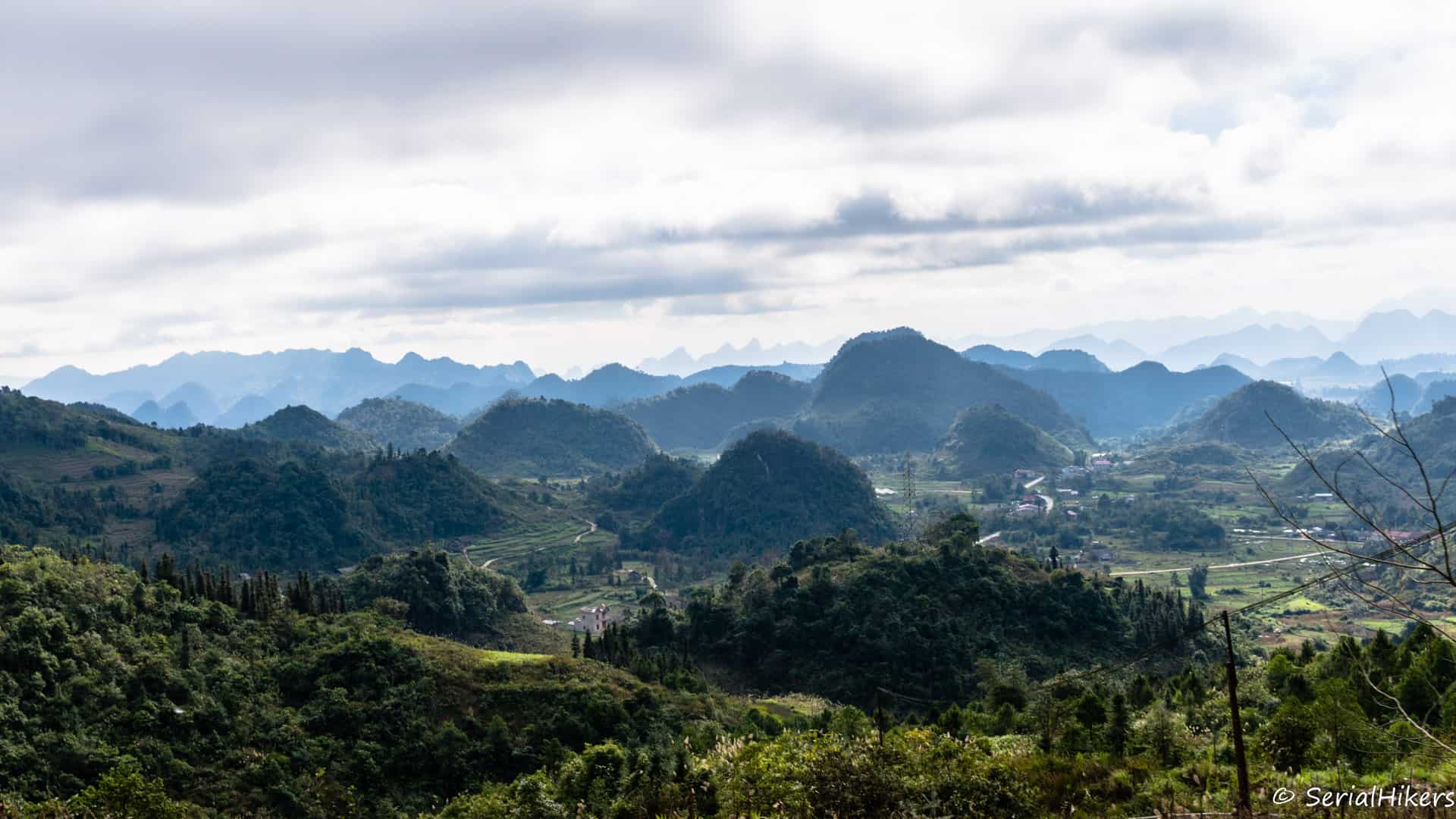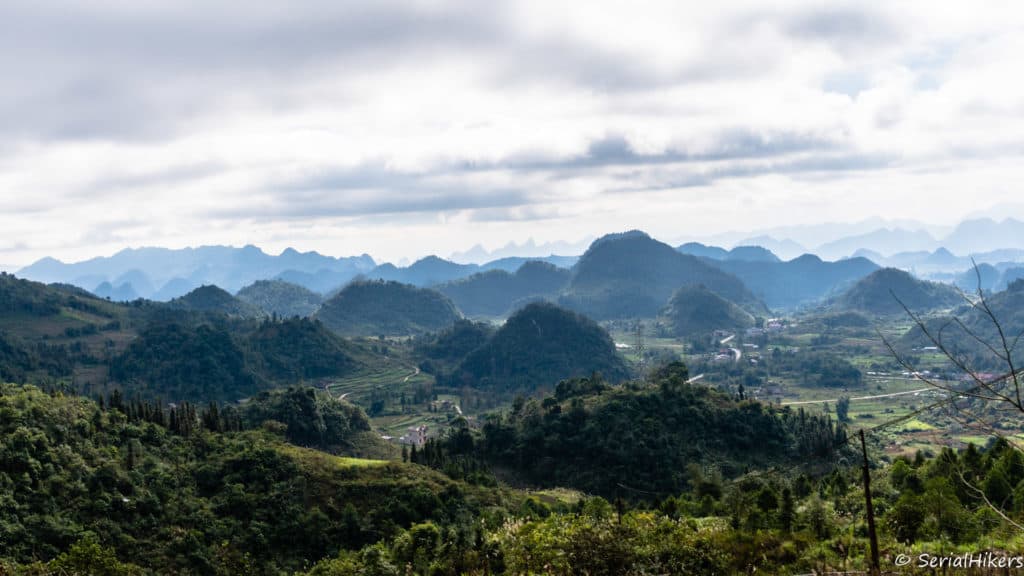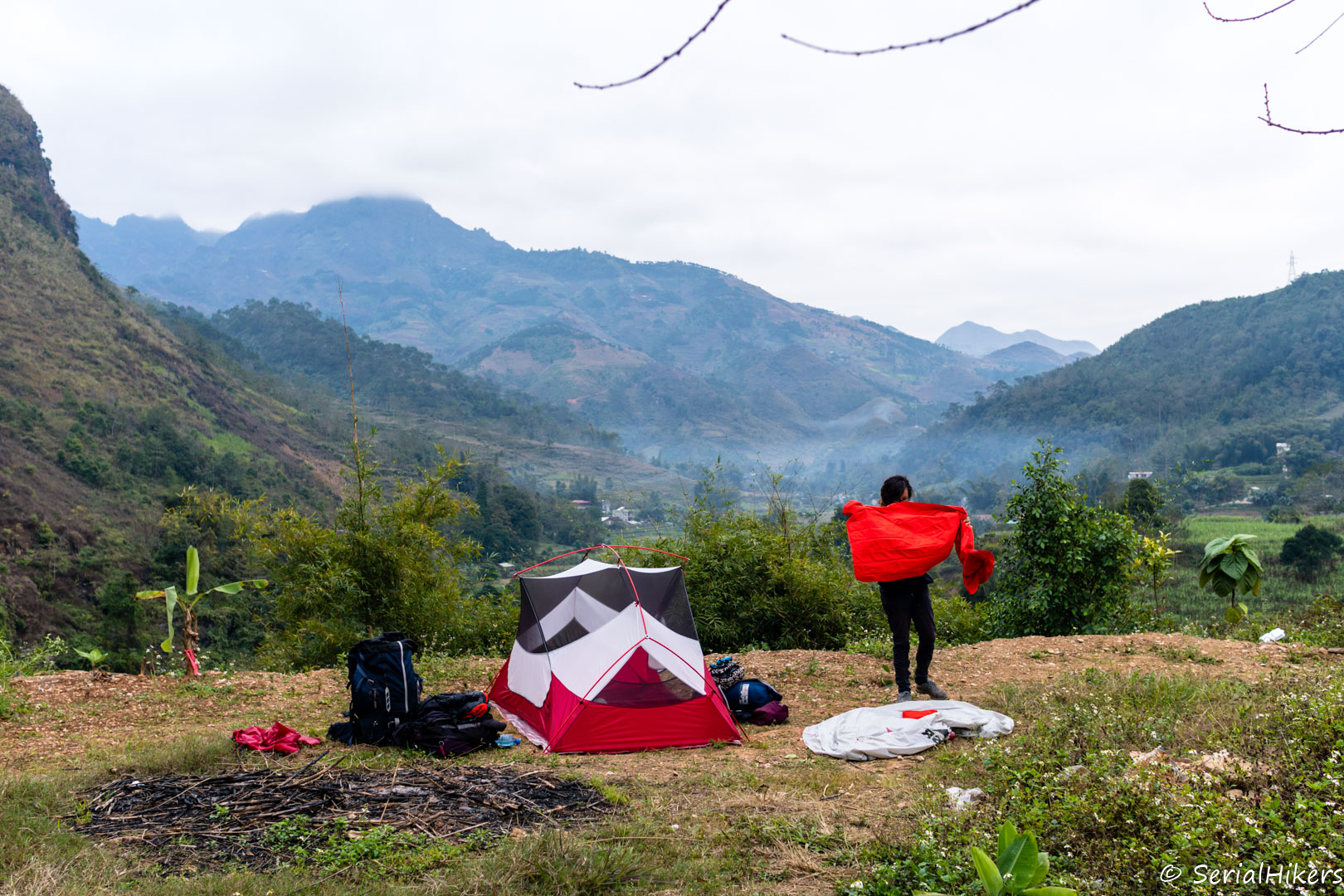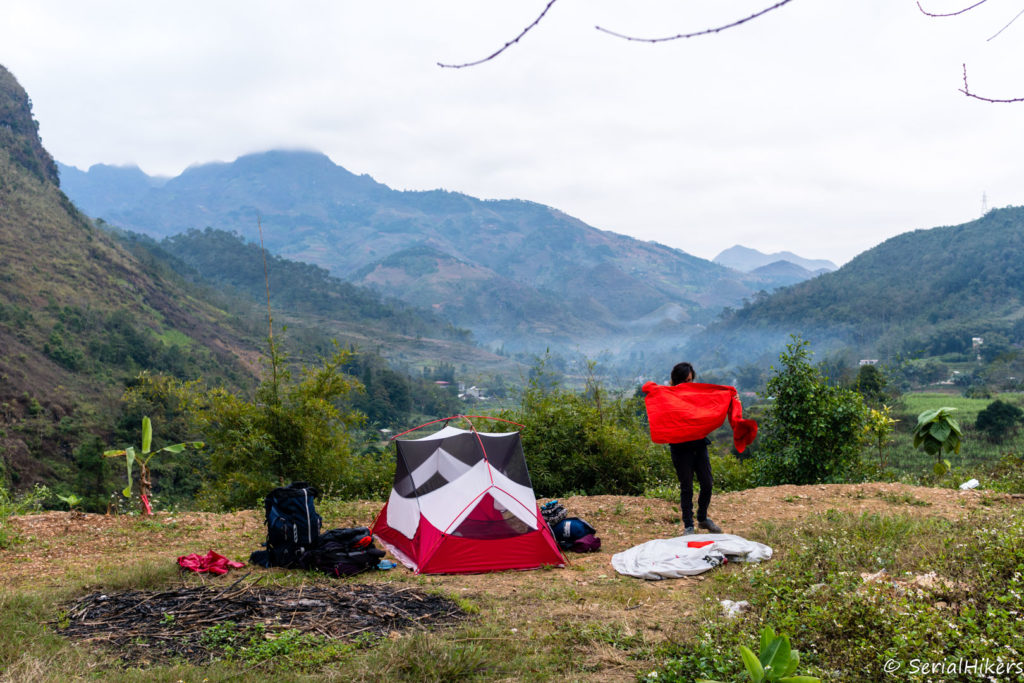 Second day: from Yên Minh to Mèo Vạc
Our feeling:
Distance: 76,5 km
In Vietnam, everyone's getting up early: from 5 am, rooster's crow is heard and from 6 am, it's the beginning of the rush hour for the locals who leave their homes to work by scooter. In these conditions, it was difficult to stay asleep. We went up, packing our things and quickly cleared the spot; more or less ready to face a new day of discoveries on the Hà Giang loop. We checked again our offline map: we could reach Mèo Vac faster via the DT182 road, but instead we chose to continue on the main road QL4C on which we spot several points of interest.
At the exit of Yen Minh, it's a steep slope. Luckily for us, a group of friends stopped to pick us up in their car, until the intersection leading to the village of Sửa Pả. While waiting for our next ride, in this corner where traffic is scarce, we took the time to admire this village lost in the middle of nowhere, only accessible by a hairpin road on either side of a stretched valley. Yet even in this rather isolated place, life seems to go on happily: women in traditional dress went to the fields with their large wicker baskets on their backs, schoolchildren walked jokingly along the roadside. Here, everyone smiled at us!
Our next driver turned out to be the manager of a comfortable hotel in Dong Van. He insisted on inviting us to have tea in his establishment – an invitation we gladly accepted. The landscape was changing; now green mountains with rounded domes were giving way to steeper karst peaks, whose peaks that are sometimes hidden in the mist. One could hardly realizes that behind these peaks, the land belongs to China…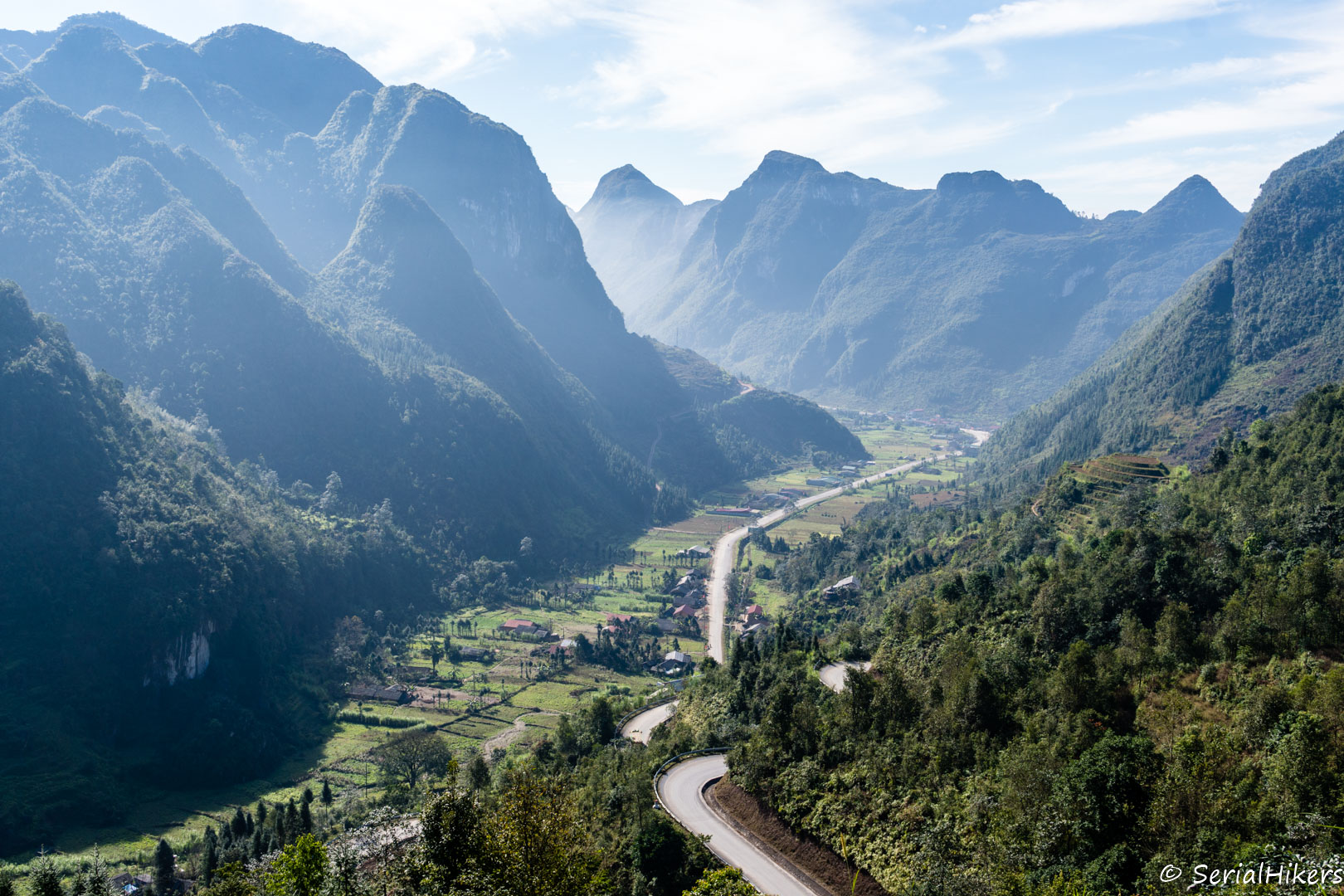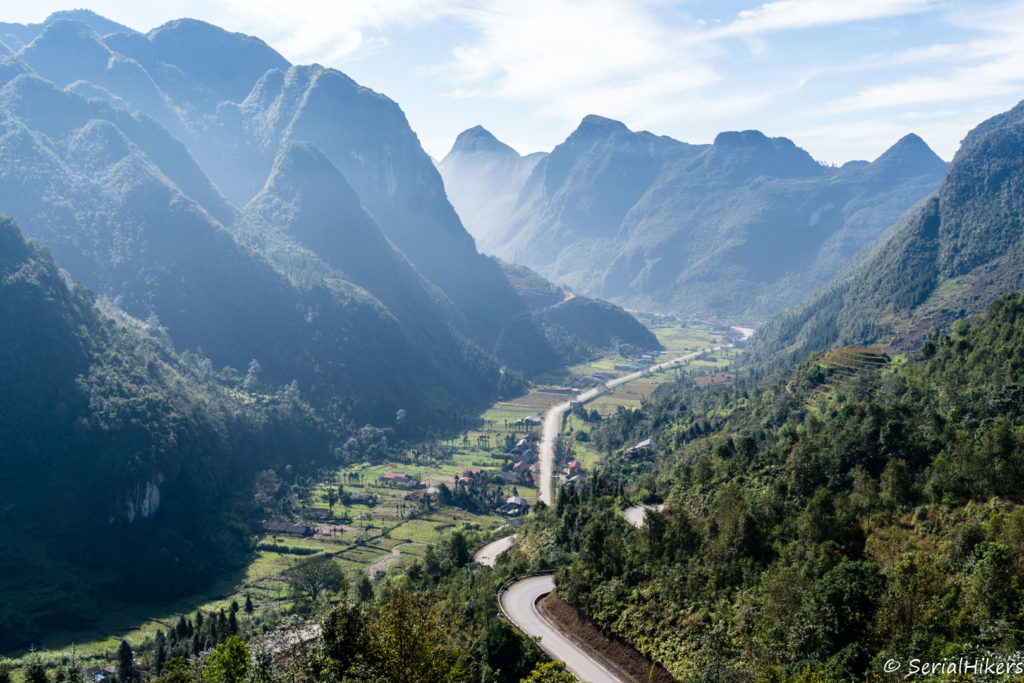 And thinking that if we had followed the small road DT182 the same morning from Yên Minh, we would have missed the best of the Hà Giang loop: the breathtaking view on the Tu San canyon and Ma Pi Leng pass! A place that left us dreaming and that made us want to stop our car to hike on small dirt paths nearby (very well indicated on Maps.me application). Problem: loaded with all our bags, and not prepared to hike on our own, conditions were not ideal. So we just had a great view from the back of our little car, leaning against open windows, camera in hand and a big smile upon our faces…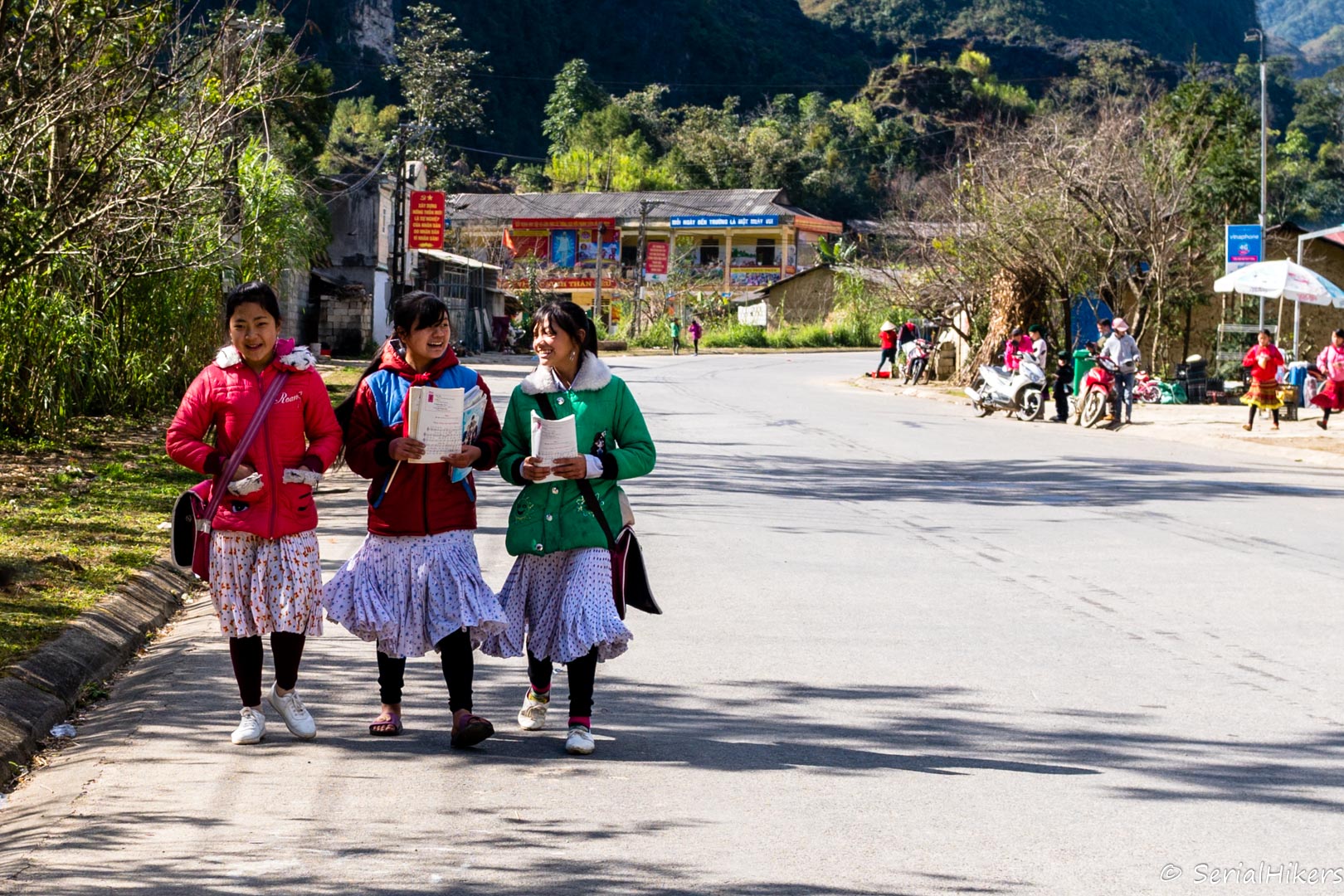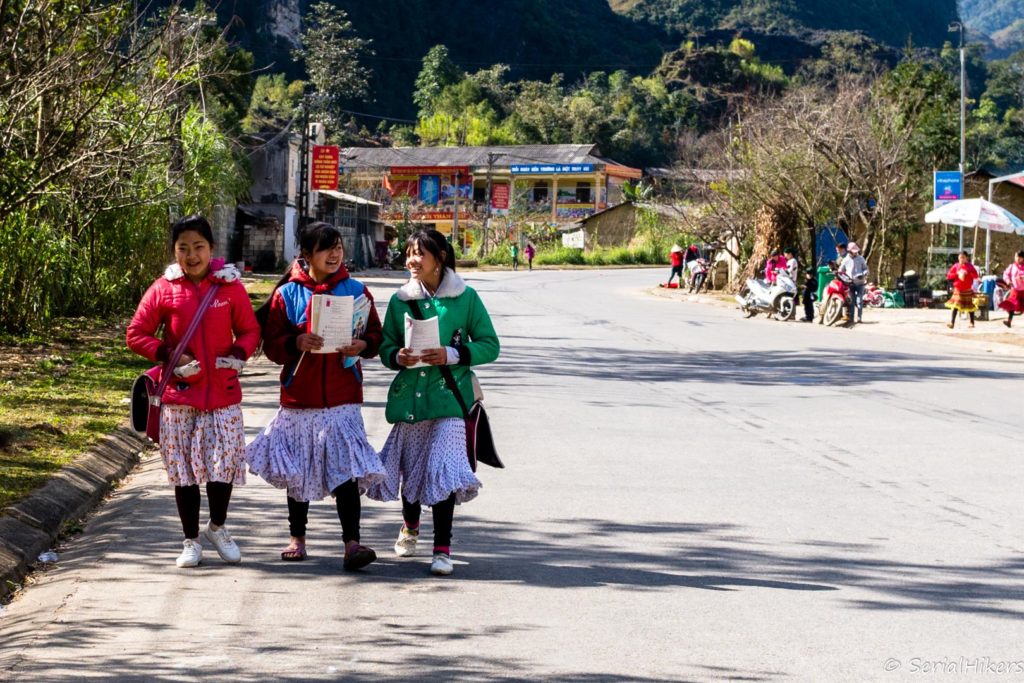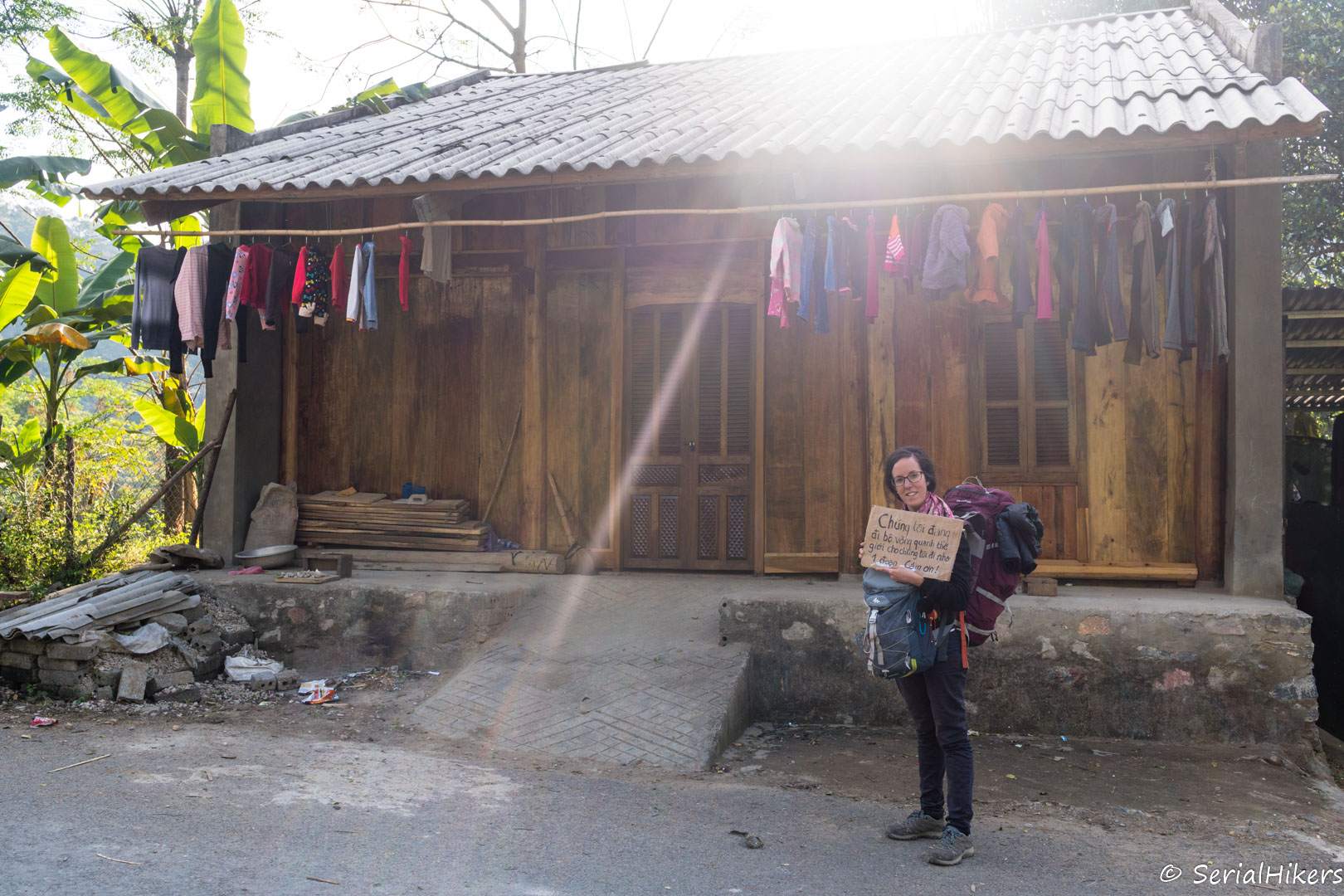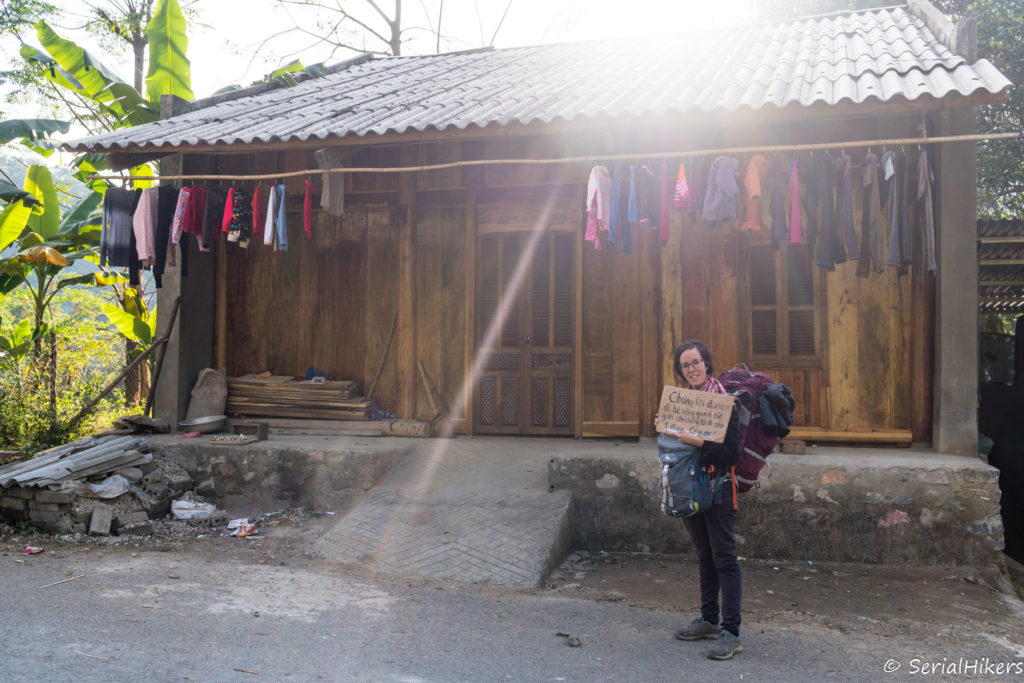 Cao Bằng, an unexpected discovery
Dropped off in Mèo Vạc, we could have finish the full loop by returning to Hà Giang, as most travellers do. Only… We didn't want to come back to our steps. And after all, since we didn't have a rental scooter to return, we were free to choose our own route!
So instead of following the small road back to Hà Giang, we preferred to continue on the main road QL4C towards the province of Cao Bằng. It was totally fortunate that we found ourselves in this region completely unknown, forgotten by tourists, and yet just as beautiful!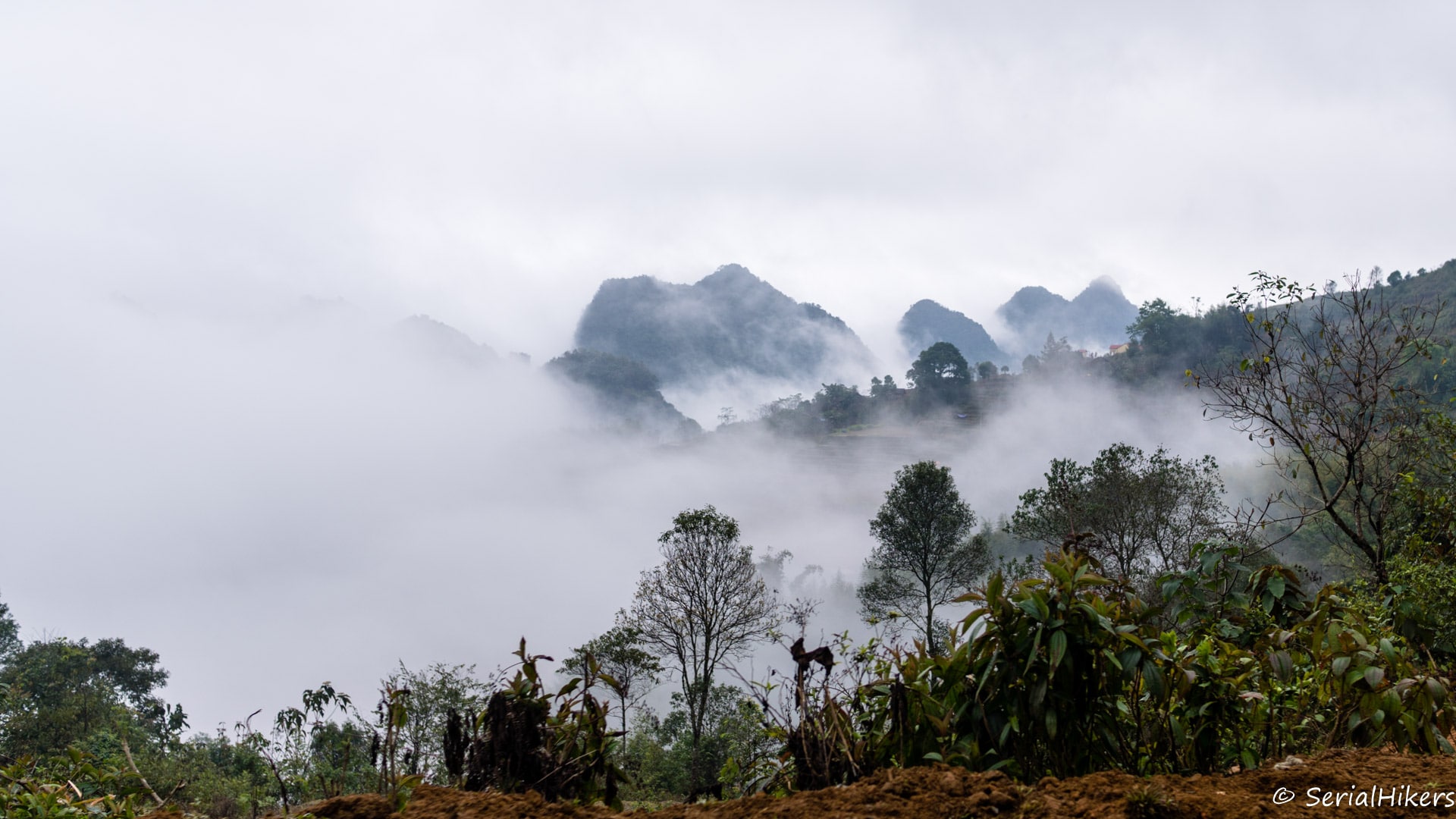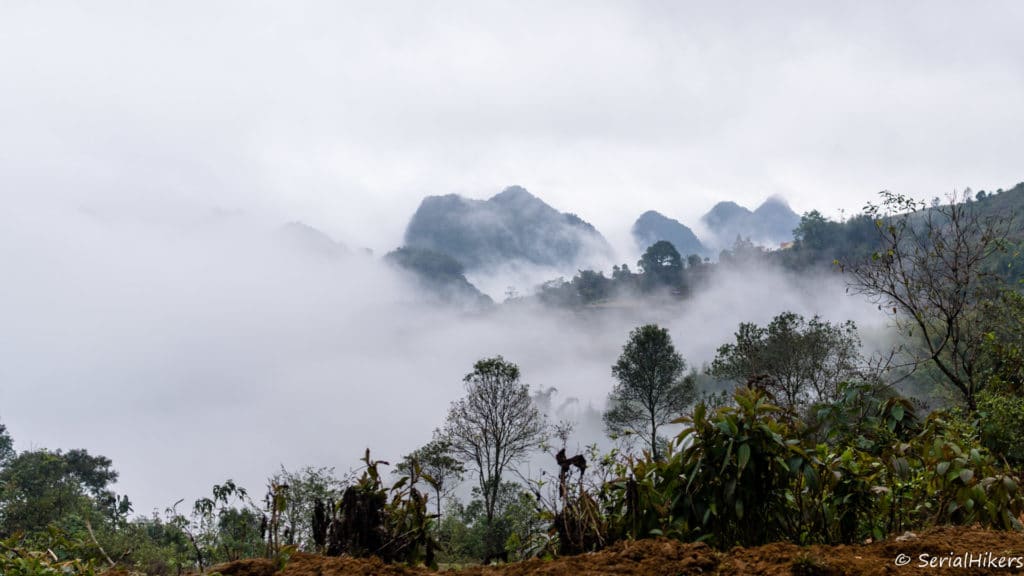 Crossing Cao Bằng province was an incredible experience for us: in this rather poor region of North-East Vietnam, we were warmly welcomed, to the point of being hosted by a family of workers. We also have vivid memories of the peaks piercing through the morning mist – a thick fog that covered most of the valleys and villages of the province. But due to lack of time (visa-free for 15 days only) and money (apart from the currency exchanged at the Chinese border, the only bank allowing us to withdraw money free of charge was in Hanoi…), we had to shorten our journey and draw a cross on the visit of the Thác waterfalls Bản Giốc…
At the end, even if we couldn't see everything, we didn't regret our choices at all: they allowed us to see and experience beautiful things – just enough to convince ourselves, one day, to go back!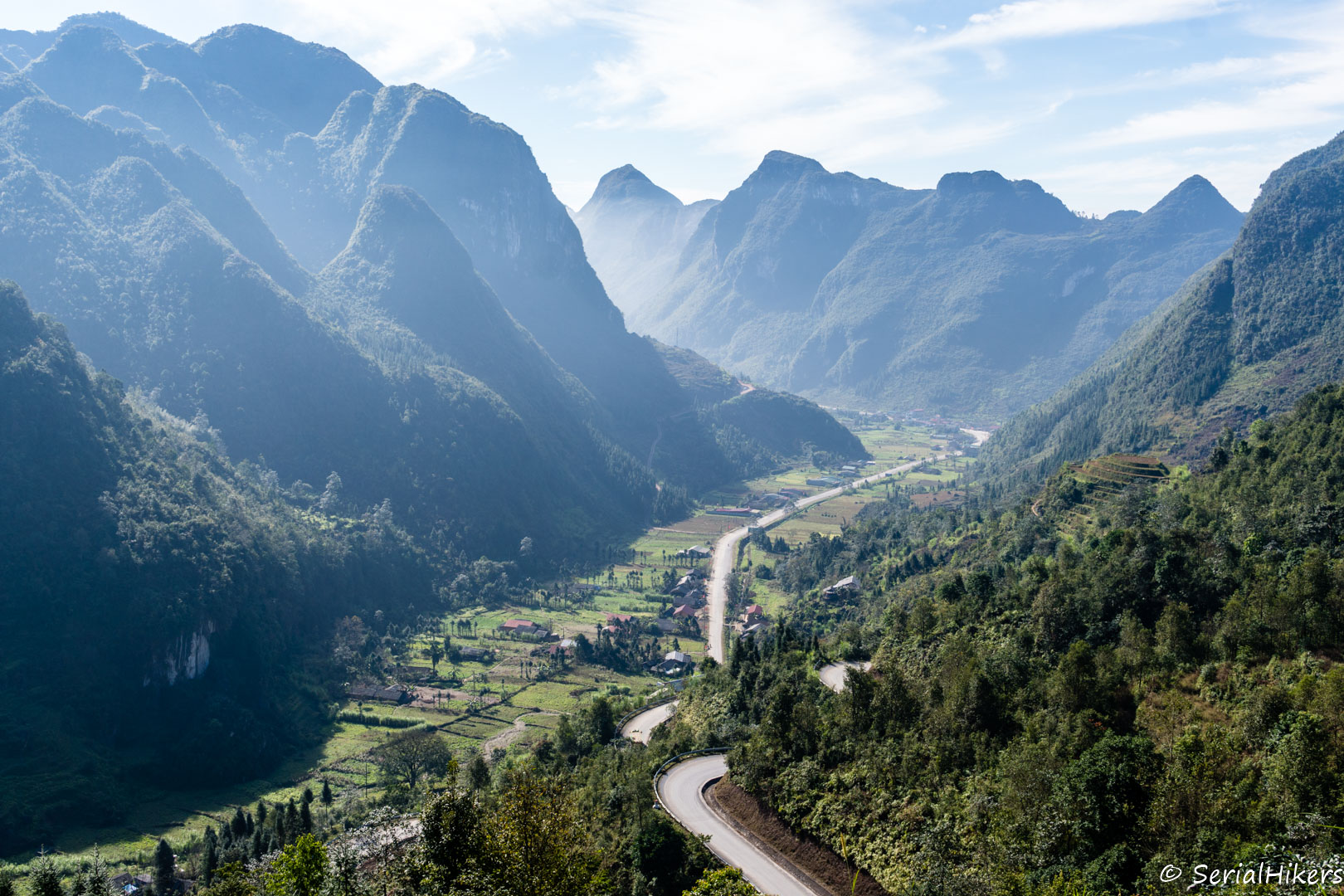 More about Vietnam
* Post written according to our personal experience *