When we dream of Vietnam, we see men with their conical hats barefoot in the rice fields, whole families on scooters, colorful junks and fishing boats, bowls of rice and cups of coffee… And then when you travel to Vietnam, you see a bit of all this, but also much more! What if you let yourself be guided in the heart of an authentic, hospitable Vietnam, through our travel guide?
---
Visa and border crossing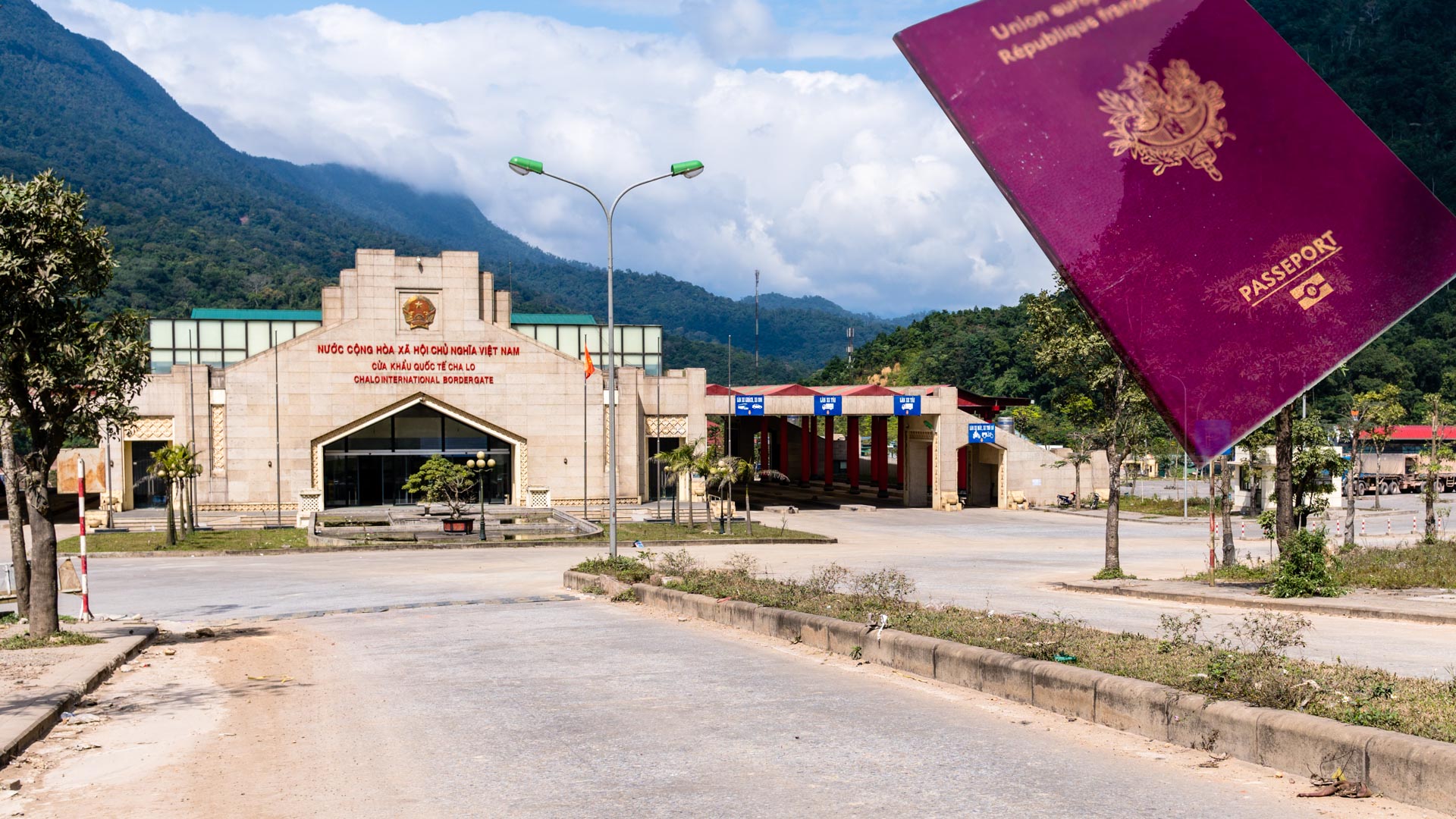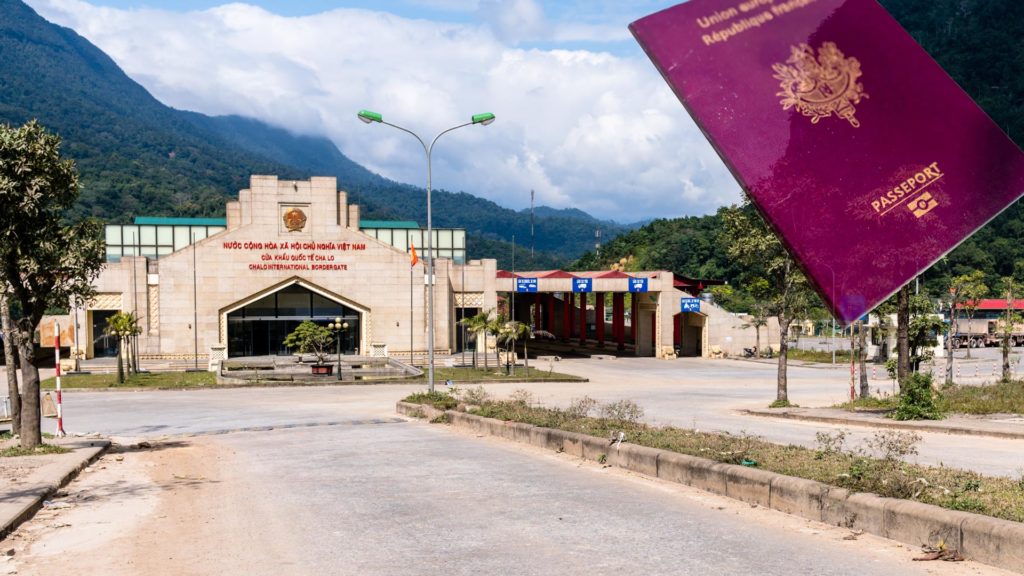 What to see in Vietnam?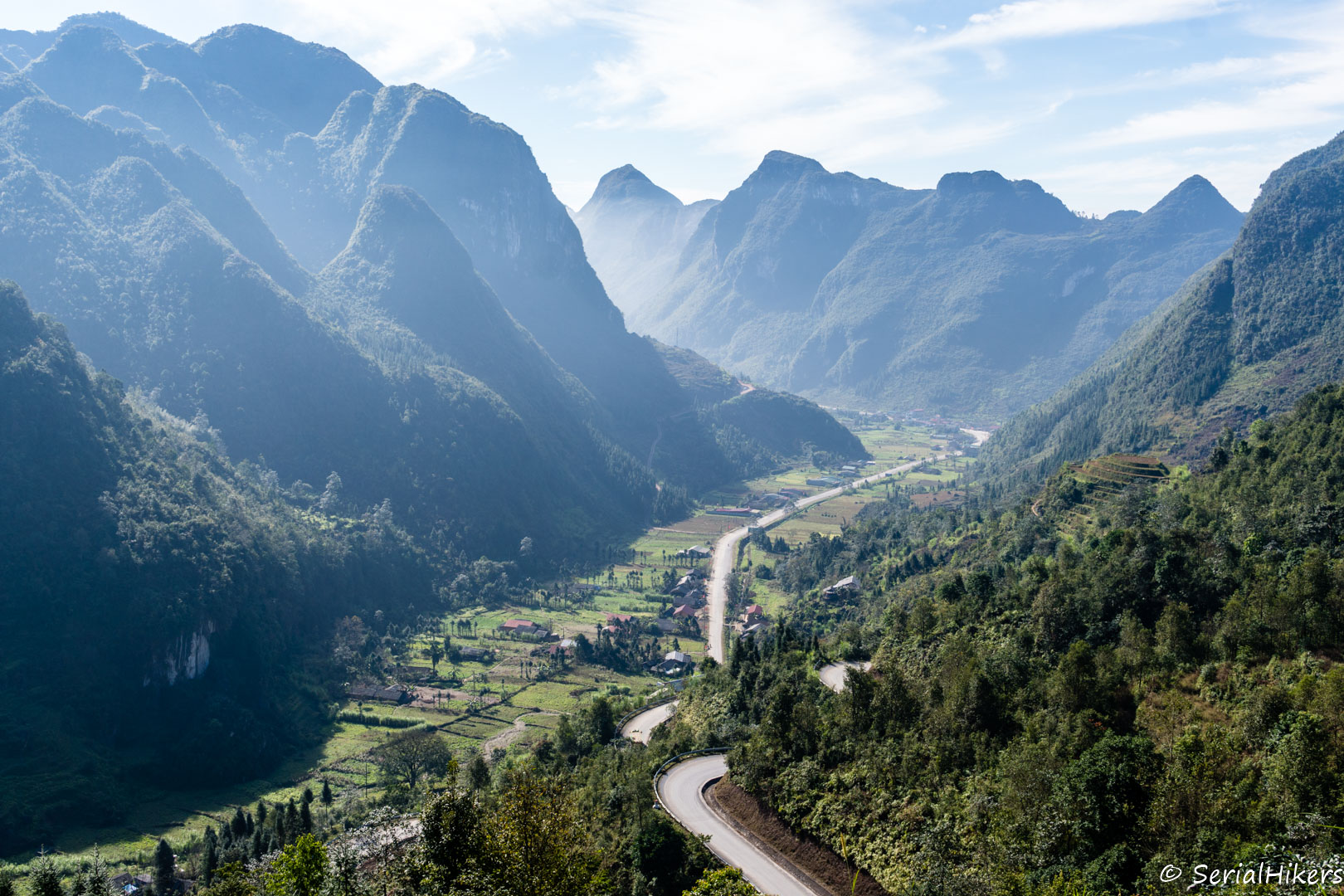 Getting lost in the Vietnamese mountains
Hà Giang loop and Cao Bang mountains
No need to describe our excitement at the sight of this mountainous landscape: I think we all agree that it looks marvelous! Thanks to a rather nice weather, we had the chance to admire this captivating landscape on a good part of the Ha Giang loop (with a special mention for the segment between Đồng Văn and Mèo Vạc) and even beyond, entering the province of Cao Bằng. And to say that, due to a lack of time, we had to leave the road 34 along the impressive ravine that separates Vietnam and China, and draw a cross on a roadtrip in Cao Bằng province and Ban Gioc-Detian waterfalls… Lesson learned: next time, we will allow ourselves more than 15 days (visa free period) to visit the North of Vietnam!
Sapa
Before entering Vietnam, we were warned: "don't go to Sapa, there is nothing authentic, only tourist traps!…" Message well received: we did not go to Sapa, but to Ta Van, a village located 7km from Sapa and also surrounded by the famous rice terraces. Well, after 4 days on the spot, walking along a few paths (despite the continuous rain, the fog and mud) above rice fields, we realized that the received warning was not quite right! In fact, we should say: "don't go to Sapa for Sapa, but go to Sapa to get lost in its surroundings"… I swear, it's worth it – especially if the weather is good!
Tam Coc, Halong Bay on land
Decided to not visit Halong Bay and not to be part of the millions of visitors contributing to the destruction of this natural site, we gently headed towards the Tam Coc mountains, a site that is nicknamed "Halong Bay on Land". And how well we did! Because even if tourists are rushing to buy a boat tour (that the Vietnamese rowers steer with their feets!) there is enough to get lost off the beaten track, between two hills, in the heart of the rice fields, between two rivers… Too bad that the bad weather, rain and fog were not on our side!
Phong Nha caves
Okay, we tell you all: if we went to Phong Nha province, it's because we had heard about Son Doong Cave, the largest cave in the world – 9 kilometers long, a main vault that could accommodate a Boeing 747, and a microclimate unique to the cave. But at 3000$/person for the entrance ticket, we had to change our plans!… Direction Paradise cave (or Thien Duong cave) for a visit of the public open part: a nice walk on a wood path, which made us discover huge stalactites in a nearly lunar scenery!
Useful information
Entrance – public open part (500m): 250,000 dongs/person
Entrance – big loop on a guided tour (4 km): 2.5 millions dongs/person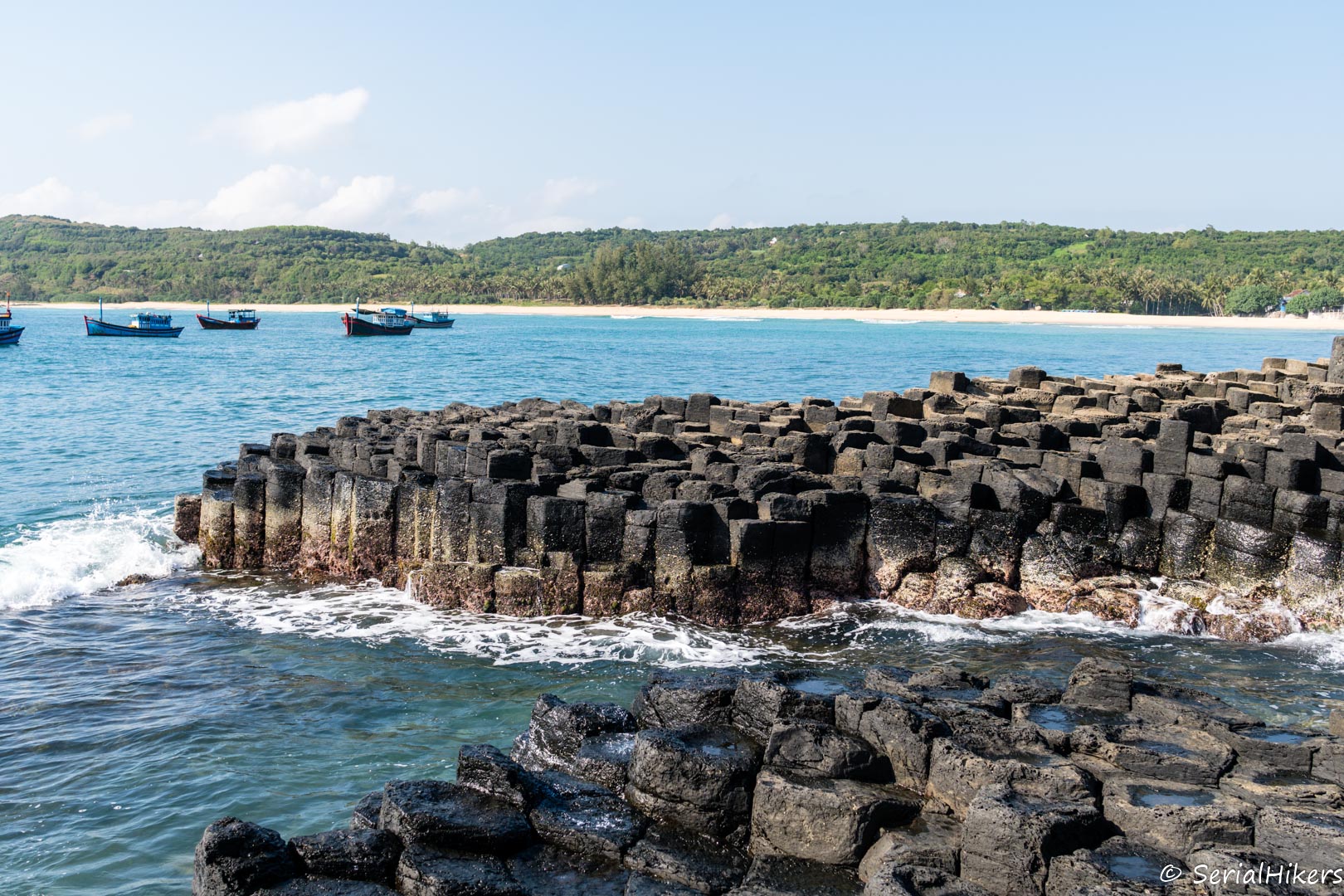 The surprising nature in Vietnam
Dray Nur, the coffee-flavored waterfall
There are plenty of waterfalls to see in Vietnam, especially around Dalat. But going through the ultra-touristic city of Dalat just to see waterfalls did not really please us… Fortunately, thanks to some Vietnamese people we met on the road, we found a good compromise: visiting Dray Nur waterfall (entrance 30,000 dongs/person, a cup of coffee included), located not far from the coffee fields which make Buôn Ma Thuột famous!
The forgotten rice fields of Mai Chau
"How is the weather in Sapa?" "Bad! Rain, fog… Like really bad, as you can't see much the rice fields!" "Why don't you go to Mai Chau to see the rice fields? This place is much less touristy, just as beautiful, and the weather is often much better" Good point! Why wouldn't we go? Moreover, Mai Chau is not far from the border of Na Meo to enter Laos after. That made us one more reason to go there!…
Mui Né dunes and the Fairy stream
About Mui Né dunes, we have not so positive things to say: dunes are dirty, polluted by plastic waste, and by tourists who flock to the top – either to watch the sunset or to go downhill in sandboard. As for the famous "red sand", there was no need to go to Mui Né to observe it: there was quite a lot of it in the canyon crossed by the Fairy stream – a canyon that can be visited only barefoot (entrance: 15,000 dongs/person).
The funny rocks of Ganh Da Dia
"For me, these rocks remind me of a set of used matches, with their blackened heads"
"Bullshit! You can see it looks like organ pipes!"
Ok, let's rather ask the public opinion about it: what do the strange volcanic rocks of Ganh Da Dia (entry 20000d/person) look like? The first one who says "organ" just to prove Julien was right has lost!
Mekong Delta (not done)
Two days! We only had two days left with our valid visa, after our stay inHồ Chí Minh… Too little to hitchhike the 170 km distance to Cần Thơ and its floating markets on the Mekong delta; too little to get lost in the surroundings and enjoy the wilderness, mangroves and atypical fauna. We did console ourselves by saying that we probably missed another one of these tourist traps, and probably missed a magnificent traffic jam of boats on Mekong's arms…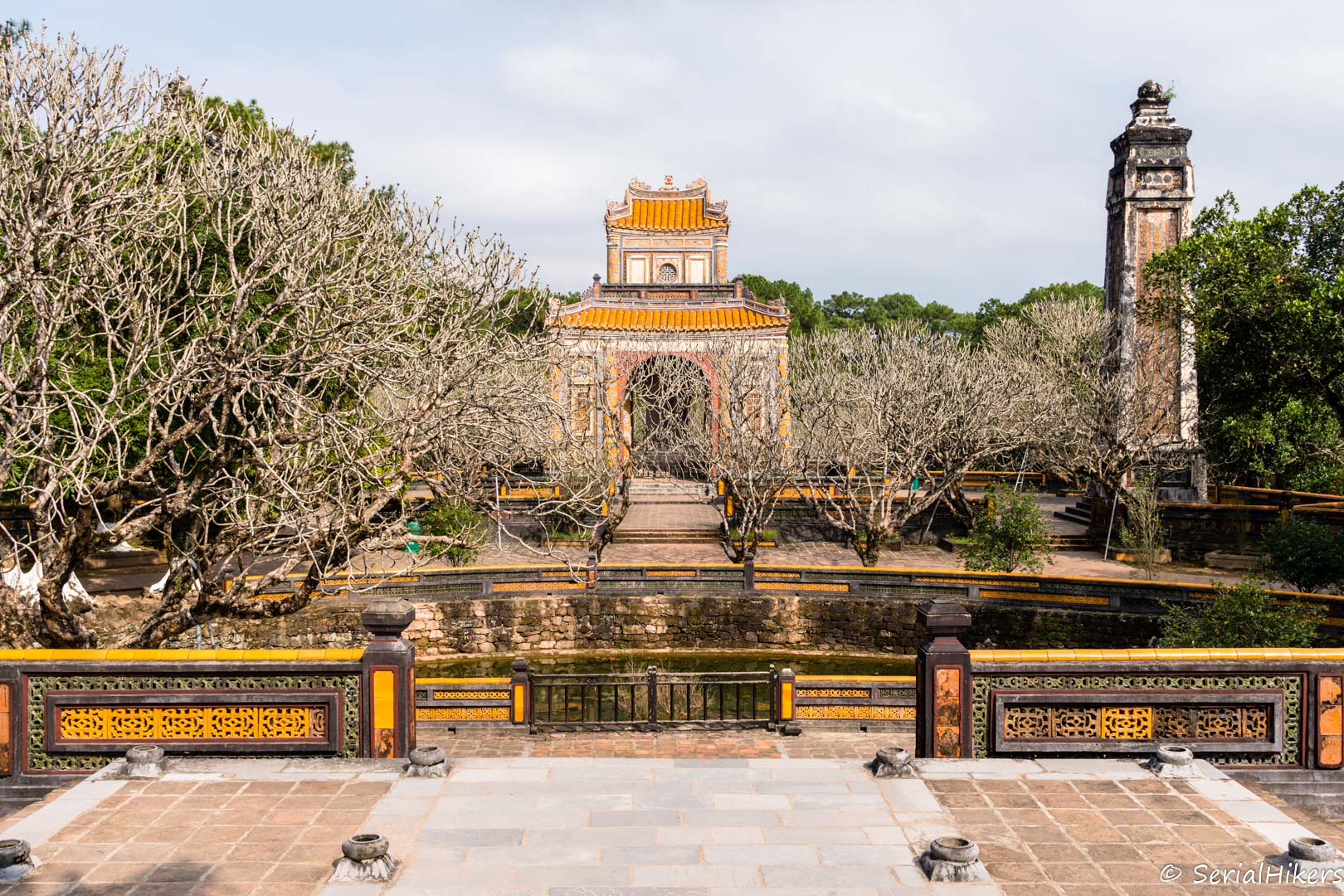 Discover the story of Vietnam
Cu Chi tunnels and the War Remnants Museum
We barely knew the main lines of the Vietnam War (1955 – 1975), an ideological, chemical, grueling war… And then we visited Cu Chi tunnels (entrance: 110,000 dongs/person) and the War Remnants Museum (entrance: 40,000 dongs/person), two sites effectively retracing the history and the war stakes. If you are advised to visit these sites to learn more and out of a memory duty, we wanted to warn you about the War Remains Museum contents which could offend the most sensitive, such as children.
The tombs of the great Vietnamese emperors
If the history of Vietnam fascinates you, go to Hue, the former capital of the great Vietnamese emperors! Forsaking the Forbidden Purple City (expensive entrance fee and very damaged site because of the Vietnam War) and the abandoned water park (an urban exploration spot transformed into a tourist attraction for backpackers), we went to visit the tombs of Tự Đức (entrance: 100.000 dongs/person) and Dong Khanh (free entrance) – among the tombs open to visit (Minh Mang, Khai Dinh, Gia Long). These pleasant sites gave us a good insight into the history and traditional architecture of Vietnam!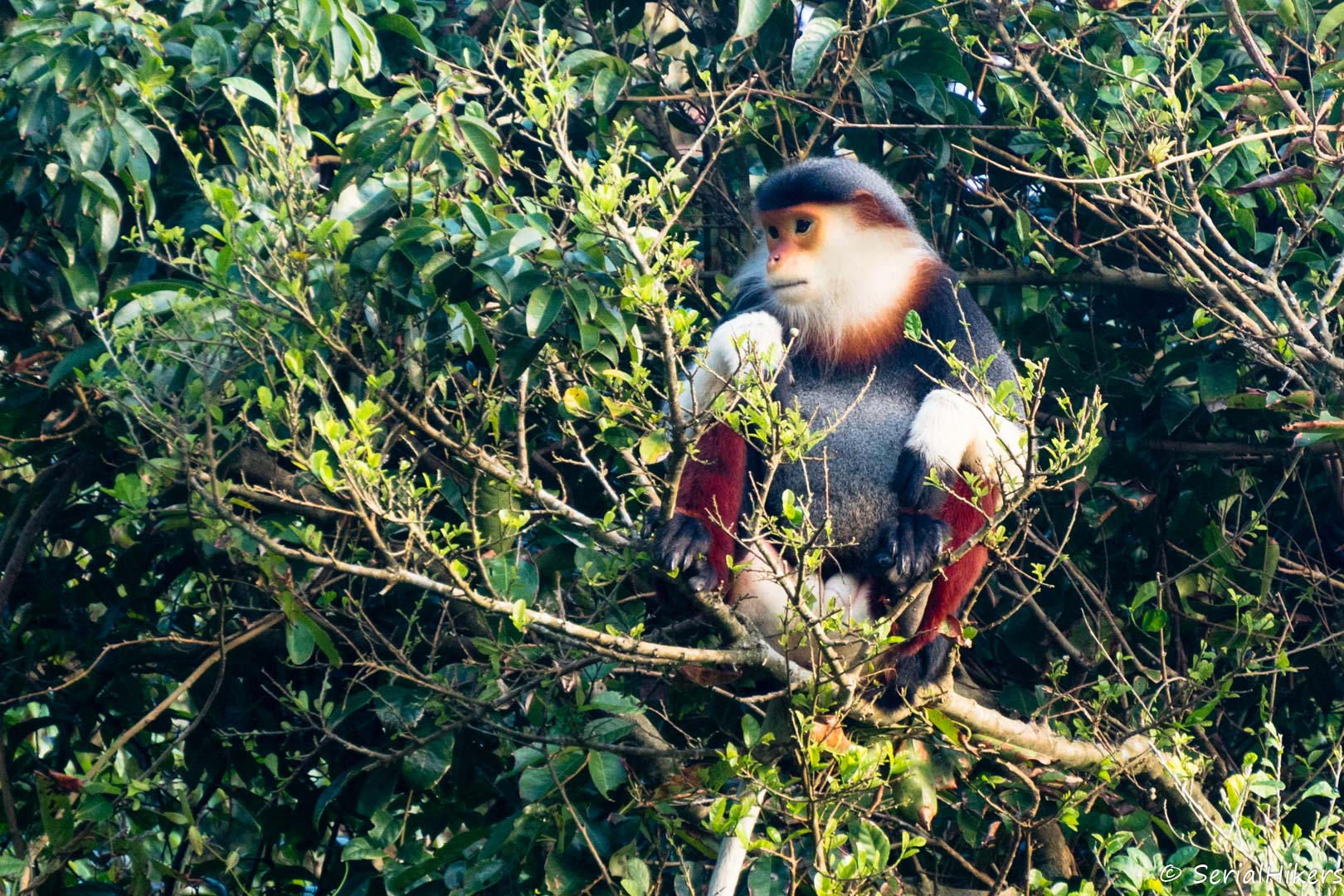 Encountering the red-shanked Douc
Isn't this one too cute, with his bright red legs? We introduce you to a red-shanked douc, a species of monkey in great danger of extinction. Luckily for him, some activists are fighting to protect his natural habitat from the Human destructive madness on the coveted Son Tra Peninsula. You can roam the peninsula to calmly observe these monkeys feeding, jumping from tree to tree, or looking for lice. A wonderful experience to live!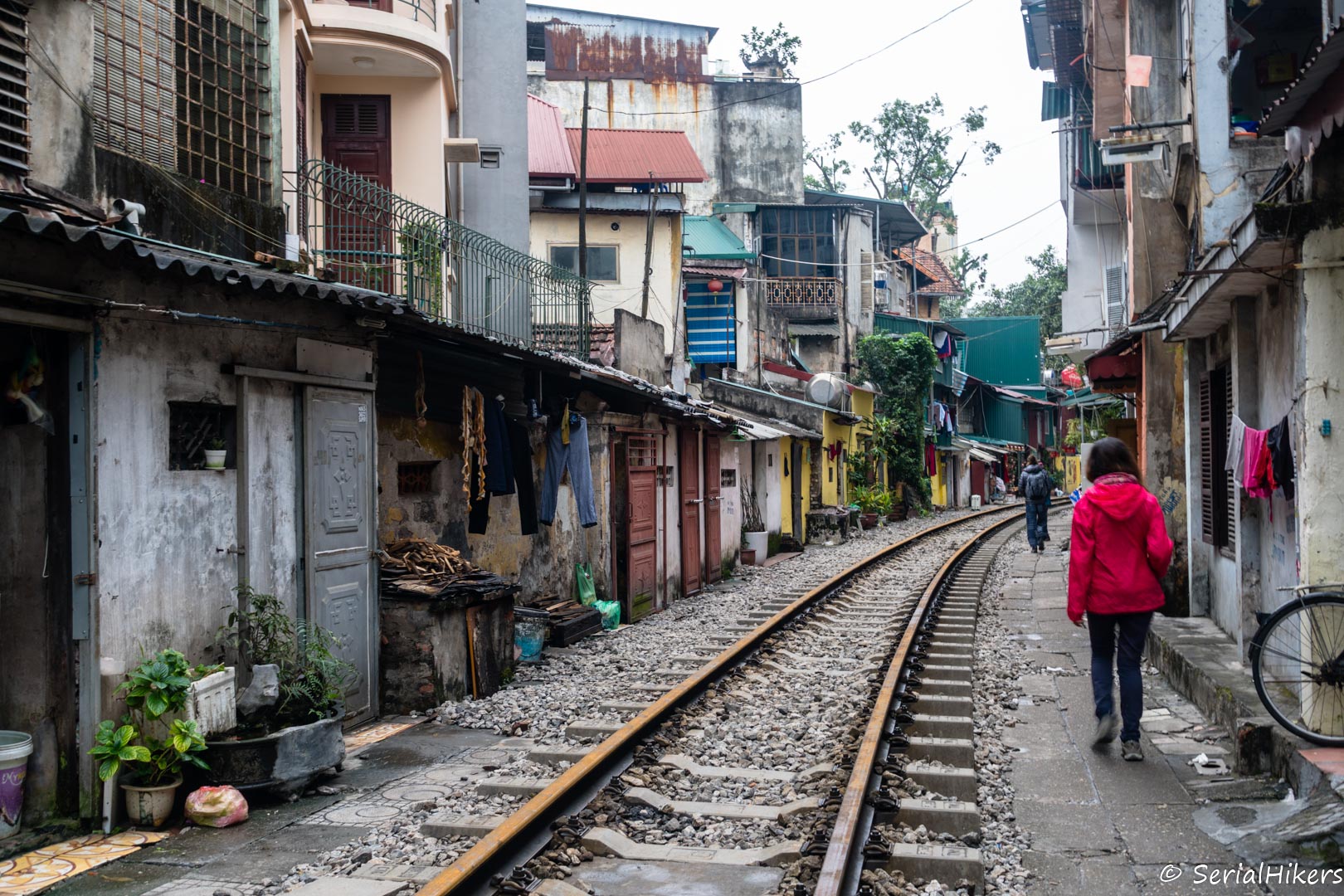 A train named Surprise
Don't stay on the tracks when the locomotive starts whistling: trains continue to run (around 7pm) between these houses and bars on Trần Phú (Hanoi Street train). That's what makes the place so unusual – and popular, if you see the number of tourists gathered in bars as the train passes by, or posing on the rails for their Instagram photo!
Our Vietnamese Hit
Did you know?…
Indochina Wars
We're not going to give you a history lecture, but Indochina wars (which included 3 separate wars involving Vietnam, and spanning a period of 50 years after the Second World War) had a profound effect on Vietnam. First of all because more than 7 million tons of bombs were dropped during the conflict with the Americans, and there are still millions of victims of Agent Orange. Secondly, because the Vietnamese forces have shown an unfailing determination, remaining to this day the only forces undefeated by the American army!
Forgive and forget
With so much damage caused on Vietnamese soil, we thought very seriously that French and Americans would not be frankly welcome… Not only it was not the case, but also Vietnamese we met showed a remarkable sense of hospitality! When asked why we were so well received despite horrors inflicted in the past, we were always answered: "because we are taught to forgive and forget".
Karaoke night fever
We listen to so many karaoke sessions on our passage in China and South-East Asia… But where we heard the most amateur singers taking the microphone is undoubtedly in Vietnam!
You bet?
"Give me the change!" Gambling is extremely popular, so much so that we have seen Vietnamese people bet a little money to buy a good dinner!…
Cà phê, pâté
Those words sound familiar to a French, and it's totally normal as these French words were added to the Vietnamese vocabulary when Vietnam was a French colony. And of course, we noticed that these imported vocabulary words mainly concern gastronomy…
Are you crazy?
When we were hitchhiking in Vietnam, we saw some drivers shaking their right hand next to their head – a sign that we usually understand as "you're crazy". Not very nice, huh? Except that for the Vietnamese, shaking your hand next to your head simply means… No!
90 million people, a few minorities, and me…
We didn't expect to find so many people in this tiny country – nor so many people from ethnic minorities such as the dzay, ke'ho, xin, mnong…
Conical hats, scooters and military helmets
Cliché? God no! Seeing Vietnamese people riding scooters, men wearing military helmets or women wearing conical hats in the rice fields is very usual… A bit like seeing a French going back home with a baguette under his arm!
Traveling alternatively in Vietnam
The budget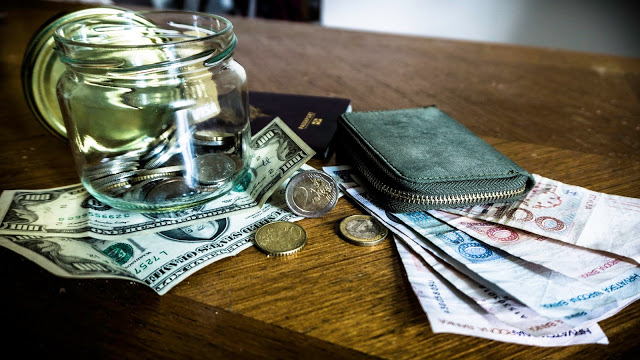 Our daily budget
€1.70 / person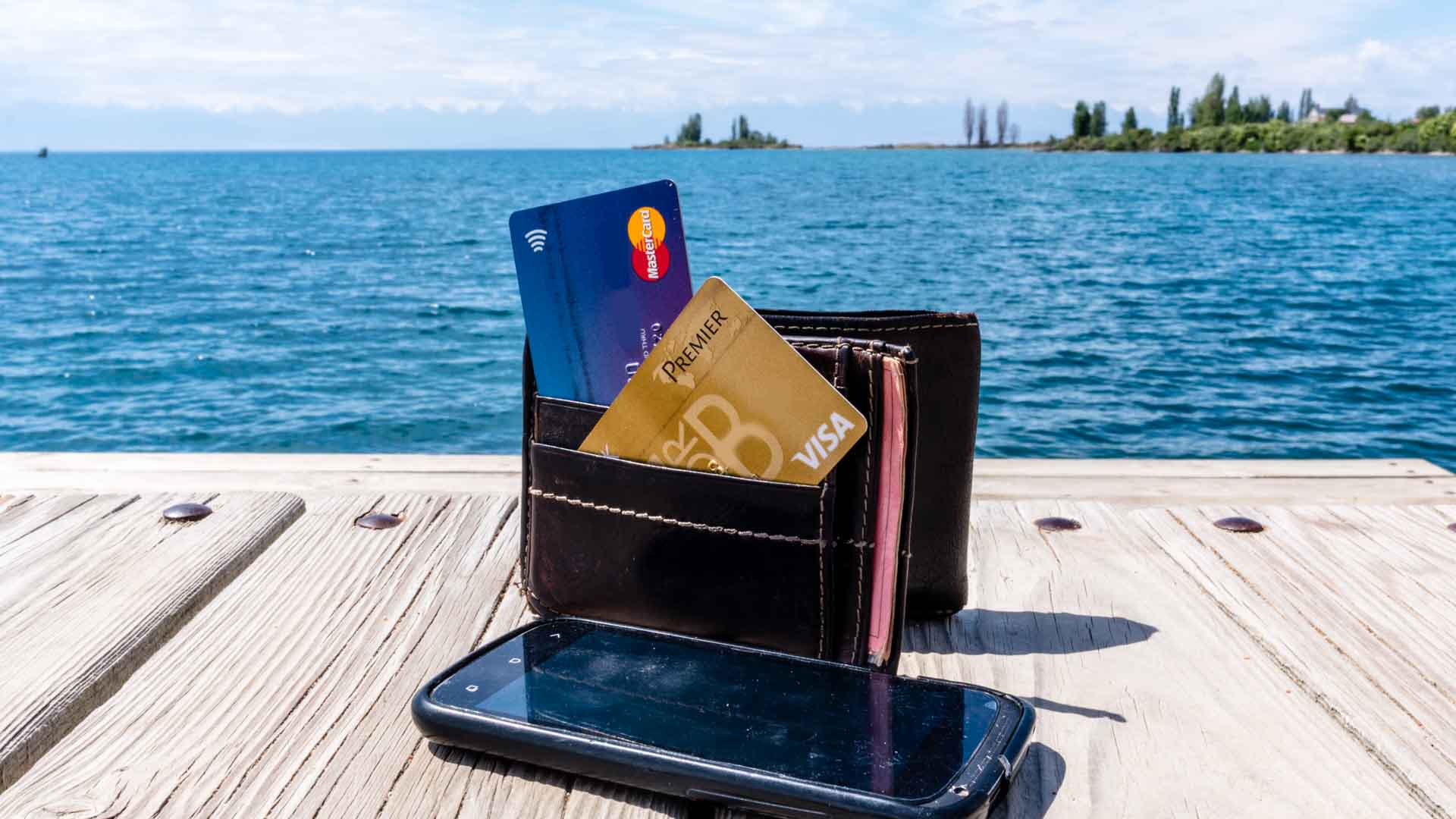 Bank with no extra fees (foreign card)
TP BANK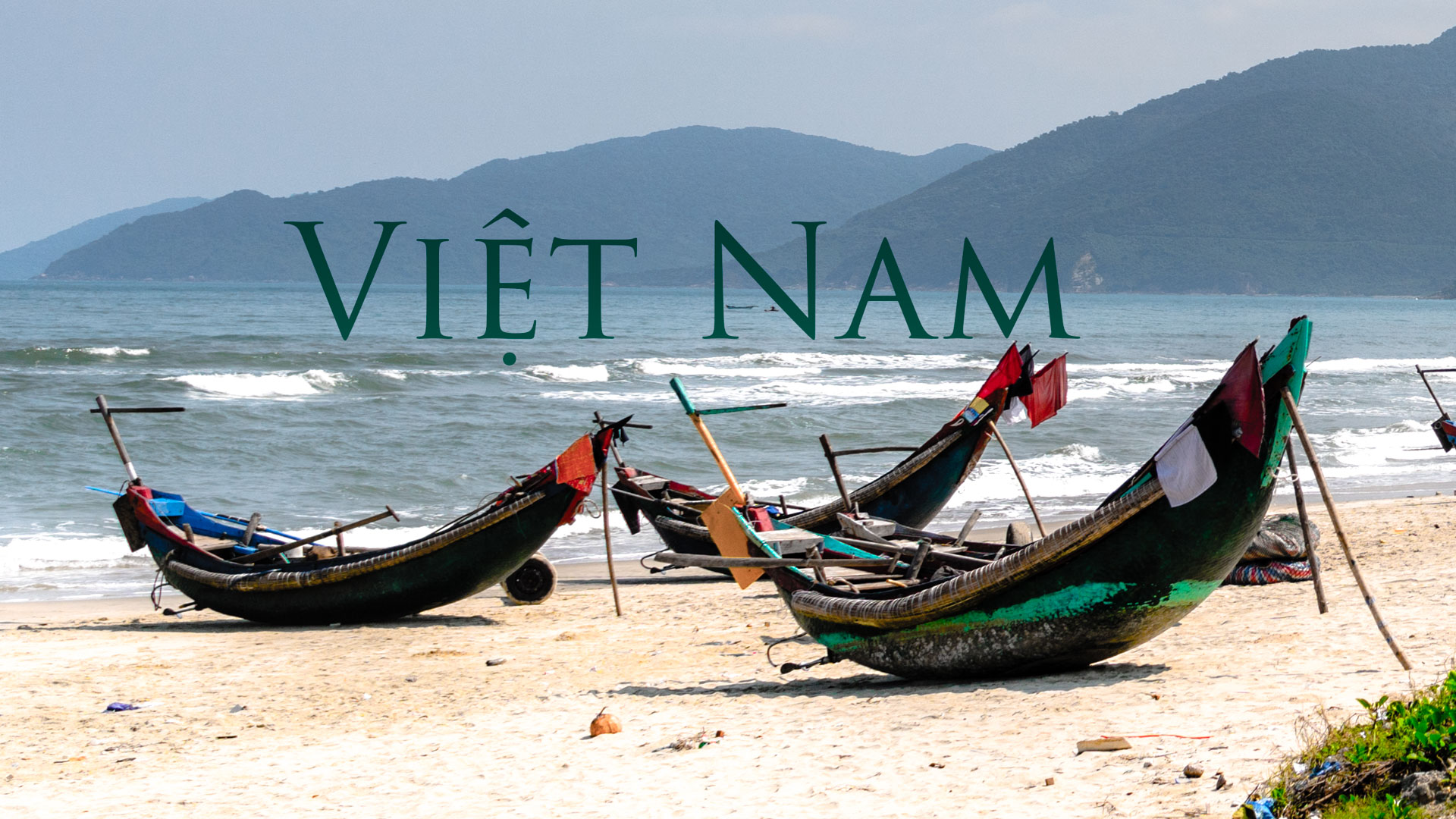 Currency
DONG (€1 ~ 25,000 Dongs)
Banh Mi: 5,000 to 15,000 dongs (for the most hearty)
12,000 – 15,000 dongs for a 0.33L beer can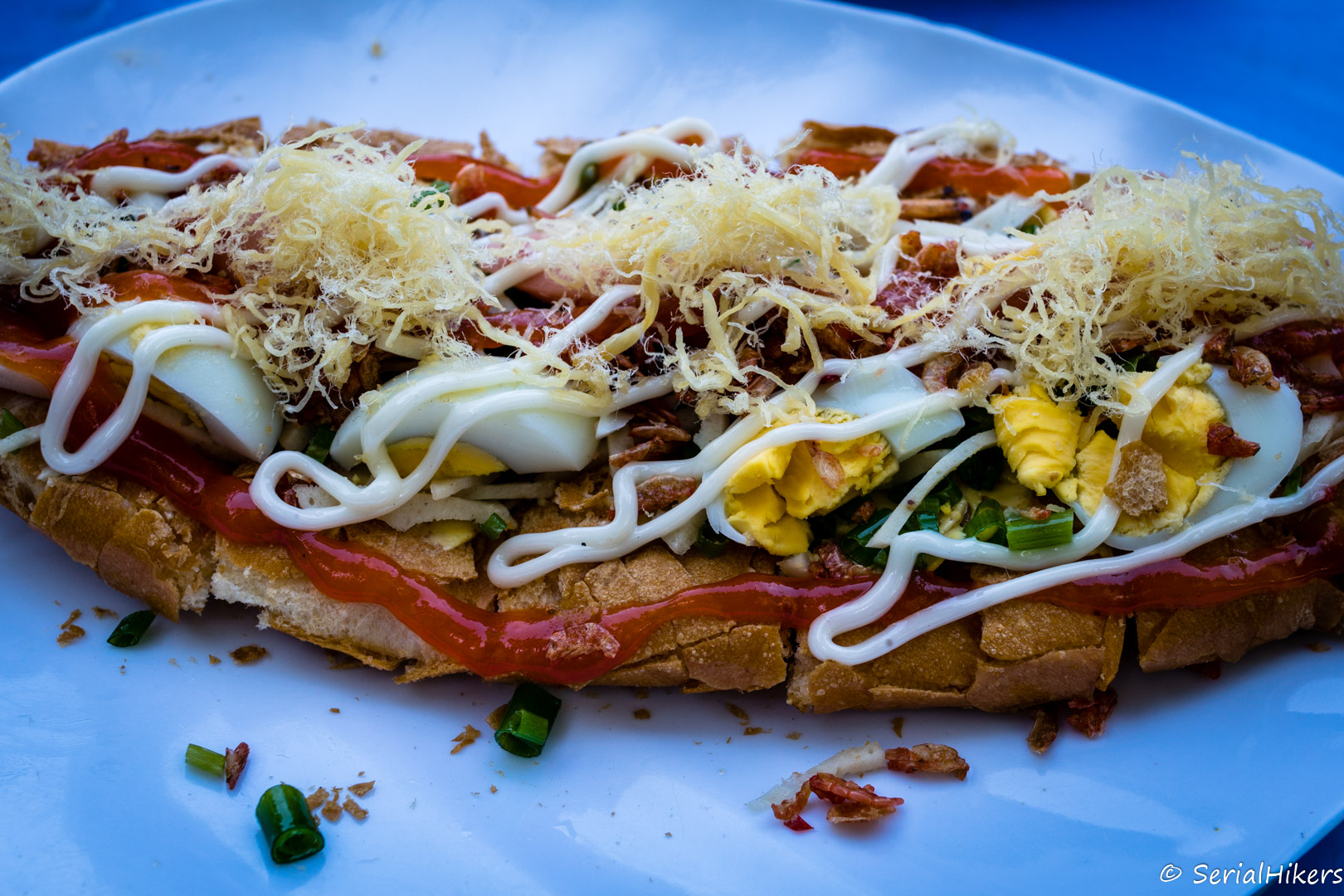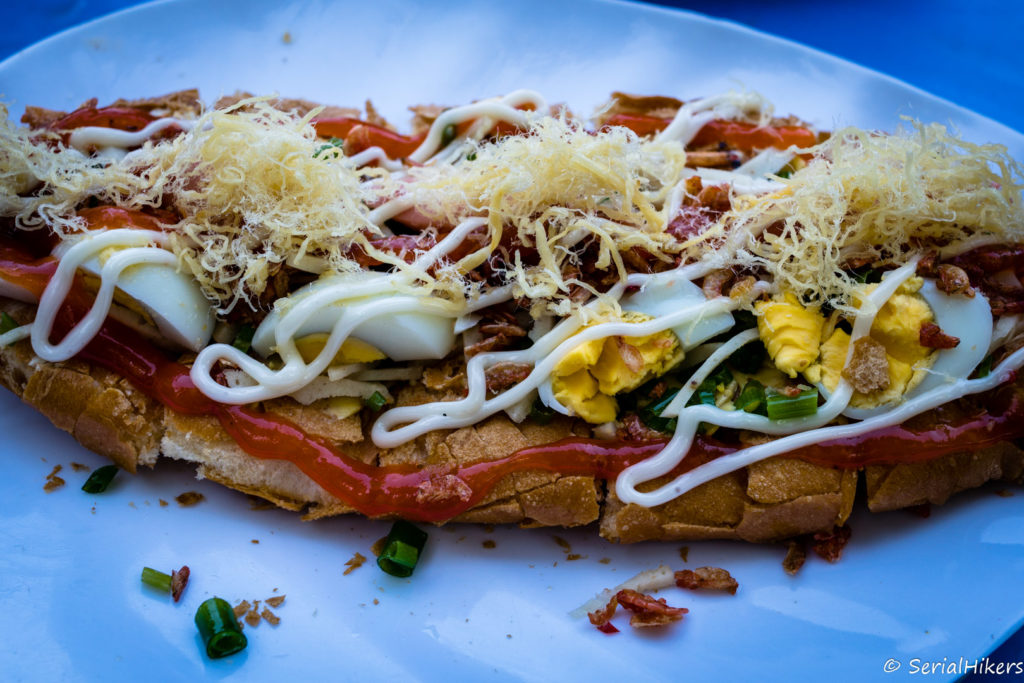 Hitchhiking
What a pleasure to hitchhike in Vietnam! Little waiting time, always finding somebody ready to lift us… If we had to make a world ranking about hitchhiking level, Vietnam would certainly be in the Top 10! However, to drastically increase your chances of success, we give you some essential recommendations:
Specify, systematically, that you will not give money: it has become a habit for us, in countries outside of Europe, but we prefer to specify it all the time (free =miễn phí in vietnamese)
Use a sign written in Vietnamese: thanks to the help of a Vietnamese backpacker, we wrote a sign that helped us a lot! The Vietnamese could read: "Chúng tôi đang đi bộ vòng quanh thế giới, cho chúng tôi đi nhờ 1 đoạn, cảm ơn" (which could be translated as "we are walking around the world, can you help us to move forward, thank you").
Hospitality
Despite the language barrier (only a few elderly Vietnamese or young active people in big cities speak English), the Vietnamese did not hesitate to welcome us for a night or to offer us a meal! This really impressed us, especially when we thought that the Vietnamese would not have a good image of the French after the Indochina war!
About volunteering in Vietnam, beware! Many private structures welcome volunteers to give English lessons, because Vietnamese families are ready to pay a good price to improve their children's education. So you will have no problem to find a volunteering mission in this field (and you can even hope, in some cases, to get paid!) but keep in mind that most of these structures do real business on the back of the volunteers, by filling classes and pocketing a lot of money… It's up to you, always judge before if the deal will suit you!
Wild camping
Before pitching our tent, we tried to find some regulations about wild camping: nothing, null, nada! But in the middle of our research, we found two essential pieces of information: the first was the testimony of a traveler who, after pitching his tent in a field, woke up surrounded by policemen. The second information was about land ownership: all piece of land in Vietnam is entrusted by the State to the inhabitants. In other words: a field is necessarily exploited by somebody!
With this discovery in mind, we have imposed ourselves the following rule: always ask locals, living near a perfect place to camp, if it's possible to pitch a tent for the night! And guess what? We never had any problems!
Vietnam, love it or hate it
We often heard this sentence: some backpackers did not have a good experience of Vietnam, and felt they were constantly being ripped off by not always friendly locals. This was not at all our case, and we think we know why: unlike most of these travelers, we fled the ultra-touristic places (we did not go to Halong Bay for example), did not take organized tours, nor rented a scooter or wandered in the souvenir stores… But above all, when the prices seemed to us too high, we always negotiated with a smile… And it always worked!
Our tops (and flops)
Before sharing our tops, let's talk about a love we had for Vietnam, its varied landscapes, its Banh Mi sandwich and baguette, its old people who speak French with a smile, its young people who speak English with passion… And among all this, there had of course our tops:
Tam Coc, the "Halong Bay Land"
Phong Nha caves
Red-shanked doucs living on the Son Tra peninsula
Fairy stream, where you can admire a canyon while walking barefeet in the water
Recent history and its consequences explained at the War Remains Museum
Vietnam, we loved you, and we won't forget you!
Our flop
Without hesitation, piles of garbage – found everywhere; on the beach, in nature, in the city, on the floor in restaurants… For a country that is experiencing significant growth, with large, highly developed cities, we expected more from waste management and cleanliness education!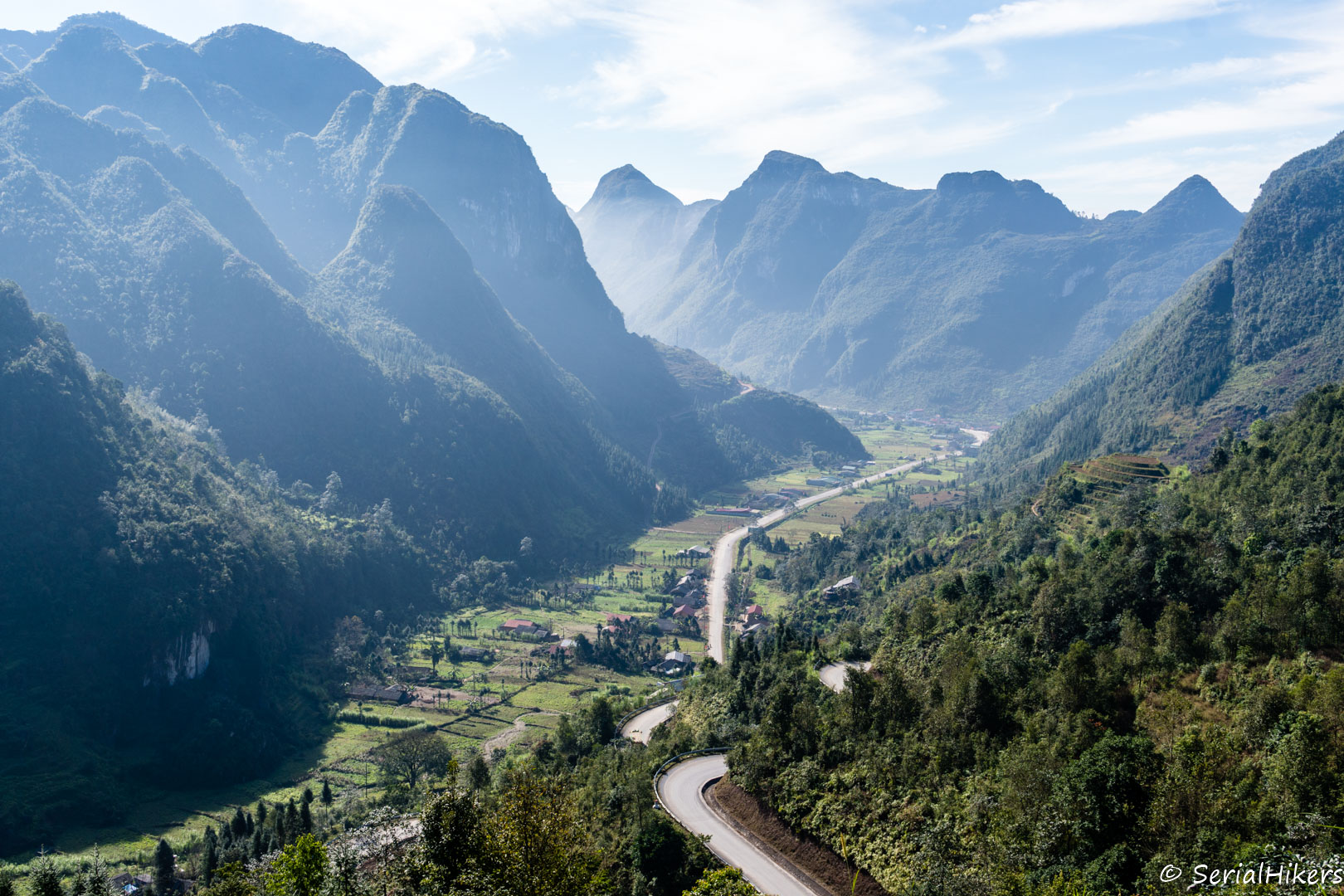 More about Vietnam
* Post written according to our personal experience *