No need to draw you a picture: traveling without flight means using all the other means of transport at your disposal. It also means traveling by land and sea exclusively, to give up traveling half of the globe in a few hours. This is also the type of travel we have adopted since few years, choosing to stay grounded. Why, how? We, as grounded travelers, are always delighted to answer all your questions!
---
Why traveling without flight?
… And why not? My mom would say "because I have the plane phobia". Ok mom, that's a good point! But here, we prefer to focus on the reasons that result from choice, not the default ones.
Ecological reason
This is THE main reason for travelers who have decided to stay grounded: the plane is one of the most polluting transport modes – and its use, even limited, brings their carbon footprint to high levels. With 2 tonnes of CO2 emitted per passenger for a Paris-New York round trip, when less than 3 tonnes of CO2 / person / year would be needed to meet climate change targets, it was necessary to take steps to be consistent with our ecological commitments: goodbye, flight!
Escaping mass tourism
July, flight tickets for Bali in your pocket, you are preparing to take (finally!) a good time away from your stressful job, except that… The streets in Bali are overcrowded, hotels are all booked, and there is not a meter of sand available to extend your towel. The fault to these beautiful Instagram photos that made you want to see this little heaven in real life, and low cost Aircraft companies that allow you to make the return trip for less than 500$. Not so fun for relaxation, nor for the scenery and originality.
Enjoying the trip
"The most important thing is not the destination but the trip": I don't know who said that, but I'm sure you've already heard this quote, just like me. And we can only agree that traveling is also enjoying to escape somewhere else, to appreciate our environment, whether by allowing ourselves the freedom to change the route along the way, by doing more encounters, by taking our time… Or, in another words, by simply living more experiences in the journey, which will remain long engraved in our memory!
To reconnect ourselves with the reality
Traveling without flight is not always easy: we are now encoutering the reality, physical barriers (mountains, oceans to cross) and geopolitics issues (countries at war, closed borders), long distances, change of cultures, nature, seasons… Traveling without flight is a fair return to the reality, confronting yourself to it like the great travelers that made History – discovering the American coast by boat as Christopher Collombus is still more exciting than photographing the porthole of a long-haul Paris-NYC flight.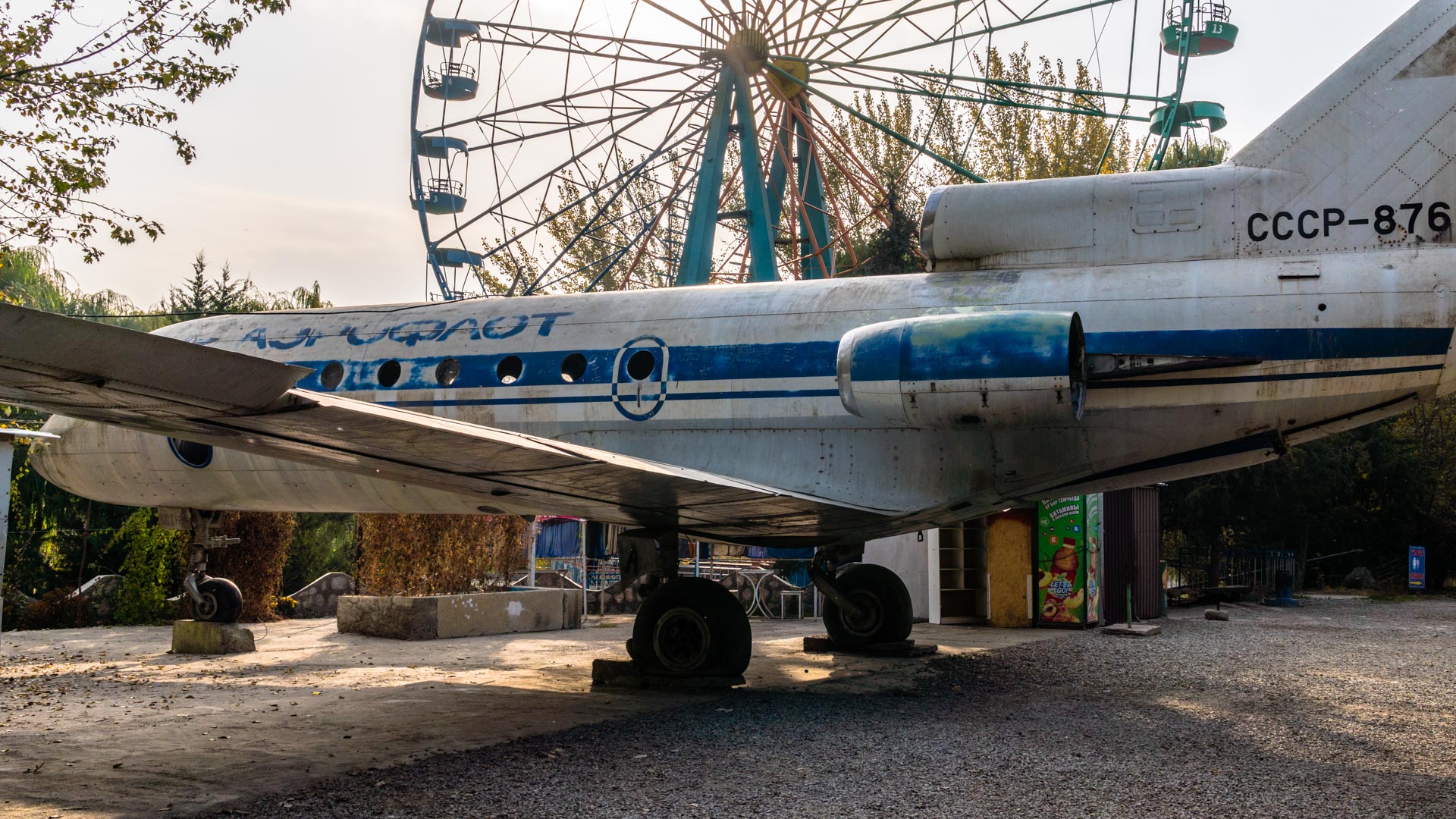 More about the reasons we stopped flying
Alternatives to a flight travel
But then, "how do I go on vacation?" are you asking us? Very simple! You can learn about the different alternatives to a flight travel, you choose the transport modes that could best match your budget and your desires, and you leave with your mind at peace!
By land
Walking
Yes, travelers who only travel by walking exist! We already met one of them in Iran: from China, Christophe went west to Germany, all alone, and on foot. We could also mention travelers who regularly make the way to Santiago de Compostela. The problem is that you must still have a lot of time, and be damned motivated!
Cycling
Here is a great tool to move without polluting (or almost)! Not only it's faster to bike than walking; but in addition, you gain beautiful muscle thighs. The other big advantage of the bike is that you can easily rent, borrow, repair, buy second hand bikes almost everywhere in the world!
Did you know that in Europe, it's very easy to travel by bike thanks to the EuroVelo paths? 100% cycling and secure bike-paths, to make you travel across several countries!
By train and bus
They had been well neglected, and yet, these two means of transport have everything to please:
They are the least polluting public transport, with a carbon footprint not too bad
Night trains and buses are also very economical, since you save a hotel night
They can make you meet nice people (or not, but hey, life is like a chocolates box)
Mythical trains such as Trans-Siberian or Orient Express have more charm than American Airline fleet
If you want to visit Europe by train, consider buying an InterRail pass !
Hitchhiking
Try it, and you will love it! Optimize the imperfect system of car journeys by occupying the empty space (the average filling rate of a car is about 1.5 persons), while making beautiful meetings and traveling for free… Isn't it great? In terms of human and ecological transport, we have not done better for the moment!
Carpooling
Carpooling is the joint and organized use of a vehicle by private individuals, with the aim of making a common journey. In contrast to hitchhiking, carpooling involves a specific organization (time and place of rendezvous set up) and fees to be shared equitably between all the occupants of the car. And that's the problem: carpooling will obey the laws of the market and the driver will find, in this financial advantage, an excuse to use his car (even making a business out of it!). Apart from that, carpooling remains a good ecological alternative (the pollution generated is shared by all passengers) and a safer way of getting around by car (driver profile, feedbacks available on carpooling websites).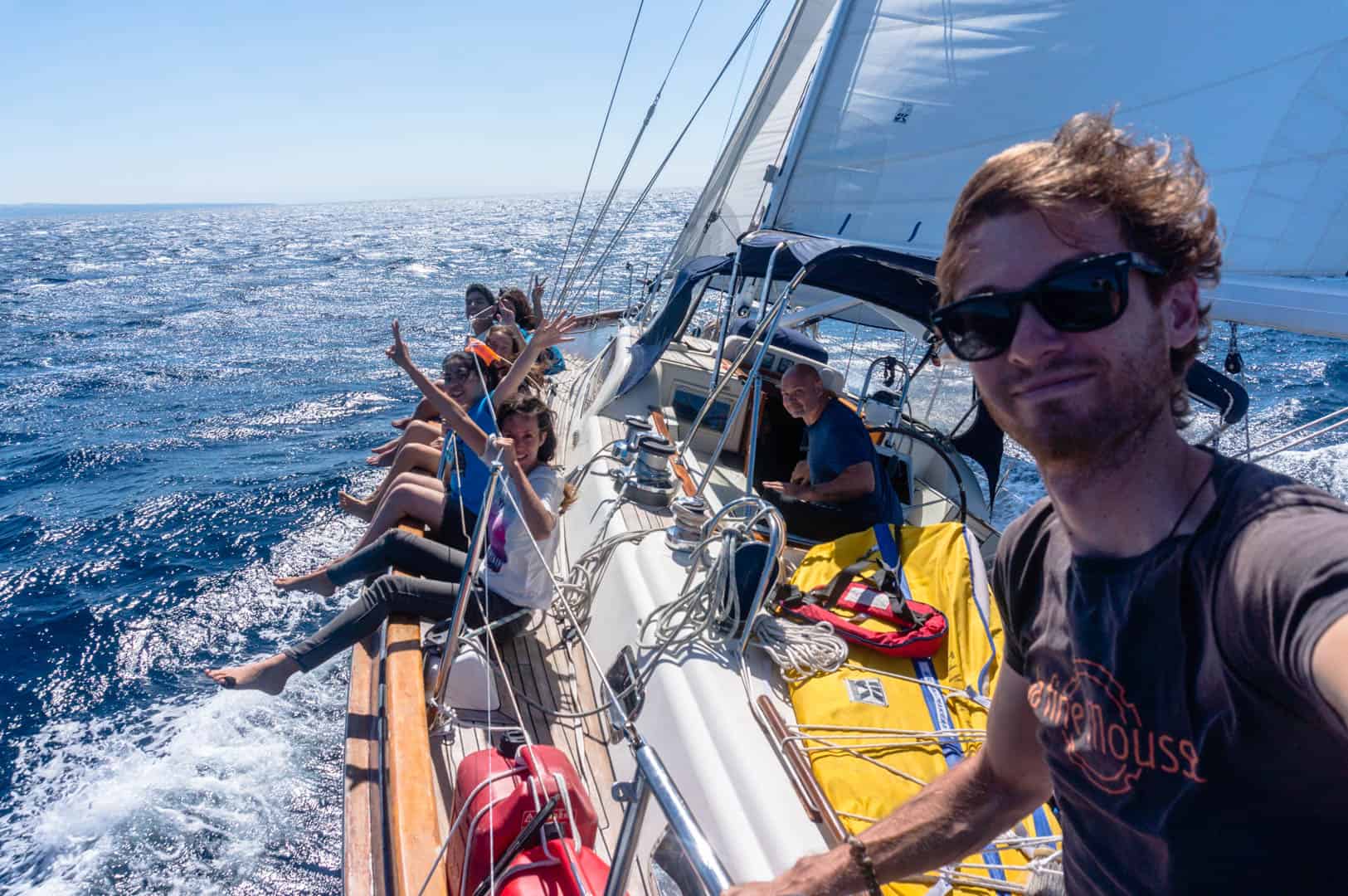 More about how to hitchsail
By boat
Boatpooling
Boatpooling is like carpooling, except that it concerns boats (boats belonging to private individuals, and not to a company as it's the case for cargo ships and ferries). We talk about boatpooling when all the costs on board are shared equitably (fuel, marina fees, food, etc.). Boatpooling is made especially for adventurers who are not afraid of seasickness (could be wavy!), who prefer the slow journey (on average, 100 nautical miles traveled in 24 hours – 185km) and interested in sailing. If the adventure tempts you, do not hesitate to scroll on the online advertisements like in Crewbay, Crewseekers and Find a crew.
Cargoship
Is it possible? Well, we will teach you something: not only it's possible, but also it's super cool, comfortable, and much faster than sailing! The problem is the price (starting prices at 120 $ / day / person, meal included).
Hitchsailing (hitchhiking a boat)
Take the definition of hitchhiking, and replace vehicules by boat: now you get it! The only difference is that we will not wait for a boat (sailboat, cargo ship, ferry, fishing boat, warship etc.) to take us on the high seas, floating with our thumbs up… We must therefore seek to embark, free of charge, before the boat leaves the moorings. In other words: board for free with the captain's blessing. And there are several solutions available to you: contact captains via specialized boatpooling websites explaining your project, pint some announcements on a board at the port / marinas / Port Master's office, contact the ferry / cargo companies in order to make them offer you a free ticket, try to befriend some captains at the local bar …
How to organize a trip without flight?
Equipment, material
You can imagine: going on the road with a suitcase is not very practical… But besides the suitcase, if you choose to walk or bike, you will have to equip yourself with specific gears (walking shoes, walking stick, bike, baskets, etc).
Insurance
Insurance… A summary of administrative nightmares summarized in one word. Still, it's very useful when you get injured or cause damage to others abroad! Before embarking on a new adventure, read carefully the conditions of your insurance cover (liability insurance, insurance linked to your credit card). Especially if you are going on a long trip, planning to go in troubled areas subject of a notice by the Ministry of Foreign Affairs of your country, or carrying specific and expensive equipment…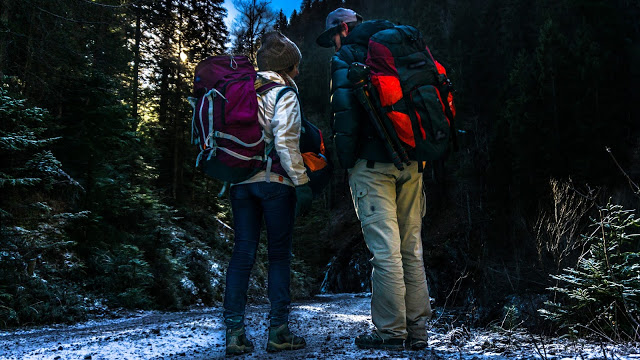 More about travel equipment and insurance
Visa & borders crossing
As with a flight, before reaching your destination, check the validity of your passport, conditions of entry (visa, no visa?) and incidentally, country's regulations concerning drugs, alcohol… (promise, we do not judge you).
Making your visa on road
It's quite possible to get your visa on road: either by going to the embassy of the country you want to visit (in the country where you are), either by doing it directly at the border, or online if there is an e-visa system… You just have to inquire and bring all the necessary documents with you (passport copies, ID photo etc).
Crossing a border
Crossing a terrestrial border requires to be prepared: it's necessary first to learn about the border conditions (open? closed? dangerous?) and opening hours (spoiler: all the borders are not open 24h/24). Once everything is good, go through the customs of the leaving coutry with your passport, your bags and your best smile. And repeat this operation with the customs of the entering country!
Check-out a country by boat
In this case, you have almost nothing to do! The boat captain or a local agent will always take care of the customs formalities. The only formalities remaining at your expense (if applicable): to obtain a visa, and pass through the immigration office to have your passport stamped before leaving the territory. In any case, the captain or the agent will help you in these steps!
Benefits of traveling without flight
It would have been unfortunate to conclude this article without quoting all the benefits of a no flight travel – some positive effects that we have experienced ourselves during our journey! …
No more jet lag: at least we will not have spent days in bed, bloodshot eyes and dark circles as big as our bags.
"Diarrhea? What is this?" We wonder what Smecta® are going to be used for… According to my modest knowledge of biology, it seems that our stomachs have become slowly and gradually accustomed to local foods. On the other hand, they are still not used to a diet without cheese!
A low carbon footprint: during our last assessment, we estimated our carbon footprint at 453 kg CO2 / person by traveling more than 50 000 km in hitchhiking – the equivalent of what a person emits to make a one-way trip, by plane, from Paris to Athens!
We are living many beautiful things on the road: is it worthwhile to tell you how much our trip without flight allowed us to make beautiful encounters, see beautiful landscapes, experience more adventures?…
But in the end, the question that really arises is: "Is it possible to travel without plane, when there is little time to do it?". My answer is YES. Especially if you reassess your judgment on transportation, considering your trip as a real adventure, not a waste of time!
* Post written according to our personal experience *