Nothing predestined us to visit Bulgaria, and yet with its mountainous landscapes, caves, unusual places, traditions and Bulgarians hospitality… Everything was there to make us feel (very) good! Through this travel guide, we will try to make you want to explore Bulgaria!
---
Visa and border crossing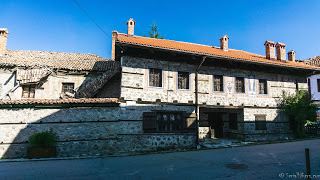 What to see in Bulgaria?
Bansko, the ski resort town with an unsuspected charm
Casinos, hotels, clubs, stores for tourists… The city has everything we usually want to get away from! However, exploring a little more the city, we came across very typical houses, fountains where fresh mountain water springs from the nearby mountains, paved streets where only pedestrians are allowed to walk… Bansko, the ski resort town with an unsuspected charm?
Plovdiv, cultural capital
European Culture Capital in 2019, Plovdiv brings together centuries of history and social mix for an amazing result: Bulgarian Renaissance houses built on an ancient stadium, an artists' district created at the foot of large posh mansions, modern facilities tangled with historical remains… Be sure to fall in love with it!
Immerse yourself through Bulgarian heritage
Orthodox monasteries
Speaking of Orthodox monasteries in Bulgaria, you will immediately think about the imposing Rila monastery, listed by UNESCO and built in mountains hollow. And if the visit (free but quick) is worth the detour, you should know that there are other Orthodox monasteries, just as nice and much less touristy, like the monasteries of Dryanovo and Bashkovo!
Valley of the Thracian Kings
At the foot of Buzludzha, in Kazanlak vicinity, lies the Bulgarian "Roses Valley"… As the flowering period was over, all that remained for us was to discover these vast plains of fields and mounds, to discover its history and Thracian remains. A valley which we renamed "Valley of the Thracian kings" – so that the name remains afterwards, once all the roses are all wilted!
Buzludzha, the communist UFO
Take a powerful political party, brutalist architecture, dreams of grandeur and pharaonic works: mix all these ingredients, and you will get a beautiful and imposing building! An architectural UFO, abandoned to amateur explorers for more than 28 years now…
Discover the Bulgarian nature
Mount Vikhren and the hot springs
With a peak at a little over 2900m above sea level, Mount Vikhren, located in the Pirin National Park, is a must for all nature and beautiful hikes lovers. If at the end of the day your legs don't carry you anymore, you can always relax in one of the natural hot springs of the region!
Hiking to the 7 lakes (not done)
This hike had been highly recommended to us, so much so that everything was planned… But at the end, on the D-day, thunder and heavy rain came and we had to renounce to it. Too bad for us, the view on the 7 Rila mountain lakes at sunset seemed very promising!
Natural caves
Caves, caves, caves everywhere! In Bulgaria, there are countless natural caves discovered, some of which have sheltered prehistoric men and… bats. Among the most exceptional ones to visit are Devetashka (the cave used in the Expandables 2 movie), Bacho Kiro, Prohodna (Karlukovo-Lukovit) and Ledenika (Vratsa).
Watching bears in a rehabilitation park
What a pleasure to see Bobby and his buddies splashing around in their pool! Because at Dancing Bear park, old dancing bears (bears captured, tortured and trained to move to an instrument sound) have the right to a second chance… in a 11 hectares park, maintained jointly by the Bulgarian government and 4 Paws and Brigitte Bardot foundations!
Relaxing by the Black Sea
Fancy a swim in the sea? With a wide access to the Black Sea, you'll have a lot to choose from in Bulgaria! The problem is that not all beaches are free, nor are they really wild and authentic… Fortunately, we were able to put down our towels in a few little corners of paradise – like at the Sinemorets beach, a beach with a double-side!
Our bulgarian hit
Did you know?…
"Mersi"
The first thing a French will notice in Bulgaria is the use of "merci" word (thank you, or Mersi in Bulgarian). It must be said that during the Bulgarian Renaissance (19th century), many aristocrats sent their children to study in Paris!
Glagolica, ancestor of the Cyrillic alphabet
You thought Cyrillic alphabet was a Russian invention? Think again! This alphabet is said to have been created towards the end of the 9th century by students of Saint Cyril, an Slavic evangelizer. It's said to be derived from ancient Greek and Glagolica alphabet, used by Saints Cyril and Methodius.
Lucky word
Don't be surprised if waitresses bring you a cup of coffee with a little word wrapped around it: no, you won't find any personal number scribbled on it, but a lucky word to start your day!
Casinos everywhere
It's not only in James Bond movies that you can find casinos: in Bulgaria too! We stopped counting them after noticing that there was one at least in every city…
Reverse head signs
If I want to say "no", you expect me to shake my head from one side to another… Wouldn't you? On the other hand, when a Bulgarian shakes his head this way, it simply means… "Yes"! We have to admit, this reverse head sign in relation to our own cultural codes confused us the first times: we really thought that Bulgarians were unpleasant, whereas they are the exact opposite!
Terracotta tableware
In Bulgaria, you won't miss terracotta pots and other dishes, finely decorated with patterns that only Bulgarians know how to make. In Bulgarian cuisine, there is a dish that is only served in a terracotta pot: Gyuvetch!
When death knocks at the door…
A death in the family? Be sure that a death notice will be properly posted on the house front door, in full view of all passers-by. It may seem surprising at first, but don't worry: there is nothing sinister or gross about this tradition.
Martenitsa: follow the red thread
On March 1st, Bulgarians celebrate spring arrival by making ribbons, dolls and bracelets of white and red (sometimes green, to recall colors of the Bulgarian flag). Ribbons are then hung everywhere – fences, benches, street lamps – but especially on trees, as soon as the person sees a bird flying away!
Traveling alternatively in Bulgaria
The budget
Our daily budget
€1.50 / person
Bank with no extra fees (foreign card)
All those we have tried
Currency
LEV (€1 ~ 2 Levs)
With an average budget of €1.50/day/person, our stay in Bulgaria proved to be one of the cheapest in Europe. By buying local in small grocery stores or from street vendors, we made very big savings in terms of food expenses! Local fast food is also a good economic alternative. If you are passing through Sofia and Plovdiv, don't forget to join Free Tours: 2-hour tips-based tours with a certified guide!
2,50 Lev (to date, the cheapest beer in the world!)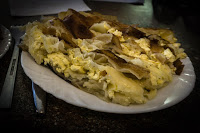 Hitchhiking
If you are following our journey, no need to say that hitchhiking in Bulgaria is a very widespread and safe practice! But if you ever have any difficulties (which we have never had), there are several carpooling Facebook groups in Bulgarian language to travel between two cities – such as the group named Пътуващи Бургас – София и обратно.
Hospitality and volunteering
We had no trouble finding hosts or a volunteer mission in Bulgaria, through main hospitality and volunteer networks. During the high season, some youth hostels are looking for volunteers: mass tourism starts to come by to relax on the Black Sea shores! Moreover, Bulgarians are very hospitable: when you are welcomed by a Bulgarian family, you are welcomed like a king!
Our tops
That's it! It's time for us to close this Bulgarian chapter. But we are not going to leave you on this: we have to share our tops with you! So, what did we love in Bulgaria?
The cultural capital Plovdiv
Devetashka cave
Hope you will love Bulgaria as much as we do!
* Article written according to our personal experience *